Pumpkin Mac and Cheese may just be your new favorite comfort food. Especially during pumpkin season. You only need a few ingredients, and it takes less than 20 minutes on the stovetop. The pumpkin cheese sauce is so creamy and flavorful, you will want to make it all year long.
For another holiday twist to pasta, try our succulent One-Pot Bacon Pumpkin Pasta. Or if you are in the mood for some spiciness, this Jalapeno Popper Pasta has bacon, cream cheese, and jalapeno bits. And if you are looking for more tasty dishes you can make in under 30 minutes, check out our Appetizer and Sides.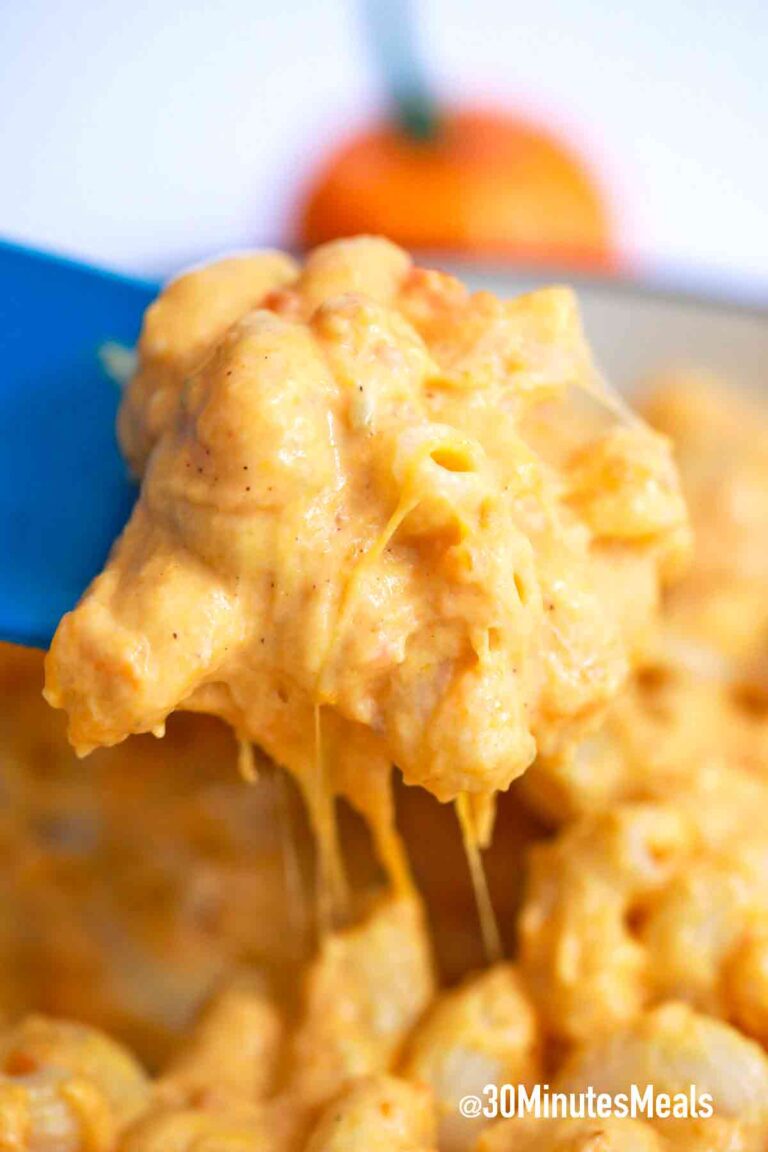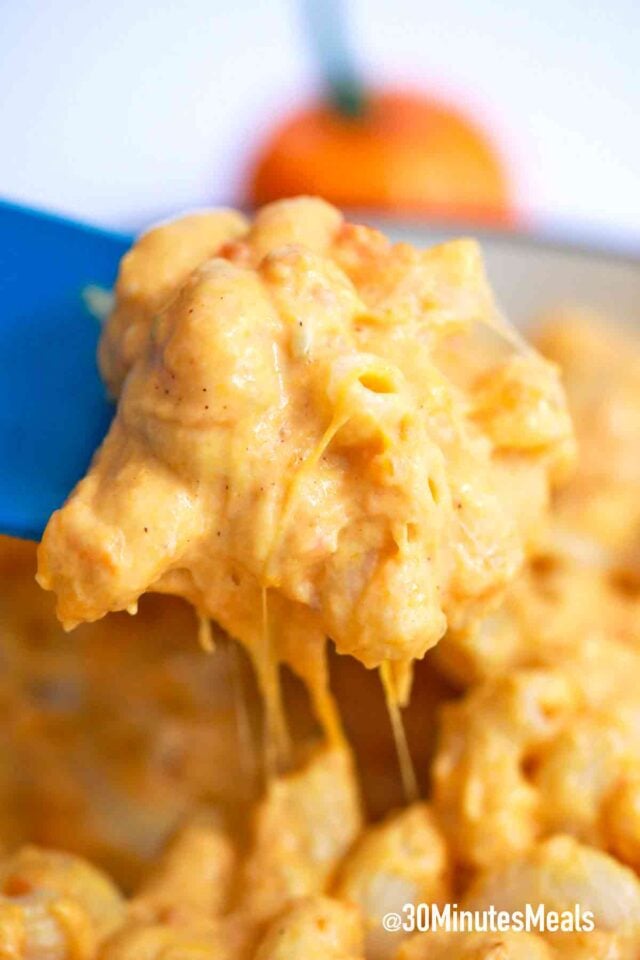 Whether you use fresh pumpkins to make homemade pumpkin puree or buy the canned stuff, this simple recipe is going to be a hit with everyone at the dinner table. Our pumpkin pasta is bursting with the flavors of autumn. Anything that has a pumpkin flavor in it is popular this time of year with my family and it is easy to find at the grocery store.
Stovetop mac and cheese with pumpkin is simple to make without turning on the oven and you will not have to spend all day preparing. With some simple ingredients and about a half-hour of your time you will have creamy mac and cheese that will surprise everyone with its secret ingredient of pumpkin.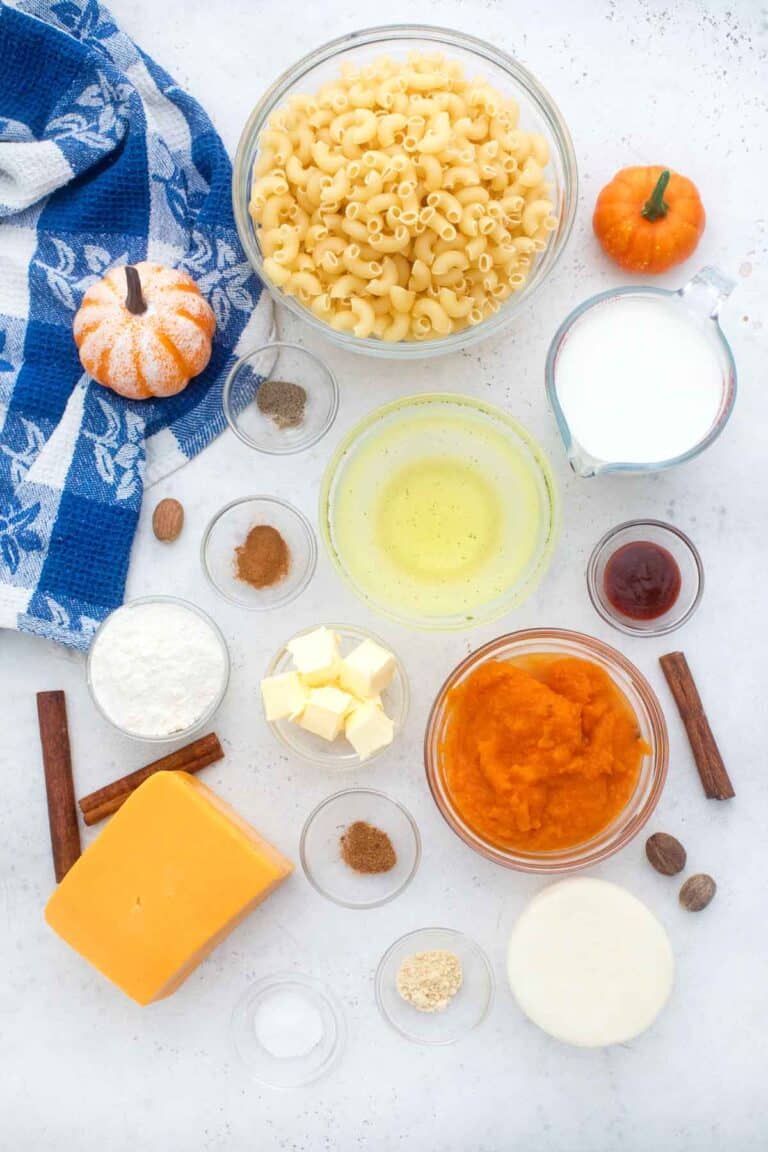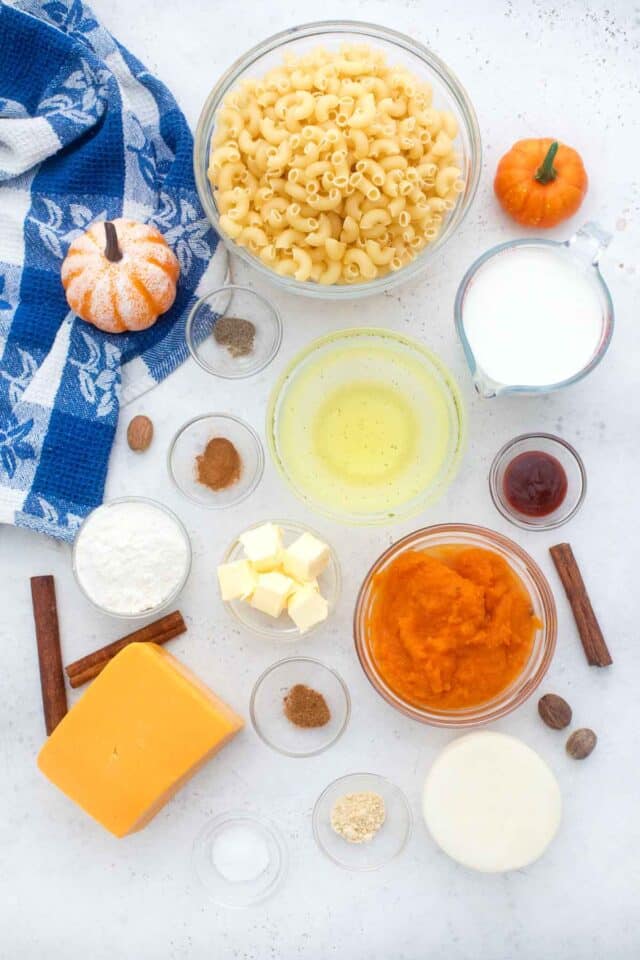 Ingredients needed:
Scroll on down to the bottom of this page to find the step-by-step instructions on our recipe card. Here are the main ingredients you will need:
Melted butter: Not salted.
Cheese: We used mozzarella and sharp cheddar, but you can use your favorites.

Chicken broth: Homemade or store-bought. You could also use vegetable broth.
Cream: Sour cream is another alternative for this ingredient.

All-purpose flour: Almond or coconut flour are good gluten-free choices.
Hot sauce: Like sriracha or tabasco.

Milk: We recommend full-fat milk for its creaminess.

Pasta: We used elbow macaroni, but you can use your favorite.
Pumpkin purée: Canned pumpkin is okay or make your own pumpkin puree. Make sure you do not use pumpkin pie mix.

Salt and black pepper: To taste.
Spices: Cinnamon, nutmeg, and dry mustard are what we used.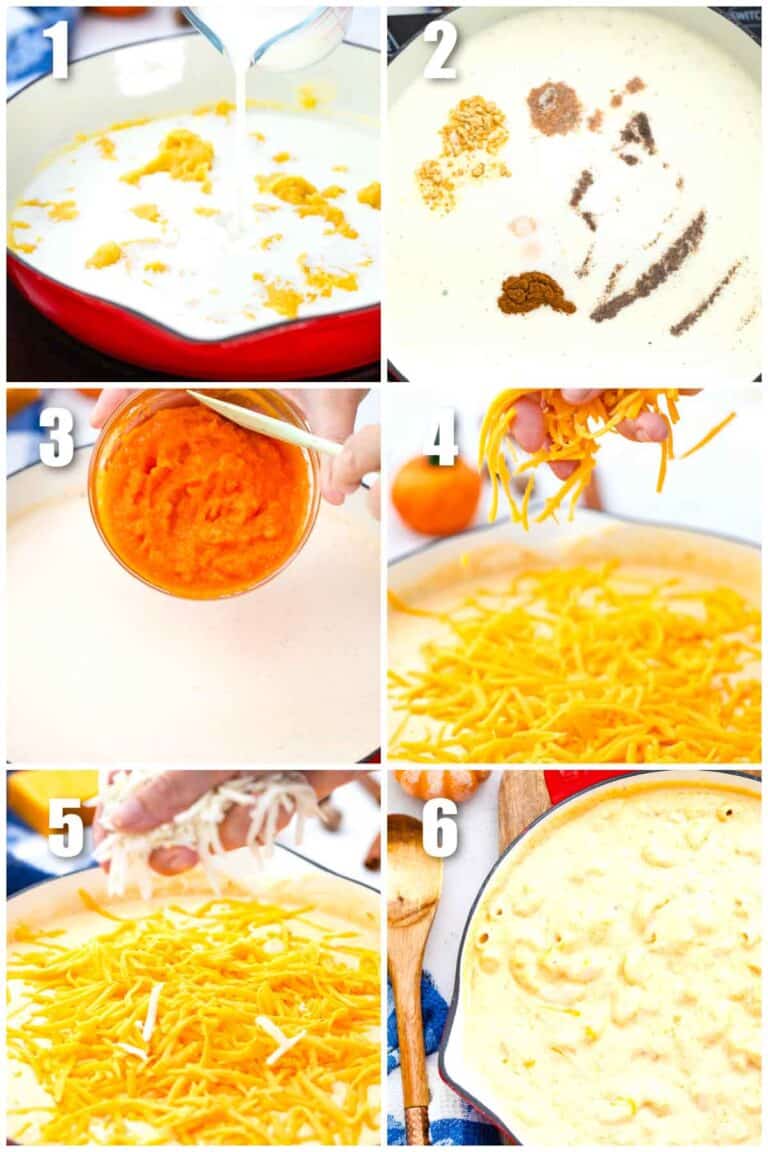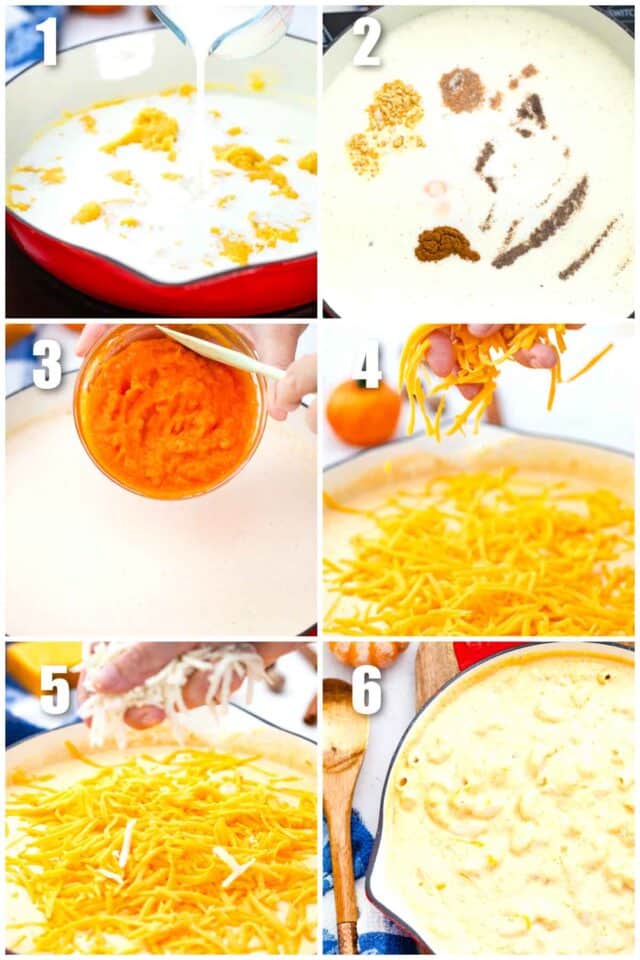 How to make pumpkin mac and cheese from scratch?
Cook pasta: First, boil your pasta in salted water over medium-high heat following the package directions. Drain well but do not rinse.
Melt butter: Meanwhile, brown butter in a large skillet over medium heat. Then, whisk in your flour and simmer for two minutes.

Make the sauce: Next, add broth and cream a little bit at a time, whisking each time you add some.
Combine: Then, stir in the spices, hot sauce, pepper, and salt. Boil for one minute while whisking.

Add cheese: Remove from heat, add cheese, and whisk until it is smooth.
Add pasta: After, stir in the pasta.

Serve: Lastly, serve right away as is or with your favorite toppings.
Recipe variations:
Spice it up: Alternatively, sprinkle in some red pepper flakes or cayenne pepper for a spicy flavor.
Other spices: Add thyme or sage for extra flavor.
Add veggies: For a heartier dish, add vegetables like spinach or broccoli.

Make it meaty: Similarly, add some chunks of turkey, chicken, or ham for a meaty meal.

Oil: Use olive oil instead of butter for less fat.
Cheese: Make this recipe with your favorite cheese!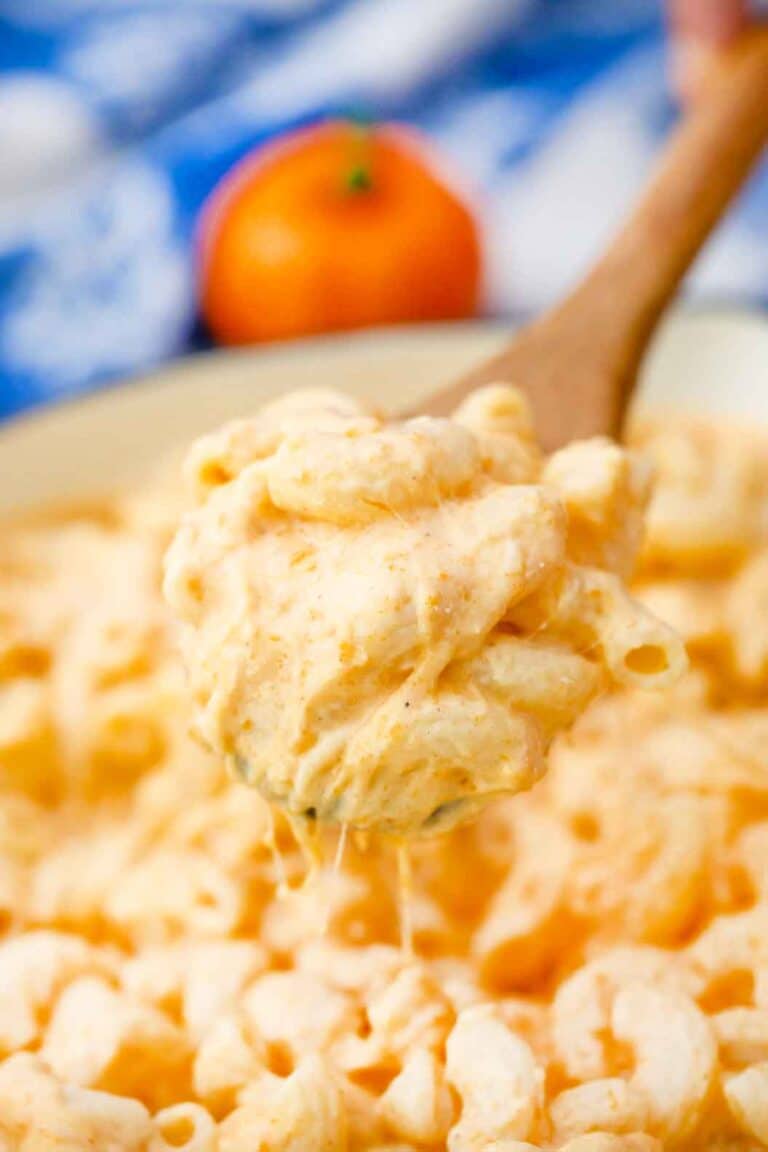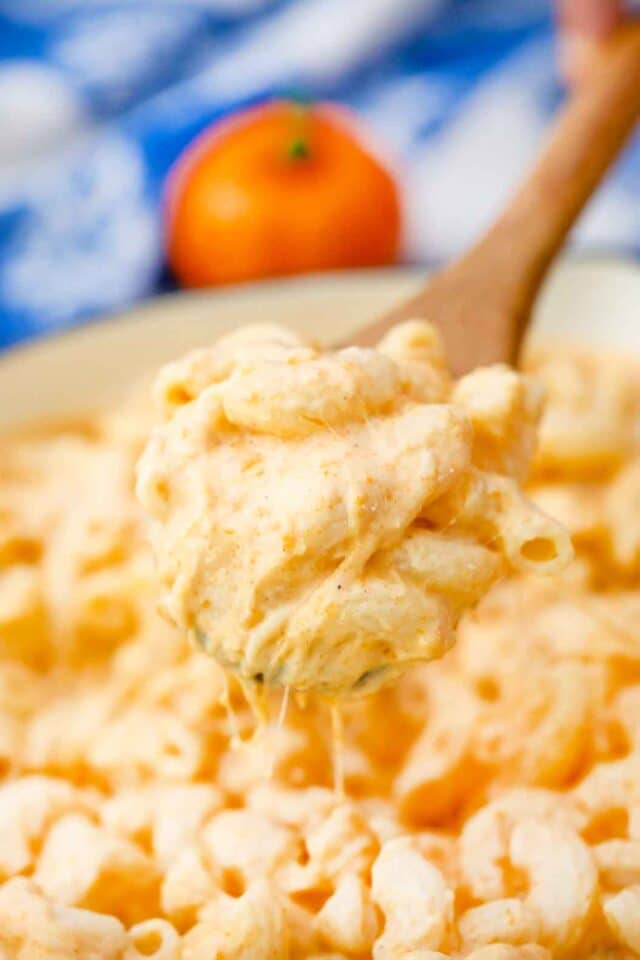 How to serve:
You can serve this easy pumpkin recipe right off the stove or try something else such as one of these serving suggestions:
Top it with bread crumbs or panko for a crunchy topping.

This makes a great side dish for our creamy turkey salad.

Mix in some nuts or celery to give it more texture.
Try with a frosty glass of pumpkin smoothie.
If that is too much pumpkin for you, our cherry smoothie is also fantastic.
Frequently asked questions
Who made the first mac and cheese?
The first modern recipe for this dish was in a cookbook written by Elizabeth Raffald in 1769 called The Experienced English Housekeeper. The recipe called for a bechamel sauce made with cheddar combined with macaroni and sprinkled with parmesan cheese. Then, it is baked until bubbly and golden brown.
However, there were some pasta and cheese casseroles recorded as far back as the mid-1300s in an Italian cookbook called Liber de Coquina. Another was in a 1390 English cookbook called Form of Cury (aka Book of Cooking) made with pasta, cheese, and butter.
How do I make the creamiest macaroni and cheese?
One of the worst things you can do to this dish is to overcook it. In fact, it is much better to undercook it. Make it just short of being al dente because it will continue to cook while in the cheese sauce.
You should also make sure you get high-quality cheese and pasta. In addition, add heavy cream or Greek yogurt instead of plain milk. And never use skim milk or almond milk if you want the creamiest sauce.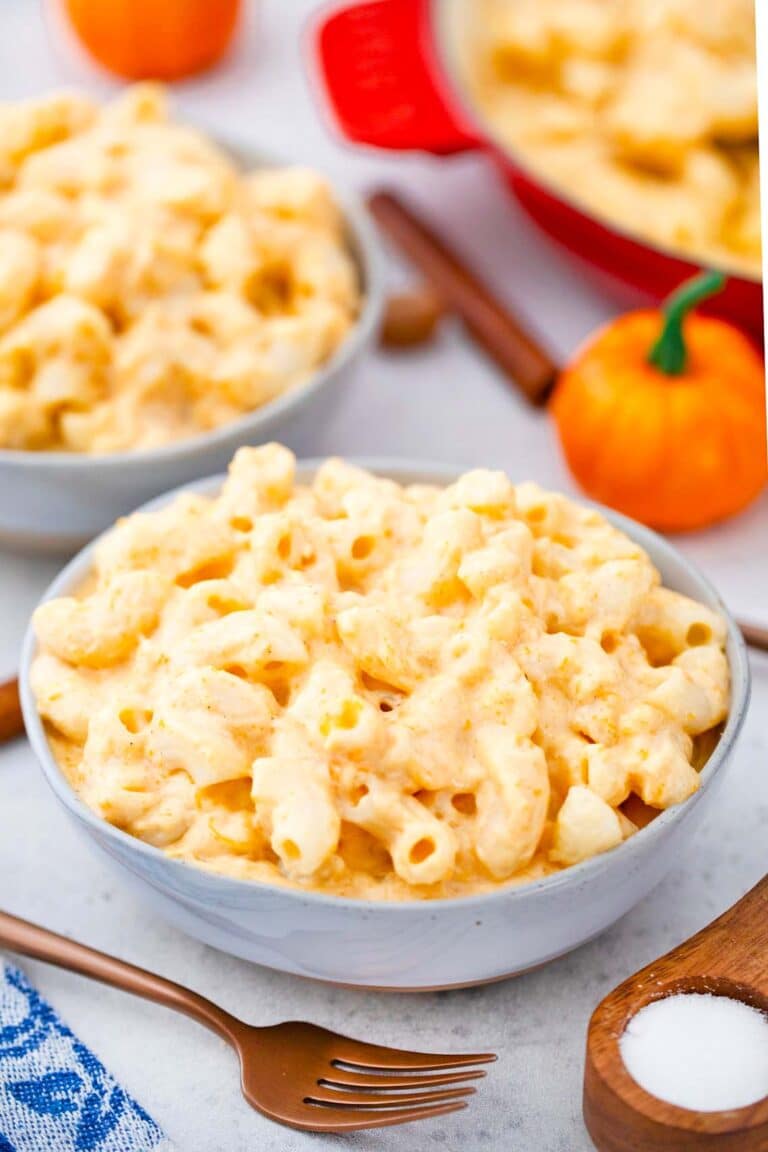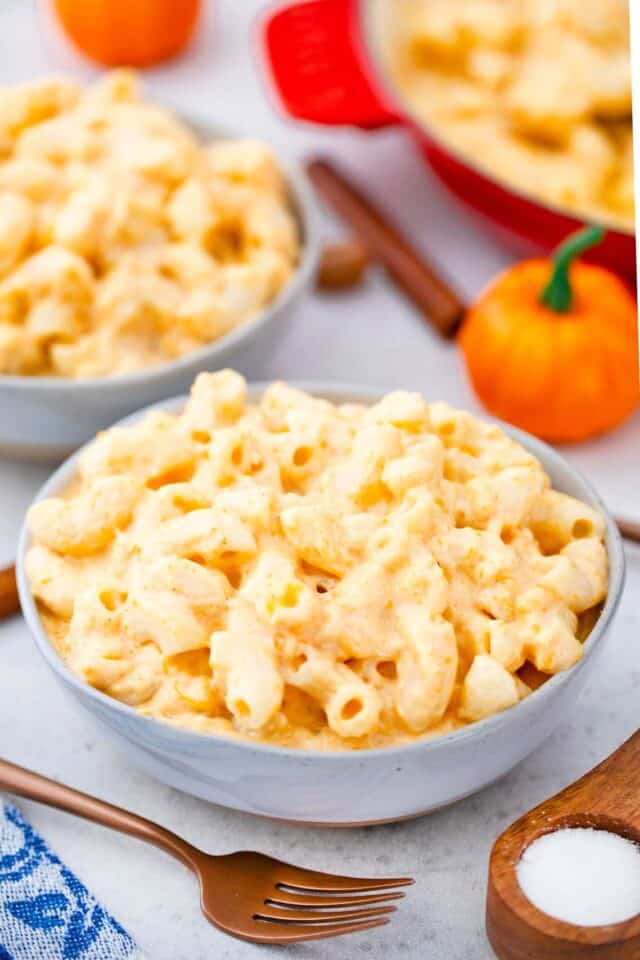 What is the best cheese for pumpkin macaroni and cheese?
Although the most popular cheese used for this recipe is cheddar, you can use whatever type you like best. The main thing to consider is the melting quality. It has to be one that melts well. Soft cheeses like mozzarella, mascarpone, and gruyere are best for that. If you want more flavor, use sharp cheddar or extra parmesan.
How to store leftovers:
Store: If you have any leftovers, store them in the fridge in an airtight container once they cool down to room temperature. They will stay good for three or four days this way.
Freeze: For a lot of leftovers that you cannot eat in a few days, you will have to freeze them. Just put them in a freezer bag and they will be fine in the freezer for up to three months.

Thaw: Don't forget to defrost the leftovers in the fridge the night before serving for best results.
Reheat: After it is thawed out, reheat in the microwave for a few days or in a large pot over medium heat.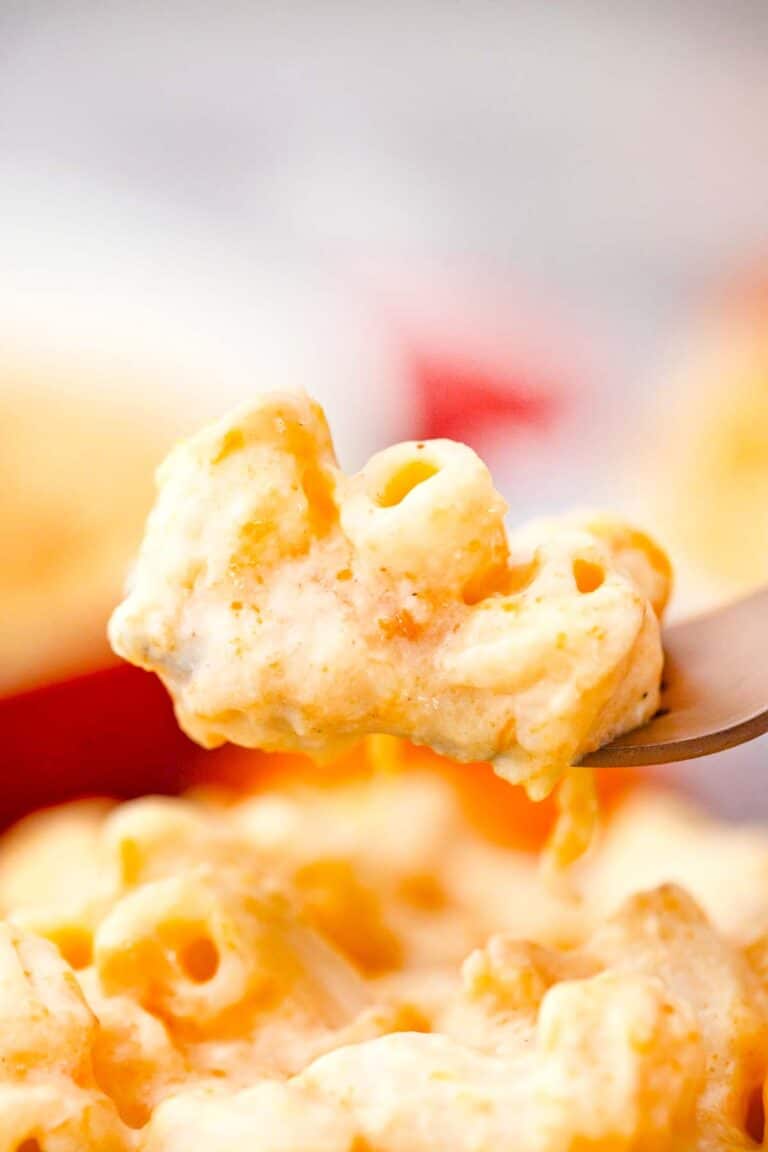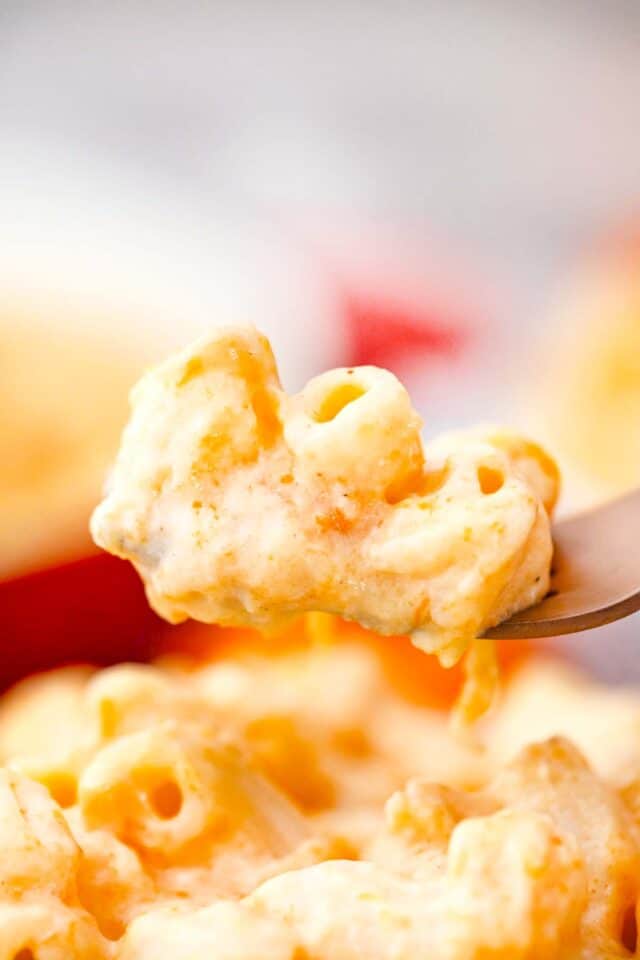 Recipe tips:
Alternatively, if you want old-fashioned macaroni with a golden-brown toasted top, put it in a casserole dish and broil for several minutes.

This can also be made in the instant pot in less than 20 minutes.

For an extra creamy sauce, cut out the milk and just use Greek yogurt.
If you can afford it, get the best pasta. It just has a better taste and texture.

Be sure not to overcook the pasta. It will keep cooking in the cheese sauce and get mushy.

Do not skip the nutmeg in this recipe. It makes a big difference.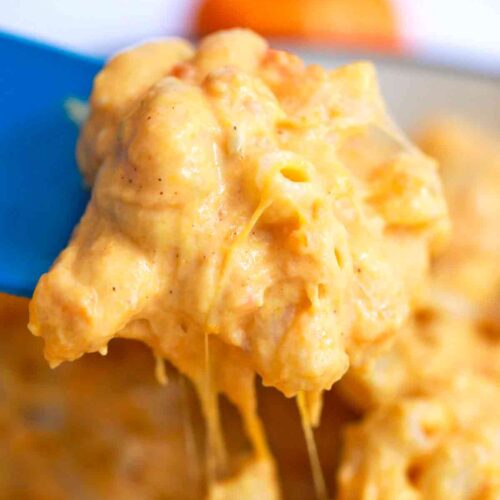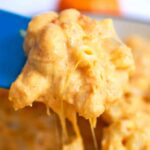 Pumpkin Mac and Cheese
Pumpkin Mac and Cheese may just be your new favorite comfort food. A cheesy meal made with just a few ingredients.
Course:
Main Course, Side Dish
Keyword:
Pumpkin Mac and Cheese
Ingredients
1

lb

elbow macaroni

1/4

cup

unsalted butter

1/4

cup

all-purpose flour

1 1/2

cup

milk

1

cup

heavy cream

1

cup

chicken broth

or vegetable broth

1

teaspoon

dry mustard

pinch

of nutmeg

pinch

of cinnamon

1

teaspoon

salt

1/4

teaspoon

ground black pepper

1

cup

pumpkin puree

1

teaspoon

hot sauce

2

cups

sharp cheddar cheese

shredded

1/2

cup

Mozzarella cheese

shredded
Instructions
Boil pasta according to package directions, aiming for al dente. Drain well, do not rinse, toss it with some olive oil and set it aside.

In the meantime, in a large pan over medium heat melt the butter.

Whisk in flour and cook for 1 minute.

While stirring, add milk, cream, and broth a little at a time. Whisk until smooth. Stir in the pumpkin puree.

Add dry mustard, nutmeg, cinnamon, salt, ground black pepper, and hot sauce. Stir and cook over medium heat until the mixture comes to a boil. Boil for 1 minute.

Remove from heat, and stir in the cheeses, until smooth.

Stir in the macaroni. Taste and adjust for salt and pepper.
Nutrition Facts
Pumpkin Mac and Cheese
Amount Per Serving
Calories 739
Calories from Fat 360
% Daily Value*
Fat 40g62%
Cholesterol 128mg43%
Sodium 890mg39%
Potassium 451mg13%
Carbohydrates 69g23%
Protein 25g50%
Vitamin A 7716IU154%
Vitamin C 5mg6%
Calcium 447mg45%
Iron 2mg11%
* Percent Daily Values are based on a 2000 calorie diet.