Salmon Patties are great as appetizers with their flaky texture in the middle and crispy edges! Make them from scratch with this easy recipe!
Looking for seafood recipes? Check out my recipes for Pan-roasted Swordfish, Lemon Garlic Scallops, and Sweet and Sour Shrimp!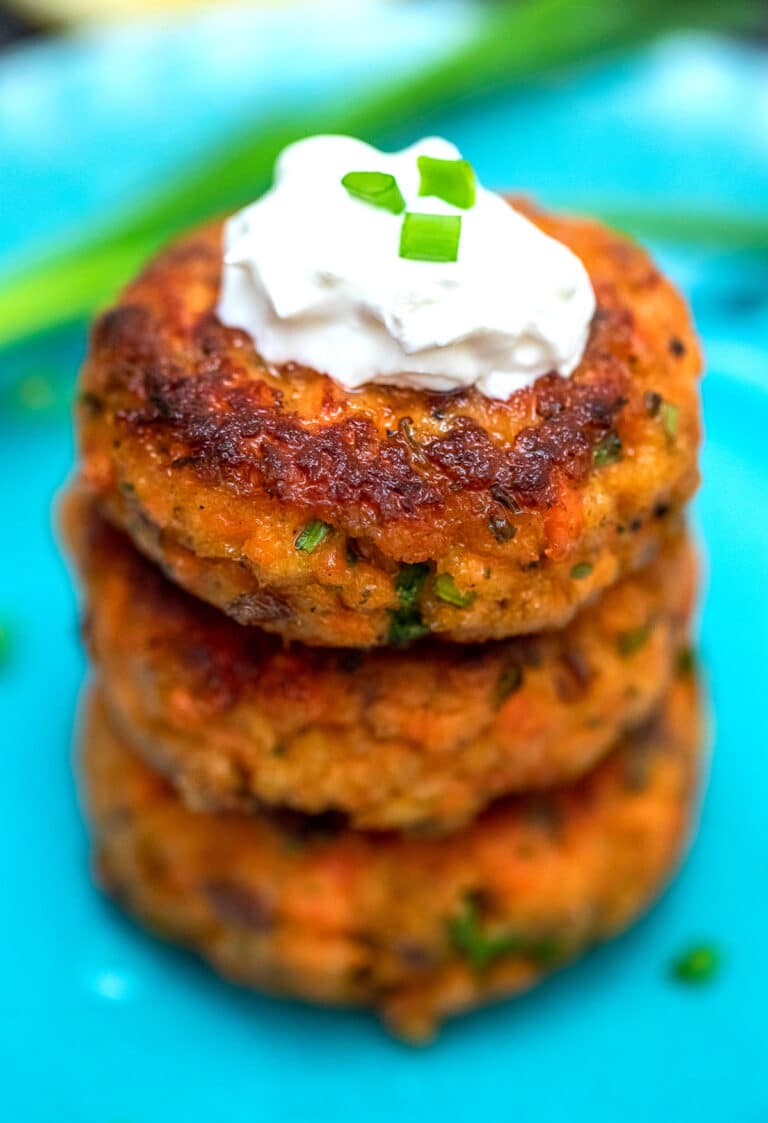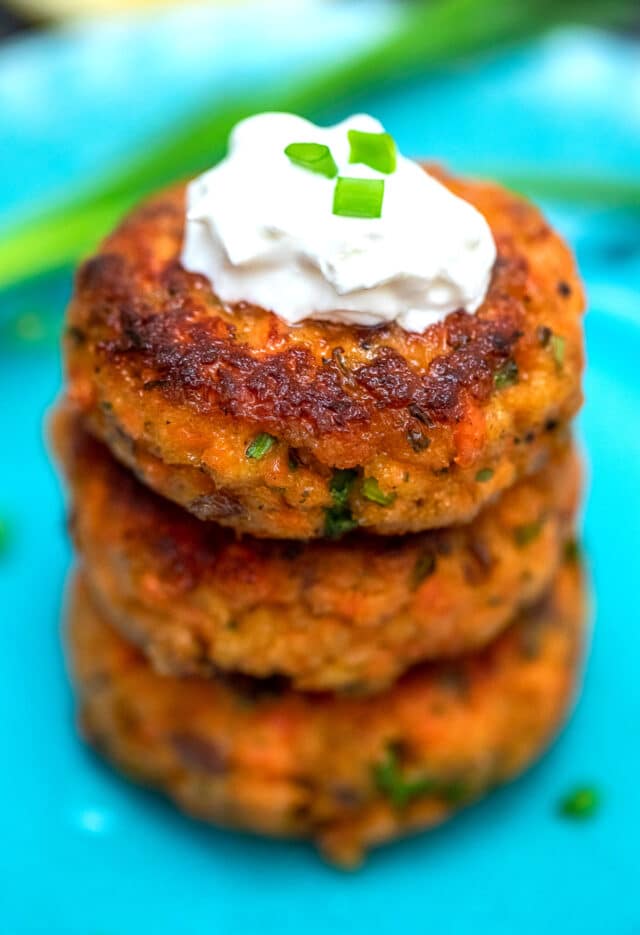 Salmon Cakes
Salmon patties are also called salmon cakes. This is a versatile dish as you can serve these cakes as a starter, as a side dish, as the main dish, or make them into a burger.
It is a simple dish, but it is so good! The cakes have a crusty exterior, but inside them, they're flaky.
Aside from the texture, I love the subtle and fresh fish flavor in it. The herbs and aromatics also complement that. And these factors make this dish an ideal appetizer.
In this recipe, I will share how I make them from fresh salmon, not the canned ones that this dish is famous for. There is a huge difference in flavors as the salmon tastes fresher and the texture better. And it is healthier, too!
Overall, this is a recipe that I make every so often for its ease of preparation, great flavors, and texture!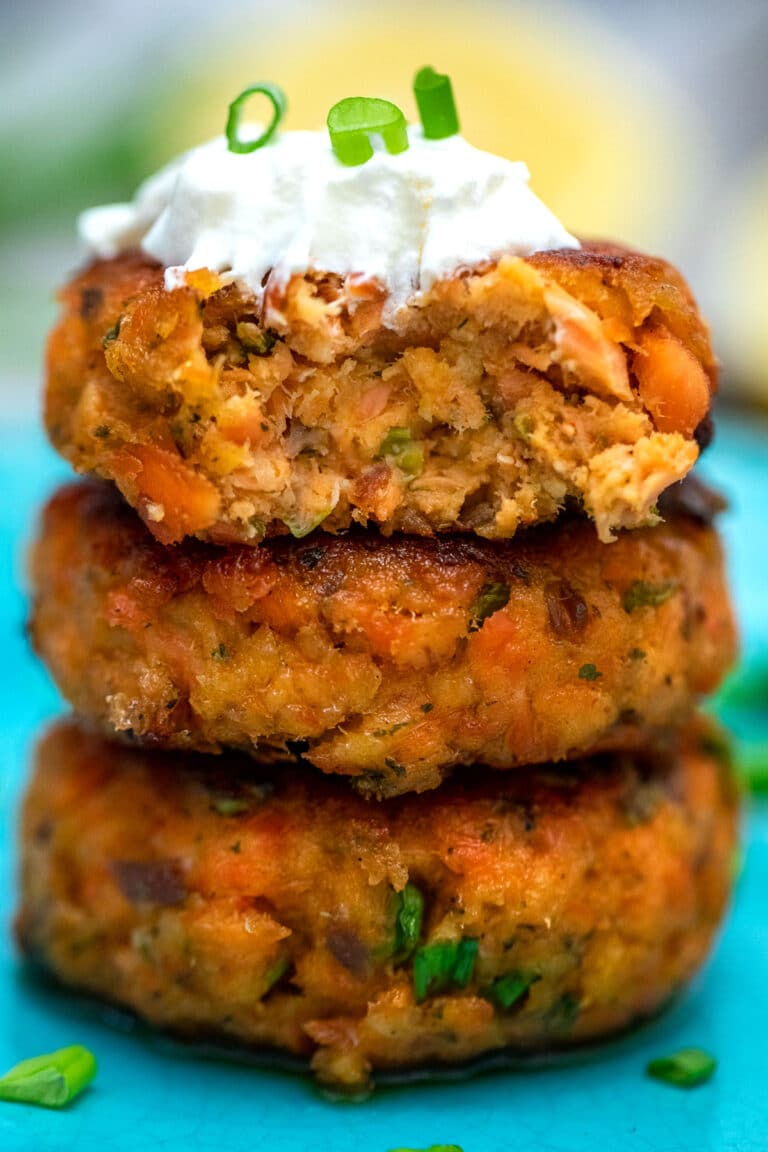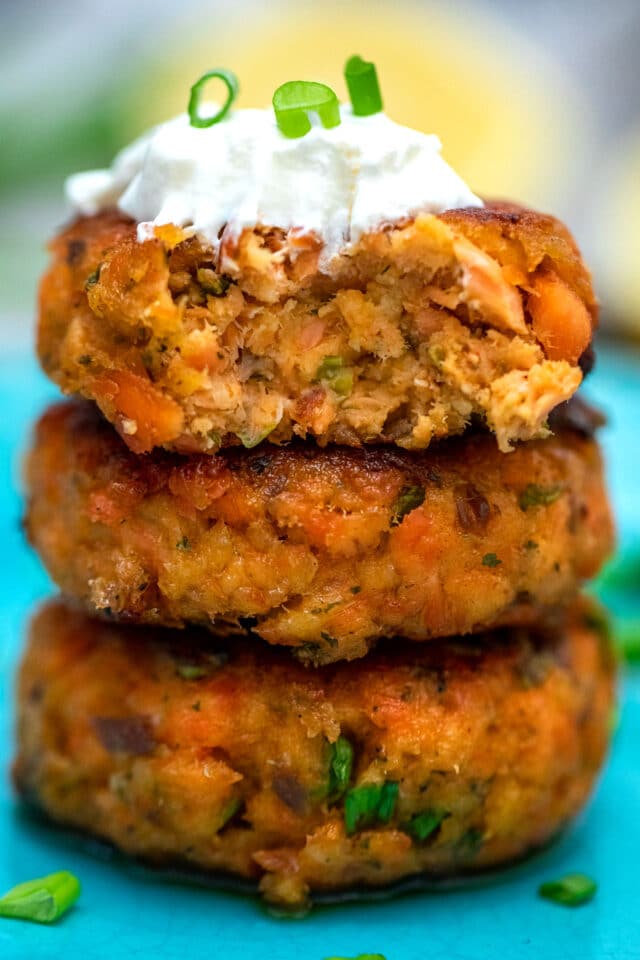 Are Salmon Patties healthy?
Yes! Specifically, for this recipe, I use fresh fish which is a healthier option instead of using the canned ones that have high sodium content.
And with the primary ingredient being the salmon, this dish is packed with omega-3 fatty acids, protein, and various vitamins and nutrients.
Omega-3 fatty acids are good for your blood pressure and overall heart health. The protein will help you satiate your hunger for longer which could be good when you are trying to lose weight.
So, overall, this dish is healthy if you eat it in moderation.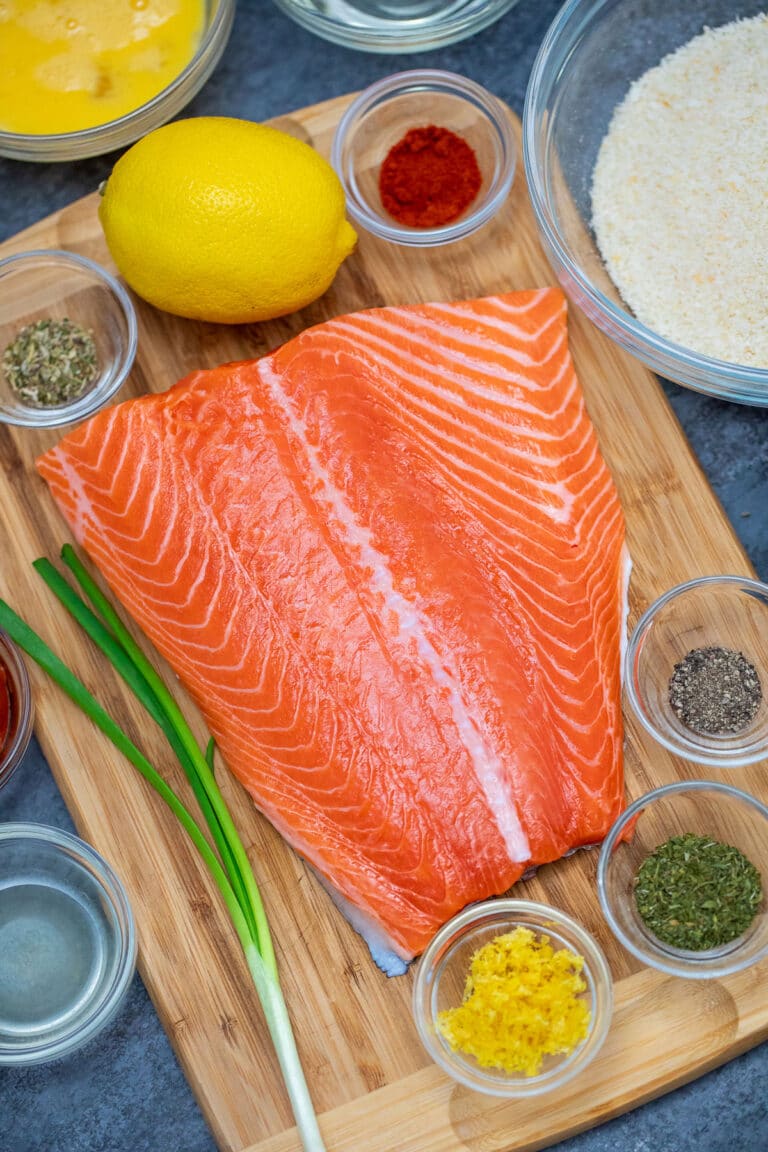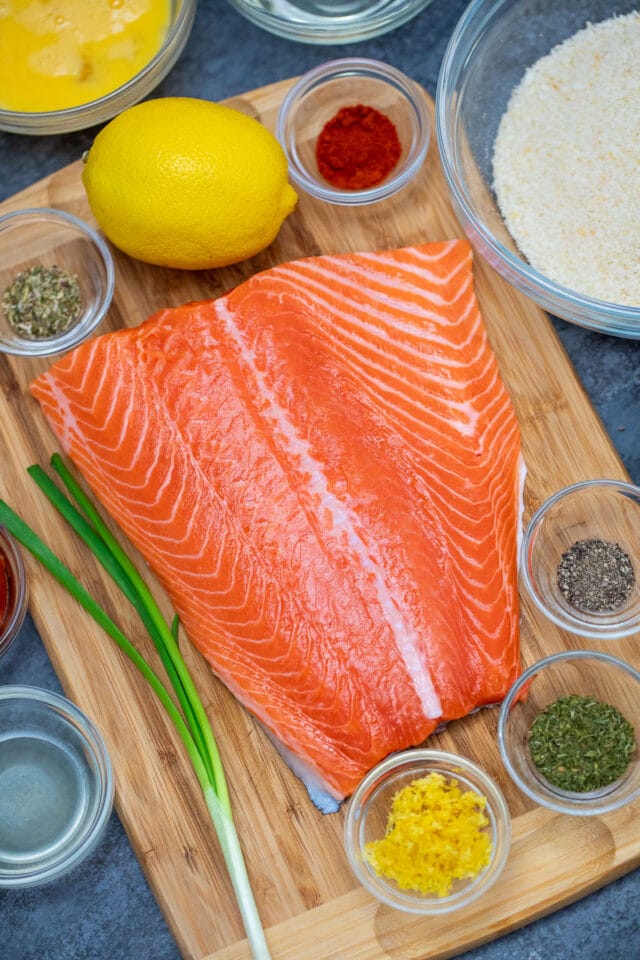 How to Make Salmon Patties?
Prep the fish

: Put it on a greased baking sheet, season with salt and pepper, and brush with olive oil. Bake it at 425 degrees Fahrenheit for about 10 minutes, then flake the meat with a fork. Discard the skin and bones.

Mix

: Combine the fish meat with the rest of the ingredients.

Shape

: Scoop out portions and shape into patties. Using an ice cream scoop is recommended so that each one is of the same size.

Fry

: Heat oil in a skillet and brown the cakes until golden brown. Drain any excess oil before serving.
How do I keep my Salmon Patties from falling apart?
Use a binder for your mixture. In this recipe, we use the breadcrumbs and egg to hold the mixture together.
What goes with Salmon Patties?
Here are some suggested dishes that you can serve with the cakes:
mashed or boiled potatoes

rice

pasta

roasted vegetables

any creamy sauce like hollandaise or tzatziki

Can I use canned salmon?
Yes, you can use the canned version. In terms of the nutritional content, there is almost no difference between the fresh and canned version of the fish.
It could even be a better option when you have no access to high-quality fish in your area. But remember that it could be saltier so adjust the taste as you season it.
How to store them?
You can simply place them in an airtight container and refrigerate them for up to 3 days. To reheat, you can reheat in the microwave or on the skillet.
If you decide to freeze them, you can store them for up to 3 weeks. Thaw them first before reheating.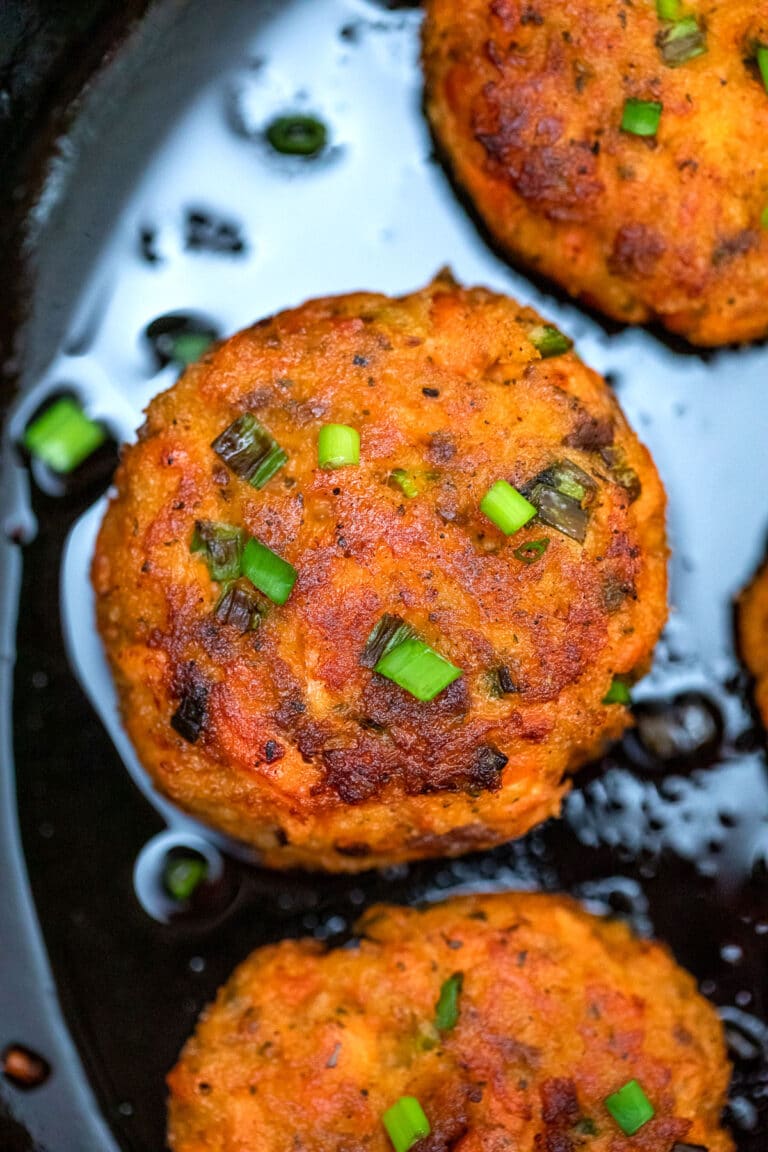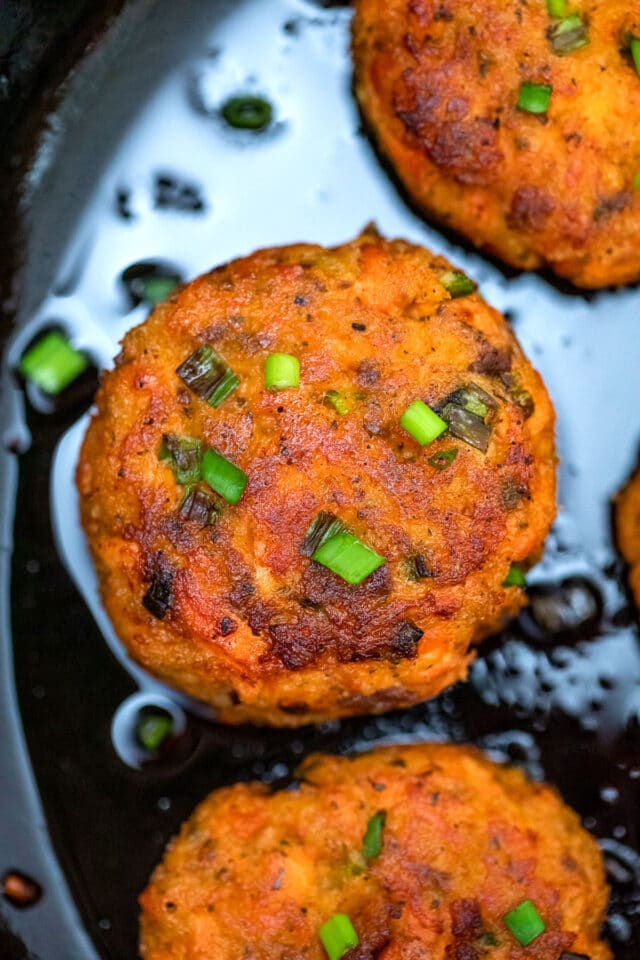 Recipe Tips
As a low-carb option, you may use cauliflower rice as a binder instead of the breadcrumbs.

If your mixture feels too dry, add mayo. Otherwise, add more of the binder.

If you are not keen on using mayonnaise, replace it with Greek yogurt.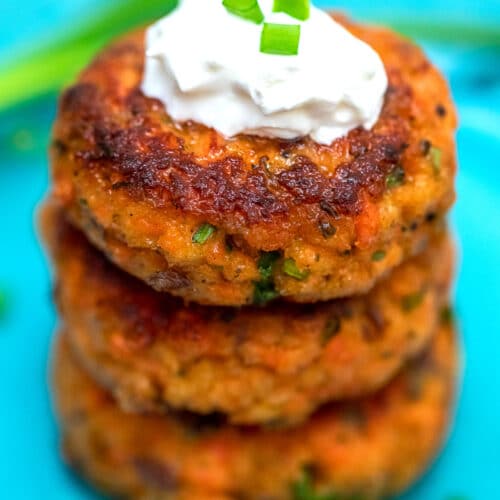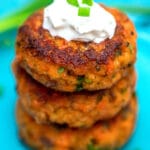 Salmon Patties
Salmon Patties are great as appetizers with their flaky texture in the middle and crispy edges! Make them from scratch with this easy recipe!
Ingredients
1

lb

salmon

cooked and flaked

1/2

cup

green onions

diced

4

cloves

garlic

minced

1 1/2

cups

Panko bread crumbs

1/2

teaspoon

Italian herbs seasoning

1/2

teaspoon

paprika

1

tablespoon

fresh parsley

chopped

1/4

teaspoon

salt and pepper

or to taste

2

large eggs

lightly beaten

1/4

cup

mayo

1

tablespoon

lemon juice

1

teaspoon

lemon zest

2

tablespoon

hot sauce

optional

Canola or vegetable oil

to cook the patties
Instructions
Place salmon skin-side down in a lightly greased baking sheet, and season with some salt and pepper. Brush with olive oil, and bake it for 10 minutes (uncovered) in the oven at 425˚F.

Once baked, discard the skin, and flake the salmon with a fork. If it has any bones, remove them.

Next, add to the salmon the rest of the ingredients, and mix them together using your hands.

Use an ice cream scoop for portioning so each salmon patty is about the same size, and make it into patties.

In a skillet, add some canola or vegetable oil, about 1 inch from the surface. Once the oil is sizzling, add the patties to the pan. Cook on each side for about 4-5 minutes, or until golden brown, turning gently.

Drain on paper towels and serve.