SWEET AND SPICY CHICKEN [Video]
Sweet and Spicy Chicken is perfectly crispy and coated in the most delicious, sweet, sticky and spicy sauce. Make it in one pan in 30 minutes only! Also, watch the short recipe video below for an easy step by step tutorial.
I love making easy Asian dishes that can feed the whole family. Some of my other quick, one-pan dinner ideas are Beef and Broccoli Stir Fry, Sweet and Sour Shrimp, and Crispy Honey Lemon Chicken.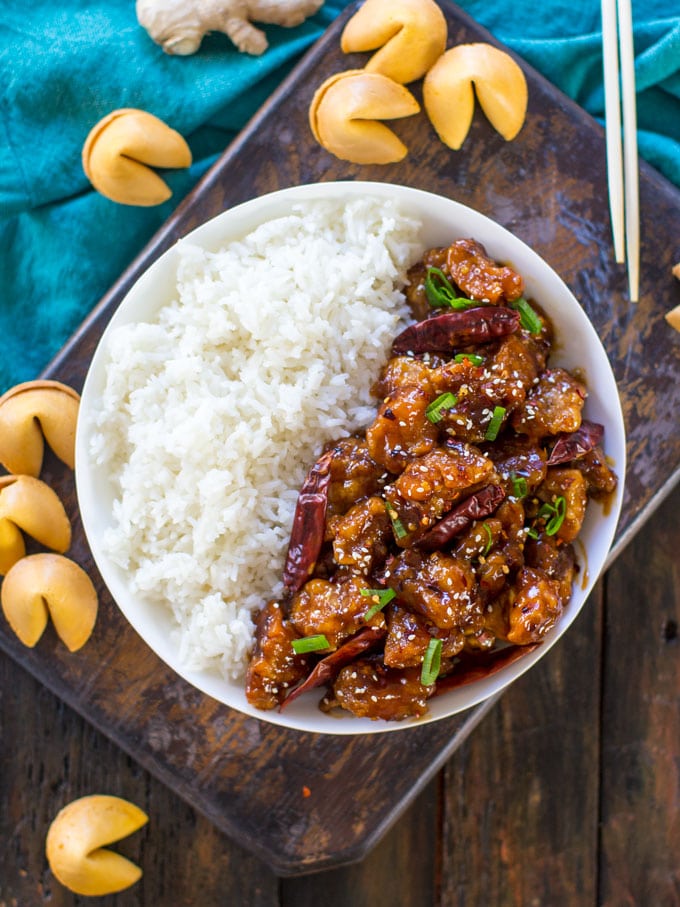 Easy Sweet and Spicy Chicken – Better than takeout
Sweet and Spicy Chicken is a restaurant-quality meal that beats takeout and can be made in the comfort of your kitchen in just 30 minutes. Easy ingredients, budget-friendly and perfect for busy weeknight dinners, when you want to cook less and eat more.
This quick Chinese dish is the perfect combo of sweet, spicy, sticky and crispy. The chicken is fried to perfection and after that coated in a delicious sticky sauce. Brown sugar, garlic, fresh ginger, and red pepper flakes make the sauce a great combo of sweet and savory!
Also, you can make it in advance and simply store it in the refrigerator. That way, you will have a delicious meal to enjoy the whole week. Give it a try, and you will see why this is one of the best Asian comfort food!
How to make the Best Sweet and Spicy Chicken?
This better than takeout Asian chicken dish is very simple and easy to prepare. Also, please watch the short video tutorial attached for a quick and easy tutorial. But the general steps are as follows:
Prepare the chicken: Cut the meat into smaller-cubbed sizes. Then, cover it with cornstarch. You can use any poultry cuts. Once properly coated with cornstarch, then set aside.
Make the sauce: In a separate bowl, whisk together all the sauce ingredients, and set aside.
Cook the poultry: In a skillet, add some oil. Then, brown the chicken. Once the meat is crunchy and has a golden-brown color, remove from the pan and set aside.
Combine the ingredients: In the same skillet, add some freshly minced garlic, ginger, and red pepper flakes. Stir for about 30 seconds. Then, add back the chicken. Pour it with the sauce, and gently stir for about one minute, or until the meat is fully covered in the sauce.
Serve: Enjoy it warm over some rice or noodles. Garnish with some sesame seeds and green onion.
Looking for more easy chicken dinner? Check these out: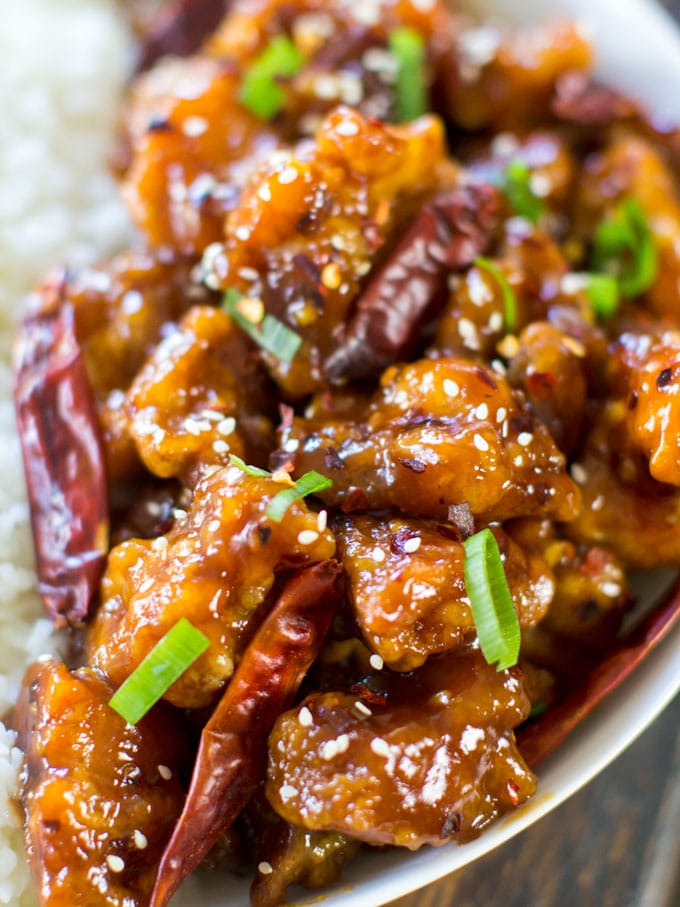 Tips and Tricks to make the perfect Sweet and Spicy Asian Chicken:
You should use quality meat, preferably organic, in this case, I used organic chicken thighs.
The recipe will work great also with chicken breast meat.
A nonstick skillet works great it this recipe.
Coating the meat evenly with corn starch is key, this will work as the breading for chicken and give it that crispy texture.
Make sure you use vegetable or canola oil to fry the chicken. Olive oil will give the fried chicken a darker color.
Fry the chicken until it's a light golden color.
Using fresh garlic and ginger (not powder) is very important, it will give the dish an amazing flavor.
You can add less or more red pepper flakes and hot sauce, depends on your own preference.
To make the dish healthier, skip the cornstarch and the frying and just cook the chicken in the sauce. It won't be as crispy, but it will still taste delicious.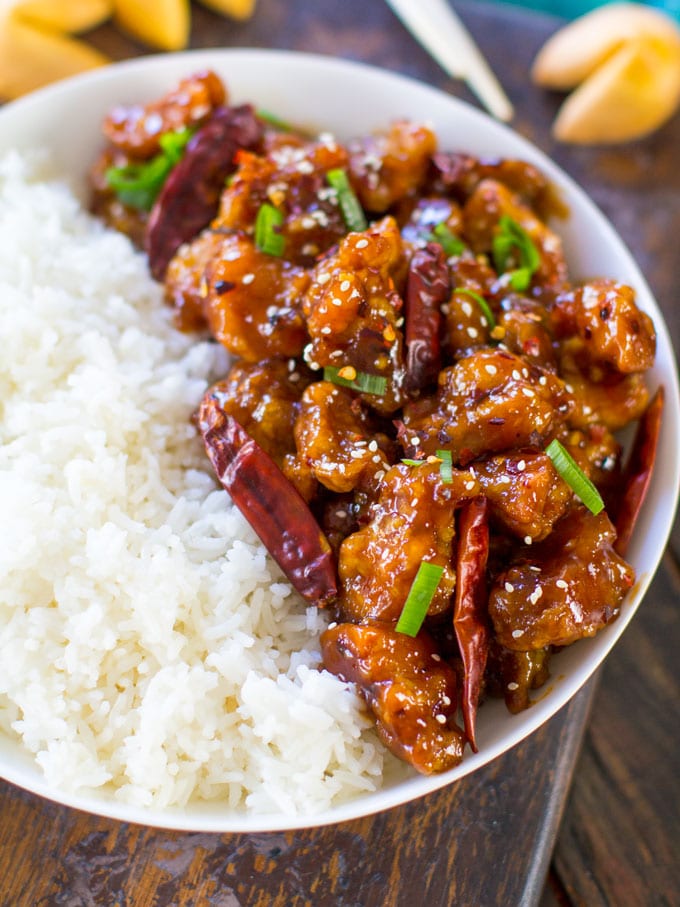 Can I make it in advance?
Absolutely! I actually like making it during the weekend and storing it for days to come. Simply let the dish cool prior to storing it. Then, transfer it to an airtight container, and store it in the fridge for up to 4 days.
You can reheat it over medium heat in a skillet, or simply microwave it for a few minutes until warm. In addition, check this article if you can leave the cooked chicken out overnight.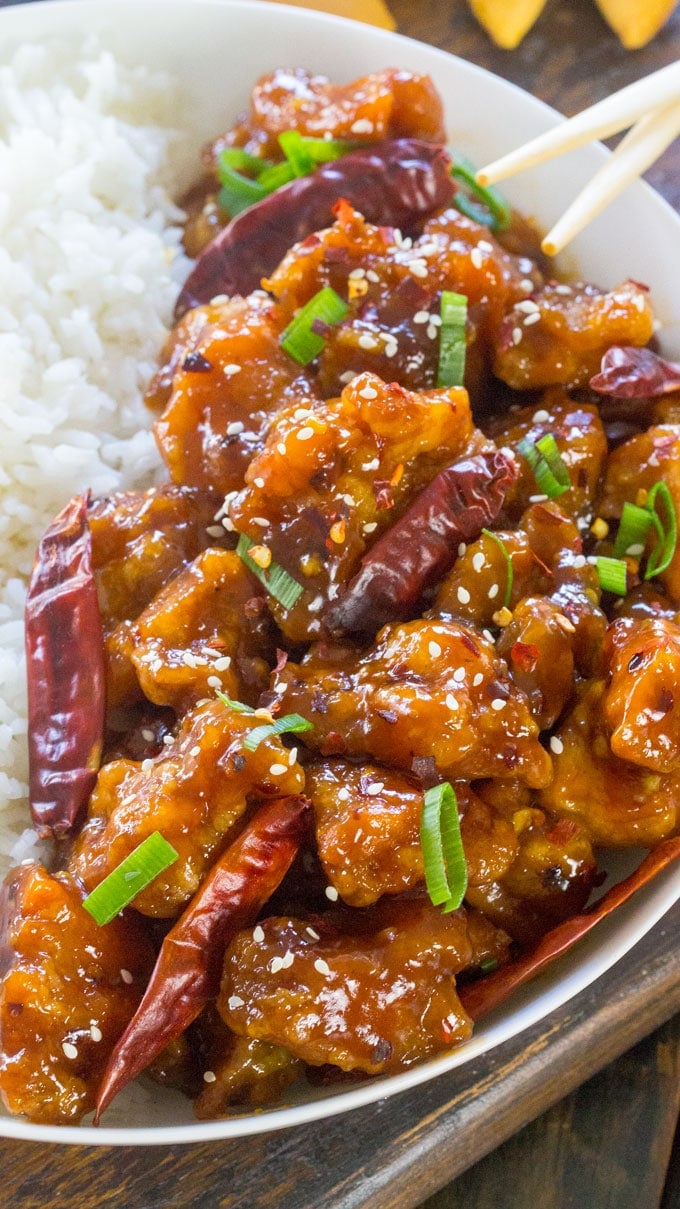 Tools/Ingredients I use to make this Crispy Sweet and Spicy Chicken: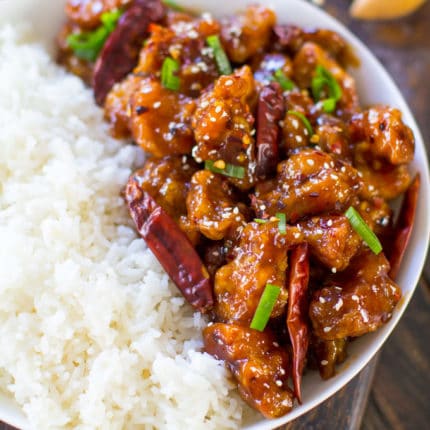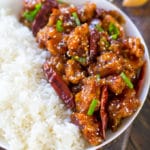 SWEET AND SPICY CHICKEN
Sweet and Spicy Chicken is perfectly crispy and coated in the most delicious, sweet, sticky and spicy sauce. Make it in one pan in 30 minutes only!
Ingredients
1

pound

chicken thighs cut into 1 inch chunks

1/3

cup

cornstarch

oil for frying

6

cloves

garlic

minced

1

tablespoon

ginger

minced

1

teaspoon

red chili flakes

3

dried red peppers

optional
For the Sauce:
6

tablespoons

rice vinegar

6

tablespoons

soy sauce

1

teaspoons

hot sauce

1/2

cup

water

4

tablespoons

brown sugar

1

tablespoon

cornstarch
Instructions
In a large bowl, toss the chicken thighs with the cornstarch well so every chicken piece is covered in cornstarch. Set aside.

Add all the "Sauce" ingredients to a bowl and whisk together to combine. Set aside.

Add vegetable oil to a large pan, at least so it reaches the mid of the pan.

Once the oil is hot, add the chicken and fry on medium-high heat until crispy and golden.

Remove chicken from the pan, save one tablespoon of oil and discard the rest.

Add garlic, ginger and red pepper flakes to the pan and cook on low heat for about 30 seconds, until you smell the garlic. Stir continuously and be careful as the garlic and red pepper flakes can burn quickly.

Add in the chicken back to the pan and toss.

Give the sauce a quick stir and add it to the pan.

Stir to coat well the chicken for about 30 seconds to 1 minute, until sauce has thickened.

Serve immediately with rice.
Recipe Video