Asian Chicken Salad Recipe
Asian Chicken Salad is a delicious meal made with chicken breasts, veggies, and crunchy chow mein noodles coated in a homemade peanut butter dressing. The crunchy noodles and roasted cashews on top make this a crunchy and tasty salad to enjoy whenever you want. In fact, you can have it for dinner tonight and save the leftovers for lunch tomorrow.
If you think this chicken salad recipe sounds delicious, you will love these other great recipes. This Cabbage Salad made with red and green cabbage, apple cider vinegar, and olive oil is amazing. Want something spicier? Try our Sweet and Spicy Chicken with ginger, dried red peppers, and chili flakes.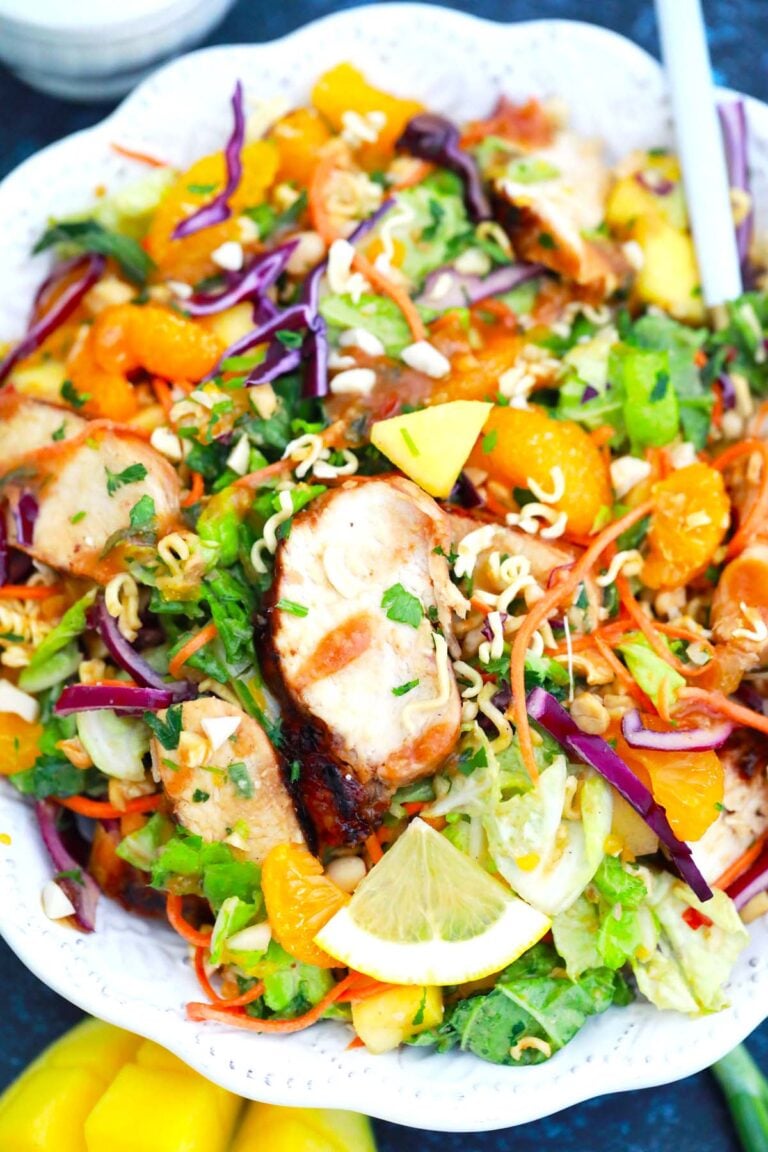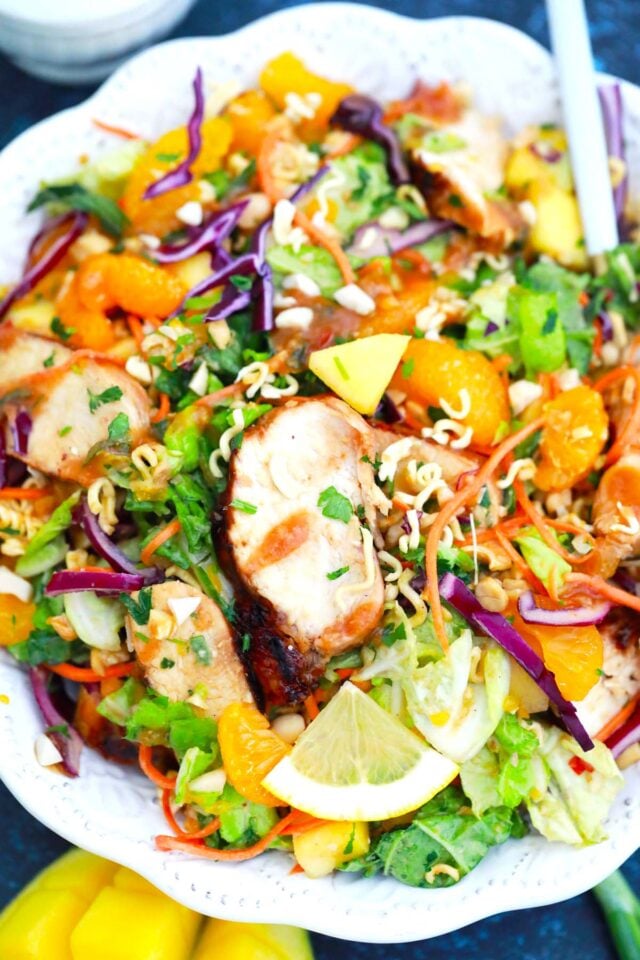 The first chicken salad ever made was in 1863 by Liam Gray who owned Town Meats in Wakefield, Rhode Island. He had some leftover chicken and mixed it with mayo, grapes, and tarragon. That's it! Over the years, we have added many things to it and made different versions of it like this Asian chicken salad.
This Chinese chicken salad with Asian salad dressing, cabbage, romaine lettuce, and other salad ingredients is easy for anyone including an everyday home cook. And with the homemade salad dressing seasoned with brown sugar, garlic, soy sauce, and rice vinegar, your whole family will love it.
Another spicy dish you may love is our firecracker chicken breast with black beans, sweet chili sauce, and oyster sauce. Another chicken salad recipe to try is our grilled chicken fajita salad made with chicken breasts, orange juice, and Greek yogurt.

Ingredients needed:
To make this delicious Asian chopped salad, gather the below ingredients. Then, when you are ready to start meal prep, scroll down to the recipe card at the bottom of this page for the measurements and step-by-step instructions.
Salad ingredients:
Boneless skinless chicken thighs
Teriyaki sauce: Try our recipe for homemade teriyaki sauce.
Olive oil
Kosher salt
Freshly ground black pepper
Romaine lettuce: Roughly chopped.
Shredded red cabbage
Shredded carrots
Crunchy chow mein noodles
Mandarin oranges: Drained.
Roasted cashews
Chopped fresh cilantro leaves: Finely sliced.
Green onions: Thinly sliced.
For the homemade peanut dressing recipe:
Peanut butter
Rice wine vinegar
Reduced sodium soy sauce
Brown sugar
Minced garlic cloves
How to make Asian chicken salad from scratch?
To begin: First, combine minced garlic, brown sugar, rice wine vinegar, soy sauce, and peanut butter in a small bowl and whisk with a quarter-cup of warm water. Put it in the fridge to chill until you are ready to serve.
Marinate the chicken: Next, marinate chicken with teriyaki sauce in a large bowl or zipper baggie in the fridge for at least two hours but overnight is better. Turn the bag or mix chicken occasionally.
Preheat: After the marinated chicken has been drained, preheat the grill to medium-high heat.
Baste: Meanwhile, brush your chicken with oil before seasoning it with salt and pepper to taste.
Grill until done: Once the grill is hot enough, place marinated chicken on the grill and cook it for about 10 minutes, turning occasionally. Check the internal temperature of the chicken before removing it. It should be 165 degrees F when it is done.
Assemble your salad: Last, chop or shred chicken and add it to a large bowl with green onions, cilantro, cashews, mandarin oranges, chow mein noodles, carrots, and Chinese cabbage. Pour dressing on top and toss salad until it is combined.
Serve immediately: Finally, serve your Asian chicken salad with extra peanut dressing on the side.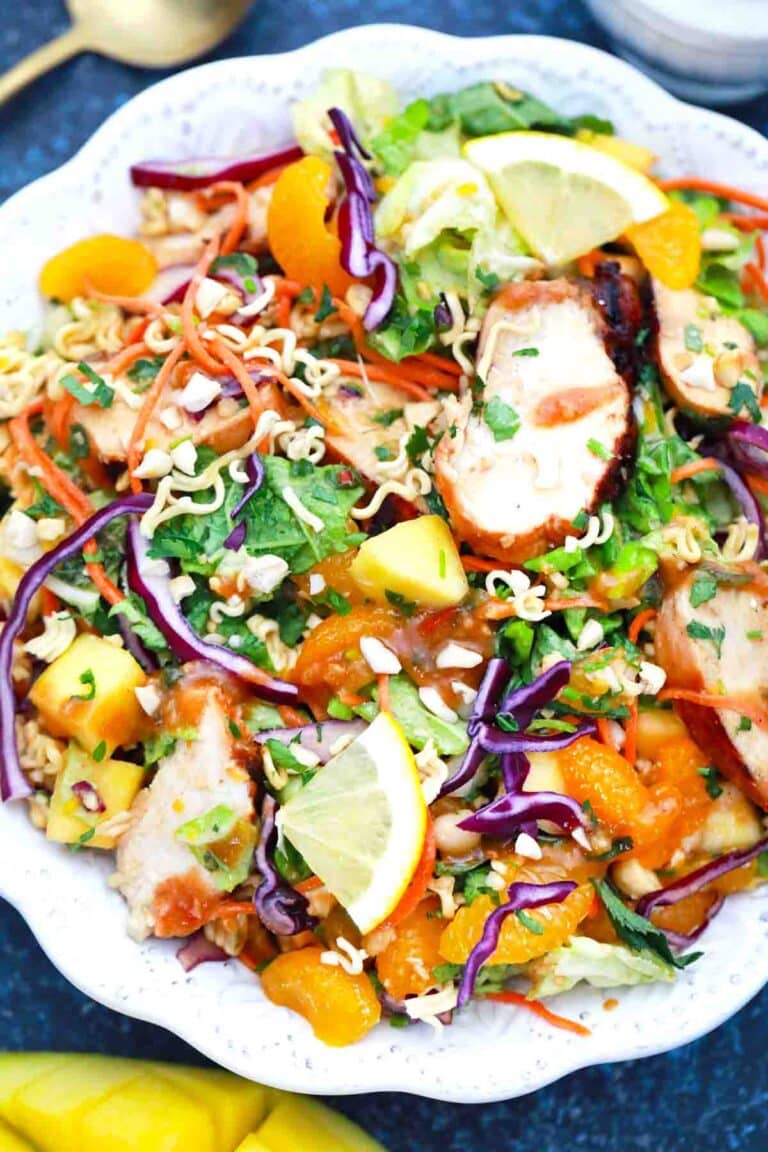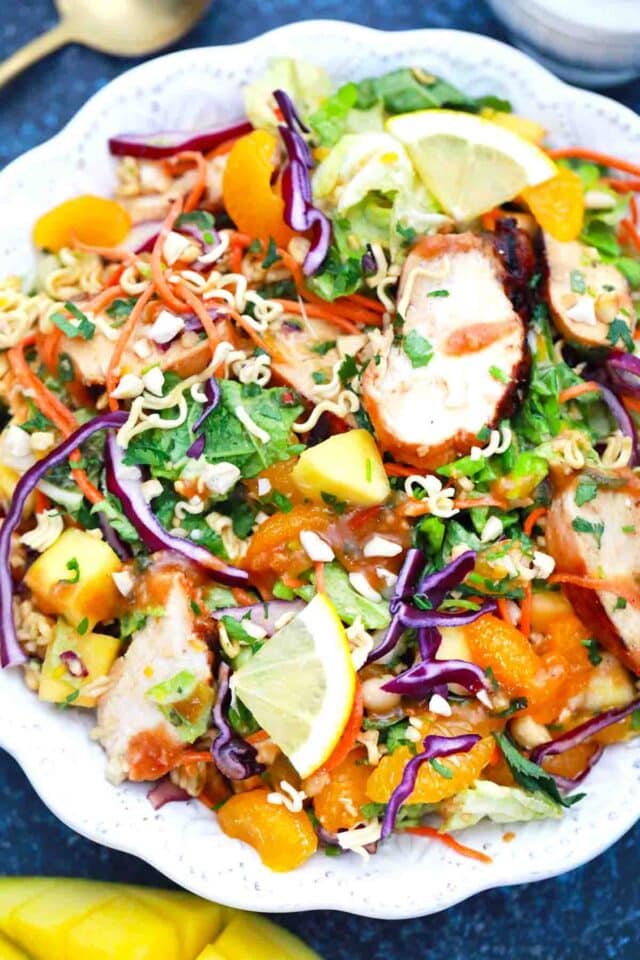 How to make baked Asian chicken salad?
Prepare your dressing: To start, whisk together a quarter cup of warm water with peanut butter, garlic, soy sauce, brown sugar, and rice vinegar in a small bowl.
Marinate: Then, add teriyaki sauce and chicken in a Ziploc baggie or large bowl and marinate in the refrigerator for two to eight hours, turning or stirring a few times.
Preheat oven: Next, preheat oven to 375 degrees F and prep a baking dish with non-stick baking spray.
Brush the chicken: In the meantime, use a barbecue brush with olive oil and season with salt and pepper.
Bake chicken: When the oven is heated, put the marinated chicken in the prepared baking dish and bake for 10 to 20 minutes. Flip and cook for another five minutes. The internal temperature should be 165 degrees F.
Shred chicken: Now, shred or chop cooked chicken and mix it and the rest of the salad ingredients in a large serving bowl.
Serve: Lastly, top with chilled dressing and toss gently until coated before serving.
Recipe variations:
Another oil: Feel free to use other oils such as sesame seed oil or whatever you like cooking with.
Different nuts: You could also use toasted almonds instead of or in addition to cashews.
Other greens: You can use other greens like shredded brussels sprouts, green cabbage, iceberg lettuce, or spinach.
Liven it up: Alternatively, to liven up the salad part, use a mixture of different greens.
More veggies: Why not add more veggies like bell peppers, sweet corn, chopped celery, radishes, tomatoes, or snap peas? Use different colors of bell peppers to make a beautiful and colorful salad.
More fruit: Similarly, you could also add your favorite fruits like strawberries, apples, and pears.
Juice: Add two tablespoons of lemon or lime juice to the dressing for more flavor.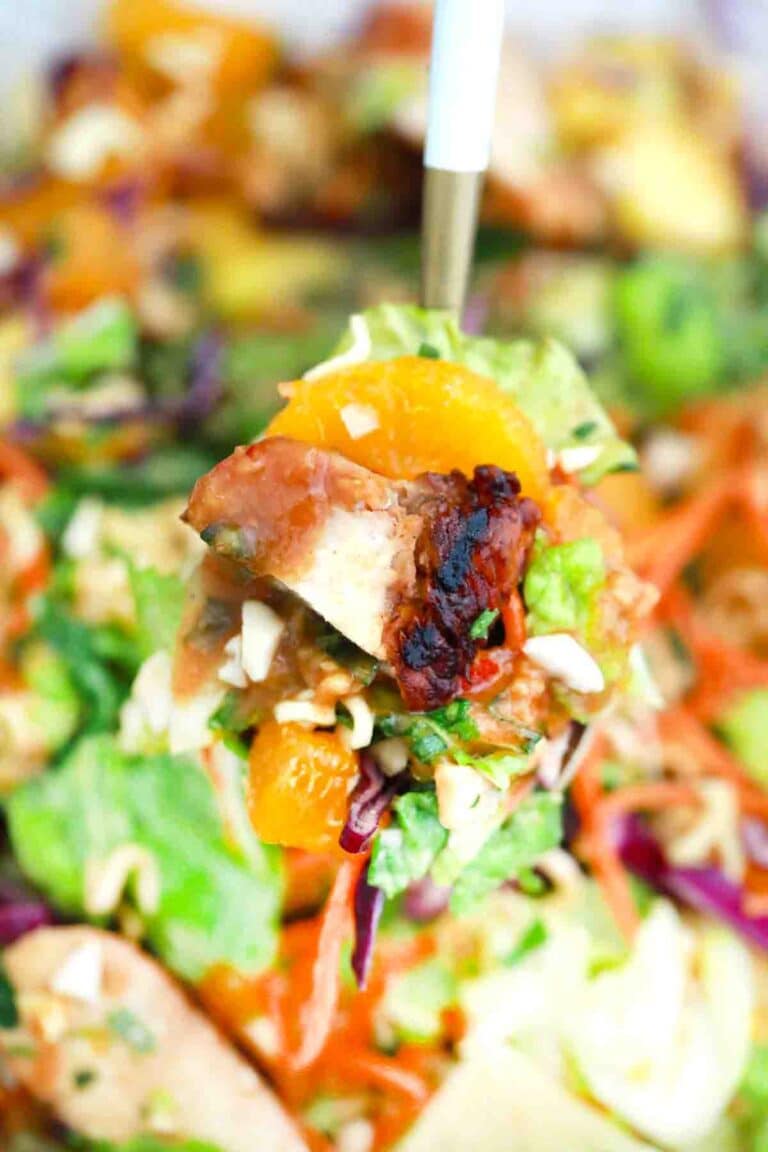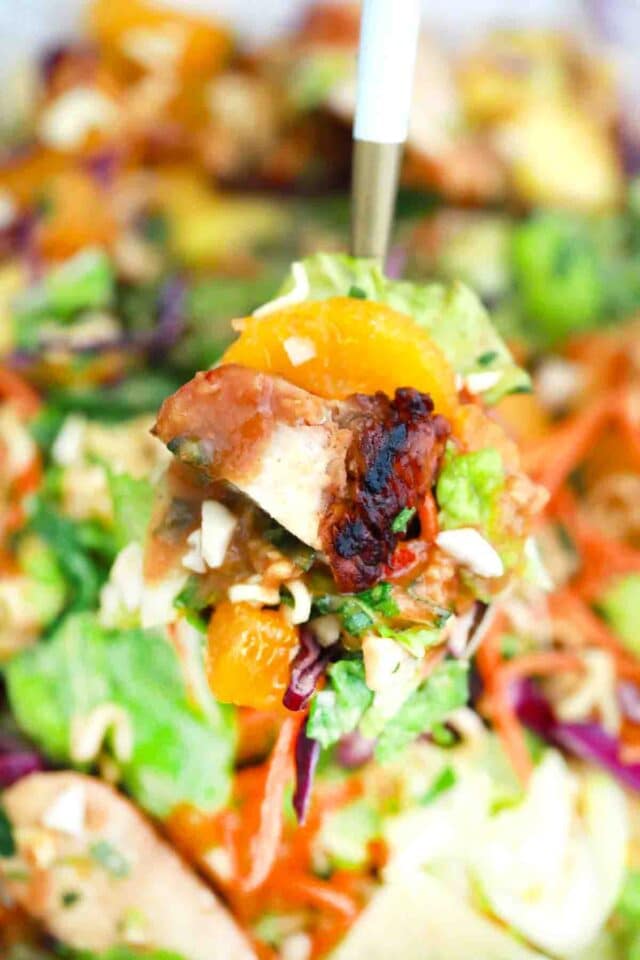 How to serve:
No matter whether you use the original or optional instructions, this is one of the best salads to serve as a meal or a side dish. It is good food for an appetizer or snack too. Try one of these awesome serving suggestions or share some of yours in the comments section below.
Toss some toasted sesame seeds on top of your crunchy noodles.
Asian chicken salad tastes even more delicious on a bed of rice. Try our sweet and savory pineapple fried rice recipe.
You can use a scoop of this delicious Asian chicken salad in place of a lettuce leaf on a burger or other sandwich.
Another way to use leftovers is to add them to another one of your favorite salad recipes. It would be perfect in this cabbage salad recipe.
Toss some wonton strips on top for more crunchiness.
For even more crunch, top your Asian chicken salad with our crumbled air fryer sweet potato chips on top.
Sprinkle some romano, parmesan, or another kind of dried cheese on top for a richer and cheesier salad.
Instead of the peanut dressing, try our homemade orange sauce instead.
If you really like cheese, you could also sprinkle on some shredded cheddar or mozzarella cheese before serving.
Frequently asked questions
What is the difference between red and napa cabbage?
Napa cabbage, also known as Chinese cabbage or Asian cabbage, has more tender leaves and tastes sweeter. It also has a more leaf-like shape than the common green cabbage. Napa cabbage is best for raw salads because it is not as bitter as the other one you usually find in the produce section. It is the perfect choice to make Asian chicken salad.
Why is it called Asian chicken salad?
Although it was originally served first in the United States in the 1930s, this dish is often referred to as Asian chicken salad or Chinese chicken salad. This is because of the many Asian ingredients used like chow mein noodles, Mandarin oranges, teriyaki, and soy sauce.
Why is my chicken dry?
If you did not marinate your chicken long enough, it may end up dry and flavorless. Although the recipe notes that it should be marinated for at least two hours, we think overnight is much better. Of course, your chicken may have been cooked too long to make it dry out. If you are using chicken breast, try using chicken thighs instead.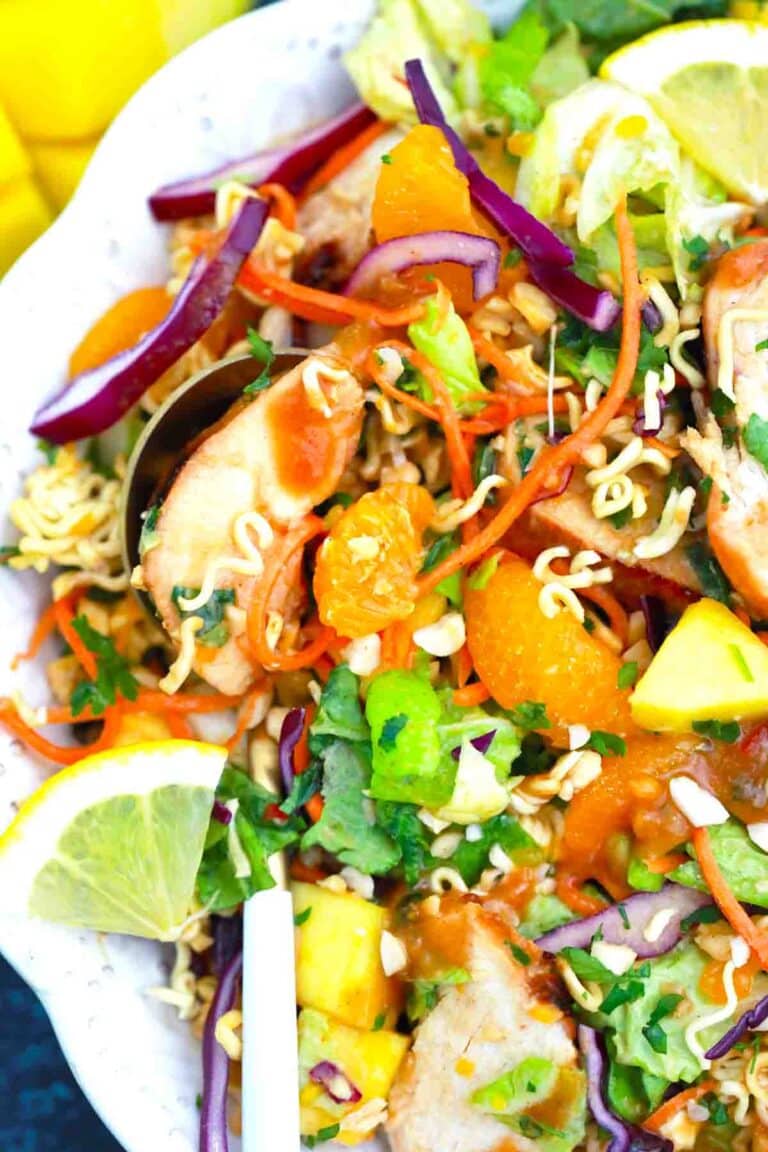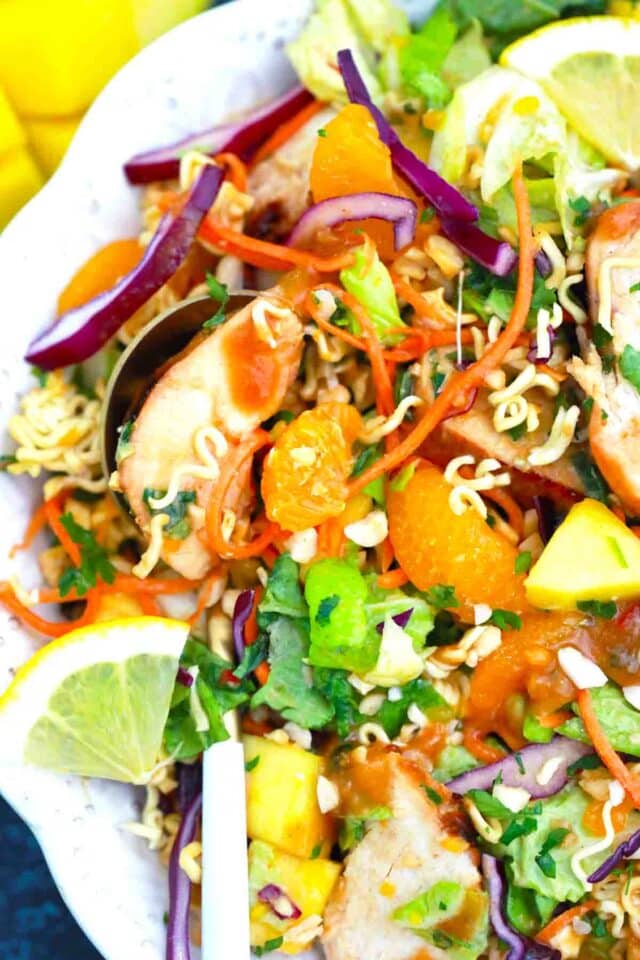 What are the nutrition facts in this recipe?
Each serving of this tasty chicken salad has 630 calories, 800 milligrams of sodium, 53 grams of sugar, and 103 carbohydrates as well as 40 grams of fat that includes 10 grams of saturated fat, 19 grams of monounsaturated fat, and 9 grams of polyunsaturated fat.
On the positive side, this salad also provides 126 milligrams of calcium, 80 milligrams of vitamin C, and 10,830 units of vitamin A as well as 6 milligrams of iron, 1,771 milligrams of potassium, and 67 grams of protein.
How to store leftovers:
Store: You can store your leftover Asian chicken salad in an airtight container for up to three days.
Freeze: You can also freeze your Asian chicken salad for up to three months.
Thaw: Be sure to thaw your salad in the fridge overnight before serving it for the best results.
Cooking tips:
Chop your vegetables easier and faster with a food processor.
For shorter meal prep, use rotisserie chicken for your Asian chicken slaw.
Another way to save time is to buy pre-cut veggies from any grocery store. You can get them fresh or in the freezer.
If you do not have garlic cloves, you can use garlic powder.
Also, if you do not have Mandarin oranges, use chopped mango instead.
Make sure the chicken is 165 degrees F at its thickest point before serving.
Roast your cashews before using them for more flavor. Slice thinly and bake for 10 minutes at 350 degrees F.
For more popular recipes, check out our food blog at 30 Minutes Meals.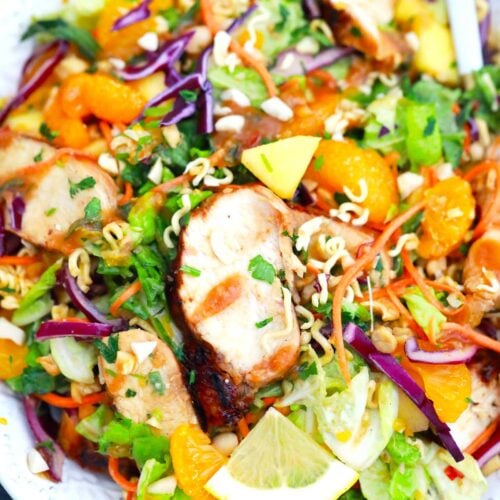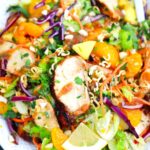 Asian Grilled Chicken Salad
Asian Chicken Salad is a delicious meal made with chicken breasts, veggies, and crunchy chow mein noodles coated in a homemade peanut butter dressing.
Course:
Main Course, Salad
Keyword:
Asian Chicken Salad
Ingredients
2

pounds

boneless skinless chicken breasts

or thighs

1

cup

teriyaki sauce

homemade or store-bought

2

tablespoons

canola oil

Salt and black pepper

to taste

1

head romaine

roughly chopped

2

cups

shredded red cabbage

1 1/2

cups

shredded carrots

or julienned carrots

1

cup

crunchy chow mein noodles

dry

11

ounces

can of mandarin oranges

drained

1/2

cup

roasted unsalted cashews

or roasted unsalted peanuts

1/2

cup

fresh cilantro leaves

chopped

1/4

cup

green onions

thinly sliced
Peanut dressing:
6

tablespoons

creamy peanut butter

2

tablespoons

soy sauce

low-sodium

1 1/2

tablespoons

rice wine vinegar

1

tablespoon

brown sugar

2

cloves

garlic

minced

1/3

cup

warm water
Instructions
In a small bowl, whisk together the dressing ingredients until smooth. Place in the fridge until ready to serve.

In a large bowl, combine chicken and teriyaki sauce. If you have time, cover the bowl with plastic wrap and marinate for at least 2 hours overnight, turning the meat occasionally. If you don't have time, move to the next step.

Preheat the grill to medium heat or place a grill pan over medium heat. Drain the chicken from the marinade.

Brush the grill or grill pan with canola oil, season the meat with salt and pepper, and cook, turning occasionally, until chicken is completely cooked through, reaching an internal temperature of 165 degrees F, about 10-12 minutes.
Assemble the salad:
Place chopped romaine lettuce in a large bowl, and top with sliced grilled chicken, cabbage, carrots, chow mein noodles, mandarin oranges, cashews, cilantro, and green onions.

Pour the dressing on top and gently toss to combine.
Nutrition Facts
Asian Grilled Chicken Salad
Amount Per Serving
Calories 499
Calories from Fat 207
% Daily Value*
Fat 23g35%
Cholesterol 97mg32%
Sodium 1510mg66%
Potassium 1098mg31%
Carbohydrates 32g11%
Protein 43g86%
Vitamin A 5160IU103%
Vitamin C 39mg47%
Calcium 70mg7%
Iron 3mg17%
* Percent Daily Values are based on a 2000 calorie diet.