Cherry Smoothie is fast and easy to make in just a few minutes with a handful of ingredients. All you need is some yogurt, vanilla, cherries, bananas and you have an instant breakfast smoothie or healthy snack your whole family will love.
Chocolate fans will love this sweet and tart Chocolate Cherry Smoothie too and it is also simple to make in minutes. If you are looking for other ideas for your smoothie habit, check out our Smoothies recipes. For those who love cherries, take a look at our other Cherry recipes.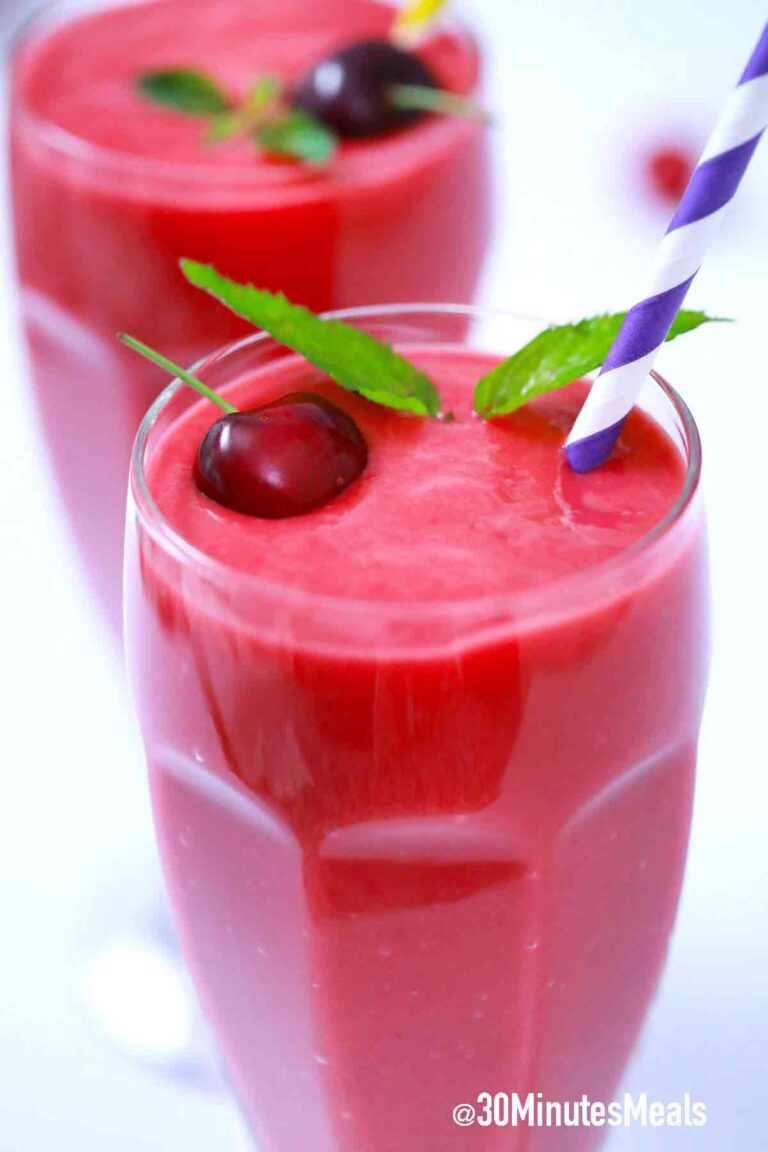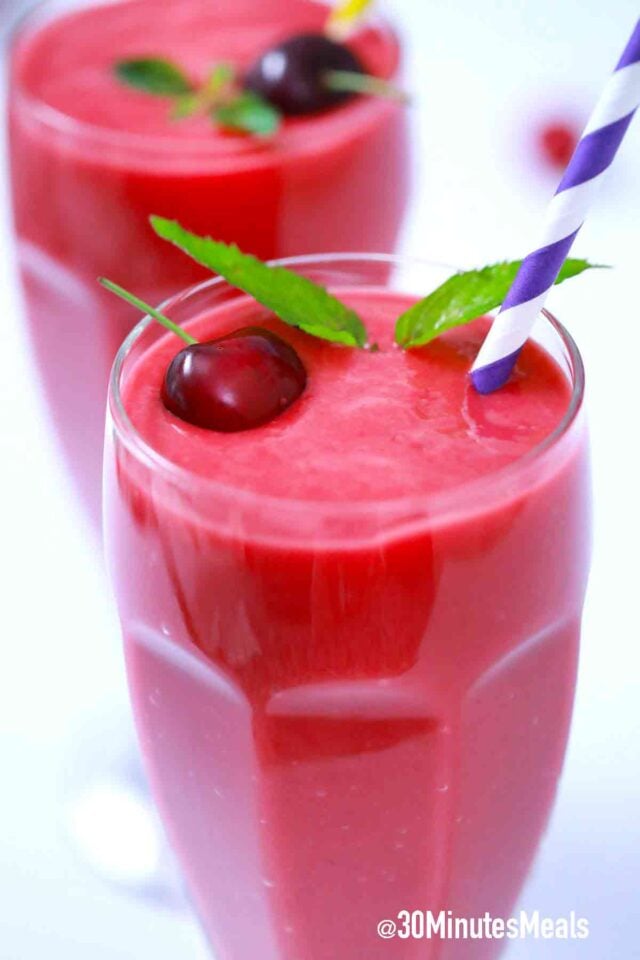 Whether you use frozen dark cherries, sweet cherries, or tart cherries, this cool and fruity drink will be on your list of favorites as soon as you take a sip. The burst of the tangy cherry juice with the frozen banana sweetness blends well to make a smooth and creamy treat you don't have to feel guilty about.
Pour this into your go-cup and take it on a run or hike or drink it on your way to the gym for a nice energy boost. It is also great for a pick-me-up after work to get your second wind for the night out with the spouse or kids.
Ingredients needed:
You only need a few ingredients for this easy recipe. But you can get the precise measurements and instructions below on our recipe card.
Cherry juice: Freshly made is perfect but store-bought is okay too.
Banana: Sliced frozen banana is a refreshing way to add flavor and texture.
Sweet dark cherries: Frozen cherries or fresh pitted cherries are both fine.

Greek yogurt: Vanilla is best but another flavor if you cannot find it. Or you can make your own from scratch.

Almond extract: Or vanilla if you do not have almond.
Garnish: Add fresh cherries and mint sprigs for garnish.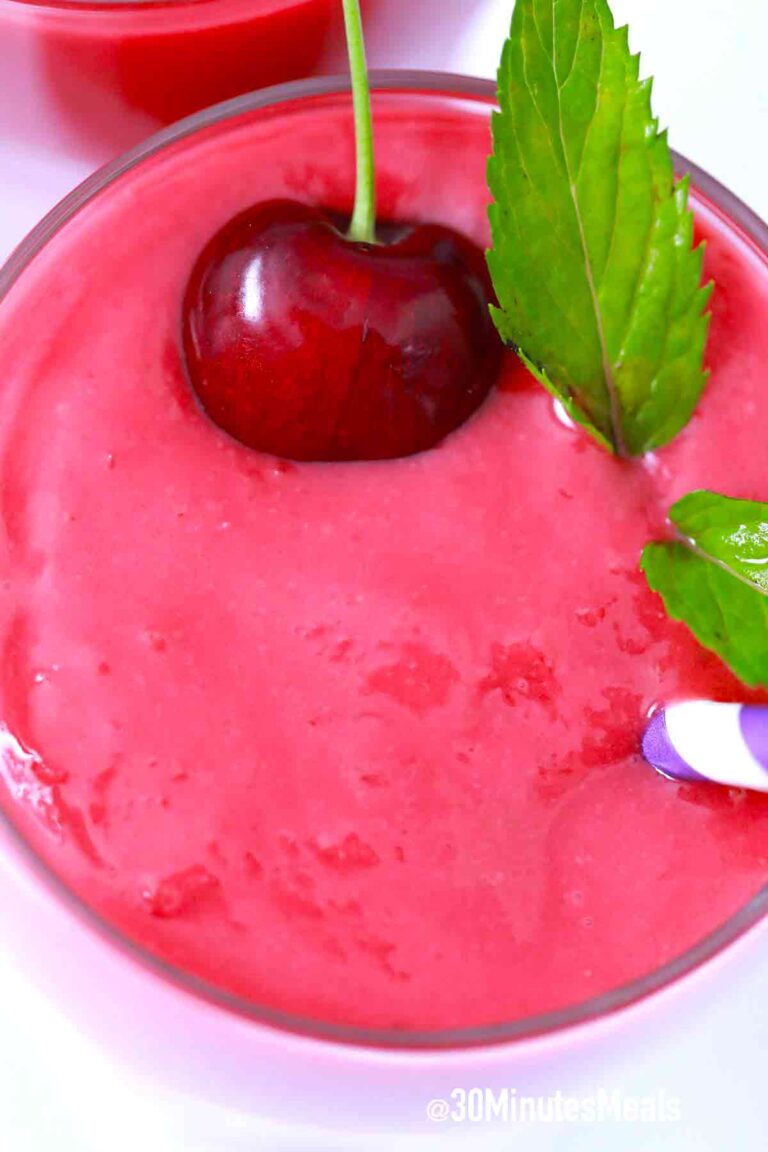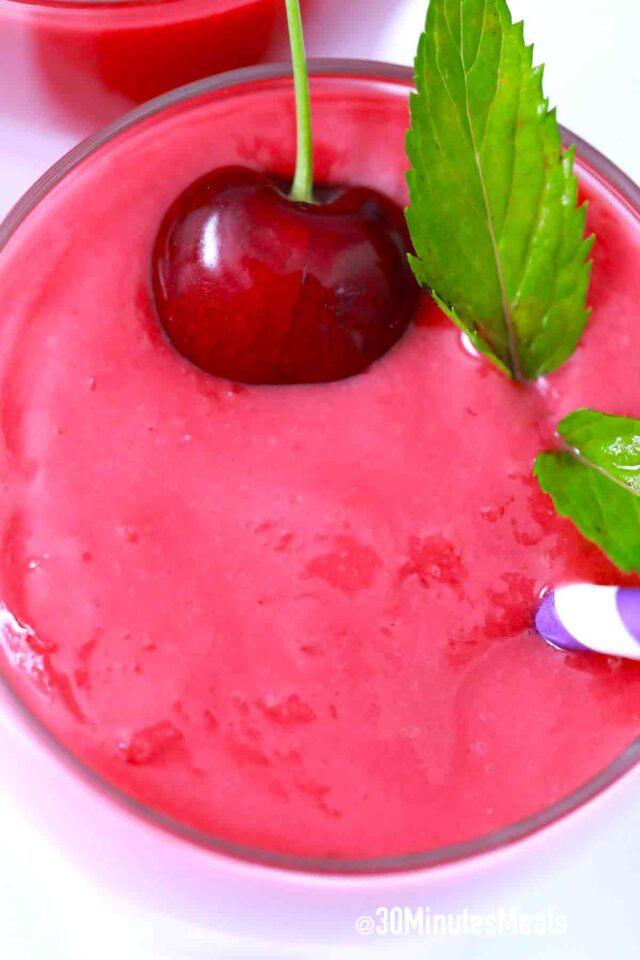 How to make a cherry smoothie from scratch?
Combine: First, put the juice, banana, cherries, almond extract, and yogurt into a high-speed blender.
Blend: Next, blend on low until mixed and then on high speed until it is completely smooth.

Serve: Last, pour into two chilled glasses and top with cherries and mint.
Recipe variations:
Add some protein: If you need more protein, add a scoop of protein powder.
Milk: Another way to get some protein is by adding milk. Dairy-free, almond, or soy are fine too.
Other yogurt flavors: Some other flavors of yogurt that would be good include banana, lemon, or even chocolate.

More chocolate: For even more chocolate flavor, add semisweet chocolate chips before blending.
More fruit: Alternatively, add other frozen fruit like blackberries or raspberries to the mix.

No banana: Actually, the banana is not a must. Skip it if you don't like bananas.
How to serve:
This cherry smoothie goes great with fresh cherries and mint sprigs. Other tasty ideas include:
Add a scoop of light ice cream or whipped cream on top.

Mix this with blueberry lemonade or orange juice.

Sprinkle toasted almonds or granola into the mix for a more filling snack.

Try it with margarita mix or this mimosa recipe for a nice adult beverage.

Toss in some flax or chia seeds for more vitamins and fiber.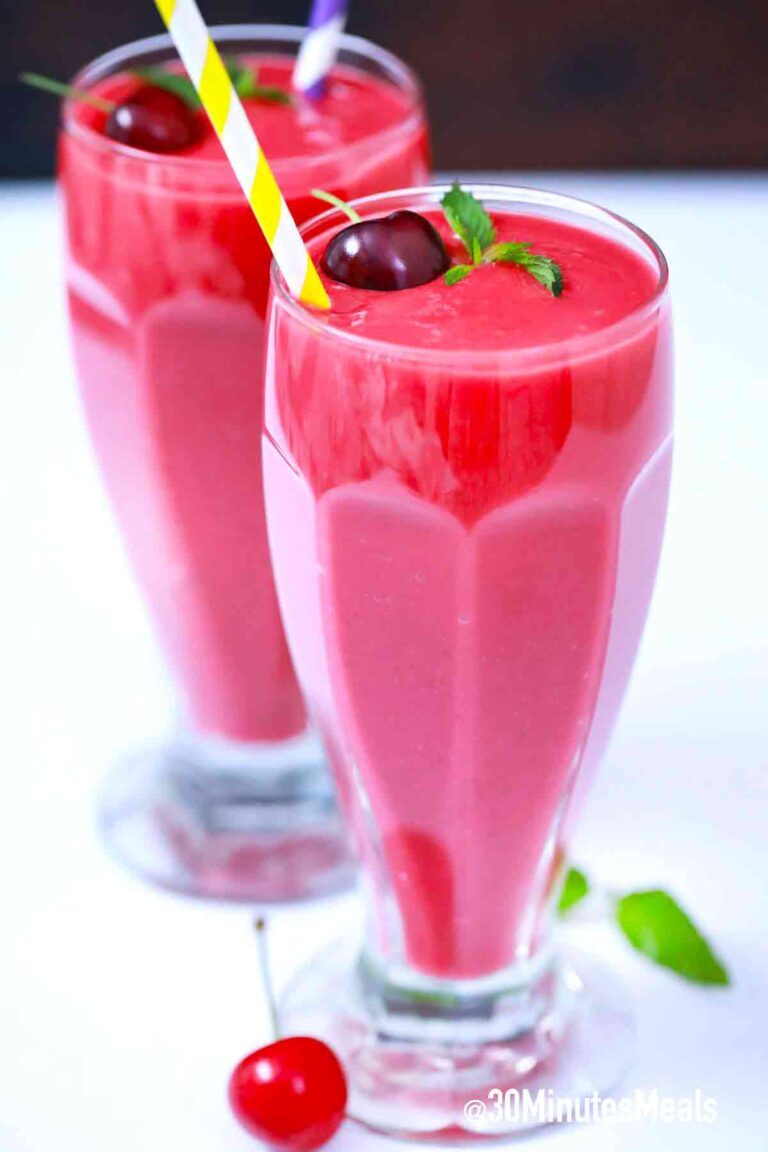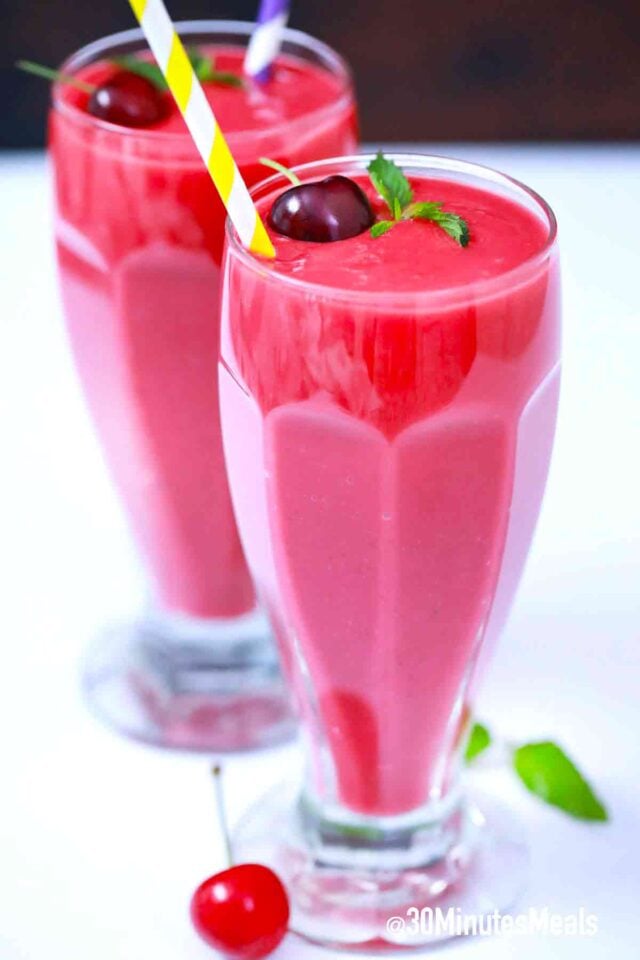 Frequently asked questions
What fruits should you not mix together into a smoothie?
Although you can put anything you want into a smoothie, there are some fruits that do not go as well together. For instance, do not mix melons with other melons like cantaloupe with watermelon or honeydews with muskmelons. They just do not digest as well when you eat them together.
Another thing to avoid is mixing acidic or sub acidic fruits with sweet fruits. Mixing grapefruit with pomegranates or bananas with guavas could possibly give you a stomachache. Actually, if you suffer from acid reflux, skip the acidic fruits completely if you can.
What should you never add to a smoothie?
Adding ice cream, sherbet, or frozen yogurt to a smoothie takes away that healthy aspect of the smoothie. For that same reason, you should not add sugar or honey either. Maple syrup, agave, and coconut sugar are also no-nos. Canned fruit is not a great idea either because it typically has tons of sugar and syrup.
How can I make my smoothie more flavorful?
Rather than adding sugar or other sweeteners, try flavorful boosters like matcha powder, ginger, turmeric, cocoa powder, or cinnamon. Or add some orange, peach, or vanilla extract for a boost of flavor. Another healthy choice is almond butter or unsweetened almond milk.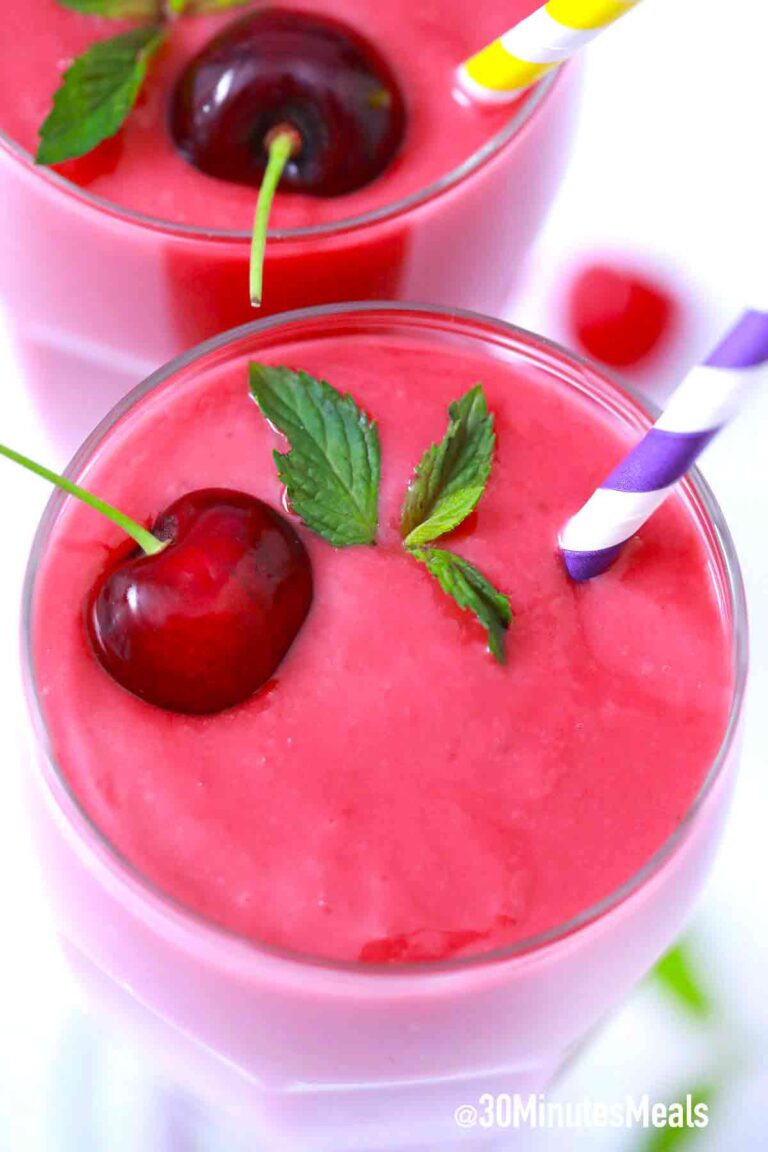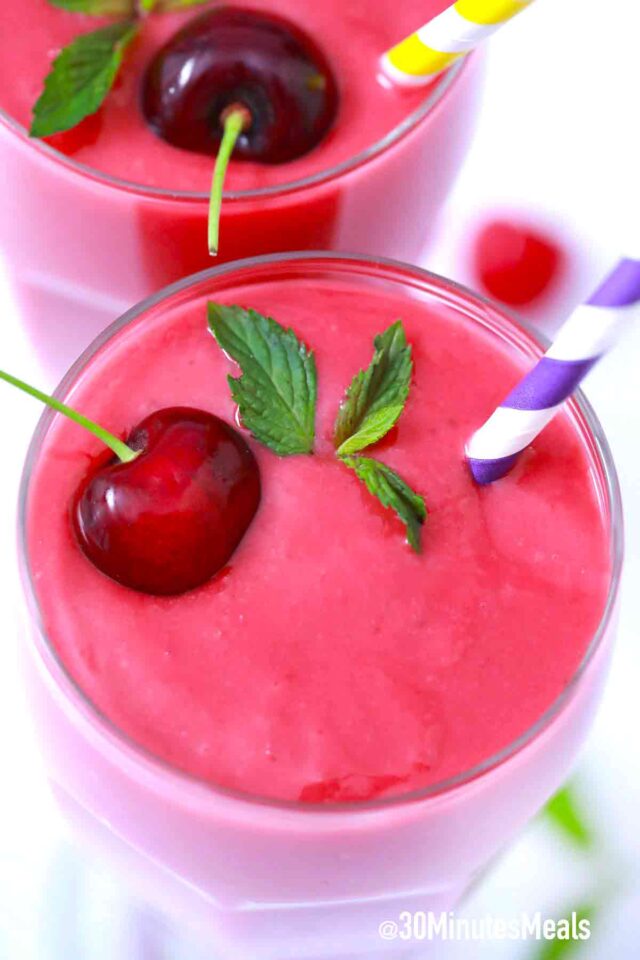 How to store leftovers:
Store: Store in a sealed container in the fridge for up to three days.
Freeze: Freeze the leftovers in a mold to make frozen popsicles or fruit pops.
Recipe tips:
Add some avocado to make it even creamier.
Extra ice will make your smoothie thicker.
Alternatively, if you want to thin out your drink, add milk, water, or juice.
Use leftovers in other drinks or as a dessert topping for ice cream or cake.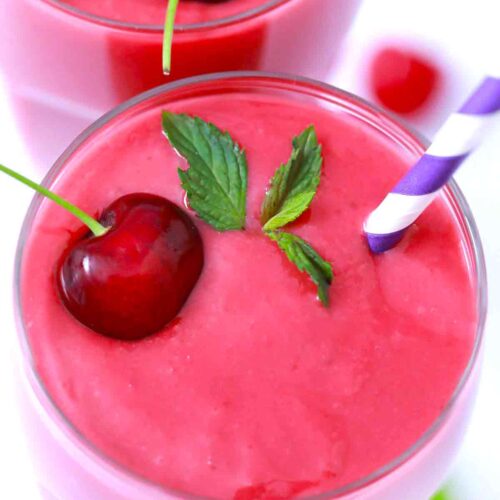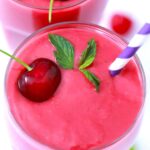 Cherry Smoothie Recipe
Cherry Smoothie is fast and easy to make in just a few minutes with a few ingredients. All you need is yogurt, vanilla, cherries, and bananas!
Course:
Breakfast, Dessert, Drinks, Snack
Ingredients
2

cups

chilled cherry juice

1

frozen banana

cut in coins

1 1/2

cup

frozen cherries

1

cup

vanilla yogurt

1/2

teaspoon

vanilla extract
Instructions
Add the ingredients to a high-speed blender.

Blend on low and after that on high speed, until completely smooth.

Pour into glasses and serve.
Nutrition Facts
Cherry Smoothie Recipe
Amount Per Serving
Calories 352
Calories from Fat 18
% Daily Value*
Fat 2g3%
Cholesterol 6mg2%
Sodium 101mg4%
Potassium 1114mg32%
Carbohydrates 79g26%
Protein 9g18%
Vitamin A 157IU3%
Vitamin C 13mg16%
Calcium 246mg25%
Iron 2mg11%
* Percent Daily Values are based on a 2000 calorie diet.