Shrimp Ceviche Recipe [Video]
This easy shrimp ceviche recipe is such a refreshing and light appetizer that is perfect for any occasion! Ready in minutes and made with shrimp, limes, red onion, cucumber, cilantro, and avocado.
This is a super easy and healthy side dish to make. It is delicious, fancy looking, and refreshing! For more interesting appetizers, check out my Bacon Wrapped Smokies, Pizza Roll Ups, and Taco Dip.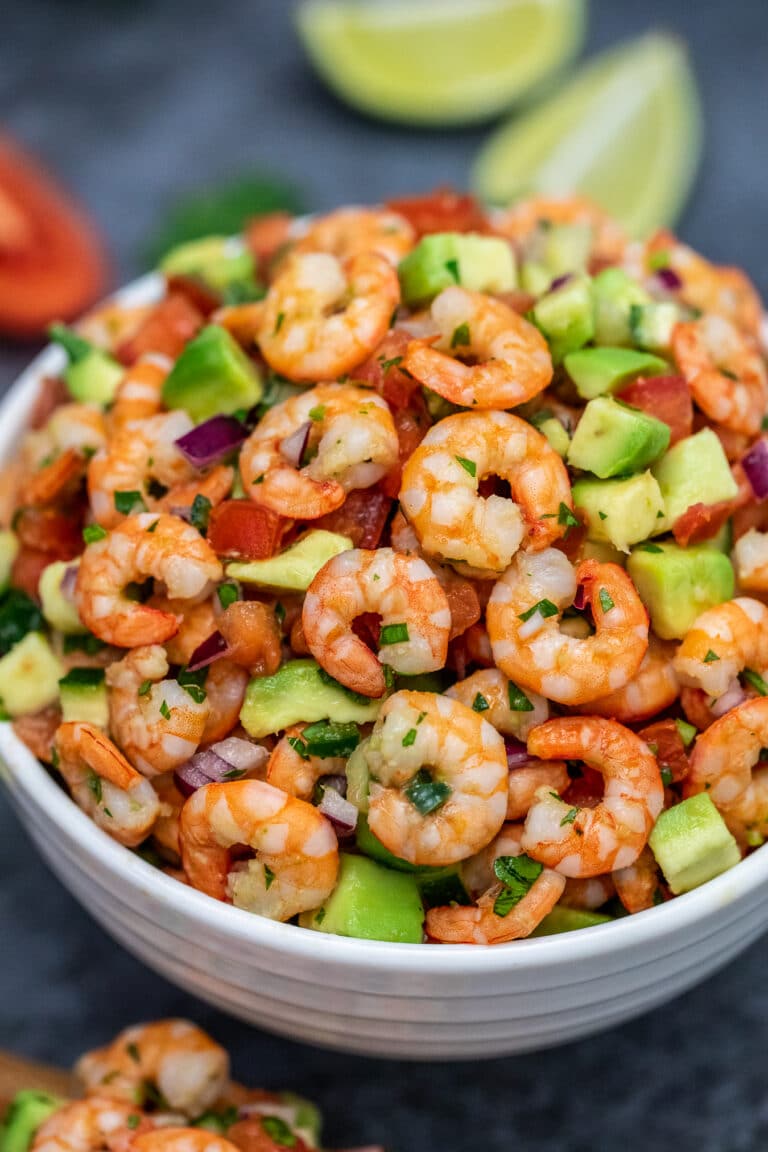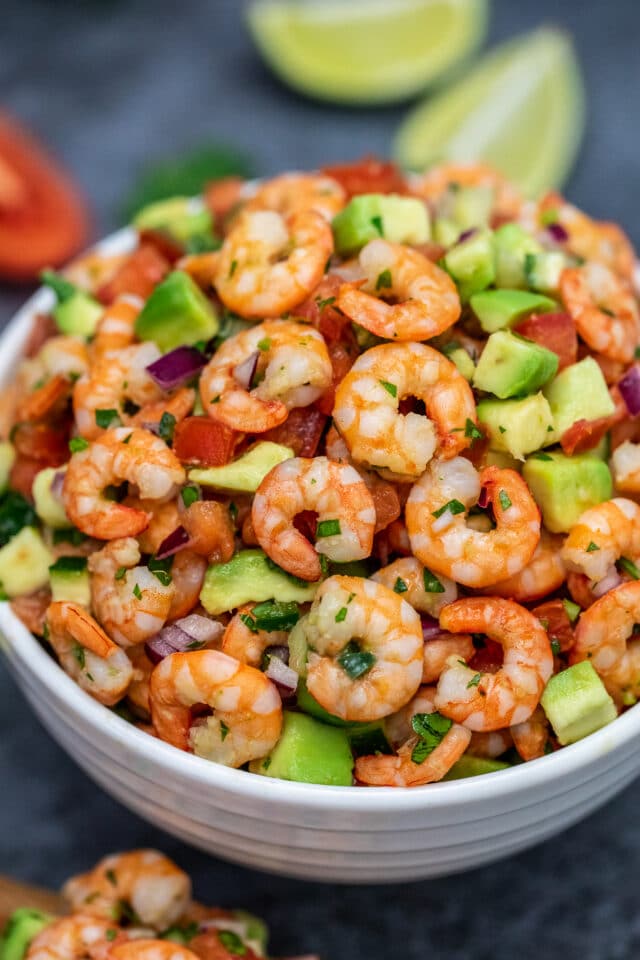 Easy Mexican Shrimp Ceviche Recipe
Mexican Shrimp Ceviche has to be my all-time favorite appetizer. It is light, full of protein, refreshing, and can be served during any time of the year. Although this recipe is probably more popular during the summer times, we make it year-around!
First of all, this is a super flavorful and delicious dish. You can enjoy it as an appetizer or a light meal. Also, it is super quick to prepare and ready in minutes. All you need is a few simple ingredients and have it ready without any fuss.
I enjoy making it with shrimp and add some freshly squeezed lemon or lime juice. However, you can easily make it with fish, or even meat!
This is the ultimate party or game day appetizer to enjoy with friends and family. Just make a larger batch and have some tortilla chips ready! It will be gone before you know it!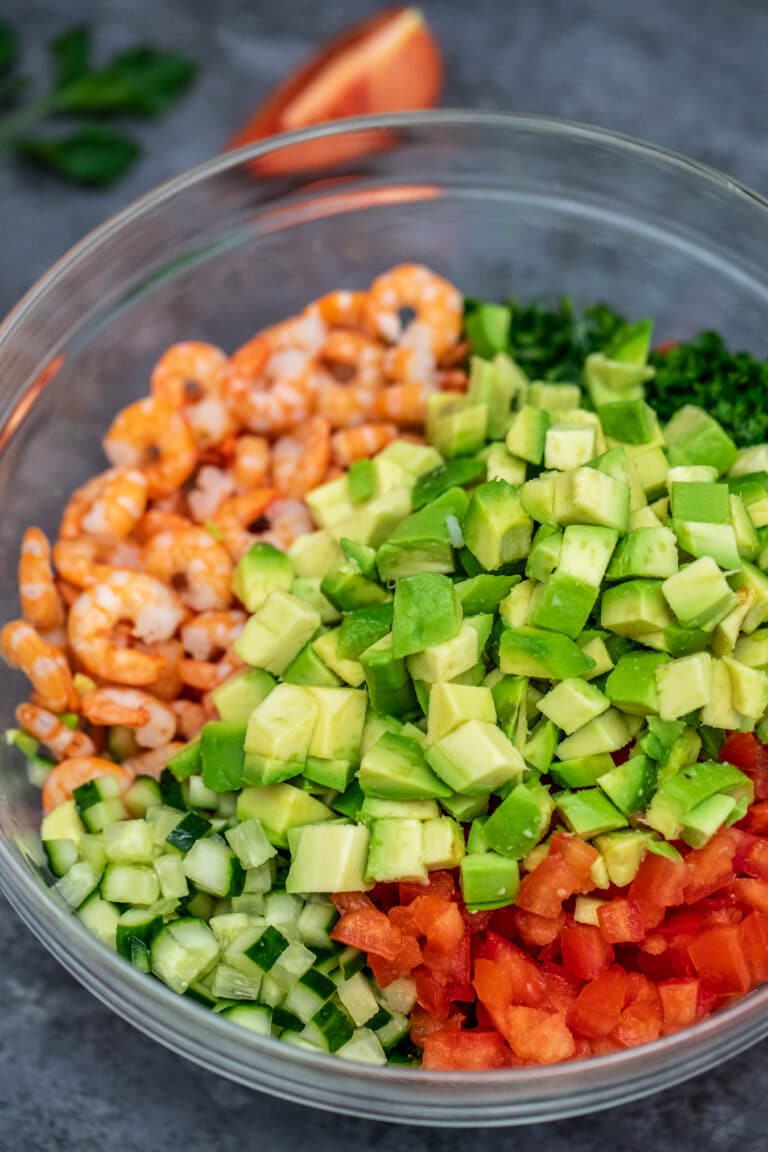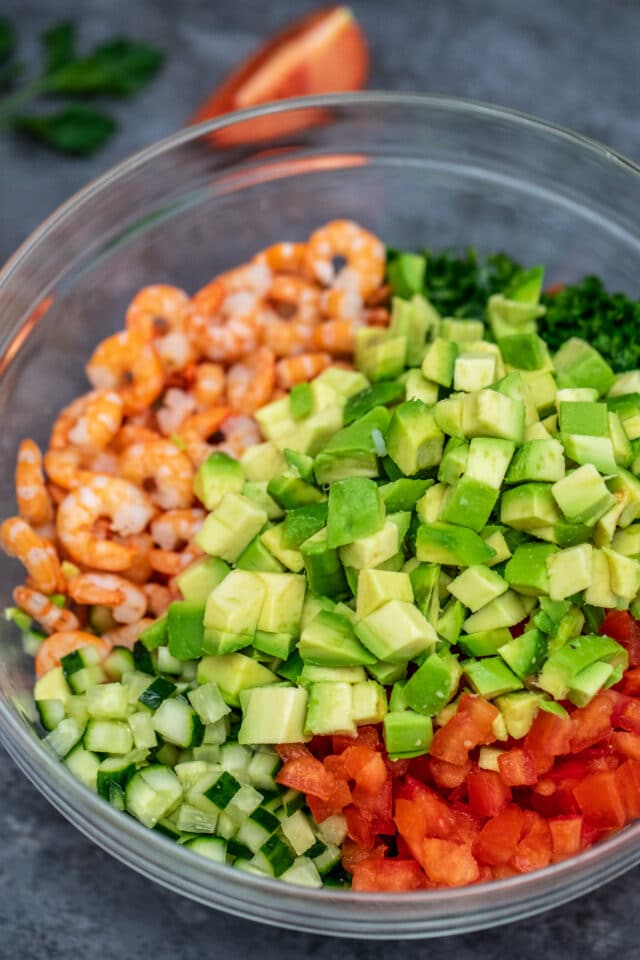 What is a Shrimp Ceviche?
Ceviche or cebiche, seviche is traditionally a seafood dish made with raw and fresh fish cured in citrus juices. It originated in Peru, but it quickly became a very popular dish all over the world.
Nowadays, you can find lots of variations of this dish. But generally, it is made with fish, lime or lemon, chopped onions, vegetables, and spices.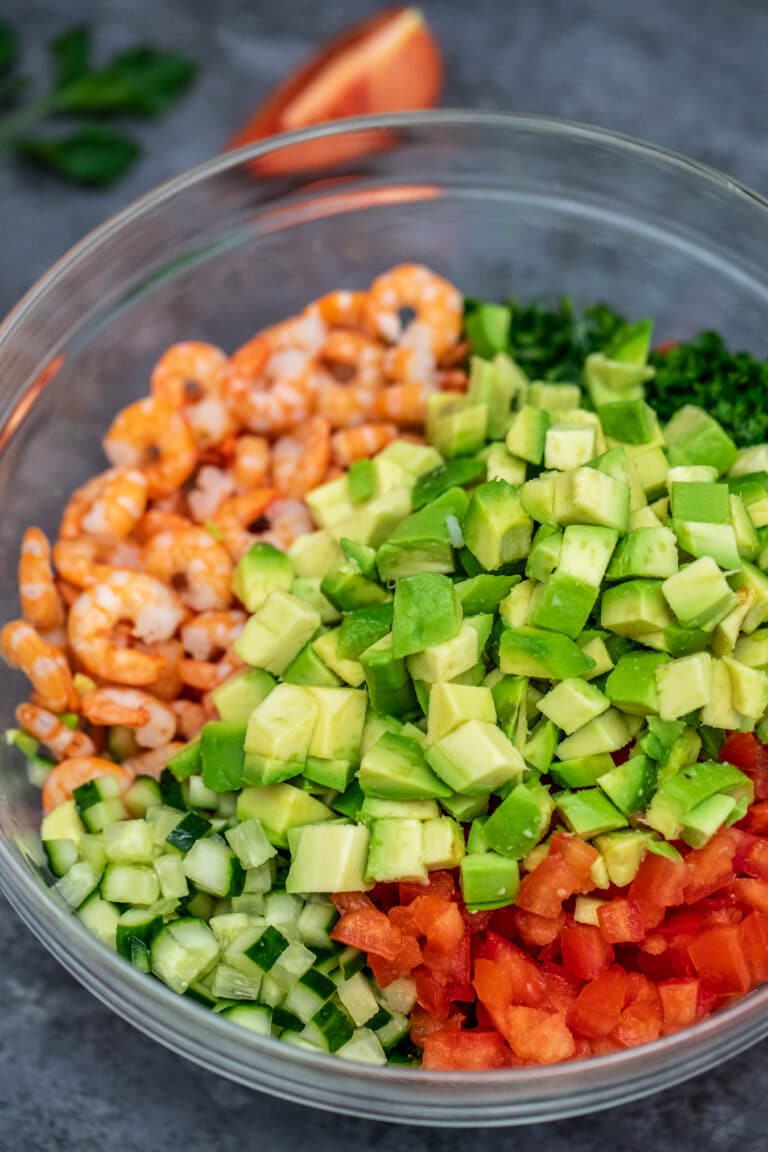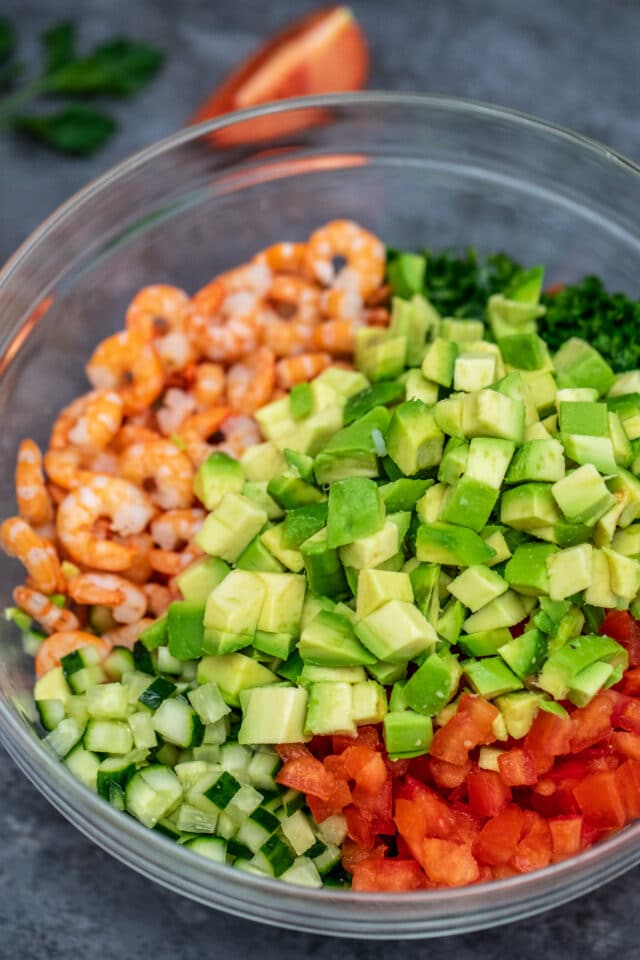 Shrimp Ceviche Ingredients:
For this version, you will need the following ingredients:
Cooked shrimp peeled and deveined
Lemon or lime juice
Cherry tomatoes
Red onion
Jalapeno
Chopped fresh cilantro
Avocado
Salt and pepper
How to make homemade easy Shrimp Ceviche?
Start by chopping up the veggies into smaller pieces. Also, I love to cut the shrimp into smaller sizes. However, this is optional as this recipe can be served with sliced or whole shrimp.
Combined the chopped red onion, jalapeno, cucumber, tomatoes, cilantro, avocado and shrimp into a bowl.
Then, pour the lime or lemon juice over the mixture. Add salt and pepper to taste, and gently toss together.
Cover the dish and refrigerate for about 15 minutes to allow the shrimp to marinate in the citrus juice.
Shrimp ceviche is best served with some tortilla chips.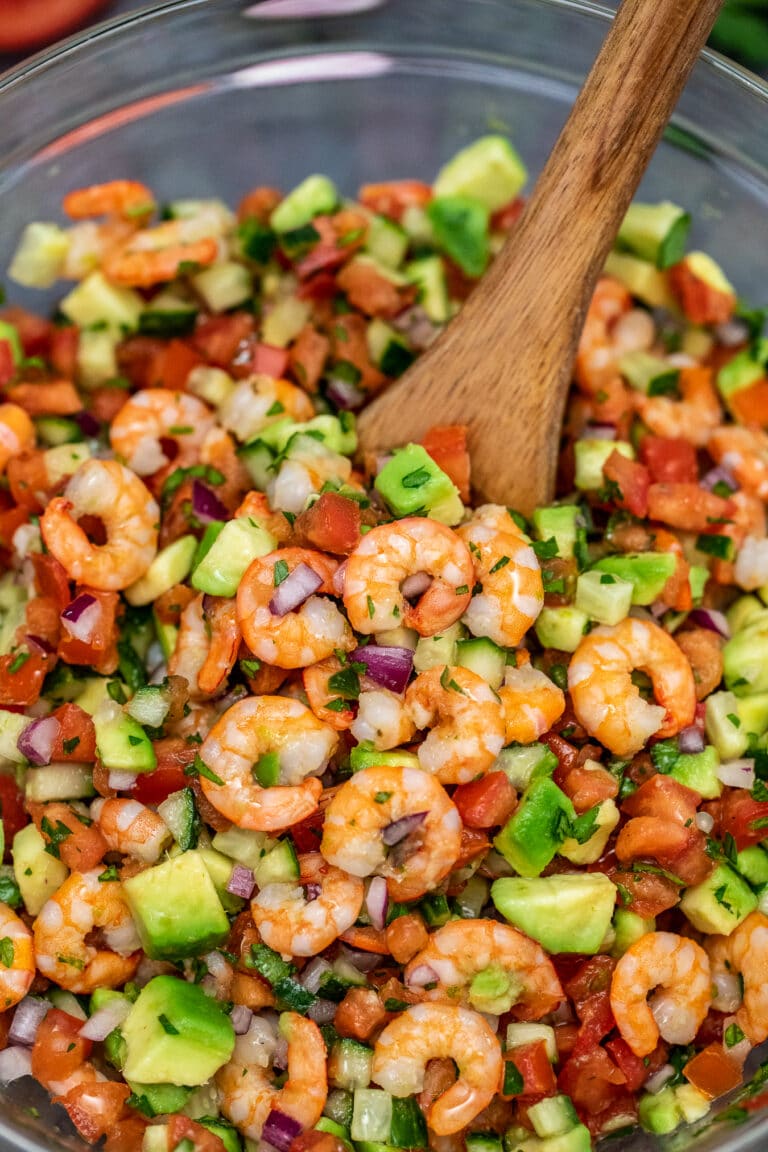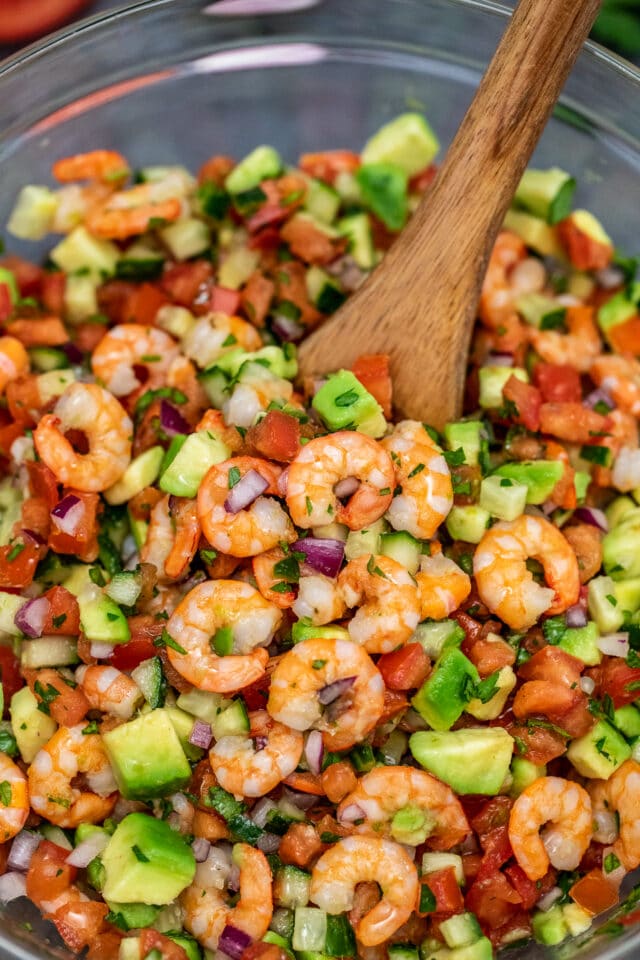 Shrimp chevice variations:
This recipe can be easily modified and adjusted per your taste. Also, depending on the season of the year, I try to incorporate other ingredients with it. Some great additions are:
Add various fruits: Being such a refreshing appetizer, it goes really well with other fruits. Feel free to add diced mango, pineapple, or apples to it.
Other Vegetables: Similarly, you can swap or add other veggies. Bell pepper, green onion, carrots, beets, and cauliflower are all great additions to it.
Other proteins: In addition, you can swap the shrimp altogether. Instead use fish, scallops, octopus, etc.
Make it vegetarian: To make it vegetarian, omit the shrimp and go with hearts of palm, or artichoke hearts.
How far in advance can you make ceviche?
Usually, ceviche is made fresh and should be served within hours since it was made. In this recipe, as the shrimp sits in the citrus juices, it continues to cook.
You could refrigerate it and serve within a day, assuming it is properly sealed and refrigerated. However, I would hesitate to serve it after more than a day of refrigeration.
This dish is refreshing and should be served immediately. As it sits out more, the texture will get tougher and the flavors just will not be as fresh.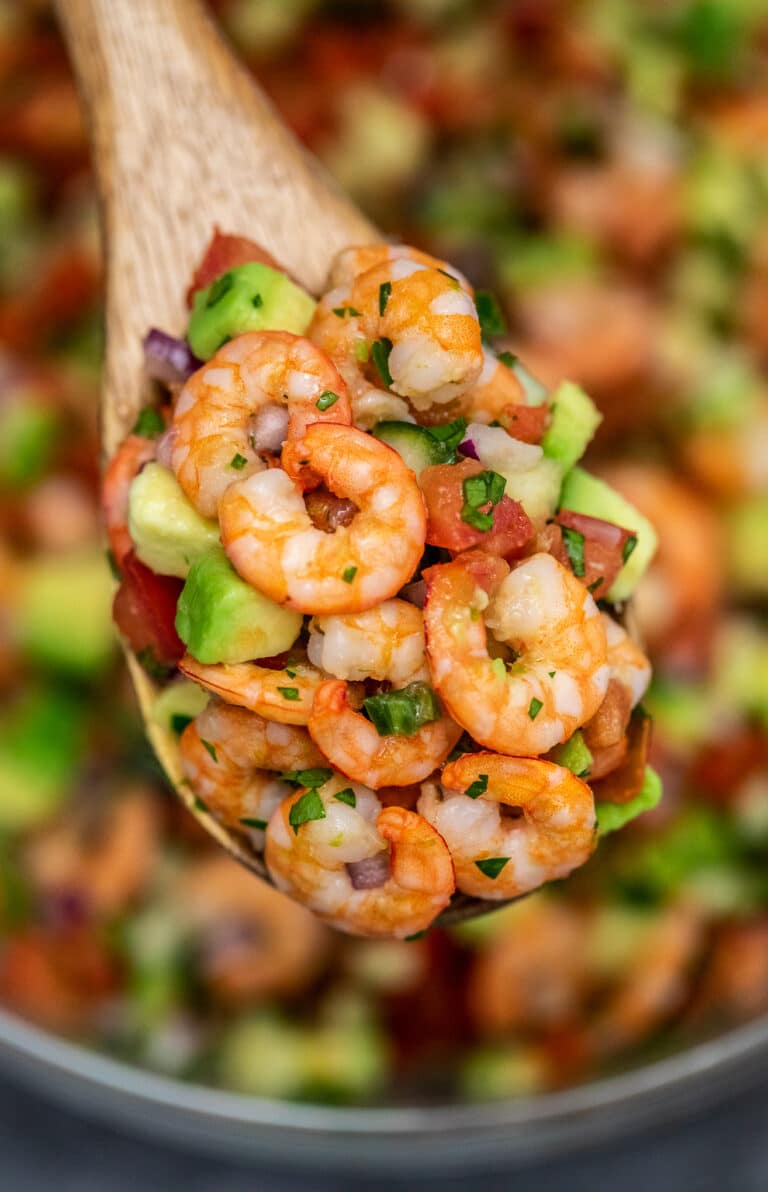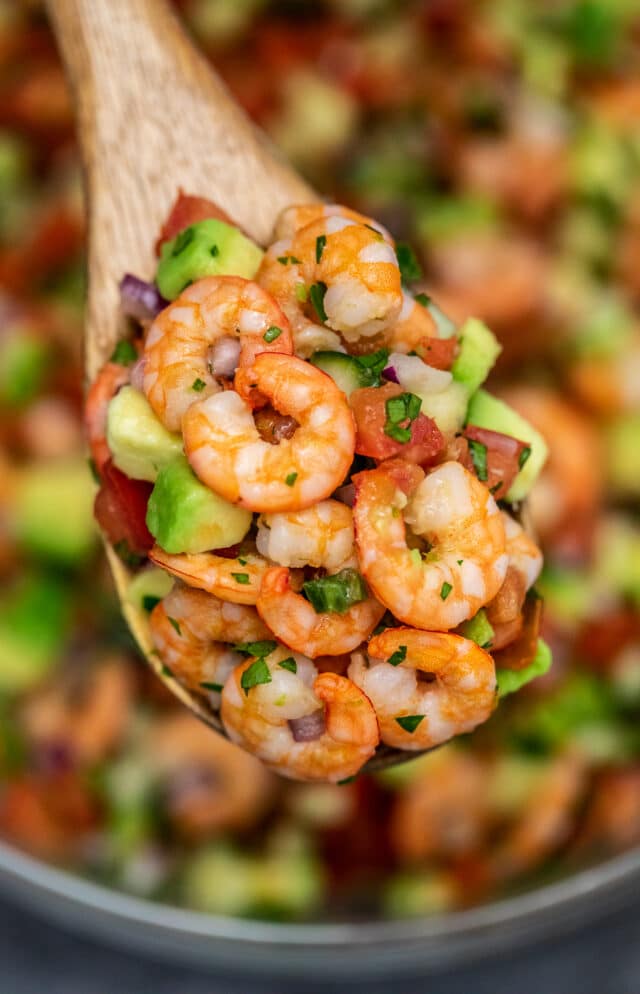 Is the shrimp raw in ceviche?
You can make it either way. In this version, I made it with cooked shrimp. However, you can easily make it with raw shrimp. I would recommend using organic, and not farm-raised variety.
Also, when you coat raw shrimp in citrus juice, the juice will "cook" it because the acid will make it pink as if it was exposed to heat.
Other delicious appetizers you need to try:

East Shrimp Ceviche Recipe Tips:
As stated above, you could cut shrimp into smaller pieces or use it as a larger piece. Either way, it works perfectly fine. It is just a matter of preference.
For a spicier kick, add more chopped jalapeno. Or, do not use jalapeno altogether if you do not want it spicy.
Red onion can be omitted if not a fan.
This dish is best served fresh with tortilla chips or crackers. It makes a great appetizer for game day, party, or special event.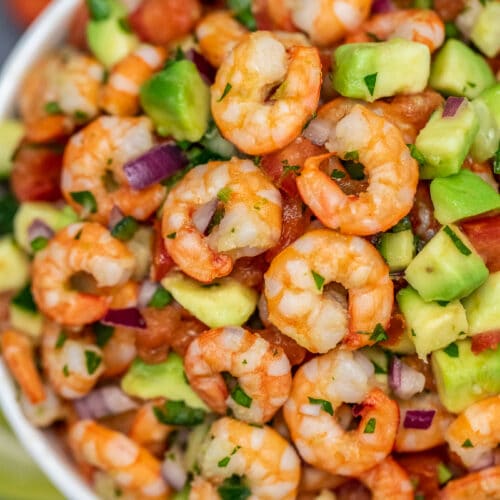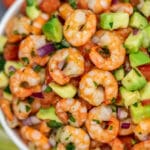 Shrimp Ceviche Recipe
This shrimp ceviche recipe is such a refreshing and light appetizer that is perfect for any occasion! Ready in minutes and made with shrimp, limes, red onion, cucumber, cilantro, and avocado.
Keyword:
Shrimp Ceviche Recipe
Servings
:
12
servings as an appetizer
Ingredients
2

pounds

shrimp

peeled and cooked

1

small red onion

diced

2

jalapenos

seeds removed then minced

1

cup

cucumber

diced

2

cups

Roma tomatoes

seeded and diced

1/2

cup

cilantro leaves

chopped

2

avocados

peeled, seeded and chopped

1/2

cup

lime juice

Zest of 1 lime

1/4

cup

orange juice

Salt to taste

Tortilla chips for serving
Instructions
Place the shrimp, red onion, jalapeno, cucumber, tomatoes, cilantro and avocado in a large bowl.

Pour the lime, lime zest and orange juice over the shrimp mixture. Add salt to taste. Gently toss to coat.

Cover and refrigerate for at least 30 minutes or up to 8 hours

If you plan to refrigerate the ceviche for longer than 30 minutes, skip adding the avocado and add it right before serving.

Serve chilled with tortilla chips.
Nutrition Facts
Shrimp Ceviche Recipe
Amount Per Serving
Calories 142
Calories from Fat 54
% Daily Value*
Fat 6g9%
Cholesterol 191mg64%
Sodium 591mg26%
Potassium 307mg9%
Carbohydrates 6g2%
Protein 16g32%
Vitamin A 228IU5%
Vitamin C 17mg21%
Calcium 120mg12%
Iron 2mg11%
* Percent Daily Values are based on a 2000 calorie diet.