Shrimp Rolls are easy to make with shrimp, celery, lemon, green onions, pickle relish, mayonnaise, Greek yogurt, buns, and a few seasonings. Prepare these in under 30 minutes for lunch, dinner, or snacks.
These shrimp rolls make a fantastic summer picnic treat or a nice cozy New England meal in the winter. Whatever the weather, buy extra shrimp to make Bacon Wrapped Shrimp for a side dish to go with them. Mix up some of this tasty General Tso Sauce as a topping or a dip. If you have extra bacon, make these Bacon Cheddar Ranch Pinwheels go with your rolls.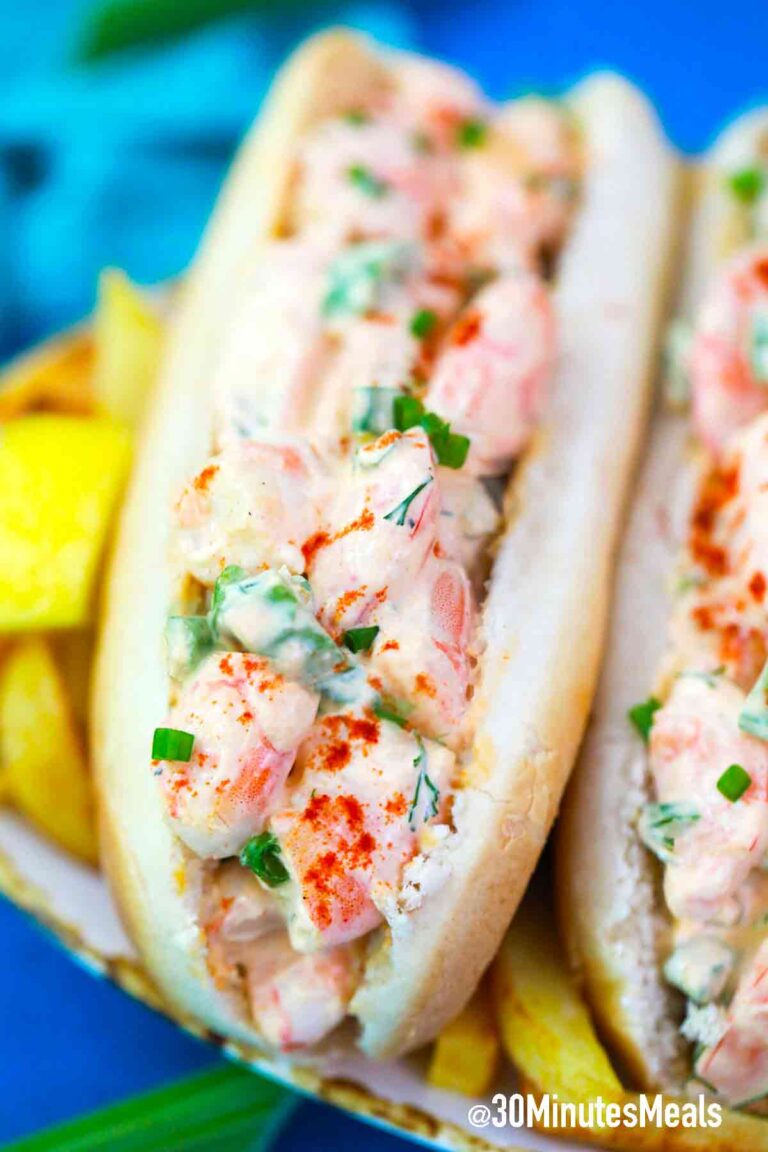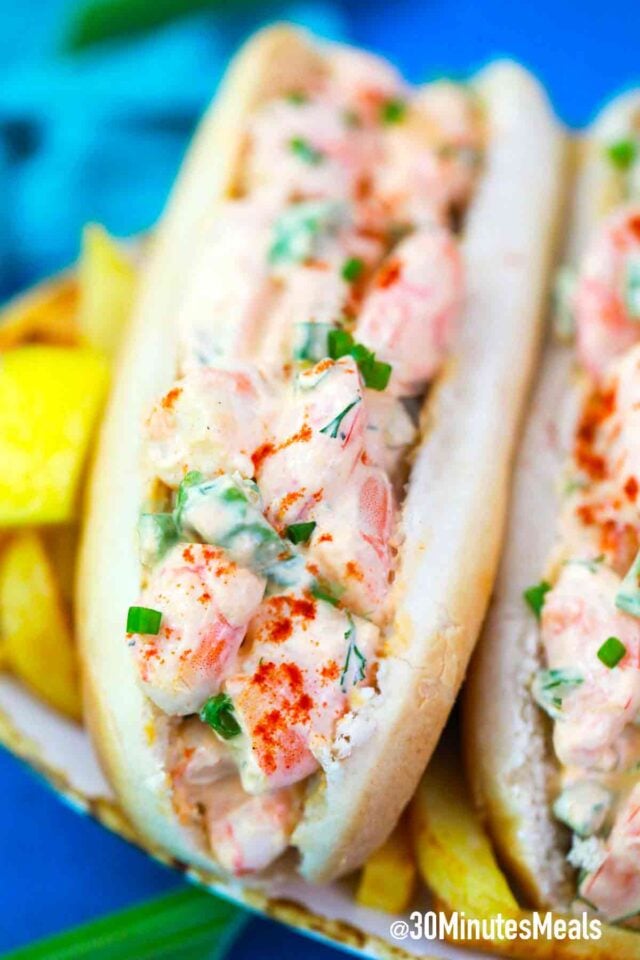 Shrimp Rolls Recipe
The shrimp roll recipe is well-known to be a New England favorite but no matter where you live, these creamy delicious sandwiches are mouthwatering. Try them for a snack at the beach or out by the pool or add them to your favorite sides to make a quick and cool meal at home.
If General Tso sauce is not your favorite, try this sweet and sour sauce for a topping or dip. Another idea is to use some of the extra shrimp to make shrimp salad to go along with your rolls. This salad is a perfect combination of crunchiness and creaminess and is a healthy start to any meal.
For these quick and easy sandwiches, all you need is shrimp, butter, celery, lemon, green onions, pickles, mayonnaise, Greek yogurt, buns, and a few seasonings. In less than 45 minutes you can have a fantastic lunch or snack. Print out the recipe so you will have it handy and pass it on to your friends and family.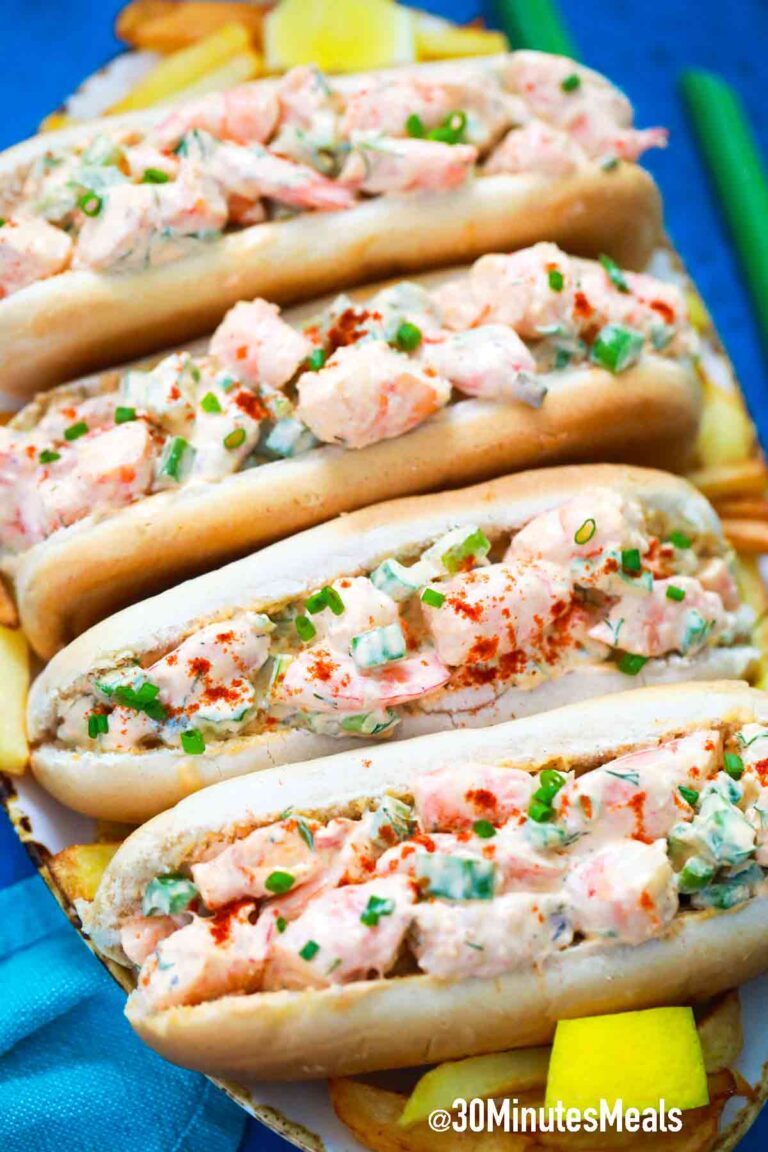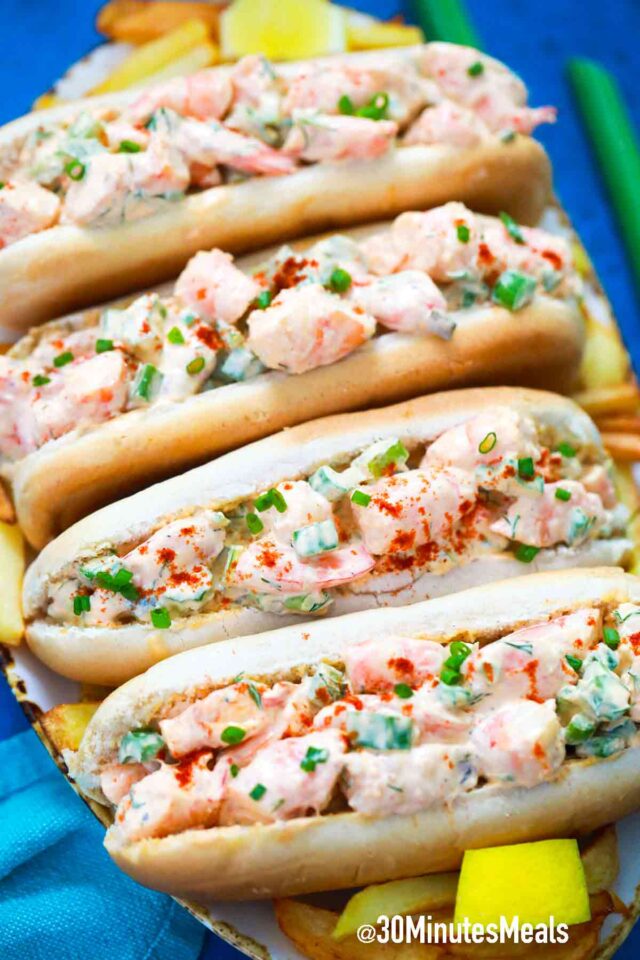 Ingredients needed:
For precise measurements, check out the recipe card below. But here is a basic list of what you will need:
Shrimp: The pink ones are best, we buy cooked shrimp to make this recipe easier.
Celery: Fresh is always best to use.
Lemon juice: Use freshly squeezed lemon juice for the best flavor.

Green onions: Again, fresh is best.

Relish: Sweet relish is delish in this recipe.
Mayonnaise: There are a lot of choices in the grocers or just make your own.
Greek yogurt: Vanilla is best, but you can use another flavor if you have to.

Buns: The best buns to use are brioche hot dog buns.
How to make shrimp rolls from scratch?
Peel and devein: First, make sure the shrimp are peeled and deveined. If you are using frozen, thaw them out by putting them in a colander and running cold water over them.

Saute: Then, if your seafood is NOT cooked, melt some butter in a large skillet on medium-high heat. Add the shrimp and season as desired.

Cook: You only need to cook them for about two minutes on each side. Do not overcook or they will be chewy. When they are no longer translucent, they are done.

Cool: After you have cooked the shrimp, remove them from the pan and move them to a large bowl. Use plastic wrap to cover and let them cool in the refrigerator for 20 to 30 minutes.
Chop: While you are waiting for them to cool, take this time to chop the celery, onions, and add the relish to a large bowl.

Mix: After it is cooled off, take out the shrimp and add to your other ingredients. Then, season with salt and pepper to taste.

Buns: Be sure to overfill the buns so you get plenty of flavors.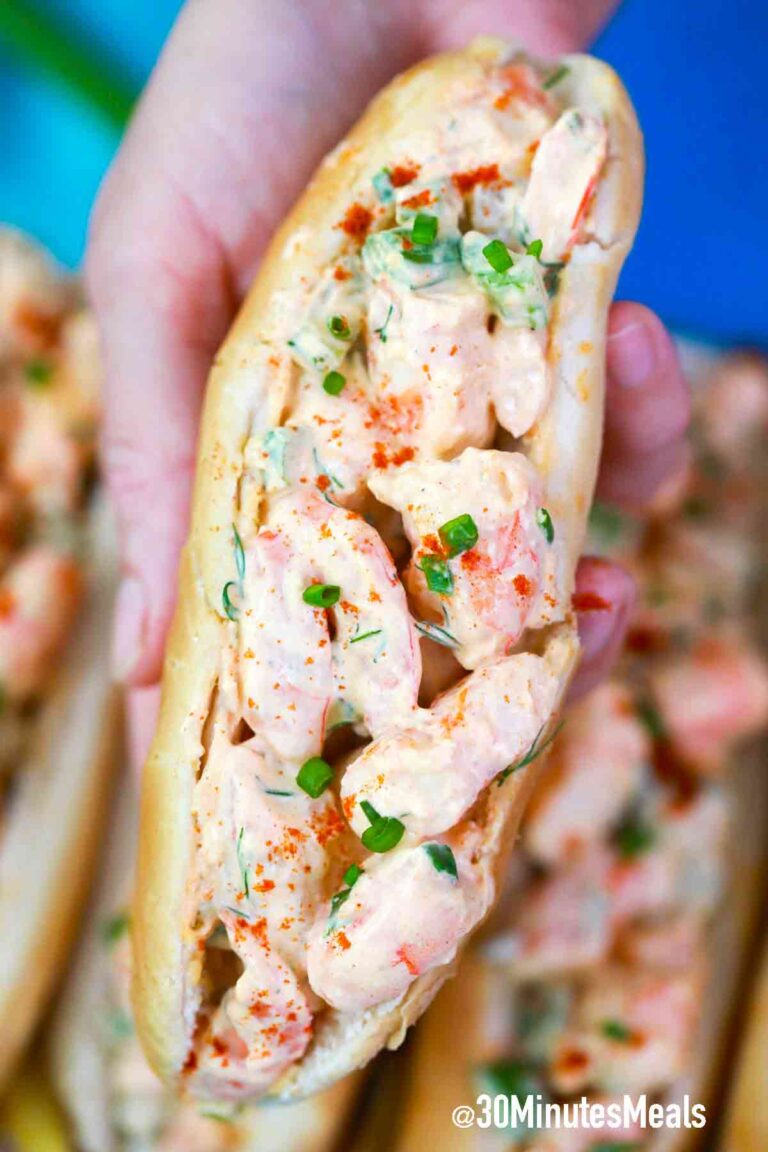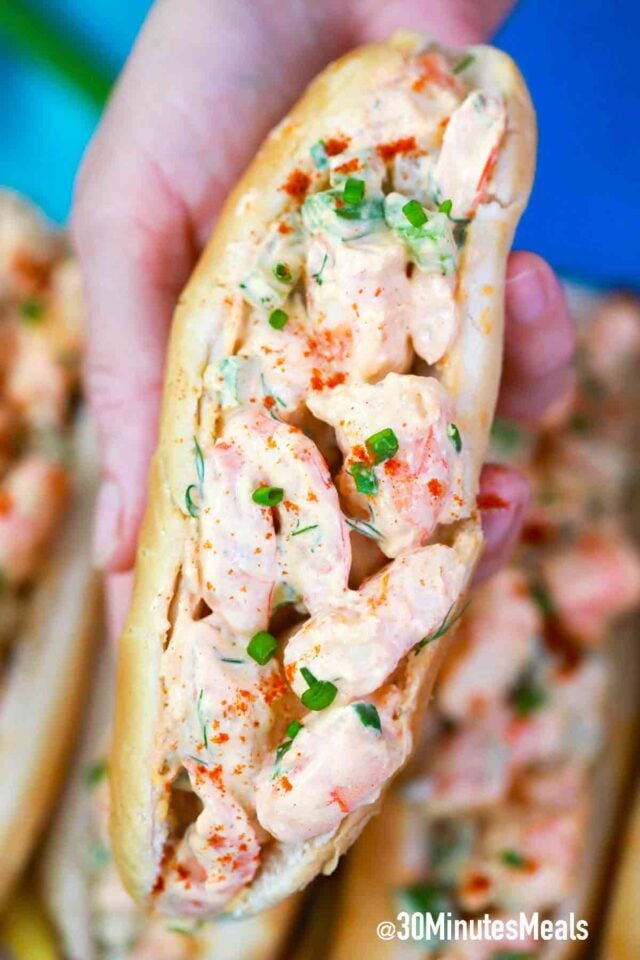 Recipe variations:
Chop: For a less chunky sandwich, slice them in half or chop them into bite-sized pieces.

Flavored mayo: Also, you could try using flavored mayo such as garlic or onion mayo.

Add mustard: Adding a teaspoon of Dijon mustard to the mix at the end will add a touch of tanginess.

Sweeten it up: If you like it sweeter, add a teaspoon of sugar to the mixture.

Change up the yogurt: For a different flavor twist, use a flavored yogurt like lemon or almond.
How to serve:
For the best results, we recommend brioche hot dog buns because they have the best flavor, they are soft, and they have a good consistency to hold a ton of filling. You always want to overfill the bun. Here are some other ideas:
Before filling, brush the inside of the rolls with melted butter and toast buns until golden brown.
Actually, you can use the broiler or grill for just a couple of minutes until they are crispy.
Alternatively, for a carb-smart meal, make your own keto bread rolls, use lettuce, or try a pita or tortilla.
Just put the mixture in a bowl or dish instead.
For a spicy kick, top your shrimp rolls with jalapenos.
Frequently asked questions
Can I use crab or lobster meat instead?
Actually, any kind of seafood can be used instead. Crabmeat, lobster (or imitation lobster meat), and even tuna are all fantastic ways to make your rolls unique. And if you are allergic to seafood, try turkey or chicken chunks instead.
What is the difference between New England shrimp rolls and New Orleans shrimp rolls?
New England shrimp rolls are made just like this recipe but in New Orleans, things are a bit different. For instance, the New Orleans variety has tomato, potatoes, and Cajun seasoning. In addition, many of the New Orleans recipes call for hamburger buns rather than hot dog buns and that makes a big difference. You cannot stuff as much of the mixture into a hamburger bun.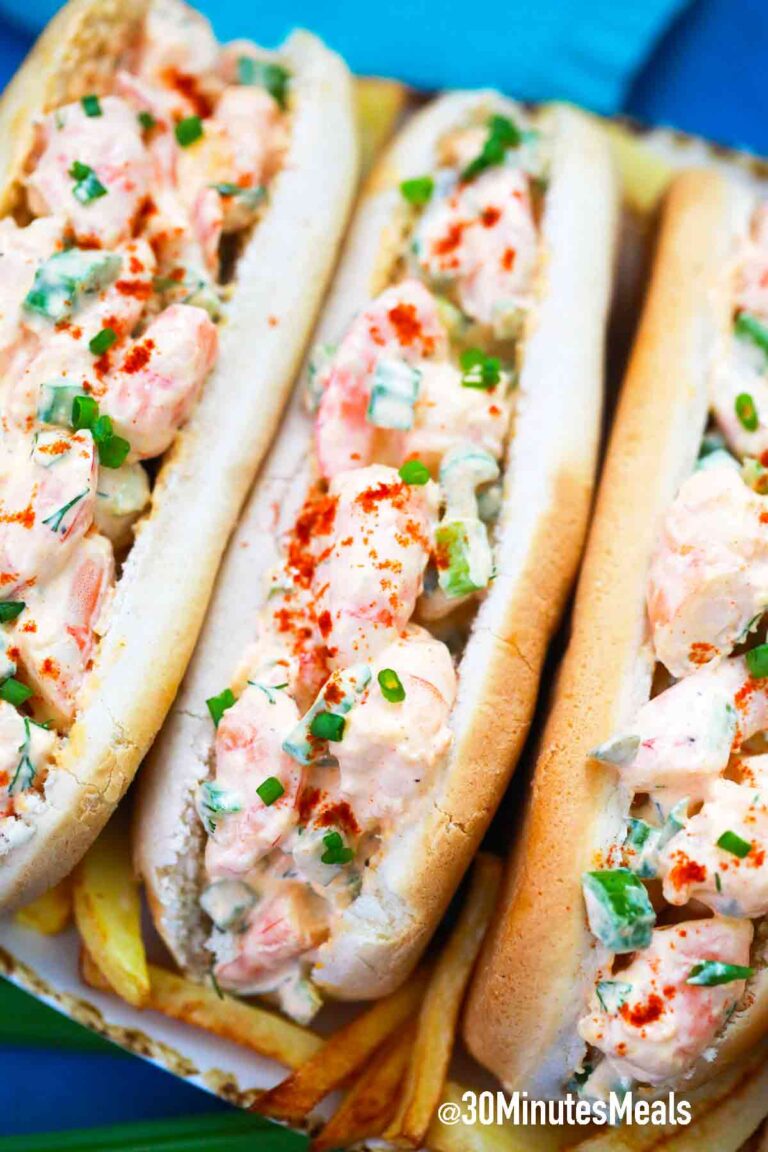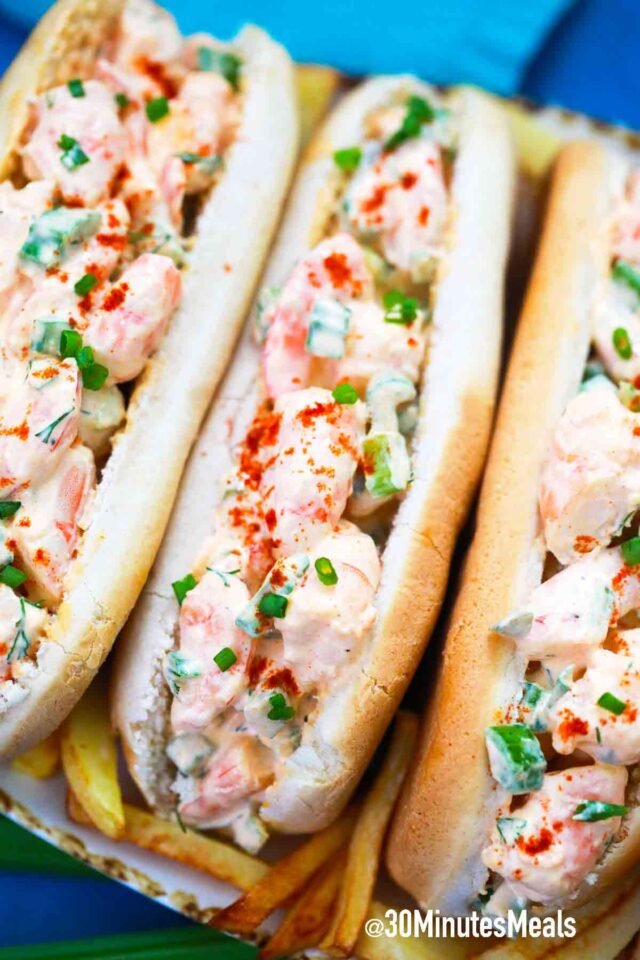 Recipe tips:
If you cannot get fresh shrimp, frozen will do in a pinch. Just make sure it is completely thawed out before cooking.

Also, instead of running water over the shrimp to thaw it, just place it in a bowl of cold water for five minutes.

Pat the shrimp dry before adding them to the pan or it can make your dressing watery.

For a healthy twist, boil the shrimp instead of cooking it in butter.
In addition, adding a tablespoon of white vinegar can also be added.
Another option is to use white wine instead of vinegar.
Actually, you can add a variety of flavored liquids to your shrimp mixture for a flavor change.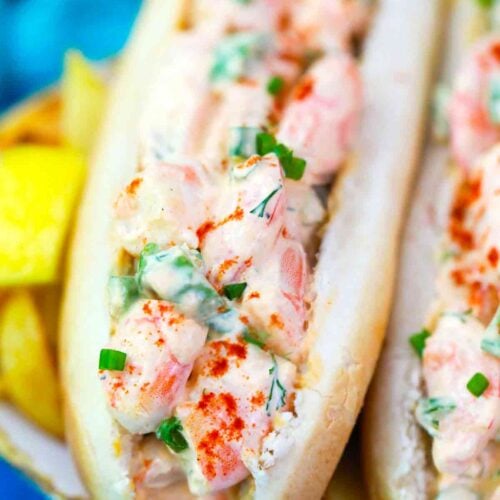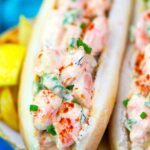 Shrimp Rolls Recipe
Shrimp Rolls are easy to make with shrimp, butter, celery, lemon, green onions, pickles, mayonnaise, Greek yogurt, buns, and seasonings.
Course:
Appetizer, Main Course
Keyword:
Shrimp Rolls, Shrimp Rolls Recipe
Ingredients
Filling:
2

pounds

cooked shrimp

peeled and deveined, if frozen thaw them first

4

stalks

celery

finely chopped

Juice of 1 lemon

2

tablespoons

chopped green onions

1/4

cup

relish

1

tablespoon

diced dill

1/2

cup

mayonnaise

1/2

cup

greek yogurt
To serve:
8

lemon wedges

8

hot dog buns

1

teaspoon

smoked paprika

Chopped green onions
Instructions
Combine all the filling ingredients in a bowl and stir. Taste and adjust for salt and pepper.
Serve:
Scoop the filling into hot dog buns and sprinkle smoked paprika on top.

Sprinkle green onions on top and serve with lemon wedges on the side.
Nutrition Facts
Shrimp Rolls Recipe
Amount Per Serving
Calories 351
Calories from Fat 126
% Daily Value*
Fat 14g22%
Cholesterol 292mg97%
Sodium 1287mg56%
Potassium 258mg7%
Carbohydrates 26g9%
Protein 29g58%
Vitamin A 255IU5%
Vitamin C 16mg19%
Calcium 268mg27%
Iron 4mg22%
* Percent Daily Values are based on a 2000 calorie diet.