Almond Chicken is a quick and easy Chinese stir-fry recipe made with chicken thighs, almonds, veggies, all soaked in a savory sauce. Follow this recipe, and learn how to make it quickly in your kitchen.
I love making Chinese-inspired dinners during busy weekdays. They are flavorful, ready in less than 30 minutes, and require only a handful of ingredients. This dish, in particular, is perfect for most diets, such as whole 30, keto, and pale. Feel free to serve it with Parmesan Brussel Sprouts, Homemade Caesar Salad, or Egg Fried Rice.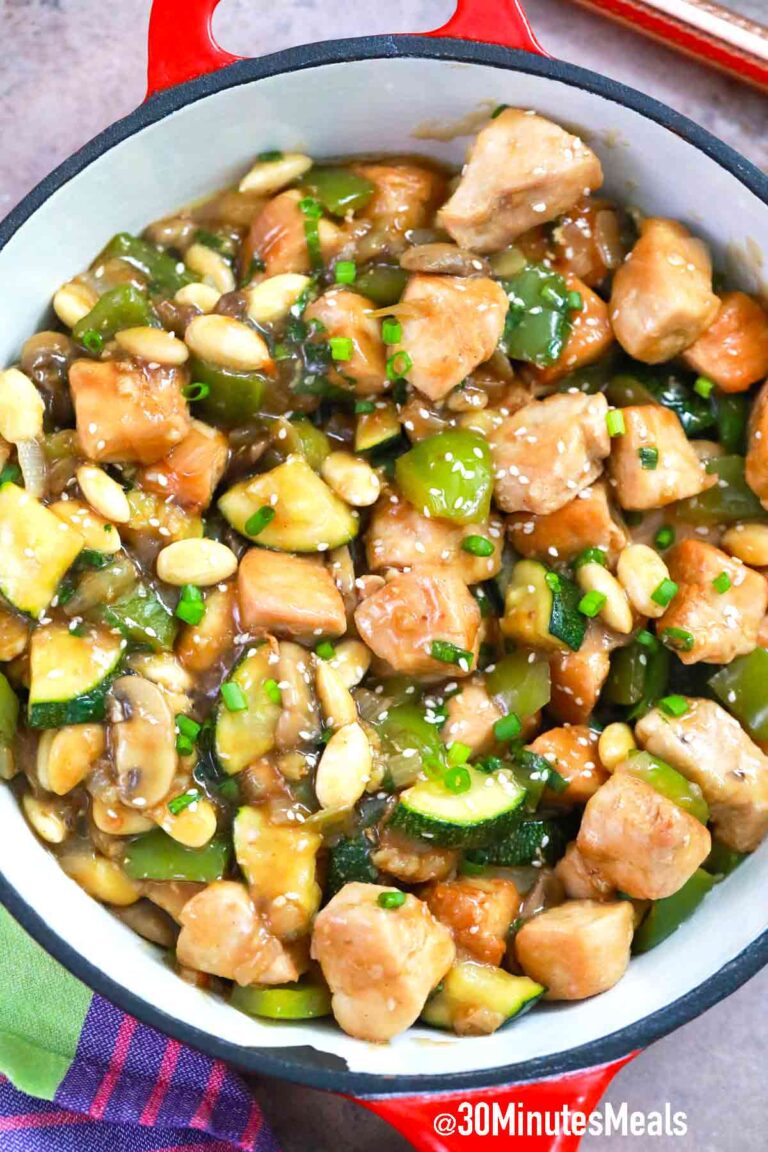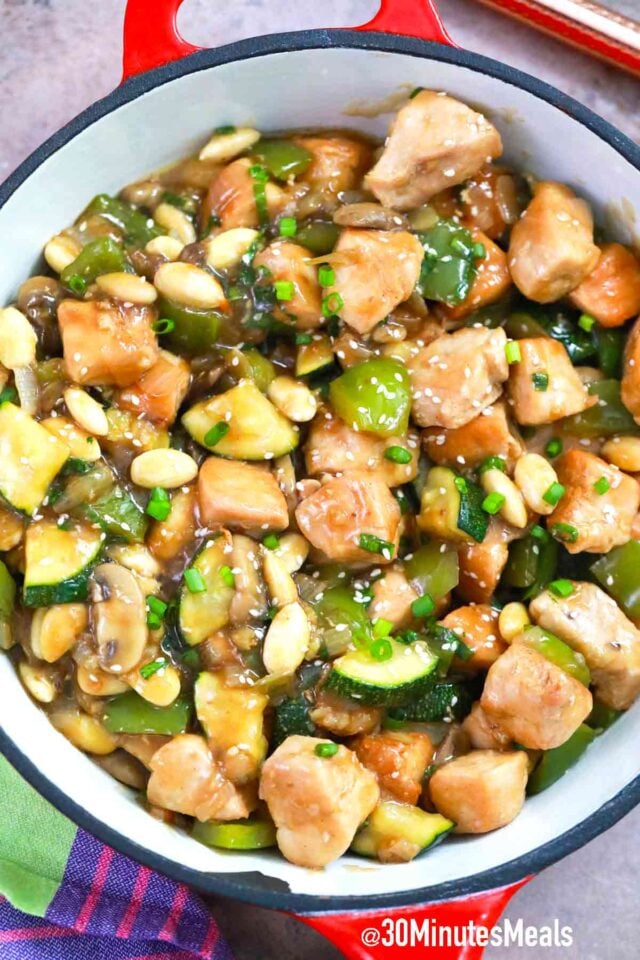 Chinese Almond Chicken Stir Fry Recipe
If you've eaten at any Asian restaurants, then you have probably tried this Authentic Chinese Almoon Recipe. It is a flavorful dish, made with crunchy almonds, chicken breasts, or thighs, and quickly stir-fried with veggies in a savory sauce.
Although the original version calls for chicken breasts, I really love using thighs here. Firstly, they are more succulent, juicier, and more flavorful than the breasts. When cooked with the rest of the veggies, such as zucchini, mushroom, and snow peas, the meat is really absorbing the flavors well. As a result, you end up with authentic Asian flavors in every single bite.
I love making a larger batch and store it for days to come. Leftovers taste even better the following day because the flavors get absorbed together as they sit. In addition, this recipe is quite healthy and can be easily modified to serve pretty much any diet. If you follow the whole 30 or Keto dies, then it is definitely for you. You can serve it the classic way over white rice, or noodles.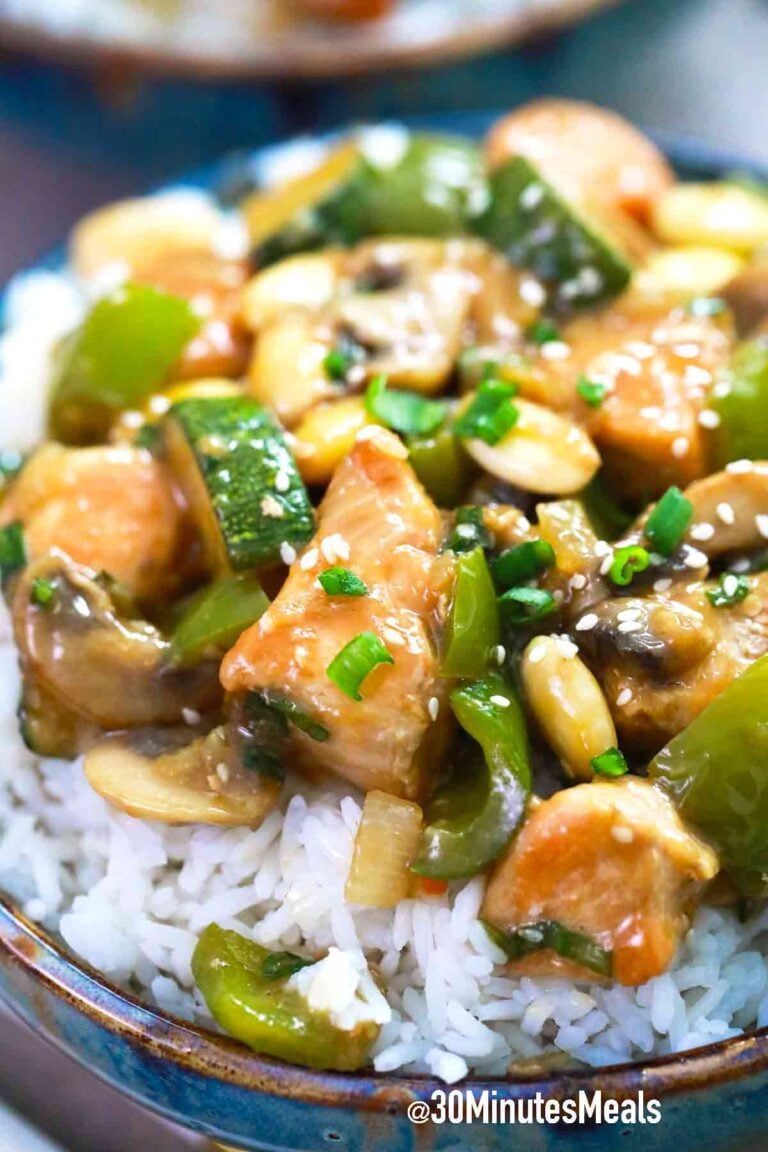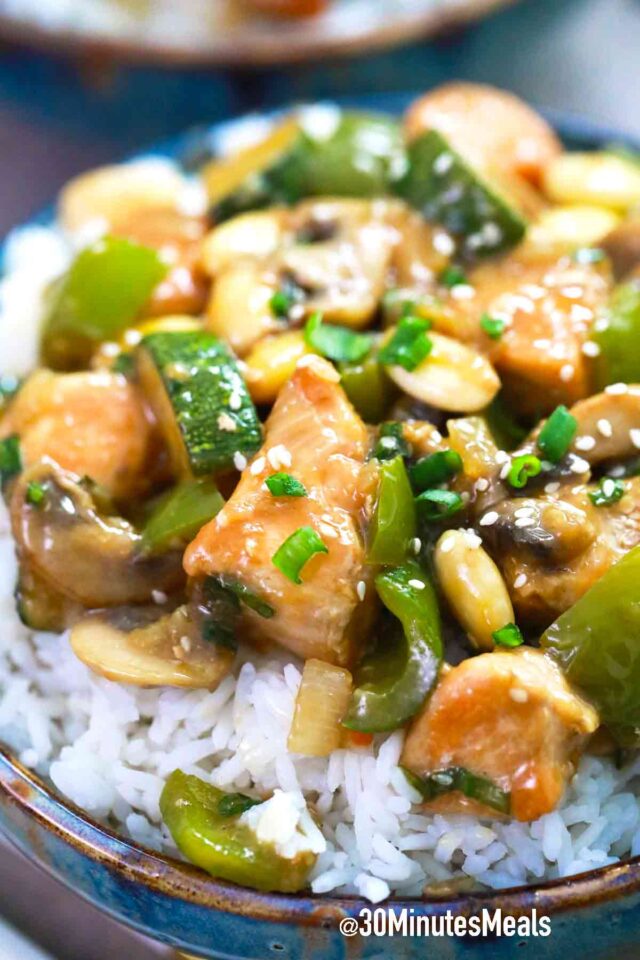 Ingredients needed:
For exact measures, please see the recipe card below.
Here is what you will need for the stir fry:
Poultry: I tend to use thighs most of the time in this dish because they are more flavorful. However, you can use chicken breast as well. Just go with what you have on hand or like the most.
Veggies: Mushrooms, zucchini, green or red bell pepper, and onion.
Vegetable oil.
Seasoning: Freshly minced garlic, ginger, salt, and pepper.
Almonds: Feel free to use any type, such as whole, halved, or slivered.
As for the sauce, you will need the following:
Chicken broth: You can use your preferred type. However, if possible, go with the organic version.
Soy sauce and hoisin sauce
Sesame oil
Sugar
Corn starch: It thickens the sauce.
How to make Almond Chicken?
Saute the veggies: In a large pan over medium-high heat, add some vegetable oil. Then, add the sliced onion, zucchini, mushroom, and bell papers and cook them for 4-6 minutes. Once cooked, remove the veggies from the pan, and clean the pan with a paper towel.
Cook the meat: Next, prepare the poultry. Using a sharp knife, cut it into uniformly sized pieces and set it aside. Then, to the same pan, add more oil. and lightly brown the meat on both sides for a few minutes, and season with salt and pepper. Remember not to overcrowd the pan here. You will have to brown it in batches.
Add back the veggies: Once the chicken is cooked, add the freshly minced garlic and ginger to the pan, and cook for about 30 seconds. Then, add the veggies back to the pan, season with more salt and pepper, and stir together with the poultry.
Make the sauce: In a separate bowl, whisk together the sauce ingredients. Once combined, simply pour the sauce over the dish in the pan and bring to simmer for about 2-3 minutes.
Add the almonds and serve: Lastly, add the crunchy almonds on top, and serve warm with your favorite side dish.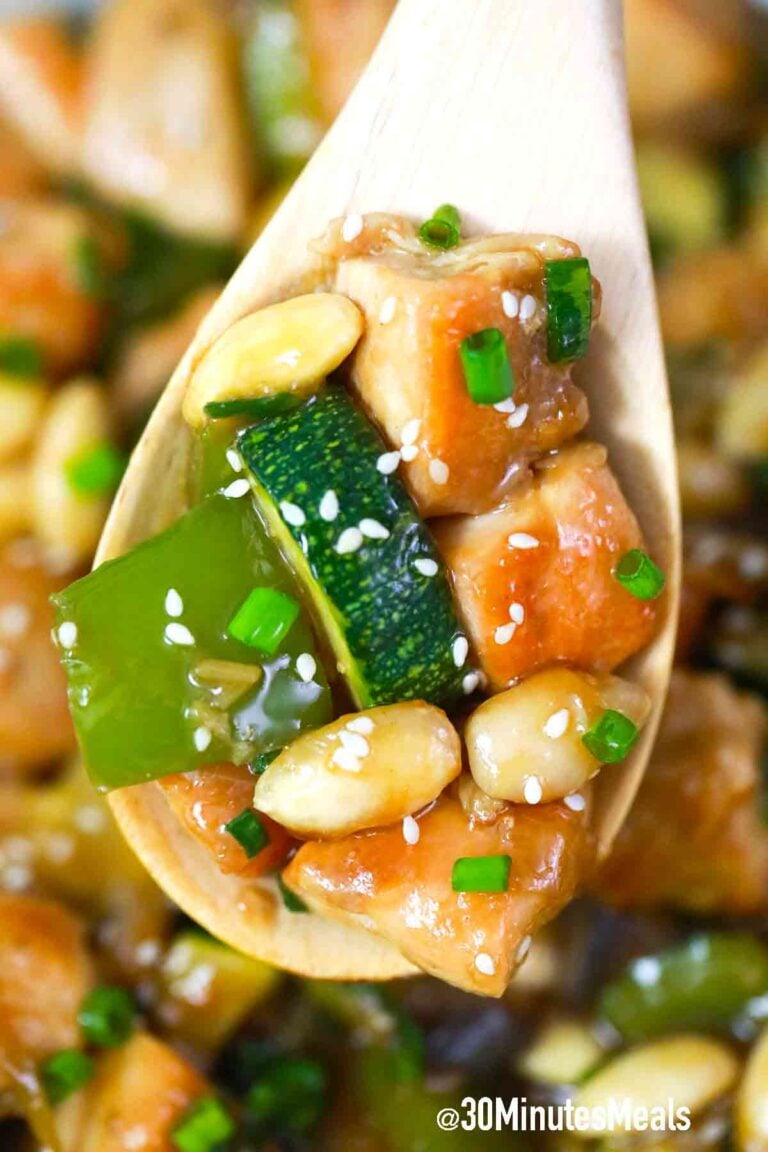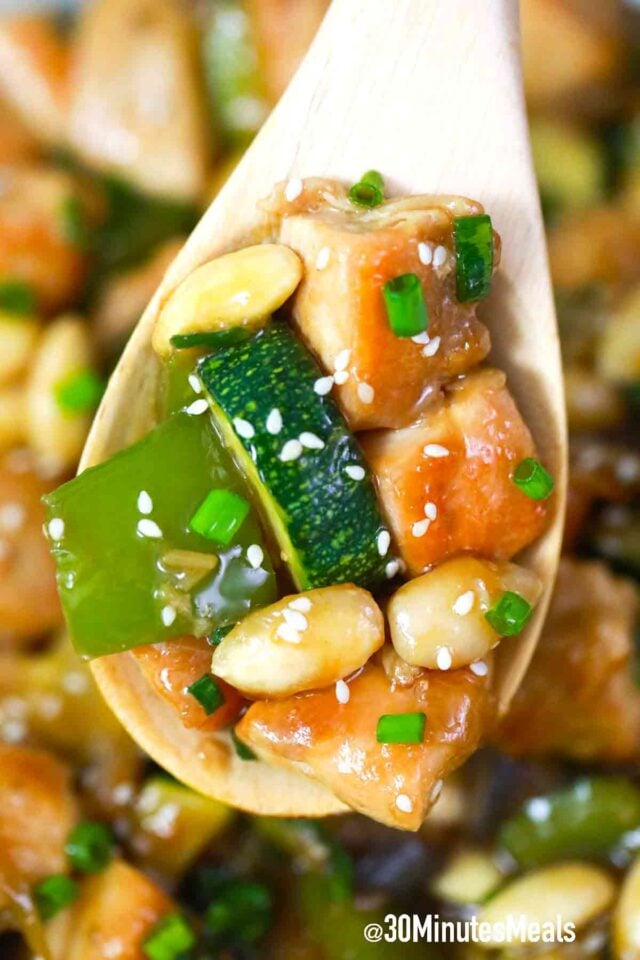 Recipe variations and substitutions:
This dish is easily modifiable. Some great alternatives would be:
Other Meats: Swap the chicken with other meats, such as beef, pork, shrimp, lamb, or even turkey.
Vegetarian version: To make it vegetarian, use firm tofu instead of poultry.
Vegetables: Similarly, you can use pretty much any veggies you have on hand. Great additions would be snow peas, carrots, broccoli, bok choy, sweet corn, bamboo shoots, celery, etc.
Spicy: For a spicier version, chop in some fresh jalapeno peppers.
Nuts: If you don't have almonds, feel free to swap them with cashews, hazelnuts, or even pecans.
Sauce: This dish works well with other sauces as well like Teriyaki Sauce or Orange Sauce.
Eggs: Adding some eggs works really well here.
Oven-Baked: Instead of stir-frying it, you can easily pop it in the oven at 350 degrees F, and bake it for about 15 minutes.
Frequently Asked Questions
Is almond chicken healthy?
Yes, this stir fry recipe is on a healthier side. The ingredients used here are lean and healthy, such as poultry and plenty of fresh vegetables.
Is it gluten-free?
Yes, because no flour is used in it. Therefore, this is a true gluten-free dish.
What to serve with it?
It goes well with Sesame Noodles, Green Beans with Bacon, Avocado Corn Salad, or Egg Fried Rice.
How to store leftovers?
Refrigerate: Let it completely cool prior to refrigeration. Then, transfer the dish into an airtight container, and refrigerate it for up to 4 days.
To freeze: Use a freezer-safe dish, and freeze it up for 3 months.
To reheat: You can easily reheat it in the microwave for a few minutes until warm. Alternatively, warm it up in a pan over medium-high heat for a few minutes.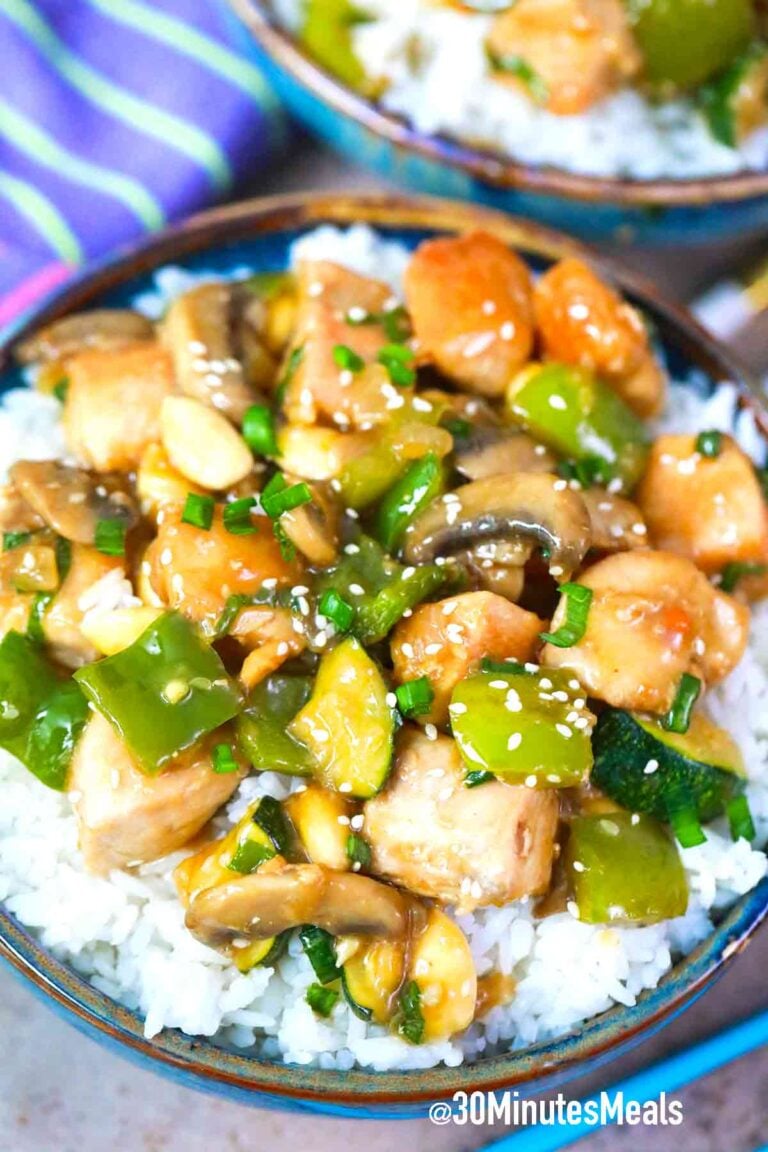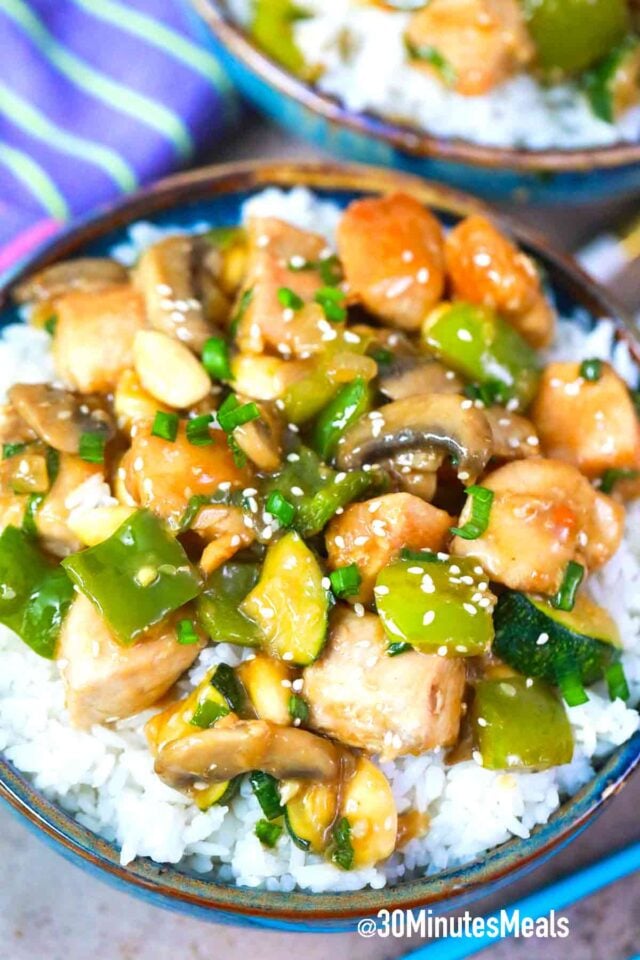 More Asian dishes to try:
Recipe Tips and Tricks:
Ensure to cut the meat into uniform pieces that way it is cooked evenly.
Also, this recipe works well with either chicken breasts or thighs. Therefore, use whatever you like the most, or alternate between the two.
Use low sodium soy sauce so you can control the saltiness.
In addition, feel free to swap the freshly minced garlic with garlic powder.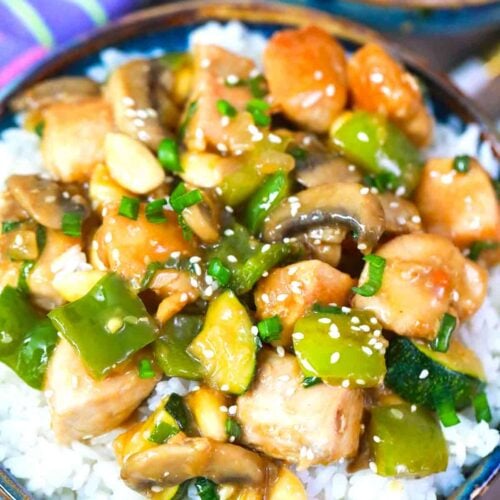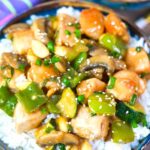 Almond Chicken Recipe
Almond Chicken is a quick and easy Chinese stir-fry recipe made with chicken thighs, almonds, veggies, all soaked in a savory sauce.
Cuisine:
American, Asian, Chinese
Keyword:
Almond Chicken, Almond Chicken Recipe
Ingredients
Stir-Fry:
3

tablespoons

vegetable oil

divided

1

small onion diced

1

cup

zucchini

halved lengthwise and sliced

1

cup

mushrooms

sliced

1

green bell pepper

diced

1 1/2

pounds

chicken thighs

boneless skinless - cut into 1" pieces

4

cloves

garlic

minced

1

teaspoon

ginger minced

1/2

cup

blanched almonds

halved or slivered

Salt and pepper to taste
Sauce:
3/4

cup

chicken broth

3

tablespoons

soy sauce

2

tablespoons

hoisin sauce

1

teaspoon

sesame oil

1

teaspoon

brown sugar

2

teaspoons

cornstarch
Instructions
Stir-Fry:
Heat 1 tablespoon of oil in a large pan over medium-high heat.

Add the onions and cook for 5 minutes or until just softened.

Add the zucchini, mushrooms, green bell pepper, ginger, and garlic to the pan. Cook stirring occasionally for 5 minutes or until tender.

Season with salt and pepper to taste.

Remove the vegetable mixture from the pan and set it aside.

Add the remaining oil and add the chicken in a single layer, without overcrowding the pan. If needed cook it in batches. Season with salt and pepper to taste and brown it for 3-4 minutes per side. it should be nicely browned and cooked through.

Add the vegetable mixture back to the pan with the chicken and stir.
Sauce:
Combine together all the sauce ingredients in a medium bowl and whisk until cornstarch is dissolved.

Pour the sauce mixture over the chicken stir-fry and bring to a simmer.

Cook for a few minutes or until sauce is just thickened.

Stir in the almonds, garnish with green onions and serve.
Nutrition Facts
Almond Chicken Recipe
Amount Per Serving
Calories 621
Calories from Fat 441
% Daily Value*
Fat 49g75%
Cholesterol 167mg56%
Sodium 1184mg51%
Potassium 748mg21%
Carbohydrates 14g5%
Protein 34g68%
Vitamin A 307IU6%
Vitamin C 34mg41%
Calcium 73mg7%
Iron 3mg17%
* Percent Daily Values are based on a 2000 calorie diet.