Air Fryer Tater Tots Recipe
Air Fryer Tater Tots are easy to make with just one ingredient: frozen tater tots! When you cook tater tots in the air fryer, you get crispy tater tots every time. You can season them with anything you want from just salt to garlic powder and onion powder or some kind of seasoned salt. It only takes about 10 minutes to get crispy potato puffs without all the oil from deep frying and then you can dip them in ketchup or your favorite dipping sauce.
Want to try another way of making tater tots? Try our Homemade Tater Tots made from scratch from russet potatoes, onion powder, garlic powder, and other seasonings. Another yummy side dish cuisine you may like is our Air Fryer Gnocchi. You only need a few ingredients including parmesan cheese, gnocchi, and garlic powder. To make these crispy tater tots into a meal, try this yummy Cheesy Tater Tot Casserole with mushrooms, green beans, and sour cream.
This air fryer recipe makes the crispiest tater tots in the shortest amount of time so you can make them for dinner tonight or a snack right now! Air-fried tater tots make the perfect side dish, appetizer, or you can even make them a meal if you add meat and veggies. But we will get into that later.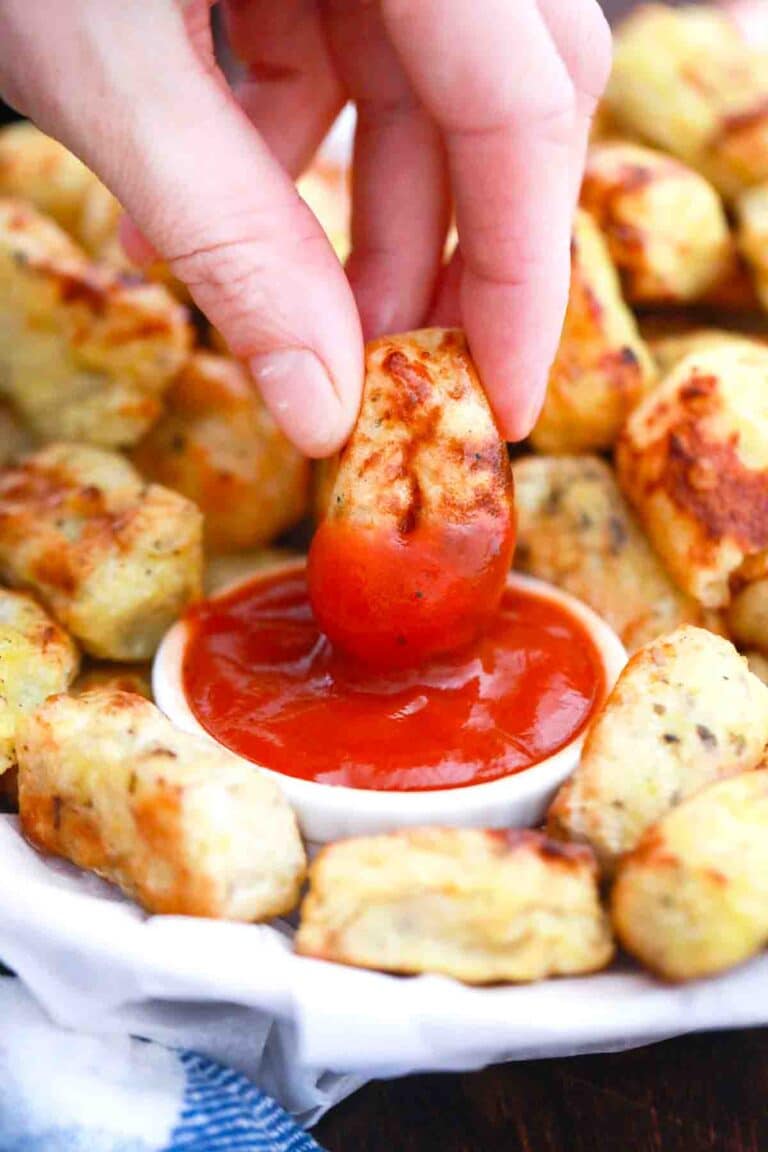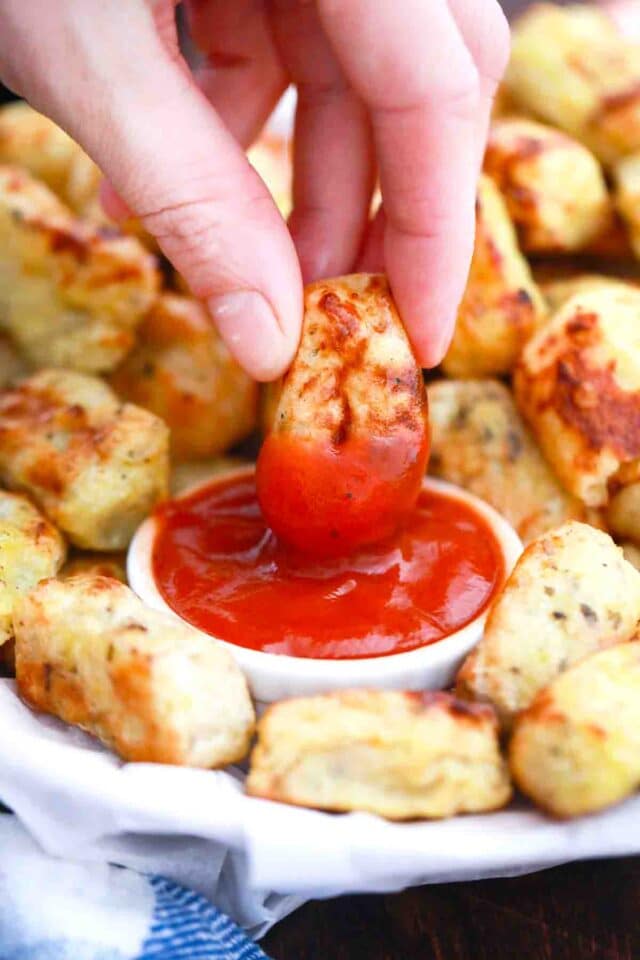 Remember those greasy little crunchy potato puffs you ate when you were a kid? They were delicious but not so great for your cholesterol and fat levels. Air fryer tots are perfectly crispy and crunchy without having to turn on the oven or deep fry them in all that oil that is so unhealthy for you.
These super crispy air fryer tater tots go great with everything. In fact, if you want to know what to serve with tater tots, here are a few good choices. For instance, these perfectly crisp air fryer tater tots would be a great side dish for these big mac sloppy joes made from lean ground beef, thousand island salad dressing, and Worcestershire sauce.
Are you looking for more air fryer recipes? You may enjoy this easy and delicious recipe for air fryer buffalo chicken made from skinless chicken breasts, buffalo sauce, and panko bread crumbs. Or serve alongside our crunchy air fryer Doritos chicken tenders seasoned with dry ranch dressing, smoked paprika, and your favorite flavor of Doritos.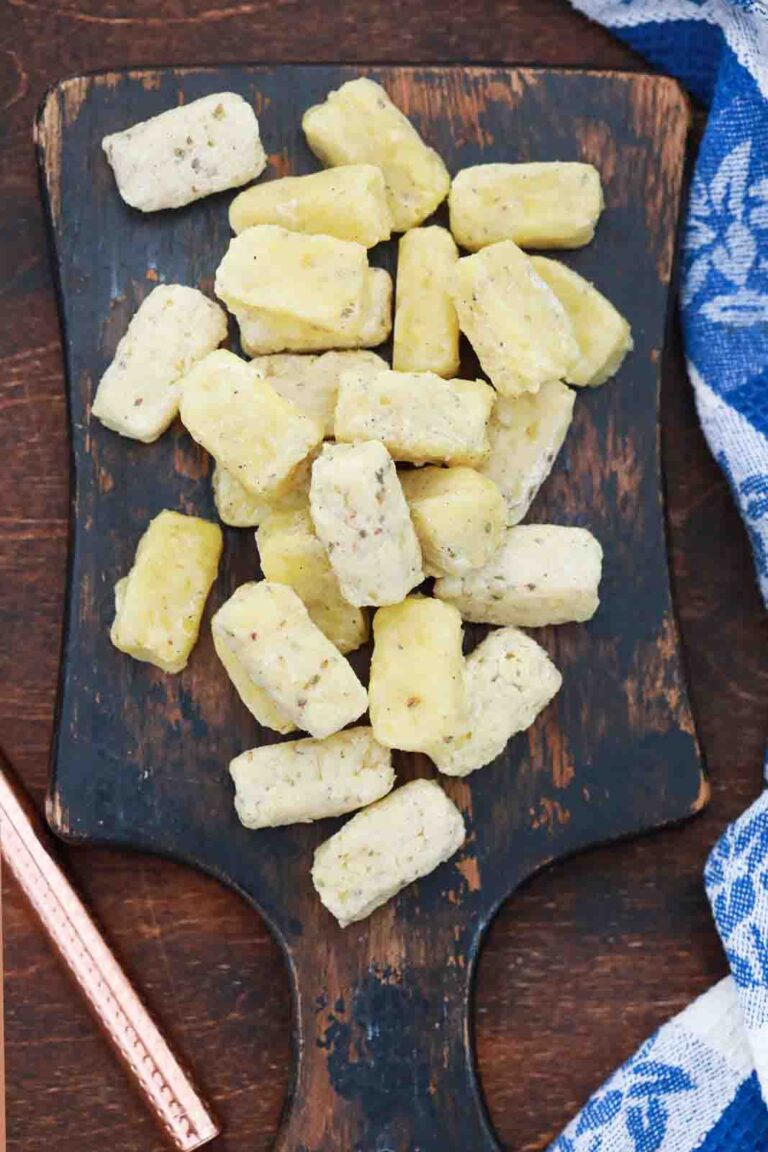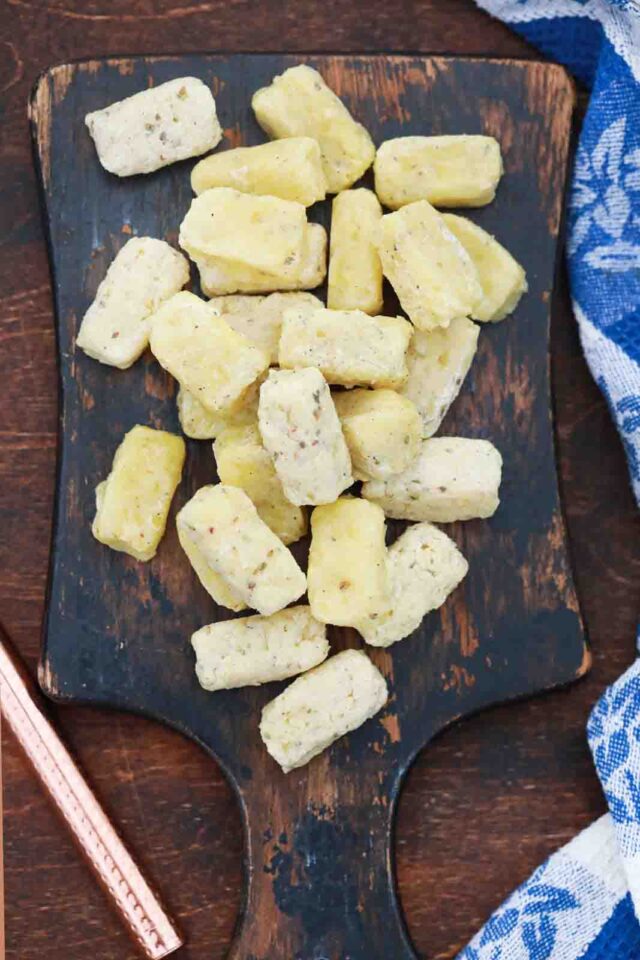 Ingredients needed:
You only need one ingredient and some seasoning to make this easy recipe. Each tater tot is golden brown and crisped to perfection with no prep time and under 10 minutes of cooking time. When you are ready to begin, scroll down to our recipe card for our step-by-step instructions and exact measurements.
Frozen tater tots

Kosher salt

Black pepper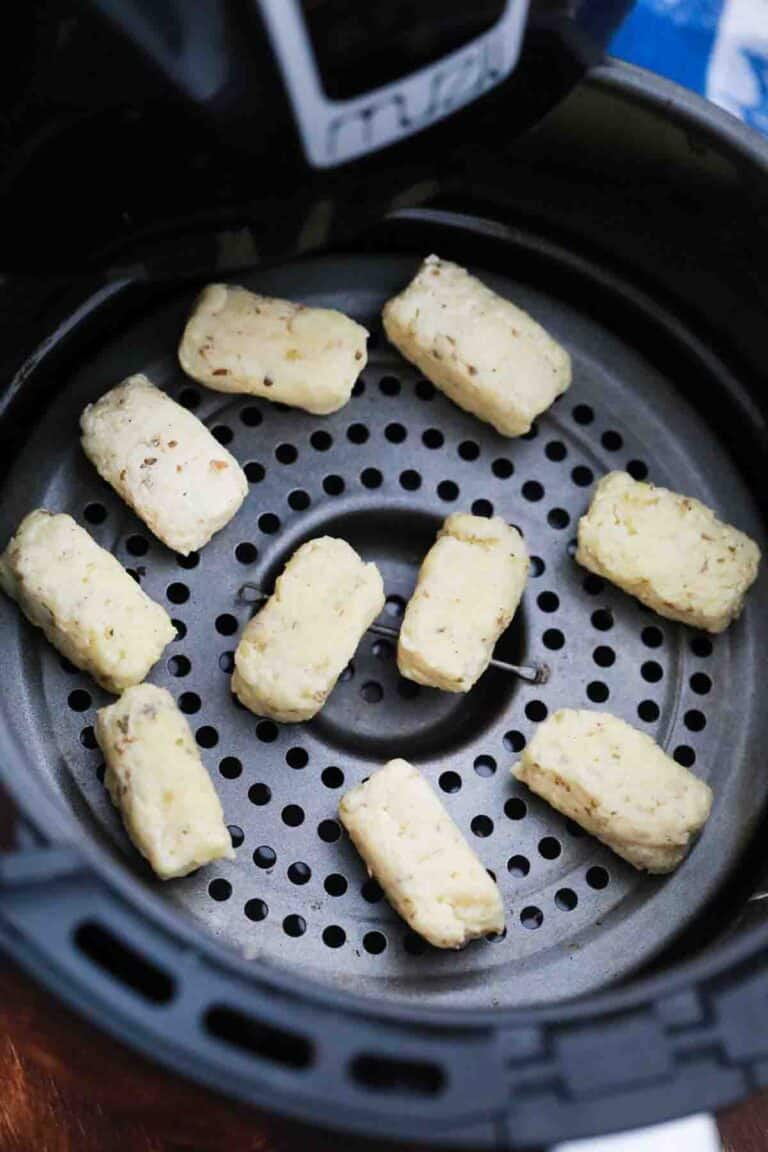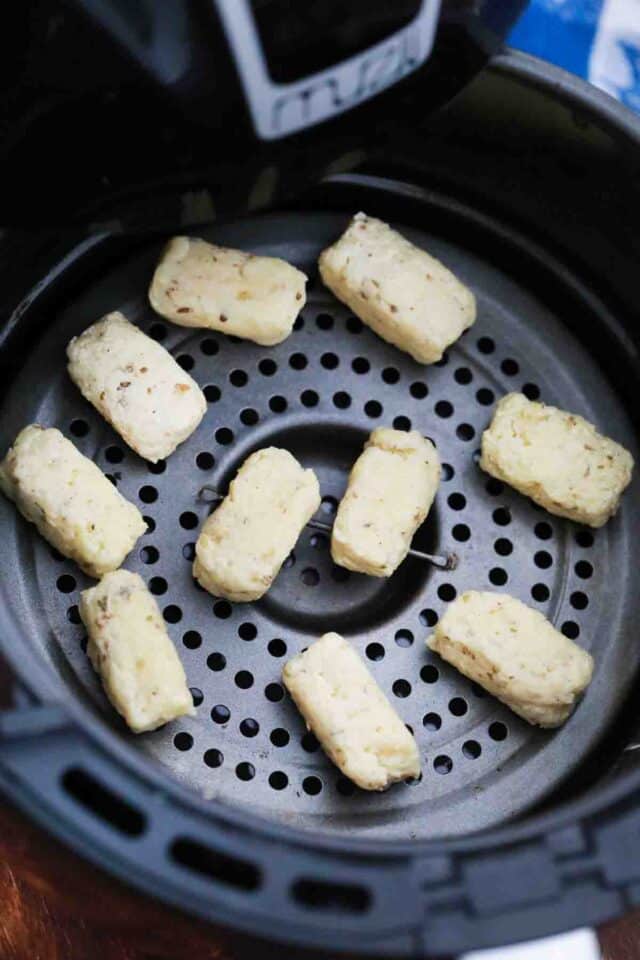 How to make air fryer tater tots?
Preheat air fryer:

To start, preheat your air fryer to 400 degrees F.

Add the tots:

After it is hot, put your frozen tater tots in the air fryer basket in an even layer. Make sure you do not overcrowd them so the hot air can circulate to cook tater tots evenly. You will probably have to make tater tots in multiple batches.

Air fry tater tots:

Then, turn the air fryer to 400 degrees F and air fry tater tots for six to eight minutes.

Shake the basket:

After four or five minutes, gently shake the basket to flip the tater tots before cooking them for another few minutes. If you want crispier tots, air fry them for another two or three minutes. You just want them to be light golden brown.

Serve immediately:

Lastly, season and serve immediately with your favorite dipping sauces.
How to make homemade tater tots from scratch?
Boil the taters:

First, boil four large, peeled russet potatoes in a large pot for about six or seven minutes. Drain and remove to cool.

Shred and dry:

After they cool, shred them finely and press the excess water out with a clean dish towel.

Make the potato mixture:

Next, place shredded taters into a large bowl with flour, parsley, oregano, paprika, garlic and onion powder, and mix with salt and pepper. It should be dry but workable. If it is too wet, add more flour.

Shape the tots while you heat the oil:

Now, put parchment paper on a baking sheet and shape the potato mixture into tots, setting them on the baking sheet as you go while you heat vegetable oil in a pot or deep fryer.

Fry the tater tots:

Once it is hot, fry tater tots, about six at a time depending on the size of the pot. Fry for three to four minutes or until they are golden brown.

Serve hot:

As they get done, place them onto a plate lined with paper towels to absorb the excess oil before serving with dipping sauce.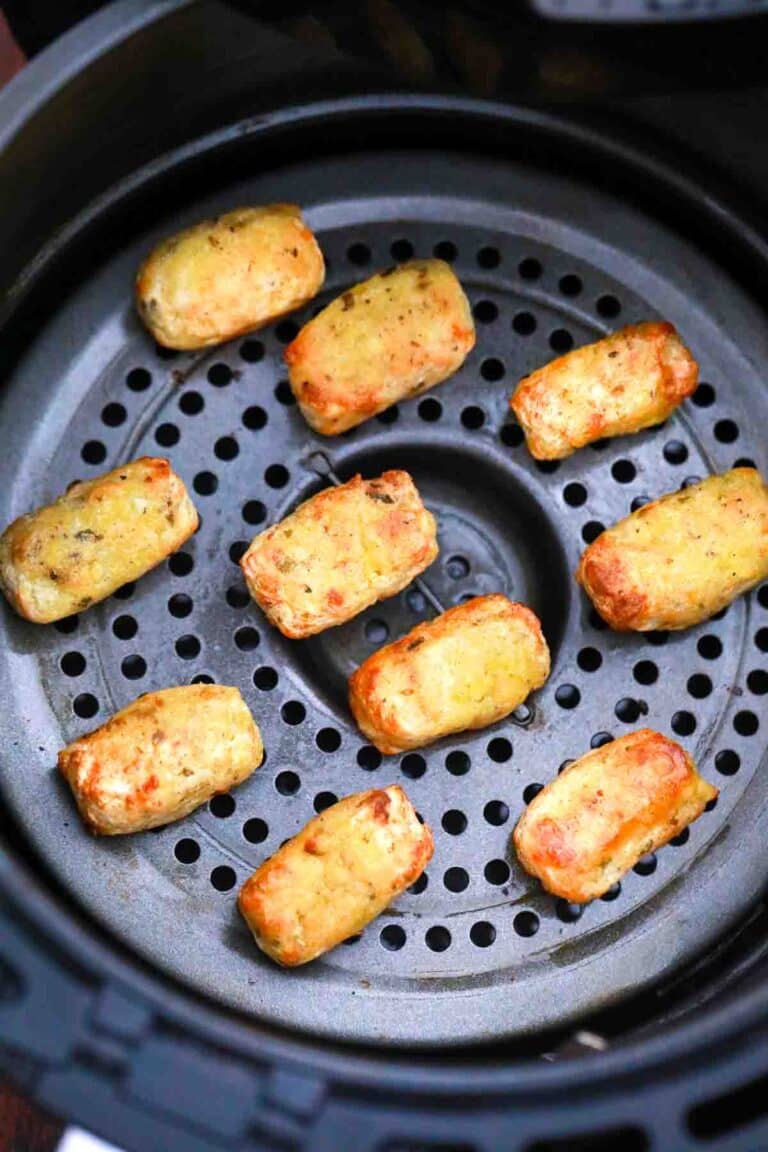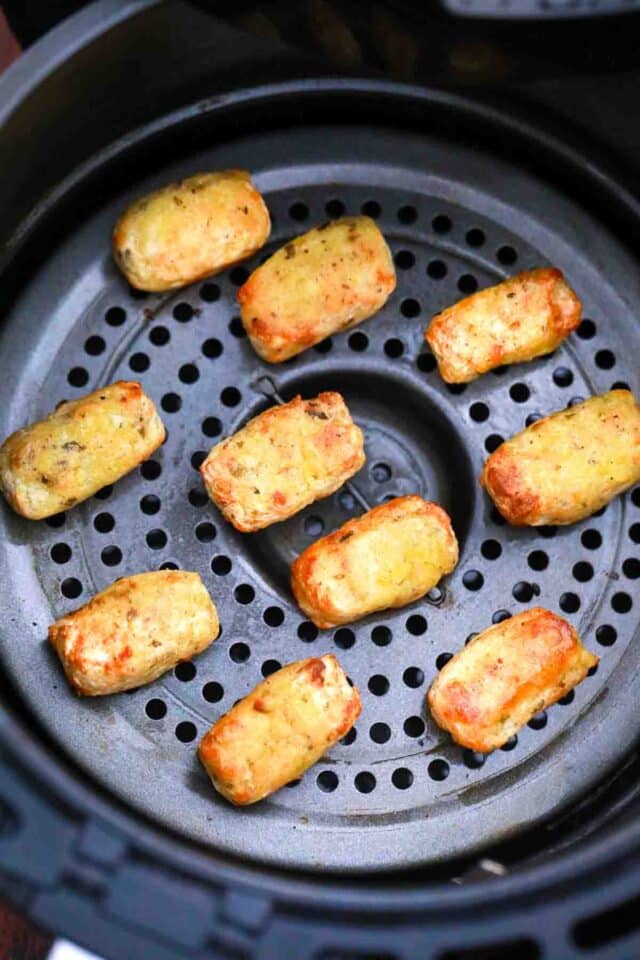 Recipe variations:
Gluten-free:

When making homemade tater tots, use almond, rice, or coconut flour for gluten-free tots.

Taco tots:

Try sprinkling these with taco seasoning for a kick of Mexican flavor.

Hot tots:

Want your tots even hotter? Add red pepper flakes or cayenne pepper.

Season them:

Another way to season these is with some dry Italian or ranch dressing.

Make them unique:

For something different, use Old Bay or Montreal Steak seasoning.

Make it a meal:

Chop up some cooked chicken, pork, or turkey as well as some veggies and toss them with the tots after they are done. Serve it all together for an easy weeknight dinner.

Cheesy tots:

Sprinkle your tater tots with your favorite shredded cheese before cooking for melty cheese tots.
How to serve:
With this easy air fryer recipe, everyone will have trouble stopping at one tater tot, so make sure you have plenty for everyone. Serve hot with your favorite dipping sauce as a snack, side dish, or appetizer. Try one of our serving ideas or share your own in the comments section at the bottom of the page.
These crispy air fryer tater tots go great with cheese sauce. Try our delicious recipe for

beer cheese

.

Try these as a side dish to scrambled eggs for an alternative to hash browns.

Another great dipping idea is barbecue sauce. We have a yummy recipe to make

homemade barbecue sauce

.

They are also a wonderfully easy side for steak, soup, or sandwiches.

Toss them on top of a bowl of your favorite chili or try our

instant pot chili

recipe.

Add leftovers to your favorite casserole dish.

Any kind of sauce is good with these tots such as this homemade

chipotle sauce

, our tangy

honey mustard

, or try them with this copycat

Chick Fil A sauce

.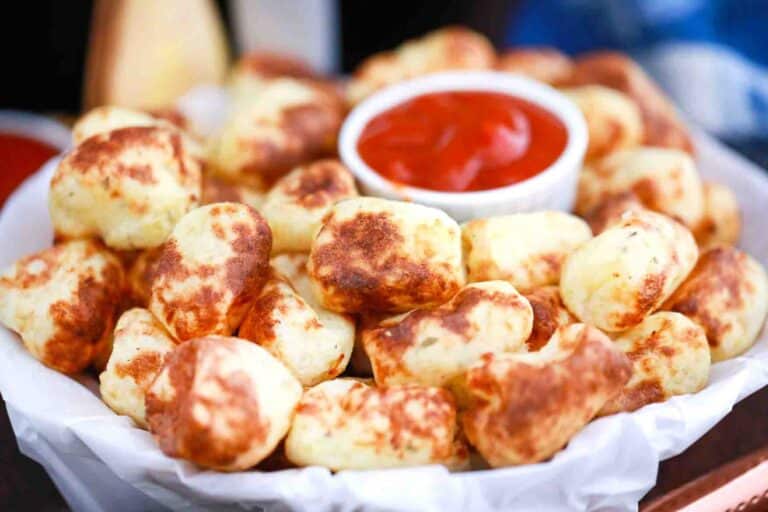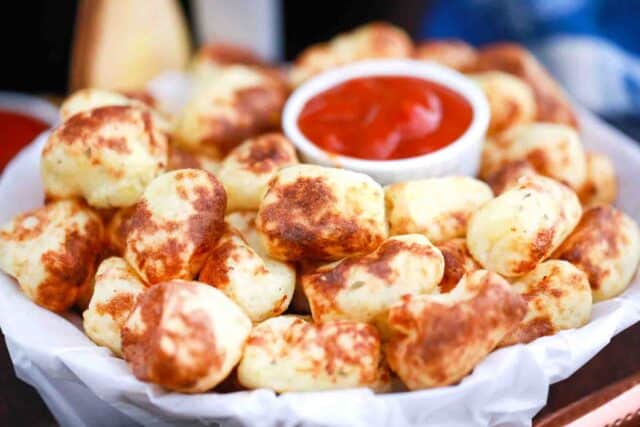 Frequently asked questions
Why is air frying tater tots better for you?
The air fryer makes your tater tots crispy without having to fry them in oil, which is not good for those who are trying to keep their cholesterol and fat levels low. When you make tater tots in the air fryer, they are cooked with hot air instead of hot oil so you do not need any kind of oil for cooking. There is less saturated fat when you cook them this way.
Should I put oil on my air fryer basket?
It is not good to use any non-stick cooking spray or aerosol cooking spray in your air fryer basket because they can cause the non-stick surface to wear off. If you like, you can brush the basket with olive oil using a pastry brush or just a paper towel. You could also use a non-aerosol spray bottle and fill it yourself with olive oil or whatever type of oil you like to cook with.
What else can I cook in my air fryer?
You can cook almost anything in your air fryer without using oil. French fries are a good choice as are onion rings, chicken wings, hamburgers, and fish. Many people use the air fryer to make veggies like air-fried cauliflower, green beans, carrots, corn, mushrooms, and even artichokes. You can even make desserts like air fryer cakes, cookies, and fruit.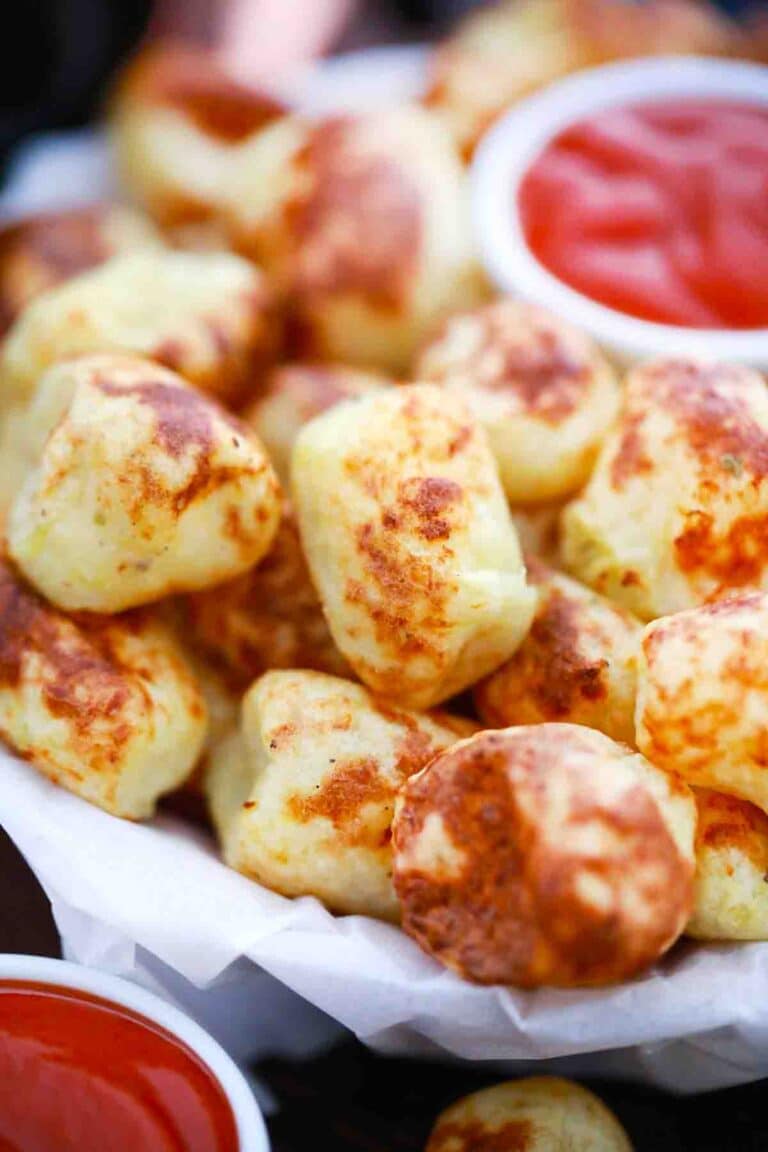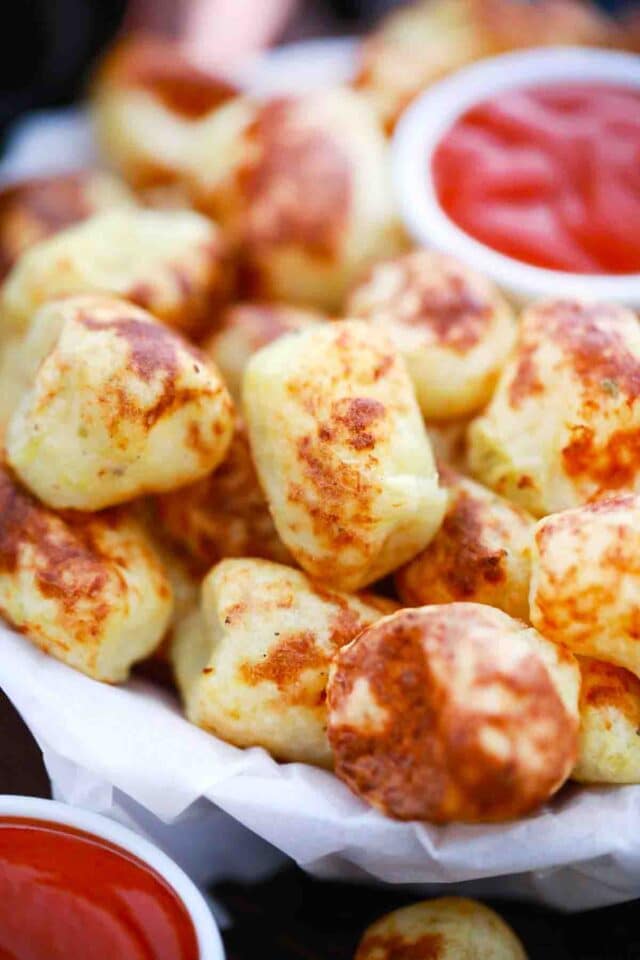 What are the nutrition facts in this recipe?
One serving has 110 calories, 6 grams of fat with 1 gram of saturated fat, and 255 mg of sodium. They also have 1 gram of sugar and 21 grams of carbs. But you also get 8 grams of fiber, 3 grams of protein, 168 mg of potassium, 2 mg of vitamin C, and 220 units of vitamin A.
How to store leftovers:
Store:

Put your leftover air fryer tater tots in an airtight container or baggie. Refrigerate for up to three days.

Freeze:

It is also safe to freeze your air fryer tater tots for up to a month. Just put them in a freezer-safe container or freezer bag.

Reheat:

To reheat, cook frozen tater tots in air fryer at 350 degrees for four or five minutes. Or put tots on a baking sheet covered with foil or parchment paper and cook them for 8 to 10 minutes at 350 degrees F.
Recipe tips:
Do not use utensils with metal tips or they will scratch the basket.

Also, do not overcrowd the basket, and make sure you keep them in a single layer. Air fryers need the air to circulate to cook evenly.

The cooking time may vary depending on the size and kind of your tater tots and air fryer.

The nutrition facts also depend on the type of tater tots and what kind of dipping sauce you choose.

Feel free to use any kind of seasonings you like.

When reheating, do not use the microwave because they can be mushy.

If you want to make them in the oven, put them on a baking sheet and bake for 10 to 15 minutes at 400 degrees F.

Do not thaw your frozen tater tots before cooking.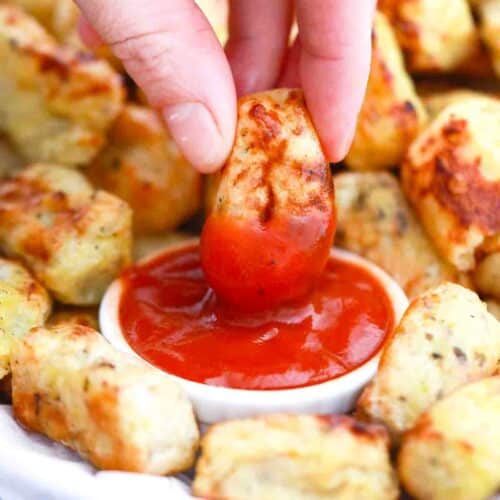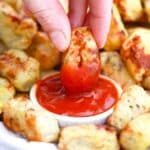 Air Fryer Tater Tots
Air Fryer Tater Totsare easy to make with just one ingredient: frozen tater tots!
Keyword:
Air Fryer Tater Tots
Ingredients
20

frozen tater tots

from your favorite brand

cooking oil spray
Instructions
Arrange the frozen tots in the air fryer basket in an even layer, do not overcrowd. If needed, cook in batches.

Cook at 400 degrees for 6-8 minutes, turning half way through. For crispier tots, lightly spray them with cooking oil. Cook for a few minutes more, until they are as crispy as you like them.

Serve with your favorite dipping sauces.
Nutrition Facts
Air Fryer Tater Tots
Amount Per Serving
Calories 170
Calories from Fat 72
% Daily Value*
Fat 8g12%
Sodium 410mg18%
Potassium 237mg7%
Carbohydrates 24g8%
Protein 2g4%
Vitamin A 4IU0%
Vitamin C 6mg7%
Calcium 13mg1%
Iron 0.5mg3%
* Percent Daily Values are based on a 2000 calorie diet.