Starbucks Copycat Green Tea Frappuccino Recipe
Starbucks Green Tea Frappuccino is the perfect drink if you are a green tea lover. The copycat recipe for Starbucks matcha frappuccino uses matcha tea instead of regular green tea, which has more health benefits and a sweeter flavor. And all you need to make this delicious Starbucks green tea frappuccino is four ingredients, some ice, and whipped cream if you like it.
If you are just hearing of matcha recently, you may be surprised to know that it has been a popular drink in Japan for many centuries. In fact, it is the main drink of the Japanese tea ritual they call Chanoyu. It has become popular recently in the US because it is so delicious as well as beneficial. It is rich in antioxidants like catechins, boosts your brain function, promotes good heart health, and can even prevent cancer.
To make this yummy Starbucks matcha frappuccino recipe, you may already have what you need in the kitchen. If you have milk, matcha green tea powder, sugar, and vanilla, you can have this yummy pick-me-up in a few minutes. Add a scoop of whipped cream or caramel sauce for an even more decadent drink.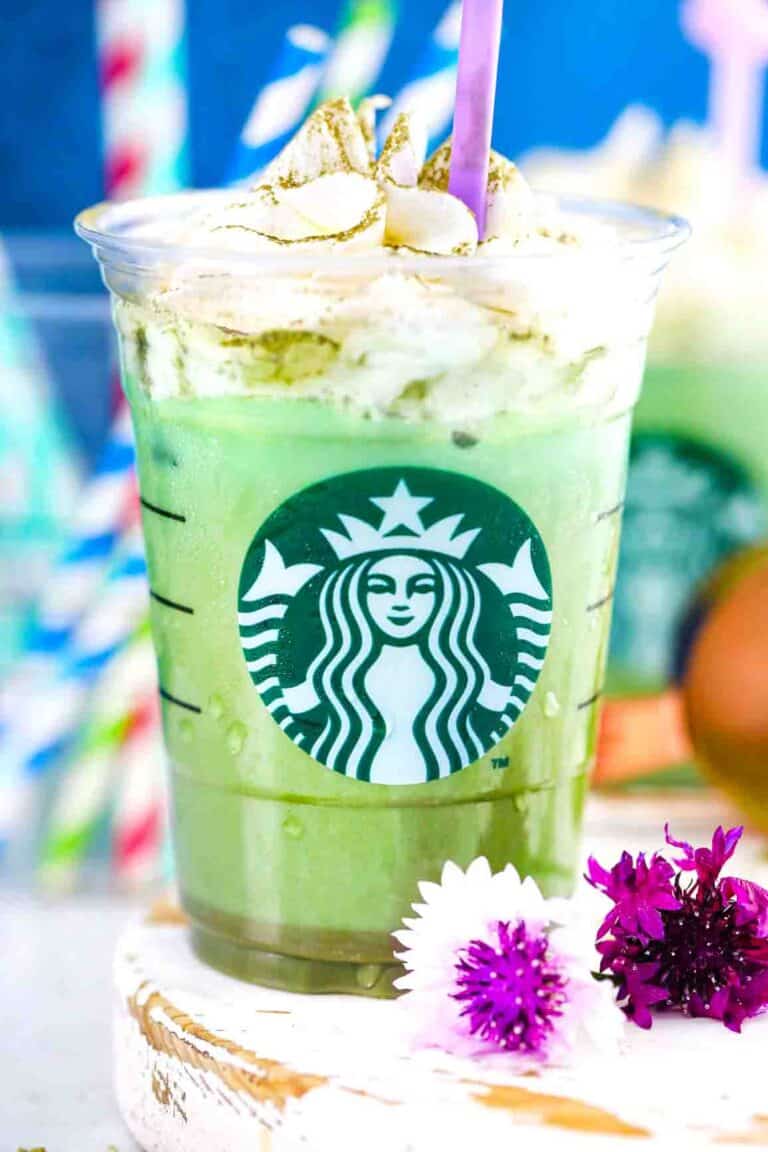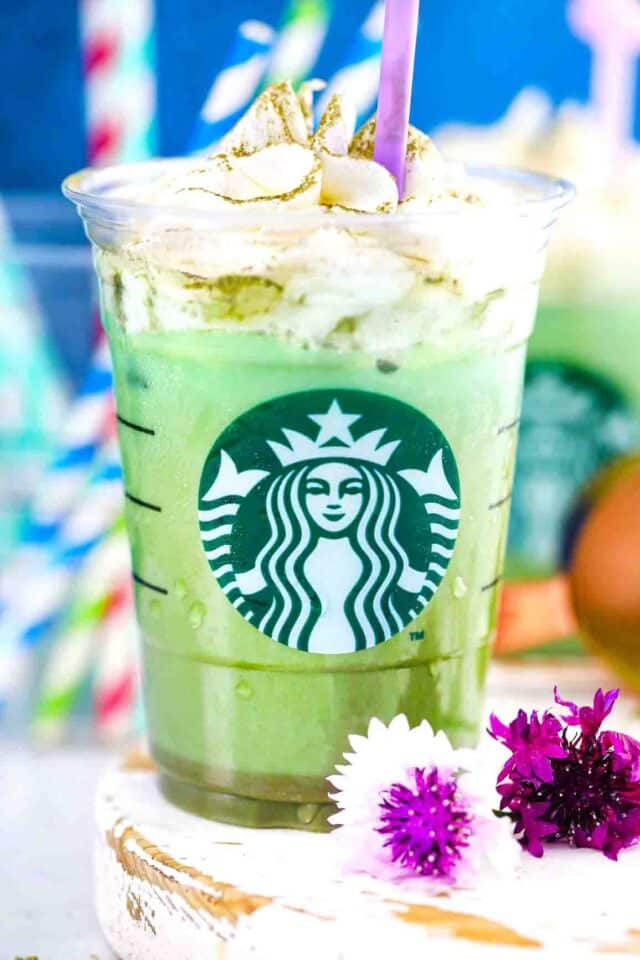 Ingredients needed:
If you are craving Starbucks homemade green tea frappuccino recipe, just gather these ingredients. Then, when you are ready to begin, scroll down to our handy printable recipe card for the complete instructions and measurements.
Matcha green tea powder:

Not sweetened matcha powder.

Vanilla extract
Simple syrup
Whole milk
Ice cubes
Whipped cream:

Optional topping.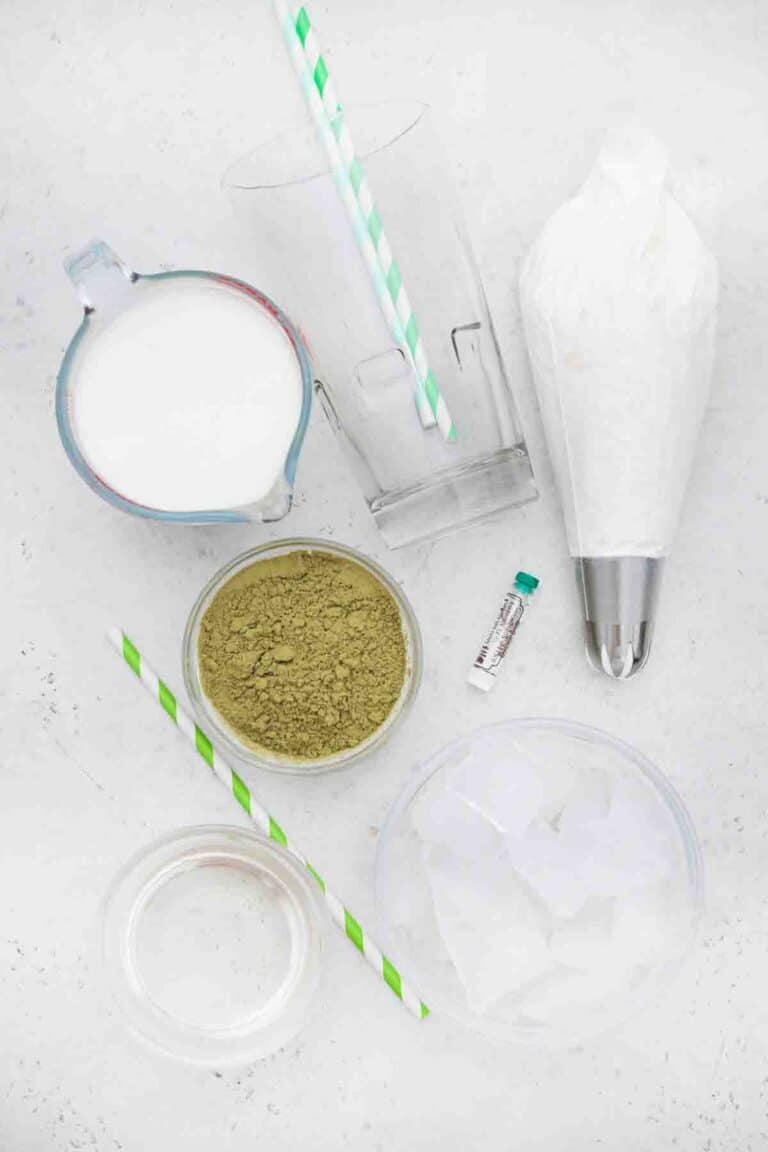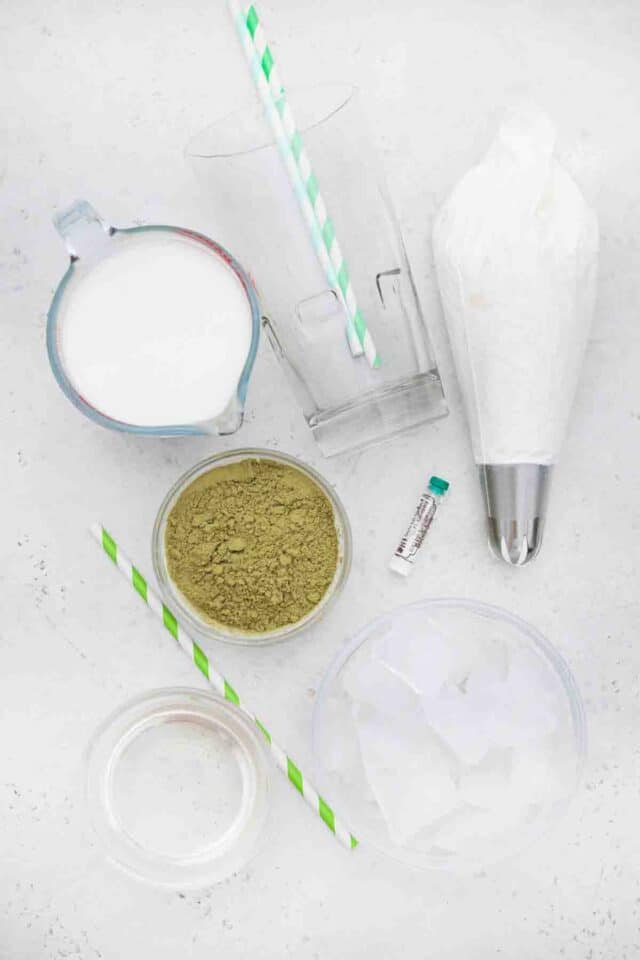 How to make Starbucks matcha green tea frappuccino from scratch?
Blend your ingredients:

To begin, pour milk, syrup, vanilla, matcha, and ice into a blender. Mix on high until it is smooth. This usually takes about 30 to 60 seconds.

Add the whipped cream:

Once it is creamy and smooth, pour it into a tall glass and add a dollop of whipped cream.

Serve immediately:

Finally, serve right away for the best results.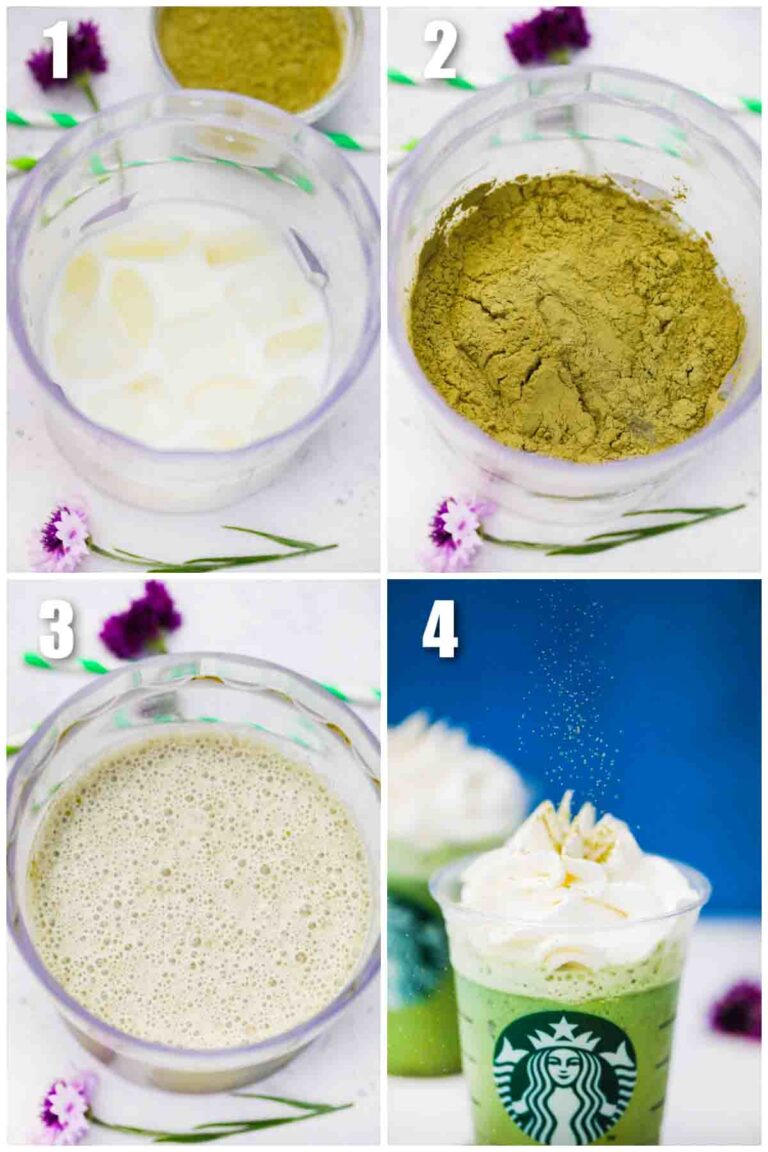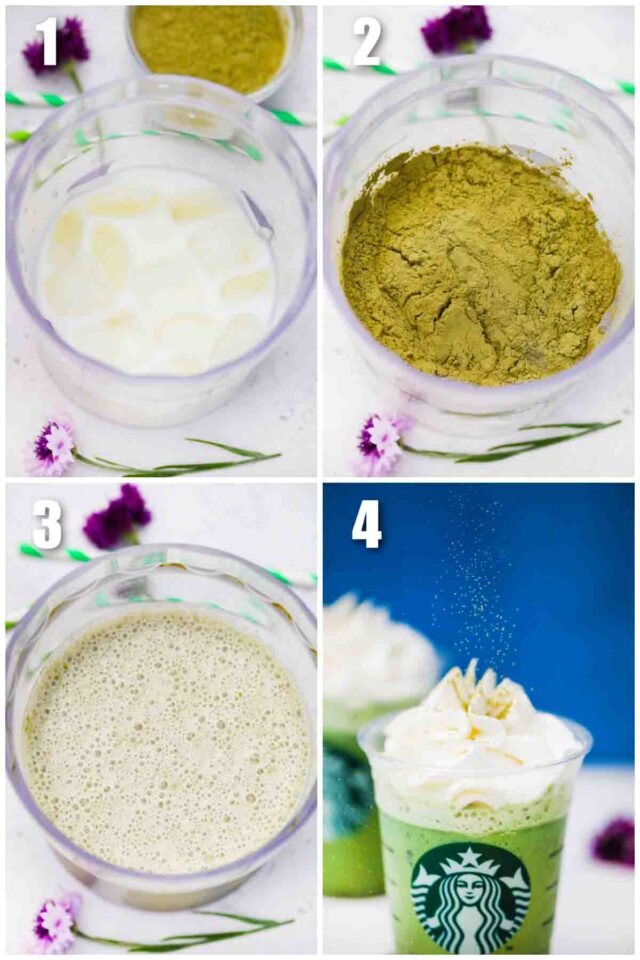 Recipe variations:
Vanilla syrup:

You could also use vanilla syrup instead of vanilla extract. If you use the classic syrup, you can skip the simple syrup too because it has enough sugar for your Starbucks frappuccino.

Other flavors:

There are many different flavored syrups you can use besides vanilla. Try something different like strawberry, cherry, or maple.

Dairy-free alternative:

For those who cannot handle lactose, try dairy-free milk or plant-based milk. There are a lot of them on the market to choose from now like almond milk or oat milk. They even have potato, banana, and pistachio milk. Be creative and give them a try. You might find out that you love them!

Low-fat:

You can substitute whole milk for low-fat or skim milk. But it may not be as creamy.

No extra sugar:

Feel free to use honey or maple syrup instead of simple syrup for an even healthier frappuccino.

Add cocoa:

Chocolate lovers will love a scoop of cocoa powder mixed into this Starbucks matcha frappuccino.

Fresh herbs and spices:

You could also add extra flavor with your favorite herbs and spices like rosemary, cinnamon, or pumpkin spice.
How to serve:
This Starbucks matcha frappuccino drink is perfect any time of the day but it is especially nice to enjoy when you are getting ready to go to work or the gym. Try one of these ideas or share some of your own with us in the comments area.
Try making your own homemade whipped cream. All you need is heavy cream, sugar, and vanilla.

Enjoy your Starbucks matcha frappuccino for breakfast with some eggs and bacon. Or you can try our

oatmeal pancakes

recipe.

Instead of whipped cream, add a scoop of vanilla ice cream for a truly decadent drink.

If you like a sweet breakfast, you could also enjoy our frappuccino with donuts. These

baked chocolate donuts

are perfect for dunking!

Make a big batch of these frappuccino drinks for your next brunch with friends. But make sure you have our recipe card handy so you can share.

A

snickerdoodle muffin

would be a delicious addition to this morning beverage.

Drop a few milk ice cubes in your frappuccino for an even creamier drink.

Make it a boozy frappuccino. Add a shot of your favorite flavored liquor. You cannot get that at Starbucks!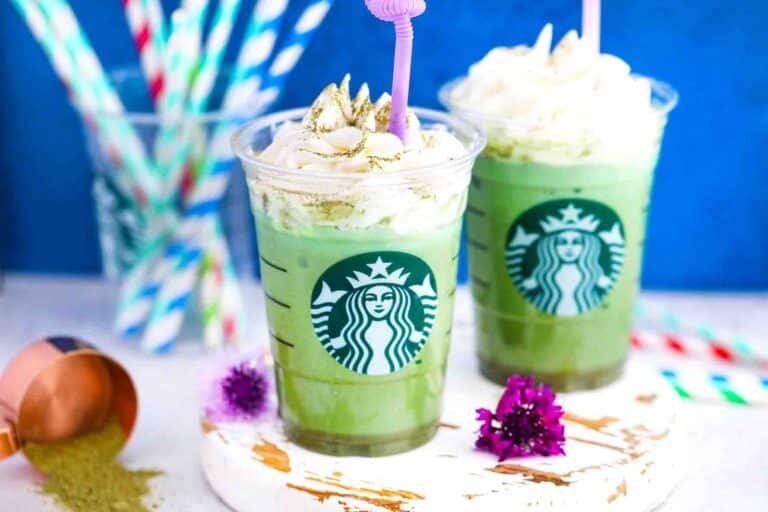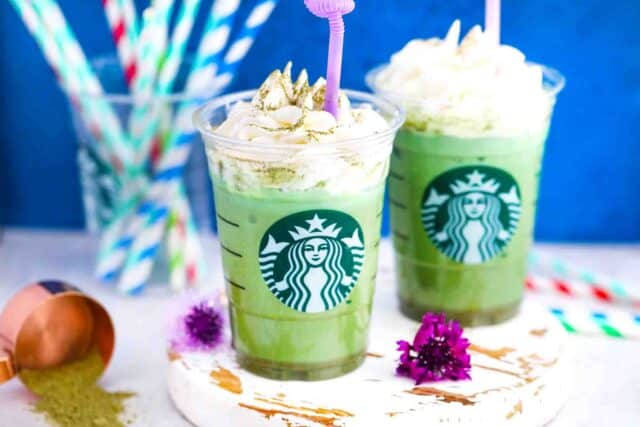 Frequently asked questions
What is in Starbucks matcha tea blend?
All you will find in the blended beverage is sugar, ground Japanese green tea leaves, and maybe xanthan gum. But any type of matcha is made from ground green tea leaves so you get the health benefits from it no matter what brand you use. Regular green tea frappuccino is good too but you do not get as many health benefits as you do from a matcha frappuccino.
What is xanthan gum?
You may have never heard of or used xanthan gum, but it is an amazing ingredient that gives your Starbucks matcha frappuccino a thicker texture. It is an emulsifier and stabilizer made with sucrose or glucose. If you do not have any, you can use ground flax, cornstarch, gelatin, or agar agar.
Why is my tea bitter?
Not all matcha is created equally. If your frappe tastes bitter or just off, you may need to bet a different grade of matcha. Culinary-grade matcha has more of a bitter flavor while ceremonial-grade matcha tastes more like the Starbucks recipes. It also gives your drink its bright green color. Also, check your ice. Using old ice like the ice that your ice maker made months ago will give your luscious frappes a flat flavor. Use filtered water for the best results.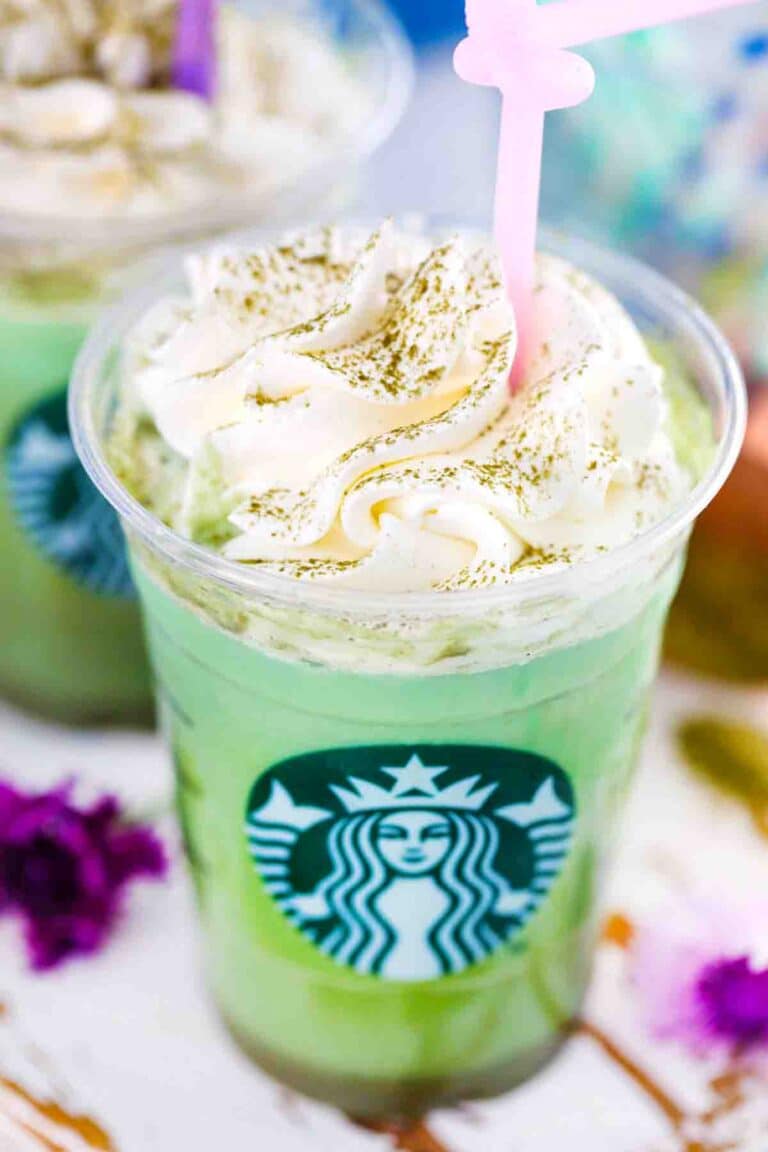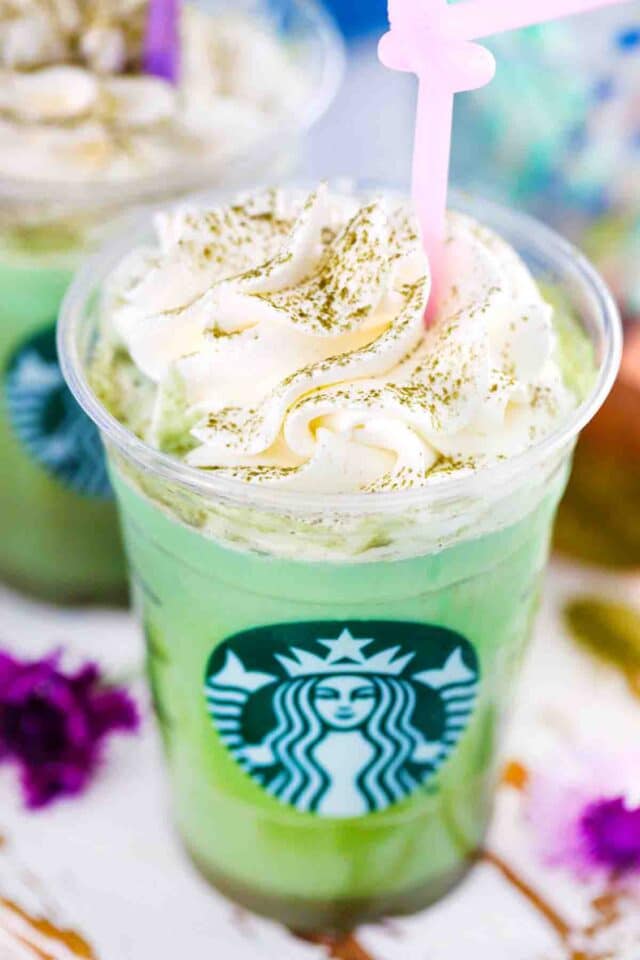 How do you make simple syrup?
As the name implies, simple syrup is very simple to make. It is just white granulated sugar and water. You simply cook equal parts sugar and water until your syrup mixture is slightly thickened. Mix one part of white granulated sugar with the same amount of filtered or bottled water in a small saucepan and bring it to a boil. Stir constantly until the sugar is dissolved.
What are the nutrition facts in this recipe?
If you are worried about nutrition, calories, and fat, here are the estimated amounts in each serving. You will get 230 calories, 34 grams of carbs, and 4 grams fat with 2 grams saturated fat as well as 13 mg cholesterol, 102 mg sodium, and 35 grams sugar. But you also get all the benefits of matcha tea as well as 11 grams protein, 200 mg potassium, 5 mg iron, 160 mg calcium, and 949 units of vitamin A.
How to store leftovers:
Store:

Your leftover Starbucks copycat matcha green tea frappe should be enjoyed immediately for the best flavor and texture. However, you can store it in an airtight container like a mason jar for up to 24 hours.

Freeze:

For a frappuccino slushie, put it into a mason jar in the freezer for at least two hours. Make sure you leave enough space for expansion. You could also make frozen popsicle matcha frappuccinos using a popsicle tray. No need to thaw, just take it out and eat it frozen.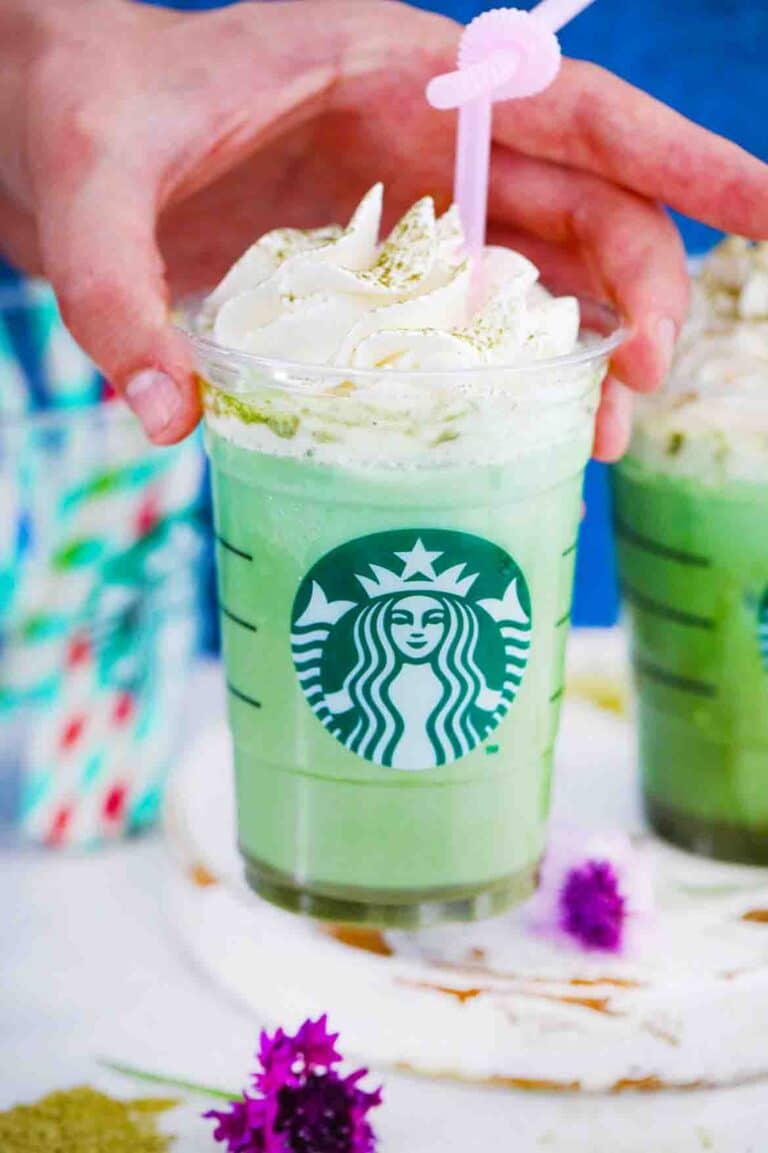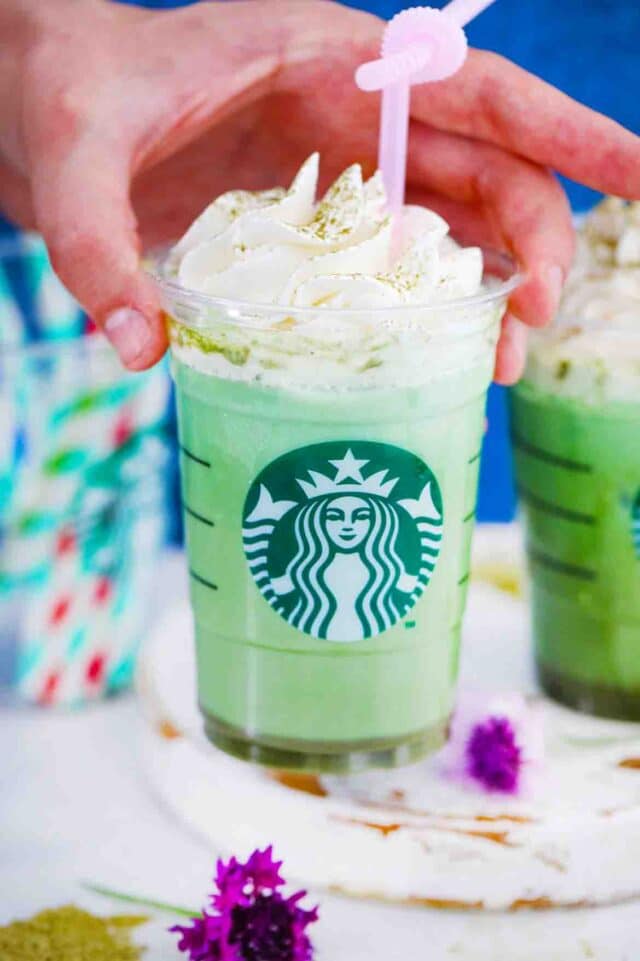 Recipe tips:
The nutritional information does not include the whipped cream or other additional ingredients.

You can use a handheld milk frother to make your matcha frappe if you do not have a blender.

Use pure vanilla extract for the best green tea frappuccino taste.

If you use sweetened whipped cream and sweetened matcha, you can skip the simple syrup.

This matcha drink does have caffeine so if you are trying to avoid caffeinated beverages, you will want to get a decaffeinated matcha. To estimate how much caffeine this Starbucks version has, a tall glass of Starbucks frappuccino has 50 milligrams.

Add more milk if your homemade frappuccino is too thick. If it is not thick enough, add more ice.

For those who do not like how sweet the Starbucks matcha frappuccino is, you can use less sugar.

If you love this copycat recipe and are looking for more Starbucks copycat recipes, we have them on our food blog. In fact, we have a lot of different copycat recipes you can try. Keep your eyes peeled for more matcha recipes.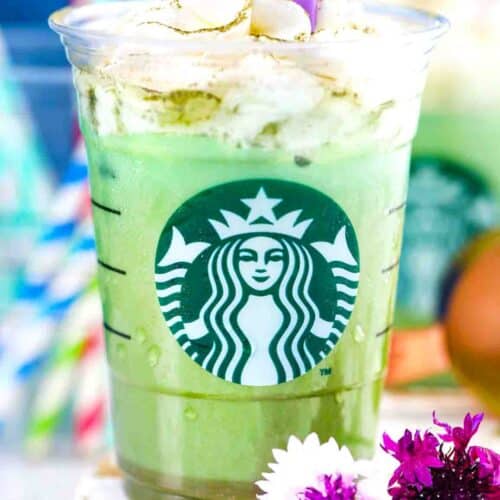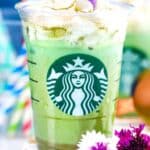 Starbucks Copycat Green Tea Frappuccino
StarbucksGreen Tea Frappuccino is the perfect drink if you are a green tealover.
Keyword:
Starbucks Copycat Green Tea Frappuccino
Ingredients
1

cup

milk

4

cups

ice cubes

2

tablespoons

matcha powder

2

tablespoons

simple syrup

honey or maple syrup will work as well

1

teaspoon

vanilla extract

whipped cream

for topping
Instructions
Add milk, ice cubes, matcha powder, syrup, and vanilla to a high-speed blender and puree until smooth.

Pour the mixture into two glasses and top it with whipped cream and a sprinkle of matcha powder.

Serve immediately.
Nutrition Facts
Starbucks Copycat Green Tea Frappuccino
Amount Per Serving
Calories 178
Calories from Fat 36
% Daily Value*
Fat 4g6%
Cholesterol 15mg5%
Sodium 82mg4%
Potassium 199mg6%
Carbohydrates 21g7%
Protein 12g24%
Vitamin A 948IU19%
Calcium 167mg17%
Iron 3mg17%
* Percent Daily Values are based on a 2000 calorie diet.