Baba Ganoush is a tasty eggplant dip made from minced garlic, roasted eggplants, lemon juice, tahini, and olive oil. It is savory, creamy, and has an intensely smoky flavor. Also known as Baba Ghanouj or Baba Ghanoush, this Middle Eastern dip is a wonderful recipe for a backyard barbecue, summer picnic, or anytime you want a smoky and creamy dip. Check out our cooking tips at the bottom of the page for more ideas.
If you think this recipe tasted great, you should try some of our other delicious dips. For instance, this Velveeta Spicy Sausage Dip recipe is super easy with just three ingredients including sausage, Rotel, and Velveeta cheese. Another dip you may like is our Smoky Salmon Dip made from cream cheese, mayo, sour cream, green onions, smoked salmon, and a few other ingredients.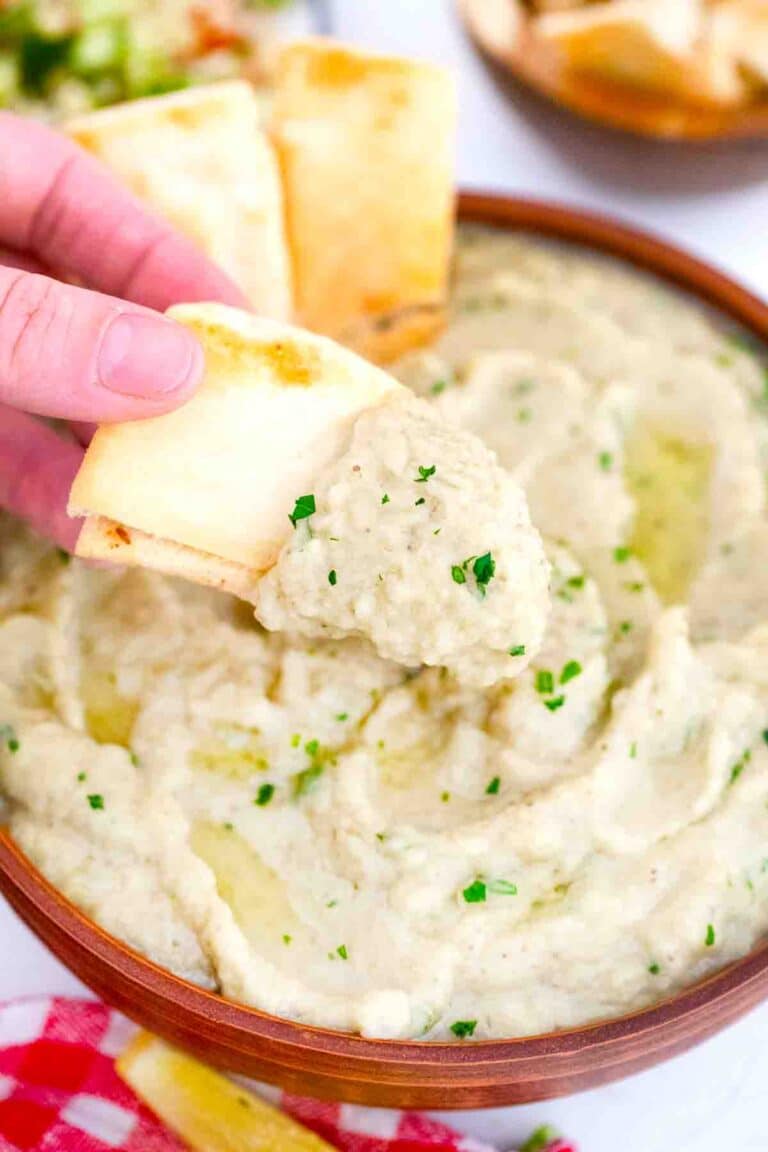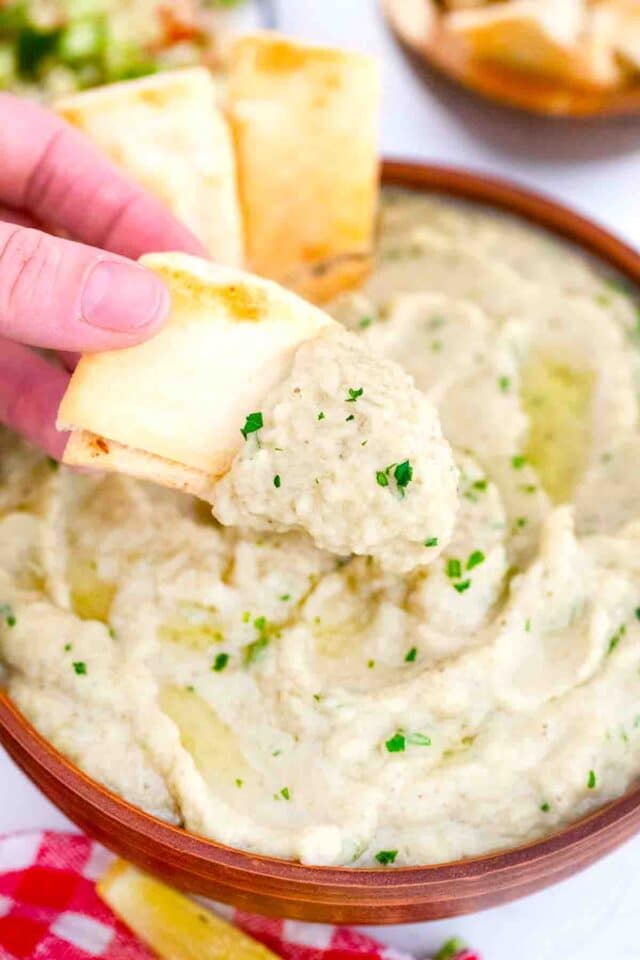 Although nobody is completely certain where baba ganoush really originated, most consider it a Mediterranean dip from Lebanon. However, it has been documented that baba ganoush was used in medieval Arabia for medicinal properties dating back to the 1200s. It is sometimes known as moutabel but it is always made of eggplants.
For this homemade and easy baba ganoush recipe, you only need a handful of ingredients including fresh lemon juice, garlic cloves, eggplant, tahini, and olive oil with a bit of kosher salt and fresh parsley. This great recipe is the best baba ganoush I have tried so I wanted to share it with everyone.
If you are looking for other Mediterranean dishes, our Mediterranean Tabbouleh recipe is incredible. All you need is bulgur wheat, mint, parsley, onion, tomato, cucumber, lemon, and oil. Or you can try this Greek salad with homemade dressing. It is fresh and crunchy and includes feta cheese, tomatoes, lettuce, avocado, olives, onion, and cucumbers.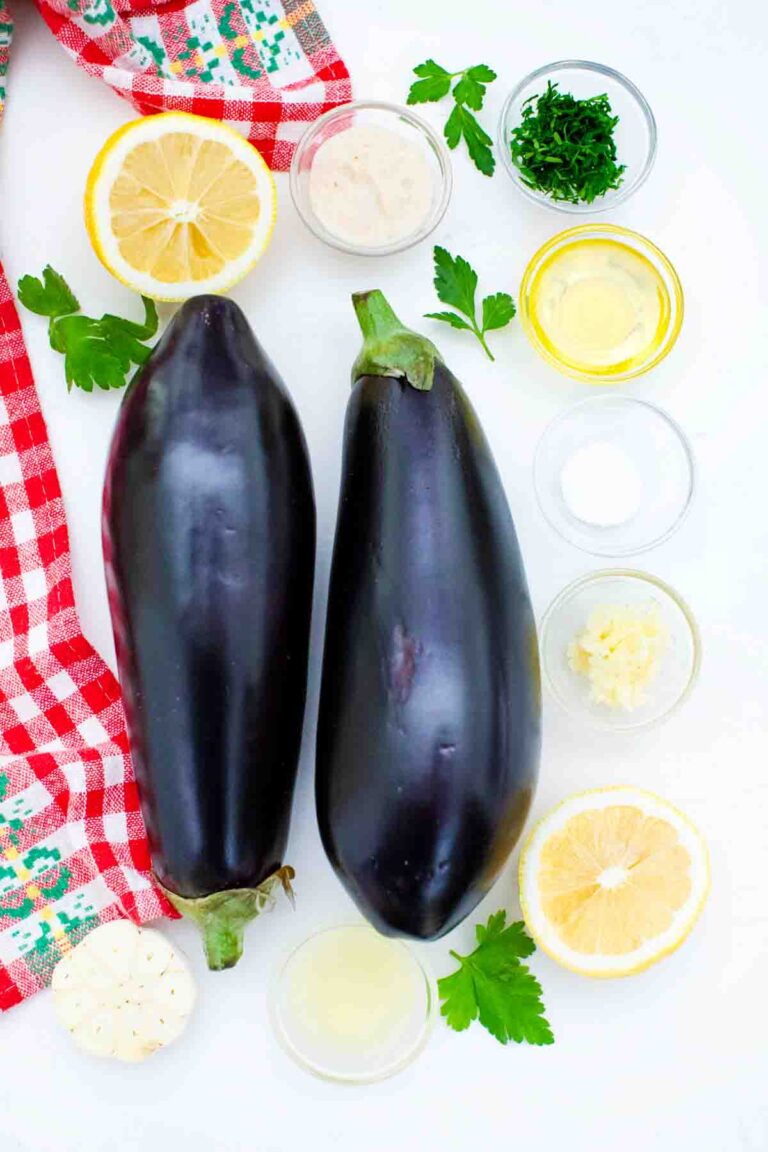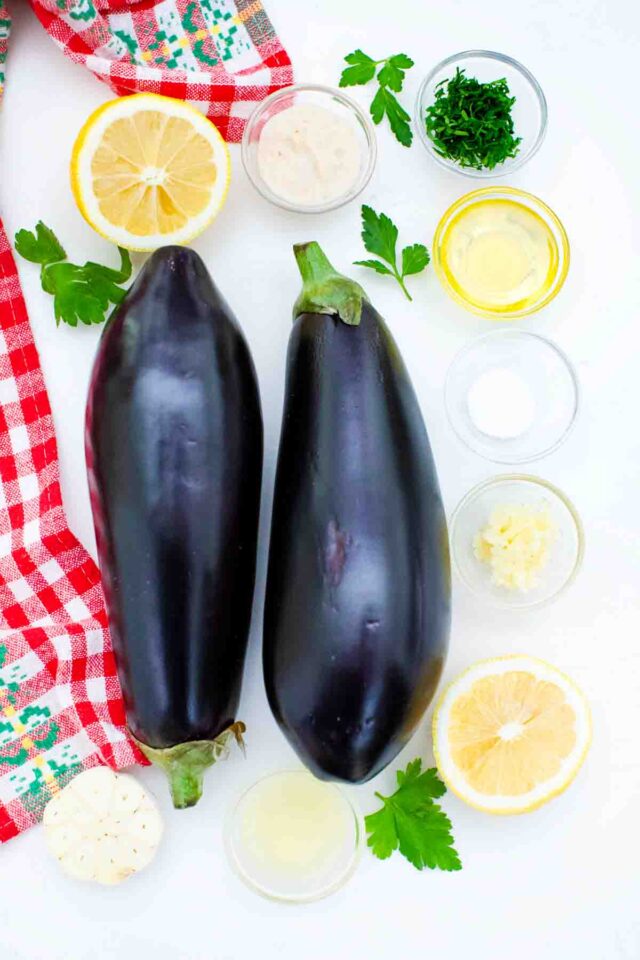 Ingredients needed:
Making baba ganoush is easy with this simple recipe. Here are the ingredients you will need. When you are ready to begin, look to the bottom of the page where you will find the measurements and directions on our recipe card.
Medium roasted eggplant
Minced fresh garlic clove
Fresh lemon juice
Tahini paste
Extra-virgin olive oil
Kosher salt
Chopped fresh parsley: For garnish.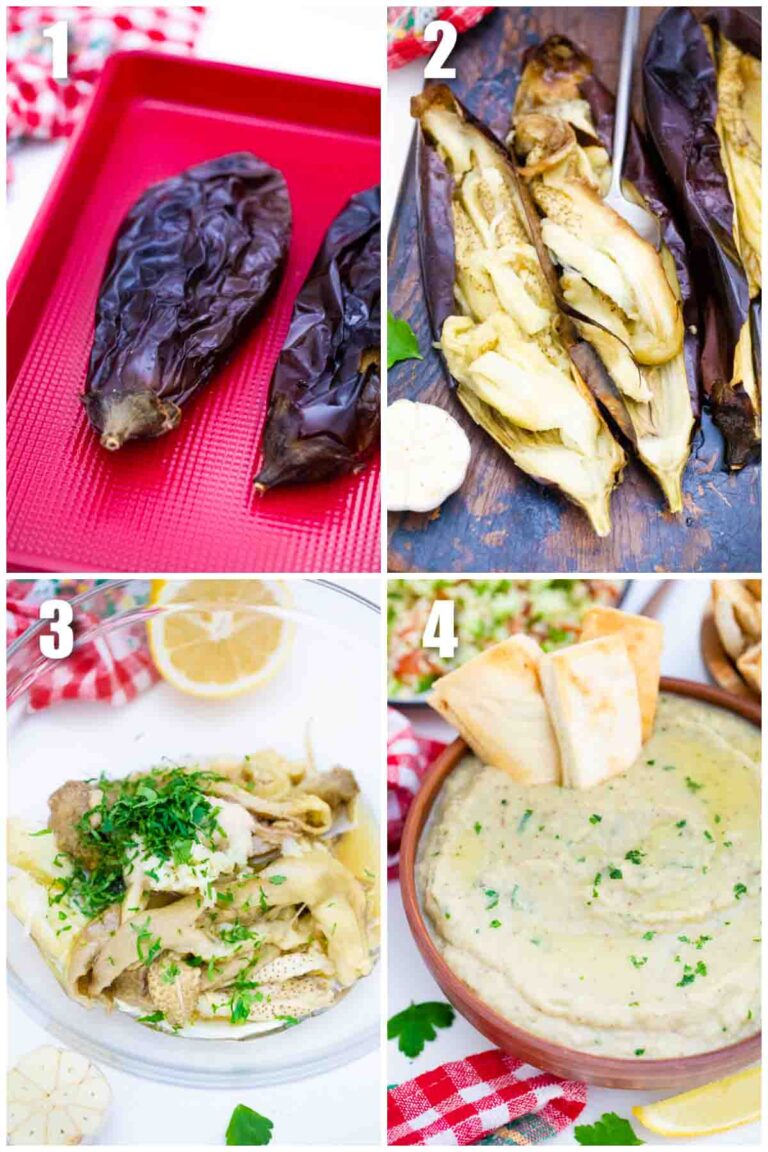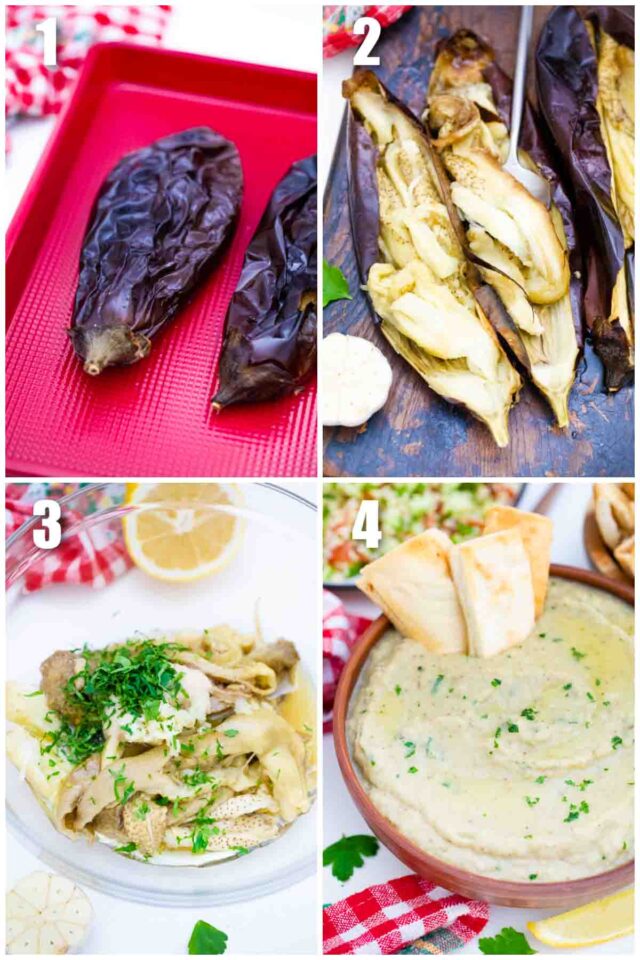 How to make baba ganoush from scratch?
Roast the eggplant: First, turn the stovetop to medium-high heat and put the eggplants above the flames. Use an extra-long set of tongs to turn the eggplants every few minutes. Continue to roast for 15 minutes until the roasted eggplant is deflating and has charred skin.
Let it cool: Now, put the roasted eggplants into a large bowl and cover them with plastic wrap to let them steam while they cool for at least 15 minutes. This is the best way to get rid of excess liquid that can make your baba ganoush dip runny.
Scoop and slice: Next, slice the eggplants in half lengthwise and scoop out the cooked eggplant flesh, placing it on a cutting board. Chop it roughly to slice up the stringy bits.
Mash it up: Then, put the chopped eggplant into a large bowl and mash it up with a fork or potato masher. When it is a chunky consistency, add tahini, garlic, lemon juice, olive oil, chopped parsley, and salt. Stir until it is combined thoroughly.
Garnish and serve: When it is done, put it into a nice serving dish or bowl garnished with extra parsley and a drizzle of olive oil before serving.
How to make grilled baba ganoush from scratch?
Prepare and preheat your grill: To begin, spray your barbecue grill with cooking spray for grills and heat it to medium-high. You can use a gas or charcoal grill.
Grill the eggplant: Once it is hot enough, place the eggplant directly above the fire, turning every few minutes, until it is evenly charred and deflated.
Cool and mash: Use tongs to remove the eggplants and put them in a covered bowl to cool for at least 15 minutes before scooping out and mashing the soft flesh.
Serve with parsley and oil: After they are mashed, add the rest of the ingredients and garnish with oil and parsley to serve.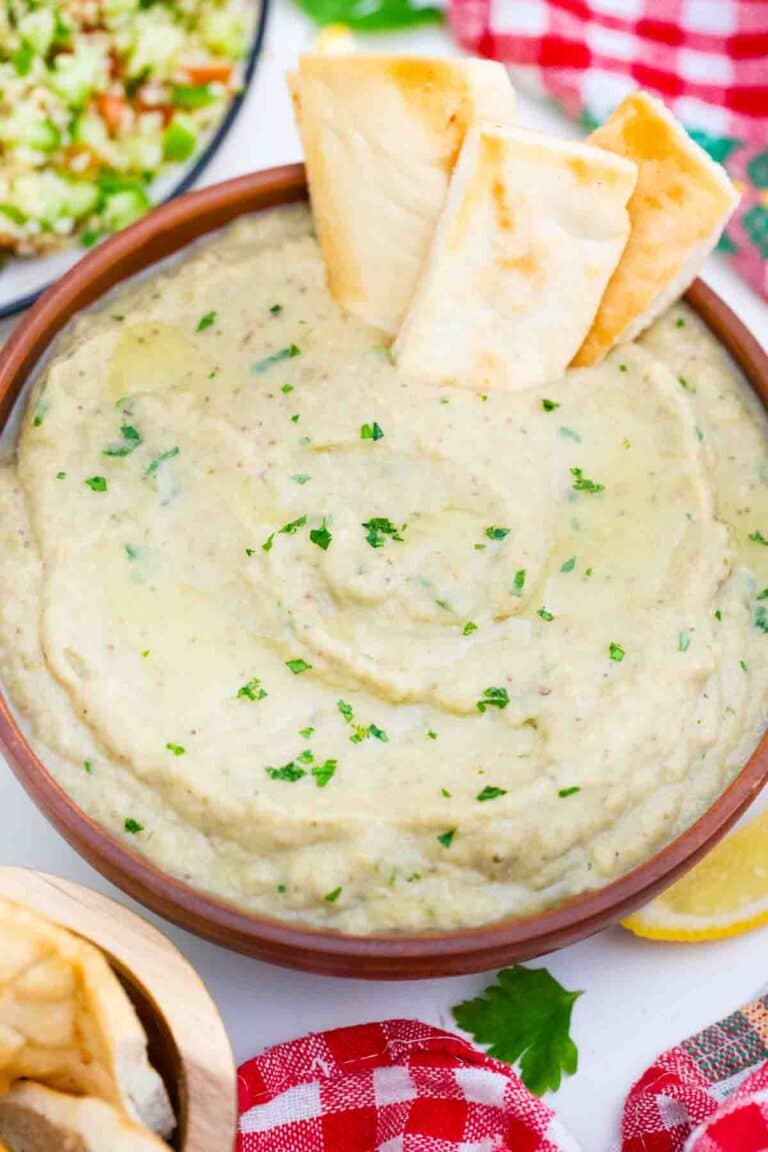 Recipe variations:
Another oil: You could use a different oil like avocado or grapeseed oil.
Sesame tahini: Toss in some extra sesame seeds to give this dip some extra texture.
Roasted garlic: For an even more intense garlic flavor, roast it in a hot pan before using it.
More smoky flavor: You can make your baba ganoush even smokier by adding smoked paprika.
Add more: Feel free to add more lemon juice, garlic, or any other ingredient you like better than the others.
Spice it up: If you love spicy dip, add some cayenne pepper or red pepper flakes.
Sweeten your dip: Some people like sweet dips. Try using a bit of white or brown sugar in this recipe.
How to serve:
You can eat baba ganoush with any kind of dipping food from pita bread to chopped veggies. Add in your own favorite ingredients or take out others that you do not care for to make it your own. No matter how you serve it, this is an absolutely delicious dip. Here are some suggestions for serving. Share your own ideas with us in the comments section at the bottom of the page.
Sprinkle on some romano or romano cheese for a richer taste.
You can also add some toasted sesame seeds for extra crunch and flavor.
Use leftovers to add to a salad like this Panzanella salad made with mozzarella pearls.
This dip goes great with tortilla or pita chips, corn chips, or even potato chips.
It also tastes amazing with bread or muffins. Add a dollop of this baba ganoush to these mini cornbread muffins for a healthy and mouthwatering snack.
Another way to serve your own tahini, garlic, lemon, and eggplant dip is with fresh veggies like carrot sticks, broccoli florets, cucumber rounds, and celery ribs.
This is a good recipe for spreading too. Use a butter knife to spread your baba ganoush onto bread, crackers, or sandwiches instead of mustard, mayo, or another condiment.
Or, you can mix it in with a sandwich spread like turkey or shrimp salad.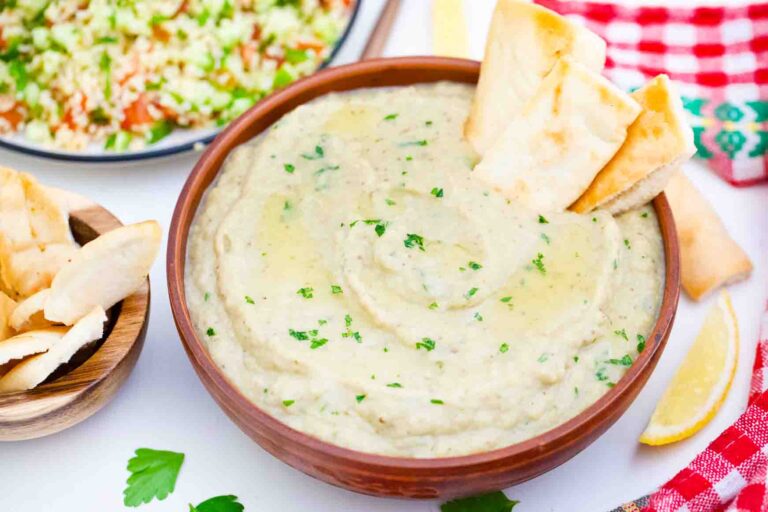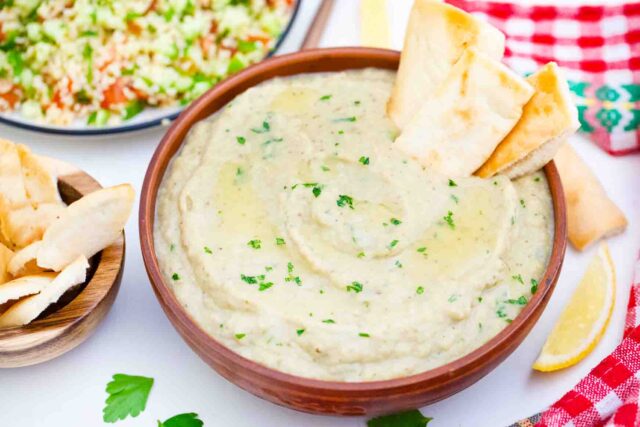 Frequently asked questions
What is baba ganoush?
If you love hummus, this dip is definitely a keeper. But while hummus is prepared with chickpeas, garlic, tahini, and citrus, baba ganoush uses eggplant instead. The flavor is earthy and smoky if made with this recipe or you can liven it up by adding your own favorite herbs and spices.
What does eggplant taste like?
Eggplant tastes similar to zucchini or squash. It is mild and tender with a slight veggie bitterness that is barely recognizable. One of the best things about eggplant is that it absorbs the flavors of whatever it is being paired with. However, raw eggplant is said to be bitter, bland, and rubbery. Roasted eggplant is a better idea for this dip or to eat plain.
What is tahini paste?
With a nutty flavor and creamy texture, tahini paste is often used in Middle Eastern dips and other recipes. It is sold everywhere you find Middle Eastern markets whether you are in the Middle East or the United States. If you love babaganoush, you probably already know that tahini is just mashed and processed sesame seeds mixed with a bit of oil and salt.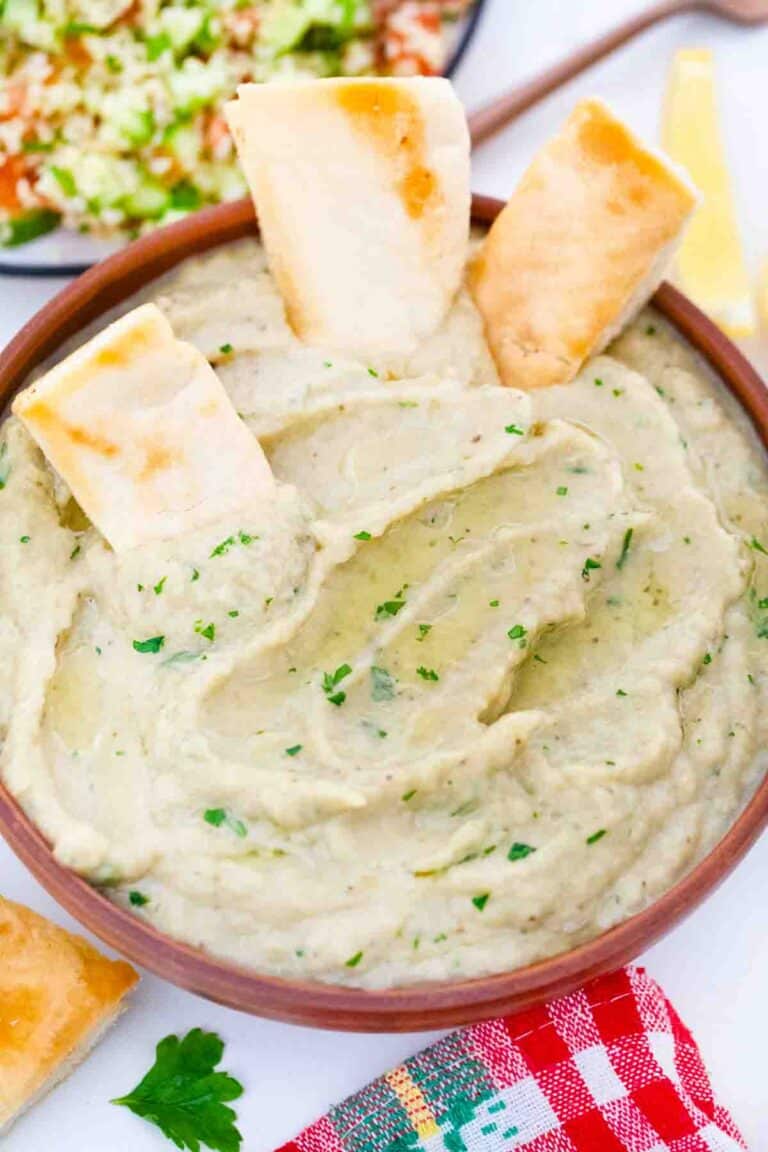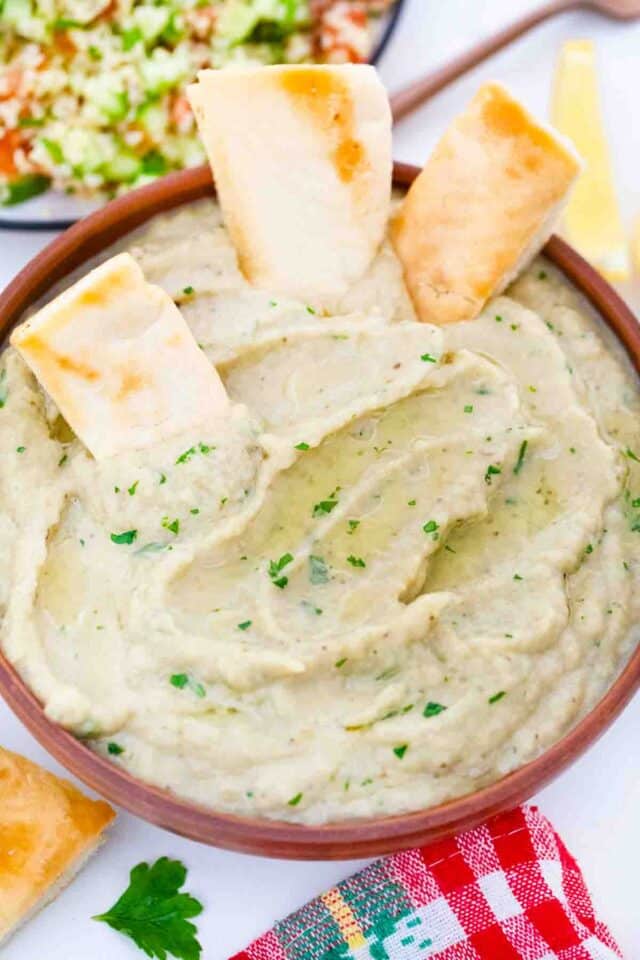 What are the nutrition facts in this recipe?
Each serving of baba ganoush has 155 calories, 15 grams carbs, 8 grams fat, and 2 grams saturated fat. It also has 132 mg sodium, 8 grams sugar, and no cholesterol. You also get 4 grams monounsaturated fat, 2 grams polyunsaturated fat, 3 grams protein, 321 mg potassium, 1 mg iron, 44 mg calcium, 50 units vitamin A, 5 grams fiber, and 10 mg vitamin C.
How to store leftovers:
Store: You should keep your leftover homemade baba ganoush in the fridge in an airtight container. Eat it within four or five days for the best flavor and texture.
Freeze: Freezing is not recommended.
Recipe tips:
If this is your first time making baba ganoush, do not let it intimidate you with its fancy name. It is basically just an eggplant dip with a few additions.
You can use one large eggplant, two medium eggplants, or three small eggplants.
Instead of mashing your dip by hand, use a food processor, blender, or immersion blender to shorten prep time.
Feel free to adjust seasonings any way you like them, adding your own or omitting what you do not like.
If you are having trouble finding tahini, check the peanut butter section at your local grocery store.
This dish is naturally gluten-free and can be served dairy-free, vegetarian, egg-free, and vegan.
When making your eggplant on the stove, it may not have the smoky flavor you like so you can add liquid smoke.
The nutrition, calories, and fat numbers are estimated.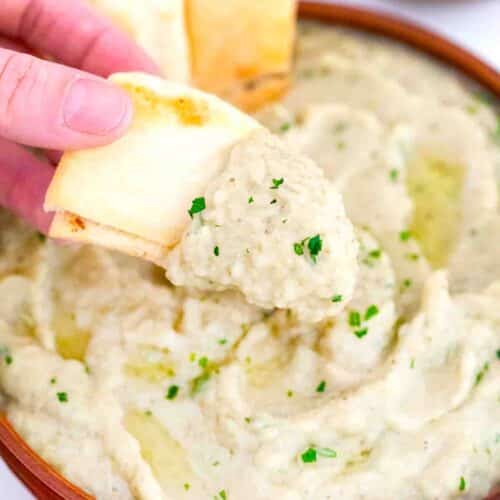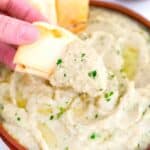 Baba Ganoush
Baba Ganoush is a tasty eggplant dip made from minced garlic, roasted eggplants, lemon juice, tahini, and olive oil. It is savory, creamy, and has an intensely smoky flavor.
Ingredients
2

medium eggplants

approx 2 to 2 1/2 pounds total

4

tablespoon

tahini

2

tablespoons

extra-virgin olive oil

1-2

tablespoon

lemon juice

to taste

2

cloves

garlic

minced

1/4

teaspoon

salt

or more to taste

1

teaspoon

chopped parsley

for garnishing
Instructions
Wash and pat-dry the eggplants.

Turn your stovetop to medium-high heat. Using tongs, take an eggplant and place it above the flames. Roast it while rotating it every 3 minutes so about 15 minutes.

You can also do this on the grill or in the oven. The skin should be deeply charred and the eggplant should start to deflate.

Next, add the eggplants to a large bowl and cover with plastic wrap. Allow them to steam and cool for 15 minutes.

After that, cut them in half lengthwise and scoop out the flesh onto a cutting board. Roughly chop and add them to a large mixing bowl, use a fork to mash up the flesh into a nice chunky consistency.

Add the tahini, lemon juice, olive oil, garlic, salt, and parsley. Stir well, taste, and adjust for lemon juice.

Transfer the final baba ganoush into a serving bowl and garnish with extra chopped parsley and a drizzle of olive oil before serving.
Nutrition Facts
Baba Ganoush
Amount Per Serving
Calories 211
Calories from Fat 135
% Daily Value*
Fat 15g23%
Sodium 156mg7%
Potassium 603mg17%
Carbohydrates 17g6%
Protein 5g10%
Vitamin A 65IU1%
Vitamin C 8mg10%
Calcium 45mg5%
Iron 1mg6%
* Percent Daily Values are based on a 2000 calorie diet.