Mimosa makes every brunch refreshing and cool and it is as colorful as the flower it is named after. Make this recipe with only 3 ingredients at most!
My mornings are better with this on the menu. Looking for refreshing drinks like this? Check out my recipes for Orange Cranberry Sangria, Spiced Buttered Rum, and Irish Coffee!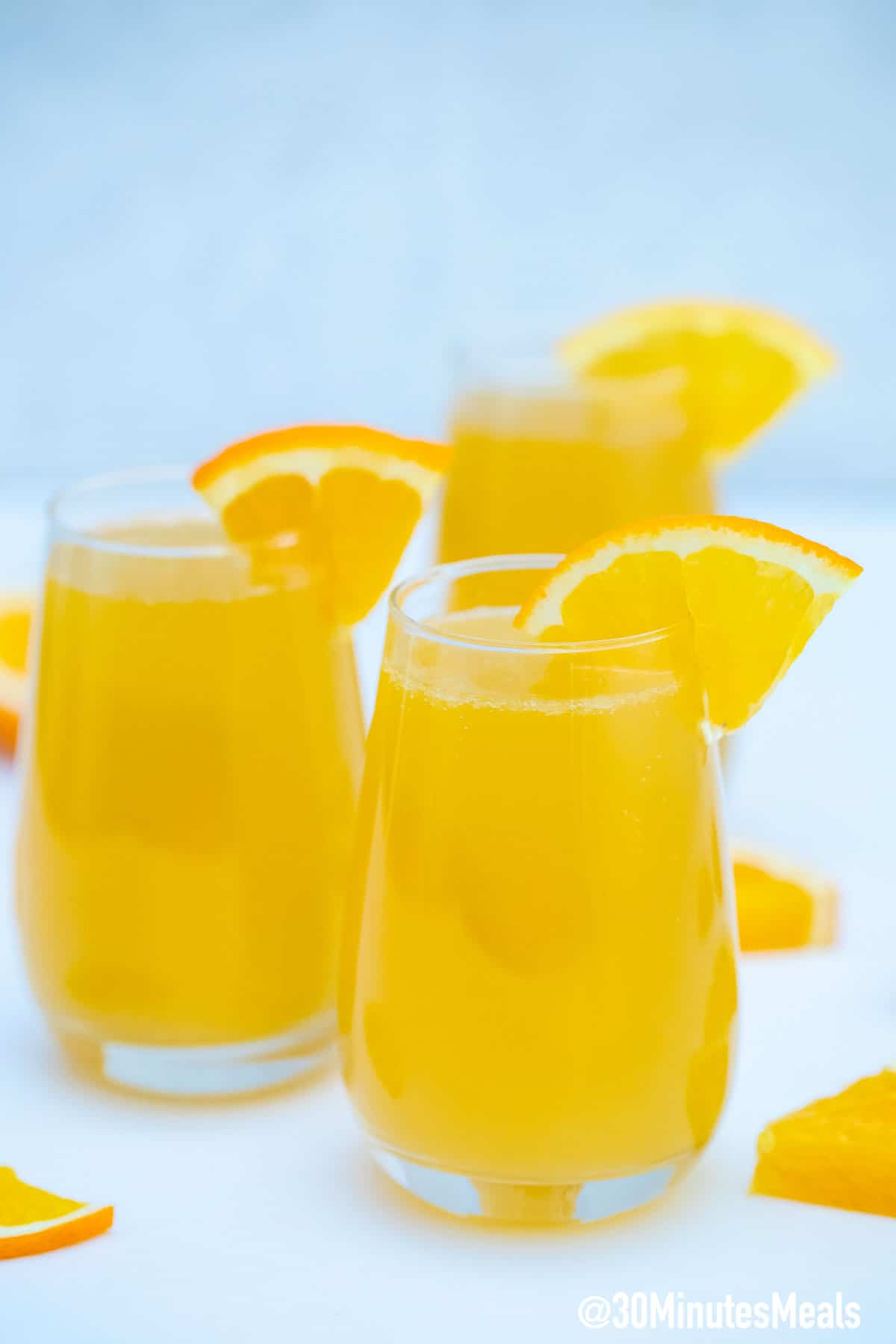 Mimosa Cocktail
Mimosa is a classic beverage that has graced the tables of countless brunches around the world. Usually served in champagne flutes, this drink is nothing but fancy!
Knowing how to prepare this at home will spare you the effort and resources of going to your favorite restaurant. Instead, turn your brunches at home into a restaurant experience with this simple recipe.
You will only need 3 ingredients after all. And all you need are just a few minutes to prepare this concoction. Serve it at an intimate family brunch or a huge party. In this recipe, I will teach you how!
What is Mimosa?
It is an alcoholic drink which is the outcome of mixing sparkling wine and orange in juice equal parts, with a touch of Grand Marnier. Usually attributed to brunch, it started as an attempt to start drinking early.
Some say that it came from a similar drink using the same ingredients called Buck's Fizz in 1921. That drink has more sparkling wine though.
Others say that a bartender invented it at the Ritz Hotel a few years later; this time, with less alcohol and more of the juice. Whatever the origin is, it has stood the test of time and has maintained to be a favorite around the world.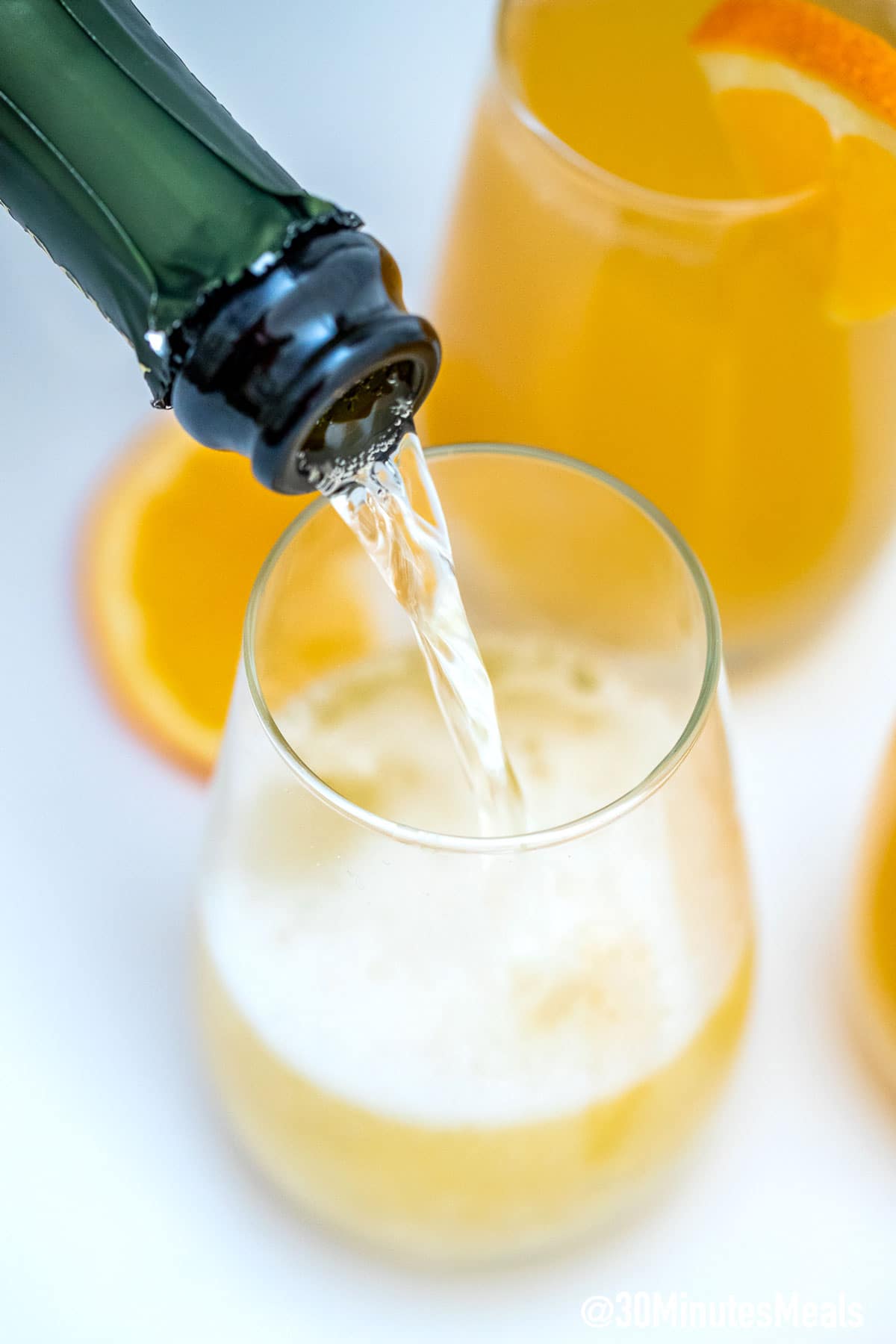 What kind of champagne is best for Mimosa?
Enjoy it with a sparkling wine like Cava or Prosecco. Or, just use any affordable kind that you enjoy drinking without mixing anything.
Since we are mixing some more ingredients to it, you will just dilute it. So, it is not necessary to buy the expensive champagnes that you can enjoy drinking as is.
What goes into Mimosa?
You will need these 3 ingredients:
orange juice

: I recommend preparing it from fresh oranges as it will impart a natural sweetness, bitterness, and sourness to the drink. It tastes light and refreshing.

sparkling wine

: I prefer the dry kind to something that is overly sweet. Dry sparkling wine tends to complement the fruitiness of the orange juice better.

Grand Marnier

: With citrus flavors, this liqueur is a nice addition. However, this is just an optional ingredient as the drink is already fine without it.

How to make Mimosa at home?
Note that this recipe is good for 8 champagne flutes. Divide the 750-mL sparkling wine among the 8 champagne flutes.
Pour the sparkling wine

: Chill the sparkling wine and then pour in the champagne flutes halfway.

Pour the orange juice

: Chill freshly squeezed orange juice and fill in the champagne flutes until full.

Add the Grand Marnier

: Top each with a tablespoon of the liqueur.
How to make Mimosa pitcher for a crowd?
To make it in a pitcher, just make sure to chill both the sparkling wine and orange juice until right before you serve them.
Pour the sparkling wine into the pitcher, then the orange juice. This is just like how you would pour them in individual champagne flutes. Then, keep the pitcher in the fridge.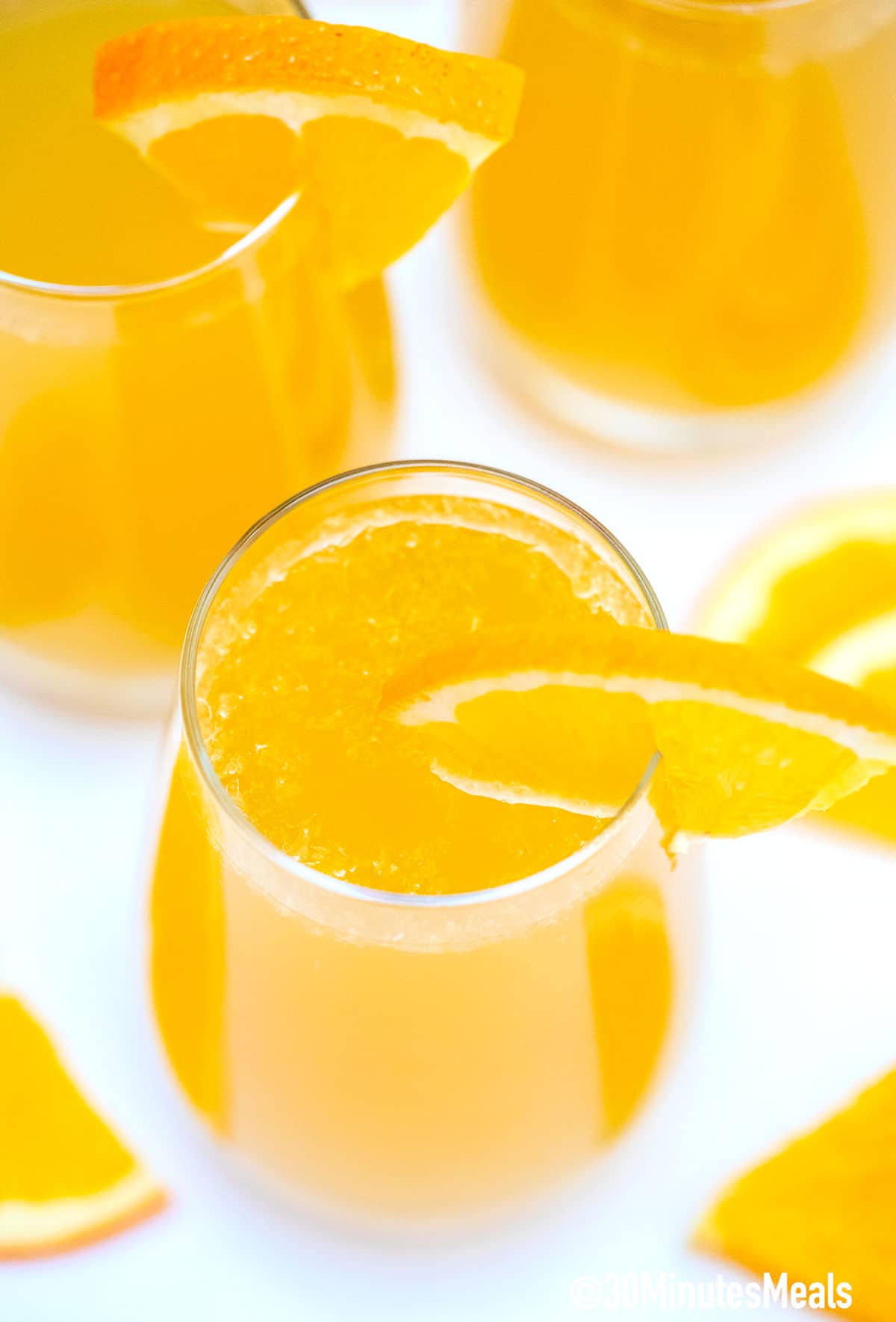 Can you make non-alcoholic Mimosa?
Yes! Simply replace the sparkling wine with the following:
carbonated water, preferably one that has a citrus flavor

ginger ale

sparkling juice or cider

Recipe Tips
As a variation, you can replace the orange juice with cranberry juice to make a Poinsettia.

Decorate the champagne flute with an orange wheel to make it more appealing.

Add fruit slices, especially when making the mimosa pitcher.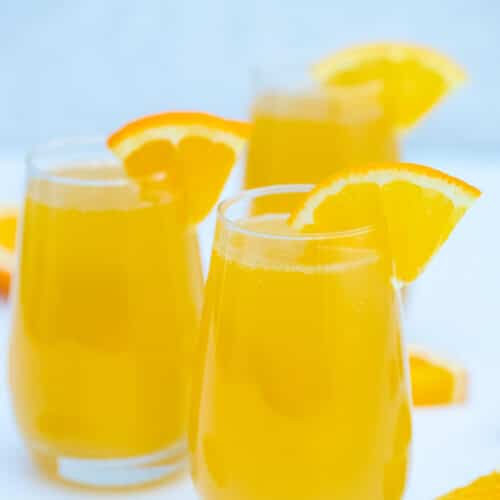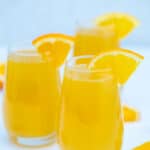 Mimosa
Mimosa makes every
brunch refreshing and cool and it is as colorful as the flower it is
named after. Make this recipe with only 3 ingredients at most!
Ingredients
750

ml

dry sparkling wine

chilled

3

cups

fresh-squeezed orange juice

chilled

1/2

cup

Grand Marnier

optional
Instructions
Place 8 champagne flutes in the fridge for 1 hour to chill them.

When ready to serve, fill the flutes 1/2 full with chilled sparkling wine, add next same ratio of orange juice.

Add 1 tablespoon of Grand Marnier to each glass.

Garnish the flutes with fresh orange slices or strawberries and serve.