Crepes are light and tasty, just perfect for any snack or breakfast! Make them at home with this easy recipe! Let the kids help and have fun!
This recipe is versatile as you can choose to put any kind of filling that you like. Serve it for breakfast alongside Chocolate Cherry Smoothie, Snickerdoodle Muffins, or Mini Cornbread Muffins!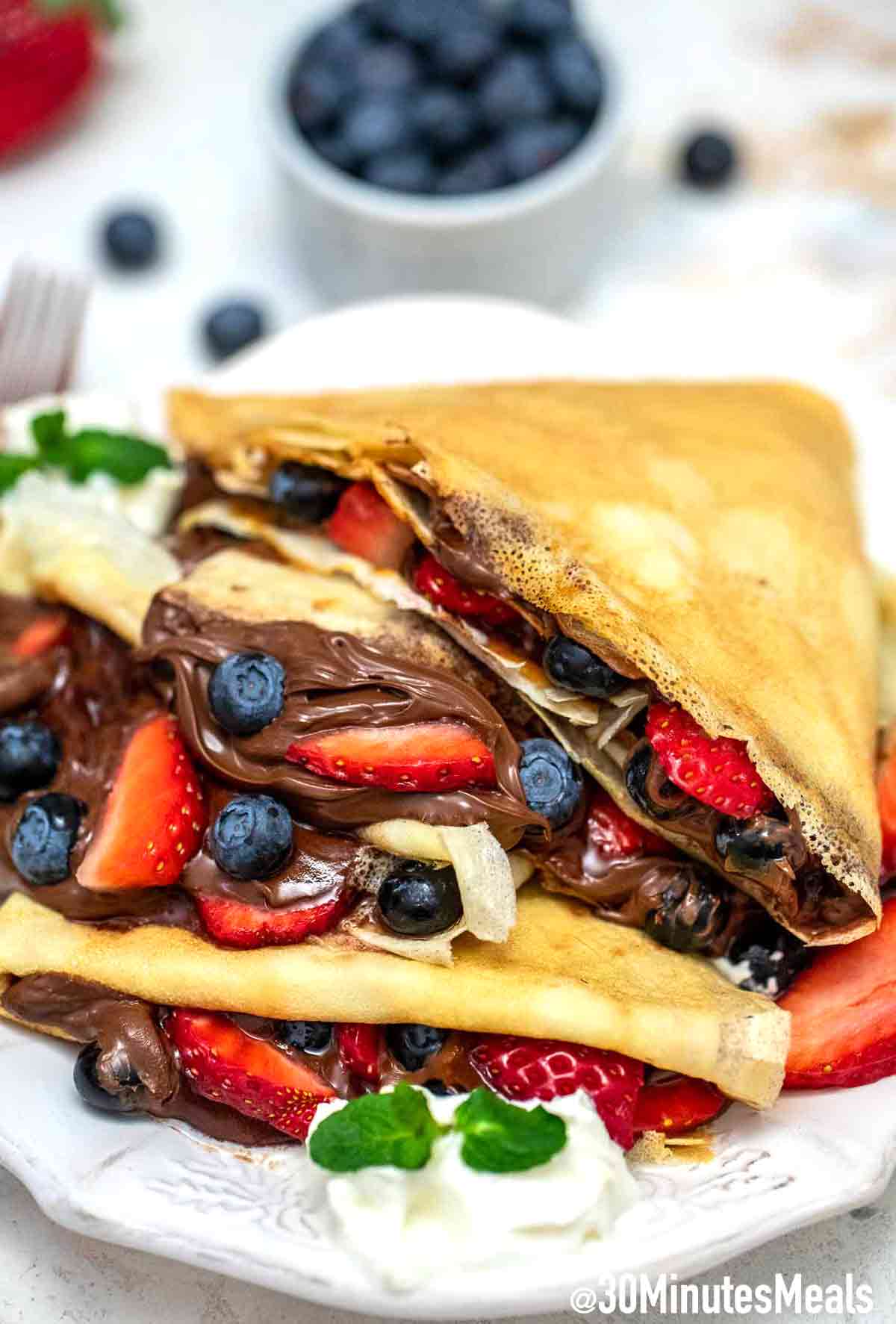 Frech Crepes
Crepes only take just a few minutes to make! So, if you are looking for something yummy and breezy to make in the morning, then, this is for you!
I have it for breakfast at times or sometimes, I pair it with my afternoon tea. Growing up, it was a weekend staple where the kids gather to decorate their crepes from a spread of different fillings.
This is that versatile! Speaking of versatility, you can make it either sweet or savory. So, you can also have it for dessert, too.
There are so many possibilities with this easy recipe. If you think making pancakes is easy, then, try this recipe!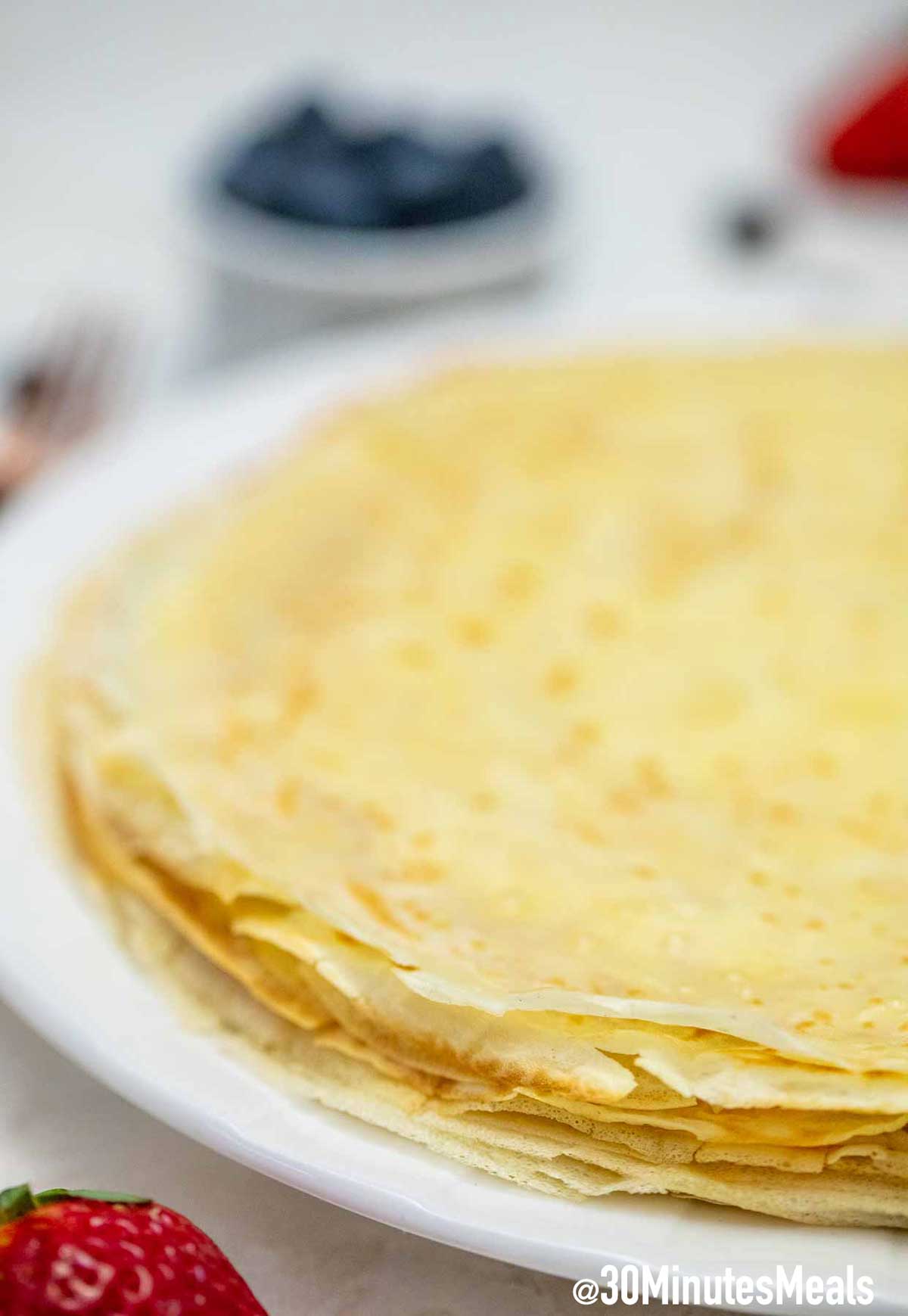 What are crepes?
They are like thin pancakes that originated in France. The batter is highly similar to that of pancake with the absence of a leavening agent like baking powder or baking soda.
Hence, what you get from the batter are thin ones, not fluffy ones. And these are usually larger because when you cook them, you cover the whole pan.
These are commonly sold in the streets along with fruits, sauces, and other fillings. It has grown so popular throughout Europe that every country has its version. And not just in Europe, this snack or breakfast item has spread in the whole world.
How to make French Crepes from scratch?
Prepare the batter

: In a bowl, combine the flour and salt while in another, combine the egg and milk. Note that if you are using sugar, mix it with the wet ingredients.

Combine

: In the dry mixture, whisk in the wet mixture a quarter at a time. This is to ensure even mixing. Expect that the mixture is liquidy and less viscous than a pancake batter. Then, stir in the melted butter.

Rest

: Allow the mixture to rest in the fridge, covered for at least an hour. Or, simply cook it the next day.

Cook

: Use a non-stick pan for cooking. Heat the pan, put some melted butter then pour the batter. Pick up the pan and tilt it such that the batter spreads out. When the edges are lacy and the center is set, flip it and cook some more.

Serve

: Stack them on a plate and serve warm alongside fillings of your choice.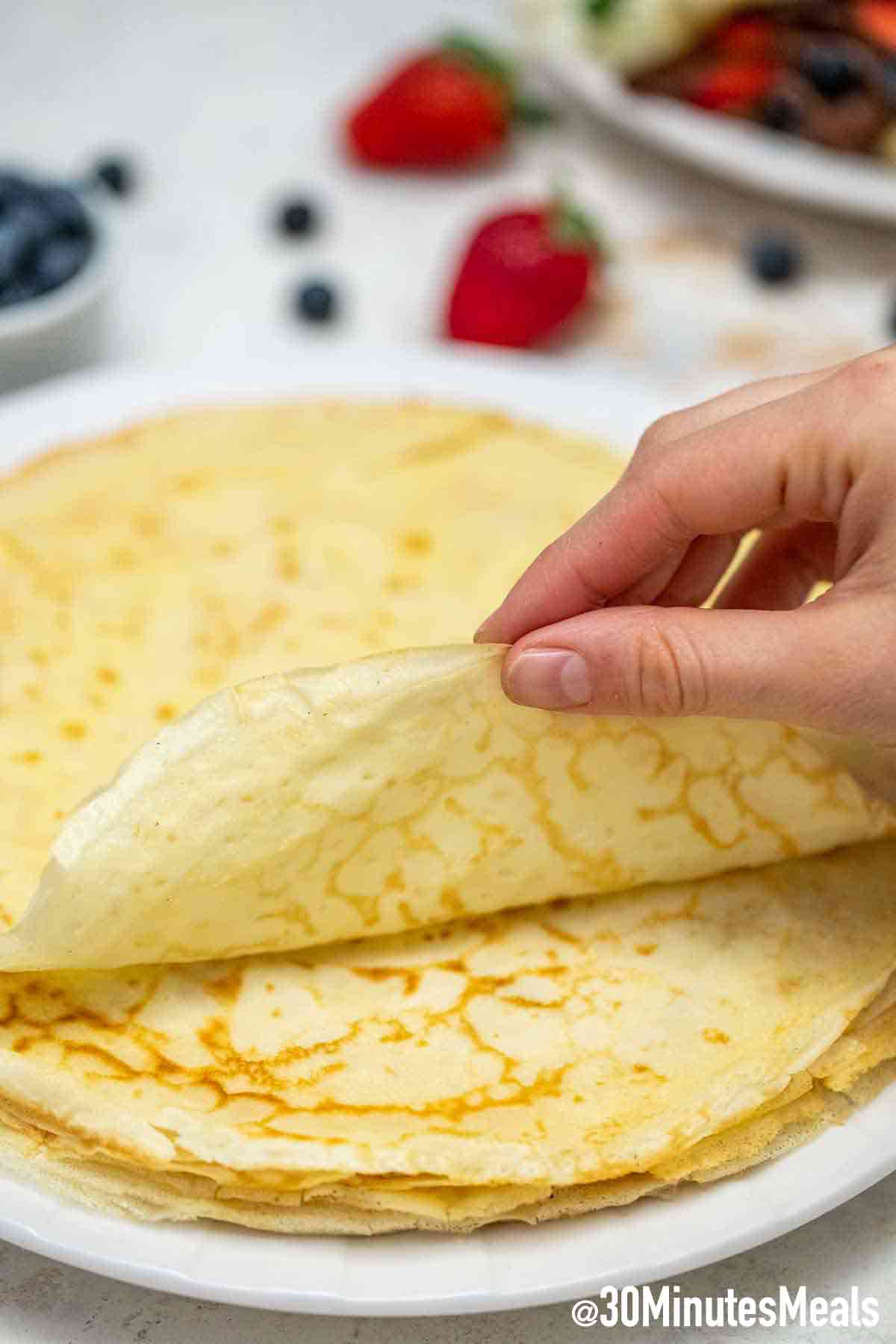 What if your crepes become rubbery?
If that happens, cook them faster and lessen the flour. Too much flour in the mixture also means too much gluten that becomes sticky and makes the crepes rubbery.
And cooking them faster will help lessen the risk of drying out. Hence, it should not take you more than a minute of cooking time per side.
The recipe itself is liquidy, so, there should not be a problem regarding the flour. And resting it makes a difference, too. During this period, the flour absorbs more of the liquid so that the gluten in it will not be as sticky.
Can I make crepes gluten-free?
Yes! If you are allergic, you can use buckwheat or oat flour which are available commercially.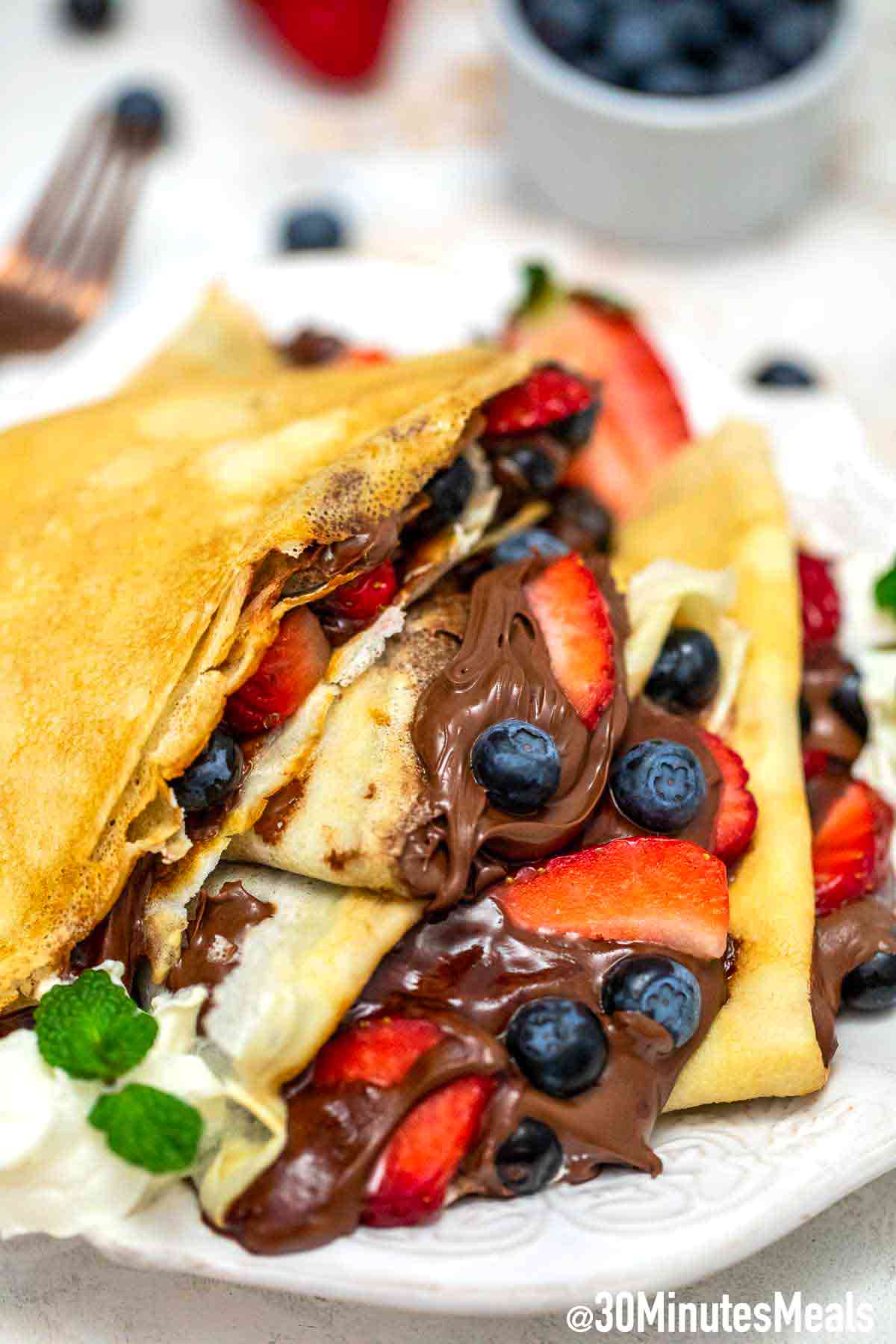 Can I make vegan crepes?
Yes! The recipe must have no egg or dairy. Instead, use plant-based milk and add oil, either olive or coconut. Or, use nut butter instead of oil.
How to store?
For up to 5 days, you can refrigerate these with parchment paper stacked in between each piece. Or, freeze for up to 3 months.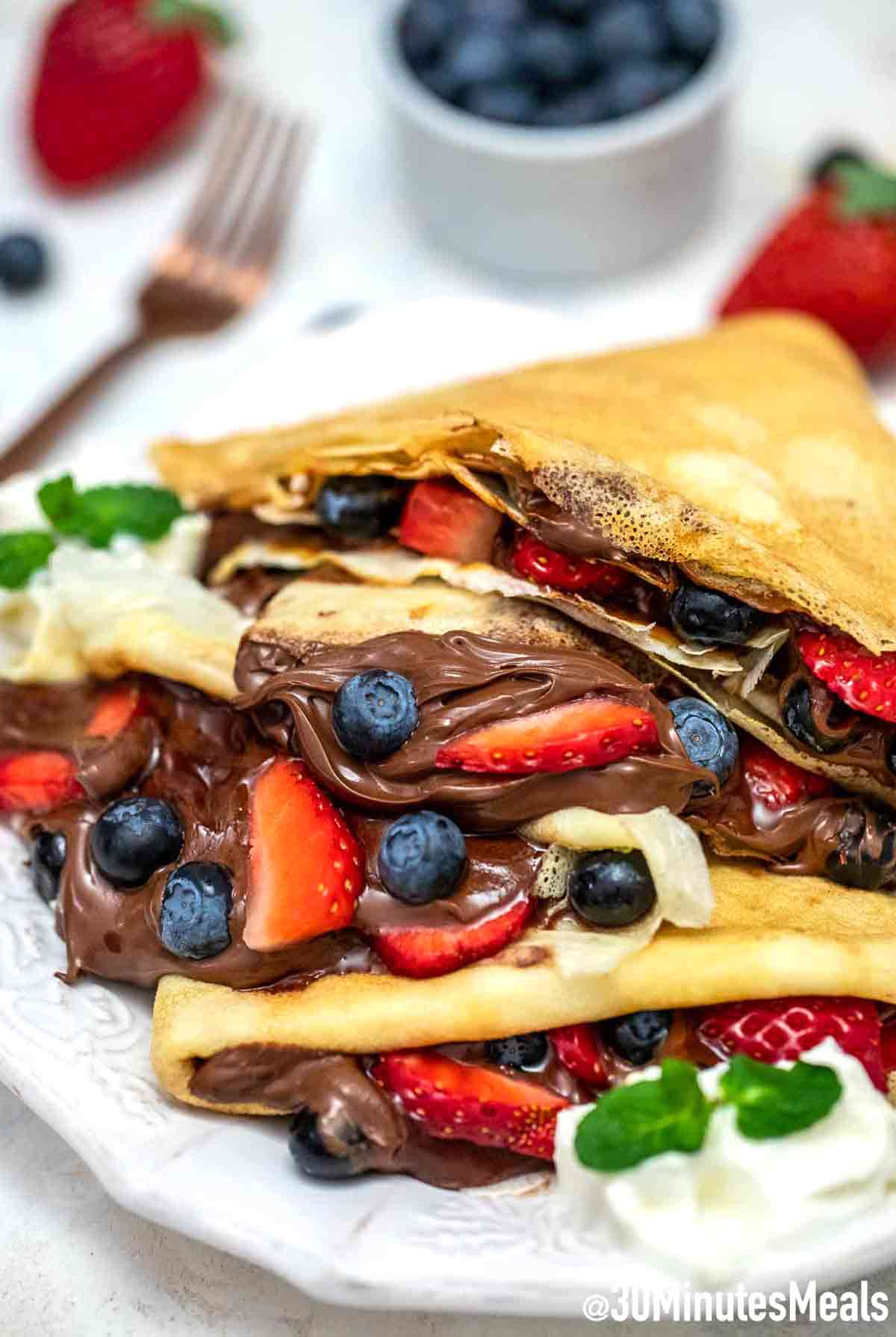 Recipe Tips
You can add vanilla extract for more flavor.

Serve it with fruits, your favorite jam, spreads, Nutella, chocolate, or anything you like. For a savory twist, add egg, ham, bacon, sausage, and your favorite spices.

You can use sugar substitutes, too, like erythritol or coconut sugar.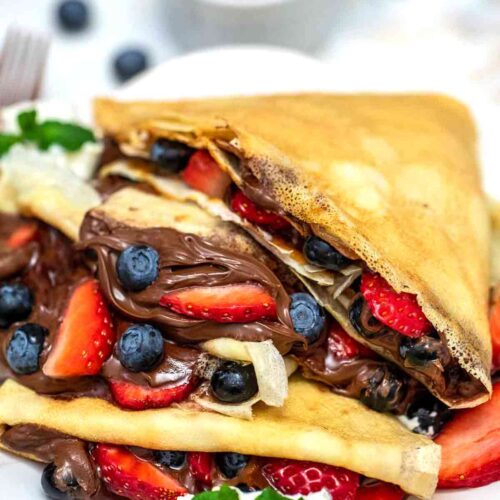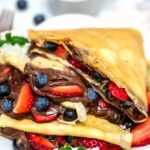 Easy Crepes Recipe
Crepes are light and
tasty, just perfect for any snack or breakfast! Make them at home
with this easy recipe! Let the kids help and have fun!
Ingredients
2

cups

all-purpose flour

1/2

teaspoon

salt

1/2

cup

sugar

optional but recommended

4

large eggs

1 1/2

cups

milk

4

tablespoons

melted butter + extra for cooking
Instructions
In a large bowl stir together the flour and salt, set aside.

In another bowl whisk the eggs, milk, and sugar until smooth.

Gradually add the egg mixture to the bowl with the flour mixture, whisking well until smooth.

Add the melted butter and stir.

Cover the bowl with plastic wrap and refrigerate for 1 hour or overnight.

Heat a medium non-stick frying pan or crepe pan over medium heat.

Brush the pan with melted butter and pour in about a ¼ cup of crepe batter.

Tip the pan around to spread the batter and cook for about 30 seconds, or until the top has set, then using your hands, flip the crepe, and cook for 30 seconds more.

Serve plain or with your favorite toppings.
Nutrition Facts
Easy Crepes Recipe
Amount Per Serving
Calories 109
Calories from Fat 36
% Daily Value*
Fat 4g6%
Cholesterol 35mg12%
Sodium 105mg5%
Potassium 50mg1%
Carbohydrates 16g5%
Protein 3g6%
Vitamin A 177IU4%
Calcium 28mg3%
Iron 1mg6%
* Percent Daily Values are based on a 2000 calorie diet.