Southwest Salad is a bowl of freshness! It has a bed of veggies and fruits topped with a juicy protein with a refreshing dressing to complement everything.
This recipe was inspired by Mexican cuisine as in any other delicious dishes in the Southwest. If you are looking for a veggie-filled side dish, then, this is it! Try it alongside Chicken Bacon Ranch Pasta, Bacon Philly Cheesesteak Sloppy Joes, and One Pan Taco Mac and Cheese!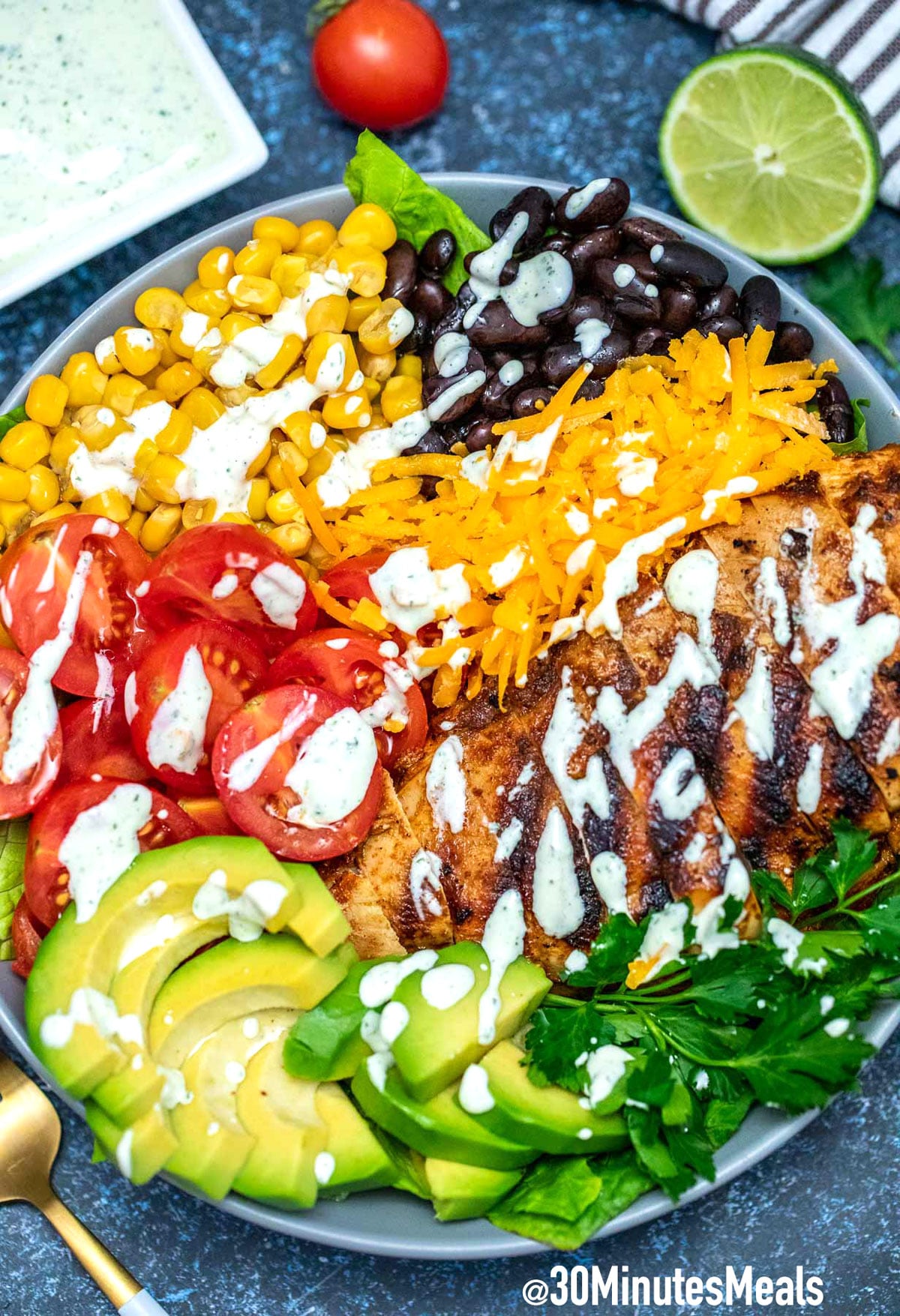 Chicken Southwest Salad
Southwest Salad can even be a meal on its own because it is a combination of fiber and protein. The succulent grilled chicken goes well with the rest of the flavors of the fresh produce.
And the creamy dressing is oozing with Mexican flavors with the cilantro. And you can customize this to your taste! In general, I like making my own dressing.
Sometimes, when I buy one, I still have to adjust it further. So, it is always better for me to make my own dressing from scratch especially when I have the basic ingredients always available at home.
The same goes for the rest of the recipe. I love how I can add more ingredients that I crave. And I can omit some ingredients that are not in season. But this recipe is exactly how I would make it 99% of the time. It is just so yummy!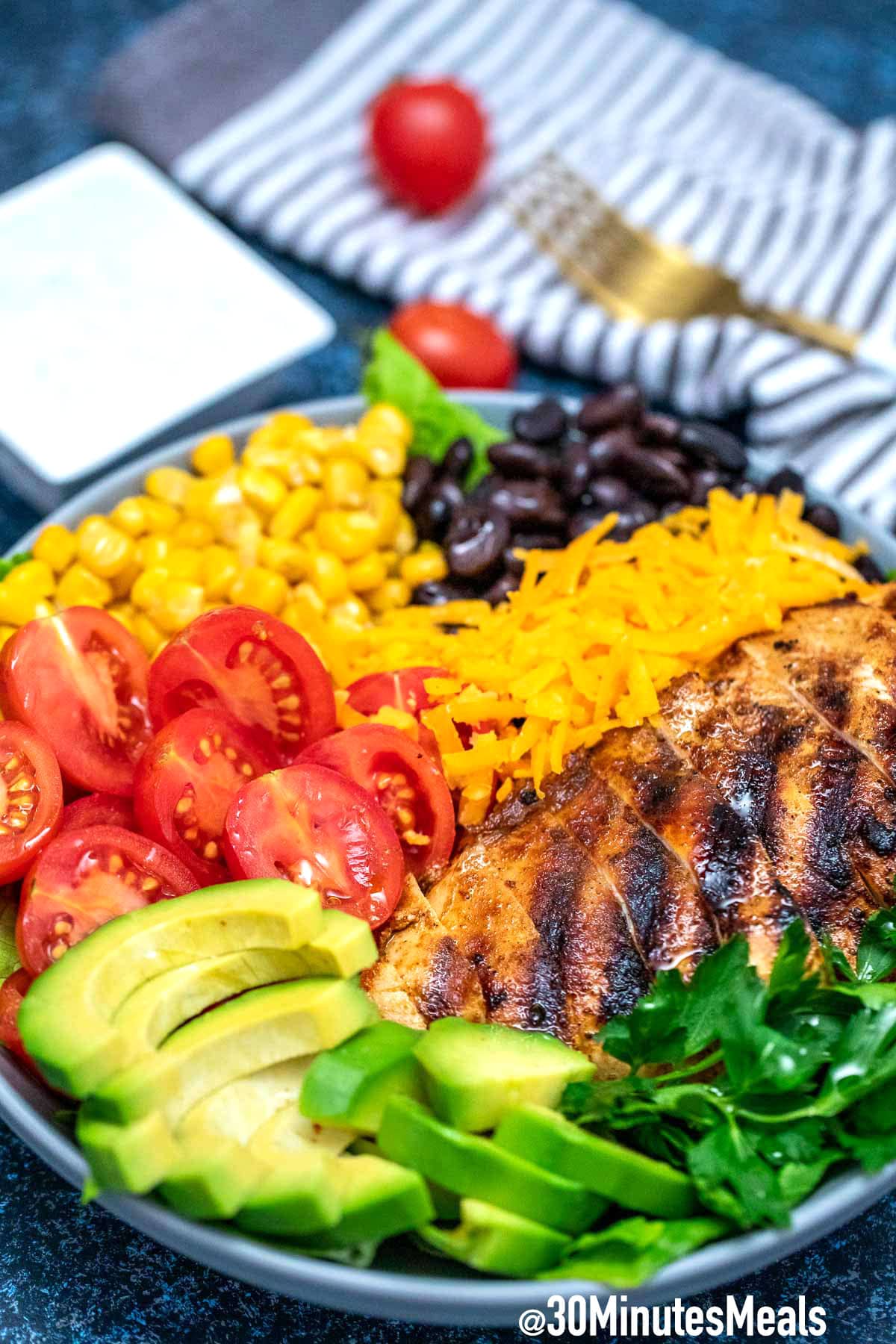 What is Southwest Salad?
It is a dish from the Southwest region of the United States. It arises from the influence of Mexican cuisine which is heavy in the area. Even the popular chain McDonald's has its version on their menu.
Is Southwest Salad healthy?
Yes! Because you get to make everything from scratch and the fresh ingredients are nutritious. You will get these health benefits from the key ingredients:
chicken breasts: lean and high in protein and vitamins

romaine lettuce: low-carb and low-calorie but is packed with vitamins C, K, folate, and minerals like phosphorus and magnesium

black beans: also have folate and potassium like the lettuce and are rich in fiber that aids healthy digestion

tomatoes: good source of antioxidants, fiber, and lycopene, a carotenoid linked to cancer prevention

avocadoes: rich in potassium and in healthy fats
In any kind of diet, maintain your portions and consume everything in moderation to stay healthy. Making your dressing from scratch also eliminates any preservatives that could have been added to commercially available ones.
Note though that the dressing contains mayo. You can switch it with a light one.
How to grill the chicken for Southwest Salad?
Marinate

: Prepare the marinade by mixing the ingredients. Then, put it in a resealable plastic bag along with the white meat. Marinate for at least 10 minutes or up to 2 days in the fridge.

Cook

: In the preheated and oiled grill skillet, put the chicken and cook for about 4 to 5 minutes per side.

Rest

: Allow the meat to rest for about 5 to 10 minutes before slicing.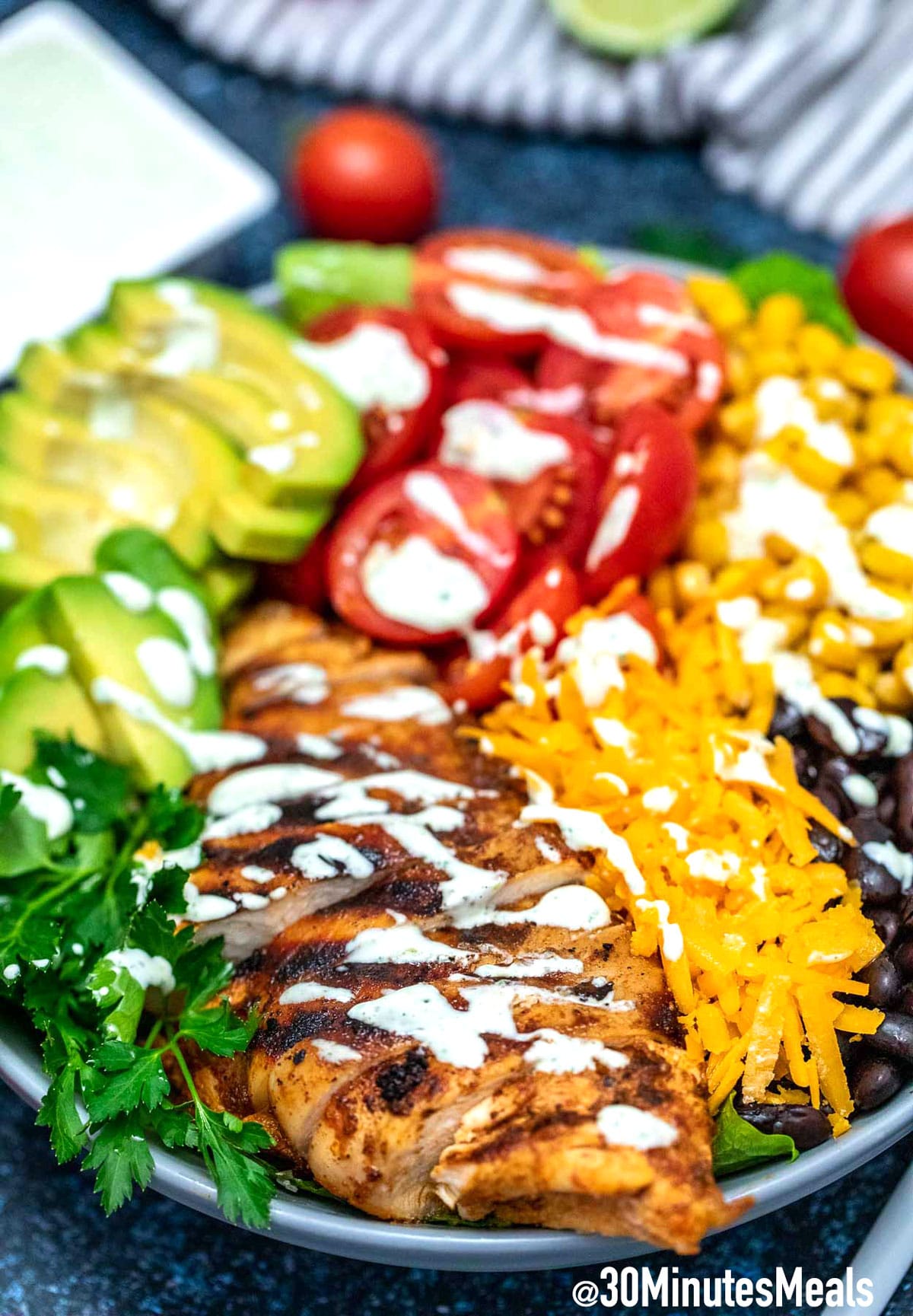 How to make Southwest Salad?
Grill the chicken

: Follow the instructions above.

Prepare the dressing

: Pulse the ingredients in a food processor until fully incorporated.

Assemble

: In a bowl, place the greens at the bottom. Then, top with the rest of the ingredients including the cooked meat. Then, drizzle the dressing and garnish with cilantro and green onions before serving.
What to serve with Southwest Salad?
You can pair it with your favorite pasta dishes like:

How to store it?
Store the salad and the dressing in separate airtight containers and refrigerate. The grilled chicken can stay good for up to 4 days.
Meanwhile, the dressing can stay good for up to 2 days. Remember though that the avocado may not last long.
Recipe Tips
Feel free to leave out the protein or change it up. Use or add hard-boiled eggs, shrimp, steak, or pork!

You can use lime vinaigrette as the dressing which is lighter than the creamy cilantro dressing of this recipe.

Want to make it heartier? Add quinoa, mangoes, and jalapenos!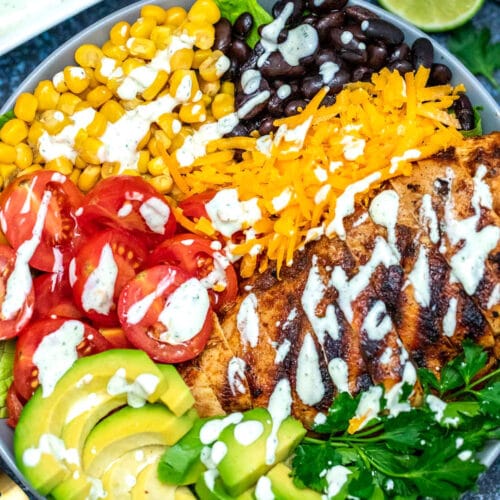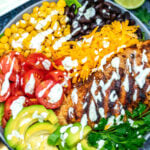 Southwest Salad Recipe
Southwest Salad is a
bowl of freshness! It has a bed of veggies and fruits topped with a
juicy protein with a refreshing dressing to complement everything.
Ingredients
For the Salad:
2

medium chicken breasts

grilled

2

cups

romaine lettuce

chopped

1

ripe avocado

sliced

8

small cherry tomatoes

cut in half

1/2

cup

black beans

rinsed and drained

1/2

cup

corn

rinsed and drained

1

cup

cheddar cheese

grated

1/4

cup

cilantro

for topping
Creamy Cilantro Dressing:
1/2

cup

sour cream

1/4

cup

mayo

1/4

cup

cilantro

packed

1

tablespoon

lime juice

1

tablespoon

honey

or maple syrup

1/4

teaspoon

salt
Garnish:
Chopped green onions

Cilantro
Instructions
Creamy Cilantro Dressing:
Add all the dressing ingredients to a food processor and pulse to combine until smooth.
Assemble:
Place the chopped romaine lettuce on the bottom of a salad plate or bowl.

Top with sliced grilled chicken, avocado, chopped tomatoes, black beans, corn, cilantro, cheddar cheese.

Drizzle the dressing on top just before serving.

Garnish with chopped cilantro and chopped green onions.