Mocha Latte is the perfect blend of sweet natural chocolate and hot brewed coffee and you do not have to go sit in the drive-thru at your favorite coffee shop to get one with this recipe. This easy mocha latte recipe only requires a few ingredients and a few minutes to make. And mocha is so much better than a regular latte.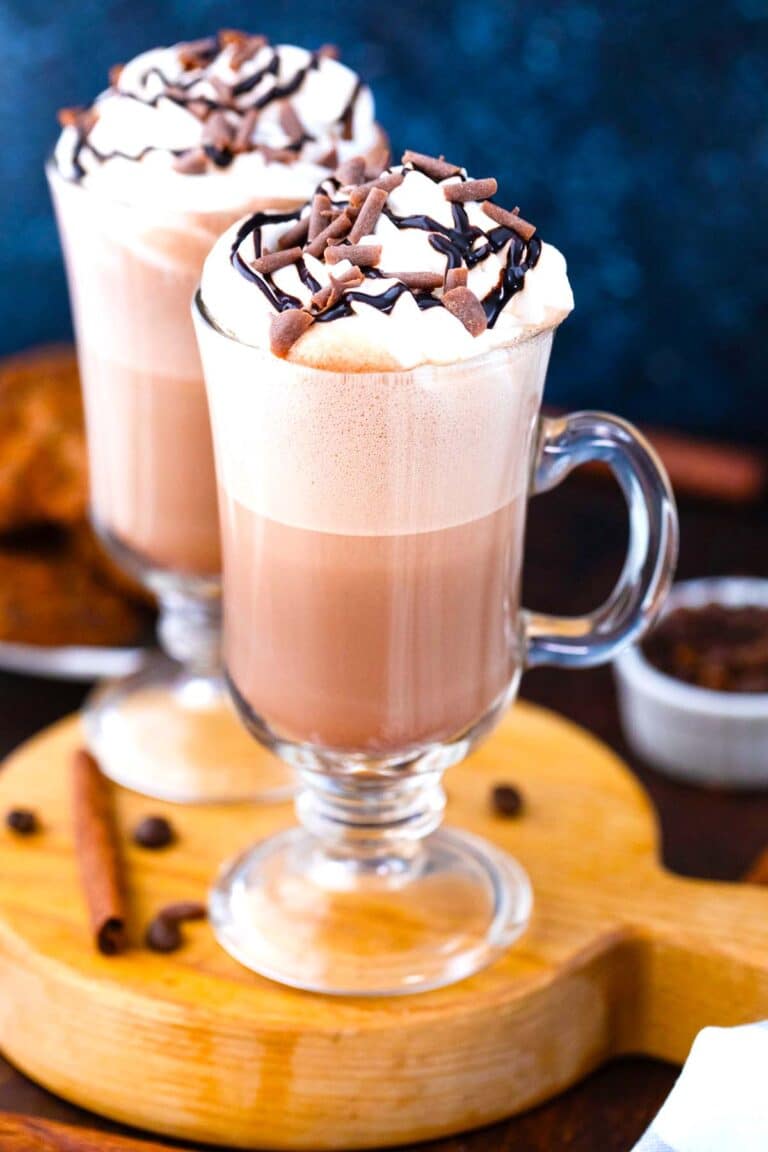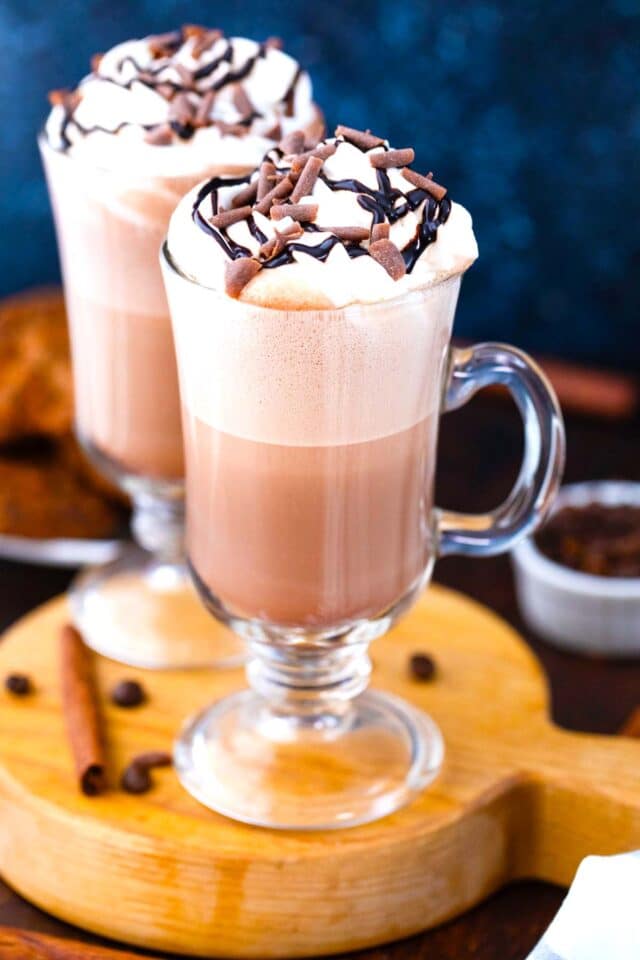 The first espresso machine was patented by an Italian inventor, Angelo Moriondo, in 1884. But coffee itself has been a popular beverage since 850 AD. Experts believe that an Ethiopian goat herder, Kaldi, found that his goats would be extra energetic after eating a certain berry. He tried the berries and found that wonderful caffeine buzz too.
It is easy to make a mocha latte too! All you need is some steamed milk, coffee, cocoa powder, and sugar. You can add whipped cream and chocolate syrup too, or whatever you like. You do not even need an espresso machine to make a mocha latte. You can make strongly brewed coffee with a normal coffee pot. You can even use instant coffee if that is all you have.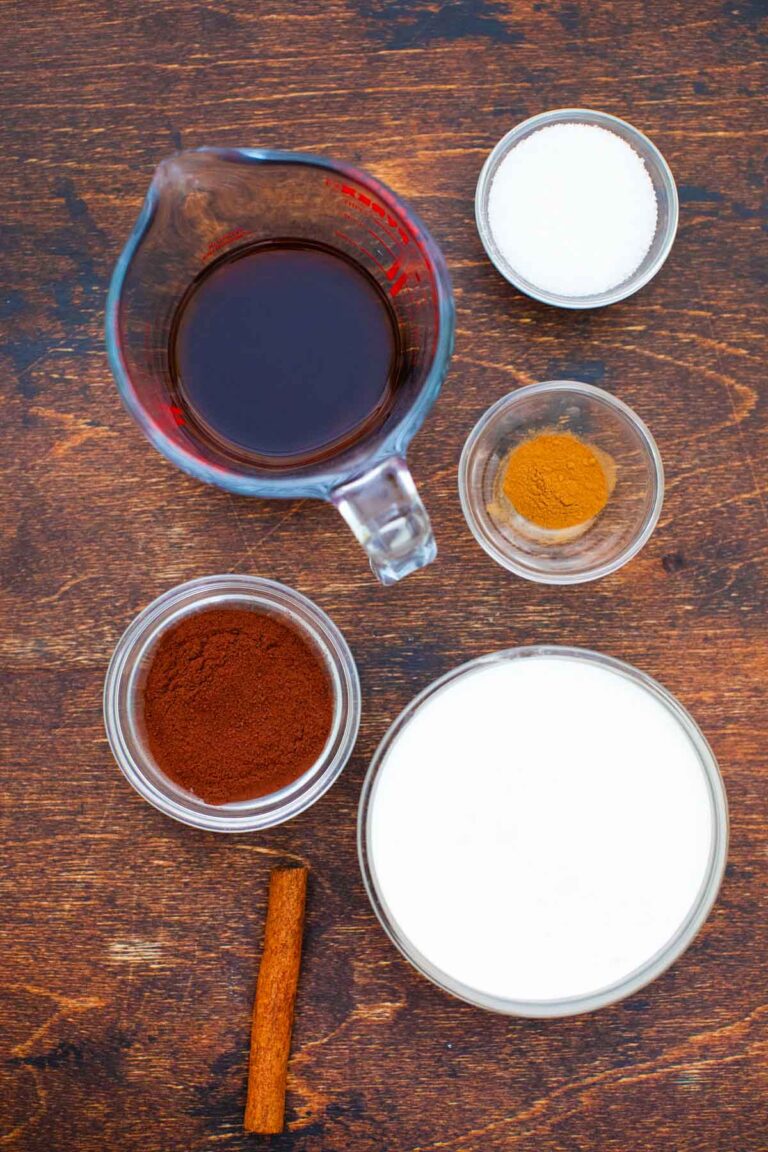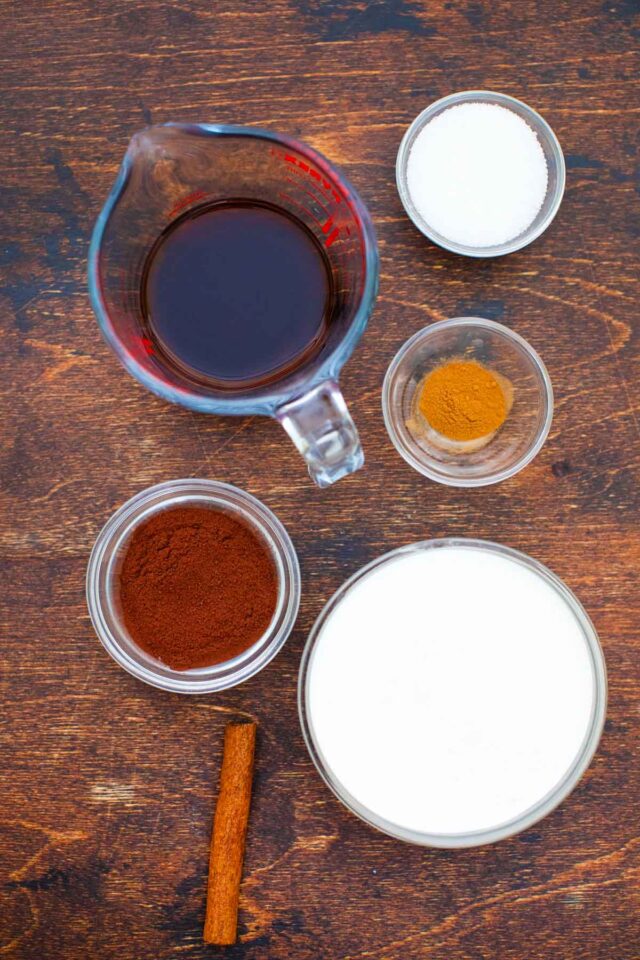 Ingredients needed:
This is what you need for making this homemade mocha latte recipe. Take the time to find out what each ingredient is for before skipping or replacing them. Then, scroll down to the recipe card at the bottom of the page for easy directions and measurements.
Brewed espresso: Any kind of hot coffee will do. Just use whatever brand you typically drink and double or triple the coffee granules to make a strong coffee flavor.

Granulated sugar: You could also use powdered sugar, but granulated sugar seems to give it the best flavor.

Natural unsweetened cocoa powder: The natural stuff is made with pure ground and roasted cocoa beans. It has a strong chocolate flavor to blend perfectly with your coffee.

Half and half: Since half and half is a blend of milk and cream, it will give your mocha latte a thicker, richer taste and texture.

Cinnamon: Just a little ground cinnamon for a bit of warm fall flavor.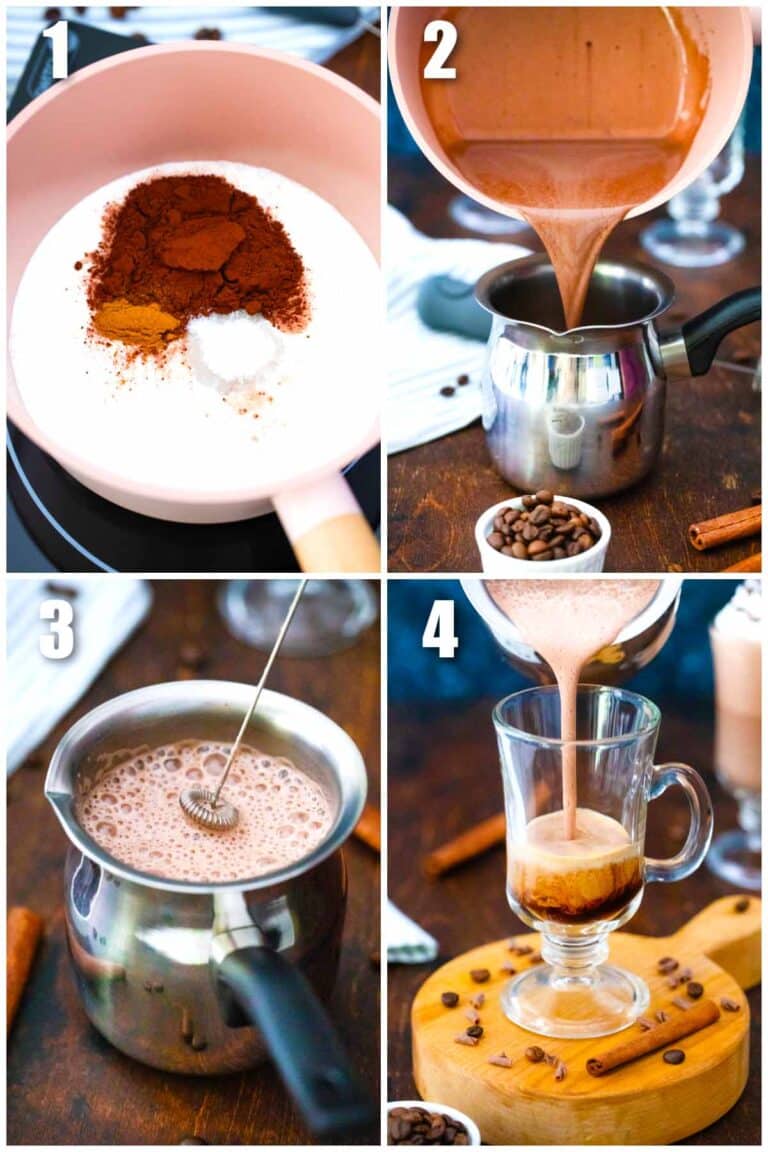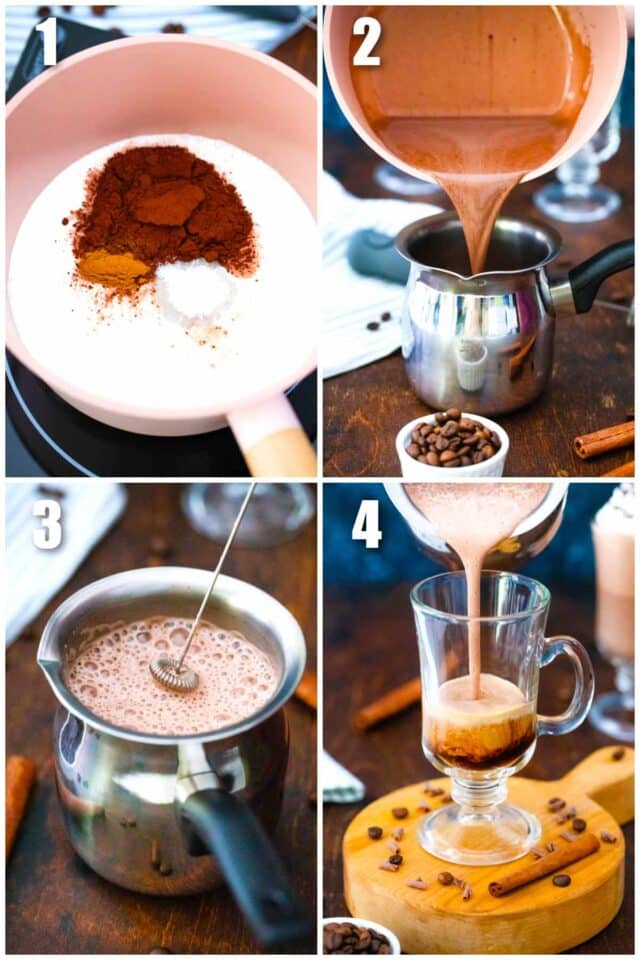 How to make mocha latte from scratch?
Make the espresso chocolate mixture: First, add half and half, cocoa powder, sugar, and cinnamon to a medium pot over medium heat. Whisk together, frequently, until the mixture heats up and starts to steam.
Froth the milk: Now, combine the milk mixture in a frother or you can mix it with a frothing wand.

Combine coffee with chocolate: Finally, add strong brewed coffee mixture to a mug, pour the frothed chocolate and milk mixture on top, and serve hot with your favorite toppings.
Recipe variations:
Peppermint mocha: Add a teaspoon of peppermint extract for a peppermint mocha latte.
Iced mocha latte: Some people do not have cold weather no matter what time of year it is. Southern California, Florida, and Louisianians will tell you that an iced mocha latte is a better idea. Try using cold milk and letting the coffee get cold, then add some ice.
Plant-based milk: Feel free to use whatever milk you usually use like coconut milk, almond milk, oat milk, soy milk, or cashew milk.
More chocolate: To make a mocha latte with extra chocolate flavor, try adding hot cocoa mix, melted chocolate, or chopped chocolate.
Vanilla extract: Adding some pure vanilla extract will give your mocha latte another layer of flavor without overpowering the chocolate.

No sugar: Trying to cut back on sugar? Try using honey or maple syrup instead.

Sour cream: Alternatively, if you are not worried about fat and want a thicker and creamier mocha latte, use sour cream instead of half and half.

More spices: You do not have to stop at cinnamon. Add whatever spices you like such as nutmeg, ginger, mace, cloves, and cardamom.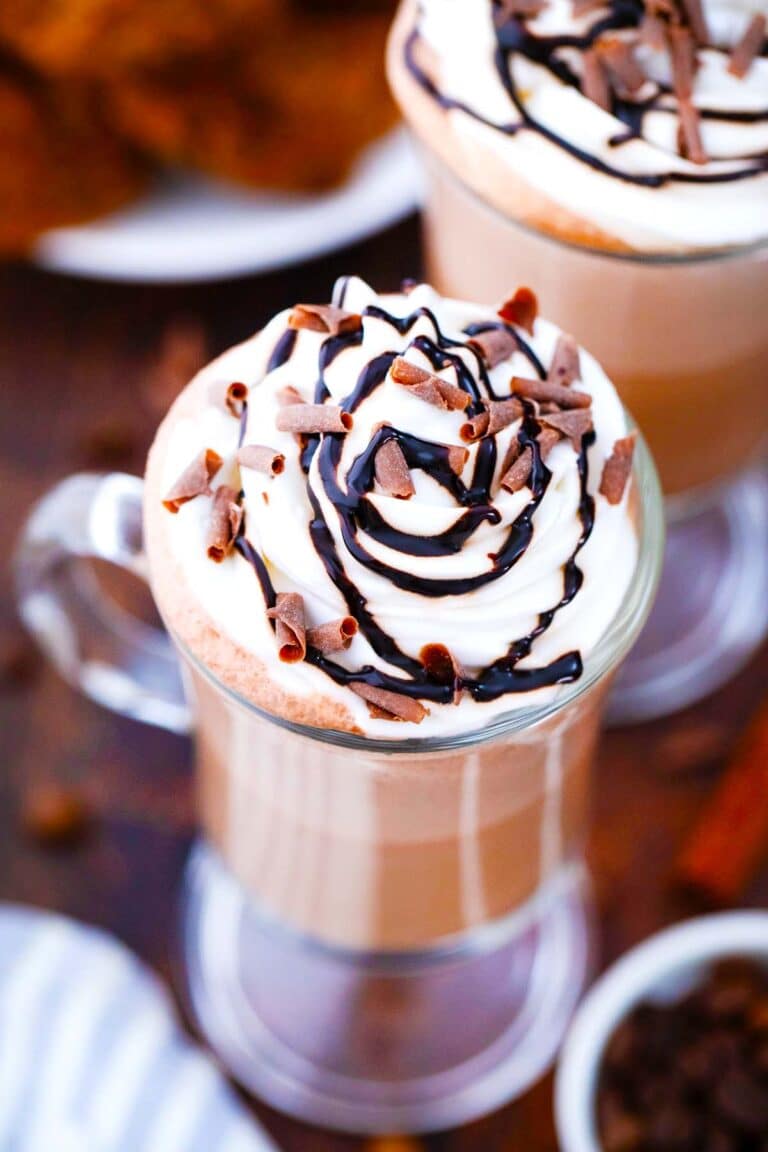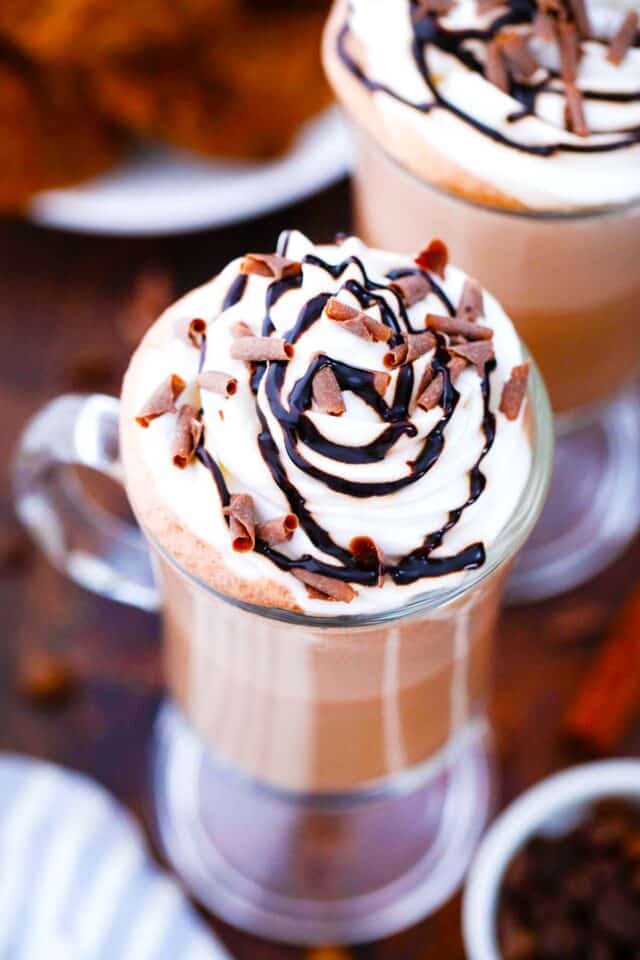 How to serve:
You can serve this coffee and chocolate beverage plain or make it even more delicious by adding whipped cream. Here are some of our favorite ways to serve mocha latte.
Add a dollop of homemade whipped cream on top for a decadent drink.

For the holidays, this drink is perfect with a spoonful of our homemade eggnog.

You can never have too much chocolate if you are a chocolate lover. Why not add some chocolate sauce or extra chocolate syrup and some chocolate shavings?
Try this delicious beverage with our chocolate zucchini muffins for a quick breakfast.
Sprinkle a little bit of hot chocolate mix on top of your mocha latte to give it even more chocolatey flavor.

Fruit lovers will adore this drink with a spoonful of their favorite fruit jam or preserves. Try it with our easy strawberry jam.

Another way to make a peppermint mocha latte is to add a candy cane. Perfect for the holidays.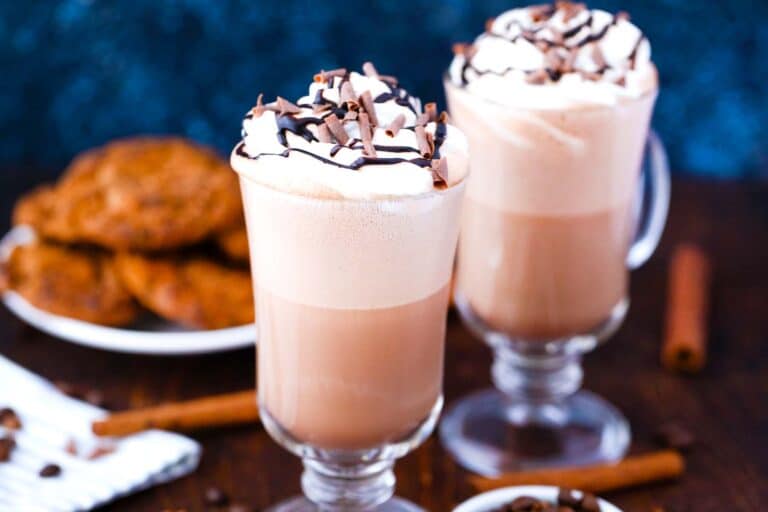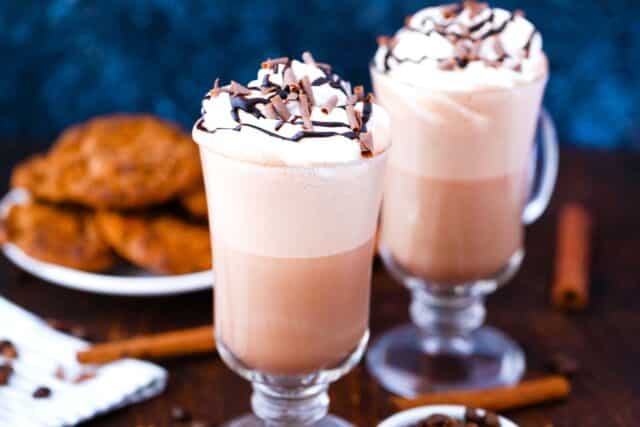 Frequently asked questions
Can I make this mocha latte vegan or dairy free?
Yes, there are many plant-based milks that you can use instead of half and half. The most popular are almond milk, coconut milk, and rice milk but you could also try soy, oat, or even hemp milk. They even have vegan whipped cream you can use as well as chocolate syrup without dairy milk. A vegan mocha latte would be easy since the cocoa powder is already vegan.
Do I have to use a milk frother?
No, you do not have to have a fancy espresso machine with a milk frother to get frothed milk. You can make frothy milk yourself. All you need is a whisk, and you can froth milk in just about a minute. If you have an electric mixer with a whisk attachment, that would be even easier and faster. In fact, to froth the milk, you could even put it in a jar and vigorously shake milk for about a minute. Just remember to heat milk because hot milk gives a frothier result.
What is espresso?
Espresso is traditionally made using an espresso maker, mixing strong brewed coffee with pressurized water. Using an espresso machine, the water goes through very finely ground coffee that is packed together, making a rich and velvety strong coffee. You could also make espresso with a French press. Any espresso-based beverage can also be made with strongly brewed coffee though, so you do not need a fancy machine.
What is the difference between mocha latte and cafe mocha?
There is really no difference. The Caribou Coffee and Starbucks version contains steamed milk, mocha sauce, and espresso. It is also topped with heavy whipping cream. Cafe mocha or mochaccino are other ways to describe a mocha latte with the same exact ingredients. A regular latte, however, has no chocolate and is not sweet.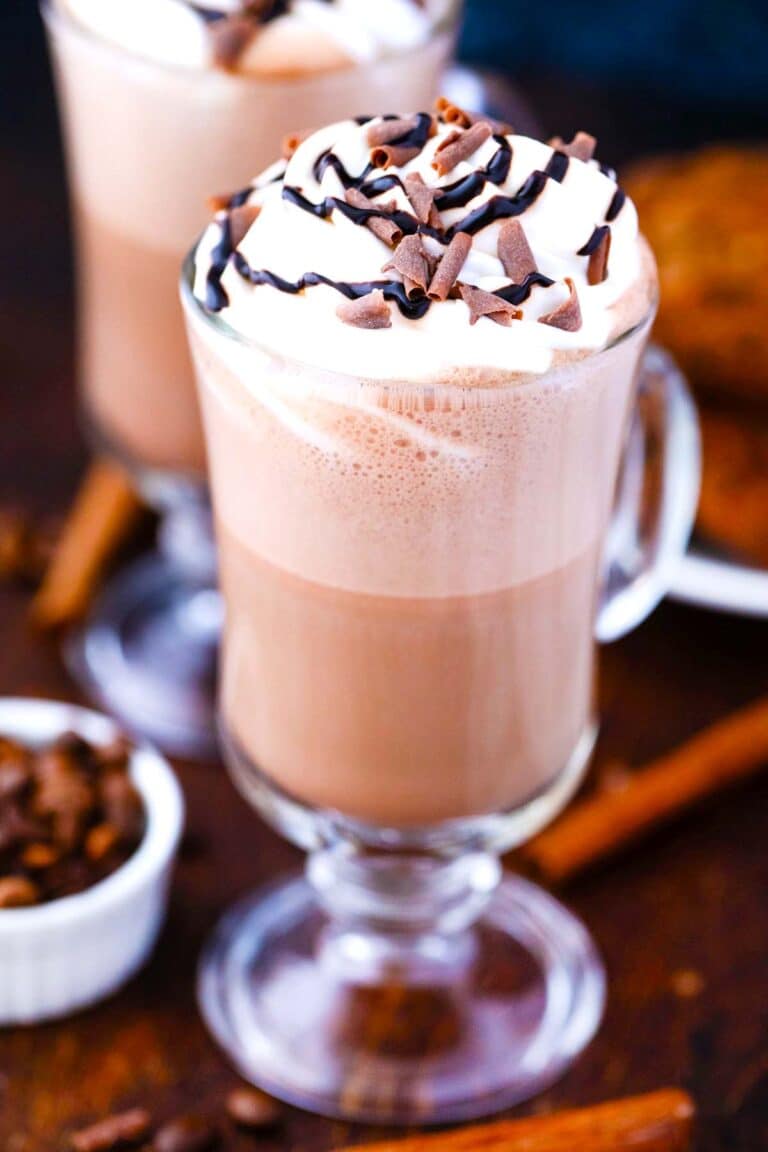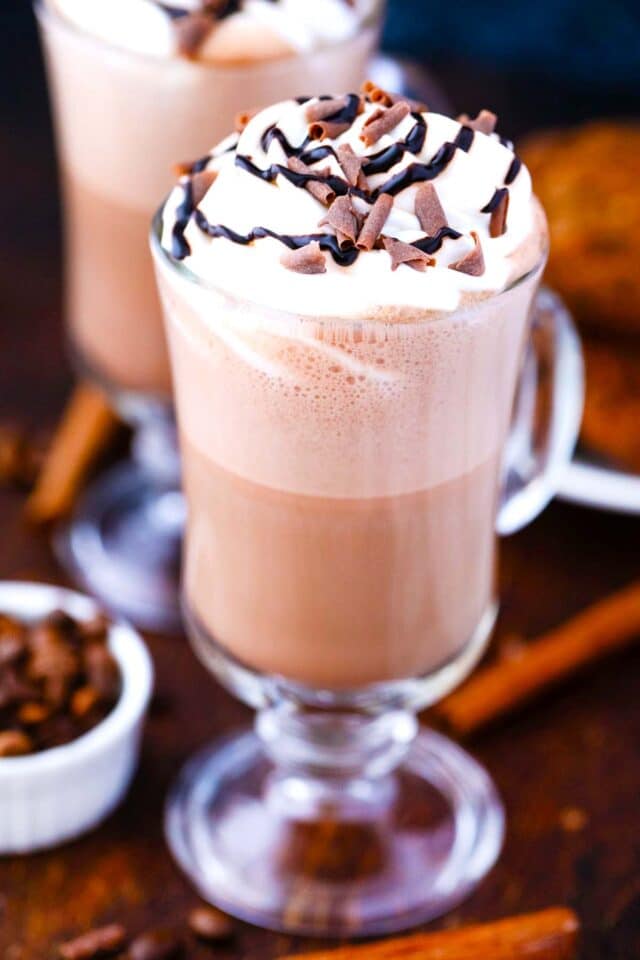 How to store leftovers:
Store: You can store your leftover mocha latte in an airtight container like a mason jar. Drink within 24 to 46 hours for best results.

Freeze: Freezing your mocha latte is not recommended.
Recipe tips:
You can use whole milk or whatever kind of milk you like instead of half and half.

Remember that the milk doubles in size when you froth it so be sure to use a large glass jar like a mason jar with enough room if you are shaking it.
For kids or those cutting down on caffeine, you can use decaf coffee.

This prepared espresso drink has very little saturated fat and no polyunsaturated fat. If you want to cut the rest of the fat, just use skim milk instead of half and half.
If you do not have an espresso machine, you can use a regular coffee pot to make your coffee.
Similarly, if you do not have a milk frother, use a frothing stick, or a whisk, or just shake it up in a jar.
If you use sweetened cocoa powder, leave out the sugar or it will be too sweet.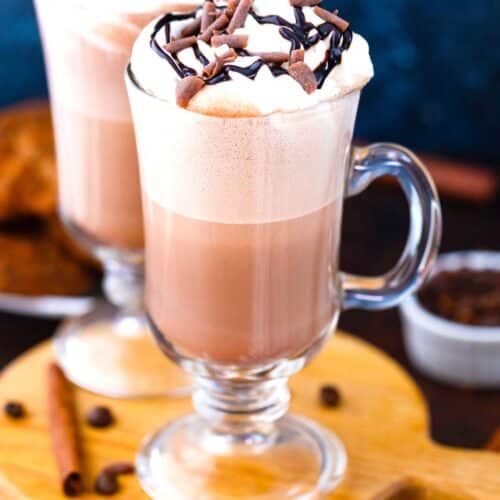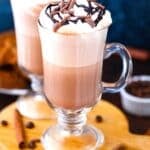 Mocha Latte
Mocha Latte is the perfect blend of sweet natural chocolate and hot brewed coffee with frothy milk, for the perfect hot drink.
Course:
Breakfast, Drinks
Ingredients
1 1/2

cups

half and half

or milk

1 1/2

tablespoon

unsweetened cocoa powder

2

tablespoons

granulated sugar

1/4

teaspoon

cinnamon

1

teaspoon

vanilla

optional

4

tablespoons

brewed espresso
Toppings:
Whipped cream

Chocolate shavings

Chocolate syrup
Instructions
Add all the ingredients, except espresso to a medium pot over low-medium heat. Whisk together, until mixture the mixture starts to steam.

Remove from heat and transfer the chocolate mixture to a milk-frothing pitcher.

Now using a frothing wand, froth the mixture until fluffy.

Add espresso to a coffee mug and pour the frothed chocolate mixture on top.

Top with whipped cream, chocolate shavings, and chocolate syrup if desired. Serve immediately.
Nutrition Facts
Mocha Latte
Amount Per Serving
Calories 599
Calories from Fat 387
% Daily Value*
Fat 43g66%
Cholesterol 127mg42%
Sodium 226mg10%
Potassium 620mg18%
Carbohydrates 45g15%
Protein 13g26%
Vitamin A 1287IU26%
Vitamin C 3mg4%
Calcium 404mg40%
Iron 1mg6%
* Percent Daily Values are based on a 2000 calorie diet.