Lemon Couscous is a fast and healthy side dish ready in less than 20 minutes. The hint of lemon adds a burst of citrusy freshness to this versatile side dish.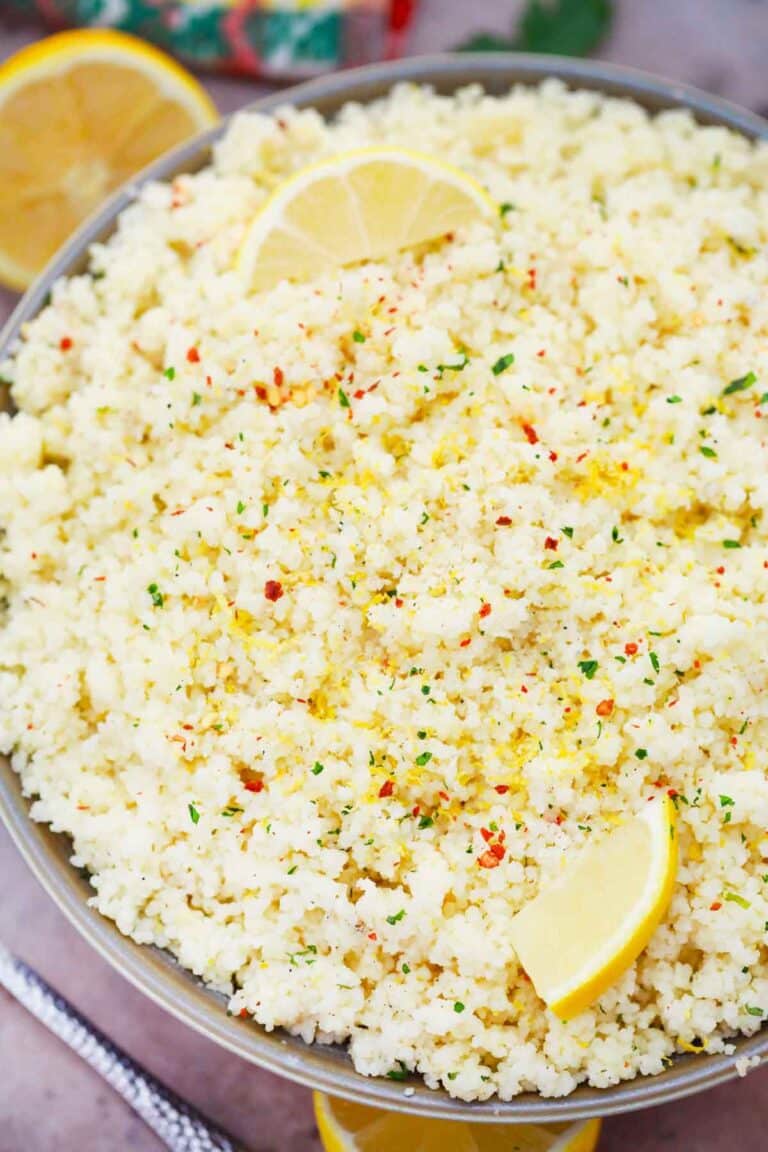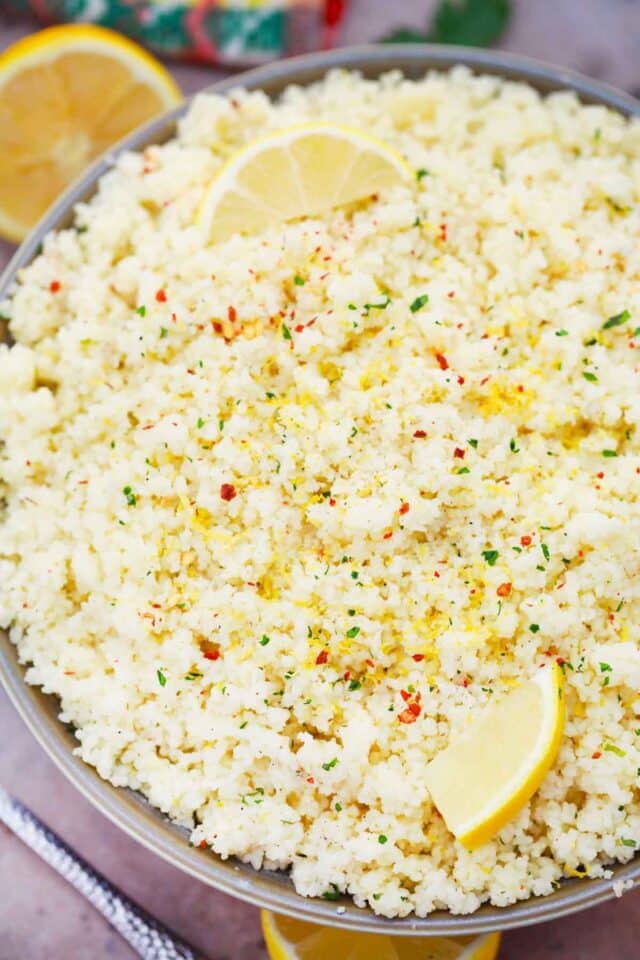 This is the perfect side dish to serve along with any meal, especially during busy weekdays. For more easy side dishes, you can also try these Crispy Air Fryer Broccoli or Parmesan Brussel Sprouts.
Couscous has been a dietary staple in North Africa for centuries, and it's now enjoyed worldwide for its convenience and adaptability. It is often used as a base for stews, salads, and side dishes, showcasing its chameleon-like ability to absorb the flavors of various ingredients.
I love making this Lemon Couscous Recipe for various reasons. Firstly, it requires pretty much no preparation and is ready in no time. Secondly, it is a very healthy side dish and is a great alternative to pasta or rice. Also, it is very versatile and can be easily adjusted to various tastes. I love to drizzle some olive oil and some lemon juice over it and serve warm.
This is the perfect side dish for those seeking a refreshing and tangy addition to their meals. This dish pairs the nutty, delicate flavor of couscous with the bright and zesty notes of fresh lemon. Enjoy it with various fish or meats.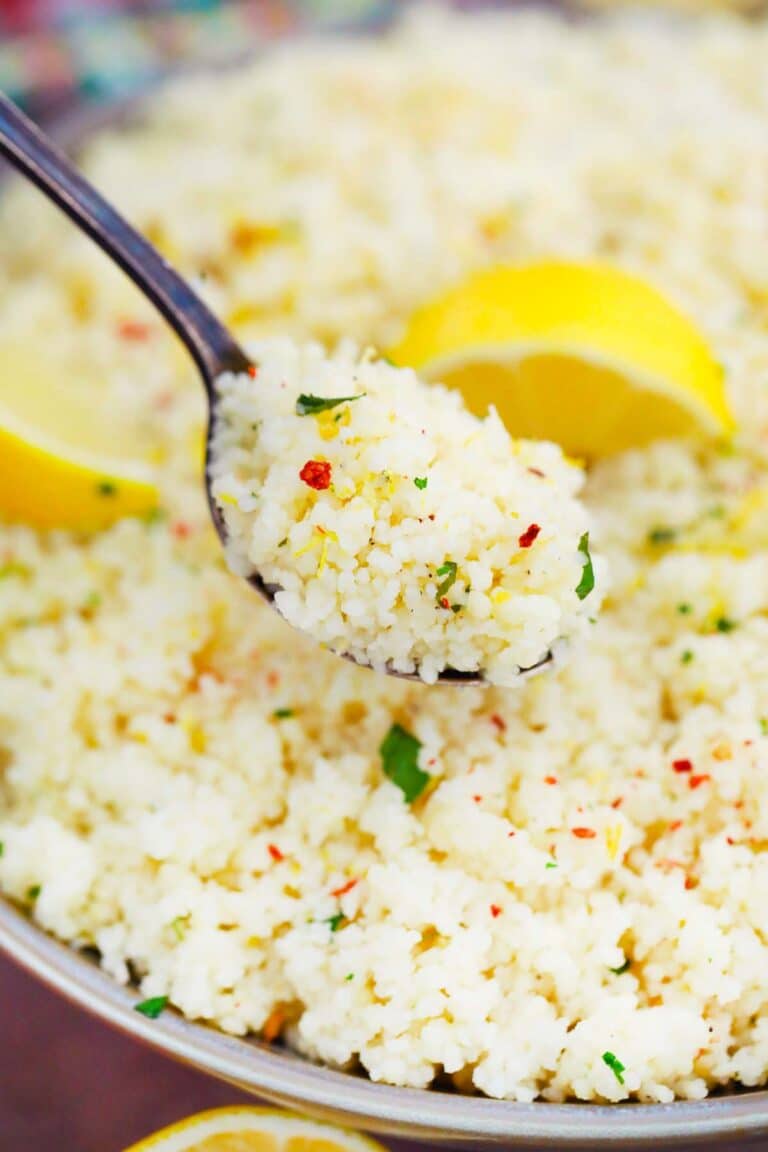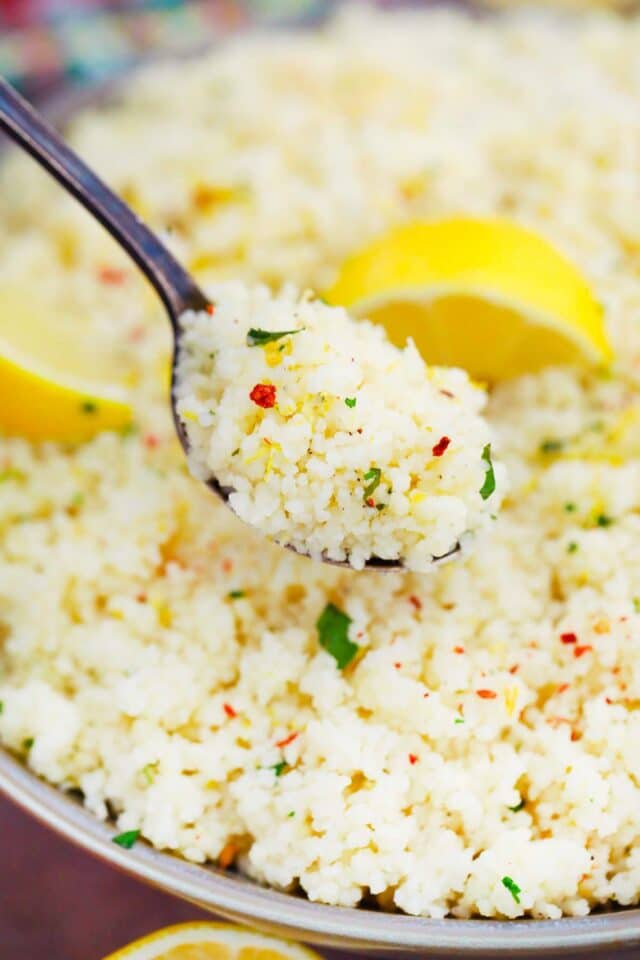 Ingredients:
To prepare a delightful batch of lemon couscous, you'll need the following ingredients:
Couscous: You can easily find it in your local supermarket, in the pasta or rice aisle.

Freshly squeezed lemon juice: I use about ½ a lemon. However, if you want it a bit more citrusy, feel free to use a whole lemon.

Low-sodium chicken broth: I use chicken broth because it adds a nice flavor to the dish. You can simply boil it in water, but I would recommend using chicken broth for enhanced flavor.

Olive oil
Salt and freshly ground black pepper to taste
Fresh herbs (such as parsley or mint) for garnish (optional)
How to make the best lemon couscous recipe?
Prepare the Couscous: Place the couscous in a heatproof bowl. Pour the boiling water or broth over the couscous, ensuring it's fully submerged. Cover the bowl with a lid or plastic wrap and let it sit for about 5 minutes, allowing the couscous to absorb the water and swell.
Fluff with a Fork: After the resting period, fluff the couscous with a fork to separate the grains and prevent clumping.
Add Lemon Juice: Next, squeeze some lemon juice over it and drizzle some olive oil.

Season with Salt and Pepper: Season the couscous with salt and freshly ground black pepper to taste. Adjust the seasoning as needed.
Garnish with Fresh Herbs and serve: Lastly, for an extra layer of flavor and freshness, garnish your lemon couscous with freshly chopped herbs like parsley.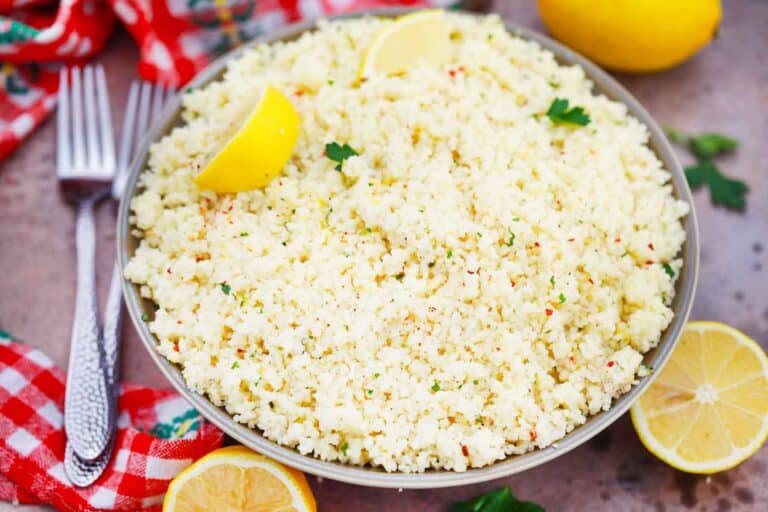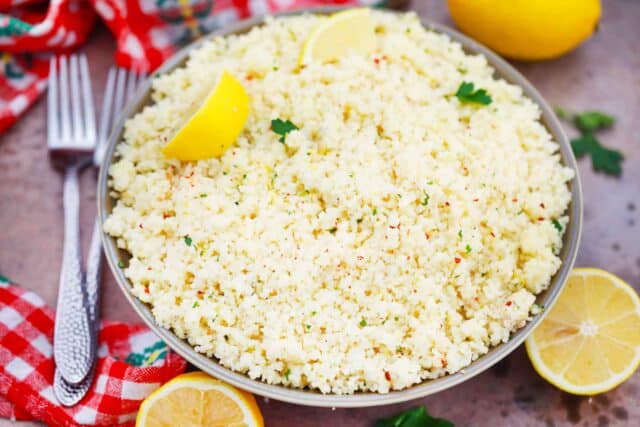 Frequently Asked Questions
What is Lemon Couscous?
It is a flavorful side dish made from couscous, a small pasta-like grain. It's infused with the zesty and tangy flavor of fresh lemon juice and zest.
Is couscous the same as rice or pasta?
Couscous is often compared to rice and pasta, but it's technically a type of pasta made from crushed and steamed wheat. It has a different texture and flavor profile compared to rice or traditional wheat pasta.
Can I use instant couscous for Lemon Couscous?
Yes! To save time, you can use instant couscous. It is commonly used because of its quick cooking time. Simply pour boiling water over it and let it sit for a few minutes to absorb the liquid.
Can I customize it with additional ingredients?
Absolutely! Lemon Couscous is versatile and can be customized with ingredients like diced vegetables, roasted nuts, dried fruits, or your choice of herbs to suit your taste.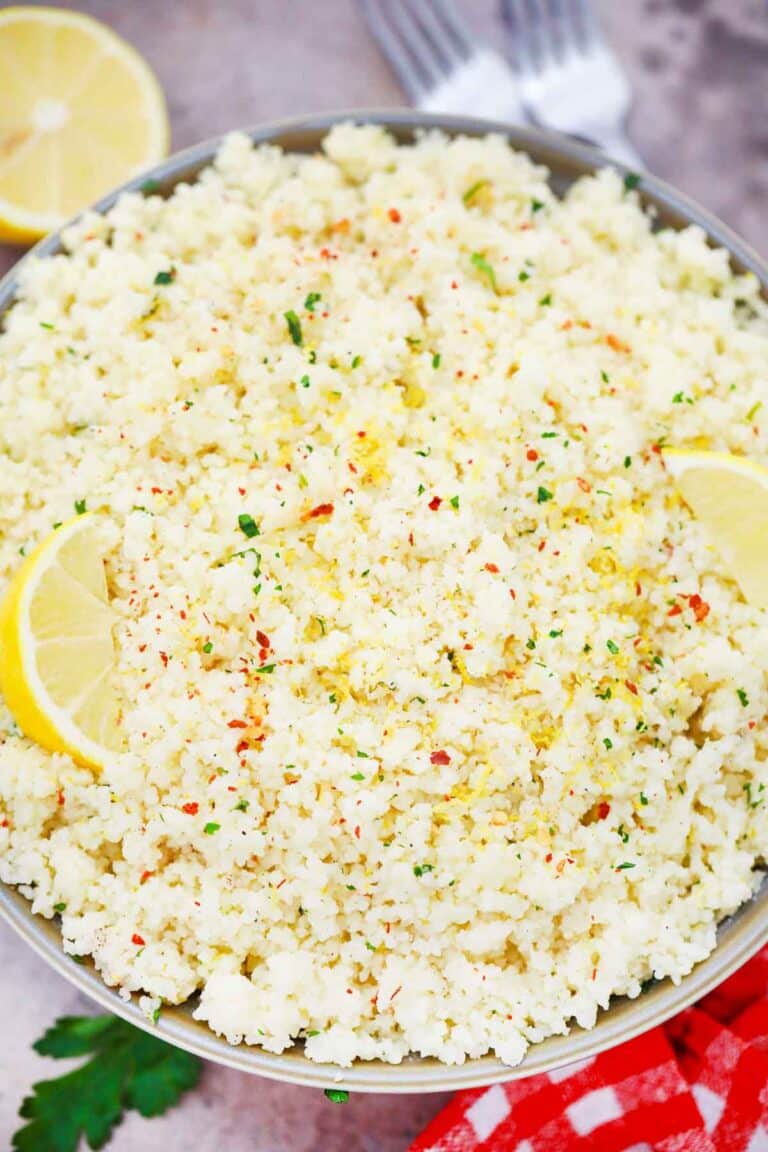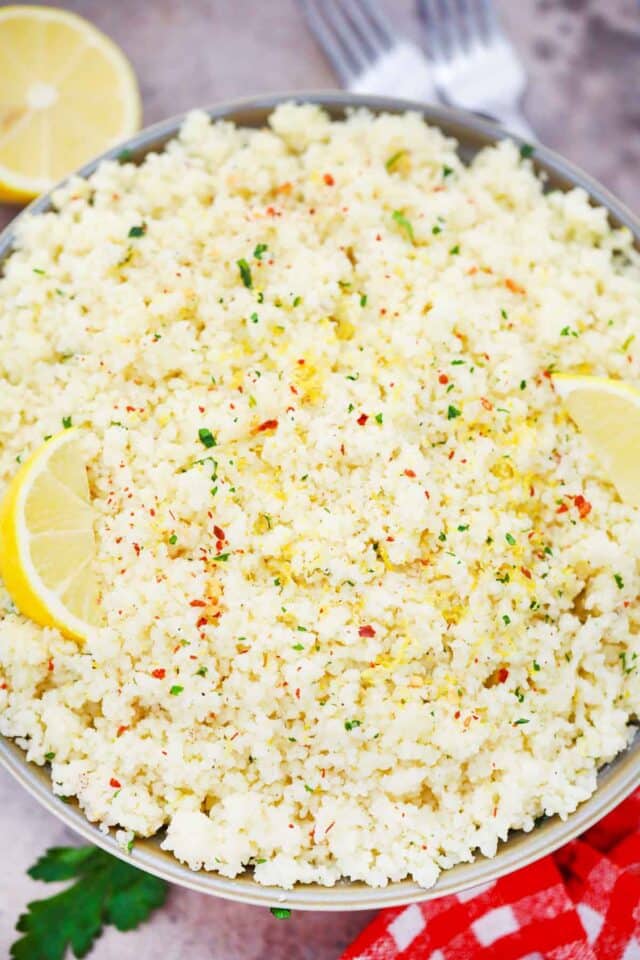 Is Lemon Couscous gluten-free?
Traditional couscous is made from wheat, so it contains gluten. However, gluten-free couscous made from alternative grains like rice or corn is available and can be used to make a gluten-free version of this dish.
Ways to Enjoy Lemon Couscous:
As a Side Dish: It pairs wonderfully with a variety of main courses, such as grilled chicken, roasted swordfish, or roasted vegetables. It also complements Mediterranean and Middle Eastern dishes.
In Salads: Use it as a base for vibrant salads. Add diced tomatoes, cucumbers, red onions, and feta cheese, then drizzle with a lemon vinaigrette for a refreshing summer salad.
Couscous Breakfast Bowl: Swap out your usual oatmeal for a couscous breakfast bowl. Cook the couscous in milk, sweeten it with honey or maple syrup, and top it with fresh fruit, nuts, and a sprinkle of cinnamon.
How do I store leftovers?
Store leftovers in an airtight container in the refrigerator for up to 3-4 days. To reheat, fluff it with a fork and microwave it with a splash of water or broth to restore moisture.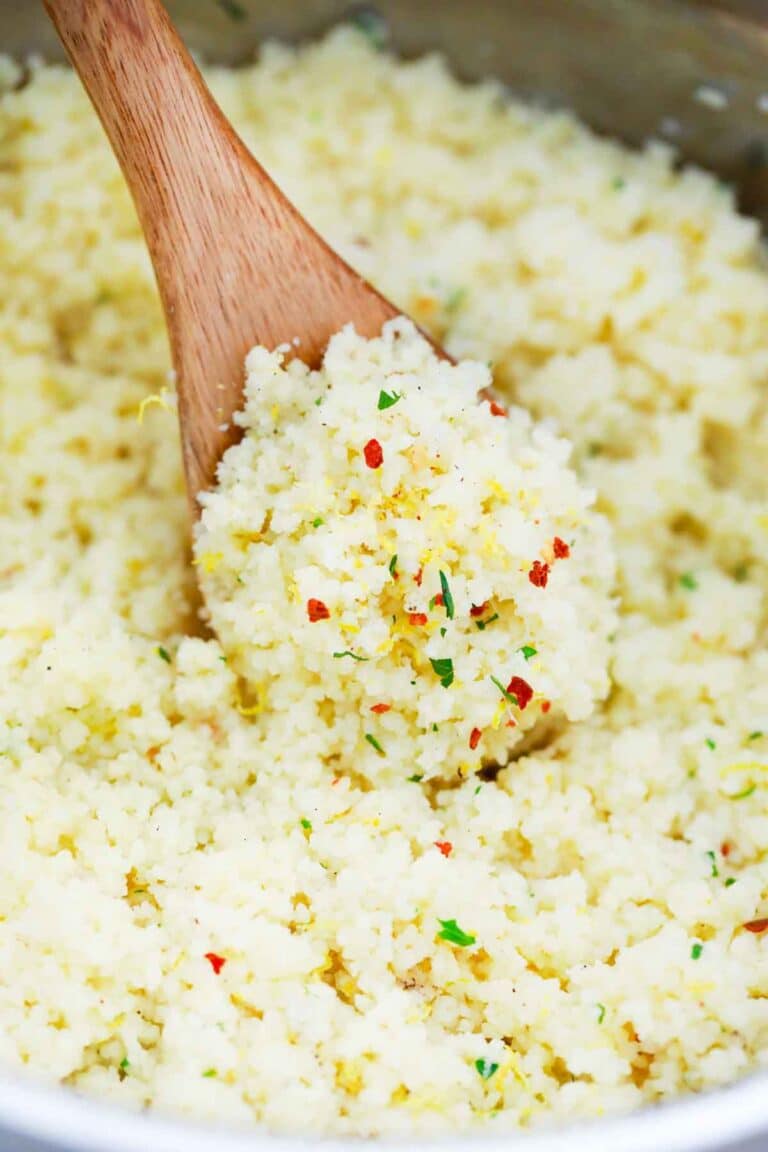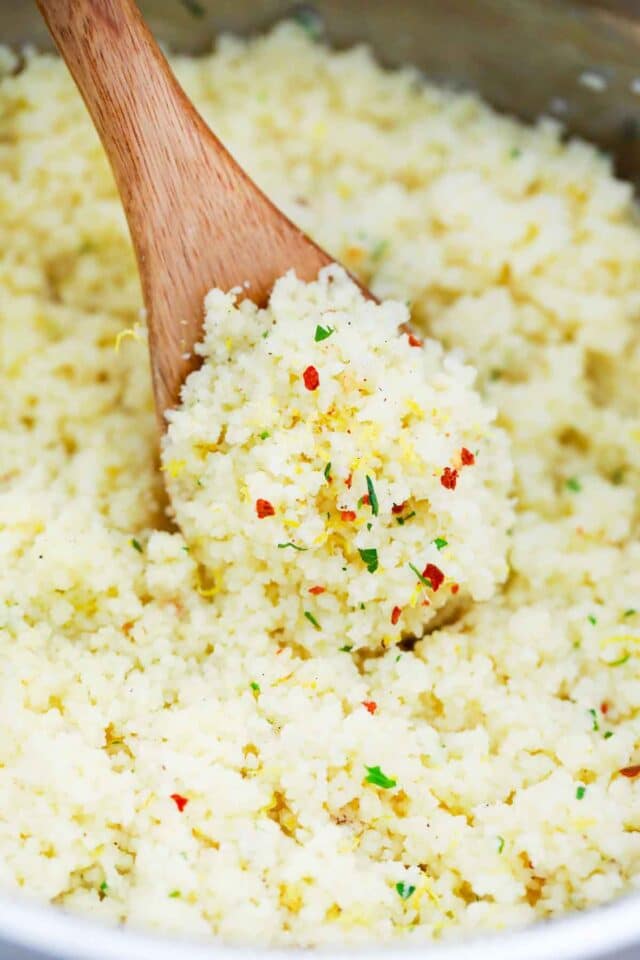 Recipe tips:
There are various types of couscous, including instant couscous and traditional couscous. Instant couscous is the most common and quickest to prepare, while traditional couscous requires steaming. Choose the type that best suits your recipe and time constraints.
Also, use a 1:1 ratio of couscous to liquid. For example, if you're cooking 1 cup of couscous, use 1 cup of liquid. Be precise with your measurements to achieve the right texture.
This recipe is incredibly adaptable, so feel free to customize it with ingredients like roasted vegetables, dried fruits, nuts, or fresh herbs to add texture and flavor.
Instead of lemon juice, you can use lemon zest or lime zest.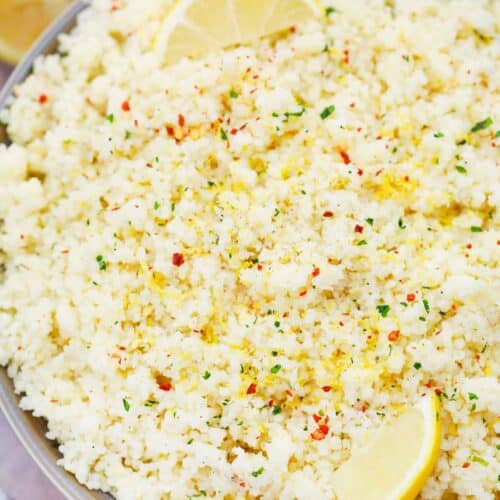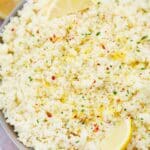 Lemon Couscous
Lemon Couscous is a fast and healthy side dish ready in less than 20 minutes with a hint of lemon that adds a burst of citrusy freshness
Ingredients
1

cup

couscous

1 1/2

cups

low-sodium chicken broth

water, or vegetable broth

2

tablespoons

extra-virgin olive oil

1

tablespoon

lemon juice

2

tablespoons

freshly chopped parsley

or mint - optional

Kosher salt

to taste

Freshly ground black pepper

to taste
Instructions
In a rice colander rinse the couscous under cold, and drain well.

After that, add the broth to a medium saucepan over medium heat, and bring it to a boil.

Next, once the liquid is boiling, add the couscous, stir, cover with a lid, and remove it from heat.

Let it sit covered for 10 minutes. After that, uncover it and use a fork to fluff it up.

Finally, stir in the olive oil, lemon juice, and fresh herbs if using. Season with salt, and pepper to taste.
Nutrition Facts
Lemon Couscous
Amount Per Serving
Calories 239
Calories from Fat 72
% Daily Value*
Fat 8g12%
Sodium 31mg1%
Potassium 152mg4%
Carbohydrates 35g12%
Protein 7g14%
Vitamin A 0.2IU0%
Vitamin C 1mg1%
Calcium 14mg1%
Iron 1mg6%
* Percent Daily Values are based on a 2000 calorie diet.