Eggnog recipe makes a rich and creamy drink, made with eggs, milk, and sugar that is often served during the holidays. Making your own eggnog is a great idea because you know exactly what is in it and you can change your homemade version any way you like it.
Another way to enjoy the flavor of this traditional holiday drink is to serve this fluffy Eggnog French Toast for Christmas breakfast. Also, enjoy a cup of eggnog with our savory Chicken Ranch Pasta with Bacon or this creamy Chicken Pesto Pasta.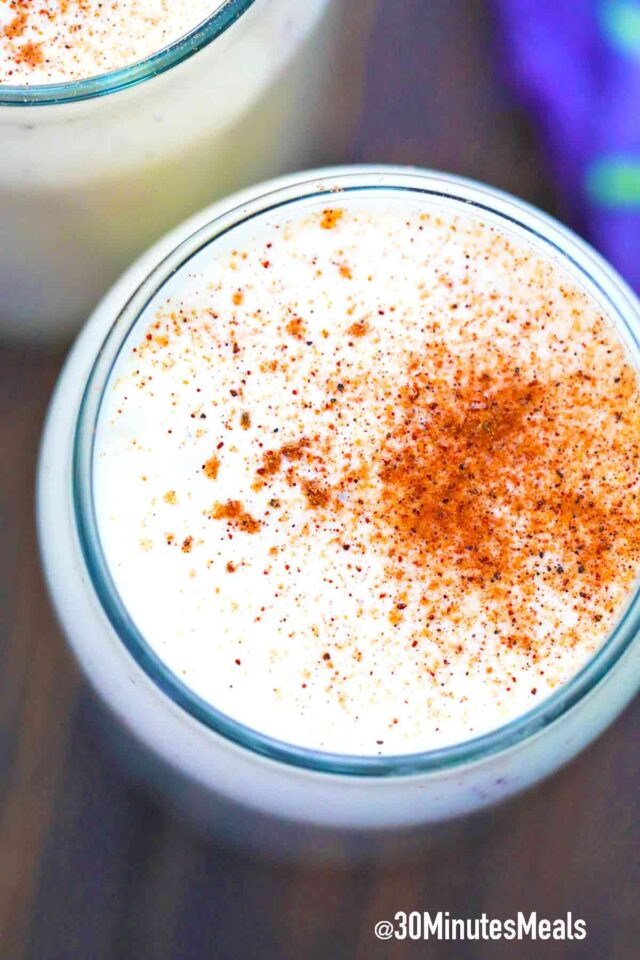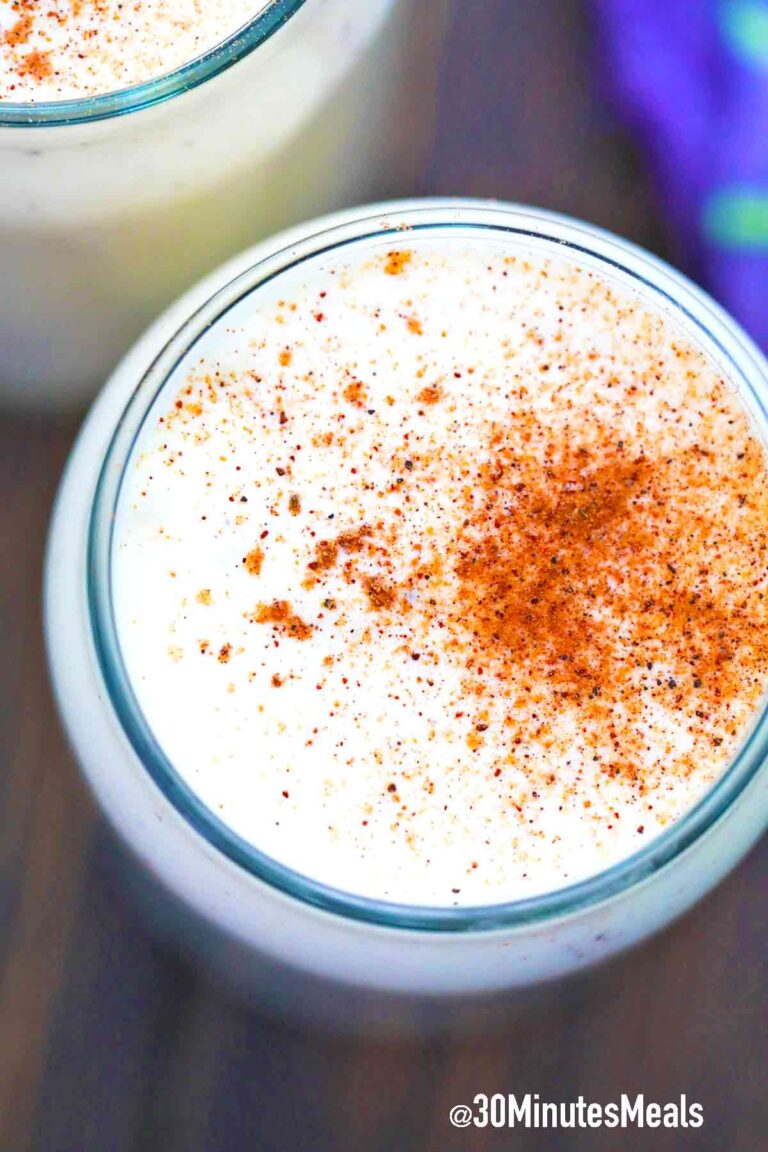 Whether you are having a holiday party or just hanging out at home with the family, eggnog fans will love this homemade nog recipe much more than any of the commercial eggnogs. You can decide whether to use the traditional eggnog recipe or your own version and put whatever liquor you like in it.
Also, you have to consider that those with any kind of medical condition may not be able to drink the kind you get at the liquor stores or the variety with undercooked eggs. So, your homemade recipe may be perfect for them.
Ingredients needed:
For precise measurements and instructions, scroll down to our printable recipe card. But these are the key ingredients you will need:
Milk: Use whole milk for the best results.
Sugar: Just a half cup of sugar.
Heavy cream: Plain Greek yogurt will also work.
Vanilla extract
Large eggs
Egg yolks
Nutmeg
Salt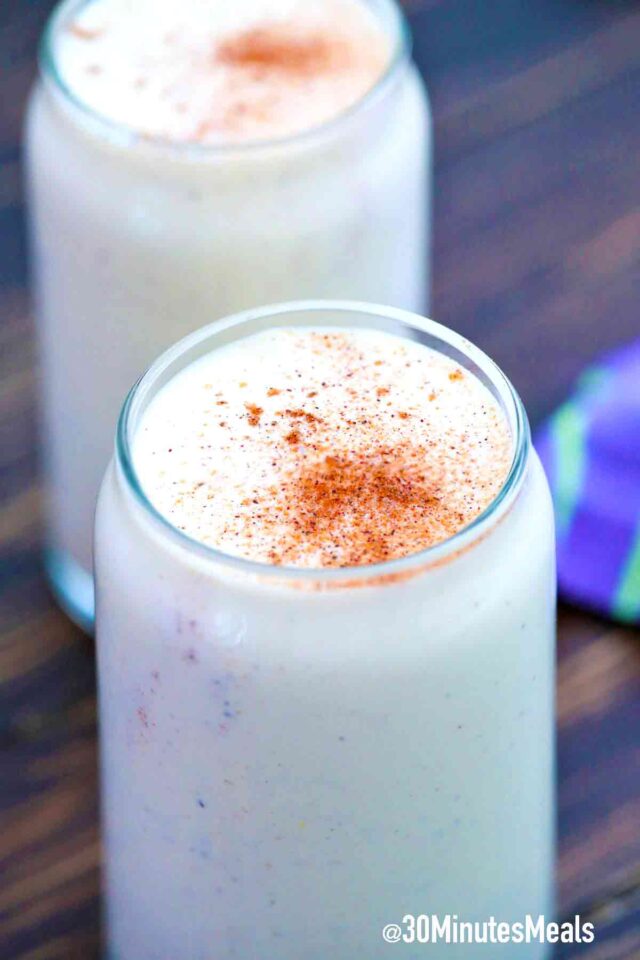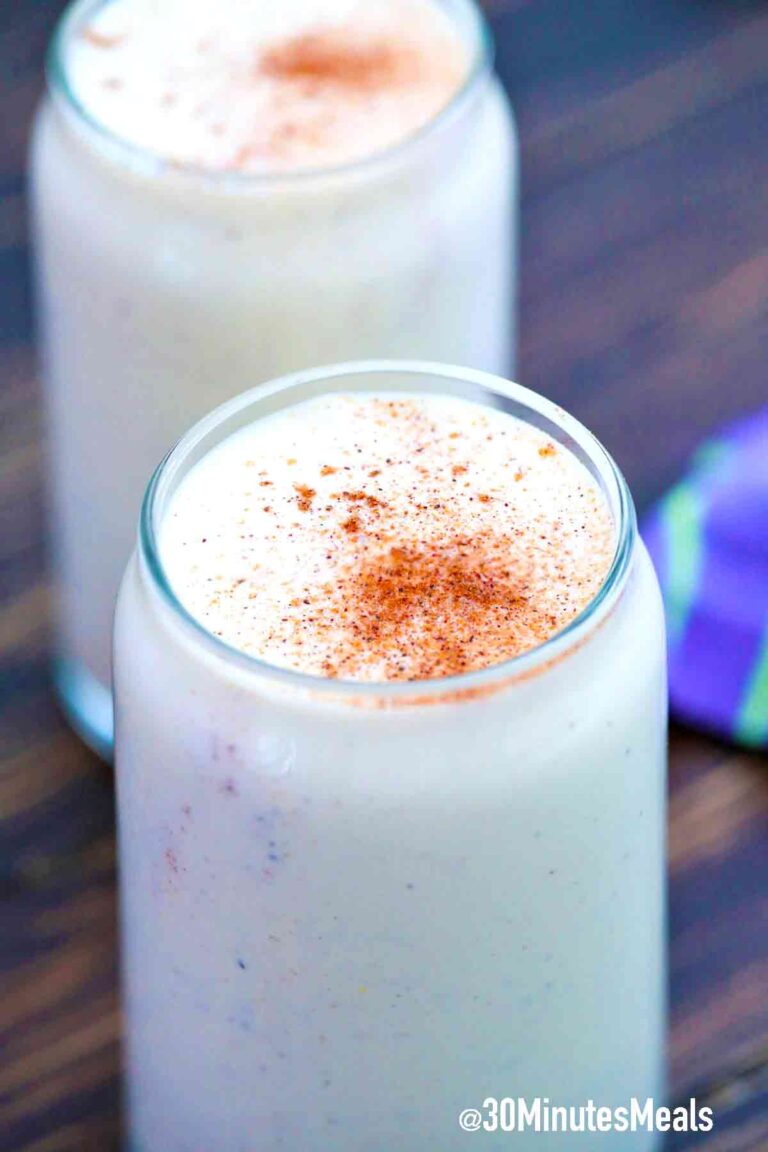 How to make eggnog recipe from scratch?
Whisk: First, whisk the vanilla and milk in a medium saucepan over medium-low heat. Remove from heat when it starts to simmer.
Beat: Then, in a separate bowl, whisk egg yolks, eggs, sugar, nutmeg, and a pinch of salt with your electric mixer for five minutes. It should be frothy and thick.
Add: Slowly, add the eggs to the milk mixture, whisking constantly.
Cook: Next, put the pot back on medium-low heat for about five minutes, until the temperature reaches 165 degrees F.

Add cream: Last, remove the pot from the heat and pour it into a medium bowl. Add the cream, stirring well until it is pale yellow and mixed completely.

Serve: Refrigerate for about three hours (or overnight) before serving.
Recipe variations:
Different milk: Feel free to use coconut milk or whatever type you like best.
Egg flip: Make your nog an egg flip by leaving out the milk and cream and just use eggs, syrup, and liquor.

Corn syrup: Instead of sugar, use corn syrup as a sweetener.
More flavor: Add almond, lemon, or orange extract for even more flavor.
Extra fiber: For extra fiber in your eggnog, add a teaspoon of guar gum.
Spices: You could also add other spices such as ground cinnamon, cloves, or ginger.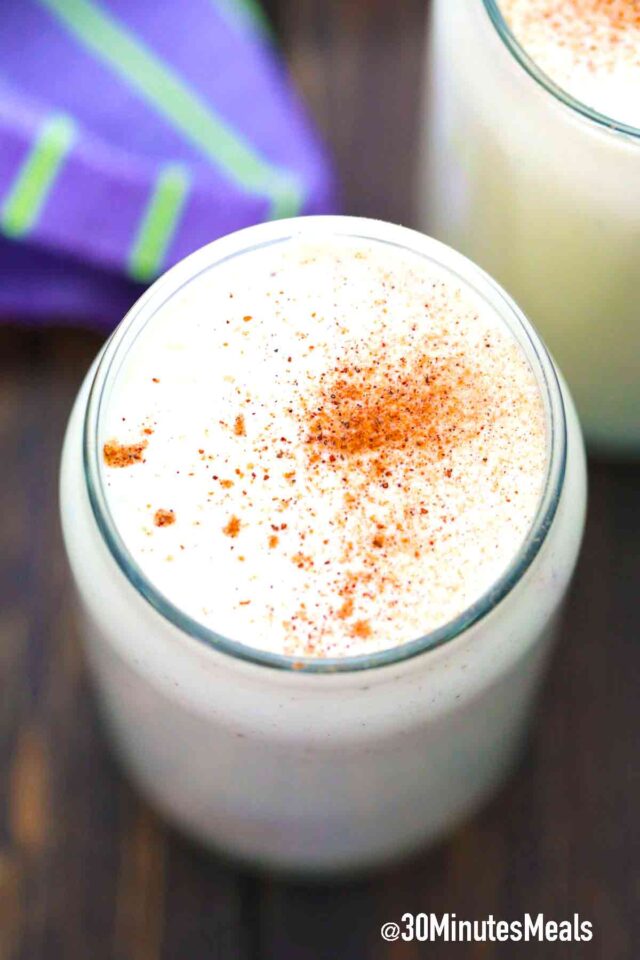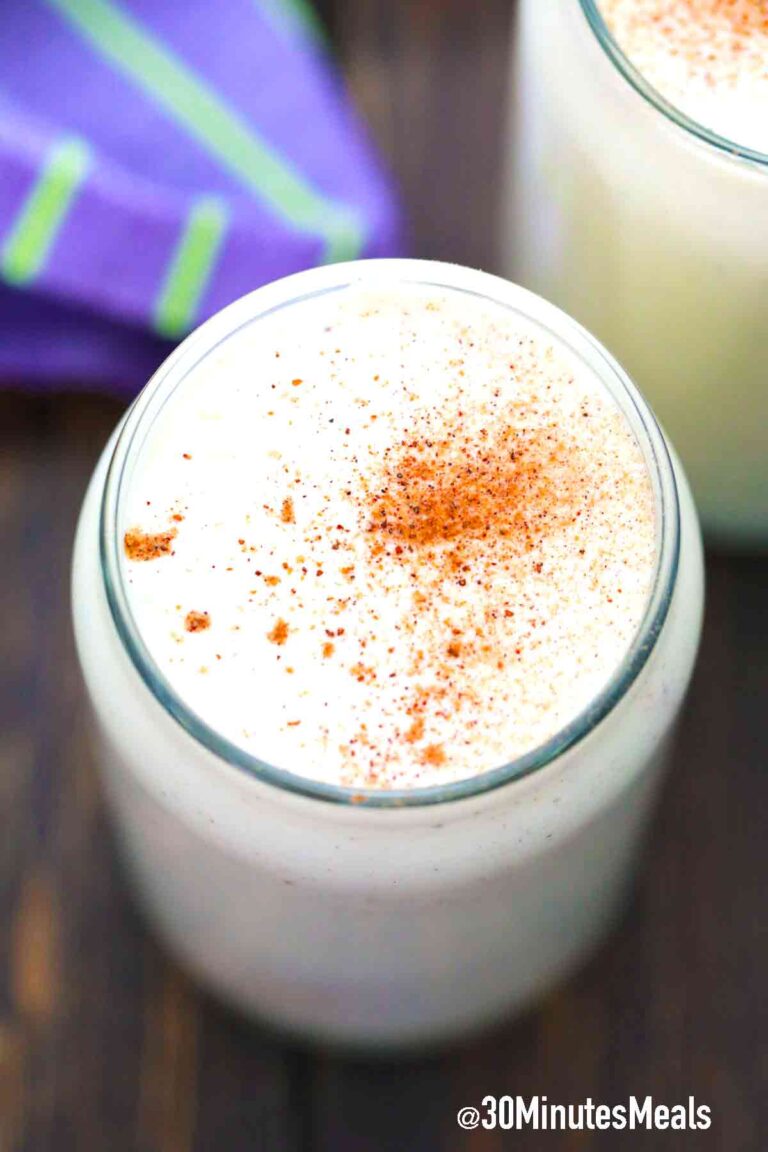 How to serve:
Refrigerate the finished eggnog base for at least three hours for best results. You may also enjoy one of these ideas:
Add a dollop of whipped cream to the top of your cup of nog.

Serve with a cinnamon stick in a wooden mug for a nostalgic eggnog treat.
Your nog would taste delicious with these crepes for brunch.
Instead of a cinnamon stick, use a candy cane for a more festive cup of holiday cheer.
Another way to enjoy this drink is with our oven-baked chicken thighs.
Use a cup of this eggnog in pancake or waffle batter.
Frequently Asked Questions
Is eggnog bad for you?
There are several reasons why eggnog is not great to drink. First, the classic eggnog recipe has raw eggs in it, which can cause salmonella or another kind of food poisoning.
However, this recipe and many others use eggs cooked to 165 degrees F, which kills those bacteria and other germs.
Also, traditional eggnog is made with heavy cream, whole milk, sugar, and eggs, which are all full of fat and calories.
Lastly, some types are made with alcohol, which is not good for you in large quantities. But most eggnog from the grocery store does not have alcohol in it.
What kind of alcohol is best for eggnog?
Most recipes for boozy eggnog call for bourbon although there are many that use dark rum or Jamaican rum instead.
You can really put whatever liquor you like in your nog like amaretto, brandy, cognac, or even whiskey. Peppermint schnapps is also a popular choice.
Why is eggnog only around during Christmas?
Even way back in the 13th century in Britain, eggnog was a traditional drink during the holiday season. In the beginning, it was consumed as a hot drink enjoyed by the wealthy with eggs and figs, making it popular during the cold season.
Although it did not make it to the United States until the late 1700s, this was right around the time that George Washington made his own nog mixture loaded with strong ale.
It became an eggnog tradition at the White House after he wrote the recipe in his own hand.
Today, most of the eggnogs you find in stores are made with cooked eggs and no alcohol so it is more of a safe drink that everyone can enjoy.
However, there is nothing wrong with adding a bit of your own holiday cheer in whatever type you enjoy.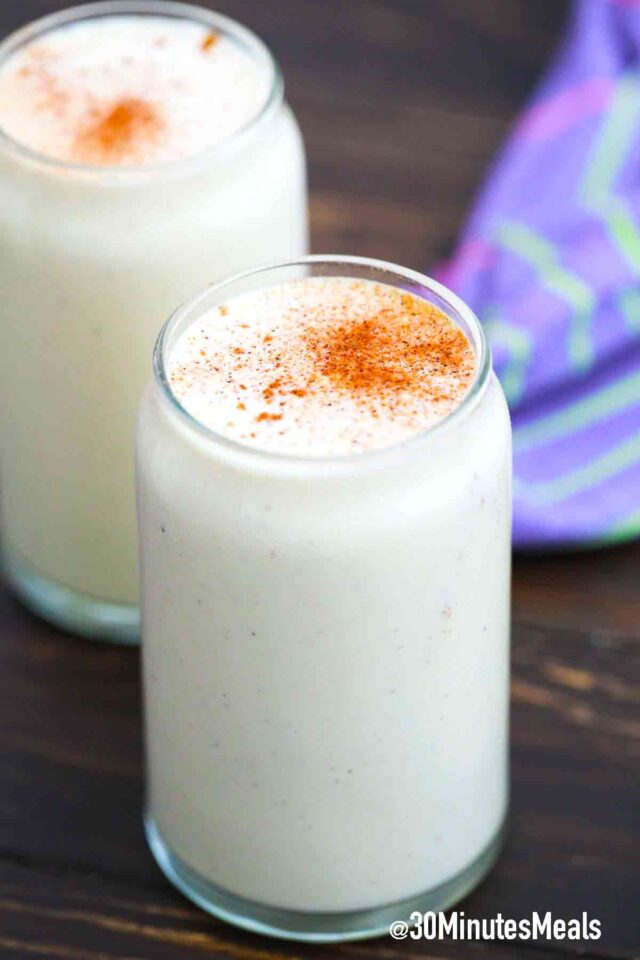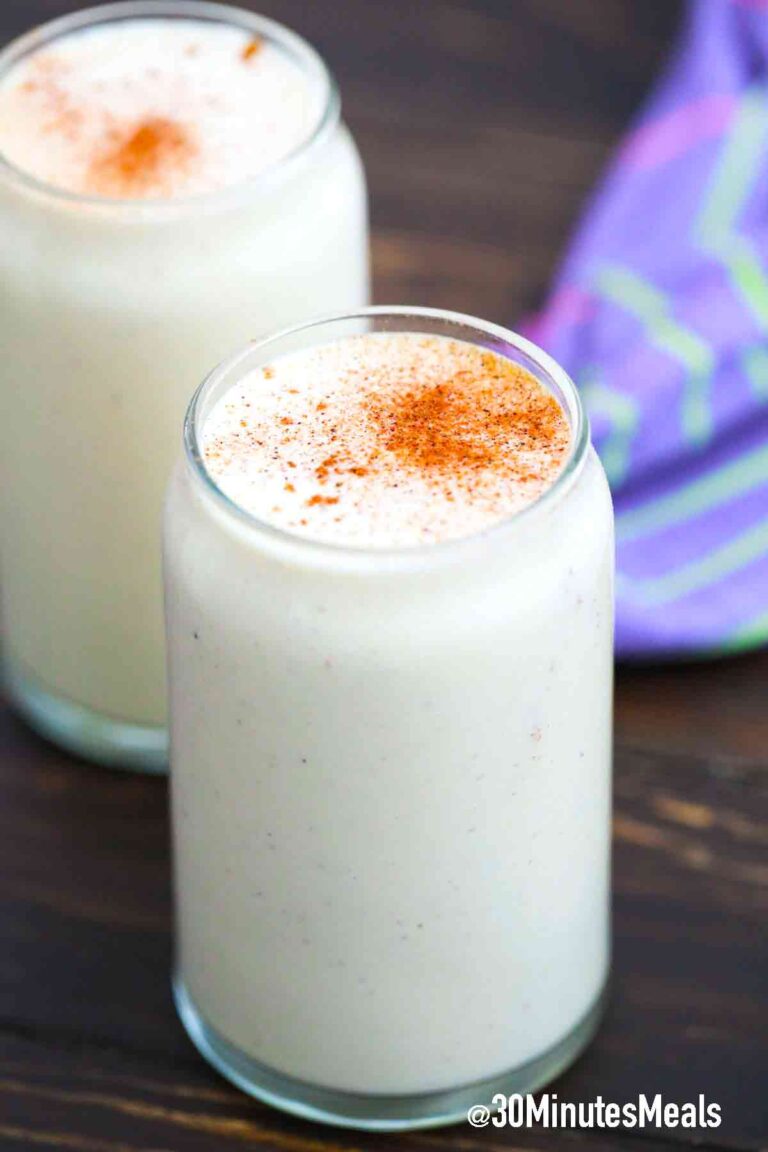 How to store leftovers:
Store: This type of eggnog recipe can be safely stored in the refrigerator for up to three days in an airtight container like a mason jar.

Freeze: You could also freeze your leftover nog in the freezer for up to six months.

Thaw: Be sure to thaw it overnight in the fridge before serving.
Reheat: There is no need to reheat since it tasted great cold. If you like it warm, reheat in a large bowl in the microwave for two minutes or in a saucepan over medium heat for several minutes.
Recipe tips:
Warning: The use of raw eggs can cause food poisoning, salmonella, and other illnesses.

Add liquor just before serving for best results.

Age your nog in the fridge for one or two days for a smoother blend of flavors.
In other recipes, egg whites are used separately instead of the whole egg by whisking them until soft peaks form. You do not want stiff peaks though. Then, add them into the egg mixture.
Combine the beaten egg whites with an electric mixer to save time.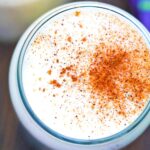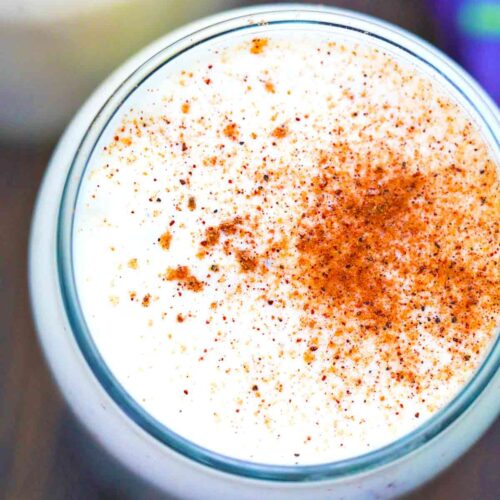 Eggnog Recipe
Eggnog recipe makes a rich and creamy drink, made with eggs, milk, and sugar that is often served during the holidays.
Ingredients
4

cups

whole milk

2

cups

heavy cream

1

tablespoon

vanilla extract

4

eggs

4

egg yolks

2/3

cup

white sugar

or use just 1/2 cup for a not too sweet drink

1 1/2

teaspoon

ground nutmeg

1/4

teaspoon

salt
Instructions
Place a medium saucepan over medium-low heat, and whisk together the milk and vanilla until it just begins to simmer. Remove from heat.

In a separate large bowl, beat together the eggs, yolks, sugar, nutmeg, and salt for 3-5 minutes, or until frothy.

Slowly add the egg mixture into the simmered milk, whisking to combine.

Return the saucepan over medium-low heat and whisk constantly for about 5 minutes. The mixture should reach 165 degrees F.

Remove from heat and pour in the heavy cream, stir until well combined.

Strain and refrigerate the drink for at least 3-4 hours or overnight before serving.
Nutrition Facts
Eggnog Recipe
Amount Per Serving
Calories 548
Calories from Fat 369
% Daily Value*
Fat 41g63%
Cholesterol 364mg121%
Sodium 245mg11%
Potassium 333mg10%
Carbohydrates 33g11%
Protein 12g24%
Vitamin A 1762IU35%
Vitamin C 1mg1%
Calcium 269mg27%
Iron 1mg6%
* Percent Daily Values are based on a 2000 calorie diet.