Homemade Eggnog is the perfect Christmas drink to serve during the holiday season, creamy and perfectly spiced, it's so easy to make. All you need for this eggnog recipe are sugar, cream, milk, eggs, and warm holiday spices. If you want adult eggnog, be sure to have some kind of rum or other liquor available.
If you enjoyed this eggnog recipe, try our delicious recipe for Eggnog Waffles prepared with buttermilk, cinnamon, and homemade eggnog. Another great holiday breakfast for eggnog lovers is this puffy and creamy Eggnog French Toast made from challah or french bread, brown sugar, and homemade eggnog.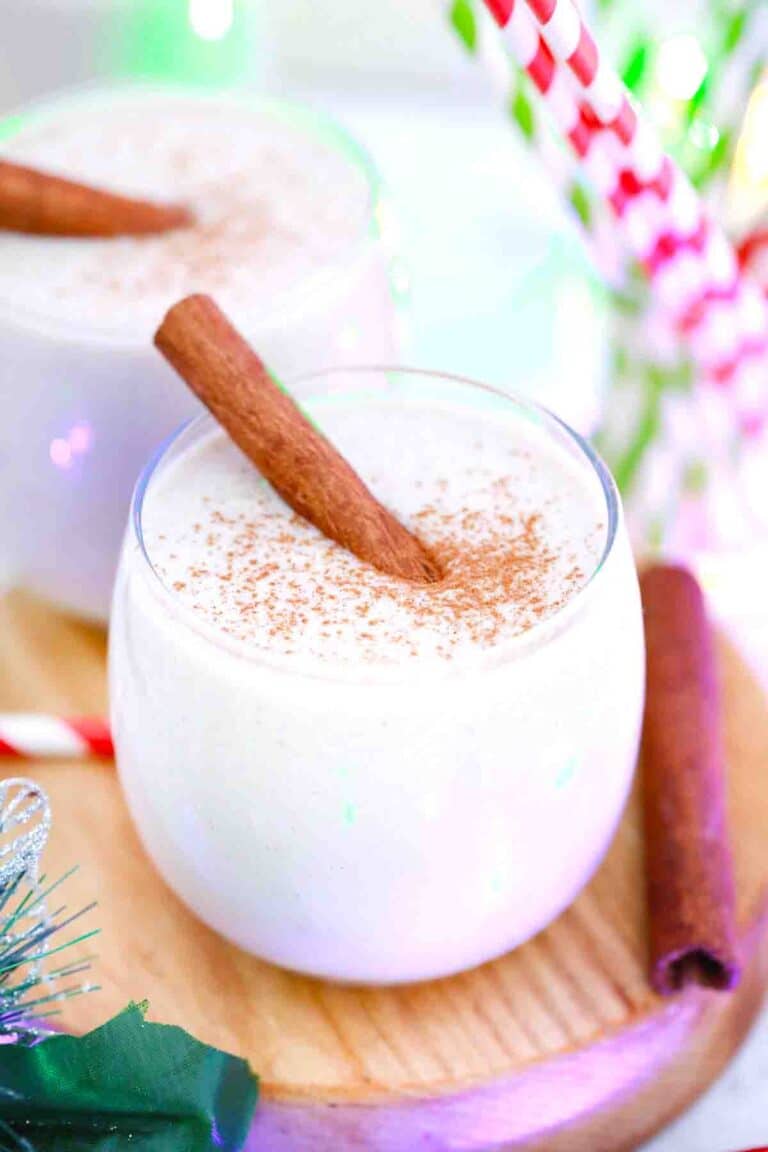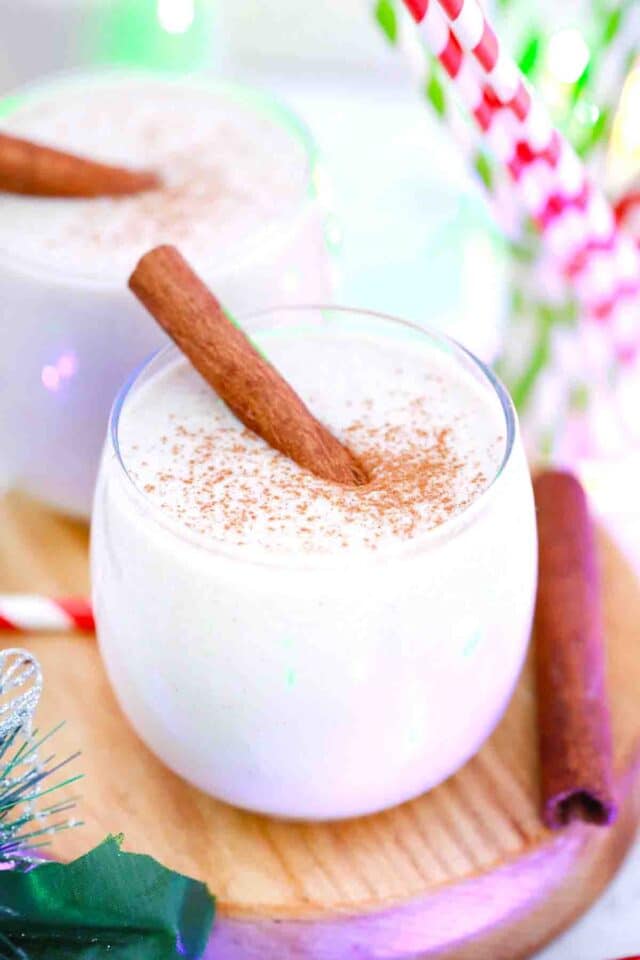 Although nobody is 100% sure when and where eggnog originated, foodies and historians believe it was in medieval Britain. At the time, only the rich could afford eggs and milk so they started their own holiday beverage tradition. However, in the middle ages, Monks made this drink with eggs and figs added to make what they called "posset."
Homemade eggnog is the best thing that has ever happened to holiday drinks! If you love eggnog, you will never buy store-bought eggnog again after trying this delicious recipe. Since you can make it with alcohol or without using whole eggs or just the yolks or whites, this yummy beverage is a holiday classic for the whole family.
Are you looking for other Christmas recipes? For a lighter holiday beverage that everyone can enjoy in five minutes, our Christmas punch is made with pineapple, lime, cranberry, and pomegranate juices. For a holiday dessert, try our Christmas trash cookies you can make with leftover candy and pretzels.

Ingredients needed:
Here are the common ingredients to make homemade egg nog. When you are ready to begin, scroll down to our recipe card for the step-by-step recipe and exact measurements.
Large eggs: At room temperature.
White granulated sugar
Fine sea salt
Whole milk
Heavy cream
Ground cinnamon
Ground nutmeg
Pure vanilla extract
How to make homemade eggnog from scratch?
Whisk eggs: First, whisk the eggs, sea salt, and granulated sugar in a medium bowl until it is thoroughly combined. Set to the side until needed.
Heat the milk: Next, heat nutmeg, cinnamon, cream, and milk on medium heat in a large saucepan. Continue to steam for 10 to 15 minutes, stirring constantly.
Add milk to eggs: Then, pour just a quarter cup of the warm milk mixture into the large bowl of the egg mixture. Whisk well. Then add another quarter cup and whisk again. Continue to do this two more times until you have added one cup of the milk mixture to the egg mixture.
Combine and boil: Now, pour the egg and milk mixture back into the hot milk mixture and continue to boil on medium-low heat, whisking constantly until it is slightly thick and creamy. This should take about 15 minutes. The temperature should reach 160 degrees F when it is done.
Stir in the vanilla and strain: Last, remove cooked eggnog from the heat and stir in the vanilla before straining it into a container with a lid and placing it in the fridge to cool completely.
Chill and serve: Finally, after it is chilled, stir well and serve in mugs or glasses with a sprinkle of ground cinnamon.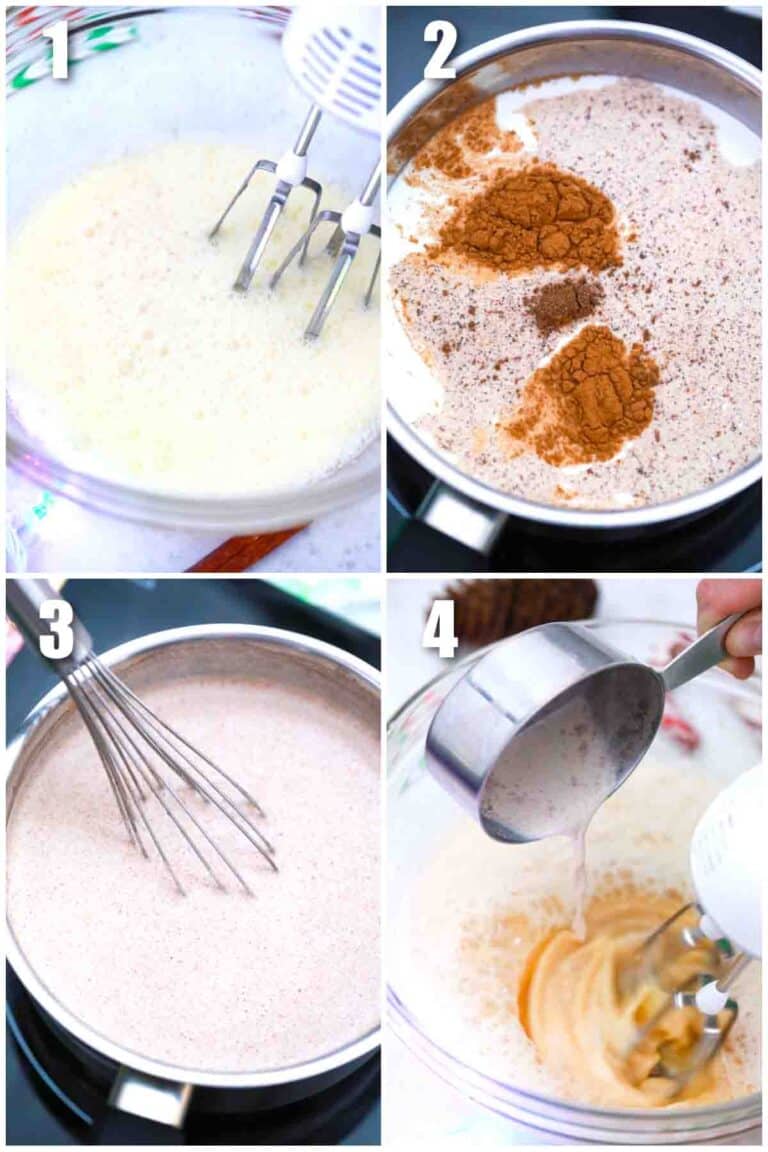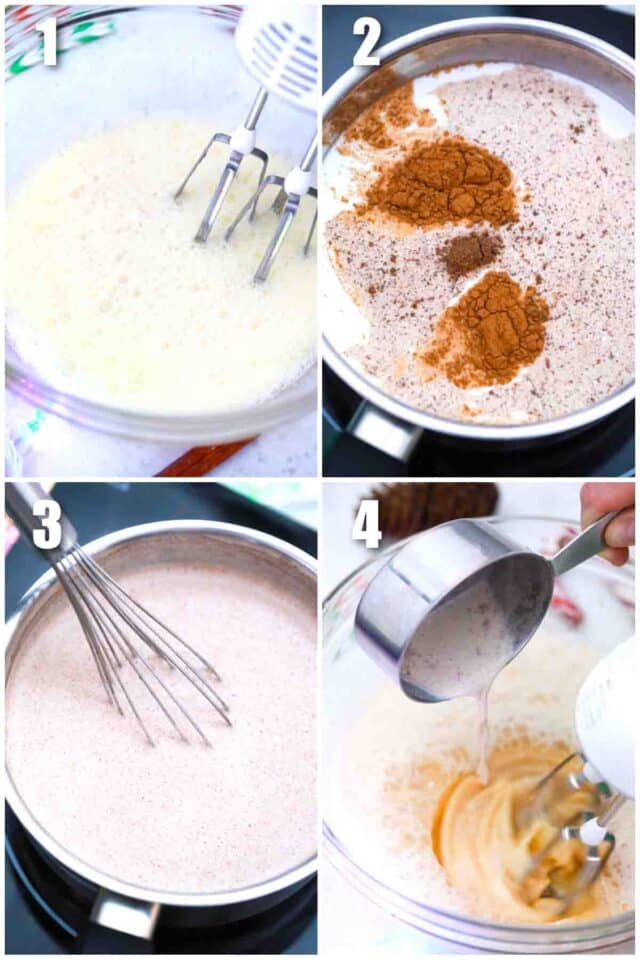 How to make traditional homemade eggnog with egg yolks and egg whites?
Whisk the yolks: For traditional eggnog, you need whole eggs and egg yolks. Whisk egg yolks in a large mixing bowl with a mixer until they are lighter and frothy.
Add the sugar: Next, begin adding sugar, a bit at a time, beating it on high speed after each addition until fluffy.
Heat the milk and spices: After, heat up the milk, cinnamon, and nutmeg in a saucepan on medium-high heat until it is steaming but not boiling.
Temper eggs: Now, add hot milk a little at a time while whisking constantly until you have combined all of it, and then pour it back into the pot.
Cook until thickened: Continue to cook eggnog on medium-low heat, stirring with a spatula or wooden spoon until it coats the back of the spoon. Then it should read 160 degrees F on an instant-read or candy thermometer.
Strain and chill: After, remove from heat and add the cream and vanilla. Strain and chill for several hours before serving.
Recipe variations:
Richer eggnog: To make it thicker and richer, add egg yolks and more cream.
Lighter eggnog: If you want light and fluffy eggnog, add beaten egg whites just before serving.
Add alcohol: For boozy eggnog, add your favorite adult beverage like dark rum.
Fewer calories: For fewer calories and less fat, use vanilla or plain Greek yogurt instead of heavy cream.
Sugar-free: For sugar-free eggnog, use a substitute sweetener such as Splenda.
More fiber: Need extra fiber in your diet? Add a teaspoon of guar or xanthan gum.
More spices: Feel free to add your own favorite spices like ginger, cloves, or allspice.
Other flavors: Similarly, you could add other flavors with extracts like peppermint, chocolate, or almond.
Lactose-free: Using almond or coconut milk is perfect for lactose-free eggnog.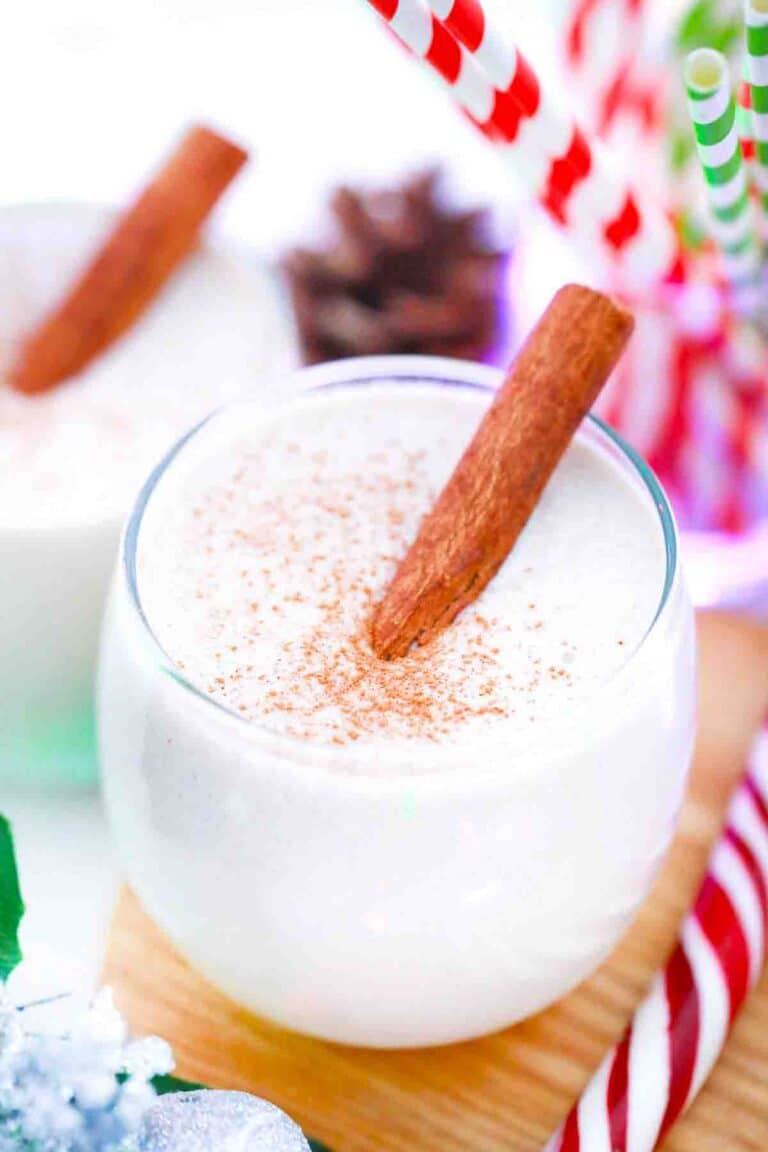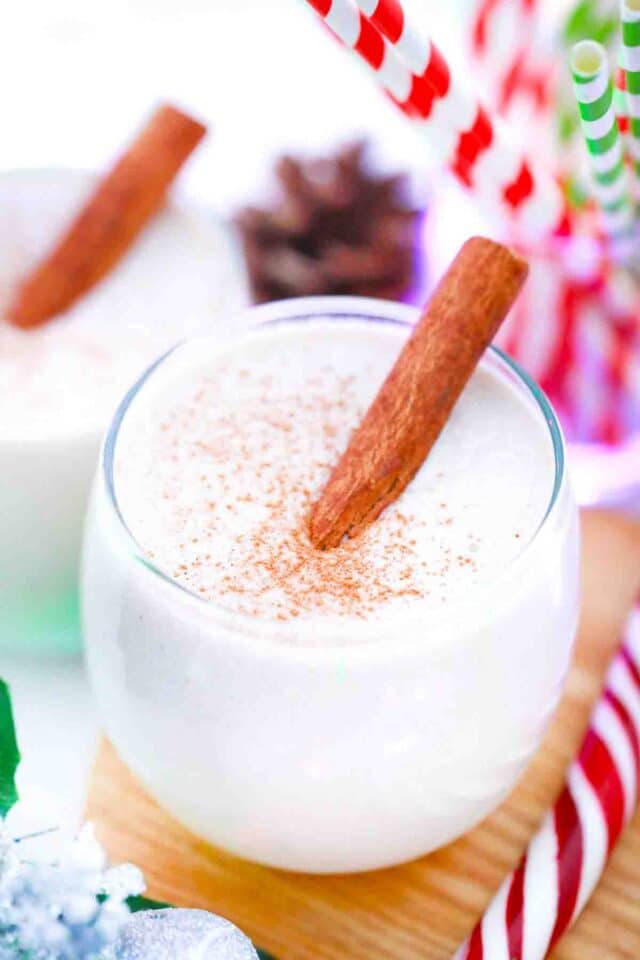 How to serve:
You can make this homemade eggnog recipe for a holiday meal or party, or just any time you want a bit of eggnog flavor. Here are some serving ideas you can try. Or share some of your own ideas in the comments below.
Add a dollop of whipped cream on top of your delicious eggnog for a creamier taste.
This drink is also a wonderful creamer for coffee.
Stick a candy cane or cinnamon stick in your eggnog for a holiday feel.
Try making your own spiced buttered rum to mix into your homemade eggnog recipe.
You could also add some holiday sprinkles after pouring in for an extra festive drink.
A scoop of ice cream would also be awesome on top of homemade eggnog.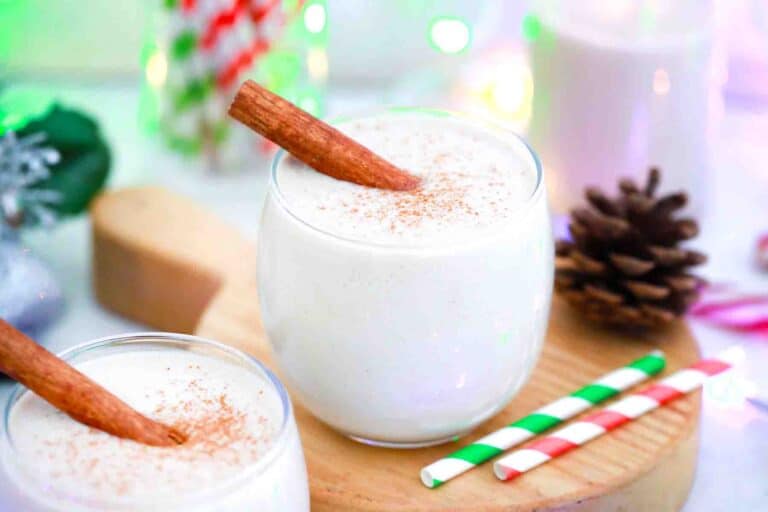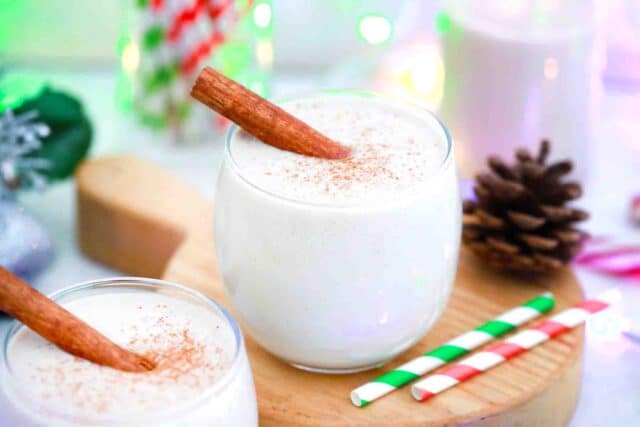 Frequently asked questions
Is this eggnog safe to drink?
Yes, any kind of eggnog recipe that heats the raw eggs to at least 160 degrees is safe. No matter whether you use just egg whites, yolks, or whole eggs. Continue cooking your eggnog until it reaches that temperature to kill any kind of bacteria that may be lurking in the raw eggs such as salmonella.
What kind of liquor is best for eggnog?
Although this recipe is alcohol-free, you can add your favorite kind of alcohol such as rum, whiskey, or brandy. Dark rum is used in the traditional eggnog recipe, but you can try using light or white rum too.
Bourbon and whiskey are also good choices. Just try to keep the ratio at 4:1. Which is four parts of eggnog to one part of liquor. Rum, brandy, or whisky is added during the final stirring for the best taste.
Do I need a thermometer for this recipe?
You can absolutely make homemade eggnog without a candy thermometer or instant-read thermometer. To test the eggnog for doneness, use a wooden spoon. If the nog is creamy enough to stick to the back of the spoon, it is done. If not, keep cooking until it does for perfect eggnog.
What are the nutrition facts in this recipe?
Each cup of this recipe has 301 calories, 38 grams of carbs, and 10 grams of fat with 1 gram of polyunsaturated fat, 4 grams of monounsaturated fat, and 5 grams of saturated fat. It also has 255 milligrams of cholesterol, 249 milligrams of sodium, and 38 grams of sugar. But on the other hand, you also get 323 milligrams of calcium, 763 units of vitamin A, 407 milligrams of potassium, and 13 grams of protein.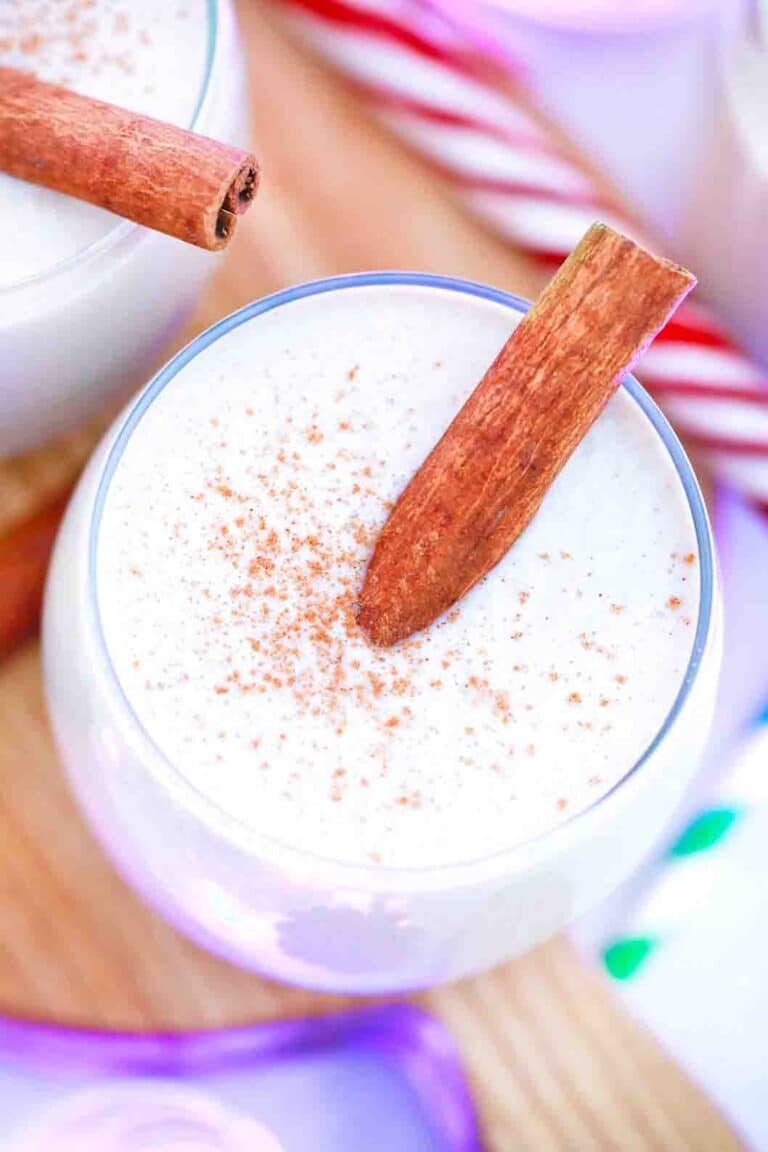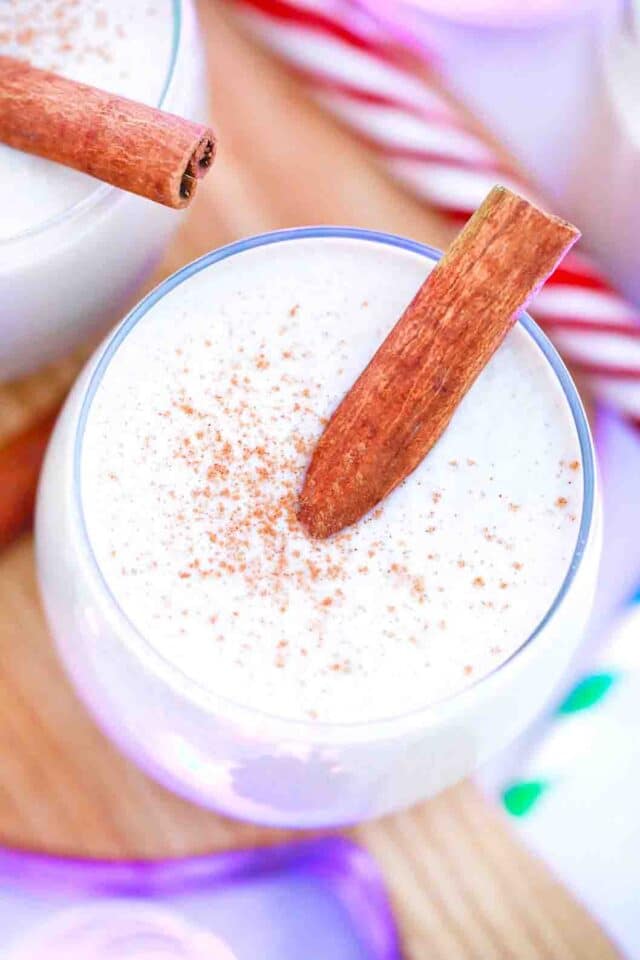 How to store leftovers:
Store: You can store your leftover homemade eggnog in an airtight container or mason jar. Refrigerate for up to three days.
Freeze: It is also safe to freeze your homemade eggnog for up to three months. Just pour it into a freezer-safe container or freezer bag first.
Thaw: For the best flavor, thaw overnight in the fridge before serving.
Reheat: This drink tastes great cold but some people like it warm. You can heat large amounts in a bowl in the microwave for two or three minutes or in a pot on medium-high heat until it is warm. Individual cups will only take about 45 seconds in the microwave.
Recipe tips:
Instead of whisking by hand, you can use a stand mixer or hand mixer.
Do not let the milk mixture boil or it will curdle. If this happens, you may be able to fix it by blending it on high in a blender or straining out the curdled parts.
You could also whisk the egg yolks by hand if you do not have a mixer.
Your egg nog will have a thicker and richer flavor if you let it chill overnight before serving.
Want extra protein? Make an egg flip. All you need is a whole raw egg mixed with simple syrup and brandy.
However, remember that using raw eggs can cause salmonella and other foodborne illnesses if not heated to 160 degrees F before drinking.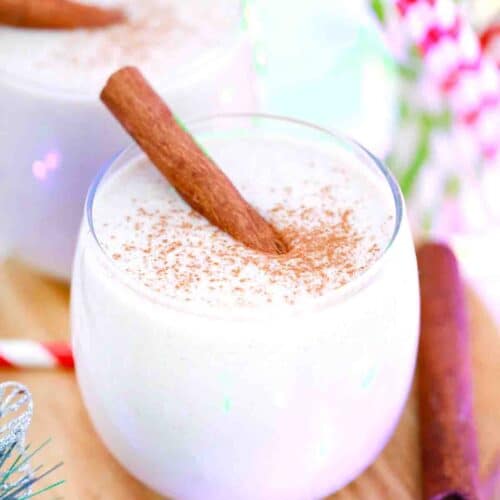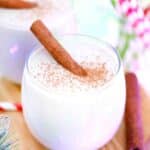 Eggnog Recipe
Homemade Eggnog is the perfect Christmas drink to serve during the holiday season, creamy and perfectly spiced, it's so easy to make.
Ingredients
4

cups

whole milk

3

cups

heavy cream

1

tablespoon

vanilla extract

6

eggs

2/3

cup

white sugar

or use just 1/2 cup for a not-too-sweet drink

1 1/2

teaspoon

ground nutmeg

1/4

teaspoon

salt
Instructions
In a large bowl, beat together the eggs, sugar, and salt for 3-5 minutes, or until frothy.

Place a medium saucepan over medium-low heat, and whisk together the milk, cream, nutmeg, and cinnamon until it just begins to simmer. Continue to steam on low heat for 15 minutes, stirring constantly.

Slowly while stirring constantly, pour 1/4 cup of the milk mixture into the egg mixture, whisking to combine. Repeat this three more times, until you whisked 1 cup of the milk mixture into the eggs.

Now, add the egg mixture to the saucepan with the milk over medium-low heat and whisk constantly for about 15 minutes, until it thickens. The mixture should reach 165 degrees F.

Remove from heat and stir in vanilla extract until well combined.

Strain and refrigerate the drink for at least 3-4 hours or overnight before serving.
Nutrition Facts
Eggnog Recipe
Amount Per Serving
Calories 548
Calories from Fat 369
% Daily Value*
Fat 41g63%
Cholesterol 364mg121%
Sodium 245mg11%
Potassium 333mg10%
Carbohydrates 33g11%
Protein 12g24%
Vitamin A 1762IU35%
Vitamin C 1mg1%
Calcium 269mg27%
Iron 1mg6%
* Percent Daily Values are based on a 2000 calorie diet.