Onion Tomato Salad, made with simple ingredients, is a burst of vibrant colors, a symphony of flavors, and a refreshing crunch! This timeless dish truly celebrates simplicity and balance, effortlessly elevating any meal with its zesty profile and satisfying texture.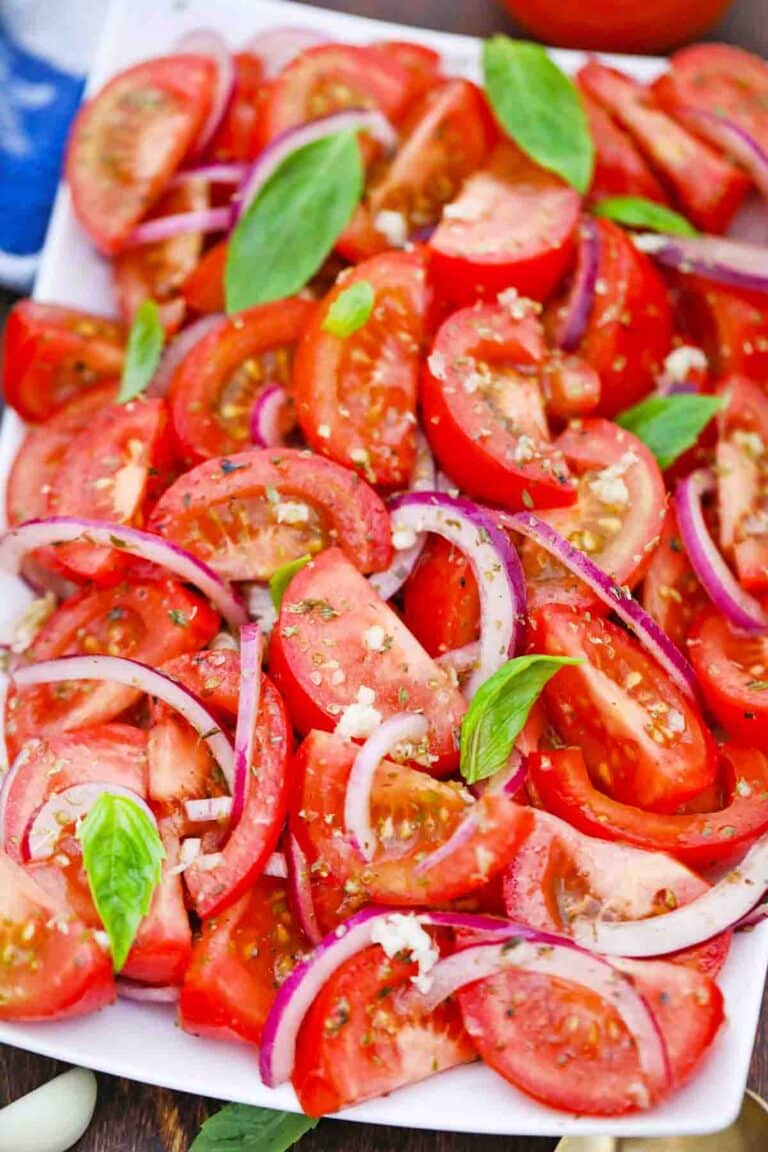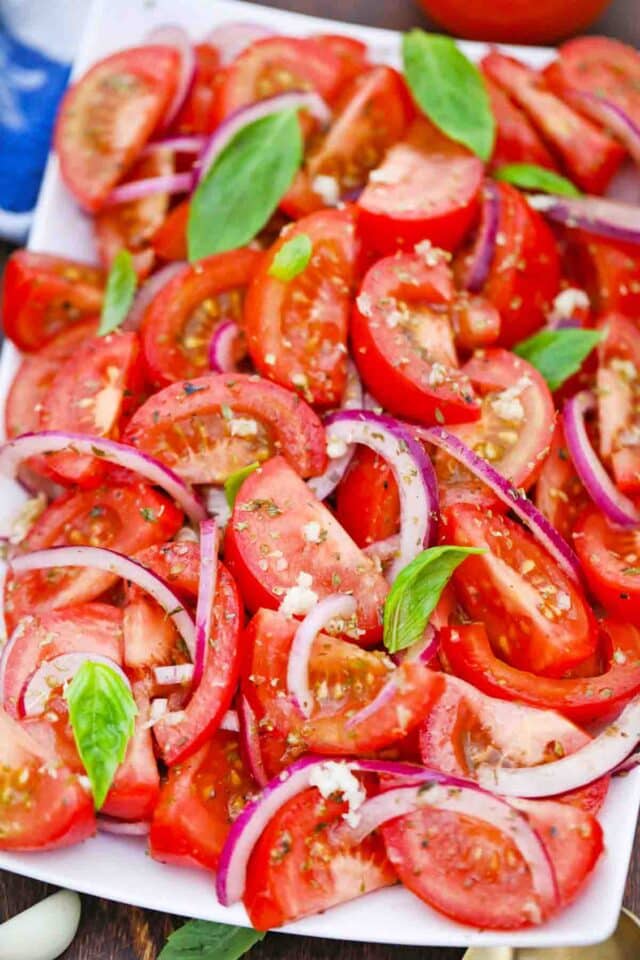 In this blog post, we'll explore the art of crafting the perfect onion tomato salad, from selecting the freshest ingredients to infusing it with a touch of creativity. My other favorite homemade salads are Macaroni Salad and Homemade Cabbage Salad Recipe.
An onion tomato salad is a classic that has stood the test of time for good reason. It's a versatile dish that can shine as a standalone side or complement a variety of main courses.
With just a handful of ingredients, this salad captures the essence of freshness, making it an ideal choice for any occasion – from casual gatherings to elegant dinners.
Whether you're looking for a light and refreshing side dish or a colorful addition to your meal, this classic salad delivers on all fronts. By selecting quality ingredients, mastering the art of balance in flavor, and adding your unique touch.
You can create the best onion tomato salad that leaves a lasting impression on your taste buds and those of your loved ones. So, embrace the beauty of simplicity, let your creativity flourish, and savor each crisp and juicy bite of this timeless dish.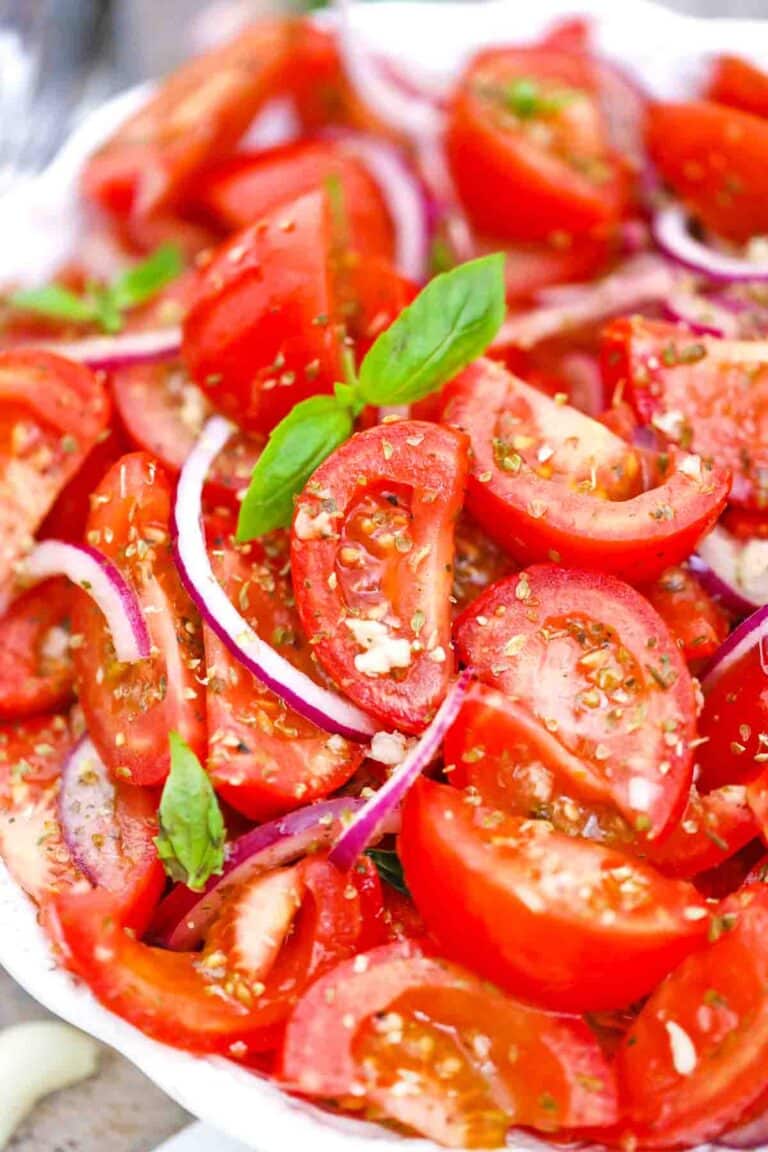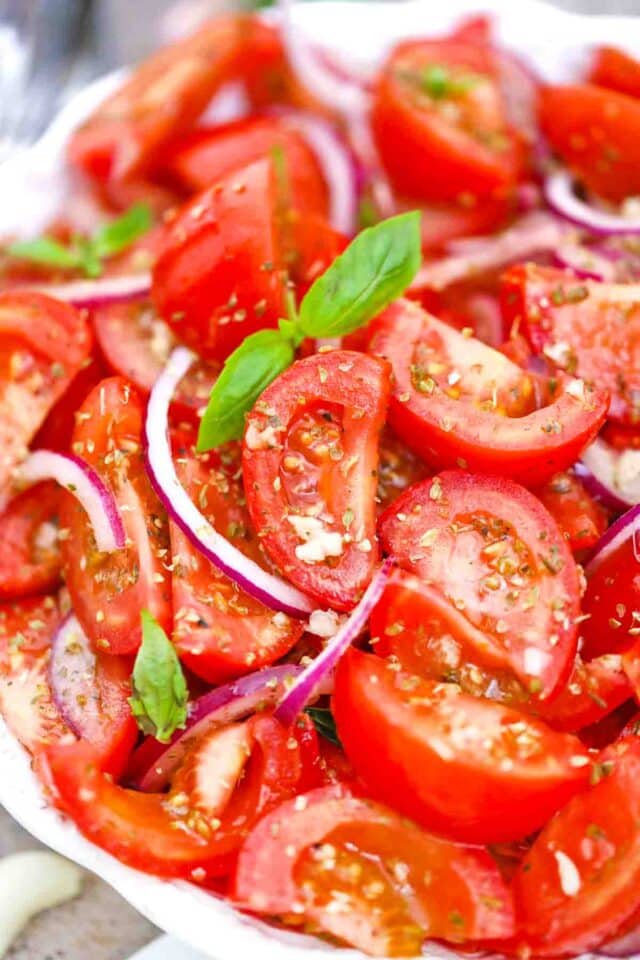 Ingredients:
Ripe tomatoes (3-4 medium-sized)
Red, white, or yellow onion (1 small to medium)
Fresh herbs (e.g., basil, parsley, cilantro)
Olive oil (2-3 tablespoons)
Balsamic vinegar or lemon juice (1-2 tablespoons)
Salt and freshly ground black pepper (to taste)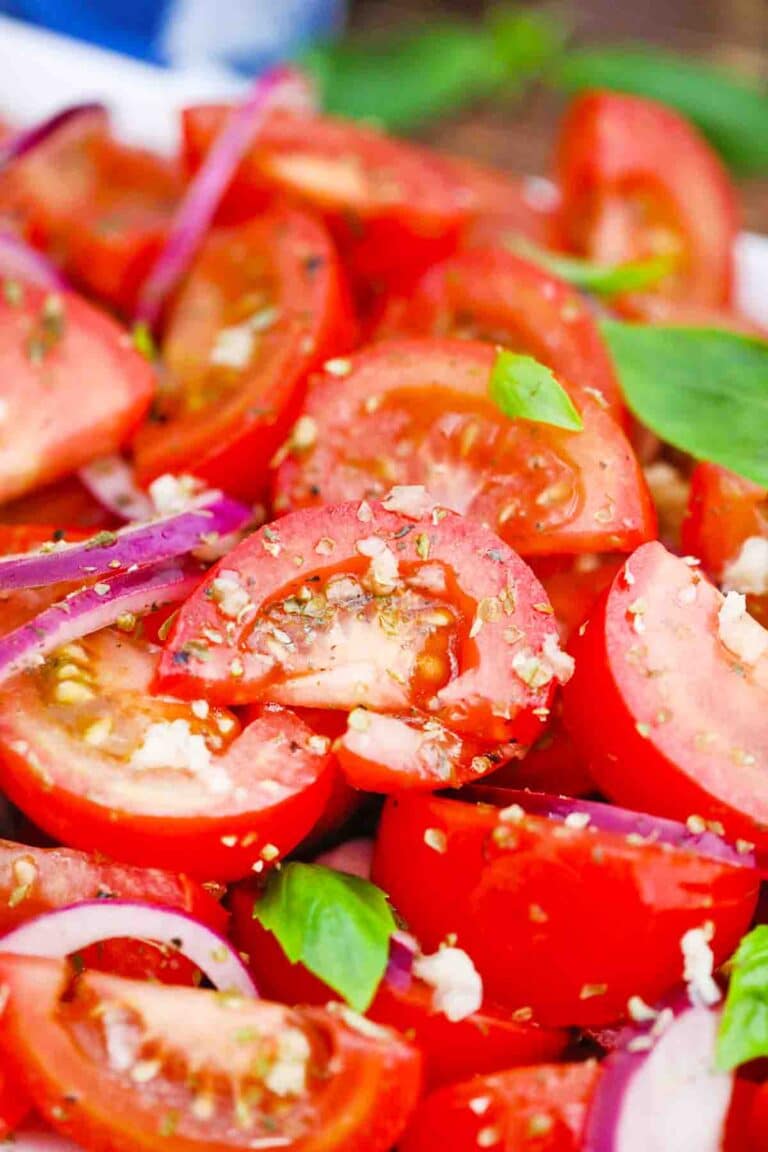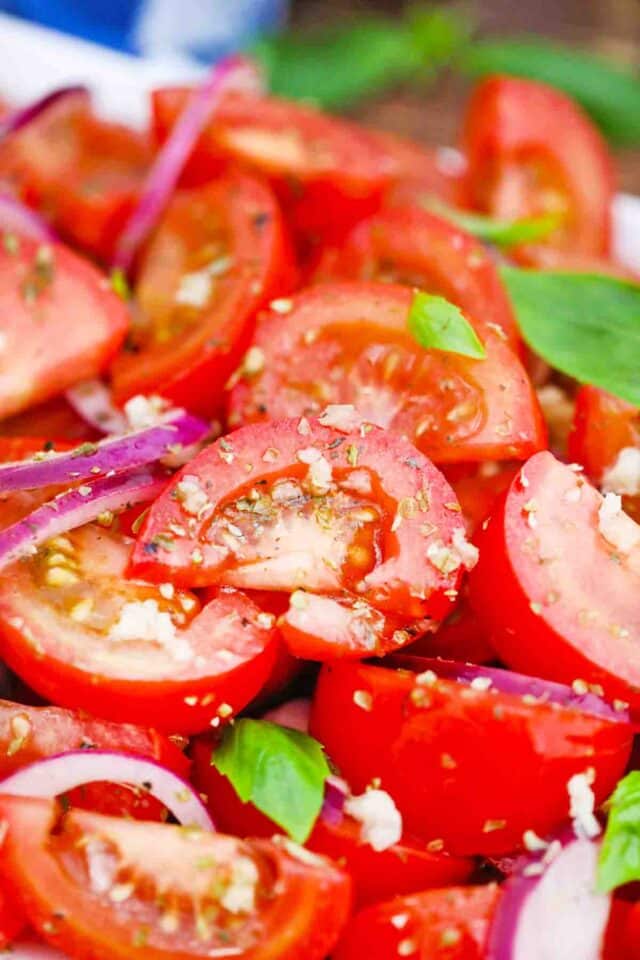 How to make Onion Tomato Salad:
Prep Your Ingredients: Start by washing and drying your tomatoes and herbs. Finely dice the tomatoes and slice the onion thinly. If you prefer a milder onion flavor, you can soak the sliced onion in cold water for a few minutes before draining and adding it to the salad.
Assemble the Salad: In a mixing bowl, combine the diced tomatoes and sliced onions. Tear or chop your chosen fresh herbs and add them to the mix.
Dress to Impress: Drizzle olive oil over the tomato and onion mixture. Add a splash of balsamic vinegar or a squeeze of lemon juice to enhance the flavors. Toss the salad gently to ensure an even coating.
Season to Perfection: Sprinkle salt and freshly ground black pepper over the salad, adjusting the quantities to suit your taste. Remember, a little seasoning goes a long way in bringing out the natural flavors.
Let It Marinate: Allow the onion tomato salad to marinate for about 15-20 minutes before serving. This resting time allows the flavors to meld together, resulting in a more harmonious and delightful experience.
Serve and Savor: Once the salad has marinated, it's ready to be enjoyed. Serve it as a side dish alongside grilled meats, pasta dishes, or crusty bread. You can also top the salad with crumbled feta cheese or toasted nuts for an extra layer of texture and flavor.
Salad Variations:
While the classic onion tomato salad is undeniably delicious, don't be afraid to experiment with different ingredients to create your unique twist:
Caprese Twist: Add fresh mozzarella slices and whole basil leaves to create a delightful Caprese-style salad.
Cucumber Crunch: Introduce some refreshing crunch by adding sliced cucumbers to the mix.
Tropical Infusion: Enhance the flavors with a touch of the tropics by adding diced mango or pineapple.
Greek Inspiration: Incorporate Kalamata olives, crumbled feta cheese, and oregano for a Greek-inspired rendition.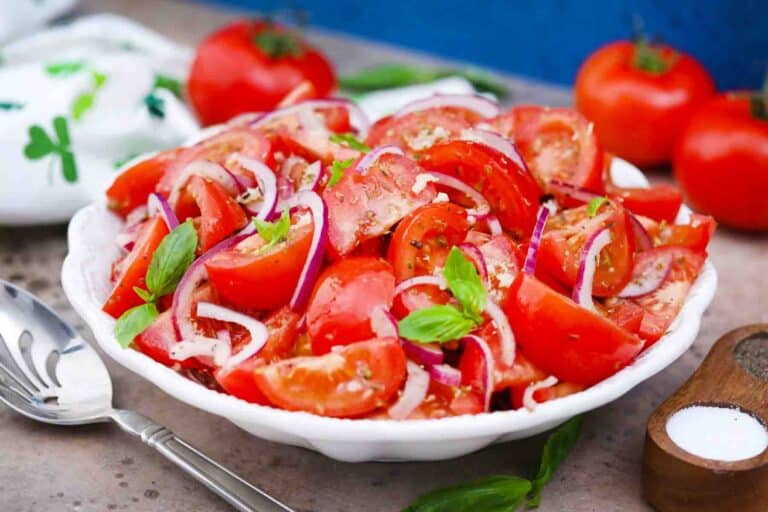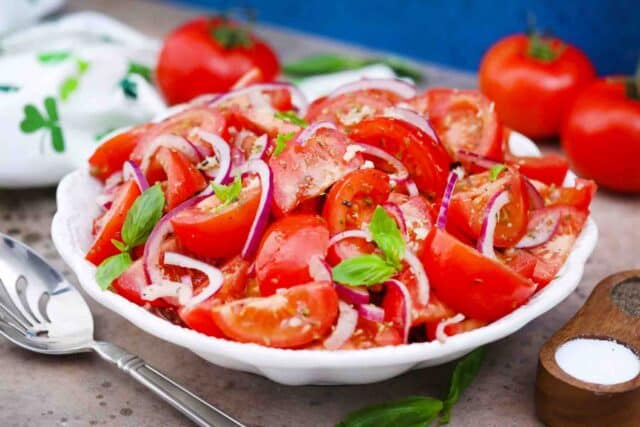 Frequently Asked Questions
What type of onions are best for the salad?
Red, white, or yellow onions can be used for an onion tomato salad. Red onions offer a milder, slightly sweet flavor, while white and yellow onions provide a sharper taste. Choose the onion variety that suits your preference and the flavor profile you desire.
Do I need to soak onions before adding them to the salad?
Soaking sliced onions in cold water for a few minutes can help reduce their pungency and make them milder. This step is optional and can be done if you prefer a subtler onion flavor.
Can I use different types of tomatoes?
Yes, you can use a variety of tomatoes, such as vine-ripened, heirloom, cherry, or grape tomatoes. Each type brings its unique flavor and texture to the salad. Choose ripe and flavorful tomatoes for the best results.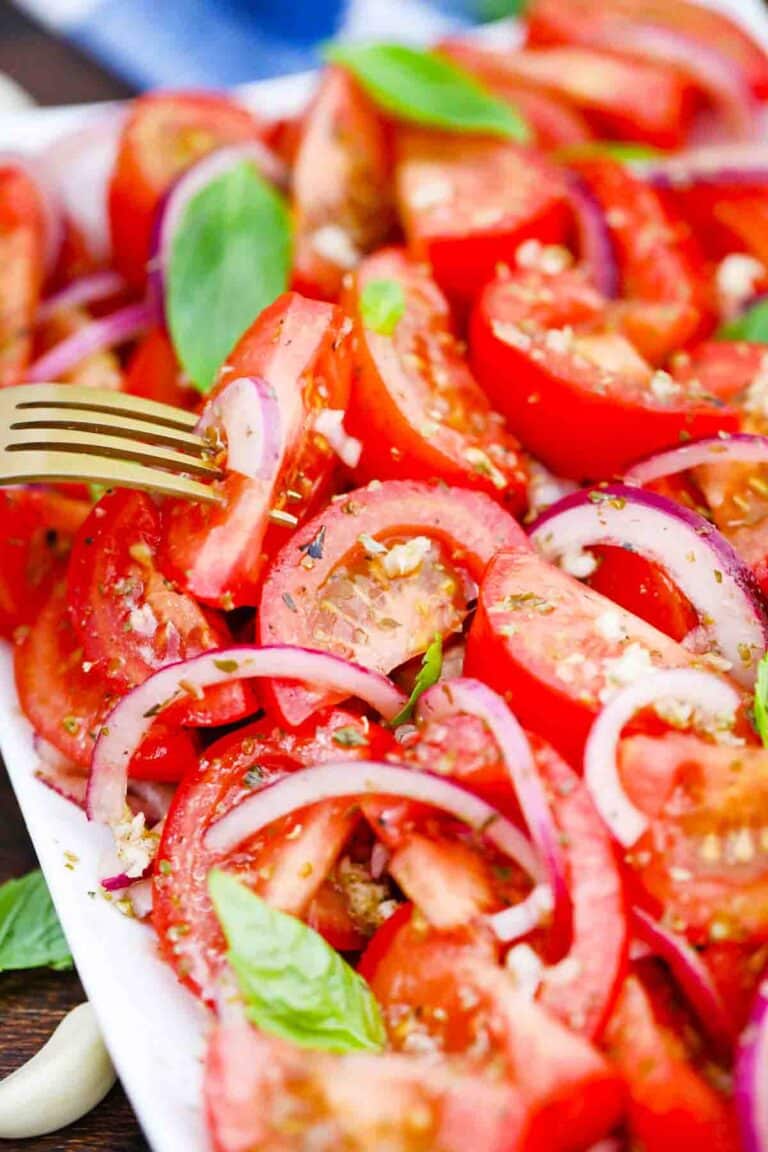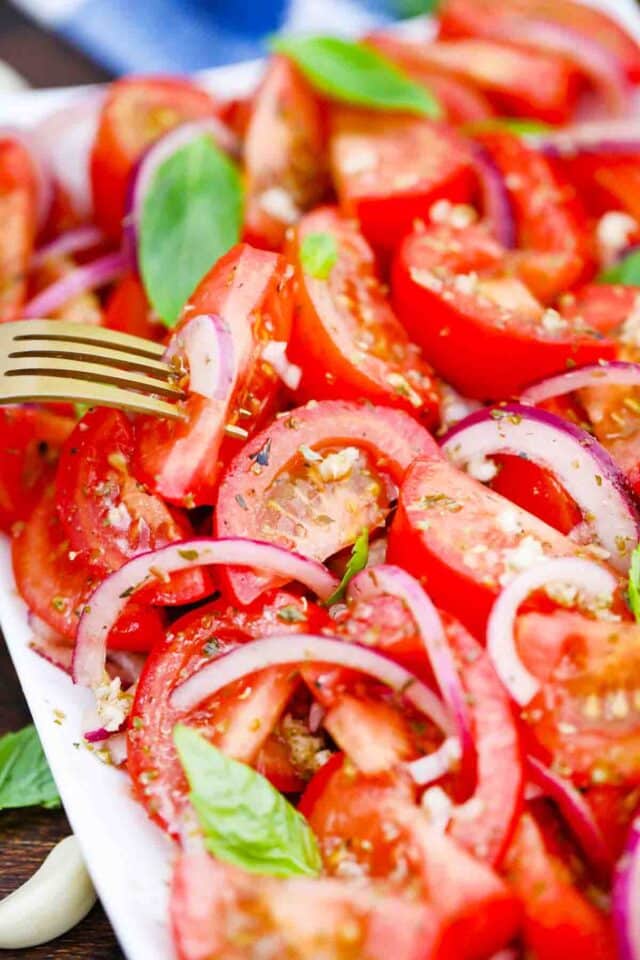 How do I prevent the salad from becoming watery?
To prevent excess moisture, make sure to drain the sliced onions after soaking and pat them dry. Additionally, you can remove the seeds and excess juice from the tomatoes before dicing them.
What herbs can I use in an onion tomato salad?
Common herbs used in onion tomato salad include basil, parsley, cilantro, and mint. These herbs add freshness and aroma to the dish. Experiment with different spices to find your favorite combination.
Can I make the salad ahead of time?
While the salad is best enjoyed shortly after preparing, you can assemble the ingredients and keep them separate until you're ready to serve. Mix the salad just before serving to maintain its crisp texture.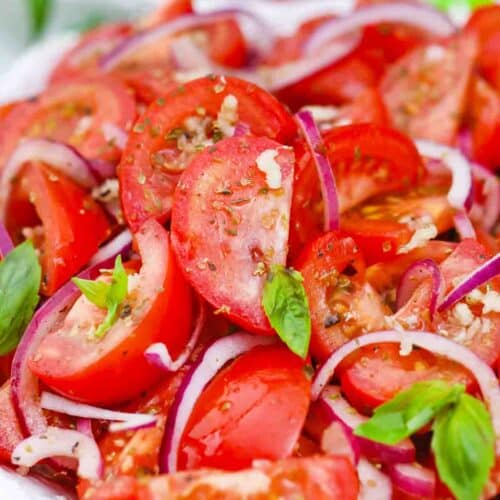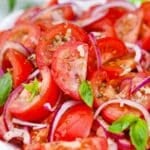 Onion Tomato Salad
Onion Tomato Salad, made with simple ingredients, is a burst of vibrant colors, a symphony of flavors, and a refreshing crunch!
Cuisine:
American, Italian
Keyword:
Onion Tomato Salad
Ingredients
4

medium tomatoes

ripe - sliced into wedges

1

small red onion

thinly sliced

1

tablespoon

basil

chopped

2

tablespoons

olive oil

1

tablespoon

balsamic vinegar

1/2

teaspoon

oregano

optional

1

cloves

garlic

minced - optional

Salt and freshly ground black pepper

to taste
Instructions
In a mixing bowl, combine the diced tomatoes, sliced onions, and fresh herbs. Also, add the oregano and garlic if using.

Drizzle with olive oil and balsamic vinegar. Gently toss to combine.

Season with salt and pepper to taste.

Allow the onion tomato salad to marinate in the fridge for about 15-20 minutes before serving.

Store the salad in an airtight container in the fridge for up to 2 days.
Nutrition Facts
Onion Tomato Salad
Amount Per Serving
Calories 201
Calories from Fat 135
% Daily Value*
Fat 15g23%
Sodium 17mg1%
Potassium 688mg20%
Carbohydrates 17g6%
Protein 3g6%
Vitamin A 2112IU42%
Vitamin C 38mg46%
Calcium 52mg5%
Iron 1mg6%
* Percent Daily Values are based on a 2000 calorie diet.