Restaurant Style Sauteed Spinach
Sautéed spinach, a simple yet elegant dish, has long been a staple in kitchens around the world as it elevates so many main dishes. Its versatility, health benefits, and quick preparation make it a go-to option for both home cooks and professional chefs alike.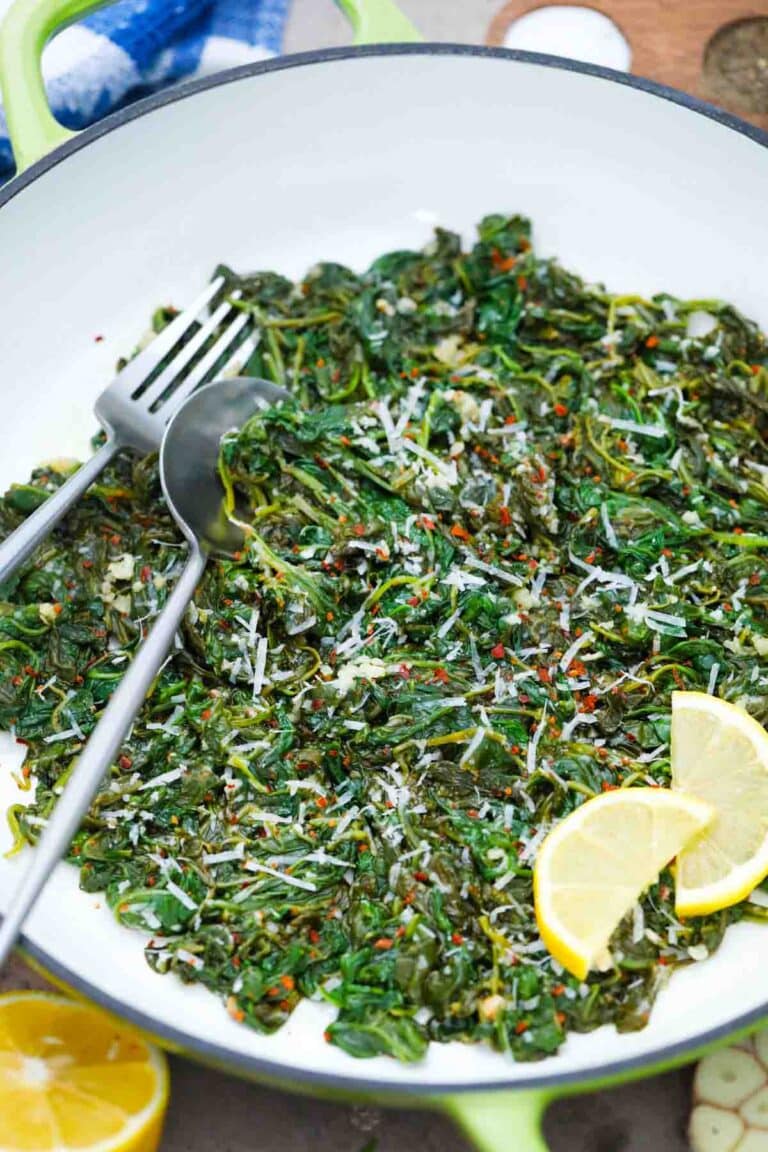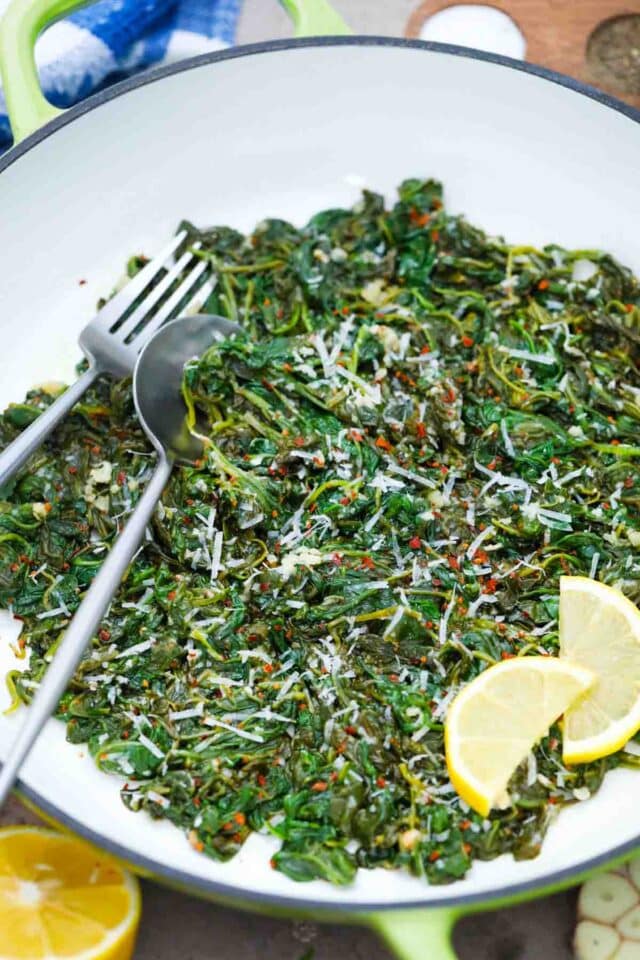 In this post, we will delve into the art of sautéing spinach, exploring its nutritional value, proper techniques, flavor enhancements, and creative variations. Whether you're a novice in the kitchen or a seasoned pro, mastering the sautéed spinach technique will elevate your culinary prowess to new heights. For more healthy side dishes, check out this delicious corn salad recipe or these crispy air fryer broccoli.
Before we embark on the sautéing journey, let's take a moment to appreciate the nutritional profile of spinach. Packed with vitamins A, C, and K, as well as iron, calcium, and fiber, spinach boasts a myriad of health benefits.
Its antioxidants contribute to promoting healthy skin, strong bones, and a boosted immune system. Incorporating sautéed spinach into your diet not only tantalizes your taste buds but also nourishes your body.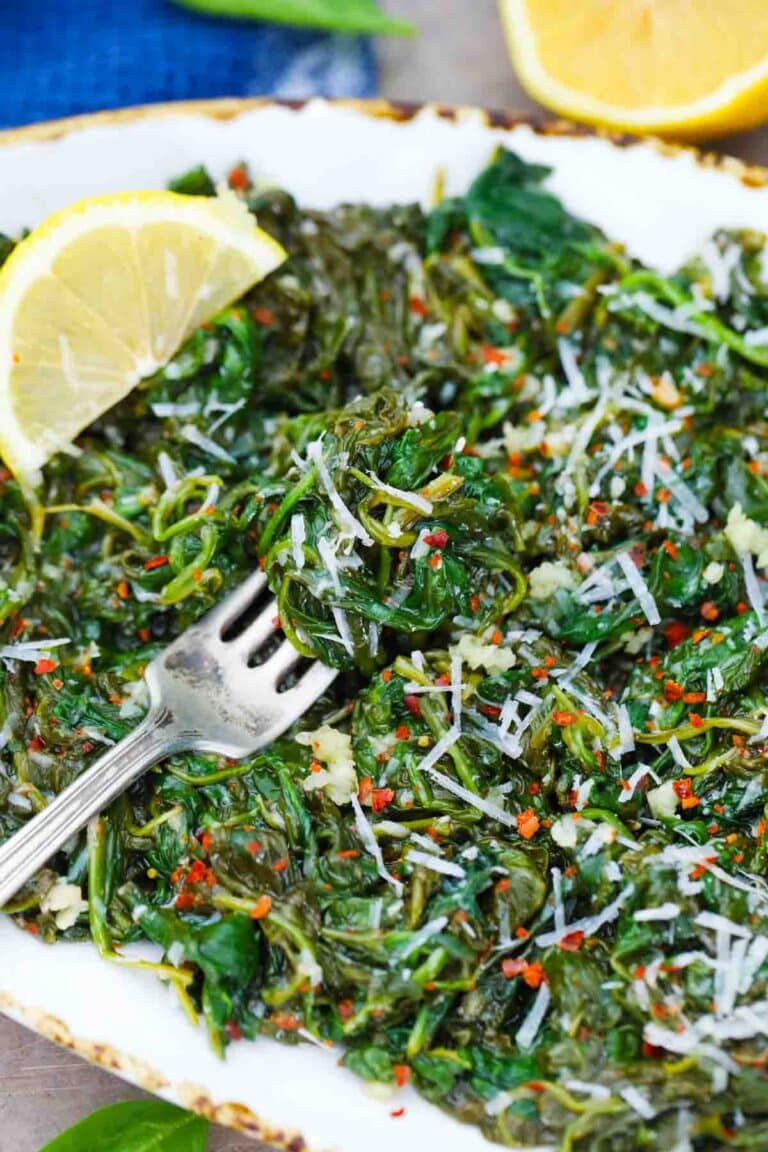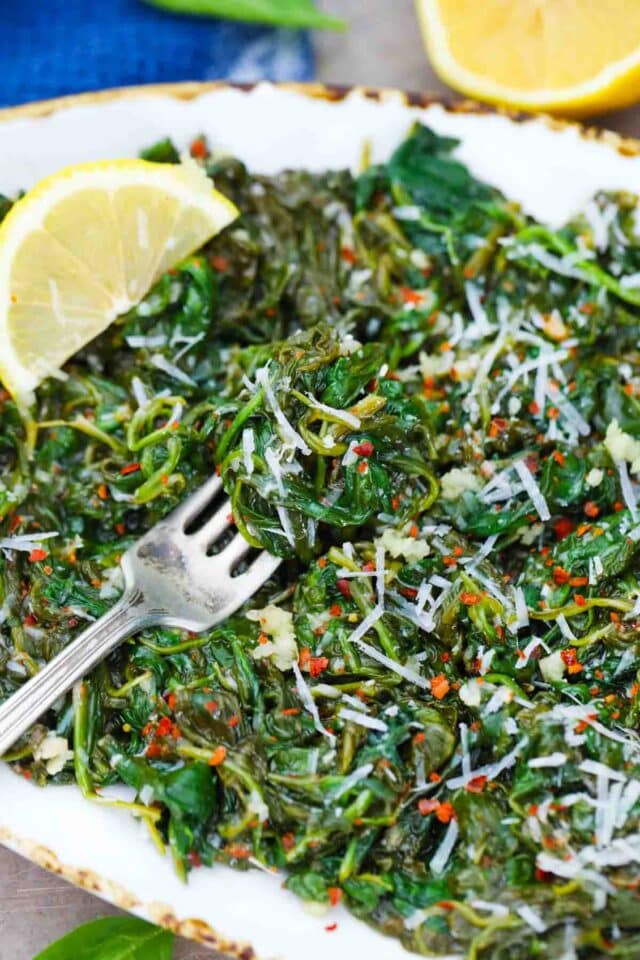 Ingredients:
Fresh spinach leaves
Olive oil or butter
Optional: garlic, onions, lemon juice, salt, and pepper
How to make the best sauteed spinach from scratch?
Prepare the Spinach: Start by washing the spinach leaves thoroughly under cold running water. Remove any tough stems or damaged leaves. You can choose to use baby spinach leaves or larger, mature leaves, depending on your preference.
Heat the Pan: Place a wide, shallow skillet or sauté pan over medium-high heat. Add a tablespoon of olive oil or a pat of butter and allow it to heat until it shimmers.
Add Aromatics (Optional): For an extra layer of flavor, add minced garlic, finely chopped onions, or shallots to the hot oil. Sauté them for about a minute until fragrant and translucent, being careful not to burn them.
Sauté the Spinach: Add the prepared spinach leaves to the pan. They will begin to wilt almost immediately. Use tongs or a spatula to toss the leaves gently, ensuring they come into contact with the hot surface. If you're using a large amount of spinach, you may need to add it in batches.
Season and Flavor: Lastly, sprinkle a pinch of salt and freshly ground black pepper over the spinach. If desired, add a squeeze of fresh lemon juice to brighten the flavors and cut through any richness. Continue tossing the spinach until it is uniformly wilted and tender, which should take about 2-3 minutes.
Serve and Enjoy: Once the spinach is cooked to your desired level of tenderness, transfer it to a serving dish immediately. Sautéed spinach is best enjoyed hot, so serve it promptly as a side dish or incorporate it into your favorite recipes.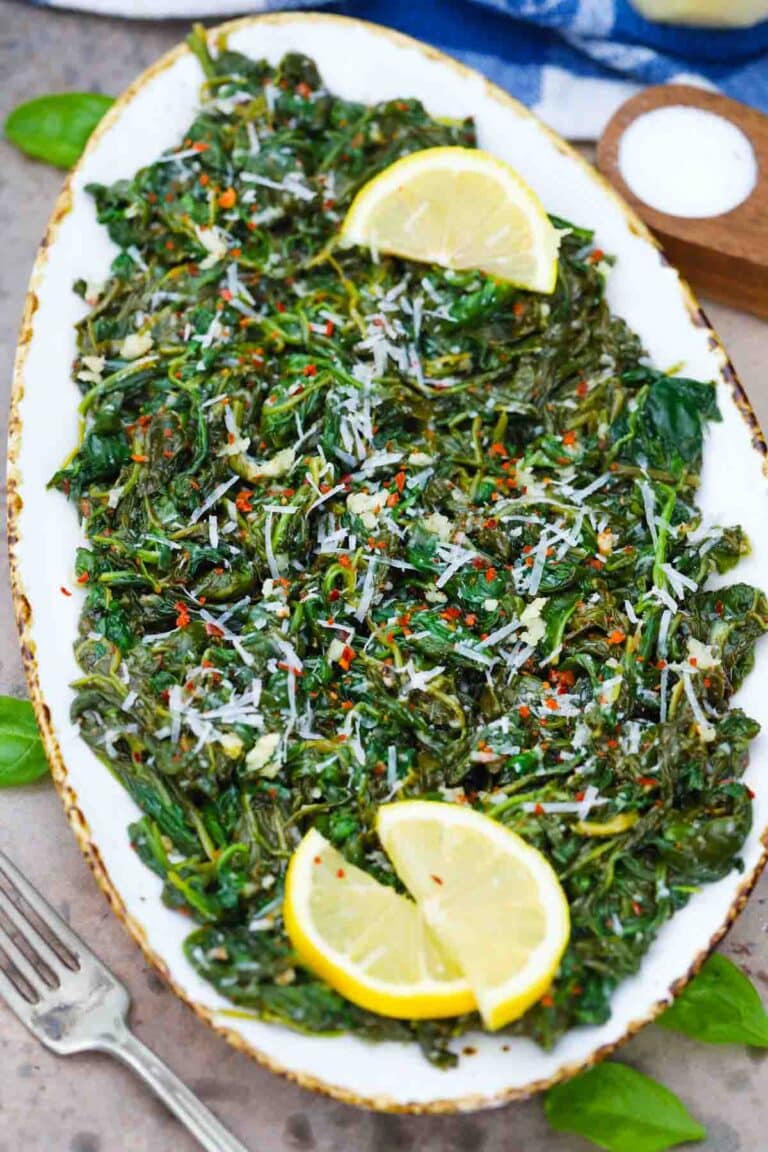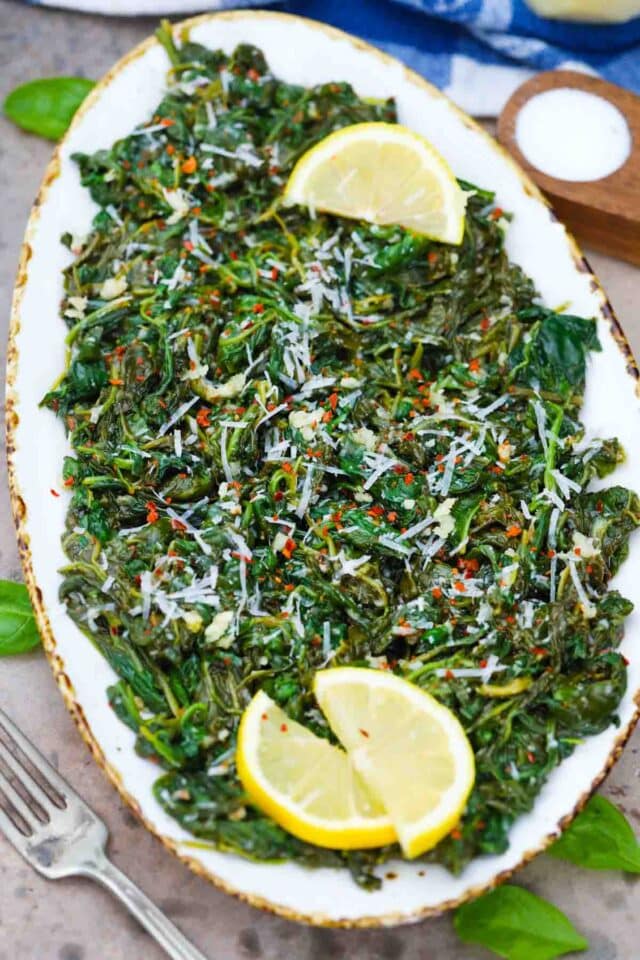 Sautéed Spinach Variations:
Nutty Crunch: Add toasted pine nuts or slivered almonds for a delightful crunch and a hint of nutty flavor.
Cheesy Delight: Feel free to incorporate crumbled feta, grated Parmesan, or shaved Pecorino Romano for a creamy and savory twist.
Spicy Kick: Sprinkle red pepper flakes or a dash of cayenne for a touch of heat that tantalizes the taste buds.
Herb Infusion: Experiment with fresh herbs like basil, thyme, or dill to infuse aromatic notes into your sautéed spinach.
Frequently Asked Questions
What is sautéed spinach?

Sautéed spinach is a dish made by quickly cooking fresh spinach leaves in a hot pan with a small amount of oil or butter. The leaves are tossed until they wilt and turn vibrant green, resulting in a tender and flavorful side dish or ingredient.
What to serve with sautéed spinach?
This healthy and delicious side dish goes pretty much with everything. I love serving it with Air Fryer Salmon or with Blackened Chicken.
Can I use frozen spinach for sautéing?
While fresh spinach is preferred for sautéing due to its texture and flavor, frozen spinach can be used in a pinch. Thaw and squeeze out excess moisture before sautéing, but be aware that frozen spinach may have a slightly different texture.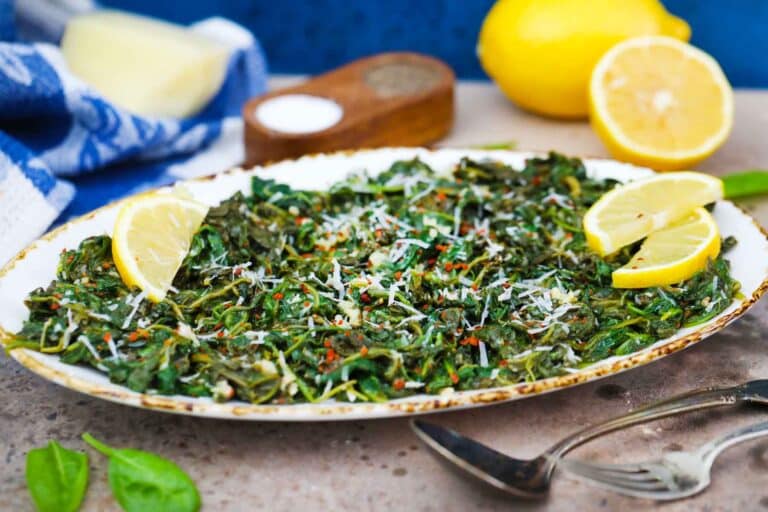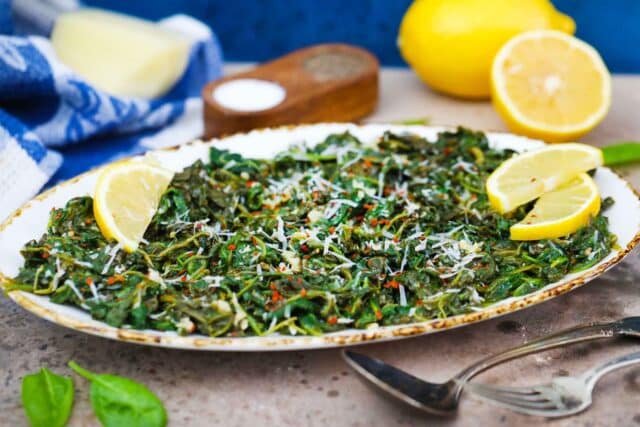 Do I need to remove the stems from the spinach before sautéing?
For mature spinach leaves, it's recommended to trim the tough stems and use mainly the leaves. Baby spinach leaves usually have tender stems and can be used whole. Removing stems can help ensure a more pleasant texture in the final dish.
What type of oil is best for sautéing spinach?
Olive oil and butter are popular choices for sautéing spinach. Olive oil adds a pleasant flavor, while butter lends a rich taste. Both options can withstand the high heat required for sautéing without burning.
How do I prevent the spinach from becoming too watery during sautéing?
Thoroughly wash and dry the spinach leaves before cooking to remove excess moisture. Additionally, make sure your pan is hot before adding the spinach to prevent excessive water release.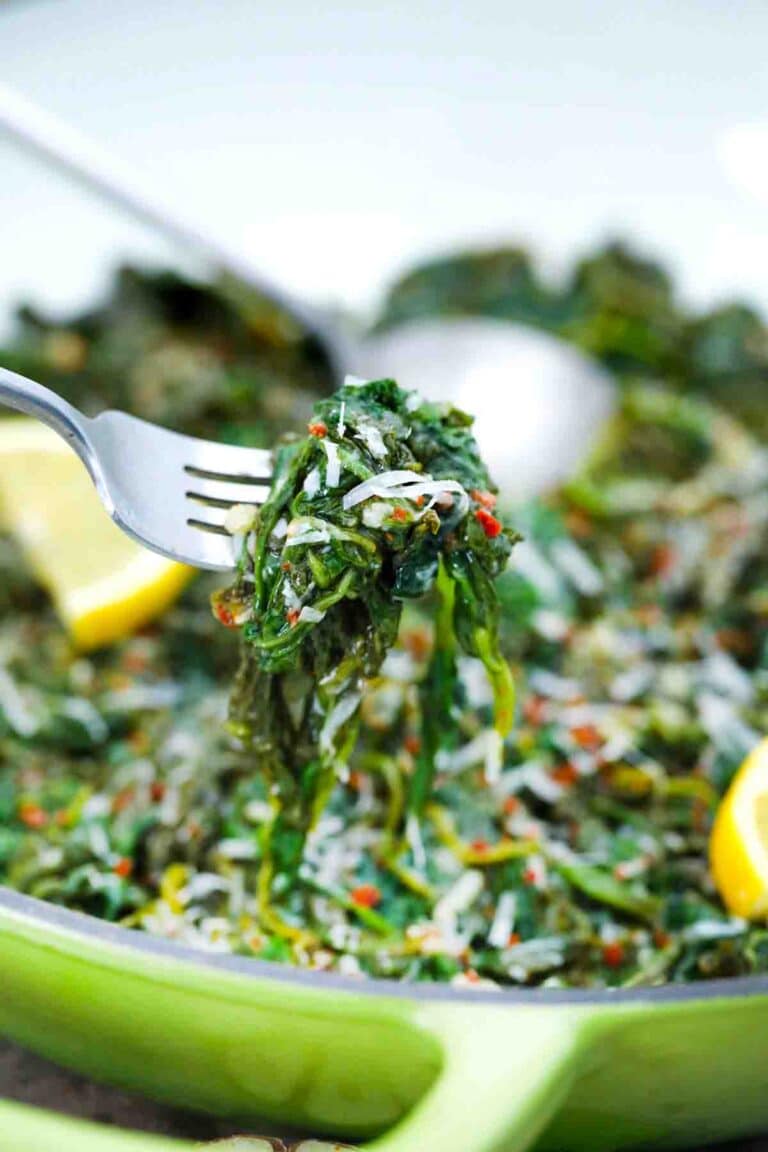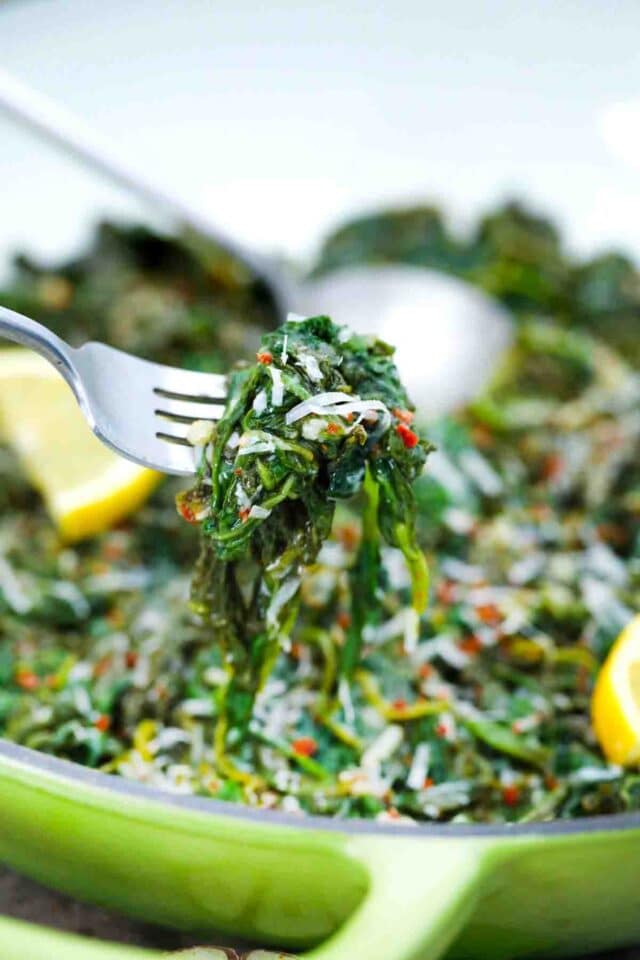 Cooking tips:
Use High Heat: Sautéing spinach requires high heat to ensure quick cooking and prevent the greens from becoming mushy.
Don't Overcrowd the Pan: Also, if you're cooking a large amount of spinach, sauté it in batches to avoid overcrowding the pan and to allow for even cooking.
Minimal Oil: Use a modest amount of olive oil or butter to lightly coat the spinach leaves without making them greasy.
Add Flavor Boosters: Experiment with different aromatics like garlic, onions, or shallots to enhance the taste of your sautéed spinach.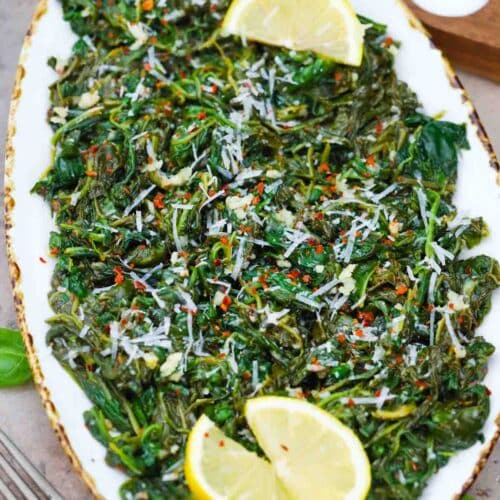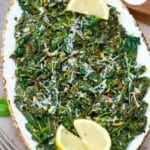 Sautéed Spinach
Sautéed spinach, a simple yet elegant dish, has long been a staple in kitchens around the world as it elevates so many main dishes.
Ingredients
16

oz

baby spinach

fresh

2

tablespoons

olive oil

1

small shallot

diced

3

cloves

garlic

minced

salt and pepper

to taste

red pepper flakes

to taste - optional

1

tablespoon

parmesan

grated - optional
Instructions
First, heat the olive oil in a large skillet over medium-high heat.

Next, add the shallot, stir, and cook for one minute, and after that, add the garlic and cook stirring for 1 to 2 minutes.

Then add the spinach leaves and immediately cover the pan, the leaves will quickly wilt down. Cook covered for 1 minute, uncover and stir for a few seconds, then cook covered for another 1 minute.

After that, uncover again and stir and cook for about 30 seconds more, or until the spinach is fully wilted but still bright green.

Stir in the kosher salt, pepper, and red pepper flakes, then remove from the heat.

Immediately transfer to a serving plate, the spinach will brown if you leave it in the hot pan.

Serve warm topped with grated parmesan and lemon wedges on the side.

Store in an airtight container in the fridge for up to 3 days.
Nutrition Facts
Sautéed Spinach
Amount Per Serving
Calories 101
Calories from Fat 72
% Daily Value*
Fat 8g12%
Cholesterol 1mg0%
Sodium 111mg5%
Potassium 664mg19%
Carbohydrates 6g2%
Protein 4g8%
Vitamin A 10644IU213%
Vitamin C 33mg40%
Calcium 134mg13%
Iron 3mg17%
* Percent Daily Values are based on a 2000 calorie diet.