Oreo Dip is bursting with the chocolatey flavor of Oreo cookies and the richness of cream cheese, heavy cream, vanilla, and sugar. Also known as cookies and cream dip or Oreo cheesecake dip, this is perfect for dipping fresh strawberries or other fruit, graham crackers, animal crackers, or vanilla wafers (Nilla Wafers). If you are a true Oreo lover, you may even eat this using Oreo cookies as dippers!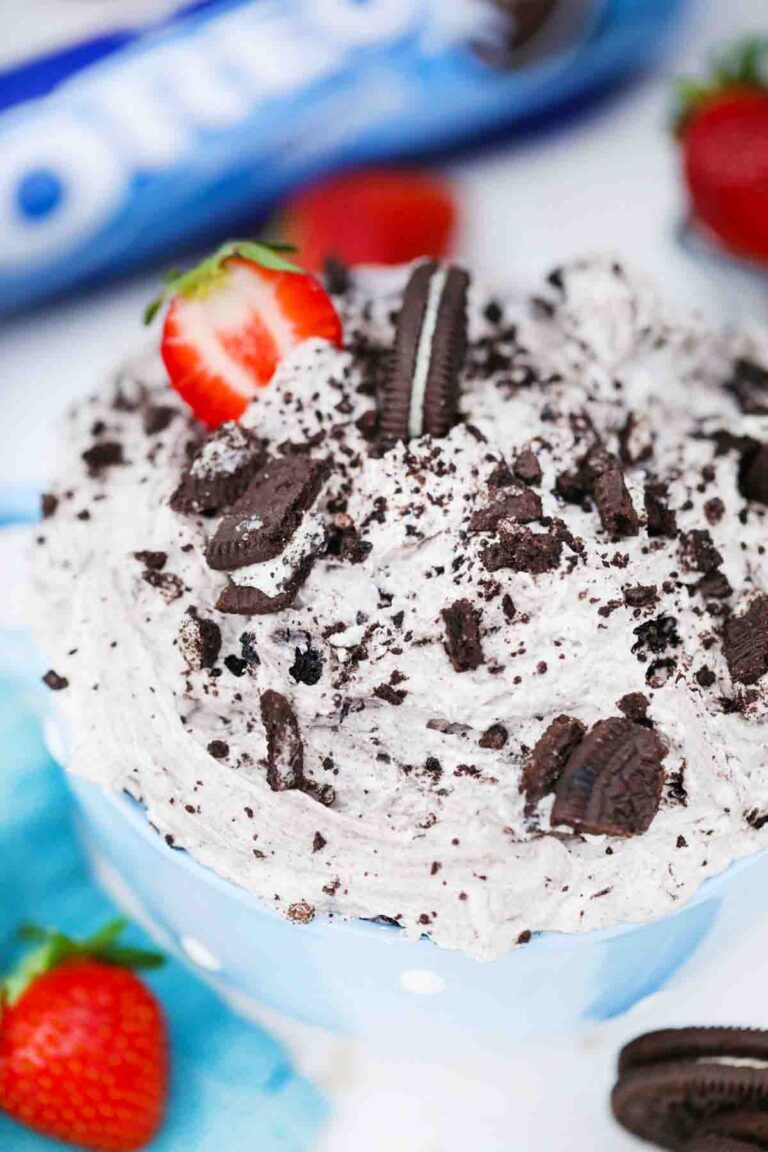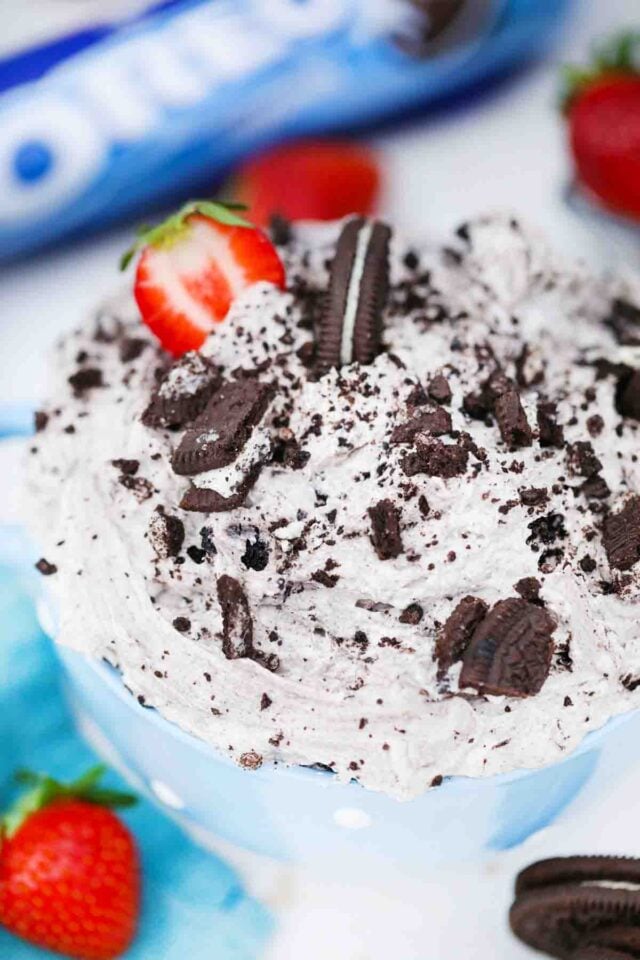 The Oreo cookie has been around since 1912 so they are over 120 years old! Maybe that is because they are so popular. Made with dark cocoa and sweet cream, the classic Oreo cookies are known all over the world. There are thousands of Oreo recipes and sweet dips out there, but this delicious, sweet snack is one of my favorites because it is so easy.
Our delicious recipe for Oreo dip makes a tasty dessert or snack anytime. If you already have Cool Whip or whipped cream in your fridge, you can make this easy Oreo dip with just cream cheese, powdered sugar, and Oreo cookies. Then, all you need is some dippers… or a spoon!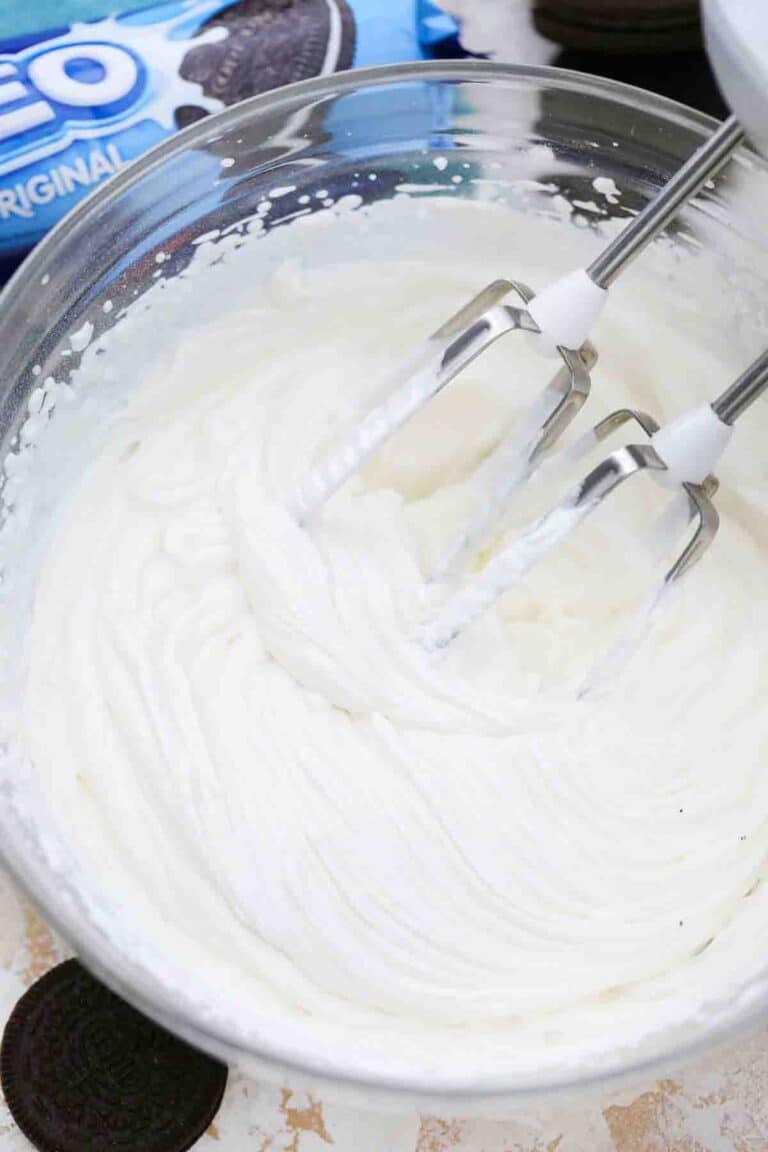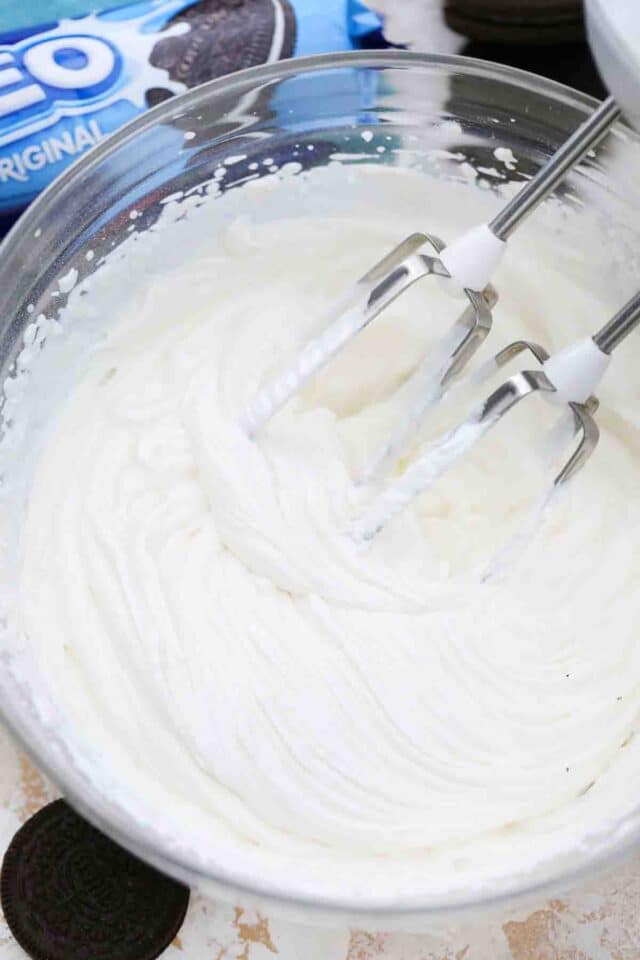 Ingredients needed:
These are the simple ingredients for this creamy Oreo dip recipe. Scroll down to our recipe card for complete instructions and exact measurements.
Whipped cream ingredients:
Heavy whipping cream
Dry milk powder
Pure vanilla extract
Powdered sugar: Confectioners' sugar.
Other ingredients:
Softened cream cheese
Powdered sugar: Confectioners' sugar.
Crushed Oreo cookies
How to make Oreo dip from scratch?
Make the whipped topping: First, in a large mixing bowl with an electric hand mixer or the bowl of an electric stand mixer fitted with a whisk attachment, whip the whipping cream, milk powder, two tablespoons of powdered sugar, and vanilla extract until stiff peaks form. Put the cream in a separate large bowl and place it in the refrigerator until needed.
Whip the cream cheese: Then, using the same cream bowl, beat the cream cheese and powdered sugar for two minutes or until it is smooth, light, and fluffy. Carefully use a spatula to fold the whipped cream into the cream cheese mixture until it is combined.
Smash Oreos: Next, place Oreos in a plastic bag and use a rolling pin to crush them into smaller pieces. After, gently fold it into the cream cheese mixture.
Top with remaining Oreos: Finally, scoop the delicious dip into a serving bowl and top with more crushed Oreos if you want. Serve your sweet treat with your favorite dippers.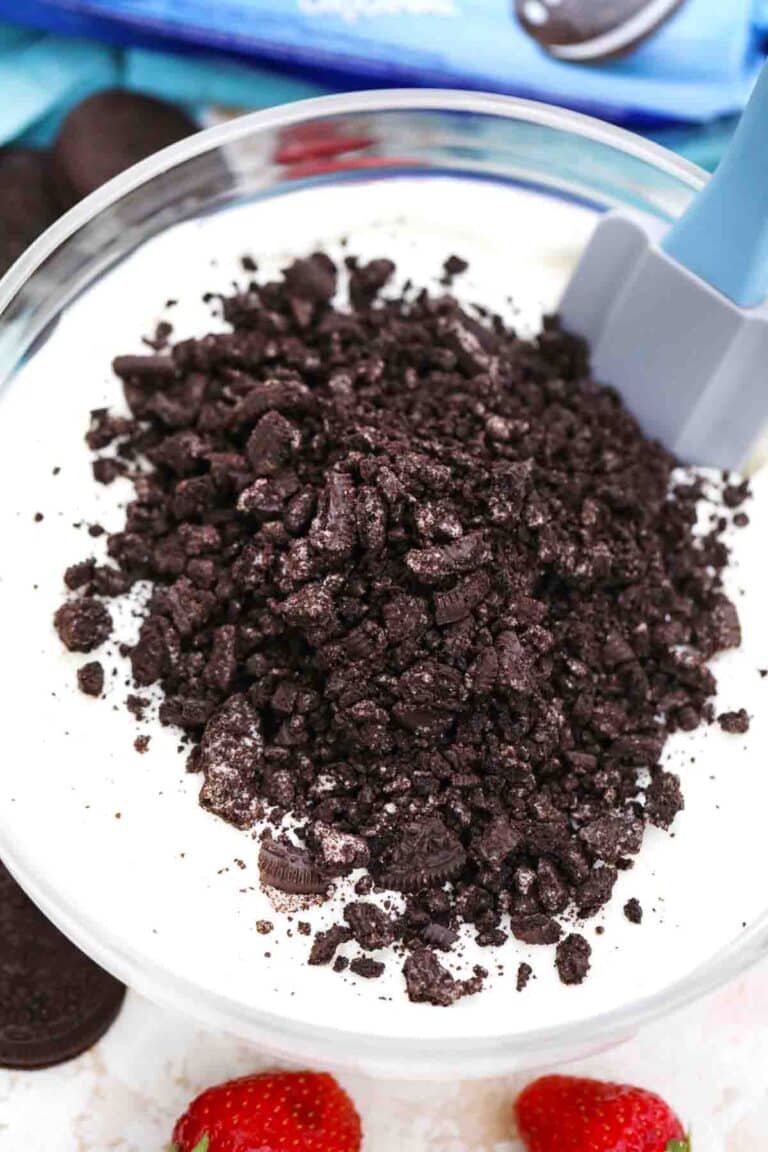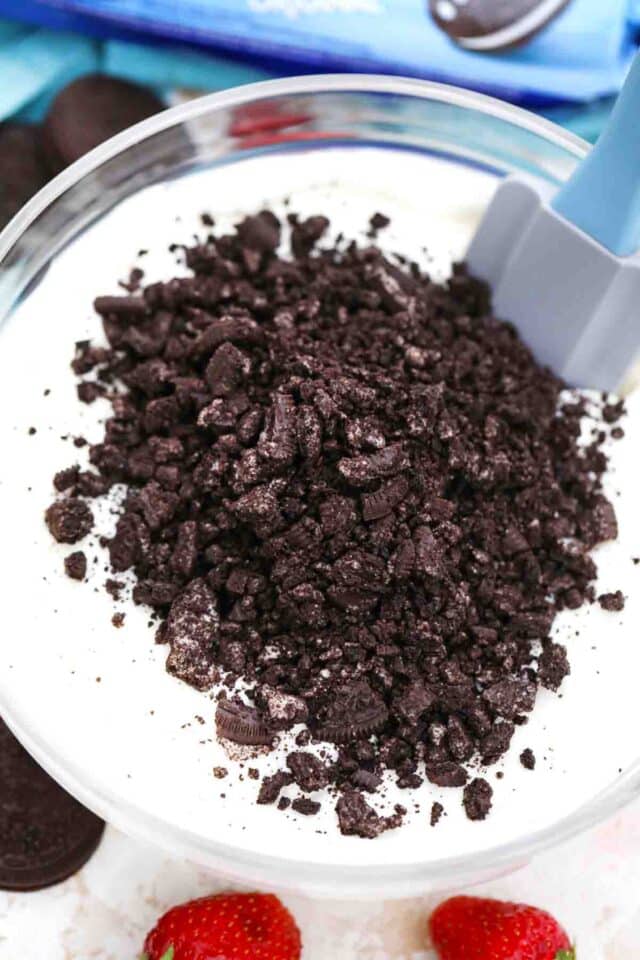 Recipe variations:
Instead of classic Oreos: Try using a different Oreo flavor for new and unique flavors. We suggest mint Oreos, golden Oreos, or chocolate cream Oreos.
More chocolate: For even more delicious flavor, add some chocolate chips to your dip.
Crunchy dip: If you want a crunchy dip, toss in some chopped peanuts, walnuts, pecans, or walnuts.
Other flavors: This delicious dessert can also be changed to other flavors with different extracts like chocolate, peppermint, or hazelnut.
Lower fat: For less fat, you can use low-fat cream cheese, but it will not be as creamy.
Add butter: Too sweet for you? Add 1/2 cup butter to your Oreo dip to balance out the sweetness.
How to serve:
This easy Oreo dip recipe is perfect for dinner parties, game days, a snack, or homemade dessert. Here are some fun serving ideas to try or you can share some of your own ideas in the comments section at the bottom of the page.
This Oreo dip is perfect for dipping any fresh fruit like apple slices, blueberries, raspberries, or even banana slices.
Instead of this recipe, try our sweet, creamy, and easy recipe for whipped cream.
Set your serving dish on a large platter with all of your favorite dippers from cookies to fresh fruit.
If you want your dip to have an even richer flavor, try adding some of this cream cheese frosting.
Having a party? Toss some rainbow sprinkles on top to make your Oreo cookie dip more festive.
This delicious dessert dip is also an awesome topping for ice cream or pudding. Try it on our Oreo ice cream for double Oreo flavor. You only need three ingredients!
Drizzle some chocolate syrup on top for an extra chocolatey flavor.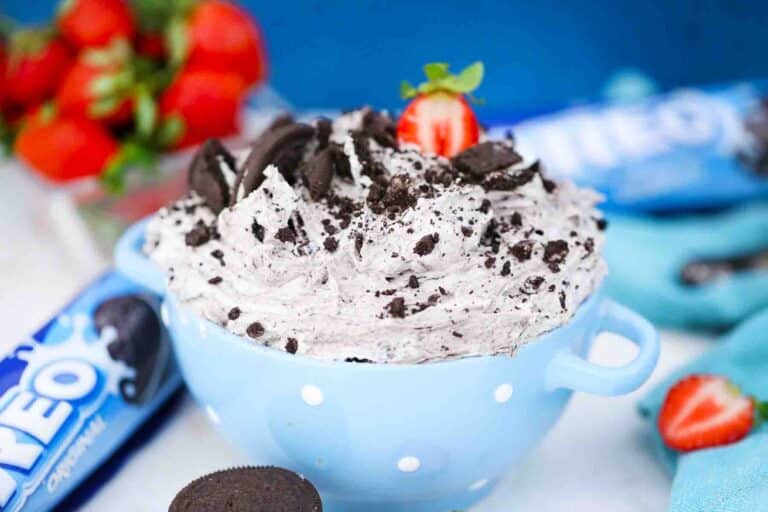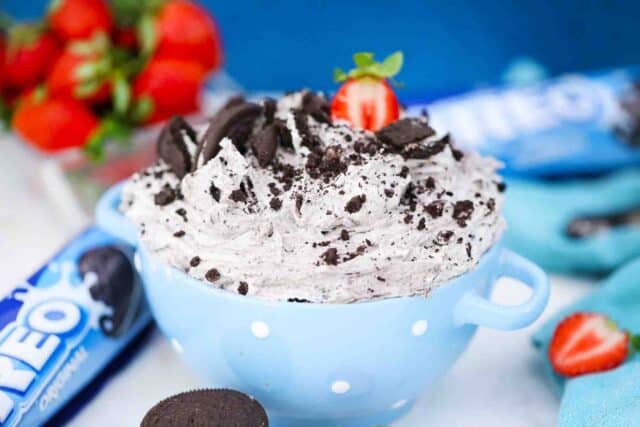 Frequently asked questions
What other cookies can I use?
Rather than using Oreo cookies, you can make cookies and cream dip with any kind of chocolate sandwich cookie. If you do not want chocolate, try using vanilla wafers, graham crackers, or vanilla sandwich cookies. The sandwich cookies are great for this because the cream in the middle adds extra creaminess to your dessert dip.
How can I make this sugar-free?
You can still have a creamy dip if you are diabetic or are on a keto diet. In fact, Oreo makes sugar-free cookies, you can use powdered sugar substitutes, and there are several options for cream cheese. Neufchatel cheese is one of the best with less than one gram of sugar. Mascarpone is another great choice, but it has one gram of sugar and more fat. Sour cream would be good too with just 0.3 grams of sugar.
Who invented Oreo cookie dip?
This dessert dip recipe could have been made long ago but nobody has written the recipe until recently. It was Sam Porcello who invented the Oreo cookie and he was a scientist, not a chef. Speaking of dip, we are not sure who was the first to dip Oreos in milk either. It could have been Sam Porcello, but he did not like them dunked in milk. In fact, he did not really like cookies much at all.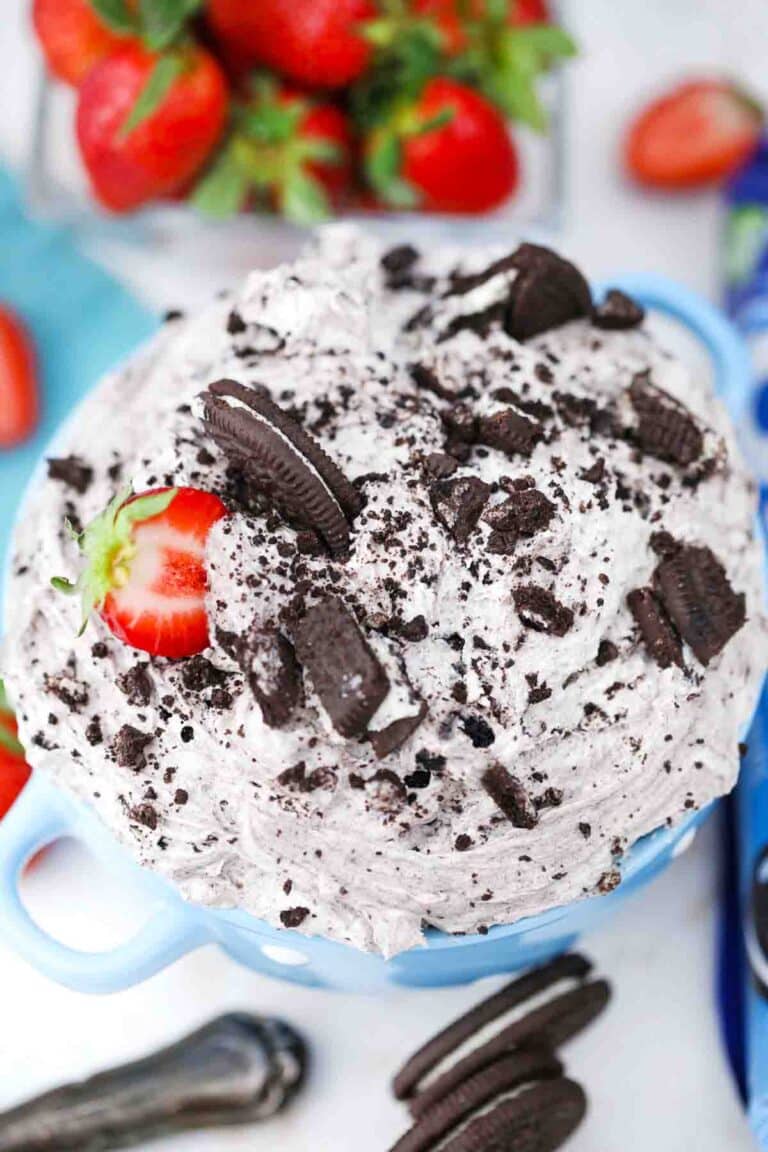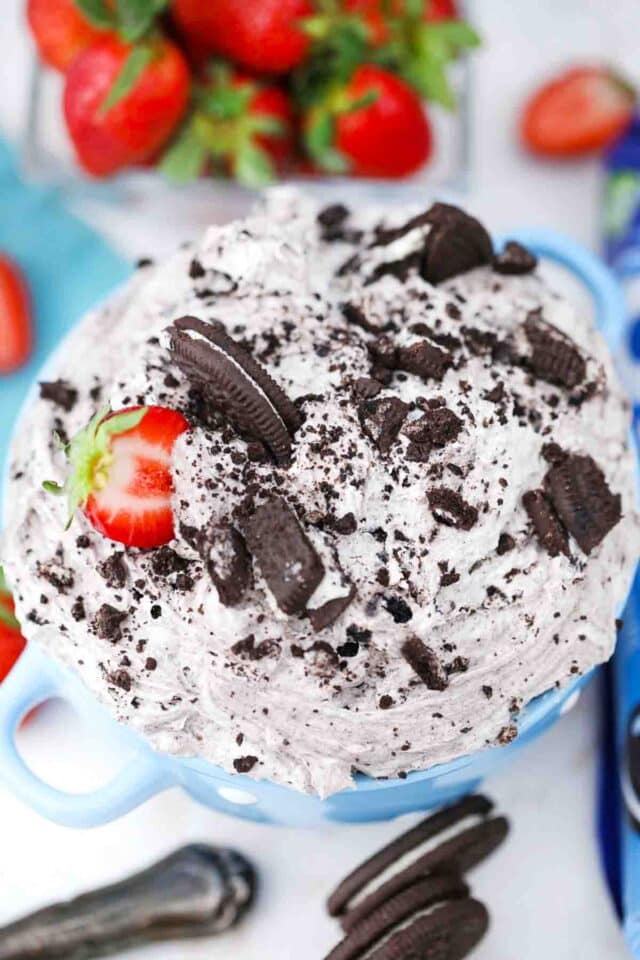 How is this different from Oreo fluff?
This creamy sweet dip is very similar to Oreo fluff, but Oreo dip is made with a cream cheese mixture instead of pudding. Fluff also has cream cheese but with the pudding, it tastes different than Oreo dip and has a different texture. They are both made with crushed Oreos and powdered sugar, and both are incredibly delicious.
What are the nutrition facts in this recipe?
If you are concerned about nutrition, calories, and fat, here are the estimated numbers. Each serving has 335 calories, 31 grams carbs, 22 grams fat, 14 grams saturated fat, and 1 gram trans fat. It also contains 70 mg cholesterol, 201 mg sodium, and 21 grams of sugar. You also get 4 grams protein, 7 grams monounsaturated fat, and 3 grams polyunsaturated fat as well as 112 mg potassium, 2 mg iron, 812 units vitamin A, and 1 gram fiber.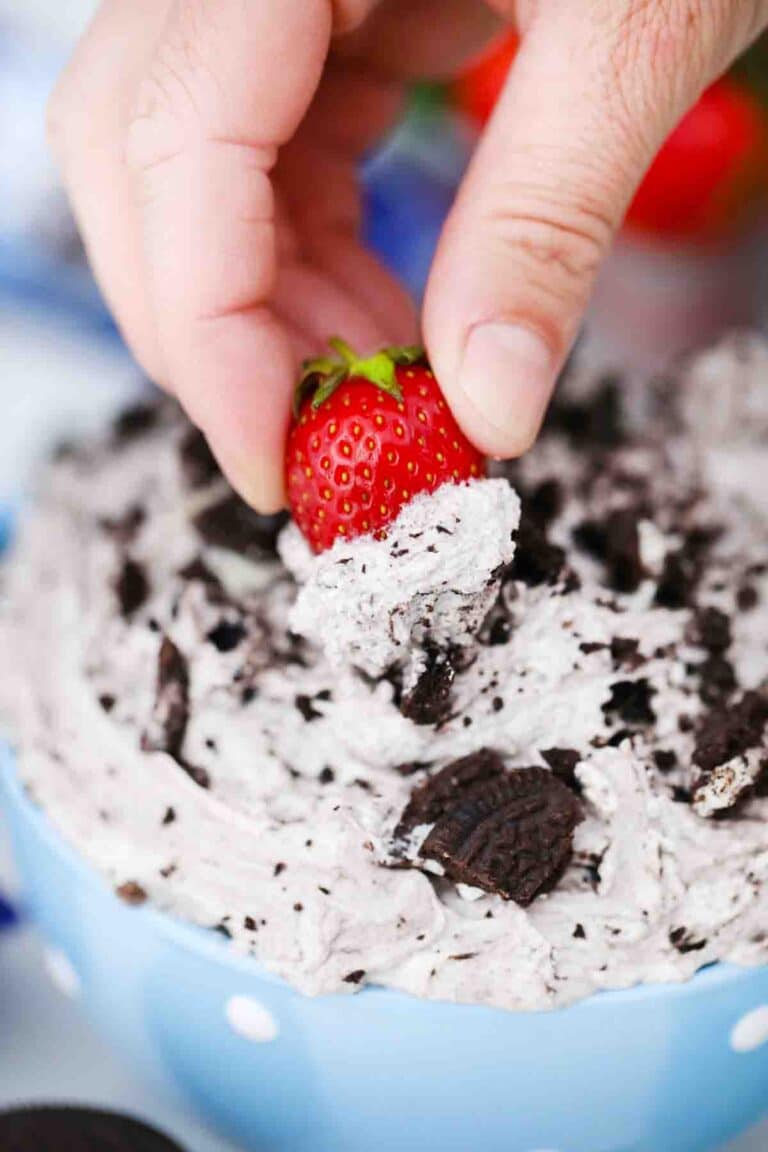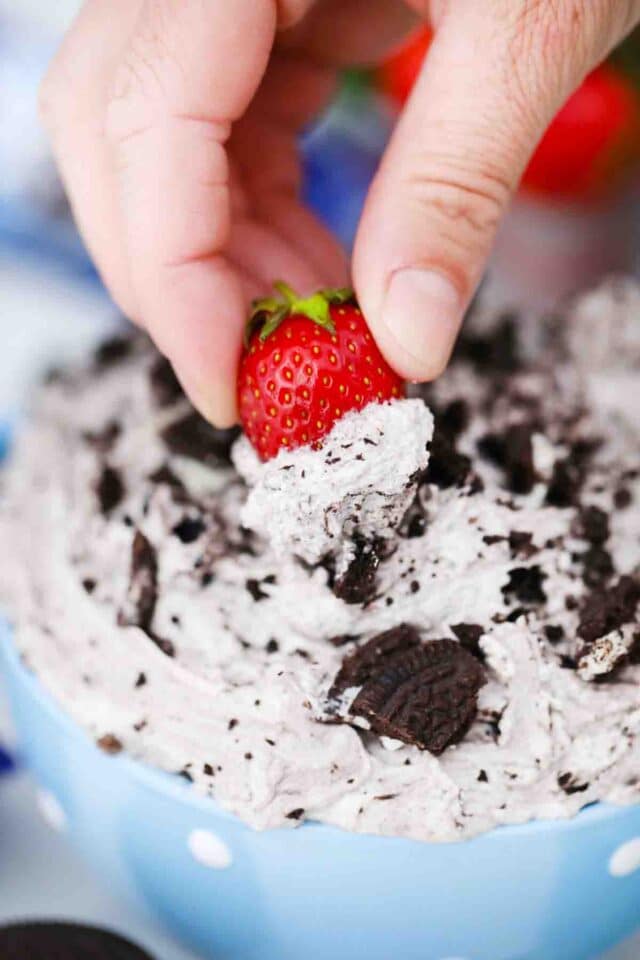 How to store leftovers:
Store: You can store your leftover dip in an airtight container in the fridge. It will stay fresh for up to five days.
Freeze: Although you could freeze your Oreo dip for up to three months, the texture may turn grainy. Be sure to put it in a freezer-safe airtight container.
Thaw: For the best texture and flavor, thaw in the fridge overnight before using.
Recipe tips:
To save prep time, you can use Cool Whip or another store-bought whipped topping instead of making your own homemade whipped cream. Then, you only need three ingredients: Oreos, cream cheese, and powdered sugar.
You want chunks of Oreos, not fine crumbs. That is why you should use the bag method instead of a food processor or blender.
For a more intense cream flavor, add an extra teaspoon of vanilla extract or a bit of vanilla syrup.
According to the National Heart, Lung, and Blood Institute, American servings have doubled in the past 20 years. Even this Oreo dip should be eaten in moderation.
If your dip is refrigerated for some time, let it sit out for about 30 minutes to soften for easier dipping.
Make sure your cream cheese is softened to room temperature before using it.
Do not skip the whip! For smooth and creamy Oreo dip, you have to whip the cream cheese before adding the rest of the ingredients.
Are you looking for other dessert recipes or dessert cuisine? We have some great dessert dips and easy dessert recipes on our food blog.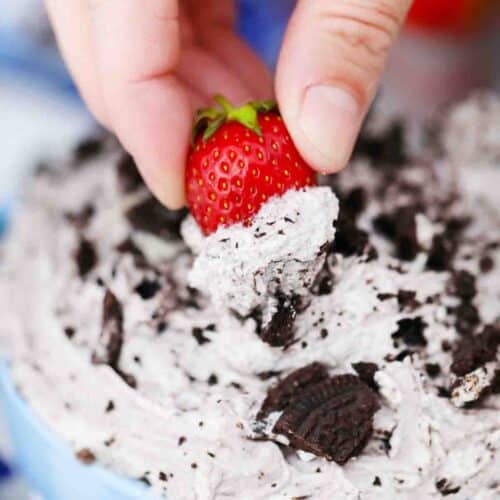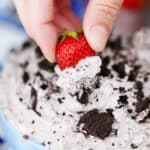 Oreo Dip
Oreo Dip is bursting with the chocolatey flavor of Oreo cookies and the richness of cream cheese, heavy cream, vanilla, and sugar.
Ingredients
8

oz

heavy whipping cream

3

tablespoons

powdered sugar

2

teaspoons

dry milk powder

1

teaspoon

vanilla extract

8

oz

cream cheese

at room temperature

3/4

cup

powdered sugar

16

Oreos

plus more for serving
Instructions
In a large bowl using a handheld electric mixer beat the heavy whipping cream, 3 tablespoons of powdered sugar, milk powder, and vanilla extract until stiff peaks form. Refrigerate it for 30-60 minutes.

In a bowl, beat the cream cheese and remaining powdered sugar for two minutes, until it's light and fluffy. Using a spatula, fold the chilled whipped cream into the cream cheese mixture until combined.

Place Oreos in a plastic bag and using a rolling pin crush into smaller pieces. Fold the pieces into the cream mixture.

Transfer to a serving bowl and top with more crushed Oreos.

Serve with Oreos, vanilla wafers, and fruits for dipping.
Nutrition Facts
Oreo Dip
Amount Per Serving
Calories 491
Calories from Fat 297
% Daily Value*
Fat 33g51%
Cholesterol 81mg27%
Sodium 262mg11%
Potassium 191mg5%
Carbohydrates 46g15%
Protein 6g12%
Vitamin A 1100IU22%
Vitamin C 0.3mg0%
Calcium 89mg9%
Iron 4mg22%
* Percent Daily Values are based on a 2000 calorie diet.