Outback Steakhouse Coconut Shrimp Recipe
Outback Steakhouse Coconut Shrimp is even better than the restaurant dish with crispy golden brown toasted coconut flakes on the inside and tender juicy shrimp in the center. The orange marmalade sauce has the perfect sweetness with a little bit of tangy spiciness. Why bother going out for dinner tonight when this delicious dish can be made easily at home?
If your family liked this recipe, try our easy recipe for Air Fryer Coconut Shrimp with sweet chili sauce and sriracha. Another way to enjoy shrimp is with our tangy Pineapple Coconut Shrimp Curry made from coconut milk, lime, and pineapple. For something a little different, this Crispy Orange Shrimp is an Asian delight with sweet sticky orange sauce.
Because shrimp and coconut are both found in the tropics, it just makes sense that they would end up in a dish together. But nobody is completely sure who discovered it or when it was first served. Some say it was back in the 1800s in Polynesia or the Caribbean. Others say it was originally a Cajun dish from 1700s Louisiana. Whoever started it, we are just glad they did!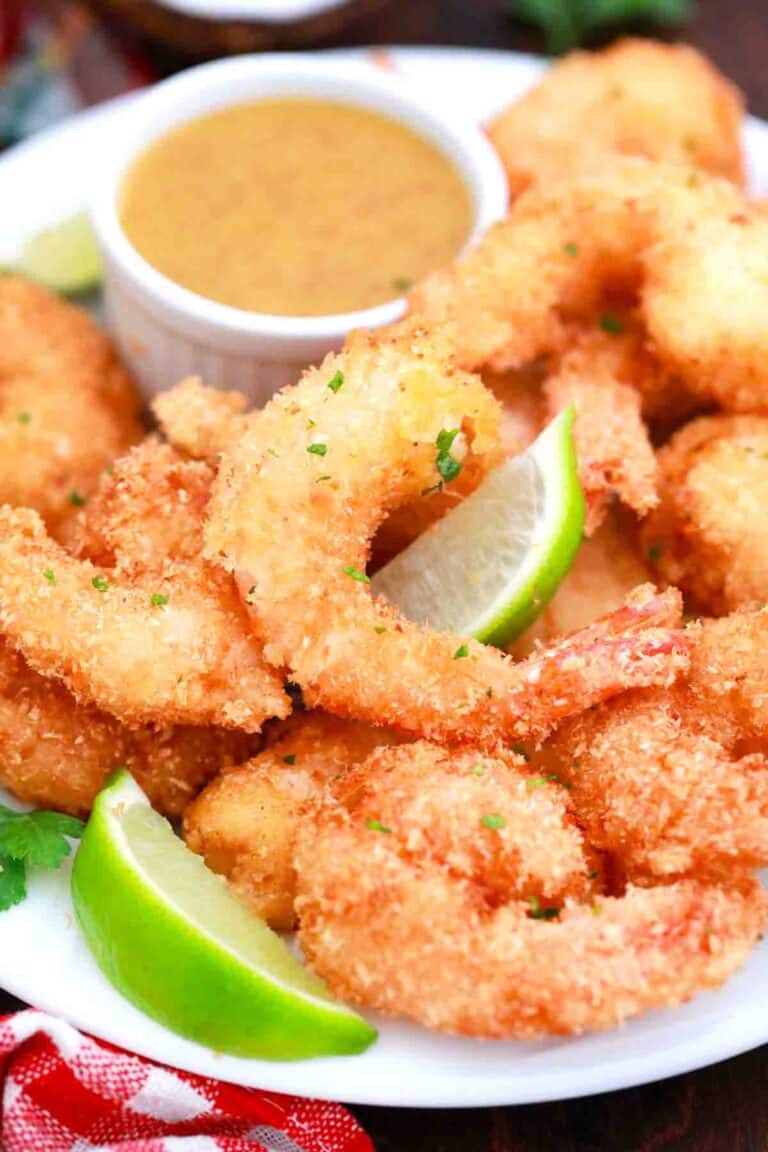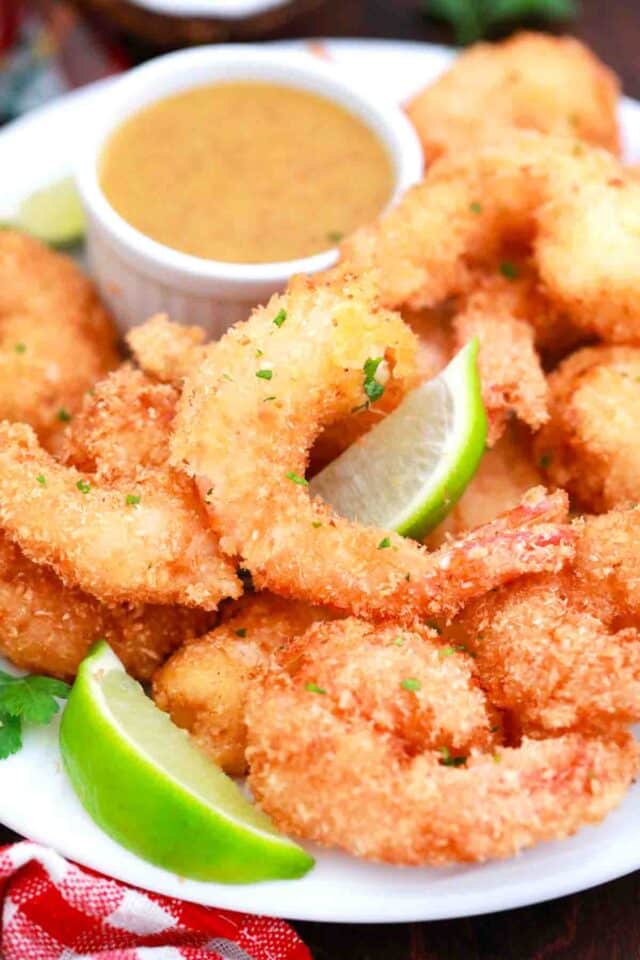 This coconut shrimp can be made in minutes and the lightly sweet pieces go perfectly with the creole marmalade dipping sauce. Each piece is full of great flavor whether you dip it or not, but we highly recommend the sauce because it is a big hit whenever I serve it. Of course, this is not the original recipe, but we prepared it with the same or similar ingredients as the restaurant chain to give it an authentic taste.
Looking for other recipes like this one? If you have ever had bang bang shrimp, you will love this recipe for air fryer bang bang shrimp with Greek yogurt and lime. Or try this other copycat recipe for Panda Express honey walnut shrimp with caramelized walnuts and homemade honey mirin sauce. For something a little different, our Cajun shrimp and sausage is the perfect spicy and savory meal and you can make it in under an hour.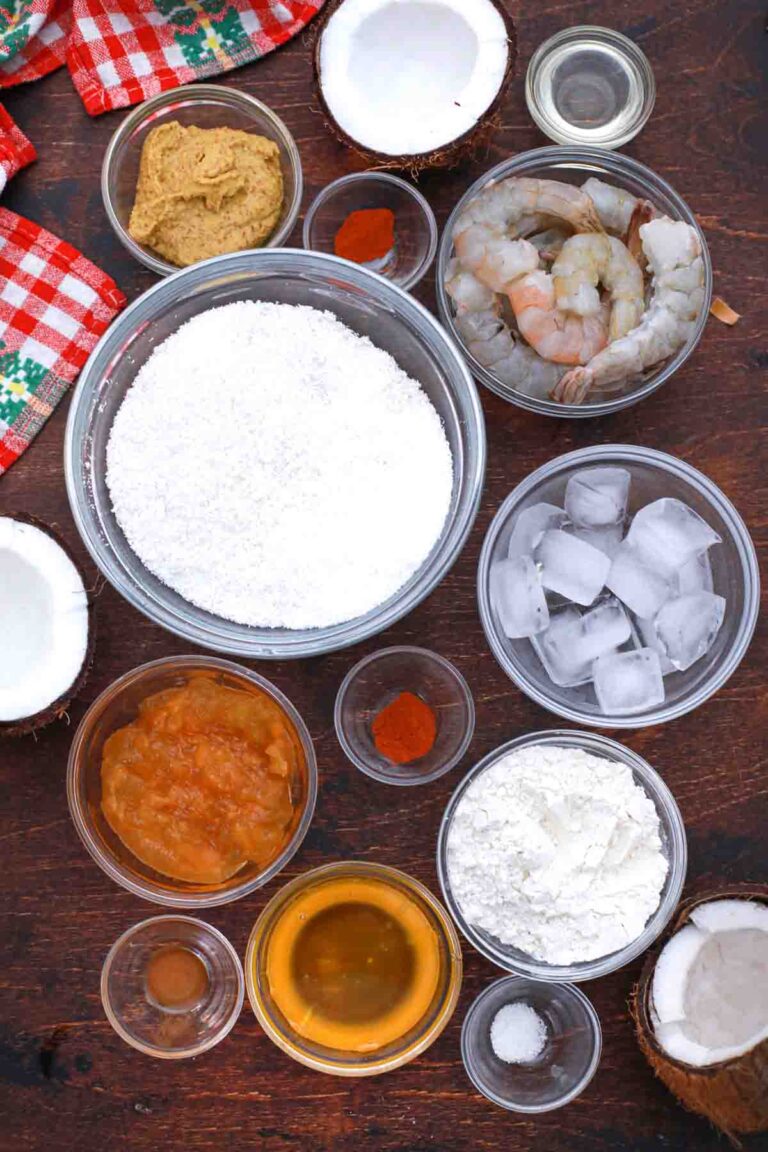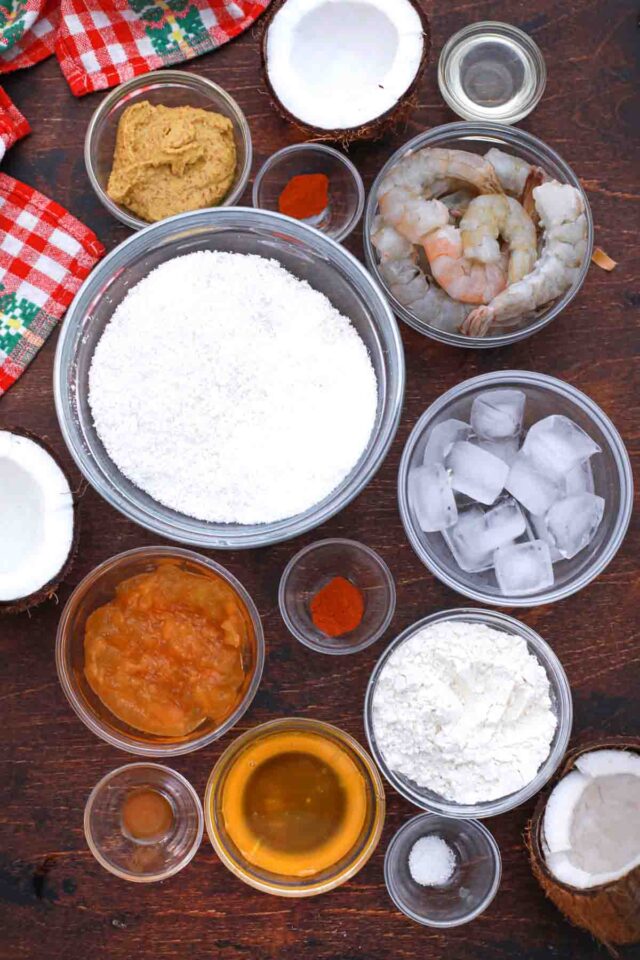 Ingredients needed:
To make this easy recipe for coconut shrimp, gather the ingredients below. Then, go down to our recipe card at the bottom of the page for the instructions and measurements.
Jumbo shrimp

Short, shredded coconut

Orange marmalade

Cayenne pepper

Grey Poupon mustard

Honey

Vegetable oil

Ice water

Tabasco sauce
Batter ingredients:
Cornstarch

Kosher salt

All-purpose flour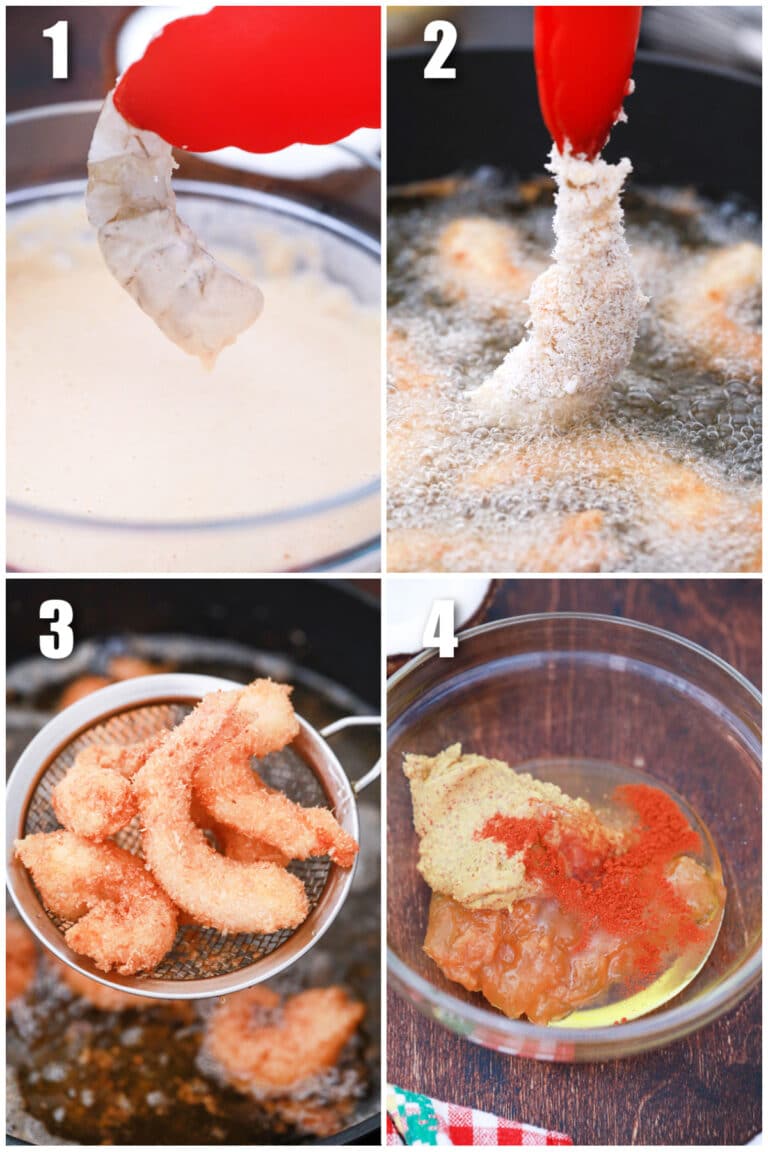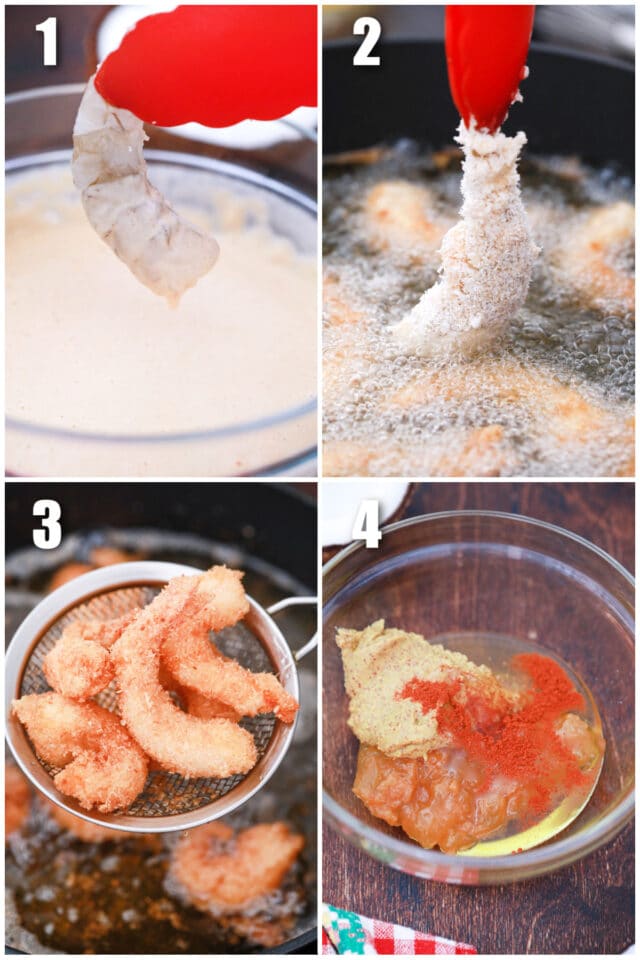 How to make Outback Steakhouse coconut shrimp from scratch?
Prepare the shrimp: First, peel, devein, and rinse the shrimp. Dry it with paper towels and set it aside.

Make the breading: Then, combine all the ingredients for the coating in a small bowl and stir in ice water and oil. Mix well.

Heat the oil: Next, heat oil to 350 degrees F in a large skillet or deep fryer.

Prep the coconut: Meanwhile, spread out the coconut in a flat pan with raised sides.

Dip and cook: After the oil is ready, dip one piece of shrimp into the batter and then roll it in coconut, placing it in the hot oil to cook. When all the shrimp have been added, cook for two to three minutes.

Make the dipping sauce: Last, mix the orange marmalade, honey, mustard, tabasco sauce, and cayenne pepper in a small bowl.

Serve: Finally, serve hot shrimp with dipping sauce on the side.
How to make air fryer Outback Steakhouse coconut shrimp from scratch?
Preheat the air fryer: Before you begin, set your air fryer to 375 degrees F.

Clean the shrimp: While you wait, prep the shrimp by peeling, deveining and rinsing them before you dry them with paper towels.

Make the batter: Next, mix all the batter ingredients in a small bowl with oil and the ice water and stir well.

Lay out coconut: Now, spread the coconut out on a pan or plate. Dip each shrimp into the batter and then the coconut before placing it in the air fryer basket.

Air fry shrimp: After all the shrimp are in the basket, air fry for five minutes, flip and fry for another three minutes until it is lightly browned.

Make marmalade sauce: Then, stir together the tabasco, pepper, honey, mustard, and marmalade in a small bowl.

Serve air-fried shrimp with sauce: Lastly, serve your yummy shrimp with the orange marmalade sauce right away.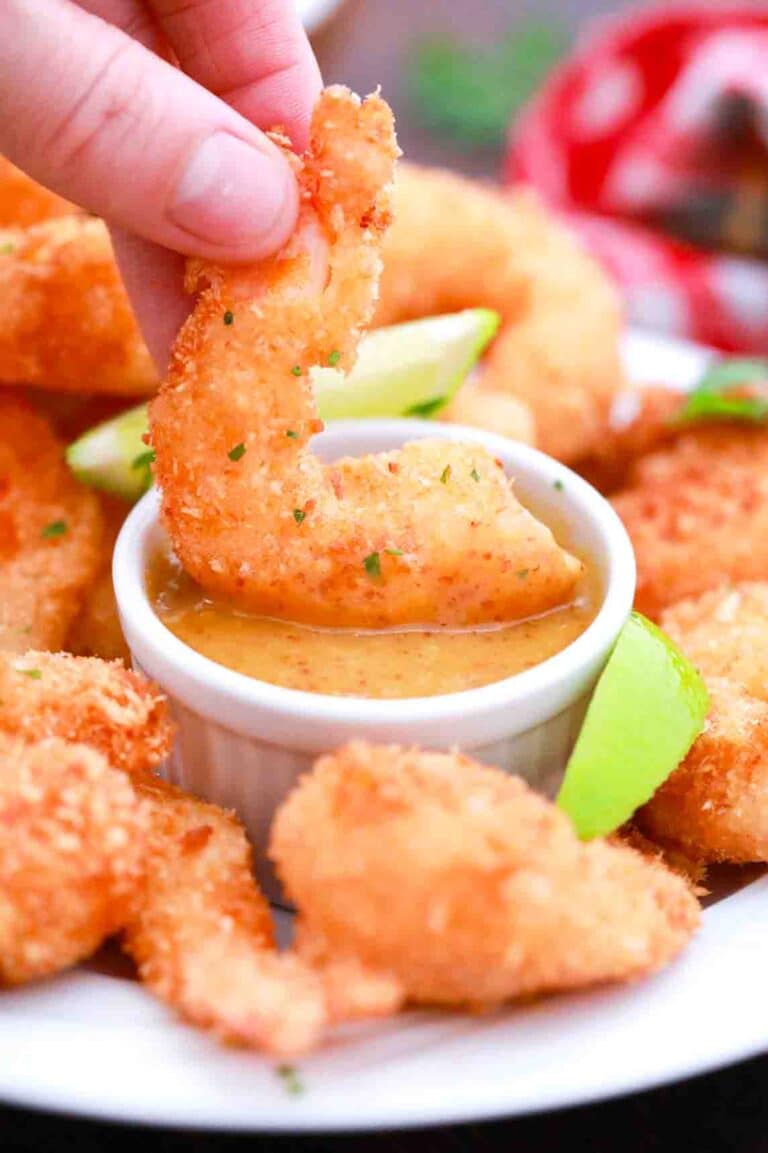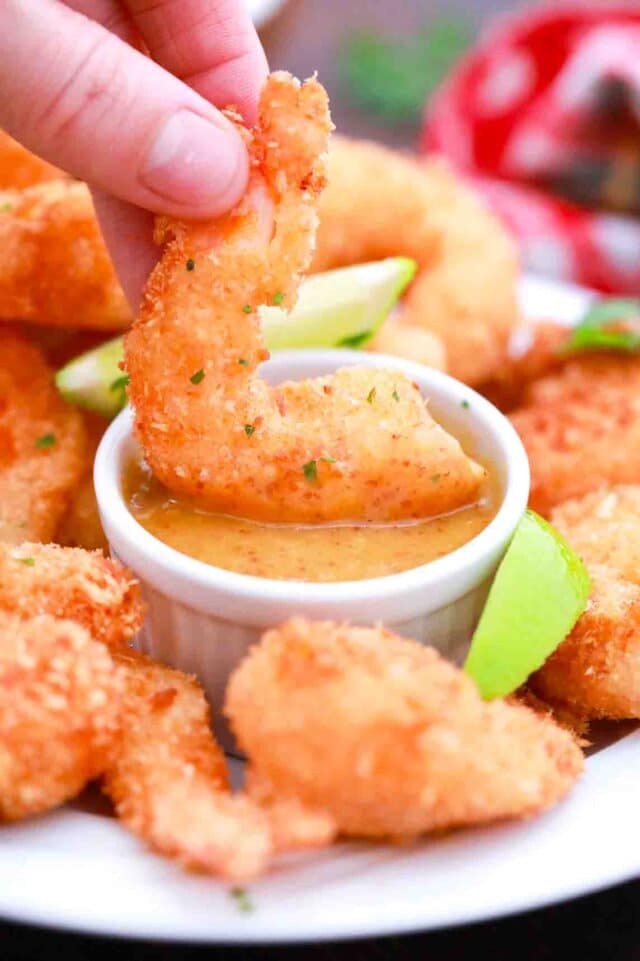 Recipe variations:
Another oil: Feel free to use whichever oil you like to cook with.

Panko breadcrumbs: Mix your coconut with 1/4 cup of panko breadcrumbs for even crispier shrimp.

Beer batter: Add a splash of your favorite brew to your batter for a delicious beer batter flavor.

Grilled chicken: Instead of shrimp, you can make this recipe with pieces of grilled chicken, turkey, or pork.

Thicker batter: For a thicker breading, dip each piece of shrimp in one beaten egg before dipping it in the coconut.

Different mustard: Instead of Grey Poupon, you can use your own favorite mustard.

Other methods: You can also try other ways of cooking these shrimp. You could bake them in the oven or cook them in an instant pot.

Different marmalade: Instead of orange marmalade, you can use lemon, lime, or any other citrus fruit you like.
How to serve:
This easy appetizer is a wonderful way to liven up any get-together or game day! Just the Outback Steakhouse coconut shrimp alone is delicious but when paired with our homemade orange marmalade sauce, this dish is one that will be remembered.
Sprinkle a tablespoon of romano or parmesan cheese onto your shrimp before serving for an extra flavor twist.

These go great with black beans and rice or your own favorite side dishes. In fact, this dish would pair perfectly with our instant pot coconut rice.

Another way to serve these yummy shrimp is with a side of garlic pasta or potatoes.

Make it a more substantial meal by adding grilled veggies on the side.

Use leftovers to make salad or casserole. Just mix with fresh peeled and chopped tomatoes, lettuce, and your favorite dressing.

For dessert, why not serve a yummy cake like our adorable bunny butt cake?

Serve with lemon and lime wedges in case guests want to squeeze some on their shrimp.

You could also serve these with a side of baked potatoes. Try our yummy recipe for grilled baked potatoes.

These shrimp go great with other sauces as well. Try our recipe for tangy yum yum sauce or spicy sweet Szechuan sauce.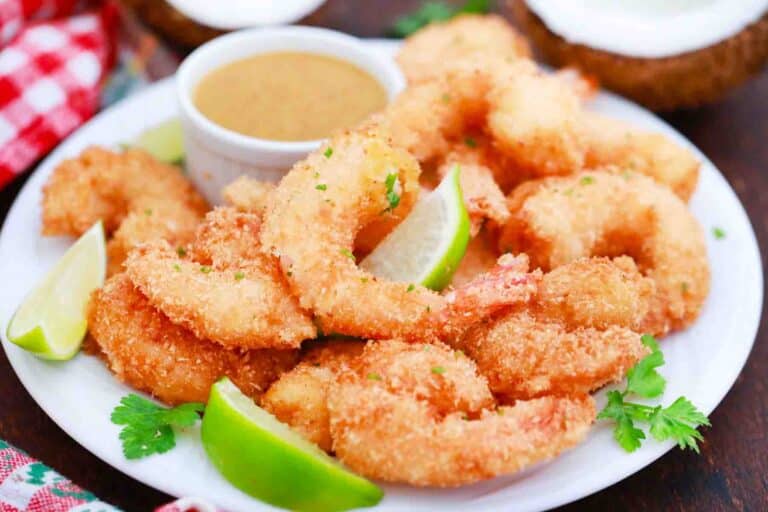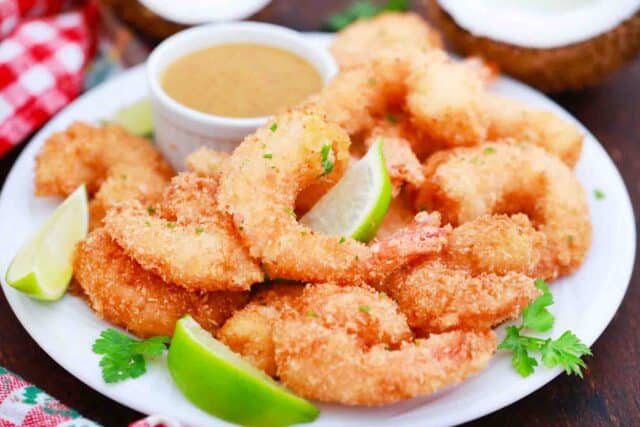 Frequently asked questions
How many different sizes of shrimp are there?
You can find 12 different sizes of shrimp sold at meat markets, butcher shops, and grocery stores both fresh and frozen. But the most common are colossal, jumbo, extra-large, large, medium, small, and extra-small. The colossal have about 14 per pound while jumbo has 21 to 25, extra-large has 26 to 30, large has 31 to 35, medium has 41 to 50, small has 51 to 60, and extra-small has 61 to 70.
What is the vein in the shrimp?
This is not a typical vein as you would see in a human that carries blood. The vein in a shrimp is the sand vein or alimentary canal that removes the sand and waste from the shrimp while it is alive. Sort of like our intestinal tract. That is why we remove it before cooking it. Not only because it is not appetizing but also because you would feel the sand and grit in the vein.
What is the easiest way to devein shrimp?
There are two ways to devein shrimp. If you remove the shells first, you can just use a small sharp knife to slice along the back side of the shrimp where you see the vein. Then, pull it open and remove the vein. If you plan to leave the shells on, use a toothpick or skewer to thread the vein out through the top of the shell carefully.
What are the nutrition facts in this recipe?
The nutrition information for this recipe is estimated depending on the recipe ingredients you use and the size of the shrimp. But in general, each serving has 190 calories, 6 grams of fat, and 3 grams of saturated fat as well as 110 mg of cholesterol, 550 mg of sodium, 23 carbs, and 12 grams of sugar. But you also get 1 gram of unsaturated fat, 13 grams of protein, 4 grams of iron, 499 mg of potassium, 322 units of vitamin A, and 2 grams of fiber.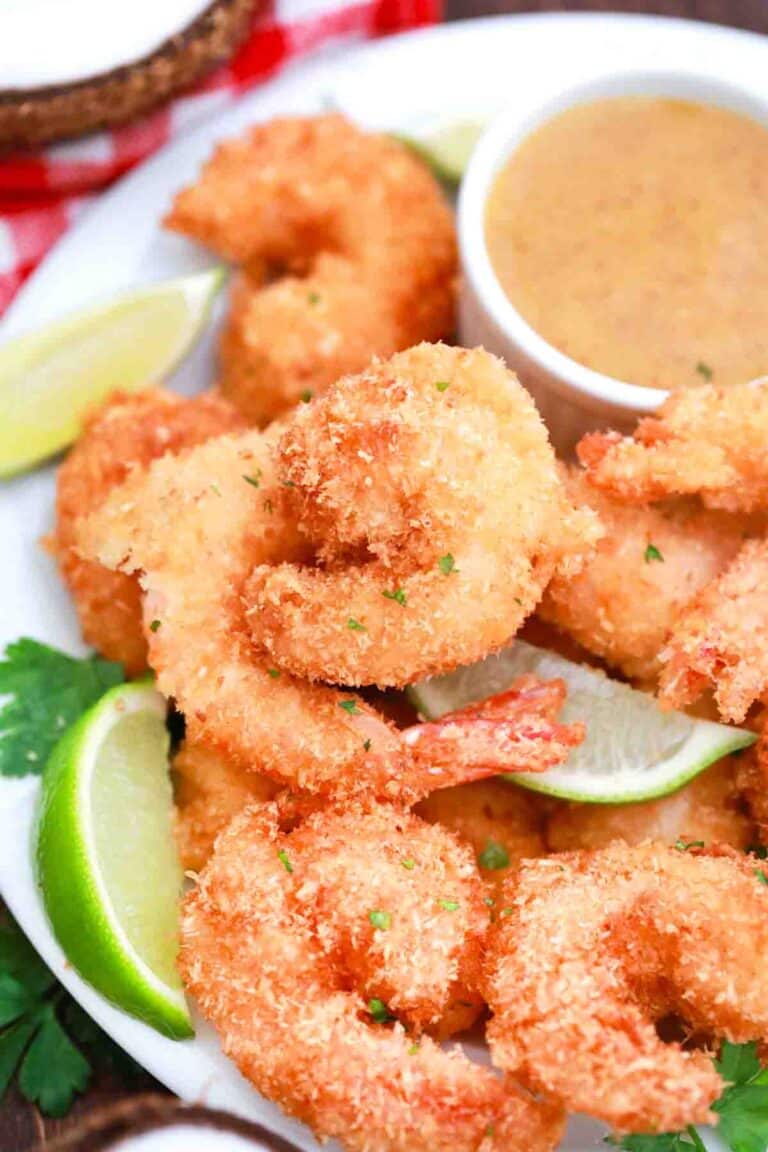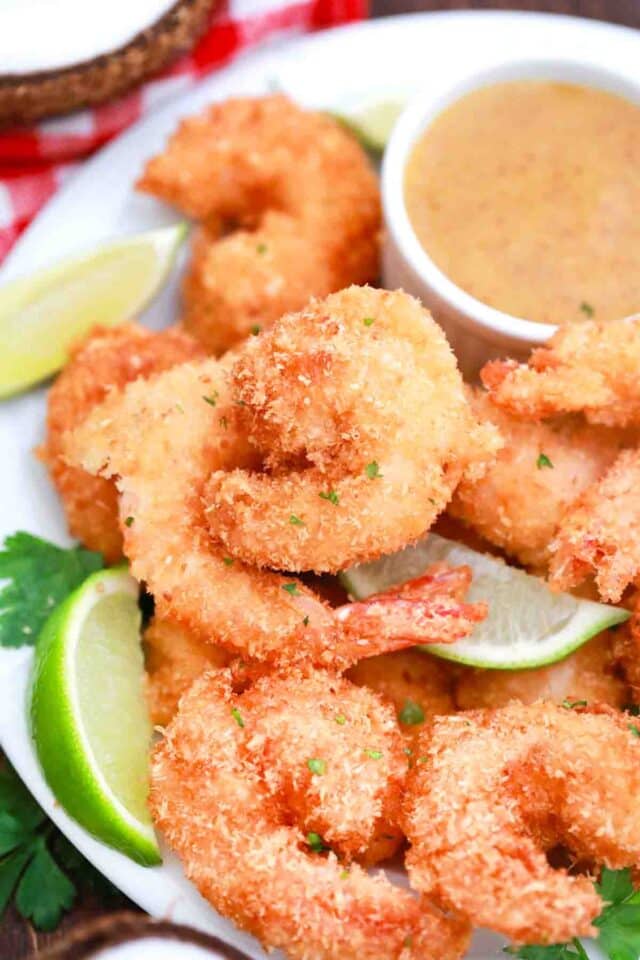 How to store leftovers:
Store: After your leftovers are cool, they can be stored in the fridge in an airtight container for up to three days.

Freeze: To save them longer, wrap in plastic wrap and place them in a freezer bag. Then, you can keep them frozen for up to three months.

Thaw: It is best to thaw your leftover shrimp in the fridge overnight before serving.

Reheat: To reheat, place in the air fryer and cook for one to two minutes or until crispy.
Recipe tips:
The cooking time will vary depending on the size of your shrimp and your oil temperature.

Try to keep your oil at the same temperature the whole time you are cooking.

Do not crowd the pan or they will not get cooked properly.

If you do not have (or do not like) honey, you can use Karo or maple syrup.

Feel free to use larger or smaller shrimp. Just be sure to change the cooking time accordingly.

It is best not to reheat shrimp in the microwave. They often turn out rubbery and the coating will not be crispy.

Instead of tabasco sauce, you can use your favorite hot sauce.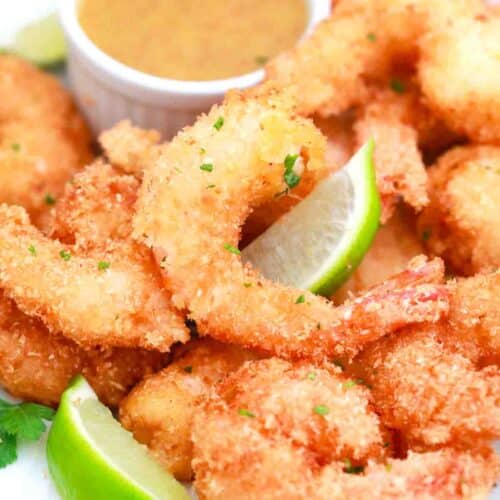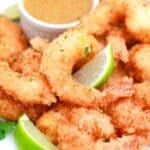 Outback Steakhouse Coconut Shrimp
OutbackSteakhouse Coconut Shrimp is even better than the restaurant dishwith crispy golden brown toasted coconut flakes on the inside andtender juicy shrimp in the center.
Keyword:
Outback Steakhouse Coconut Shrimp
Ingredients
12

jumbo shrimp

deveined and tail on

2

cups

shredded coconut

no sugar added

1/2

cup

oil

or more for frying

Batter:

1

cup

ice water

2

tablespoons

vegetable oil

1

⁄2 teaspoon Cayenne Pepper

1

teaspoon

Salt

1

⁄2 cup cornstarch

1

⁄2 cup all-purpose flour

Dipping sauce:

1/4

teaspoon

hot sauce

1

⁄4 cup honey

or maple syrup

1

⁄4 cup country mustard

1

⁄3 teaspoon cayenne pepper

1

⁄2 cup orange marmalade
Instructions
Rinse shrimp, peel it and devein it if need, leave the tail on. Pat dry it with paper towels. Set aside.

Mix all dry ingredients for the batter in a bowl. Stir in 2 tablespoons of oil and ice water and stir well to combine.

In a deep fryer heat oil to 350 degrees F.

Spread the coconut a little at a time on a flat plate and add more as needed.

Dip the shrimp in the wet batter and after that roll them in coconut. Cook in hot oil for 2-3 minutes, or until lightly golden-brown.

Mix the dipping sauce ingredients together. Serve coconut shrimp with the sauce. Enjoy!
Nutrition Facts
Outback Steakhouse Coconut Shrimp
Amount Per Serving
Calories 190
Calories from Fat 54
% Daily Value*
Fat 6g9%
Cholesterol 110mg37%
Sodium 550mg24%
Potassium 499mg14%
Carbohydrates 23g8%
Protein 13g26%
Vitamin A 322IU6%
Vitamin C 6mg7%
Calcium 142mg14%
Iron 4mg22%
* Percent Daily Values are based on a 2000 calorie diet.