Cheesy Shrimp Poppers Recipe
Cheesy Shrimp Poppers are perfect super bowl snacks or appetizers for your next party. With two cheeses and the tasty flavor of shrimp, green onions, and bell peppers, the stuffing is so ooey-gooey good, you will have to make a double or triple batch!
Serve these poppers as a starter or a side for these Shrimp Rolls made from greek yogurt, cooked shrimp, and hot dog buns. These would also be perfect with our Skillet Chicken Fajita Quesadilla recipe with rotisserie chicken, peppers, and melted cheese. Or, if you are looking for more sides or appetizers, try this Southwest Salad made with chicken breasts, sour cream, black beans, and maple syrup.
Humans have been eating shellfish for a long, long time. In fact, researchers found evidence of shellfish remains in a cave over the ocean dating back 164,000 years. Today, shrimp is one of the most popular seafood in the United States, consuming about 650 to 850 million pounds per year. However, the first recipes for shrimp did not show up in the US until the 1600s when it became popular in the Louisiana bayou.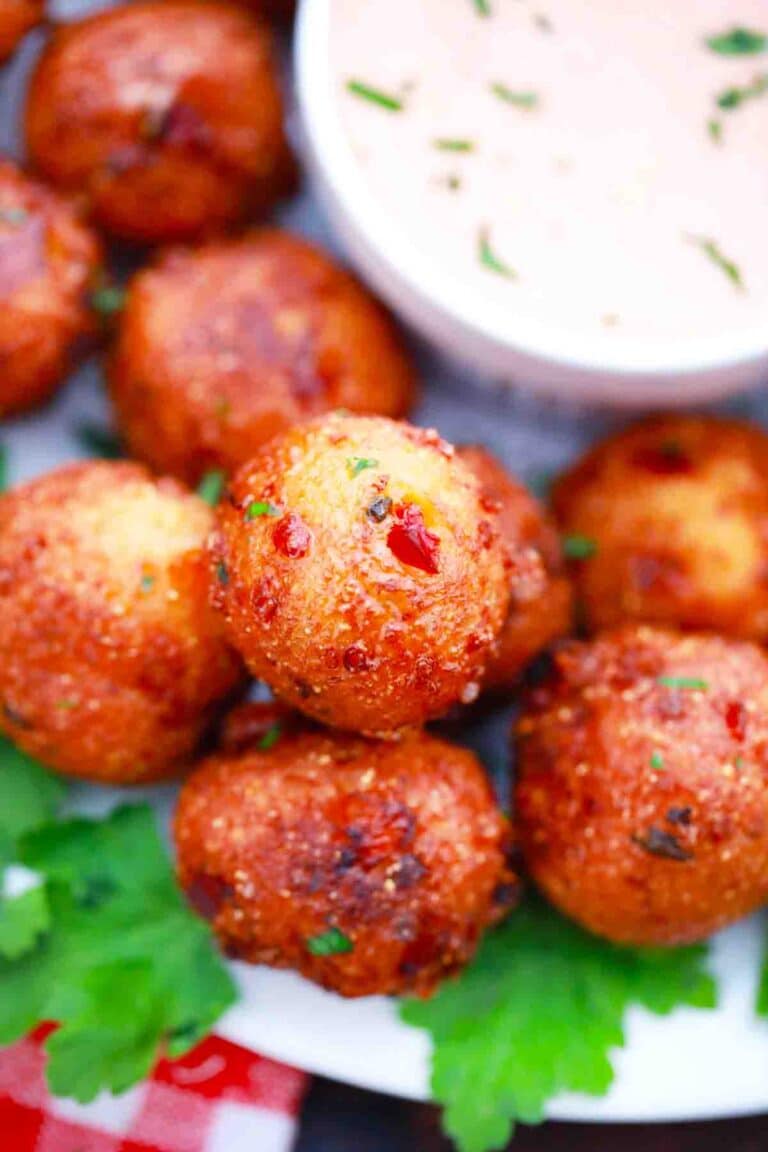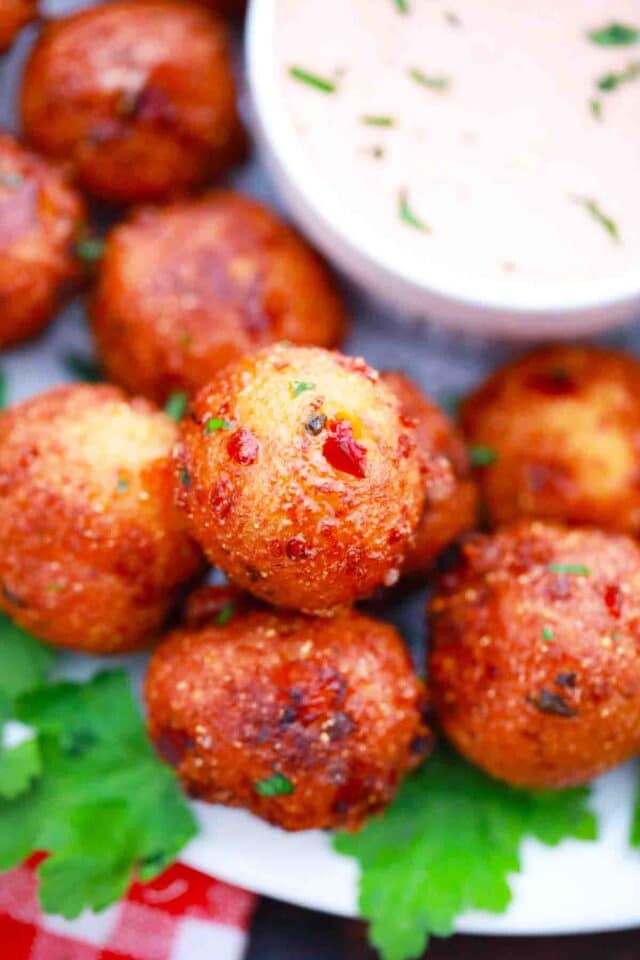 These yummy shrimp-stuffed poppers can be made in a pan on the stove, grilled on a pit, or baked in the oven. No matter how you make them, your family and friends will be asking for the recipe so make sure you have copies ready. Our recipe card is printable so you can just print a few and hand them out with the food to save time.
Looking for more delicious shrimp recipes? This shrimp ceviche is mouthwatering with orange juice, tortilla chips, and shrimp. Or you can try our yummy shrimp and broccoli recipe made with mushrooms, broccoli, and artichoke hearts. If you love fried shrimp, you will enjoy this recipe for Outback Steakhouse coconut shrimp easy to make at home in less than 30 minutes.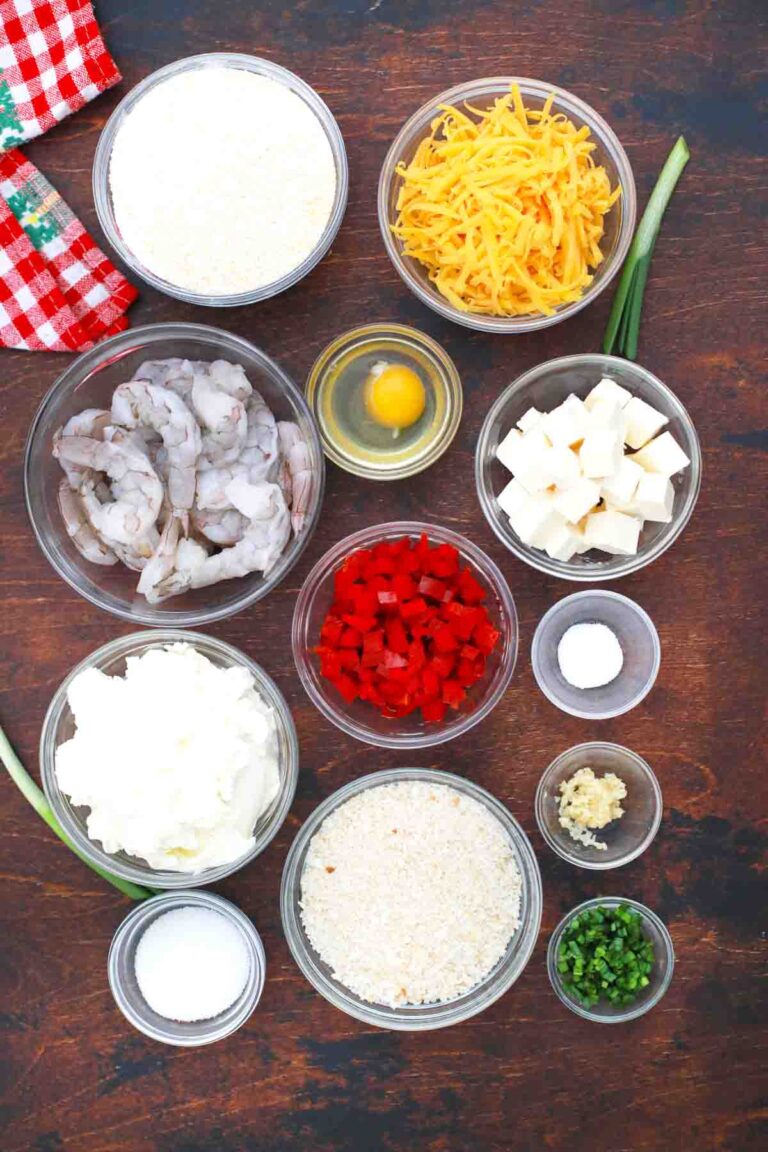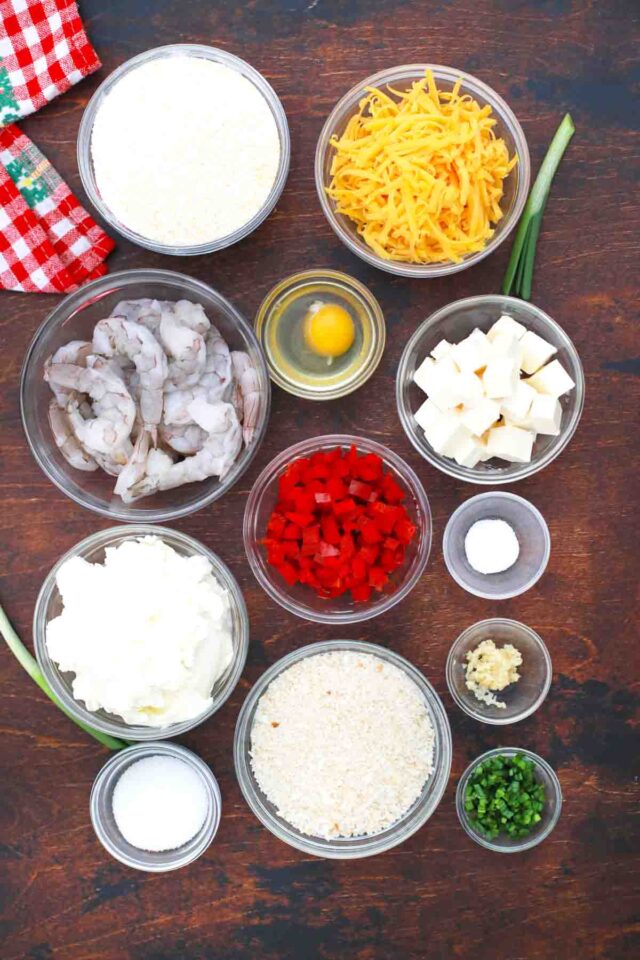 Ingredients needed:
To make this shrimp-stuffed poppers recipe, you need the ingredients below. When you are ready to begin, scroll down to our recipe card for instructions and exact measurements.
Canola oil:

For frying.

Chopped shrimp
Garlic cloves:

Minced.

Green onions:

Sliced.

Red bell pepper:

Finely chopped.

Unsalted butter:

Melted.

Large egg:

At room temperature.

Shredded sharp cheddar cheese
Softened cream cheese
Milk
Panko bread crumbs
Corn muffin mix
Sugar
Pinch of salt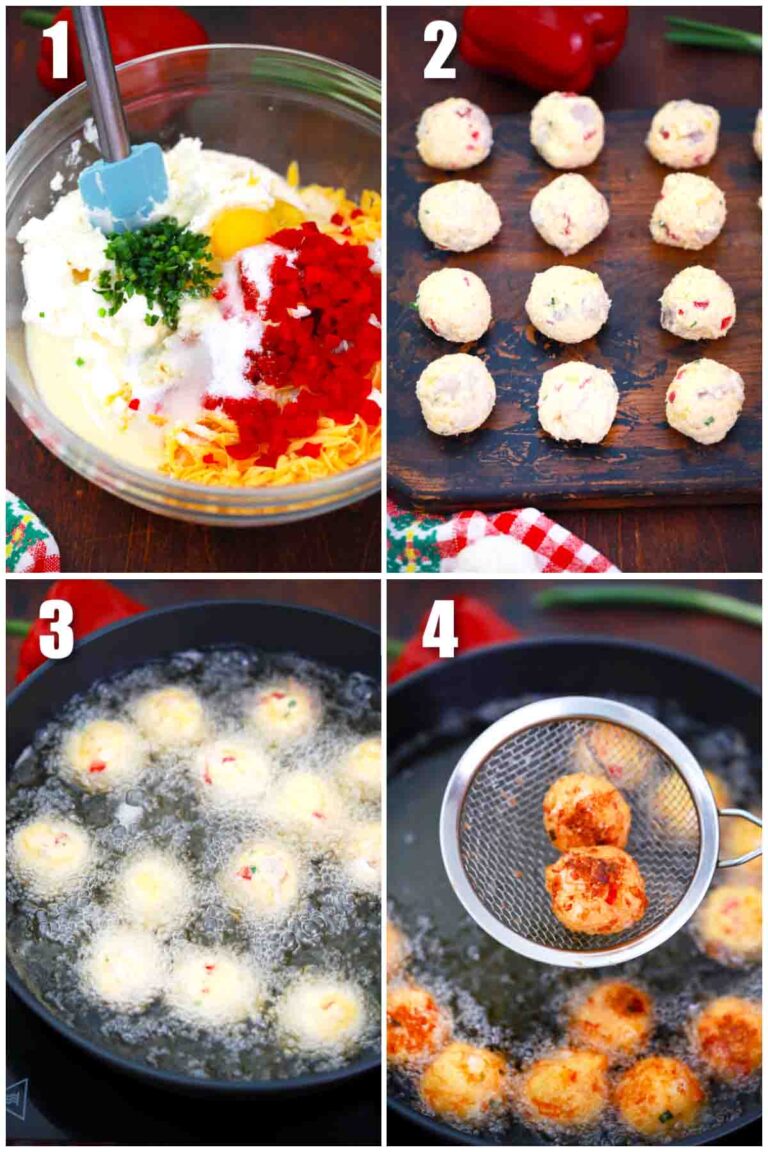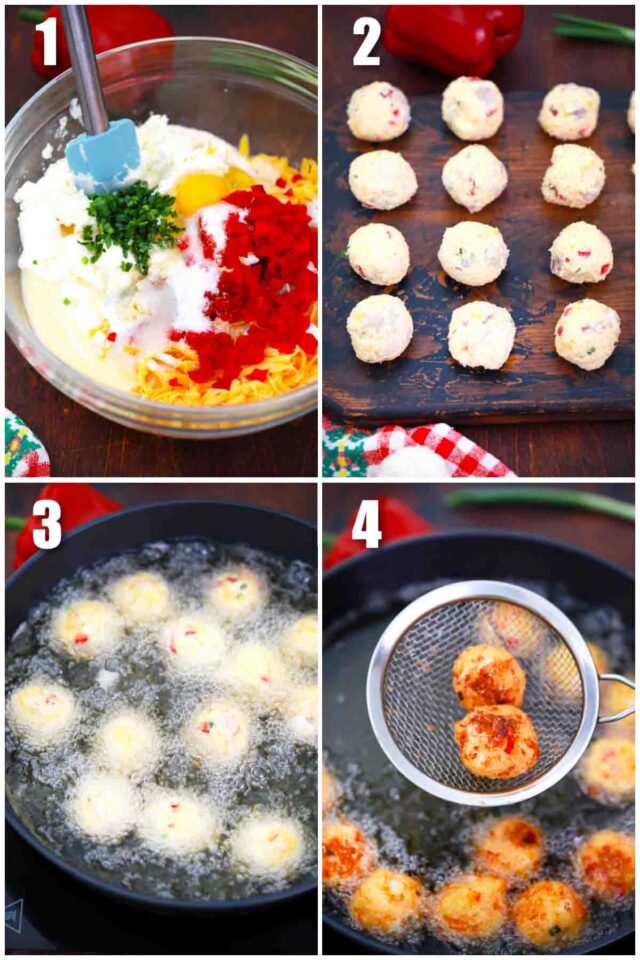 How to make shrimp-stuffed poppers from scratch?
Mix the ingredients:

To begin, mix all of the ingredients except for the canola oil in a large bowl and stir well.

Make the balls:

Then, roll the cream cheese mixture into balls, just a little bit smaller than the size of golf balls, and place them on a baking sheet covered in parchment paper.

Fry the poppers:

Now, heat oil in a wok or high-walled pot over medium-high heat. You have to be sure you have enough oil to cover about 2/3 of the shrimp balls. To test the oil, dip the end of a wooden spoon in the oil and it should bubble. If not, let it heat a minute longer.

Cook poppers:

After the oil is ready, place four to five poppers in and reduce to medium heat. Fry them until they are golden brown, turning occasionally with tongs.

Drain and cool:

When they are done, place them on a paper towel to drain. When they are cool enough to touch, slice a popper in half to check. If it is melted and cooked well, keep cooking for the same amount of time. Or adjust the time as needed.

Serve warm:

Finally, serve poppers while they are still warm with your favorite dipping sauce.
How to make shrimp-stuffed jalapeno poppers from scratch?
Prep the peppers:

First, remove seeds and ribs from the jalapeños if you do not want them to be too spicy. Simply slice them in half lengthwise and remove the seeds and membrane with a knife. Wear plastic gloves to keep the oil off your hands. The more seeds you leave in your jalapenos, the higher the heat level.

Make the cheese mixture:

Then, add all of the ingredients except for the oil into a large bowl and combine well.

Fill the peppers:

Next, fill the jalapenos with the cheese mixture and wrap them with a piece of bacon before putting them on a parchment-covered baking sheet.

Heat up the oil:

After they are all done, bring oil to a simmer in a wok or high-walled skillet using enough oil to cover 2/3 of each jalapeno.

Fry the shrimp jalapeno poppers:

When the oil is simmering, put four or five stuffed jalapenos in and cook until the bacon is brown and crisp. Place them on a paper towel to drain as you go.

Serve:

Serve the shrimp jalapeño poppers with whatever dipping sauce you prefer.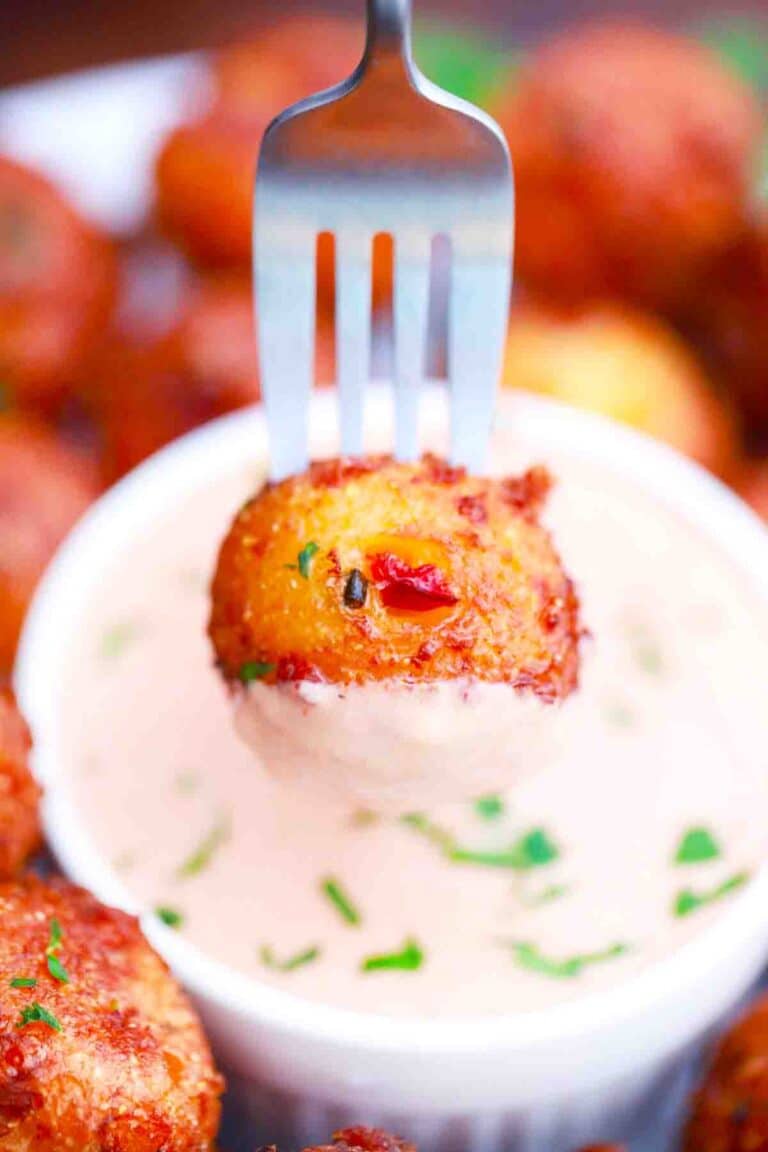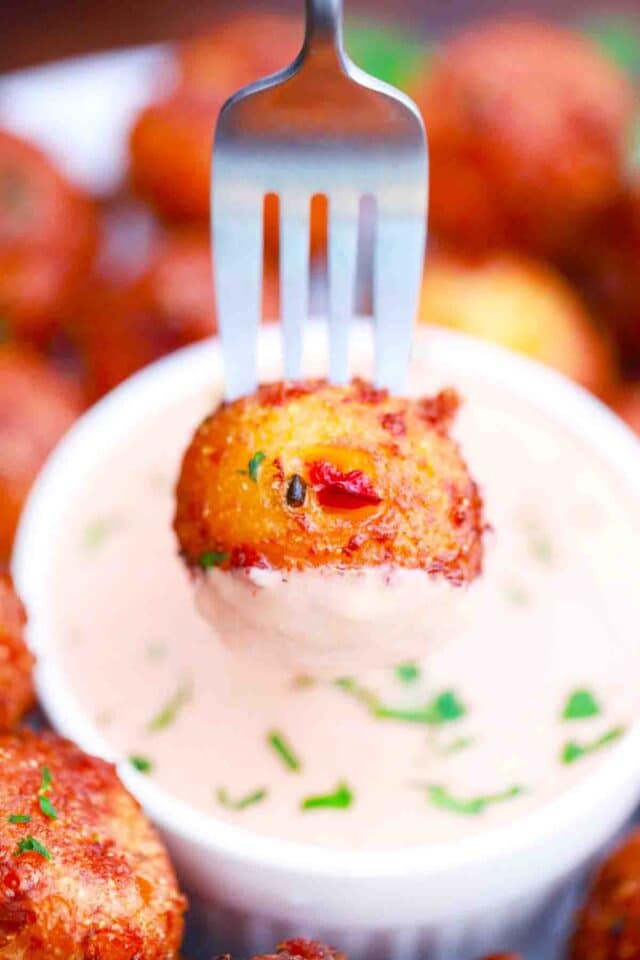 Recipe variations:
Another oil:

Feel free to use olive oil or whatever type of oil you like to cook with.

Bacon-wrapped:

Wrap your cheese mixture in bacon for bacon-wrapped poppers.

Different meat:

Instead of shrimp, you could use crab meat, tuna, chicken, turkey, or pork.

Bake your poppers:

Instead of oil, you can bake your poppers in the oven on a grill pan for 10 to 15 minutes at 375 degrees F.

Lime juice:

Soak shrimp in lime juice for one or two hours before using it for a tangy twist.

Different cheese:

Try using other types of cheese like swiss, mozzarella, or gouda.

Extra spicy:

For a hint of spiciness, add a pinch of red pepper flakes.

More herbs and spices:

In addition, feel free to use your own favorite herbs and spices in the mixture like cilantro, thyme, rosemary, and ginger.
How to serve:
Whether you want to serve these as an appetizer or a super bowl snack, these easy and delicious poppers are perfect. Creamy on the inside and crunchy on the outside, the tasty filling makes these yummy shrimp cheese balls a favorite with everyone. Try one of our serving ideas here or share some of your own in the comments below.
Try our savory

smoked salmon dip

recipe for these poppers. They go great together!

Sprinkle some parmesan cheese on top right after cooking for a salty and rich flavor.

Whether you serve these baked, fried, or grilled, they always taste great with cheese sauce. Try our easy and yummy

nacho cheese sauce

recipe.

You can eat these as a snack or a side dish at your next backyard barbecue.

These would also go great with this

shrimp fried rice

made from sweet corn, brown rice, and soy sauce.

Use another four ounces cream cheese mixed with salsa to make your own creamy salsa dip.

Leftovers can be used to make a delicious casserole or chop it up and toss it in our

creamy corn salad

for a new kind of side dish.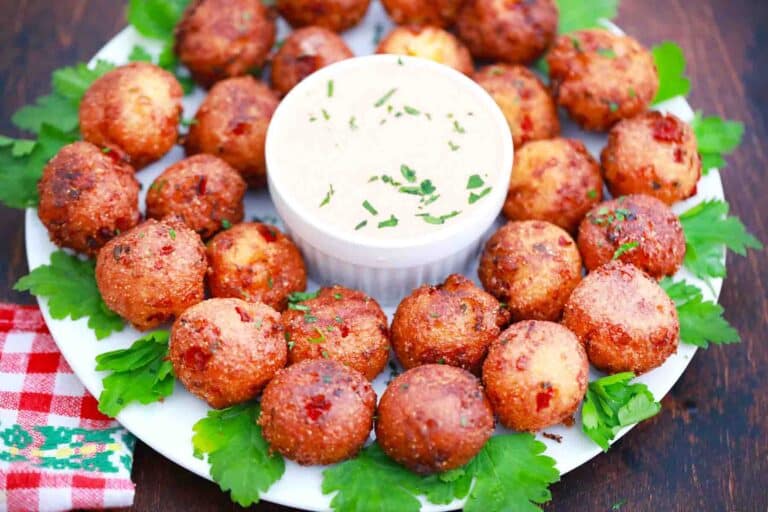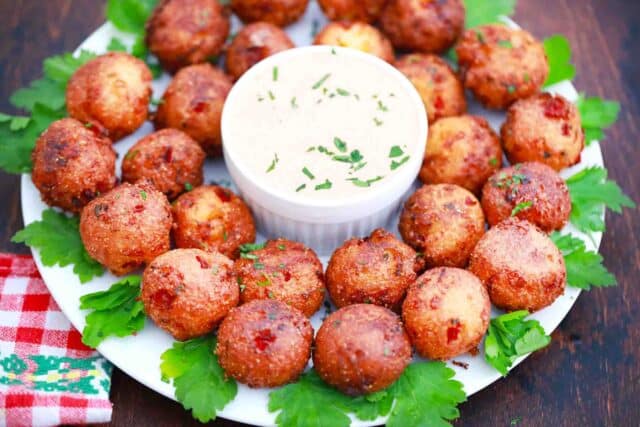 Frequently asked questions
Can I make these in the air fryer?
Yes, you can make these in your air fryer. Just prepare them as usual and then place the poppers in the air fryer basket. Set the temperature to 400 degrees F and fry for six to eight minutes. For extra crispiness, spray them with olive oil first and gently shake the basket halfway to get all the sides to cook evenly.
Why are my poppers falling apart?
It could be that you are moving them too soon. Do not move them at all until the bottom of the popper is crispy and brown. This takes several minutes. It may also be that the oil was not hot enough. Make sure your oil is ready by sticking the end of a wooden spoon in the oil. If it bubbles, your oil is ready.
How can I easily soften my cream cheese?
We have all done it! Forgotten to take the cream cheese out to soften before making a recipe. But you do not have to panic. You can unwrap the entire block of cheese and put it in the microwave for 15 seconds. Or keep it wrapped in the foil wrapping and put it in a warm water bath for 15 minutes. Flip it every five minutes and check for softness.
What are the nutrition facts in this recipe?
For each serving, the calories are 146 with 47 mg cholesterol and 10 grams fat including 4 grams saturated fat. It also contains 2 grams sugar, 7 carbohydrates, and 350 mg sodium. But on the good side, you also get 8 grams protein, 1 gram fiber, 232 mg calcium, 739 units vitamin A, and 50 mg vitamin C.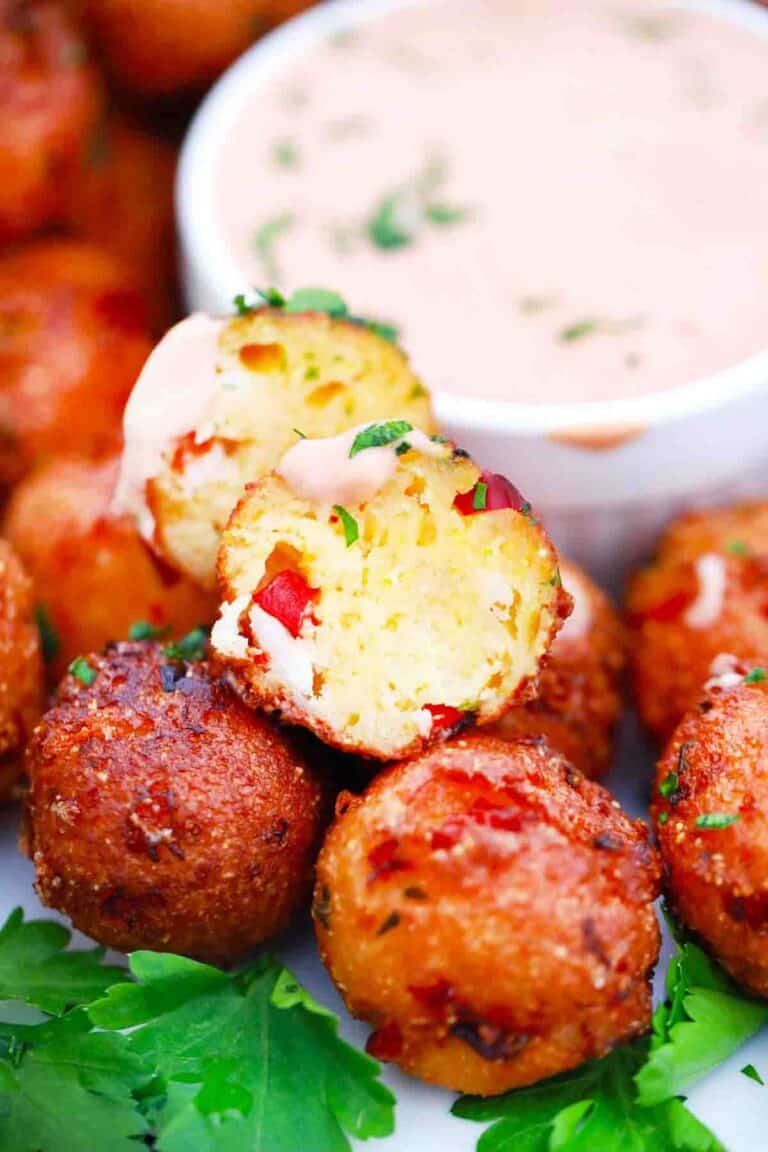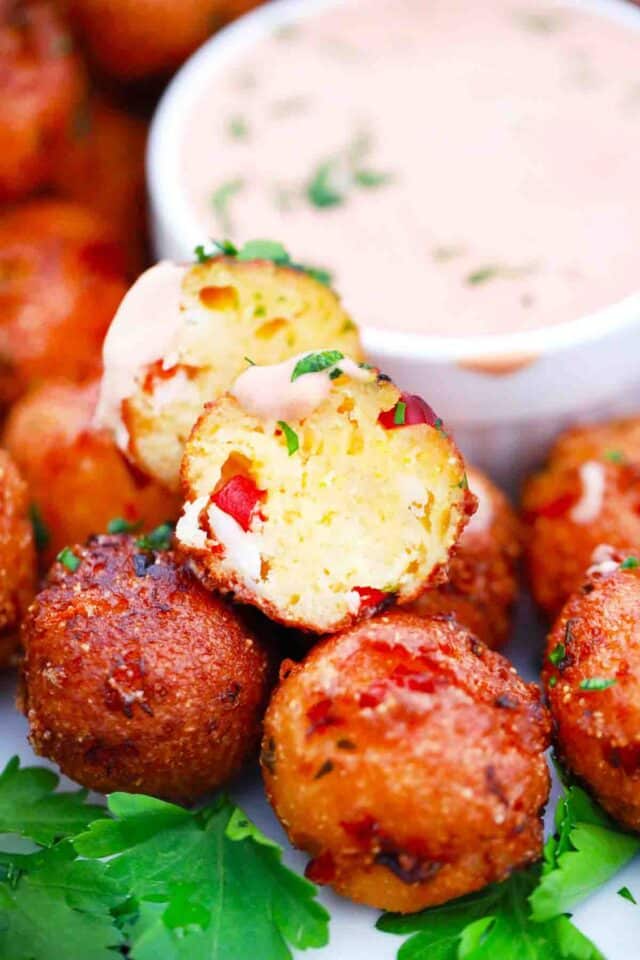 How to store leftovers:
Store:

Refrigerate leftover shrimp-stuffed poppers right away in an airtight container or ziplock baggie. They will stay fresh for two or three days.

Freeze:

Freezing your cream cheese shrimp-stuffed poppers is easy too. Simply put them in a freezer bag, squeeze out all the air, and you can freeze them for up to a month.

Thaw:

Do not thaw.

Reheat:

To reheat, fry frozen poppers in oil or cook in the air fryer for several minutes.
Recipe tips:
To make the cheese batter easier to handle, put it in the fridge for an hour before rolling it.

If the outside is cooking faster than the inside, lower the oil temperature and try again, leaving them in for a bit longer.

To shorten prep time, chop your shrimp and veggies in a food processor or use a cheese grater.

You can also use garlic powder instead of minced garlic cloves.

If your poppers are falling apart when you try to move them, use a slotted spoon instead of tongs.

Make sure your ingredients are at room temperature before using them.

The nutritional information above is estimated based on the exact recipe and does not include any substitutions.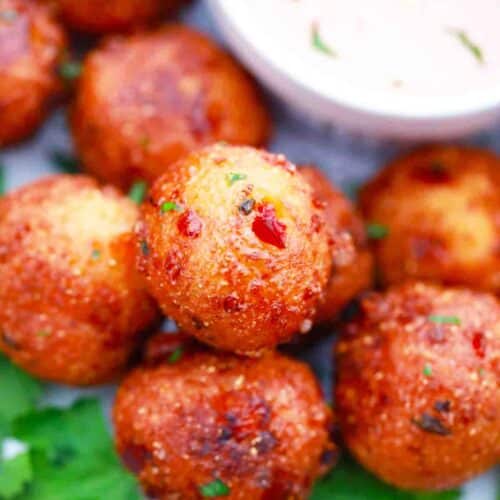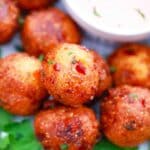 Cheesy Shrimp Poppers
Cheesy ShrimpPoppers are perfect super bowl snacks or appetizers for your nextparty.
Ingredients
10

oz

of shrimp meat

raw or cooked and chopped

1

box Jiffy corn muffin mix

1

cup

panko breadcrumbs

8

oz

package of cream cheese

softened at room temperature

1

cup

sharp cheddar cheese

shredded

1

large egg

1

stick unsalted butter

melted

1/2

cup

milk

1/2

red bell pepper

finely chopped

2

green onions

diced

2

cloves

garlic

minced

1

tablespoon

sugar

optional

Salt

to taste

Canola oil

for frying
Instructions
Combine all of the ingredients in a large bowl and mix well.

Roll the mixture into 1-2 tablespoon balls, and arrange on a parchment paper covered baking sheet.

In a large, high-walled pot or skillet, heat oil over medium-high. There should be enough oil to cover 2/3 of the shrimp balls.

Test the oil by dipping the end of a wooden spoon in the oil. If the oil begins to bubble, it's ready. If not, let it heat a bit longer.

Once the oil is ready, drop in 4-5 shrimp balls. Do not overcrowd the pan. Reduce the heat slightly and let them cook until a deep golden brown, turning occasionally.

Remove the poppers from the oil using a slotted spoon and let them drain on a plate covered with paper towels. Let them cool for 2 minutes and slice one in half. If the inside is cooked well, then continue to cook the poppers in the same manner and time.

Serve the shrimp poppers warm with a dipping sauce on the side!
Nutrition Facts
Cheesy Shrimp Poppers
Amount Per Serving
Calories 65
Calories from Fat 36
% Daily Value*
Fat 4g6%
Cholesterol 33mg11%
Sodium 78mg3%
Potassium 57mg2%
Carbohydrates 3g1%
Protein 4g8%
Vitamin A 225IU5%
Vitamin C 3mg4%
Calcium 51mg5%
Iron 0.2mg1%
* Percent Daily Values are based on a 2000 calorie diet.