Strawberry Baked Brie Recipe
Strawberry Baked Brie is the perfect appetizer made with gooey cheese and fresh strawberries. It is one of my favorite appetizers and is always a crowd-pleaser served with chips, bread, or crackers for dipping. In fact, it is hard to stop eating it once you start so you may want to make extra.
If you love baked brie, you will absolutely adore this recipe for Cranberry Baked Brie. All you need is cheese, pomegranate seeds, cranberry sauce, and chopped nuts. For a sweeter baked brie recipe, try our Pecan Pie Baked Brie sweetened with sugar, cinnamon, nutmeg, butter, vanilla, and maple syrup. Another awesome appetizer that everyone loves is this Cheesy Chicken Fajita Quesadilla recipe. Flavored with rotisserie chicken, bell peppers, onion, and melty cheese, these tortilla sandwiches are amazing.
The history of cheese is a long one. And brie cheese goes back to the middle ages. It is said that the monks of the Rueil en Brie Priory created this tasty dish when the French Emperor Charlemagne found one he loved so much, he asked for it to be delivered to him at his castle regularly. Then, in 1217, King Auguste was so fond of brie, he sent two hundred wheels to all the members of the court for New Year gifts.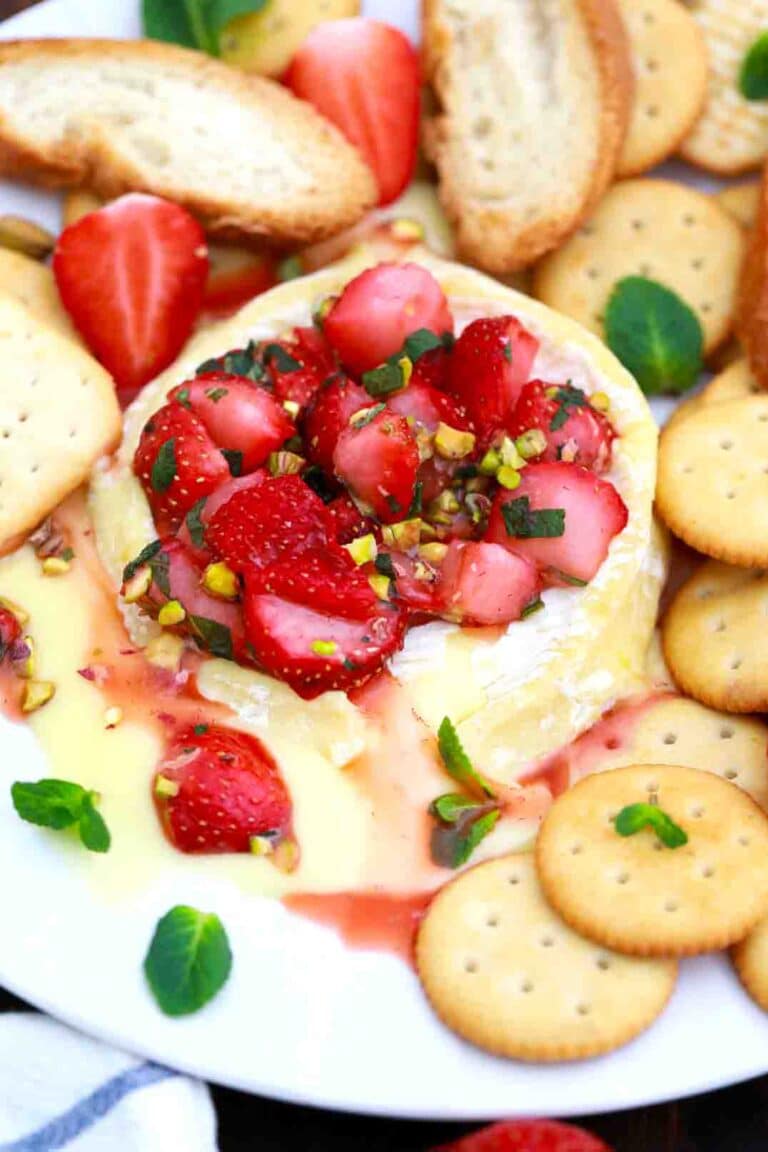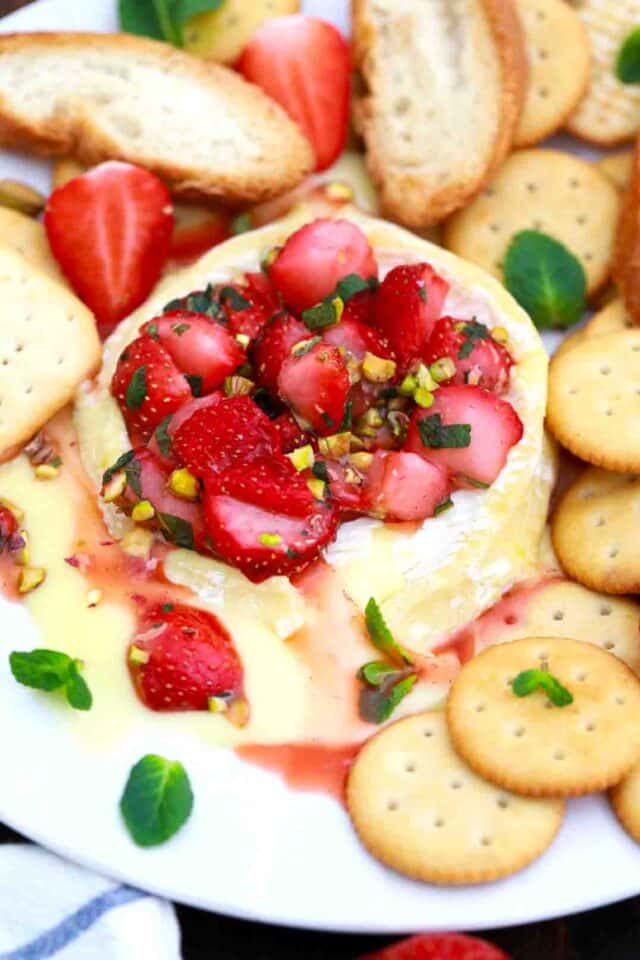 This strawberry baked brie recipe is ready to eat in less than 30 minutes and can be baked in your oven or an air fryer. Your guests will not believe you made this delicious appetizer in such a ridiculously short time. Be prepared to hand out the recipe. You can print our recipe card from the bottom of the page so you can just hand them out instead of having to write it down for them.
Looking for more delicious trending recipes? For another kind of appetizer, why not serve some chips with this delicious and crisp corn salsa? For something a little different, this sweet and tangy pineapple mango salsa goes great with chips, veggies, or fruit. Or for something completely unique, this Snickers apple salad mixes our two favorites: apples and Snickers candy bars.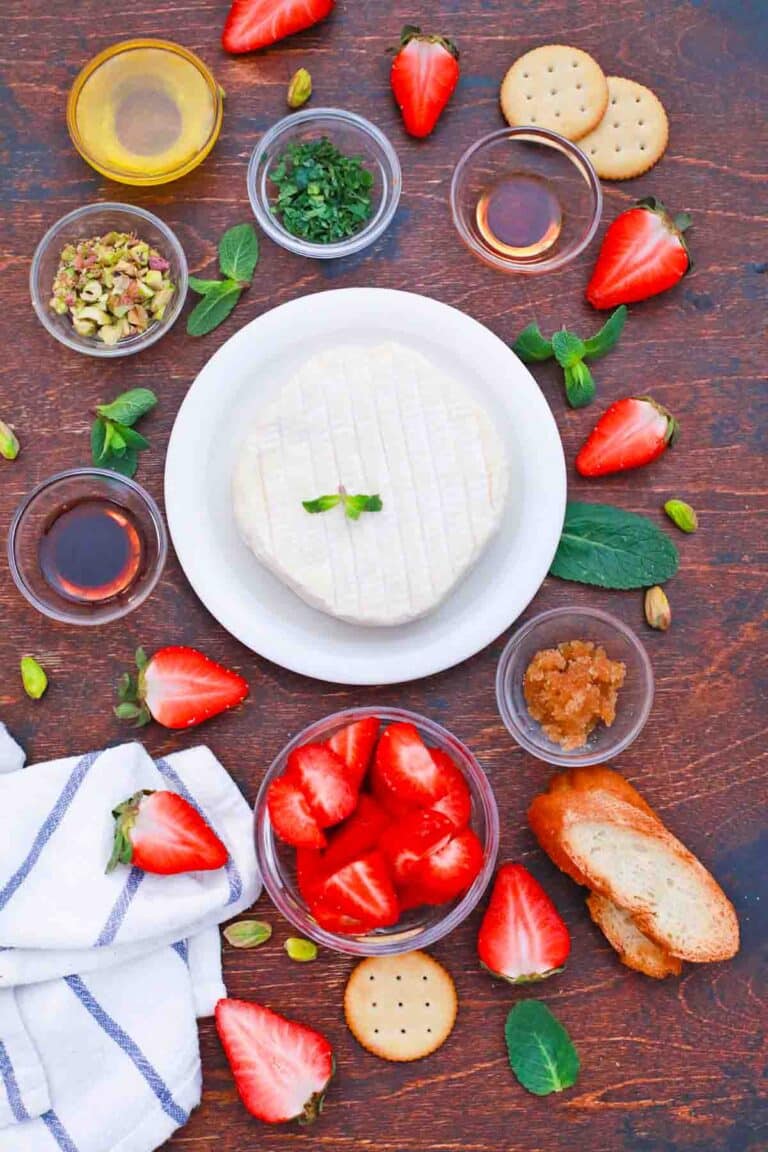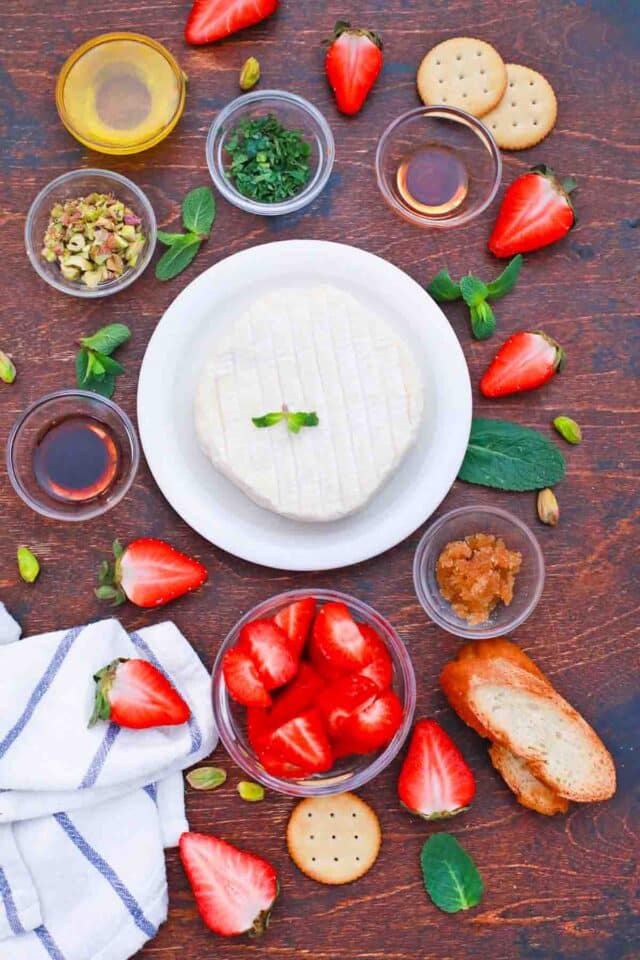 Ingredients needed:
To make this delicious strawberry balsamic baked brie recipe, gather the ingredients listed below. Scroll down to our recipe card for complete instructions and exact measurements when you are ready to begin.
Wheel of brie cheese

Coarsely chopped unsalted pistachios

Honey

Strawberries

Vanilla extract

Brown sugar

Balsamic vinegar

Chopped fresh mint leaves

Toasted baguette slices, crostini, or crackers: For serving.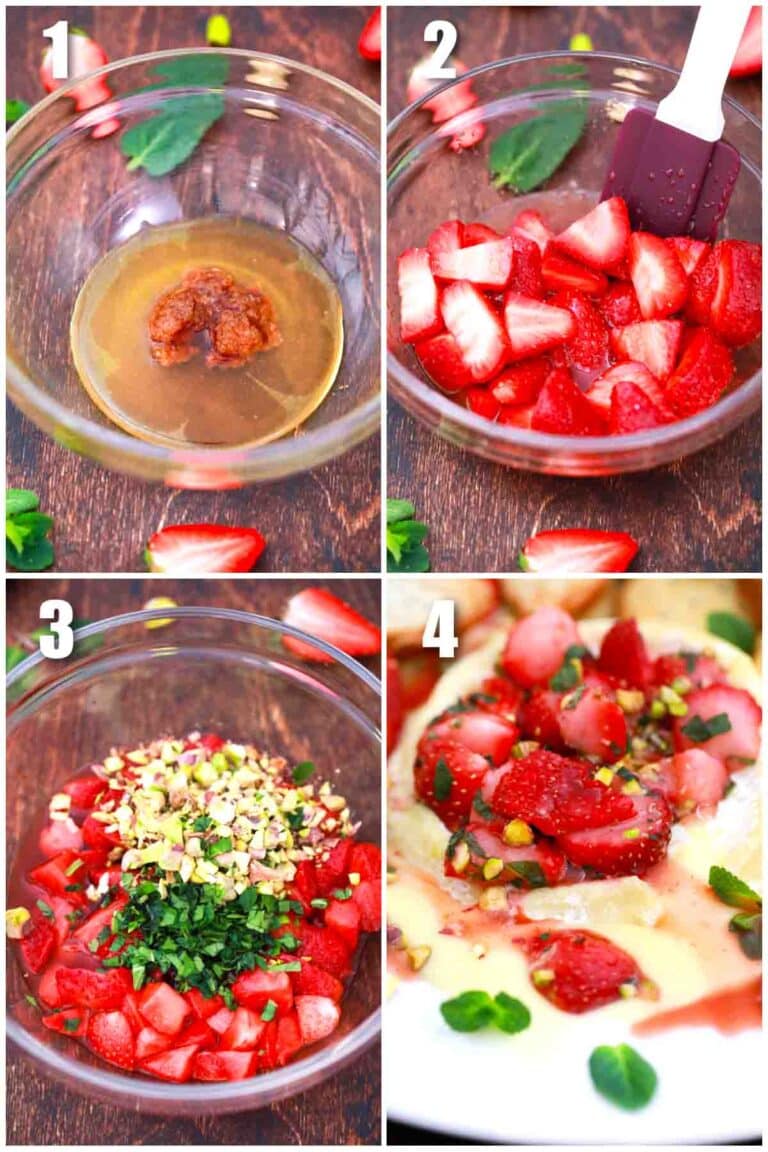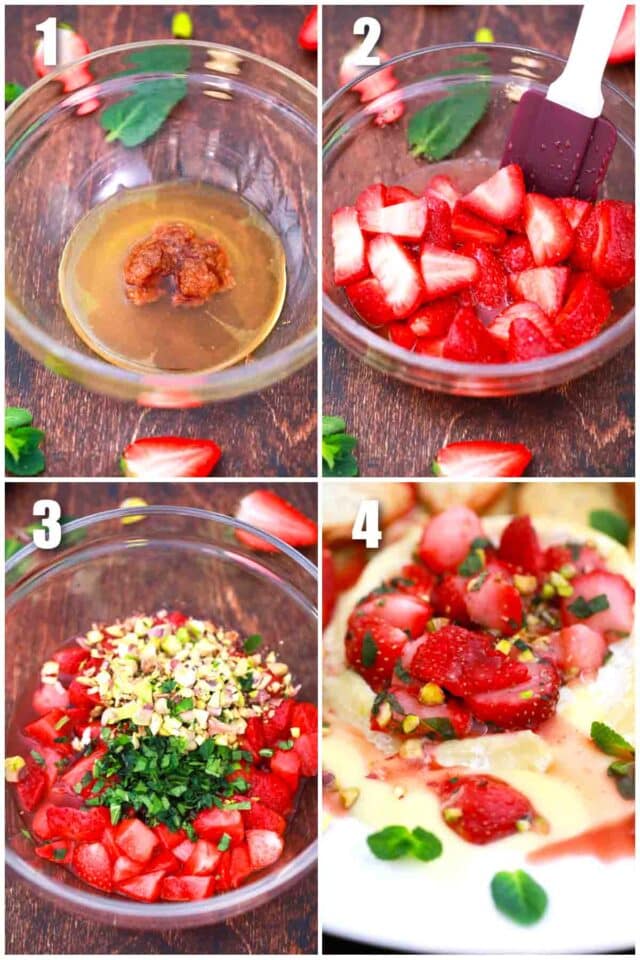 How to make strawberry baked brie from scratch?
Preheat oven: First, preheat your oven to 375 degrees F.

Prep the strawberries: In the meantime, clean your strawberries and remove the tops. Cut them into uniformly small pieces.

Combine the balsamic mixture: Then, whisk the vanilla extract, sugar, balsamic vinegar, and honey in a medium bowl. Add in strawberry pieces and toss to coat all of them evenly. Pour them onto a rimmed baking sheet lined with parchment paper or a baking dish.

Roast strawberries: Now, roast strawberries for 12 to 15 minutes or until they are tender but not mushy. Remove them from the oven and transfer strawberries and syrup into a bowl to cool.

Bake brie: Next, place brie cheese into a clean baking dish or a different parchment-lined baking sheet and bake it for 10 minutes. It should be soft and warm but not melted out of the rind.

Combine strawberries, mint, and nuts: While your brie bakes, fold the pistachios and mint into the roasted strawberries.

Top melted cheese: Lastly, pour the strawberry mixture on top of the warm brie cheese as soon as it comes from the oven.

Serve baked brie: Finally, serve with sliced baguette rounds, crostini, or crackers.
How to make air fryer strawberry baked brie from scratch?
Clean strawberries: First, rinse fresh berries and remove the tops before cutting them into small pieces.

Make the sauce: Next, mix the honey, sugar, vanilla, and vinegar in a medium bowl. Then, toss in strawberries until they are evenly coated.

Bake the strawberries: Place strawberries on a piece of parchment paper and into the air fryer basket. Bake at 375 degrees F for five minutes. Shake, and then cook for another three minutes.

Bake the brie cheese: After, place the brie cheese onto a different piece of parchment paper and place it in the air fryer basket. Cook for five to seven minutes.

Mix in the pistachios and mint: While you wait for the brie to bake, combine the strawberries with mint and pistachios.

Serve immediately: Top brie with strawberries and serve warm.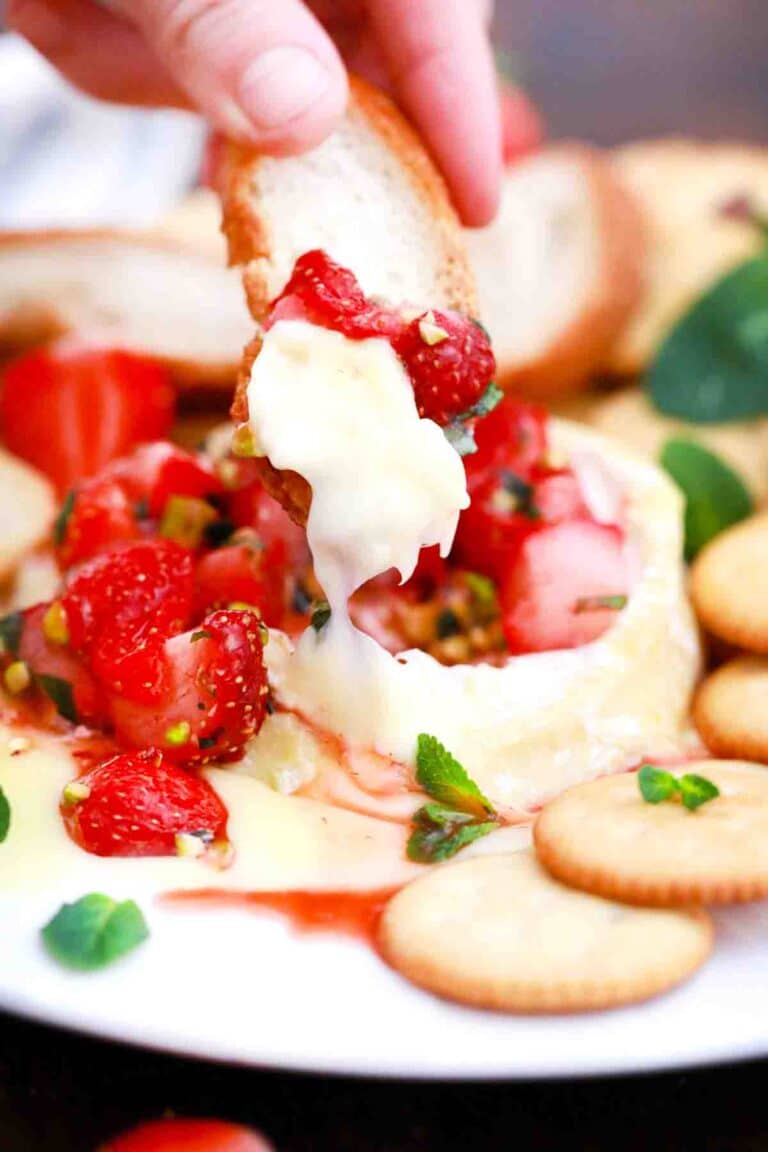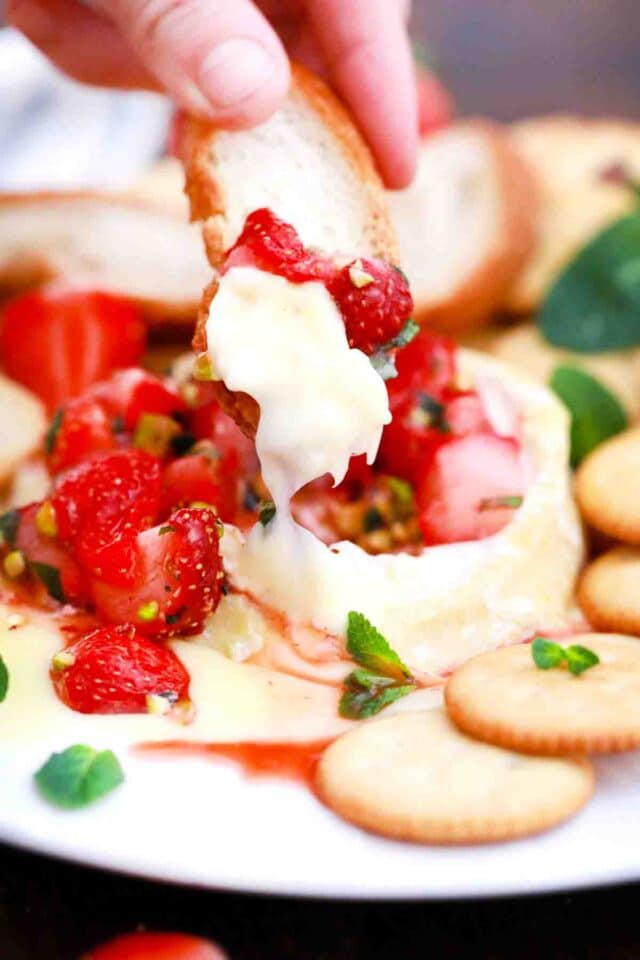 Recipe variations:
Other nuts: Feel free to use different nuts like chopped walnuts or pecans.

Different cheese: You could also use a different kind of cheese like camembert or reblochon cheese.

Use jam: To save prep time, use strawberry jam instead of making your own strawberry topping.

Fresh herbs: You can add your own favorite herbs to this dish such as basil, thyme, or oregano.

Different fruit: Instead of or in addition to strawberries, you can also use fresh blueberries or raspberries.

Spice it up: If you like spicy foods, add some chopped jalapeno or chipotle peppers to your strawberry topping.

Chocolate: Your chocolate lovers will love having a cup of chocolate chips mixed into the cheese.
How to serve:
This delicious appetizer is hard to resist warm from the oven and served with assorted crackers or chips. It is a simple recipe that only takes a few minutes time. Try one of these serving ideas or share one of your own in the comments section. We encourage reader interactions.
Serve with sliced fruit such as apples, pears, or melons for dipping.

A creamy cheese dip goes perfectly with a creamy drink. Try our recipe for Natilla Cubana with heavy cream and cinnamon.

Another dipping idea is to use your favorite veggies like celery, carrots, and broccoli.

Use leftover strawberry baked brie to add to another dip recipe like our smoked salmon dip.

Dried fruit is another good idea. Try figs or apricots.

This makes a delicious topping for toast or bagels. Try it on our scrumptious air fryer french toast sticks.

Sprinkle cinnamon and brown sugar on top for a sweeter cheese.

During the holidays, serve this melty cheese appetizer with our homemade eggnog.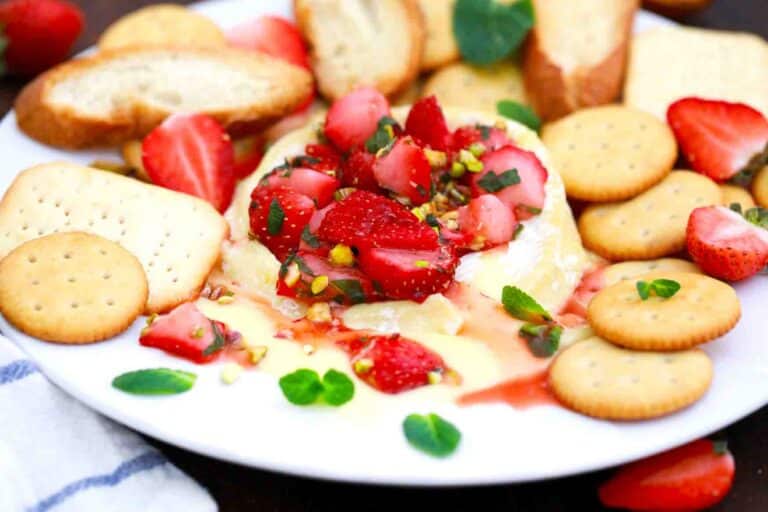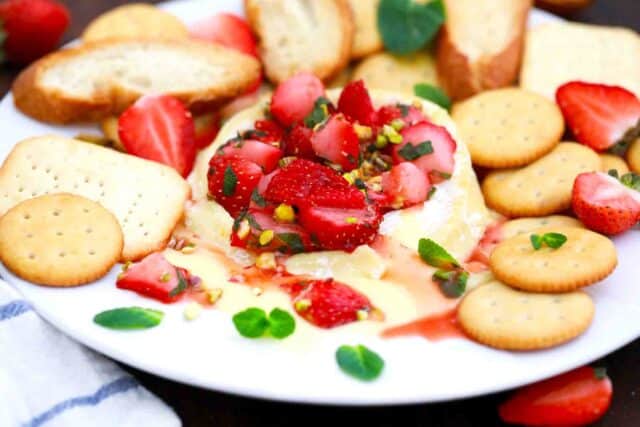 Frequently asked questions
Should I remove the rind?
No. While in some recipes, you can remove the rind, for this one you should cook the whole wheel. That way it holds the baked cheese inside the rind, so it does not just melt all over the place. Also, once it is cooked, the rind acts like a bowl to hold your dip.
Is the rind edible?
Eating the rind is perfectly safe and many people love the flavor. Some are repelled by the powdery texture, but the flavor is rich and nutty. Try breaking off a piece and dipping it into the cheese and strawberry-baked brie. This delicious appetizer cuisine is always a huge hit at parties.
Why did my brie turn out rubbery?
If you overcook your cheese, it will turn hard and rubbery. You should only cook it until the cheese is warm. Not until it is melted and runny. You should also check the temperature of your oven. Some ovens cook at a higher temperature than normal and that can cause it to be rubbery as well.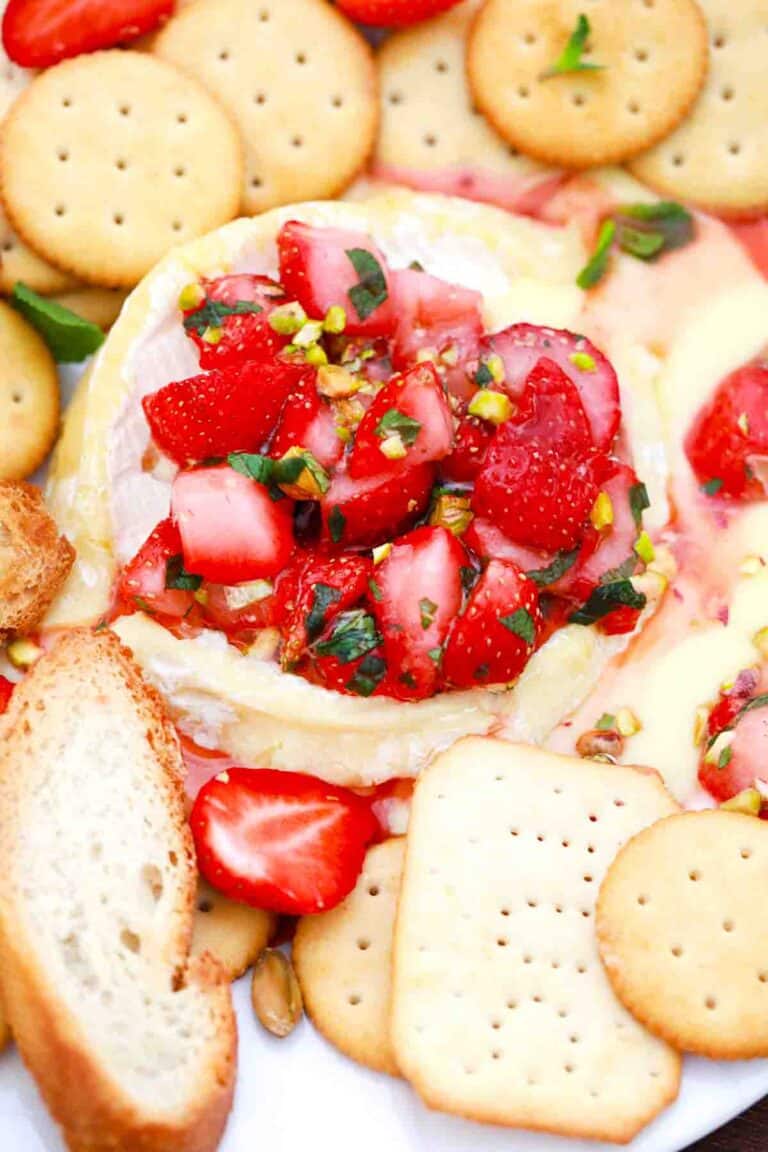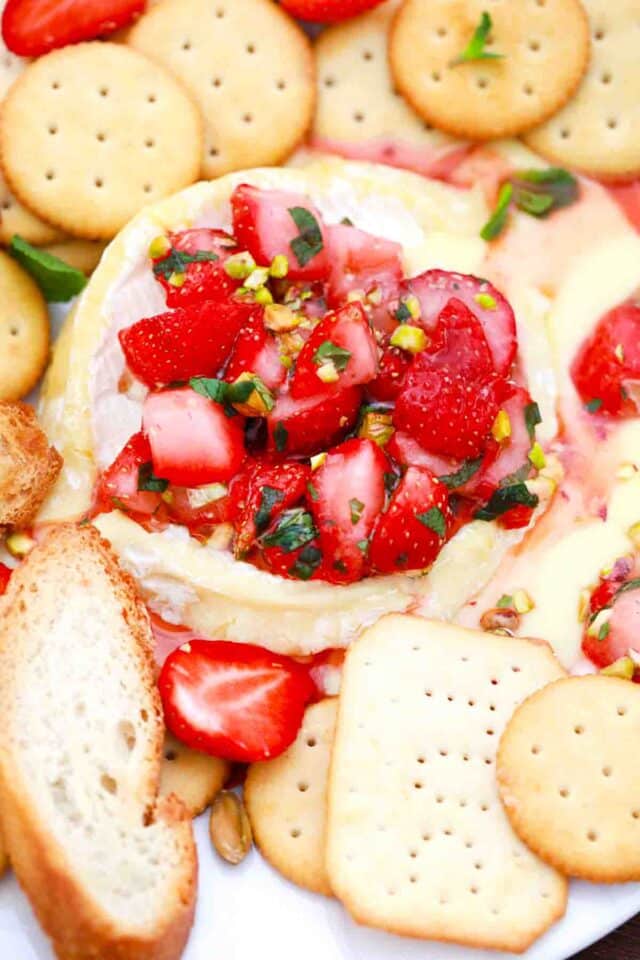 What are the nutrition facts in this recipe?
The nutrition information in this easy recipe depends a lot on what you use to dip in it or put it on. But each serving of the cheese and strawberry sauce has 199 calories, 33 mg of cholesterol, and 17 grams of fat with 8 grams of saturated fat. You also get 233 mg of sodium, 4 carbs, and 2 grams of sugar.
On the other hand, it also has 88 mg of calcium, 15 mg of vitamin C, 268 units of vitamin A, and 10 grams of protein. This yummy cheese also provides 144 mg of potassium, 2 grams of fiber, and 1 mg of iron.
How to store leftovers:
Store: You can store your leftover strawberry baked brie in an airtight container. It will stay fresh in the refrigerator for up to five days.

Freeze: Freezing brie cheese is not recommended.

Reheat: To reheat, place the brie in a microwave-safe dish and cook on medium heat for 30 to 45 seconds.
Recipe tips:
For uniform pieces, chop large strawberries in quarters and small strawberries in half.

Do not worry if your strawberry sauce is too watery when it comes out of the oven. It will thicken as it cools.

If the chips you are using keep breaking, simply use a butter knife to top your chips instead of dipping them.

The baking time will vary depending on the size of your brie cheese wheel. Ours was five inches in diameter.

The cheese will start hardening after a while. To fix this problem, just stick it in the microwave for 10 to 20 seconds and give it a good stir.

Make sure you do not overcook your cheese or it will get rubbery.

Do not get brie that is not ripened all the way. Unlike other fresh items, brie does not ripen after you take it home. You want one that is about one inch thick with a firm (but not hard) center.

Instead of honey, you can use agave or maple syrup.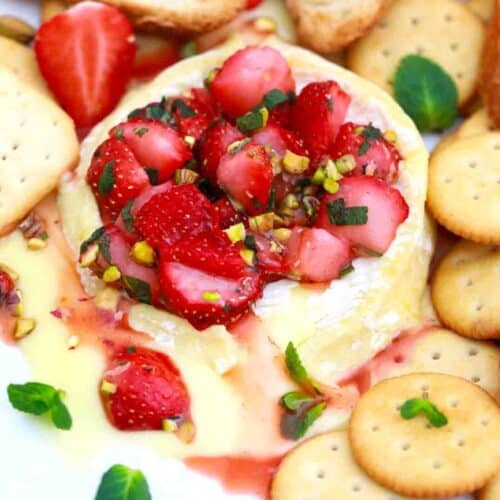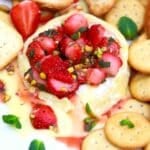 Strawberry Baked Brie
StrawberryBaked Brie is the perfect appetizer made with gooey cheese and freshstrawberries.
Keyword:
Strawberry Baked Brie
Ingredients
14

ounce

round of Brie

1

pound

fresh strawberries

2

tablespoons

honey

1

teaspoons

balsamic vinegar

2

tablespoon

brown sugar

1

tsp

vanilla extract

1

tablespoon

fresh mint leaves

chopped

2

tablespoons

unsalted pistachios

coarsely chopped

crackers

crostini, or sliced baguette , for serving
Instructions
Preheat oven to 375 degrees F.

Wash, clean and pat dry the strawberries and remove tops. Cut the strawberries into quarters or in half, based on their size.

In a medium bowl, whisk together honey, balsamic vinegar, sugar, and vanilla. Add the strawberries and toss to combine.

Cover a rimmed baking sheet with parchment paper, and roast for 12-15 minutes, until strawberries are just tender.

Remove from the oven and transfer the mixture to a bowl to cool slightly, it will thicken as it cools.

Place Brie in a clean baking dish lined with parchment and bake for 10-15 minutes, or until cheese is soft and warm, but not melting out of the rind.

Remove from the oven, top with the strawberry syrup and serve with crackers.
Nutrition Facts
Strawberry Baked Brie
Amount Per Serving
Calories 199
Calories from Fat 153
% Daily Value*
Fat 17g26%
Cholesterol 33mg11%
Sodium 233mg10%
Potassium 144mg4%
Carbohydrates 4g1%
Protein 10g20%
Vitamin A 268IU5%
Vitamin C 15mg18%
Calcium 88mg9%
Iron 1mg6%
* Percent Daily Values are based on a 2000 calorie diet.