Pink Angel Milk is a delicious TikTok recipe that has gone viral recently, you can make it home with just a few ingredients. The tasty drink hit the airwaves and took off after the public found out how delicious it was.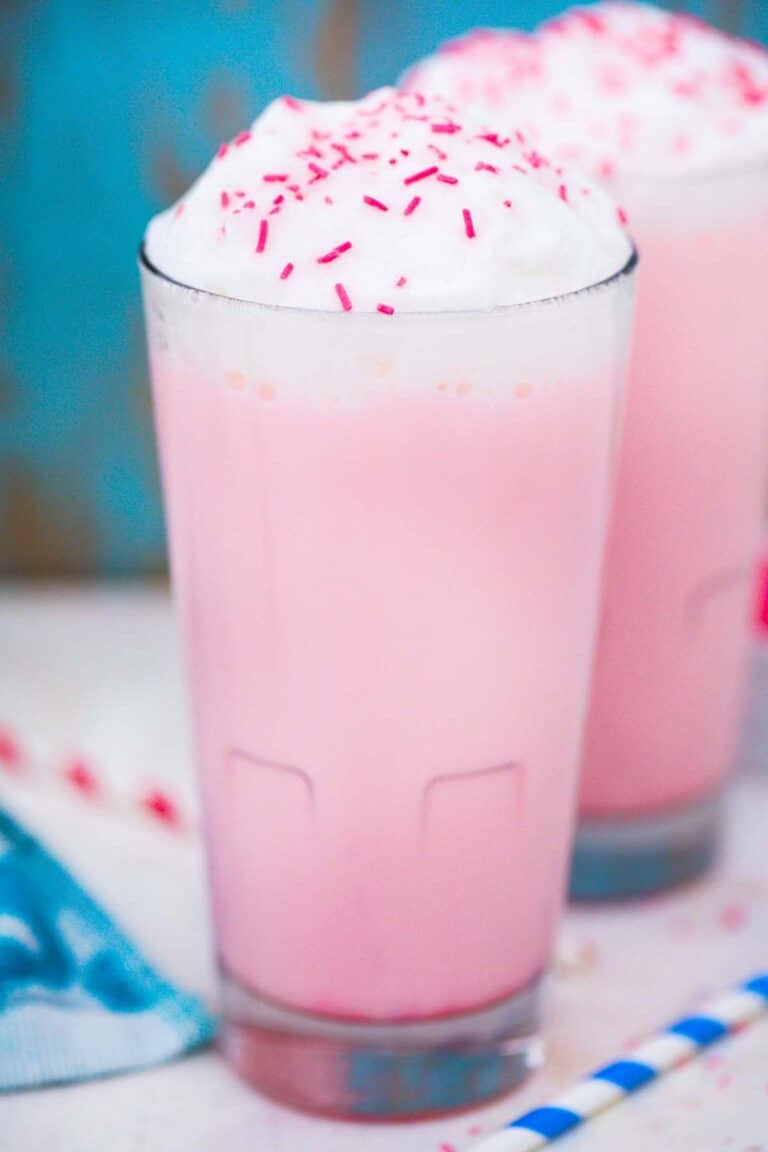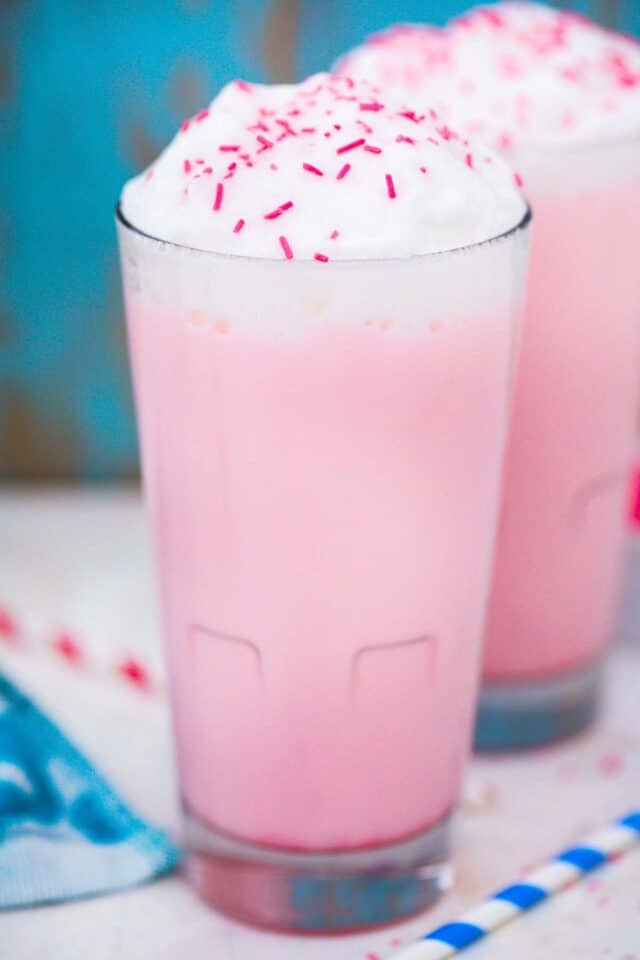 With just three simple ingredients and some food coloring, you can have a delicious sweet frothy drink that tastes like the Starbucks vanilla steamer but is even better. TikTok angel milk is a comforting drink that can relax you after a long day at work or out enjoying the day.
Believe it or not, angel milk was not founded by TikTok users. In fact, it was first made during WWII by Dr. William Shiel who used it when fresh milk was hard to find. They even used it as a substitute for breast milk when needed. However, this newest trend was found on TikTok just recently made with milk, vanilla, and sugar.
You only need milk, sugar, and vanilla extract for this fun kid-friendly recipe along with the food coloring just for looks. If you do not have any food coloring, that is okay too. But, if you have trouble getting your kids to drink their milk, add any color food coloring to get them to try it. But be careful! Once they taste it, they will want their milk like that all the time.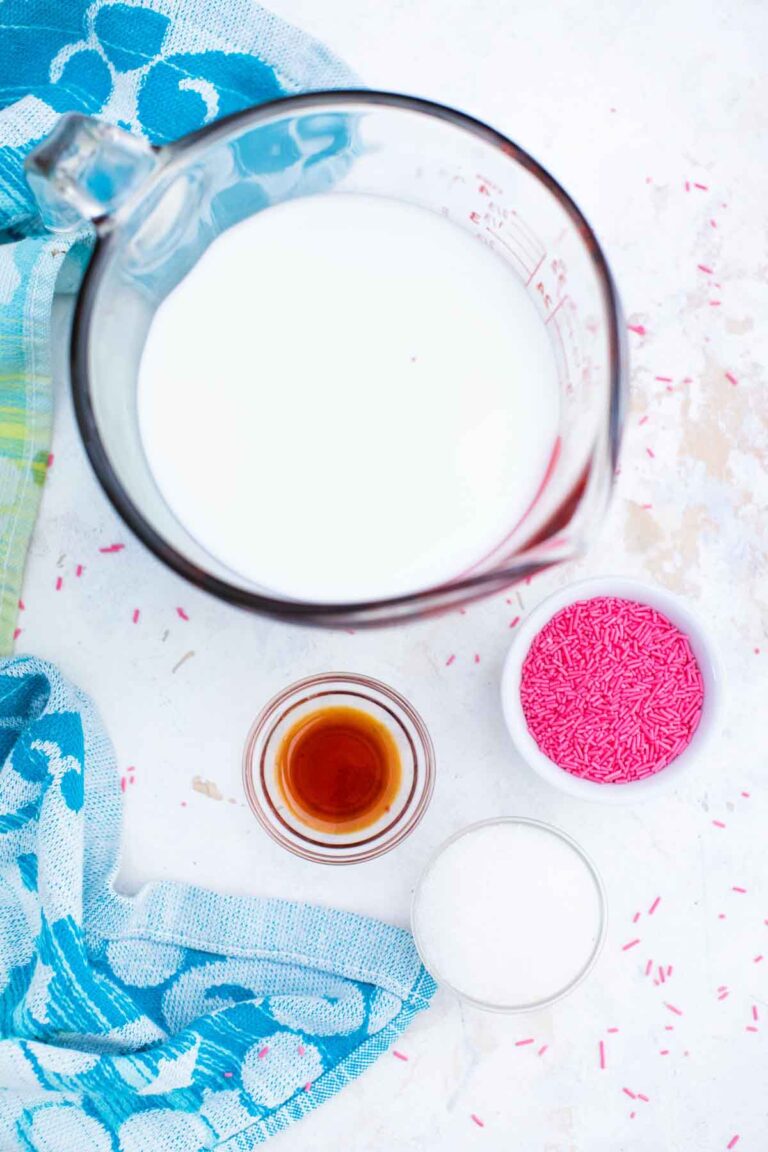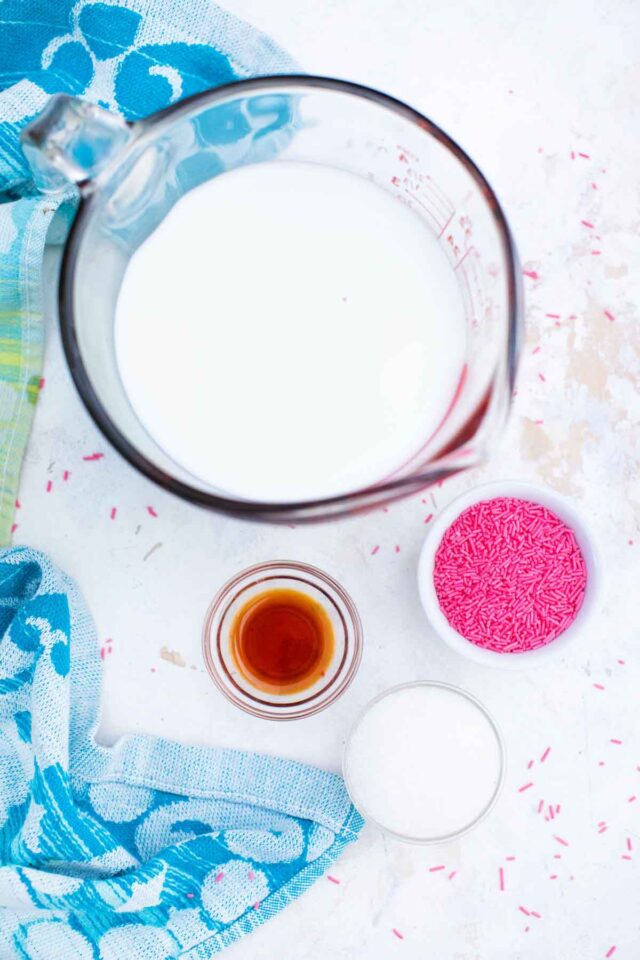 Ingredients needed:
Here are the few basic ingredients you will need for this trendy recipe. After you gather these items, scroll down to our recipe card for the exact directions and precise measurements.
Milk
Vanilla extract
White granulated sugar
Red or pink food coloring
Fancy sprinkles or another fun topping
How to make pink angel milk from scratch?
Microwave the milk: First, heat milk in a small bowl in the microwave for 30 seconds and stir. Keep heating it in 30-second intervals until it is warm enough for you. Make sure it does not overflow.
Pour into a glass: Immediately, pour the steamed milk into a mug or thick glass leaving the foam on top.

Mix in the other ingredients: Then, add sugar and vanilla extract with a drop of pink or red food coloring, and stir. Continue adding one drop of food coloring at a time until it is the color you like.

Decorate your drink: Garnish with whatever you like and serve.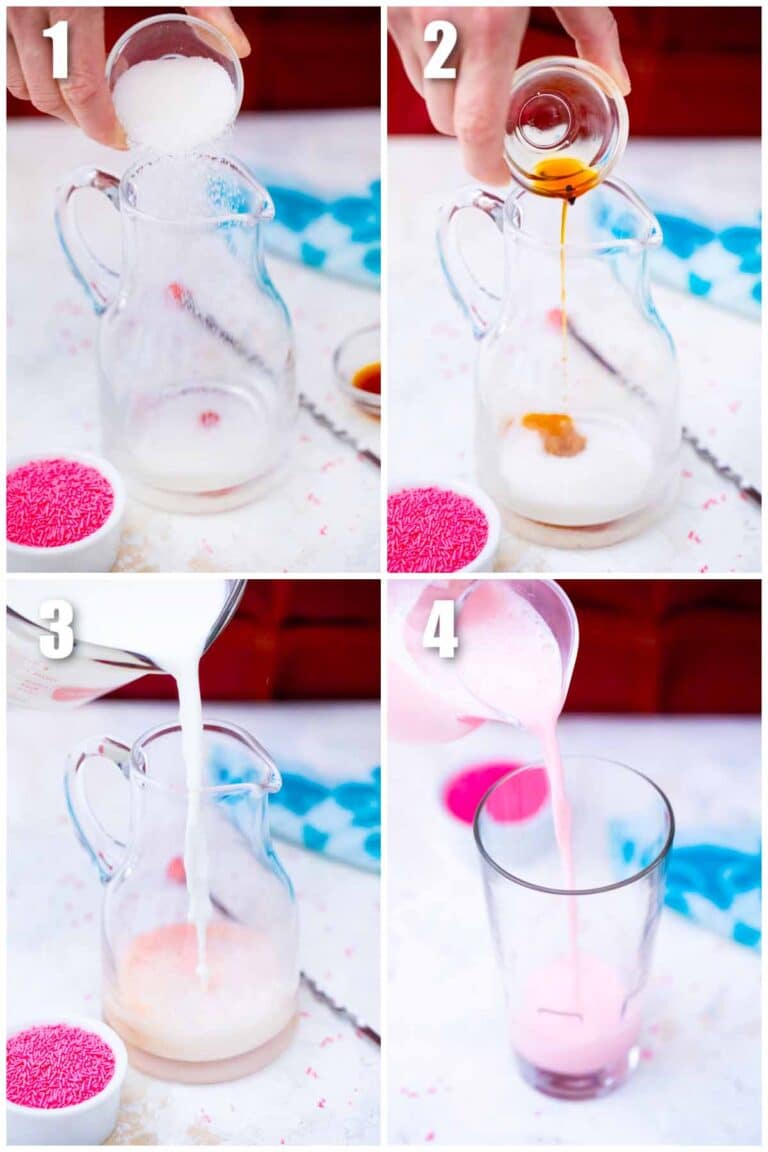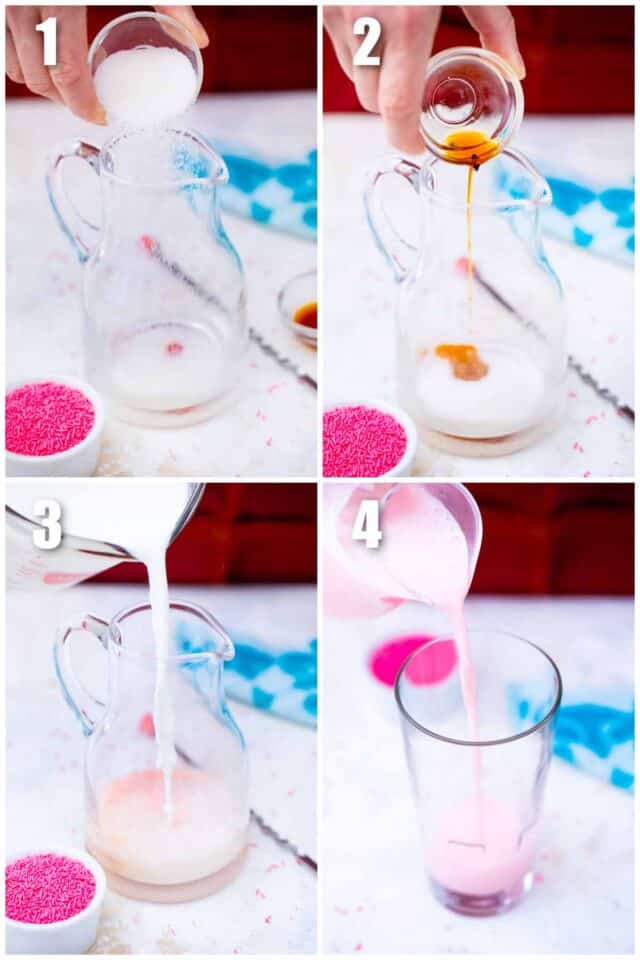 How to make angel milk on the stove from scratch?
Boil the milk: To begin, add the milk and sugar to a small saucepan and bring it to a boil, stirring frequently until the sugar dissolves. This should take a couple of minutes.
Add the vanilla extract: Now, remove the pot from the stove and add the vanilla extract and stir until it is mixed thoroughly.
Add food coloring: Next, squeeze one drop of food coloring into your drink until it is the right color.

Prep the drink: After, pour it into a glass mug. You want one that is see-through to show off the pretty color. If the foam dissipates, use a hand frother to stir it back up.
Garnish instructions: Finally, add rainbow sprinkles or some other fun topping before serving.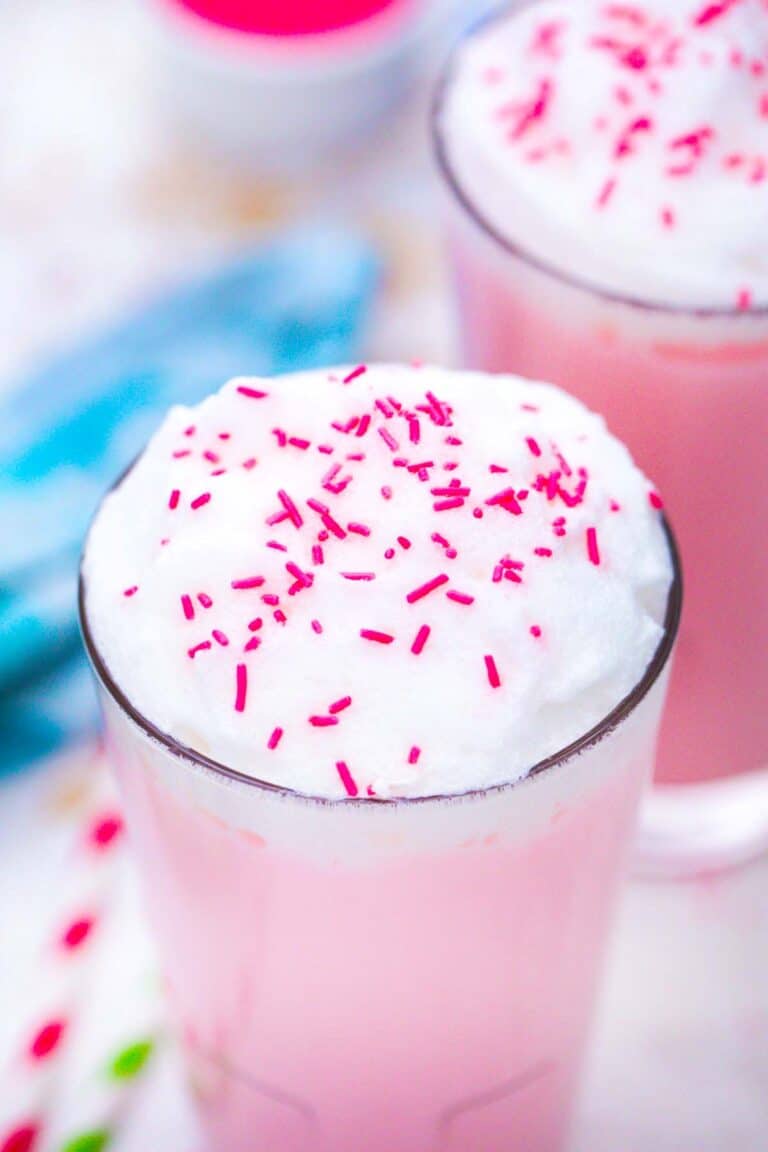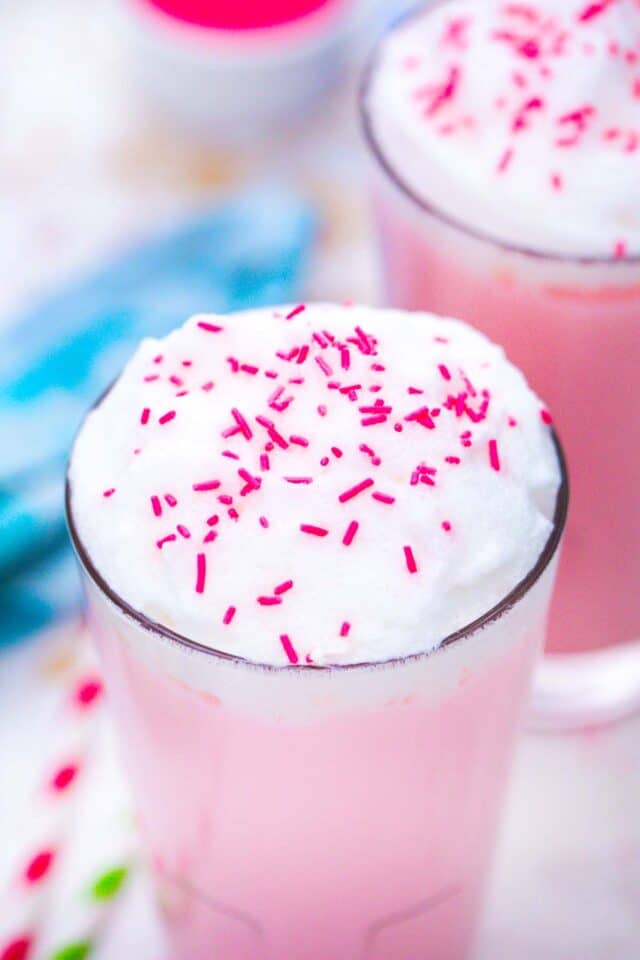 Recipe variations:
Lactose intolerant: Those who are sensitive to dairy can use nut or plant-based milk instead.
Other sweeteners: Feel free to use other sweeteners such as honey or maple syrup.

Add fruit: For a more substantial drink with a unique flavor, add your favorite fruit like mashed bananas or strawberries.
Crunchy: Make your angel milk crunchy by adding some granola or chopped nuts.

Different extract: Try using other extracts like apple, mint, or almond extract.

Spice it up: Add your favorite spices like cinnamon, cloves, or ginger.
Hot milk: If you are a fan of spicy foods, add a pinch of red pepper flakes.
How to serve:
We have a bunch of different ways to serve this sweet and warm milk beverage. Try one of these ideas or share some of your own with us in the comments section.
Sprinkle on some cinnamon or cocoa powder for an additional flavor twist.
Serve with baked goods for a fun breakfast or brunch.
You can also top your angel milk TikTok recipe with edible glitter or prism powder for a fancier look.
This drink also goes well with any kind of cookies you have on hand.
Add a cinnamon stick to give your milk even more flavor and a nice cozy feeling.
You can use leftover pink milk for making your next smoothie or milkshake to give it a pink hue.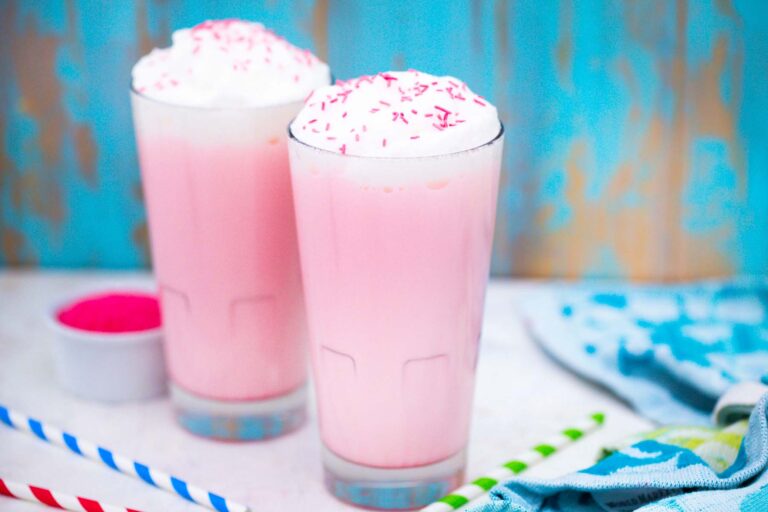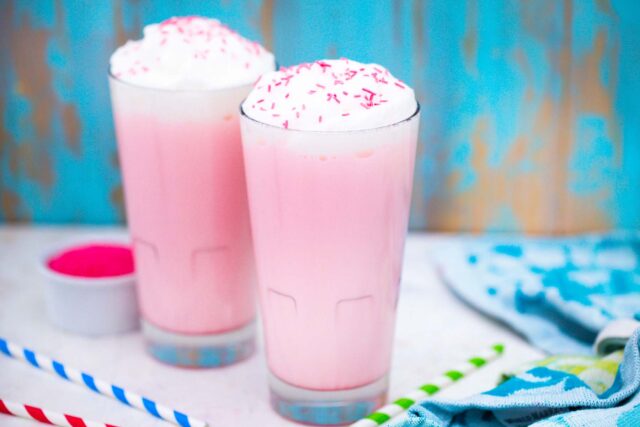 Frequently asked questions
What is the best milk for this recipe?
Any kind of milk can be used in this easy and versatile recipe. Whole milk, skim milk, or 2% milk will work great but you can also use plant or nut-based milk if you need it to be dairy free. Almond milk is perfect because it makes your drink even sweeter with a little nutty taste. Oat milk, coconut milk, or even coconut milk will also be delicious. If you want to make your angel milk taste rich and creamy, a full-fat milk will do the trick.
What natural colorings can I use?
Instead of food coloring, turn the milk pink with a natural ingredient like pomegranate, cherries, or cranberries. Just remember, using natural colors can change the flavor too. For example, you will get a cherry flavor from adding cherry juice. That is why you probably should not use beet juice or powder unless you want your milk to taste that way.
How can I make my milk foamier?
Actually, the best way to get frothy milk is to use an espresso machine. But if you do not have one, there are a few other alternatives. For example, pour it into a jar with a tight lid and shake for a minute. Make sure you leave room in the jar for the froth. Or you can use a blender, food processor, or even a handheld frother.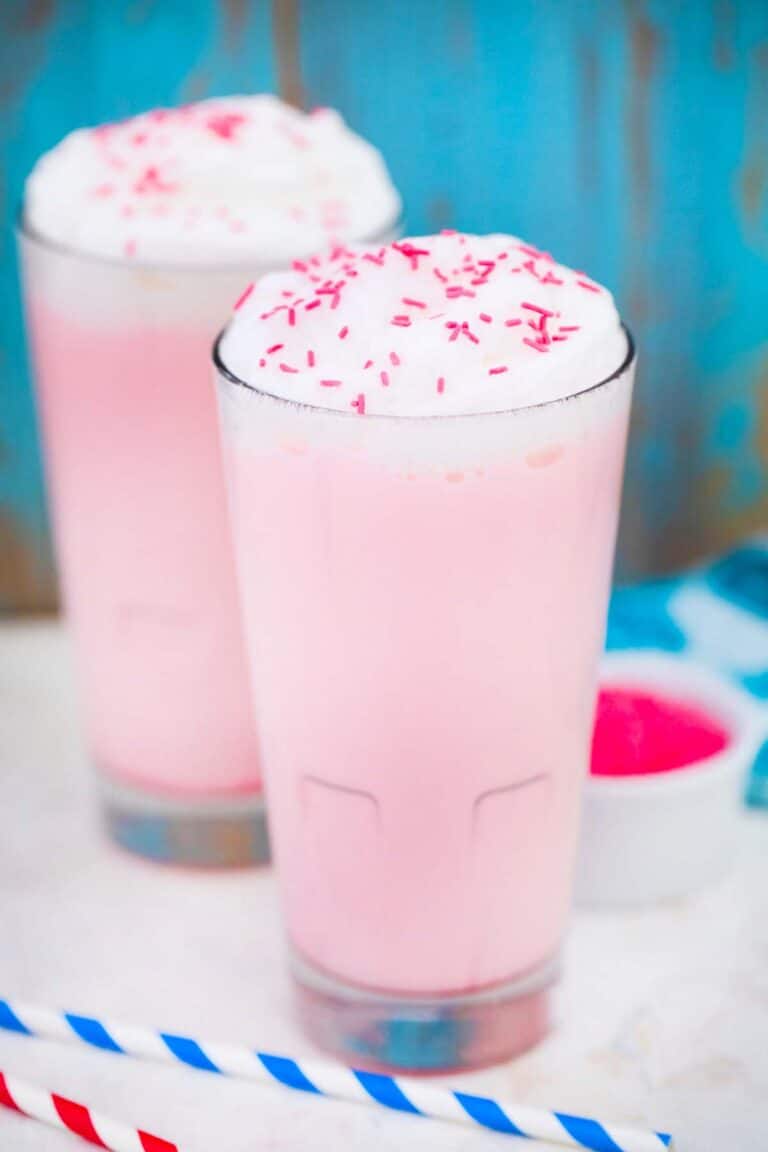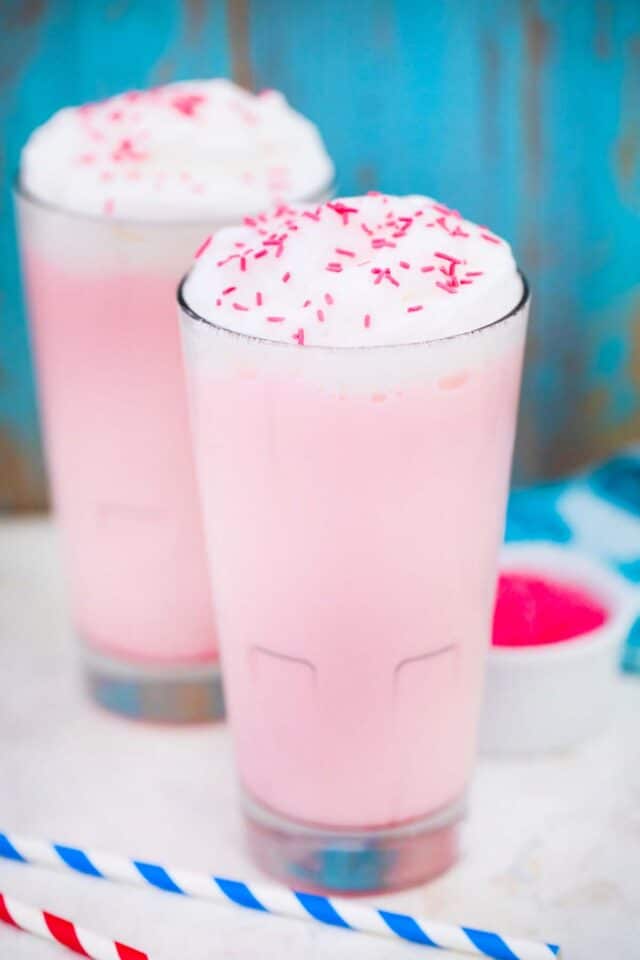 Can I use a different type of sugar?
Sure. You could use powdered sugar if you like. It actually dissolves faster than granulated sugar. But remember, powdered sugar (also known as confectioners' or icing sugar) is sweeter than granulated sugar so you may have to use less. If you are trying to cut sugar from your diet, you can use a sugar substitute like Splenda or Stevia. Or try using honey or maple syrup.
What are the nutrition facts in this recipe?
If you are worried about nutrition, calories, or fat, here are the estimated numbers. Each serving has 160 calories, 9 grams of fat, 5 grams of saturated fat, 101 mg sodium, 25 mg of cholesterol, 13 grams sugar, and 15 grams of carbs. But it also has 1 mg of iron, 2 mg vitamin C, 390 units of vitamin A, 1 gram polyunsaturated fat, 2 grams of monounsaturated fat, 260 mg calcium, 302 mg potassium, and 8 grams protein.
How to store leftovers:
Store: You can store your leftover pink angel milk in a jar with a lid (like a mason jar) for about two days.

Freeze: It is also fine to freeze your angel milk for up to three months. Just make sure you leave a few inches of space in the jar for expansion.
Thaw: To thaw, place the milk in the fridge overnight before reheating.

Reheat: To reheat, put your angel milk in the microwave for 30 seconds. Continue doing this until it is warm all the way through.
Recipe tips:
To make it even easier and shorten prep time, make angel milk in an espresso machine where it can get hot and frothy without all the work. You could also use a handheld frother.
Use a mason jar or another thick glass so it is see-thru but also thick enough, so it does not burn your hands when you pick it up. A large mug would work too as long as you can see through it.
You can add more sugar if you like your milk sweeter. Or use less sugar if it is too sweet.
Let the kids pick out what color they like. It does not have to be pink. They will be more likely to drink it if they get to pick their favorite color.

Check out our food blog every day where we always have other recipes including more TikTok recipes.

Use a candy thermometer to check the temperature. The desired temperature should be about 135 degrees F. That is the best temperature to get the most flavor without burning your tongue.
Set your phone or tablet on cook mode to prevent the screen from going dark while you are preparing your delicious TikTok angel milk recipe.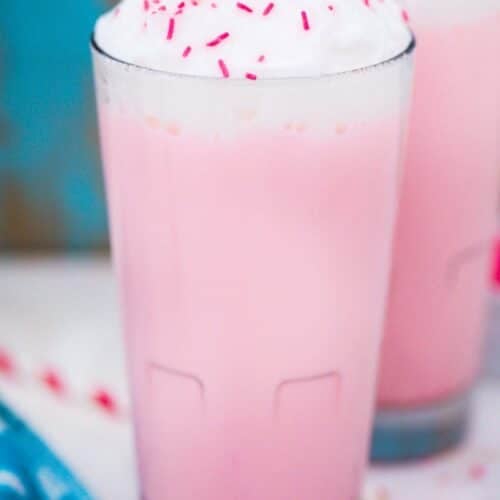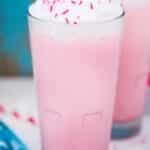 Pink Angel Milk
Pink Angel Milk is a delicious TikTok recipe that has gone viral recently, you can make it home with just a few ingredients.
Ingredients
8

ounces

milk

of your choice

1

drop pink food coloring

optional

1

teaspoon

granulated sugar

or to taste

1/2

teaspoon

vanilla extract

Sprinkles

for garnish
Instructions
First, heat the milk on the stovetop or microwave until it reaches 165 degrees Fahrenheit (75°C).

After that, add the food coloring, sugar, and vanilla, to a large glass, and stir to combine.

Next, pour the steamed milk, reserving the foam, over the sugar mixture.

Stir until the sugar is dissolved and top the pink angel milk with foam and pink sprinkles.

Double the recipe if you want. Enjoy!
Nutrition Facts
Pink Angel Milk
Amount Per Serving
Calories 157
Calories from Fat 63
% Daily Value*
Fat 7g11%
Cholesterol 27mg9%
Sodium 86mg4%
Potassium 343mg10%
Carbohydrates 15g5%
Protein 7g14%
Vitamin A 367IU7%
Calcium 279mg28%
* Percent Daily Values are based on a 2000 calorie diet.