Cucumber Sushi Roll – Rice Free
Cucumber Sushi Roll is a fresh and delicious way to enjoy a smoked salmon and veggie roll, without having to cook any rice. It only takes a few minutes, and you can have absolutely delicious cucumber sushi rolls for an appetizer, snack, or light lunch. It is the perfect sushi roll for brunch with the girls or even something to munch on during the big game.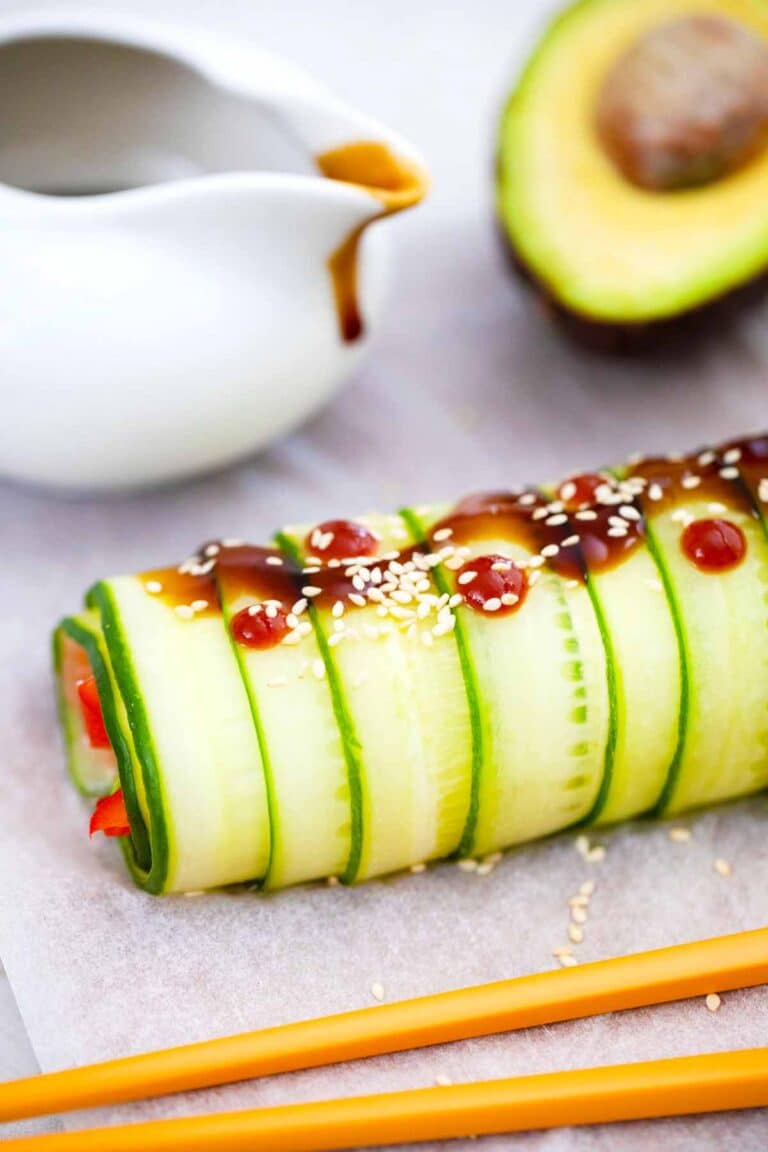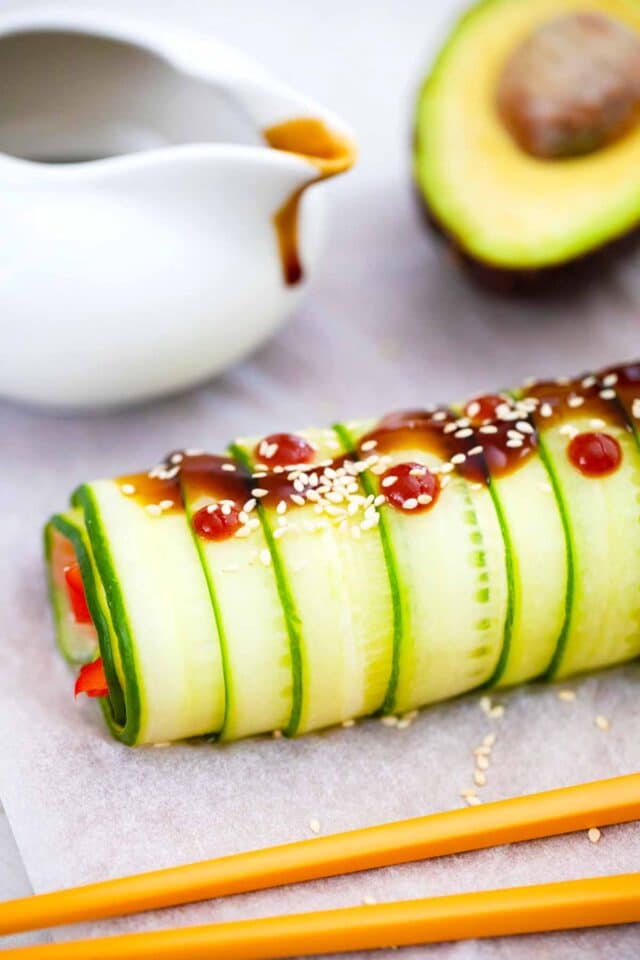 It was Hanaya Yohei, a Japanese chef, who invented the modern sushi we enjoy today. He made nigiri sushi with sticky vinegar rice in 1824. However, the original sushi, narezushi, is said to have been made in the fifth century BC when preserving raw fish in salt, vinegar, and rice. But back then, they did not even eat the rice. They threw it out!
Make this kid-friendly by letting them roll their own sushi rolls. Being able to get their own hands into the preparation gives them more of an incentive to eat it.
If they do not like salmon or one of the other ingredients, just leave it out for their portion. This is a great recipe for those on a budget too because you only need a few ingredients including cucumbers, avocado, salmon, cream cheese, and bell peppers.

Ingredients needed:
You only need five ingredients for these tasty and refreshing cucumber sushi rolls. After you gather these items, scroll down to the recipe card and you will find the instructions and measurements.
English cucumber
Red bell pepper
Smoked salmon
Cream cheese
Avocado
How to make cucumber sushi from scratch?
Make cucumber slices: First, slice cucumbers lengthwise into thin strips. They should be very thinly sliced so you can almost see through them.
Slice the bell pepper: Next, deseed the bell pepper and chop it into strips.
Prep the avocado: Then, remove the pit from the avocado and slice it into strips.
Dry the cucumber: Now, lay the cucumber strips on a cutting board and pat dry with paper towels.
Spread on the cream cheese: After, spread the cream cheese in a thin layer on top of the cucumber.
Fill your cucumber: Immediately, place salmon on the bottom half of the cucumber and cover it with bell peppers and slices of avocado.
Roll and serve: Finally, roll it up and use a very sharp knife to slice it into two-inch pieces and serve with your favorite sauce.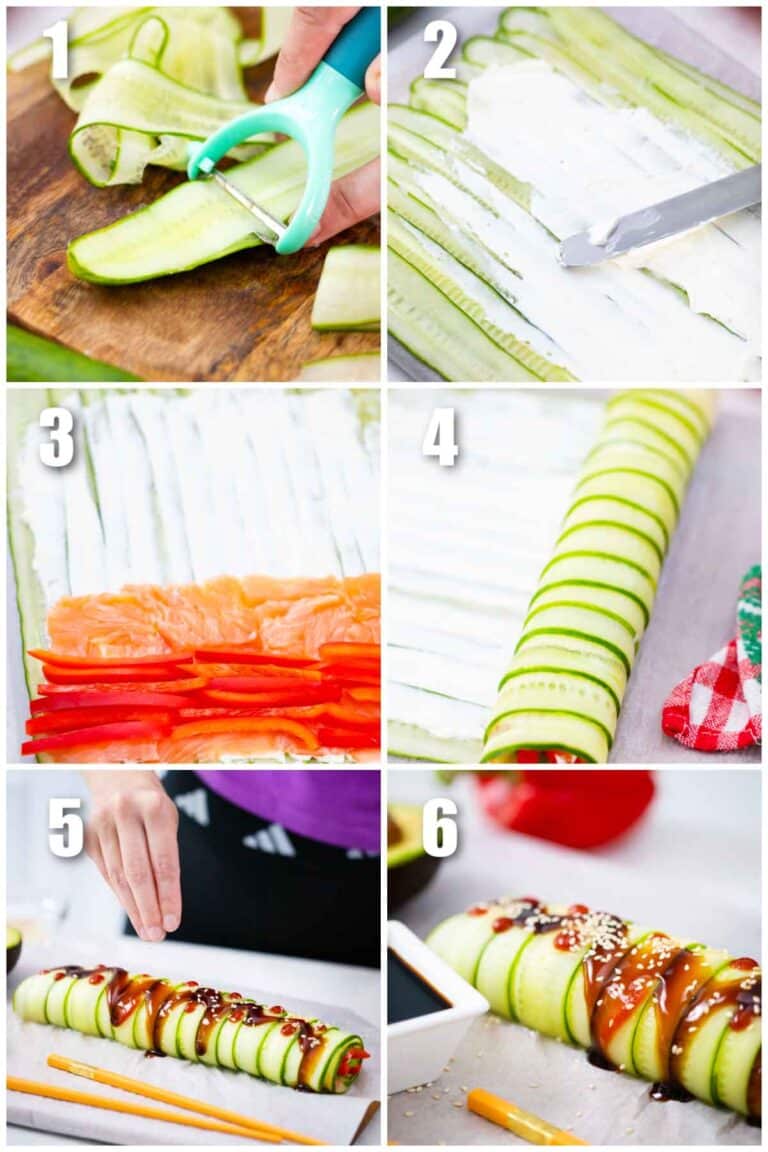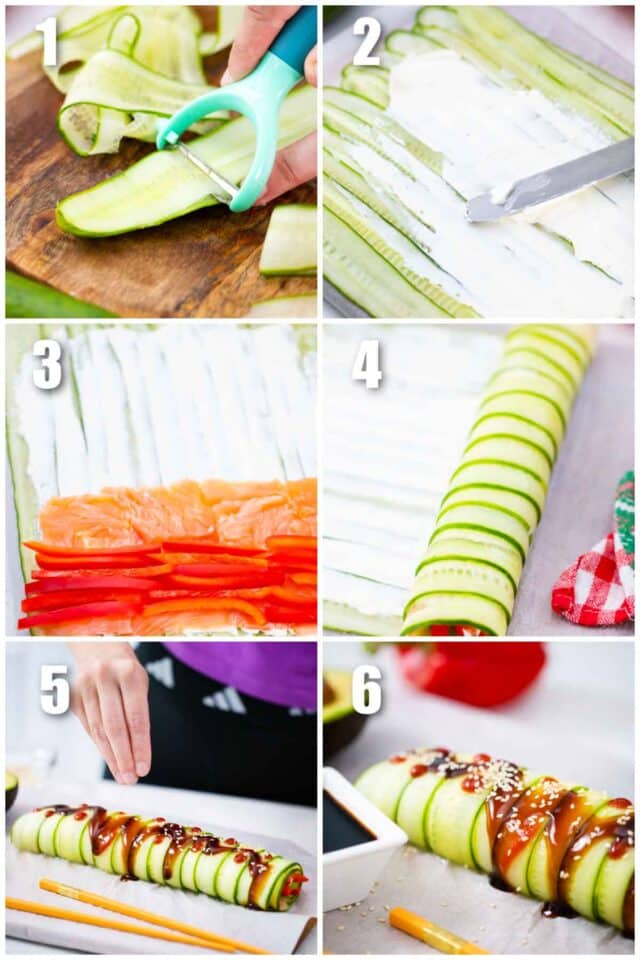 Recipe variations:
More vegetables: Feel free to add your own favorite veggies like sliced carrots, chopped tomatoes, green onions, or whatever other fillings you like.
Sushi rice: A more traditional sushi roll has rice so you can add sushi rice to your roll. Just spread a thin layer of cooked rice on top of the cheese before adding the other ingredients.
More fillings: You can use other ingredients in your cucumber roll as well such as imitation crab, tuna, tofu, cooked pork, or beef.
Rice vinegar: Sprinkle your sushi roll filling with rice vinegar before rolling it up to give it extra flavor.
Vegetarian: Make these vegetarian cucumber sushi rolls by leaving out the salmon.
Spice it up: If you like spicy food, sprinkle some red pepper flakes on your filling before rolling up your sushi.
Soaked salmon: For even more flavor, soak your salmon strips in soy sauce (or whatever sauce you like) before using them.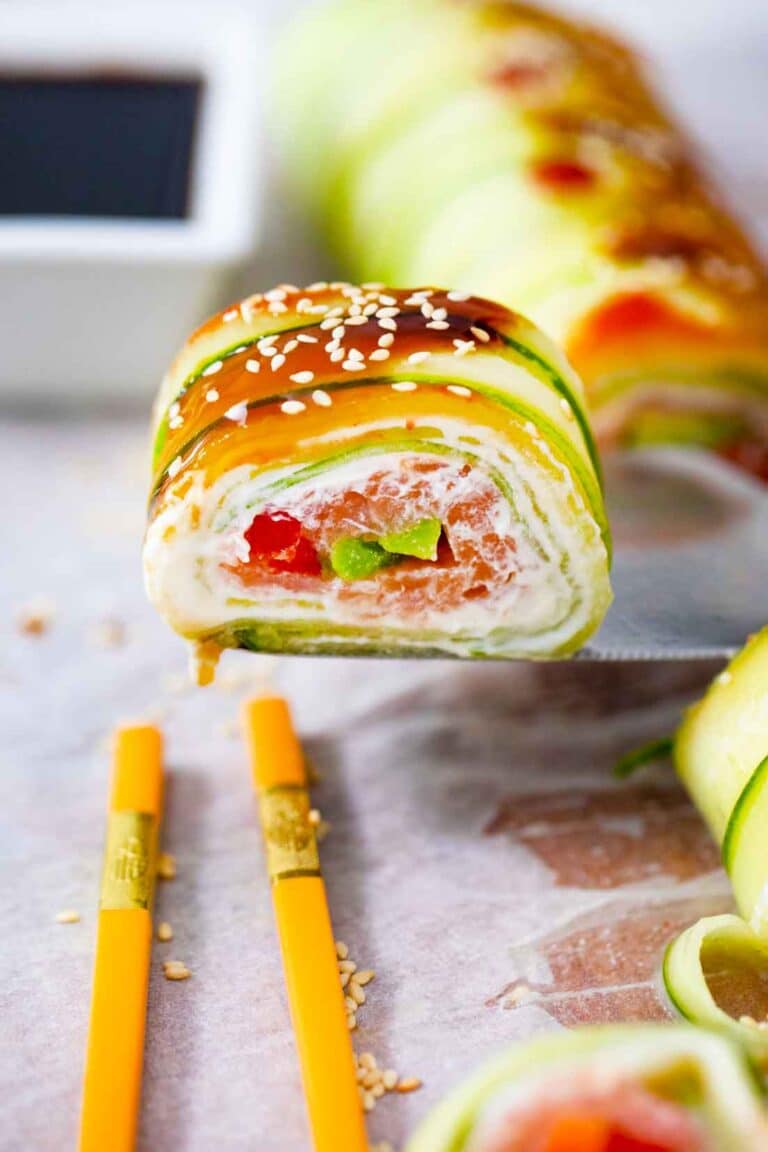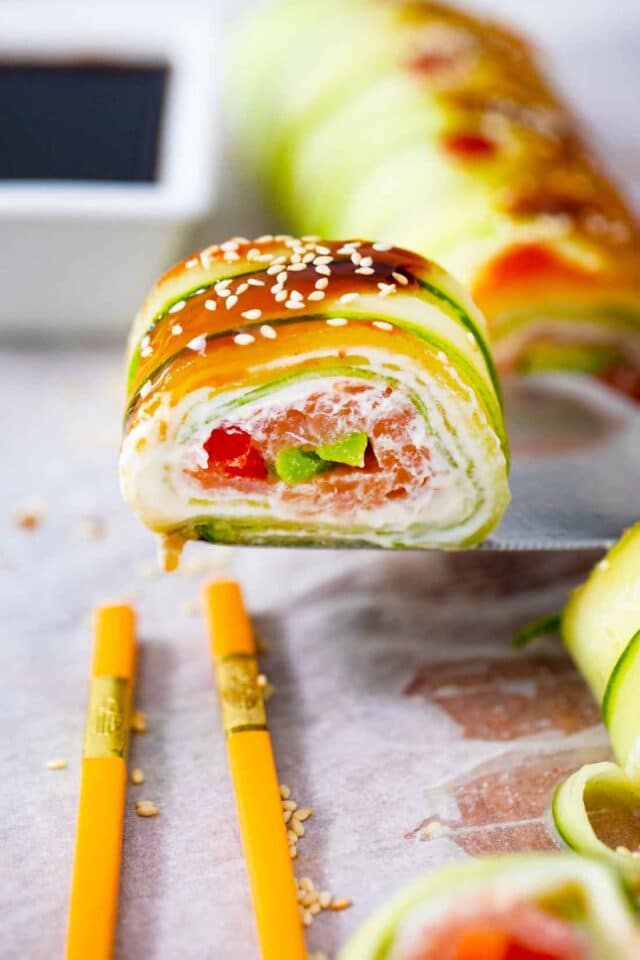 How to serve:
These sushi rolls are a great idea for any occasion like a birthday, anniversary, or bridal shower. You can make several different versions using a variety of ingredients, dips, and toppings. Here are a few ideas you may want to try.
Our easy cucumber sushi rolls go great with everything from sweet and sour chicken to beef bulgogi.
Drizzle teriyaki sauce and sesame seeds on top of your sushi roll for even more flavor. We have a great recipe for teriyaki sauce.
Serve with a small bowl of each type of dipping or topping your guests may like for their cucumber sushi rolls.
If you want a heartier dish, serve these sushi rolls on a bed of rice. Try our easy and delicious recipe for shrimp fried rice.
Served on top of some type of Asian noodles like ramen, you can have this for a nice lunch or a light dinner.
These yummy little rolls also taste absolutely delicious with other sauces like hot sauce, barbecue, or your favorite salad dressing. Try them with this sweet and tangy orange sauce.
Other side dishes you can try are miso soup, egg rolls, or crab rangoon.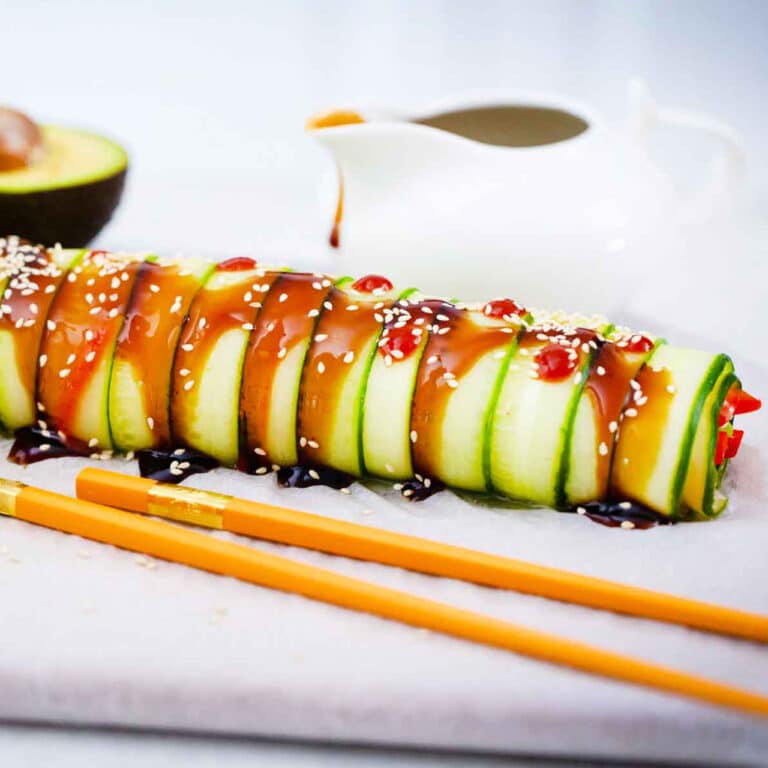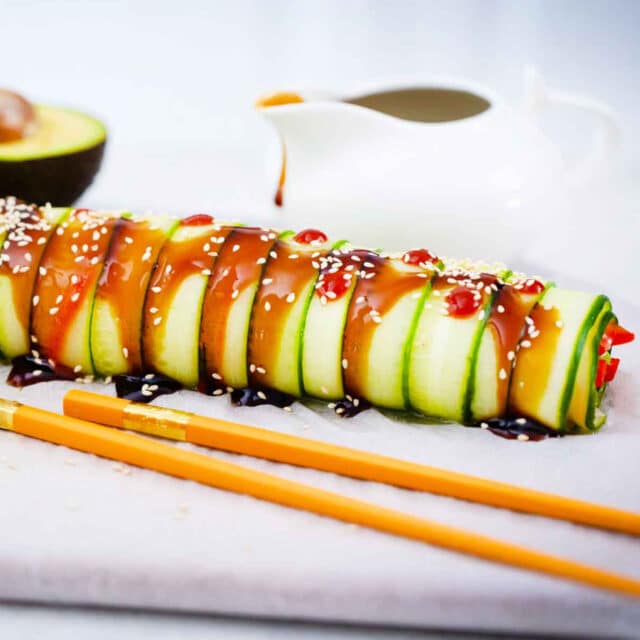 Frequently asked questions
Why use a bamboo sushi mat?
After you have your cucumber stuffed, it can be difficult to roll it up evenly. You may end up with the middle or ends being too loose. Rather than try to spread your hands out over the whole roll, you can use a sushi mat. Or try a nori sheet or a thin kitchen towel. This will help keep the stuff packed together while you roll it up.
Do I have to peel the cucumber?
No. Especially if you use English cucumbers or Persian cucumbers. They have thinner skin that is easier to eat and tastes sweeter. One way to do this is to cut your cucumber in half lengthwise and use a small spoon to scoop out the seeds. Then, fill the hollowed-out cucumber with your fillings. Now, you can slice it into whatever size you like.
What is a nori sheet?
Instead of a bamboo mat, you can use a nori sheet instead. This is a thin rectangular sheet of dried seaweed. The dried seaweed sheet is made from red algae that turns green when it dries. You can leave it on the rolls to give it a nice crispy texture with a salty flavor. If it is too salty or fishy for your taste, try using leaf lettuce or use shiso for a minty flavor.
What are some good sauces for these cucumber sushi rolls?
The traditional and most popular is soy sauce. I suggest using the lower sodium type because regular soy sauce has a lot of salt in it. Wasabi is another great sauce to use. Especially if you like hot food. Speaking of hot food, try using spicy mayo as a dipping sauce. The creaminess makes the heat just right. Pickled ginger is another common sauce that is sweet and sour. Other favorites include teriyaki, barbecue, and sweet and sour sauce.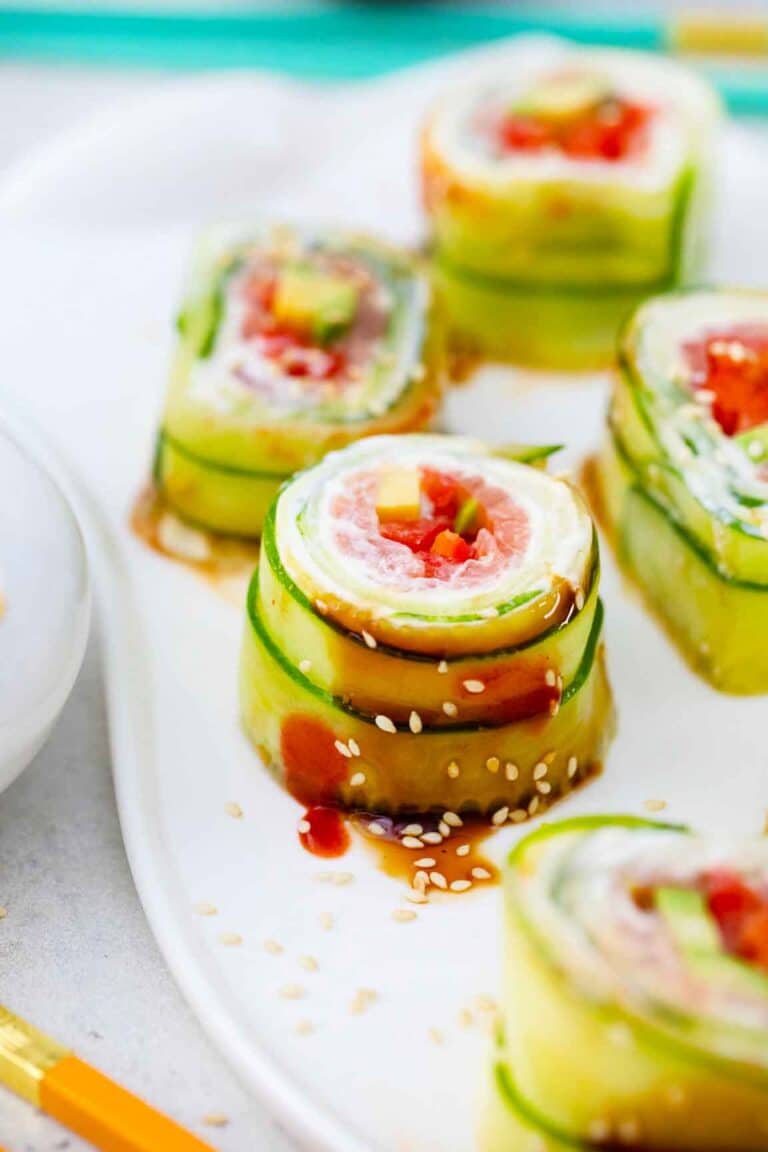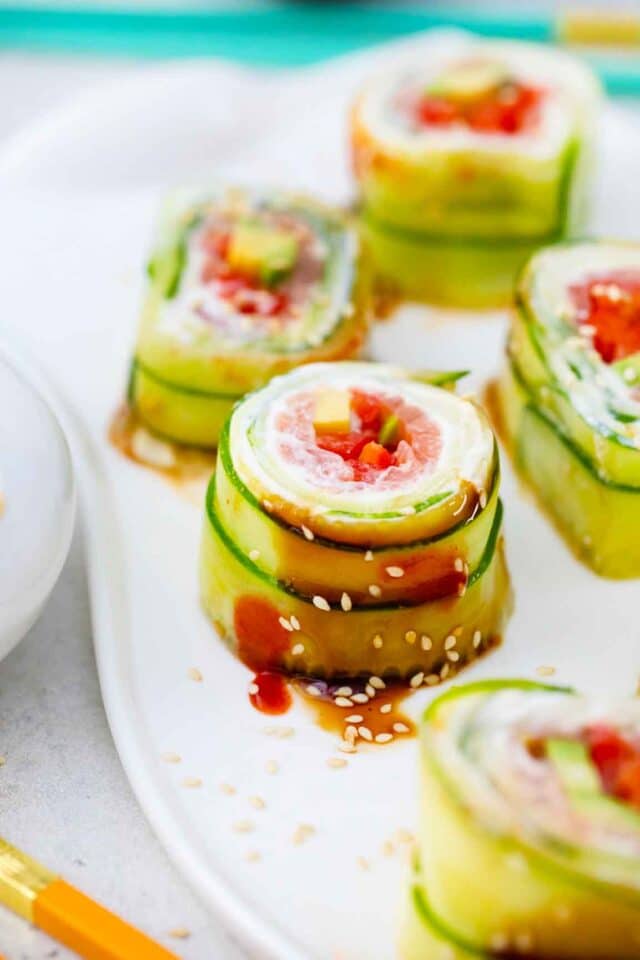 What are the nutrition facts in this recipe?
Each serving of this cucumber sushi has 140 calories, 14 grams of carbs, 8 grams fat, 1 gram saturated fat, 10 mg cholesterol, 321 mg of sodium, 3 grams sugar, and 10 mg cholesterol. But you also get 8 grams of protein, 269 mg potassium, 2 grams of fiber, 138 units of vitamin A, 6 mg vitamin C, 25 mg calcium, and 1 mg of iron.
How to store leftovers:
Store: First, wrap your leftovers tightly in plastic wrap and then place them in an airtight container and they will stay fresh in the fridge for two or three days.
Freeze: Freezing is not recommended.
Recipe tips:
Use a bamboo sushi mat covered with plastic wrap to roll your cucumber sushi rolls to make it easier. The mat is made to roll the whole thing at the same time, so you do not have to worry about it being too loose in the middle or on the ends. It also keeps your hands clean. This is especially helpful when making more than one.
Use large cucumbers to make prep time shorter because they are easier to slice.
If you use English or Persian cucumbers, you do not have to remove seeds.
Make sure you use a sharp knife, so your cucumber rolls cut easily to prevent the filling from squishing out the ends. Cut it in the middle first, then slice those two pieces in half, then do it again until you have the size you want.
If you are using rice, make sure you cook rice a little bit longer than usual. You want it to be a little bit mushier than regular rice. And you can use more rice to fill in any empty spaces.
Dip your hands in cold water to make rolling easier if you are not using a sushi mat.
Looking for other recipes to try? We have a new blog post every day.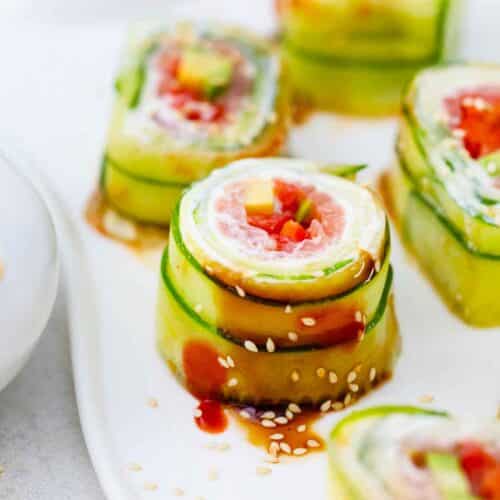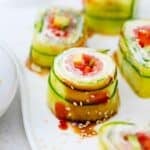 Cucumber Sushi Roll
Cucumber Sushi Roll is a fresh and delicious way to enjoy a smoked salmon and veggie roll, without having to cook any rice.
Course:
Appetizer, Main Course
Ingredients
1

English cucumber

1/2

red bell pepper

thinly sliced

6

oz

smoked salmon

sliced

4

tablespoons

cream cheese

1/2

avocado

sliced into thin strips
Instructions
First, slice the cucumbers lengthwise into very thin strips, you can use a mandolin for this.

After that, lay the cucumber strips on a cutting board, every strip slightly overlapping the other lengthwise. Pat dry with paper towels.

Next, spread the cream cheese in a thin layer on top of the cucumber.

Arrange the sliced smoked salmon on the bottom half of the cucumber (see pictures) and cover it with bell peppers and sliced avocado.

Finally, roll it up tightly, garnish with a bit of teriyaki sauce, and sesame seeds.

Use a very sharp knife to slice it into two-inch pieces and serve with your favorite dipping sauce.
Nutrition Facts
Cucumber Sushi Roll
Amount Per Serving
Calories 312
Calories from Fat 189
% Daily Value*
Fat 21g32%
Cholesterol 49mg16%
Sodium 766mg33%
Potassium 714mg20%
Carbohydrates 13g4%
Protein 20g40%
Vitamin A 1626IU33%
Vitamin C 47mg57%
Calcium 70mg7%
Iron 2mg11%
* Percent Daily Values are based on a 2000 calorie diet.