Shrimp Fried Rice recipe is made with fresh shrimp, rice, green onions, peas, carrots, and sesame oil. It is a classic dinner dish that is ready in about 20 minutes!
You have probably tried this recipe multiple times at a Chinese restaurant, or other places. However, making this classic dish at home is guaranteed to beat any takeouts! If you love this, do not miss our popular Chicken Fried Rice.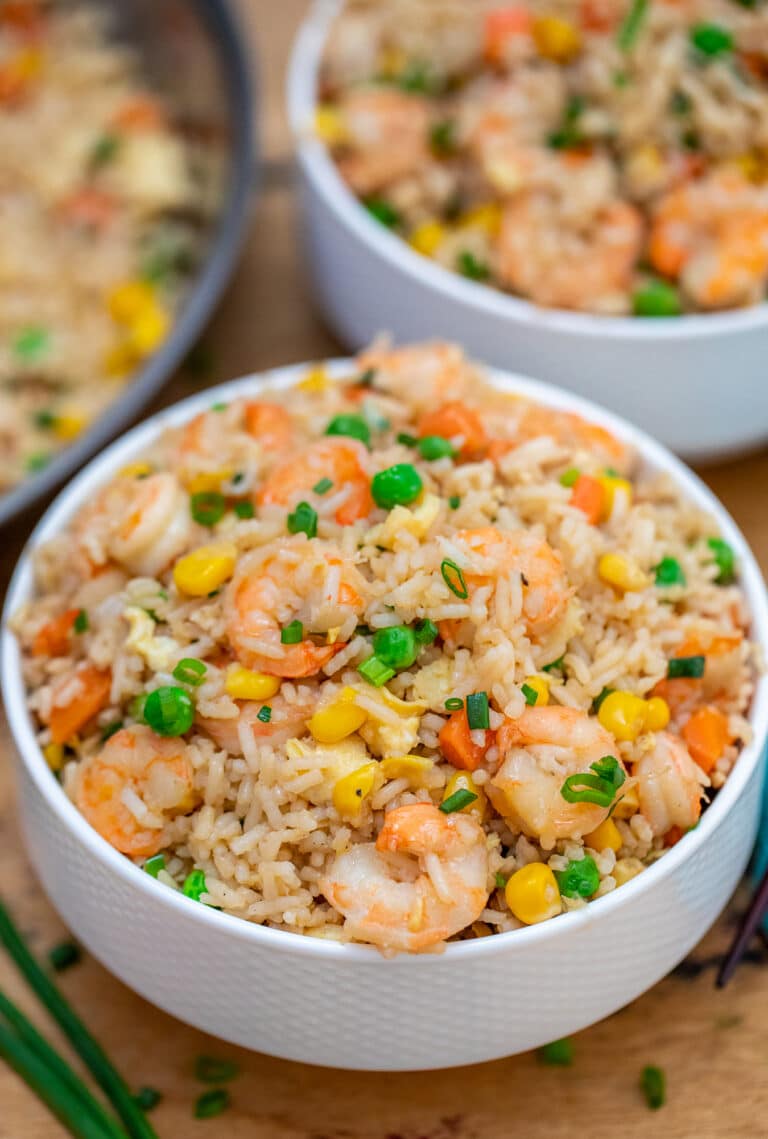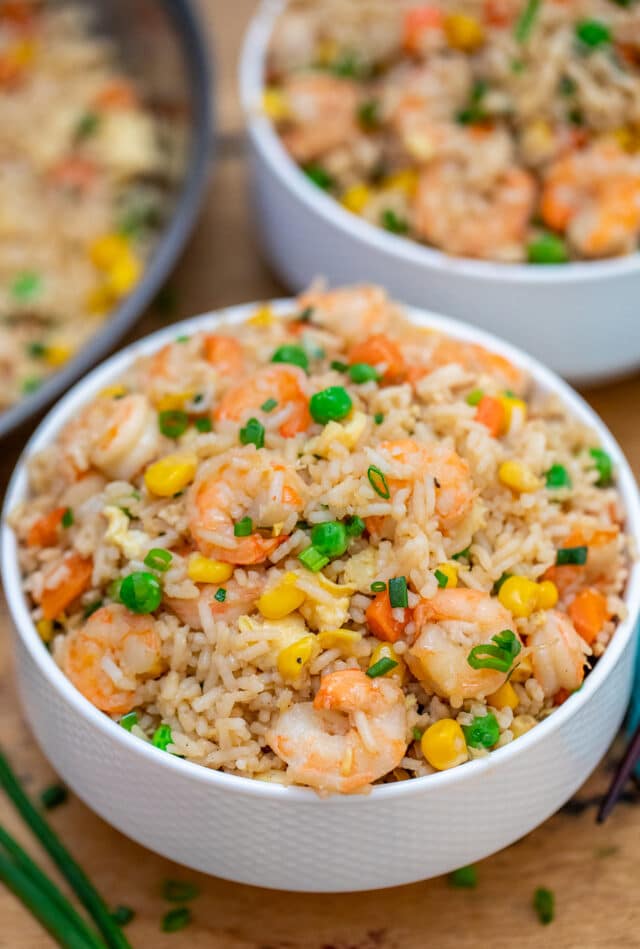 The Best Shrimp Fried Rice
When it comes to popular dishes, I think this Shrimp Fried Rice is on the top of the list. Everyone has probably tried or heard about it. Due to its popularity, this dish is served pretty much in any Asian restaurant. And it makes sense because it is super fast to prepare, it tasted amazingly delicious, and it is budget-friendly.
The secret in making the best-fried rice is by using leftover rice which was chilled in the refrigerator. Fresh rice might get mushy if used right away. Therefore, it is best to use the chilled version. Also, it will save you extra time, as you do not need to cook it right away.
Simply, stir the shrimp, eggs, and veggies. Then, add the seasoning and rice to it, and you have a perfectly delicious dinner in about 10 minutes! Also, you can use pretty much anything to prepare it. A combination of your favorite veggies, beaten egg, and various protein such as the tofu, fish, or chicken works just as well.
Is fried rice healthy?
Generally, this is a pretty healthy dish, as it mainly contains rice, proteins, and veggies. However, it does contain some oil, but other than that, it is packed with nutrients and protein.
Also, you can adjust it a bit and make it even healthier. For example, feel free to use half the amount of oil, and/or substitute the white rice with brown version.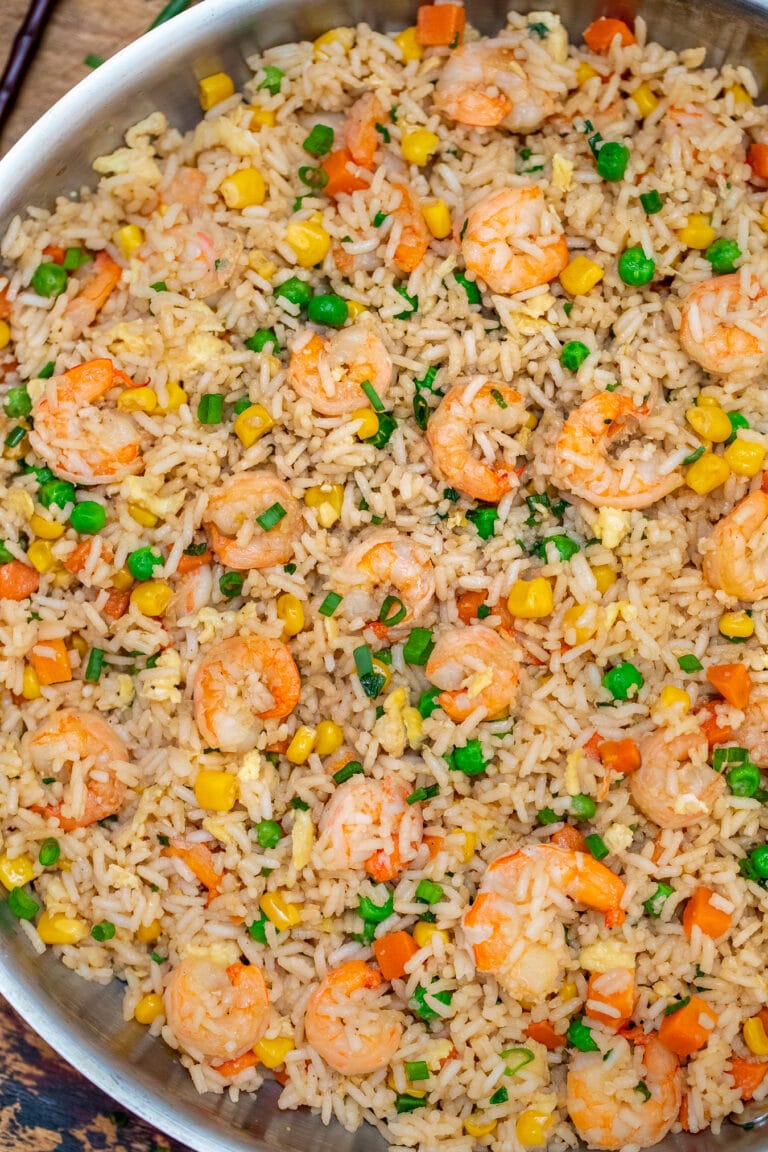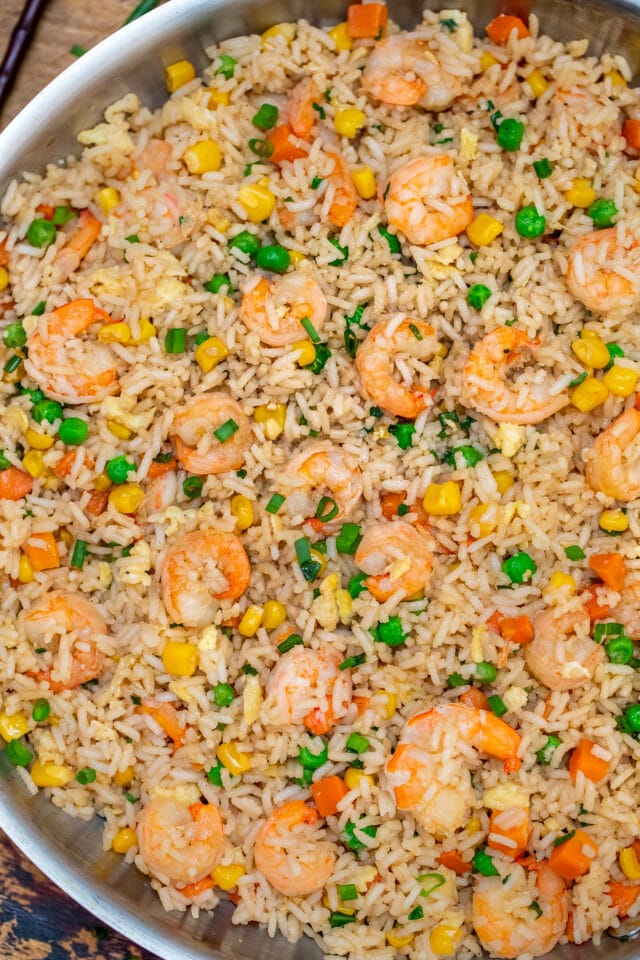 What do you need to make Shrimp Fried Rice?
You will need the ingredients listed below. However, keep in mind that you could swap some ingredients based on what you like. This is a very versatile recipe, so feel free to experiment.
Shrimp, shelled and deveined
Leftover rice
Canola oil, and sesame oil
Eggs, beaten
Green onion
Frozen veggies, such as peas and carrots
Soy sauce
Garlic (optional)
Salt and pepper
How do you make Shrimp Fried Rice?
For exact ingredient measures and step by step instructions, please see the recipe card below. The general steps are as follows:
Cook the shrimp: Over medium-high heat, add some oil to a skillet. Then, stir in some minced garlic for about 30 seconds. Add the shrimp, and cook until just pink and opaque. Do not overcook them. Once done, remove shrimp with a slotted spoon, and set aside.
Add the veggies and egg: Next, stir in the veggies, and cook for a few minutes, until soft. Push vegetables to one side of the skillet, add the eggs to the other side, and cook to scramble, stirring as necessary.
Add the rice: Lastly, add the rice, green onion, and shrimp back to the skillet. Stir to combine. Evenly drizzle with soy sauce, and season with salt and pepper.
Serve: Enjoy it warm, and garnish with some more chopped green onion or sesame seeds.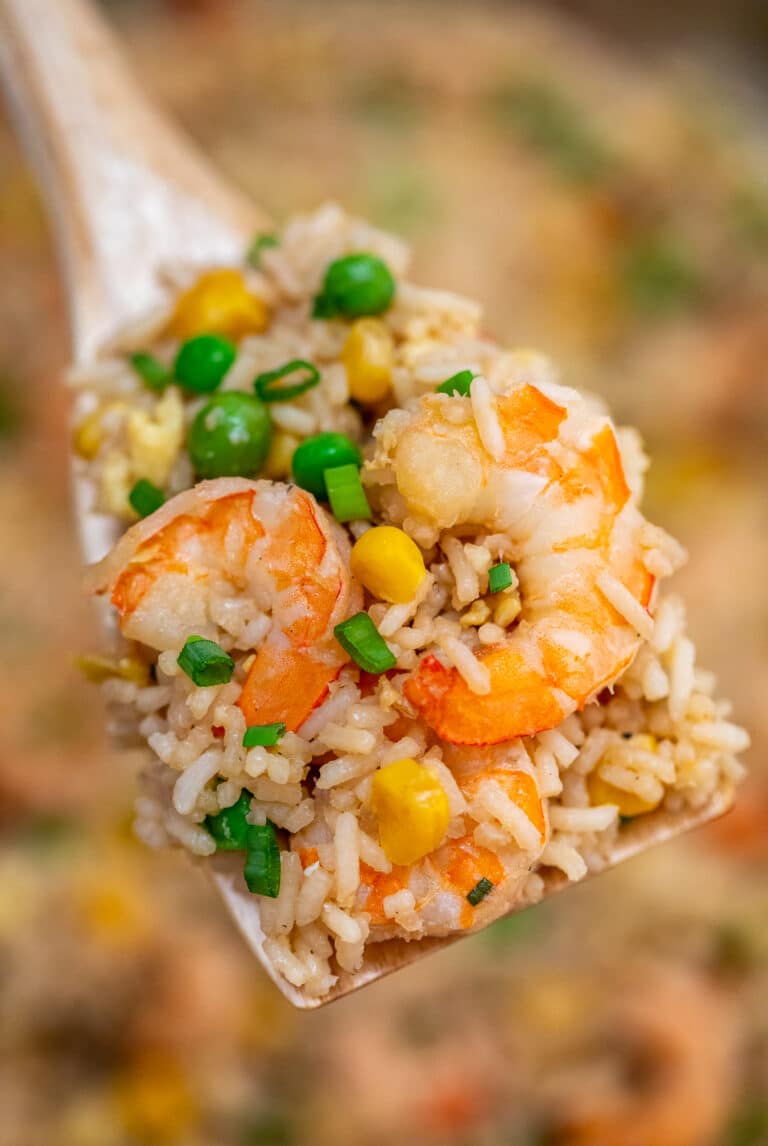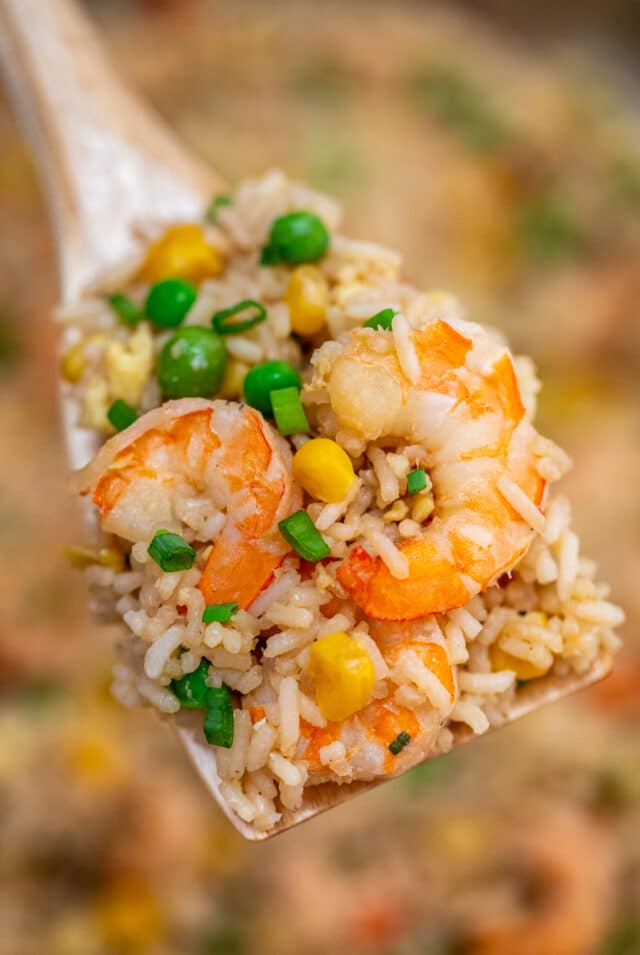 SHRIMP FRIED RICE VARIATIONS
Tiy can also adjust this recipe based on your preference. Some great suggestions:
Protein: Feel free to swap the shrimp with other proteins, such as bacon, ham, chicken or tofu.
Vegetables: Along with peas and carrots, sometimes we add broccoli, bell peppers, zucchini.
Can I make Gluten Free and Soy Free Fried Rice?
Absolutely! Rice is gluten-free, so the only thing you need to keep an eye on is soy sauce. For a gluten-free version, I recommend using this type.
Also, soy sauce can be skipped altogether. Simply, use a little bit more seasoning, or use coconut aminos.
Storing Instruction:
To refrigerate: Let the dish cool completely prior to storing. Then, transfer it to an airtight container, and store it in the fridge for up to 5 days.
To freeze: Also, you can make a larger batch and freeze it for weeks to come. Just transfer the meal to a freezer dish, and freeze it up to 6 months. Reheat prior to serving.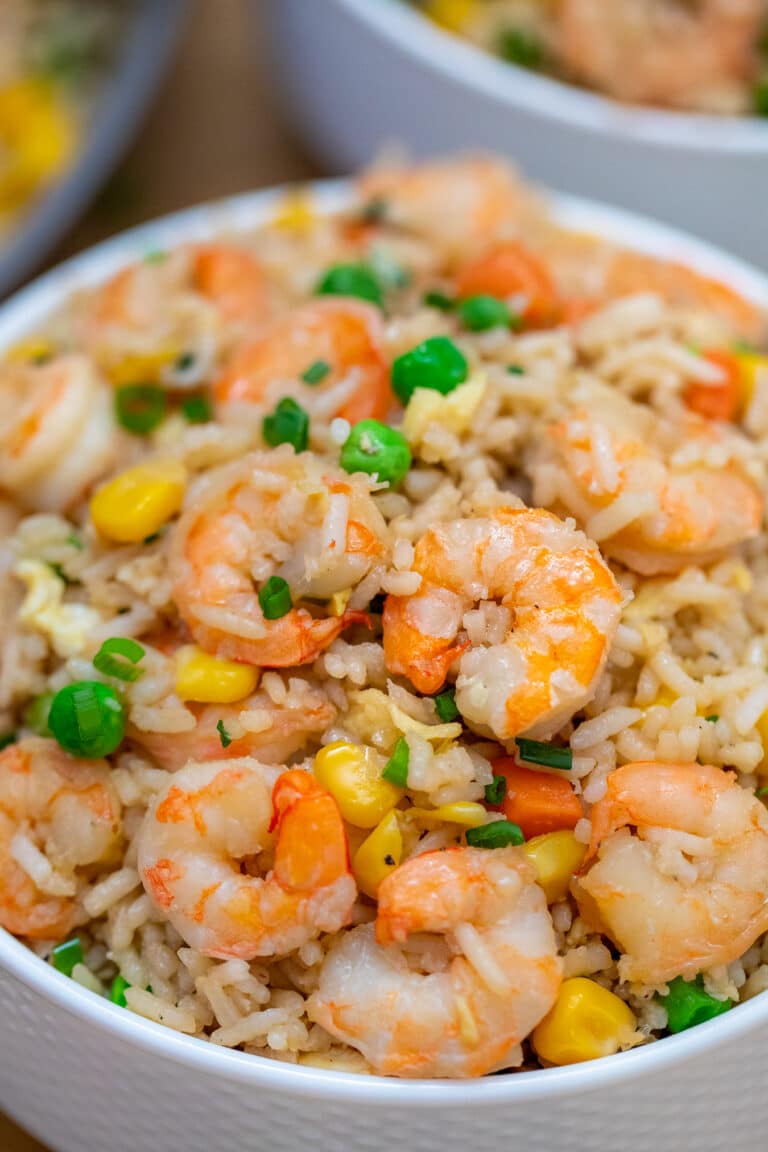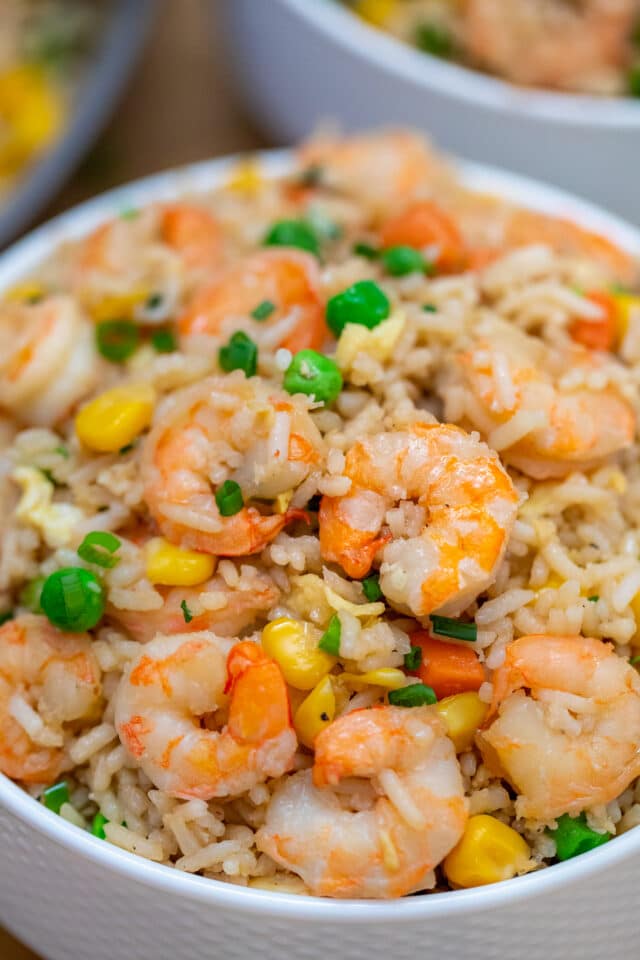 Recipe Tips:
If you want the best-fried rice, go with leftover, chilled rice. The chilled rice is perfect for frying and it does not get mushy, unlike the freshly cooked one.
Also, feel free to use white or brown rice. Any type works perfectly fine here.
When cooking this meal, I strongly recommend using high heat. Let the pan get hot, it will help fry everything quickly.
When the veggies are soft and cooked, push them on the side of the pan. Then, stir in the eggs. Just do not mix them together until the eggs are done.
In addition, it is important to add soy sauce and sesame oil to taste, and evenly. Stir the ingredients while adding the soy sauce. Taste and adjust, as you do not want to end up with an overly salty dish.
Serve warm. Feel free to garnish with some freshly chopped green onions or sesame seeds.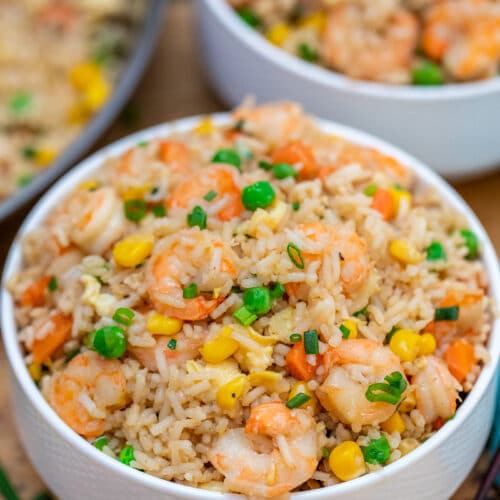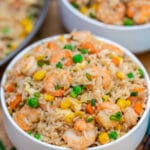 Shrimp Fried Rice
Shrimp Fried Rice recipe is made with fresh shrimp, rice, green onions, peas, carrots, and sesame oil. It is a classic dinner dish that is ready in about 30 minutes!
Cuisine:
American, Chinese
Keyword:
Shrimp Fried Rice
Ingredients
2

tablespoons

sesame oil

2

tablespoons

vegetable oil

or canola oil

1

pound

shrimp

peeled and deveined

1 1/2

cups

frozen veggie blend

I used peas and carrots

1

cup

frozen sweet corn

1/2

cup

green onions

chopped

4

garlic cloves

minced

1

teaspoon

fresh ginger

minced

3

large eggs

lightly beaten

4

cups

cooked rice

white or brown rice

4

tablespoons

low-sodium soy sauce

1

tablespoon

mirin

Salt and pepper optional or to taste
Instructions
Place a large non-stick skillet or wok over medium-high heat, add vegetable oil and once simmering add shrimp and cook for about 5 minutes, stirring occasionally, until golden brown.

Remove the shrimp and place on a plate, set aside.

To the same skillet, add sesame oil and once hot add minced garlic and minced ginger, cook stirring for 30 seconds.

Next, add the veggies: peas, carrots, corn, green onions, and cook stirring for about 2-3 minutes, until they begin to soften.

Push everything to one side of the skillet, and add the lightly beaten eggs to the other side. Stir to scramble, and cook the eggs. Once cooked combine with the veggies.

Add the shrimp back to the skillet, and add the cooked rice. Drizzle with soy sauce and mirin, and stir to combine. Cook for about 2 minutes, or until shrimp and rice are well heated through.

Serve warm garnished with green onions and sesame seeds if desired.
Nutrition Facts
Shrimp Fried Rice
Amount Per Serving
Calories 592
Calories from Fat 180
% Daily Value*
Fat 20g31%
Cholesterol 409mg136%
Sodium 1530mg67%
Potassium 496mg14%
Carbohydrates 67g22%
Protein 36g72%
Vitamin A 3870IU77%
Vitamin C 17mg21%
Calcium 233mg23%
Iron 5mg28%
* Percent Daily Values are based on a 2000 calorie diet.