Chicken Fried Rice – Better Than Takeout!
Chicken Fried Rice is an easy, one-skillet recipe that is ready in less than 30 minutes and tastes better than takeout! A comfort Chinese food that is the perfect weeknight dinner.
This is such an easy and classic recipe that everyone should give it a try. My other favorite Asian recipes are Sweet and Spicy Chicken, Beef and Broccoli Stir Fry, and Sweet and Sour Pork.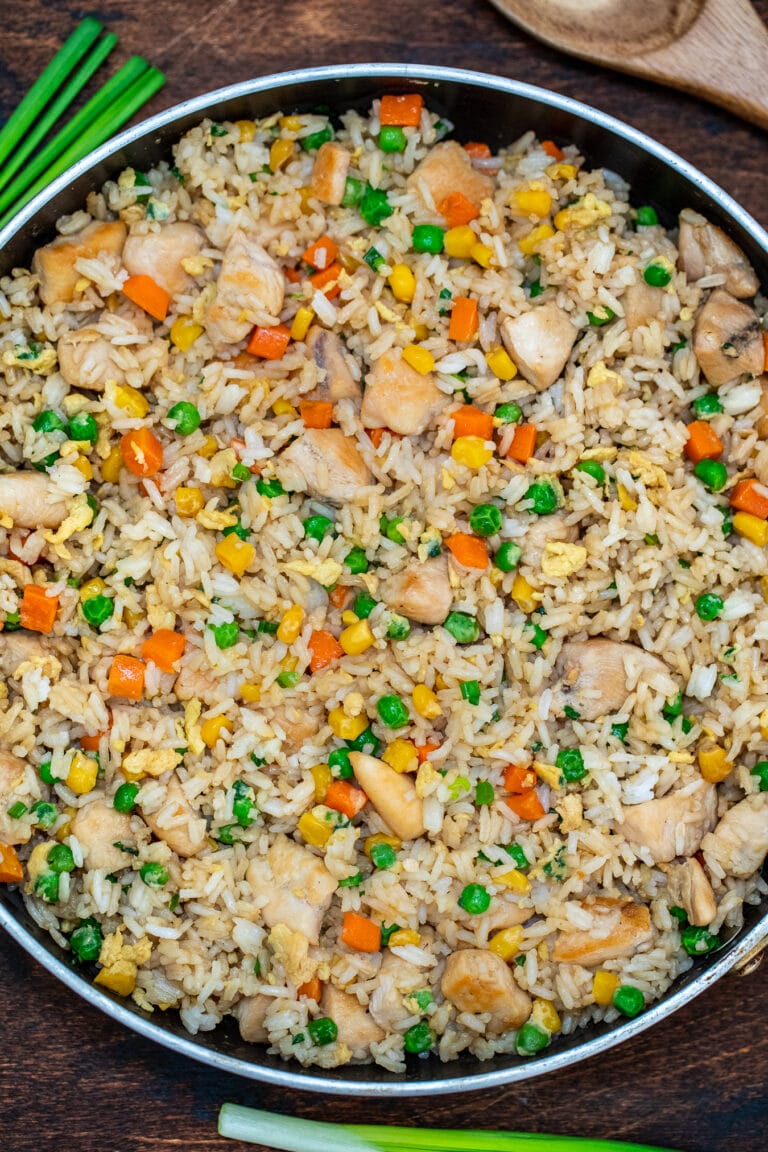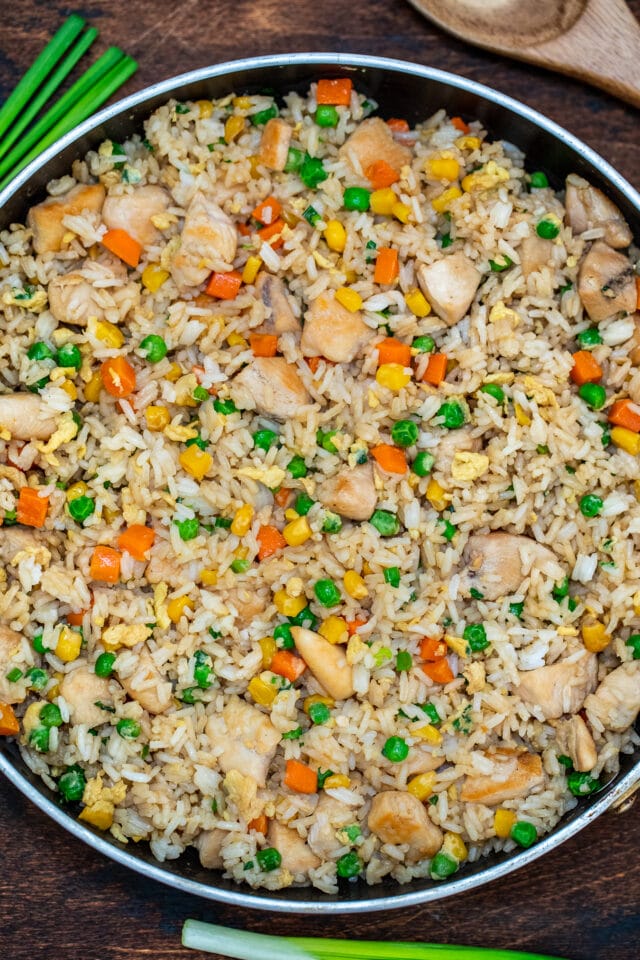 The Best Chicken Fried Rice Recipe
When it comes to a fast and flavorful weeknight meal, there is no better recipe than this Easy Chicken Fried Rice. I mean, this is probably one of the most known and popular take out dishes out there. The chicken is moist and flavorful.
Also, the rice is perfectly cooked and then combined with scrambled eggs, green onions, garlic, sesame oil, and soy sauce for layers of flavor. In addition, you can make it at home in no time. Rather than going to a Chinese restaurant and wait for your order, give this dish a try at home. It will be ready in no time, and you can adjust the flavors based on your preference.
Making it at home will save you some money as well. Not to mention, it is healthier because you know exactly what you are using. This recipe works great with leftover rice. It actually tastes better that way, so I recommend using it. Make a larger batch, and enjoy the leftovers for days to come!
Give it a try, and you will see why this is one of the best-fried rice recipes out there. You will really be impressed with yourself and how easy and delicious this dish can be!
What is Fried Rice?
It is a traditional Chinese stir fry dish made with rice, scrambled eggs, and veggies. Various meats or some type of protein is usually added to it, such as shrimp, ham, pork, chicken, and tofu.
Also, it is usually cooked under high-heat in a wok or skillet.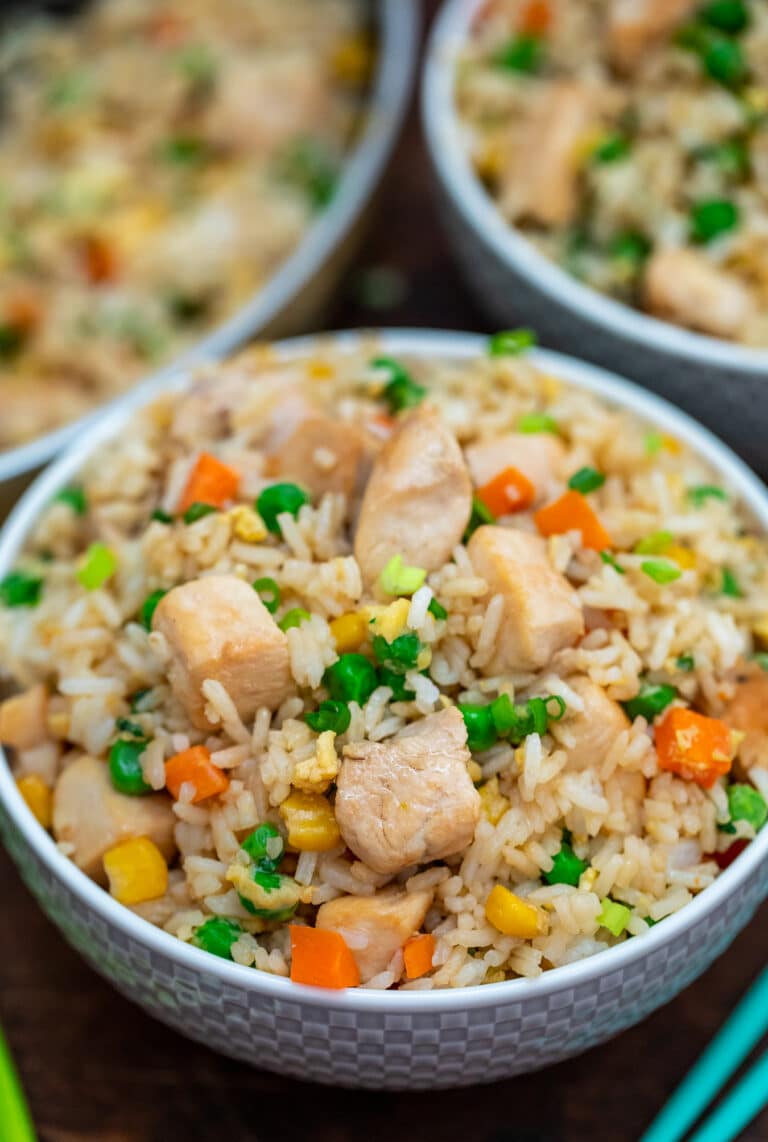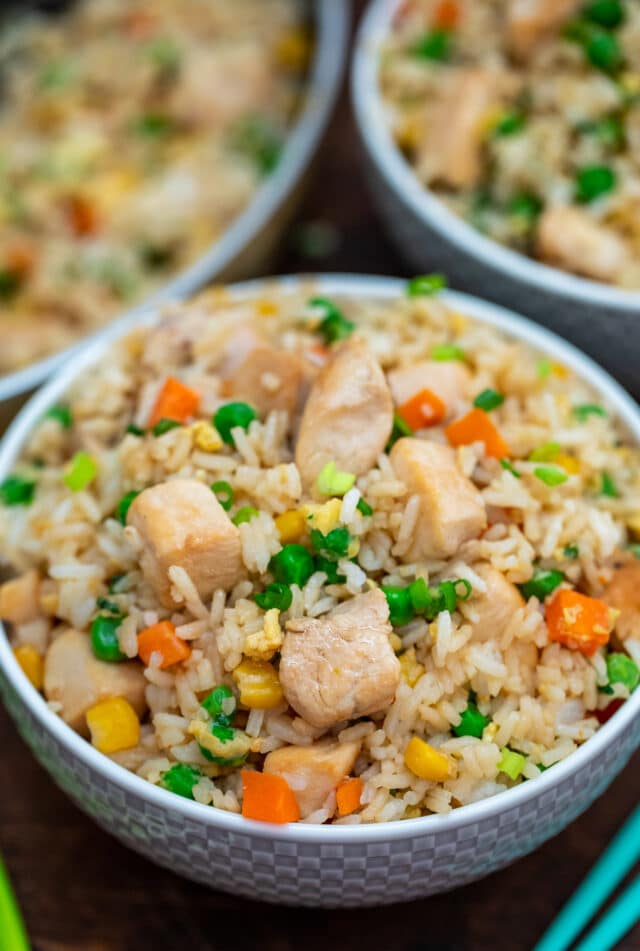 What Ingredients go into Chicken Fried Rice?
Rice – You can use white or brown version, whichever you prefer. I usually go with the white version. Also, leftover, chilled rice from the day before works really great in this recipe.
Eggs
Chicken – I like using breasts and cut them into smaller, cubbed pieces. However, feel free to use other parts.
Sesame oil – It has a very strong and flavorful smell, and it works really great in this recipe.
Vegetable oil (or canola oil) – This is used mainly to saute the meat.
Veggies – I like using frozen peas, and carrots.
Soy sauce – You can use regular soy sauce or low sodium version, whichever you prefer the most.
Green onions – Chopped green onions are handy here. It also gives this dish a nice and festive color.
Garlic – I prefer to use minced garlic.
How to Cook Rice for Fried Rice?
It is best to use leftover chilled white rice. Go with Jasmine rice or any other type that is long grain.
To cook it, simply rinse the rice a few times till the water is clear.
You will need about 1.5 cups of raw rice to make about 5 cups of cooked rice.
After rinsing, cook according to package instruction.
Then, once cooked, let it completely cool. After, transfer to an airtight container and refrigerate until chilled. You can make a larger batch as well, and keep it in the fridge and use it with other dishes during the week.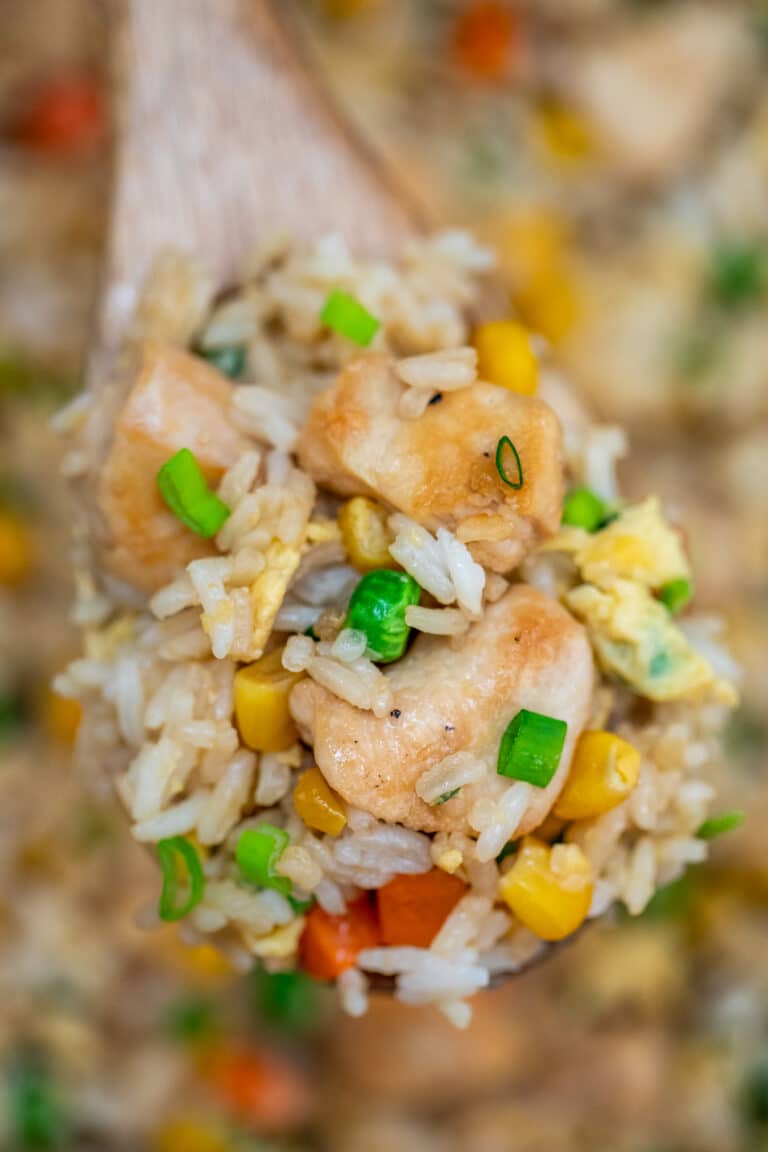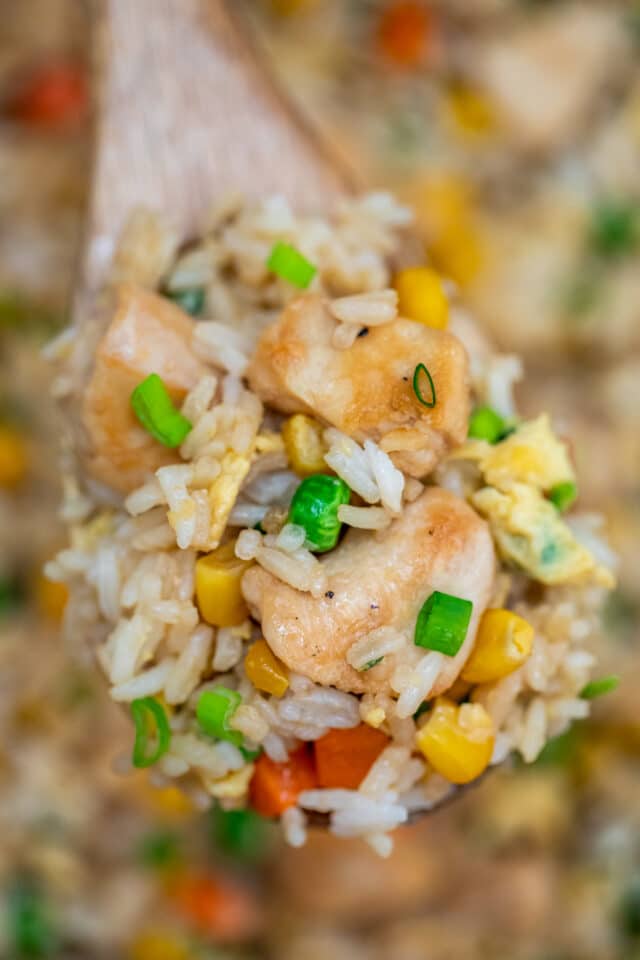 How to make Chicken Fried Rice?
Once you have the rice cooked and chill, the rest is very simple.
Cut and cook the chicken: I like using breasts and cut them into smaller pieces. Then, brown the meat, and season with some salt and pepper. Set aside.
Cook the veggies and eggs: In the same skillet, over medium-high heat, add some sesame oil, and cook the carrots and peas until tender. Once cooked, slide them to the side. Then, pour the beaten eggs onto the other side. Using a spatula, scramble the eggs. Cook for a few minutes, until fully cooked. Next, mix the eggs with the vegetable mix.
Stir everything together: Lastly, add the chilled rice and chicken to the veggie and egg mixture. Add some soy sauce on top, and stir the ingredients a couple of times. Then, add the chopped green onion and add more soy sauce if needed.
Serve warm.
Recipe Variation:
This recipe is very versatile and can be made with other ingredients.
Shrimp Fried Rice: Simply, swap the poultry with shrimp. Also, you can use tofu, ham, beef or pork.
Other vegetables: Feel free to use your favorite vegetables or use more/less than suggested. You can use broccoli, bell peppers, etc as well.
Brown Rice: If you like brown rice better, use it instead of the white one.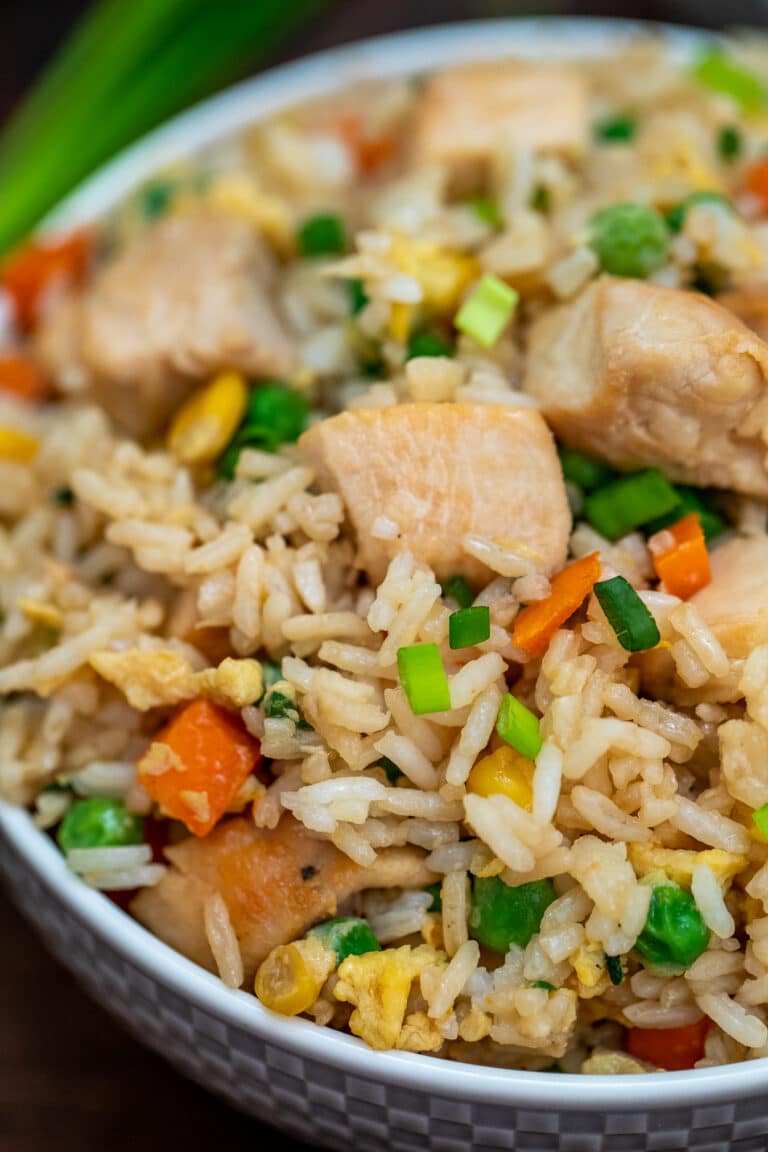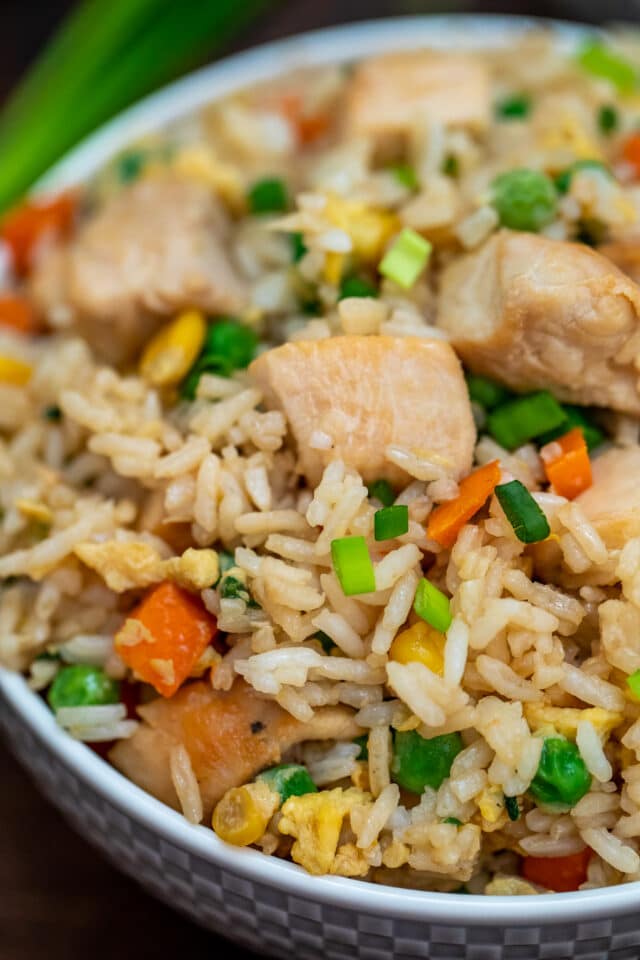 How to store Fried Rice?
If you end up with leftovers, you can simply and easily store the dish. Also, feel free to make it in advance as well, and enjoy it during the week. Simply let it cool after cooking. Then, transfer to an airtight dish, and store in the fridge for up to 5 days.
Also, you could freeze it. Just transfer to a freezer-safe dish or casserole, and freeze for up to 3 months.
Pro Tips:
For best results, try using chilled/refrigerated rice. Although you could use a freshly cooked one, I do not recommend it because it might get sticky when mixing in the pan.
This is s quick and fried dish to make. Therefore, cook the ingredients on high heat.
Also, you can use regular soy sauce or reduces sodium one.
Try cooking and adding the ingredients in the right order when cooking this dish.
Feel free to garnish with some sesame seeds.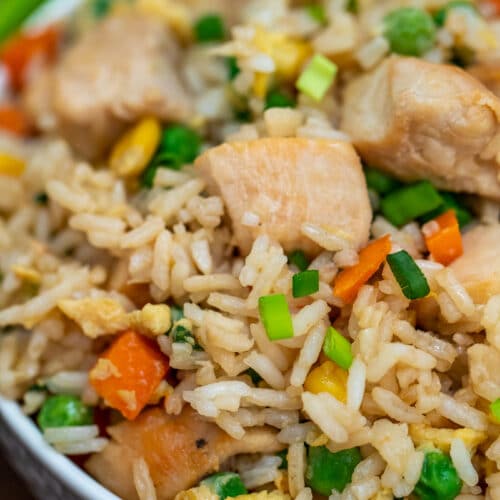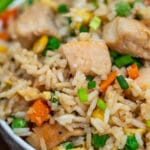 Chicken Fried Rice
Chicken Fried Rice is an easy, one-skillet recipe that is ready in less than 30 minutes and tastes better than takeout! A comfort Chinese food that is the perfect weeknight dinner.
Cuisine:
American, Chinese
Keyword:
Chicken Fried Rice, Fried Rice
Ingredients
2

tablespoons

sesame oil

2

tablespoons

vegetable oil

or canola oil

1

pound

boneless/skinless chicken thighs

or chicken breasts - diced into 1/2-inch pieces

1 1/2

cups

frozen veggie blend

I used peas and carrots

1

cup

frozen sweet corn

1/2

cup

green onions

chopped

4

garlic cloves

minced

1

teaspoon

fresh ginger

minced

3

large eggs

lightly beaten

4

cups

cooked rice

white or brown rice

4

tablespoons

low-sodium soy sauce

1

tablespoon

mirin

Salt and pepper

optional or to taste
Instructions
Place a large non-stick skillet or wok over medium-high heat, add vegetable oil and once simmering add chicken pieces/ Cook for about 5 minutes, stirring occasionally, until golden brown.

Remove the chicken and place on a plate, set aside.

To the same skillet, add sesame oil and once hot add minced garlic and minced ginger, cook stirring for 30 seconds.

Next, add the veggies: peas, carrots, corn, green onions, and cook stirring for about 2-3 minutes, until they begin to soften.

Push everything to one side of the skillet, and add the lightly beaten eggs to the other side. Stir to scramble, and cook the eggs. Once cooked combine with the veggies.

Add the chicken back to the skillet, and add the cooked rice. Drizzle with soy sauce and mirin, and stir to combine. Cook for about 2 minutes, or until chicken and rice are well heated through.

Serve warm garnished with green onions and sesame seeds if desired.
Nutrition Facts
Chicken Fried Rice
Amount Per Serving
Calories 727
Calories from Fat 333
% Daily Value*
Fat 37g57%
Cholesterol 234mg78%
Sodium 737mg32%
Potassium 637mg18%
Carbohydrates 67g22%
Protein 32g64%
Vitamin A 3958IU79%
Vitamin C 13mg16%
Calcium 78mg8%
Iron 3mg17%
* Percent Daily Values are based on a 2000 calorie diet.