Skinny Mongolian Beef Noodles
Skinny Mongolian Beef Noodles are loaded with veggies, protein, and soaked in a delicious, light Mongolian sauce. Serve it over soba noodles for the perfect weeknight dinner!
I love easy Asia dinner recipes. They are delicious, budget-friendly, and can feed the whole family. My other favorites are Beef and Broccoli Stir Fry, Sweet and Sour Pork, and Chicken Fried Rice.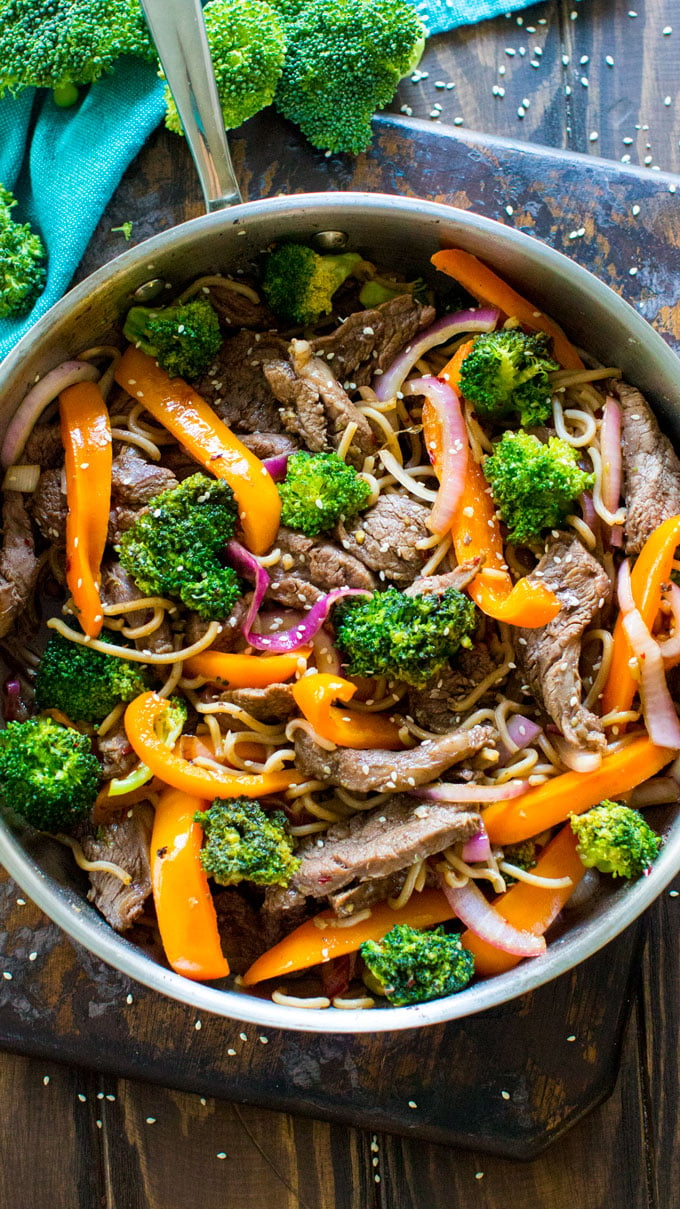 Easy Mongolian Beef Noodles
Skinny Mongolian Beef Noodles have been inspired by my endless love for Mongolian beef. This dish was always one of my favorite go-to Asian recipes. I love noodles, and being a stir-fried dish, combined with beef, is simply the perfect combination.
This Skinny Mongolian Beef Noodle recipe is a healthier take on the traditional version. I reduced the sugar by a lot and also used buckwheat stir fry soba noodle. In addition, I added lots of veggies and the steak was not deep-fried. This meal is always a hit in our house!
I like the slightly sweet, light sauce made with brown sugar because it complements the savory flavors of the dish. Also, the veggies are still crunchy and the flank steak bites are juicy. The soba noodles come pre-made in packages. All you have to do is add them to the stir fry. This way you save time and have a healthy, one-pan meal, ready for dinner in less than 30 minutes!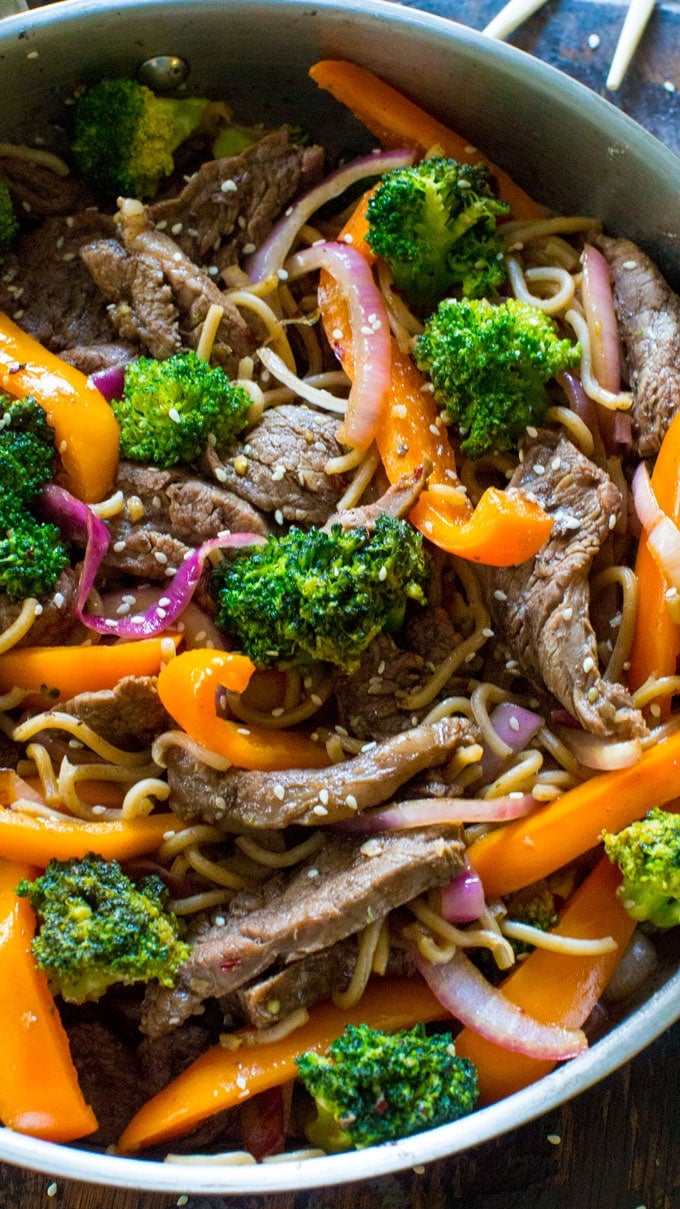 What is Mongolian Beef?
It is a popular Chinese dish, made with sliced beef, typically flank steak, veggies, and stir-fried. The dish is often served over rice. or noodles.
The Best Cut Of Beef To Use For Mongolian Beef Noodles?
I strongly recommend using flank steak, because it's inexpensive and cooks really well when sliced nice and thin. However, you can also use other cuts. Sirloin steak is also a great alternative. However, its a more expensive cut, so just keep that in mind.
Looking for more Pasta Recipes? Check these out:
How to cut flank steak across the grain?
"Across the grain" means to cut across the fibers of the meat, NOT with them, this means slicing across the width of the steak rather than its length. Cutting across the fibers makes them shorter. Since flank steak is a "tougher" cut of steak, this makes the meat easier to chew.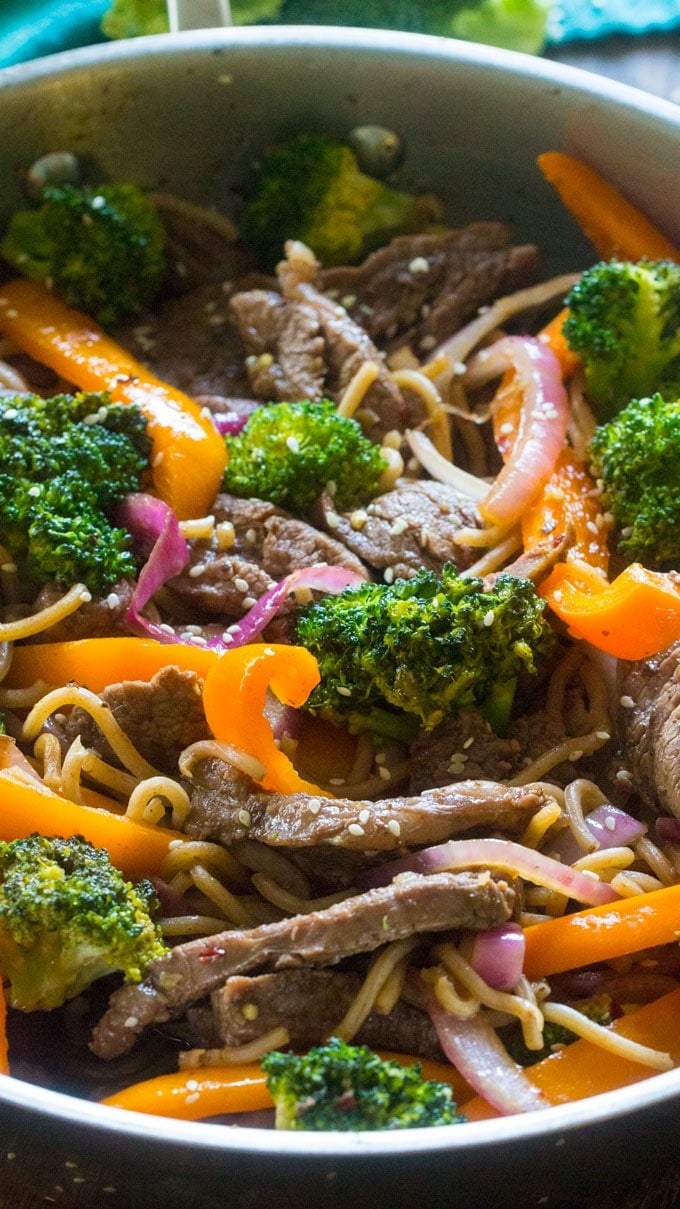 Can I use other meats?
Absolutely! This recipe works great with other proteins as well. Feel free to experiment, and go with what you have. Pork, lamb, shrimp, or even tofu are great alternatives.
In addition, you can swap the veggies with your favorite type. For example, carrots, peas, corn, bok choy, will work just as well.
Can I make Skinny Mongolian Beef Noodles in advance?
Yes. This dish can easily be made in advance, and simply stored for later. Also, if you have leftovers, just refrigerate. Prior to refrigerating, ensure the meal is completely cooled. Then, transfer it to an airtight container and refrigerate for up to 4 days.
This way, you can serve it the whole week.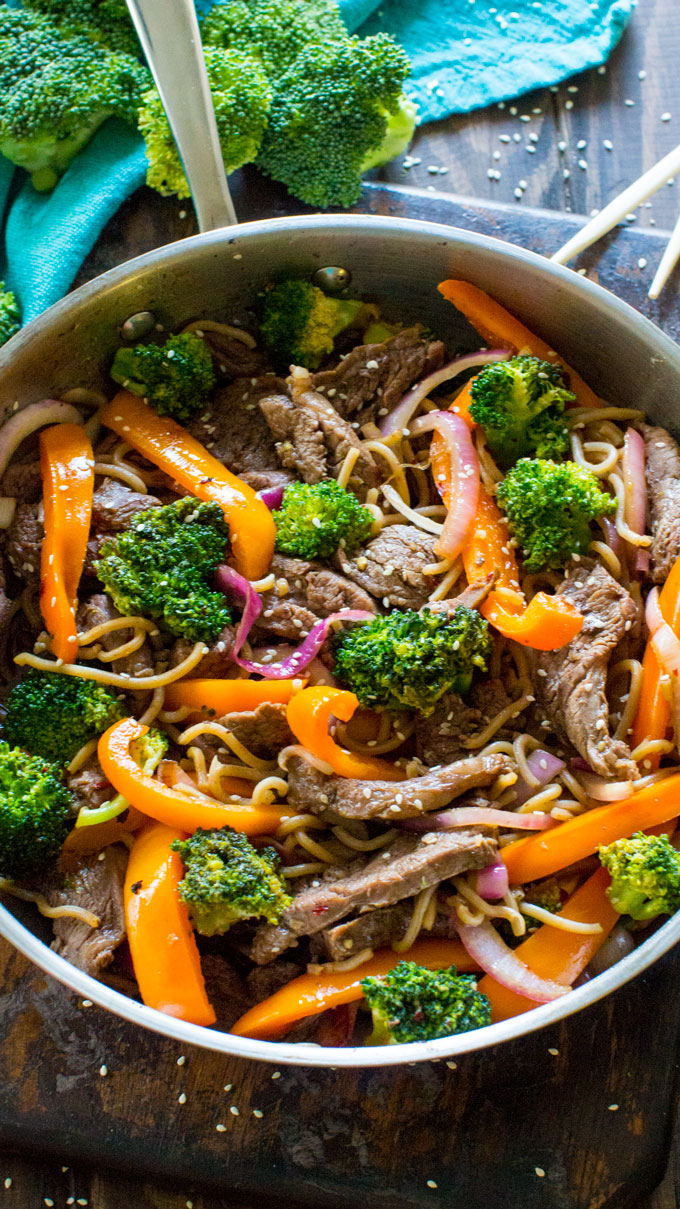 Recommendation on how to make the best Skinny Mongolian Beef Noodles Recipe:
To make this meal spicier, you can add more pepper flakes or Korean Hot Sauce.
I used pre-packaged stir fry soba noodles, this way you can just add them to the stir fry, without extra cooking/boiling involved.
Make sure you stir the noodles often, so it doesn't stick to the bottom of the pan and burn.
Use whatever veggies you like. I added bell pepper red onion and broccoli. Other great options are: mushrooms, snow peas, asparagus, baby bok choy etc.
You can double the sauce amount if you want.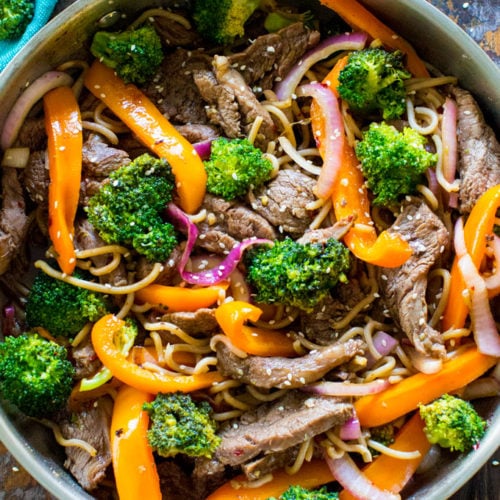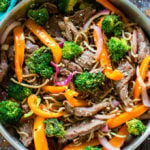 Skinny Mongolian Beef Noodles
Skinny Mongolian Beef Noodles are loaded with lot veggies, protein in a delicious, light Mongolian sauce, served over soba noodles.
Ingredients
2

tablespoon

canola oil

1

lb

flank steak sliced across the grain

1

tablespoon

sesame oil

1

red onion diced

1

orange bell pepper sliced

3

cups

broccoli florets

2

tablespoons

minced garlic

½

teaspoon

red pepper flakes

¼

cup

brown sugar

¼

cup

soy sauce

¼

cup

water

2

tablespoons

rice vinegar

1

pouch stir-fry soba noodles
Instructions
Add canola oil to a large skillet or stir fry pan over medium-high heat.

Season sliced steak with salt and pepper and cook for about 5-6 minutes, it should start to brown. Remove steak from pan and set aside.

Add sesame oil, red onion, bell pepper and broccoli to the pan. Stir fry for about 5 minutes.

Add the rest of the ingredients with the exception of the soba noodles, stir and cook for another 3-4 minutes.

Add back the steak, add in the stir soba noodles, stir well to combine and cook for another 5 minutes.

Garnish with sesame seeds and serve.

Enjoy.