SWEET AND SOUR PORK – ONE PAN
Sweet and Sour Pork is a restaurant-quality meal that can be easily made at home in one pan. Crispy, sweet, sour and made with budget-friendly ingredients.
This Chinese stir-fry dish has pretty much the best flavors. The meat is coated in a nice sweet, tangy, and citrusy sauce. For other delicious dinner ideas, check out Korean Chicken Bowls, Chicken Fried Rice, and Sweet and Spicy Chicken.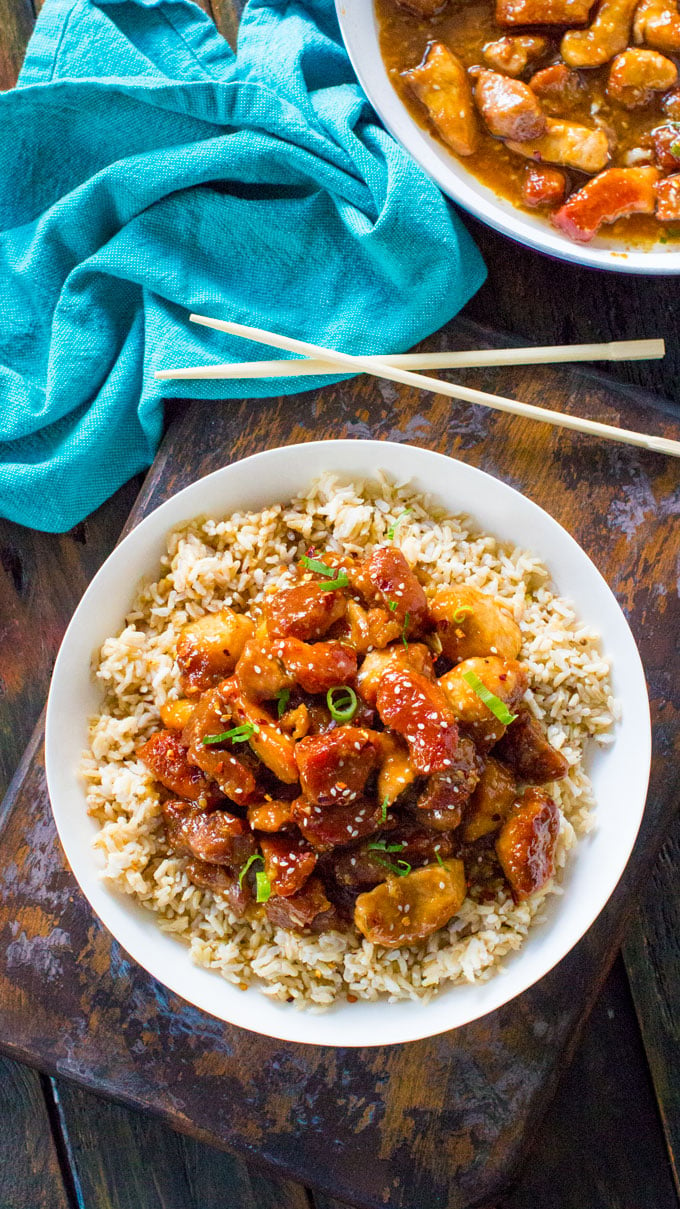 Easy Sweet and Sour Pork
Sweet and Sour Pork is a family favorite weeknight meal, because of how easy it is to make and also budget-friendly. This dish is also very flavorful, it can easily compete with your favorite takeout place.
You have probably tried this Asian staple before at a Chinese restaurant. However, making it at home will taste even better, and healthier. Also, it is ready in less than 30 minutes, so it is pretty convenient.
This dish is packed with flavors. The meat is deep-fried until golden and crunchy, then tossed in a vibrant sweet and tart sauce. The sauce is definitely the flavor booster here. I usually make some extra, and pour it all over that rice! Bonus points for tasting great the second day, so you can have delicious leftovers on hand.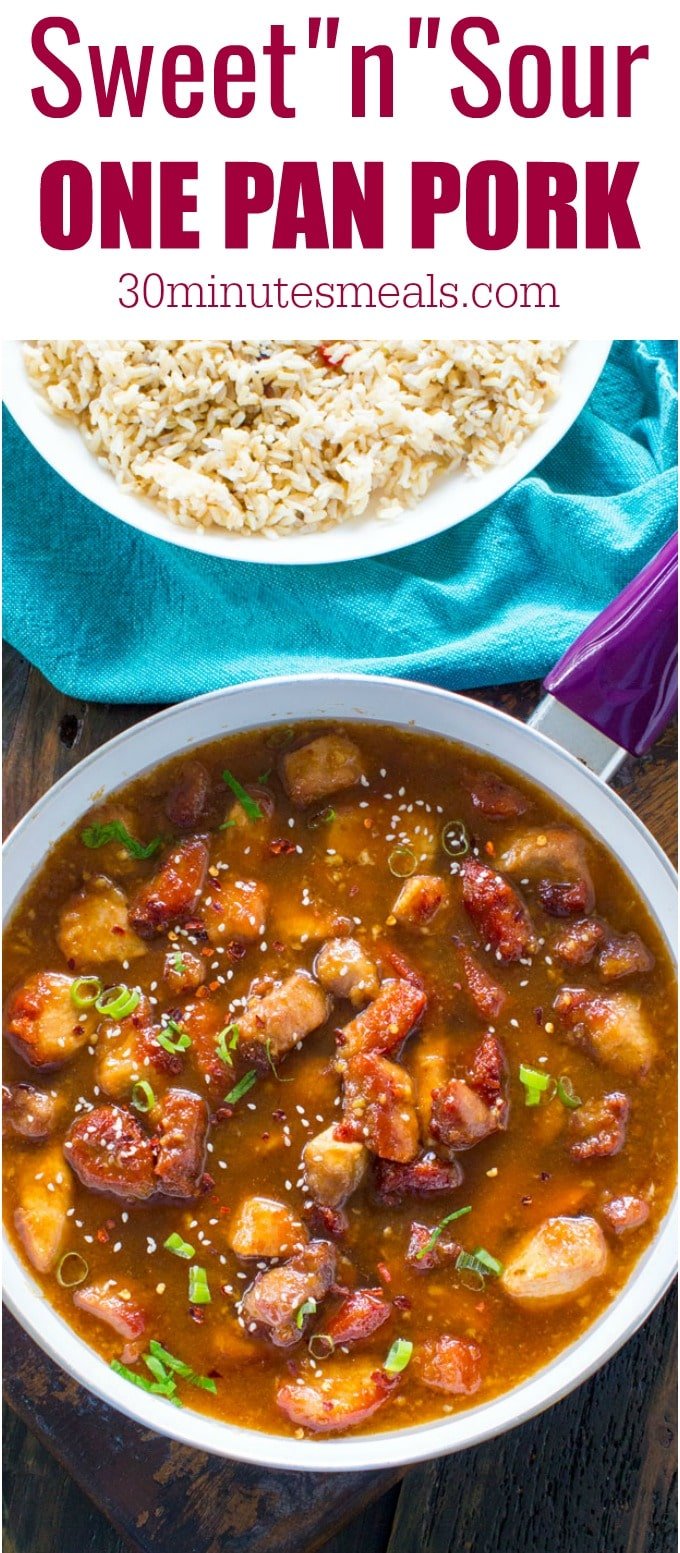 What is Sweet and Sour Pork?
This is is an iconic Chinese recipe, that has its roots from Cantonese cuisine. It is characteristic of having a flavorsome sweet and sour sauce. The sweetness and sourness usually come from sugar and pineaple, and sharp rice vinegar.
How To Make Sweet and Sour Pork
This recipe comes together very easily. The general steps are as follows:
Prepare the pork, and cut it into smaller even-sized pieces. Then, marinate the meat pieces while prepping the veggies.
Sear the pork until crisp.
Cook the garlic, ginger, then add pork and sauce.
Stir until bubbly and thickened.
Recipe Variation:
As many Chinese recipes, this one is easily modifiable and adjustable. Some great additions are:
Add veggies. Feel free to add some extra veggies to the dish, such as bell peppers, onions, mushrooms, carrots, or even broccoli.
Instead of granulated sugar, you can use honey or brown sugar.
Similarly, you can swap the white with brown rice.
In addition, the protein can be substituted with other types. Tofu, beef, chicken, or shrimp, are all great alternatives. So use whatever you like the most.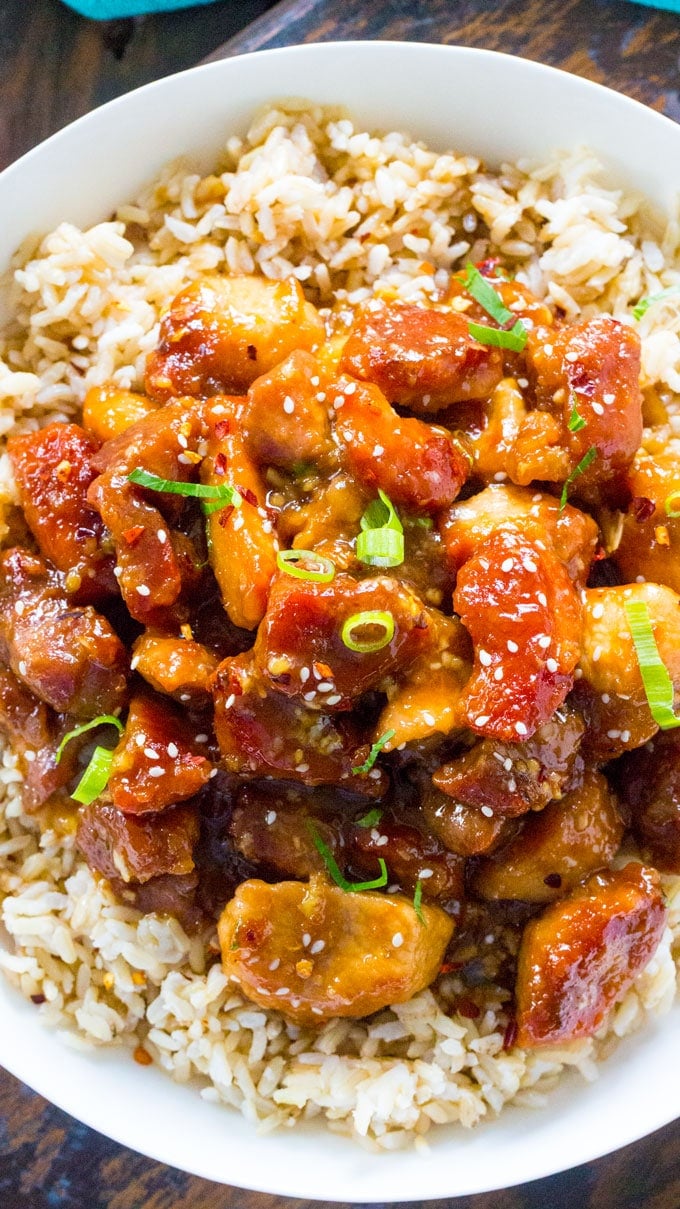 How to store it?
To store leftovers, simply transfer to an airtight container. Then, refrigerate for up to 4 days. Reheat prior to serving.
Also, you can freeze it as well. Just use a freezer-safe dish, and freeze it for up to 3 months.
Tips and Tricks to make the perfect Sweet and Sour Pork :
You should use quality meat, preferably organic, in this case, I used organic pork loin, pork tenderloin will also work.
The recipe will work great also with chicken or shrimp.
Also, a nonstick skillet works great it this recipe.
Coating the pork evenly with corn starch is key. Also, this will work a light breading for it, remove excess water and give it that crispy texture.
Make sure you use vegetable or canola oil to fry the pork. Olive oil works too, it will just add a darker color.
In addition, using fresh garlic and ginger (not powder) is very important, it will give the dish an amazing flavor.
You can add some red pepper flakes and hot sauce, to make it spicier.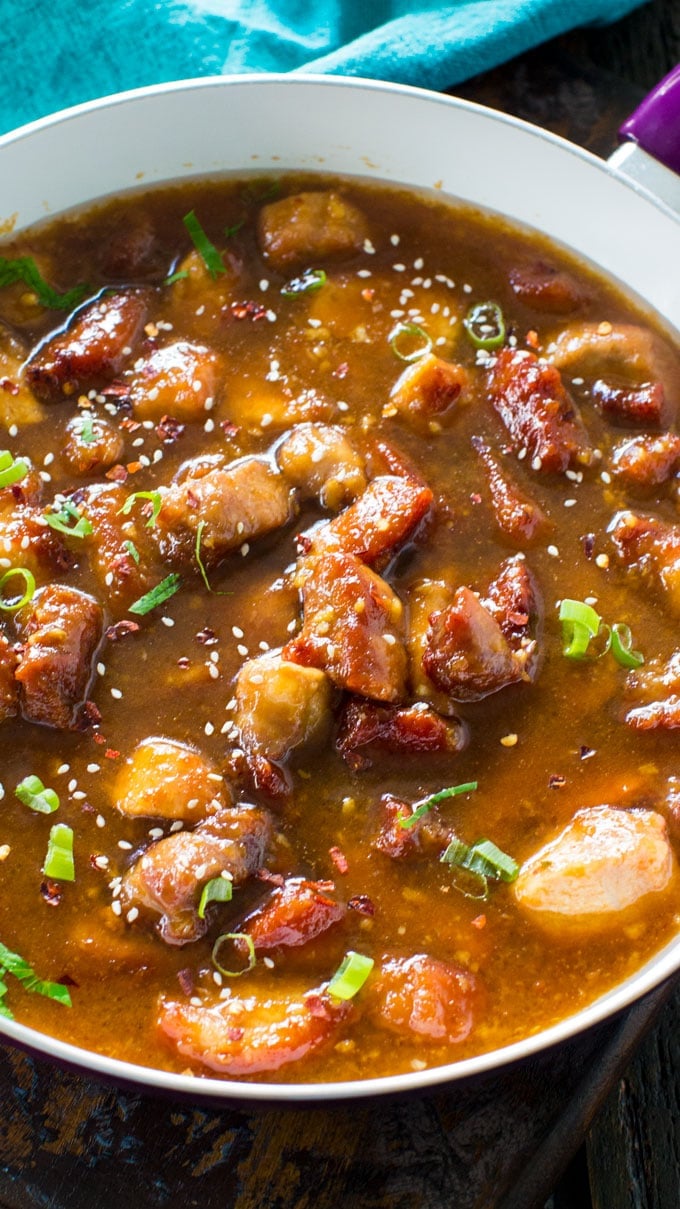 Tools/Ingredients I use to make this Sweet and Sour Pork :
Tongs – I like the locking functionality on these, they are the best on the market.
Large Skillet – I like this one from Cuisinart a lot.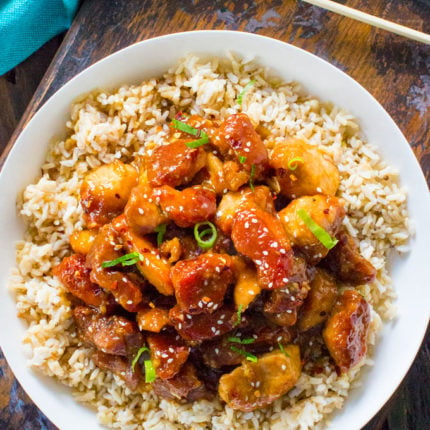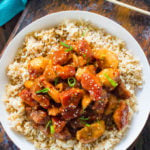 SWEET AND SOUR PORK
Sweet and Sour Pork is a restaurant quality meal that can be easily made at home in one pan. Crispy, sweet, sour and made with budget friendly ingredients.
Ingredients
1 1/2

pounds

pork loin

cut into 1-2 inch cubes

1/2

cup

cornstarch

¼

cup

vegetable or canola oil
Sauce:
1/2

cup

granulated sugar

4

tablespoons

ketchup

1/4

cup

white vinegar

1/4

cup

apple cider vinegar

1/3

cup

pineapple juice

2

tablespoons

low sodium soy sauce

1

tablespoon

garlic

minced

1

tablespoon

ginger

minced

1

tablespoon

cornstarch
Garnish:
Sliced green onions

Sesame seeds
Instructions
Before starting on the pork, make sure you jump start on the rice, so its ready at the same time. That if you want to serve the pork over rice. Cook rice based on package instructions.

In a large bowl or ziplock bag, toss the pork pieces with the cornstarch well so every piece is covered. Set aside.

Add all the "Sauce" ingredients to a bowl and whisk together to combine. Set aside.

Add the vegetable oil to a large pan over medium-high heat.

Once the oil is hot, add the pork and fry on medium-high heat until crispy and golden. Toss the pieces to make sure you cook them evenly. Cook until golden and crispy, about 7-10 minutes.

Drain excess oil from pan.

Give the sauce a quick stir, as some ingredients are on the bottom of the bowl, and add it to the pan.

Stir to coat well the pork for about 30 seconds to 1 minute, until sauce has thickened.

If the sauce is not as thick as you want, mix separately 1 tablespoon of cornstarch with 2 tablespoons of water and add it to the pan.

Wait for the sauce to start to boil, after that remove the pan from heat.

Garnish with green onions and sesame seeds.

Serve immediately with rice.