Affogato Recipe (with Baileys)
Affogato is a classic Italian dessert made with creamy vanilla ice cream and topped with a shot of fresh espresso. A super simple recipe that requires only 3 ingredients!
You won't believe how easy and delicious this dessert is to make. You can enjoy it as is, or pair it with Pumpkin Cream Puffs, Snickerdoodle Muffins, and Chocolate Turtle Apple.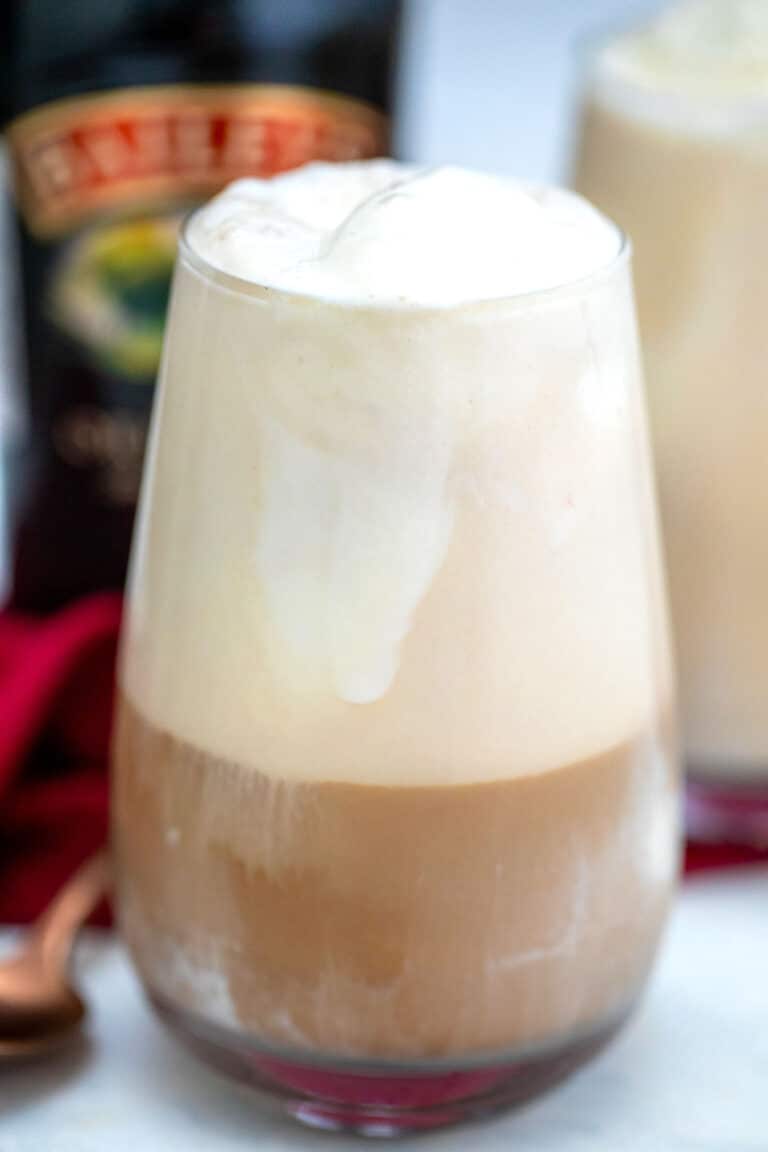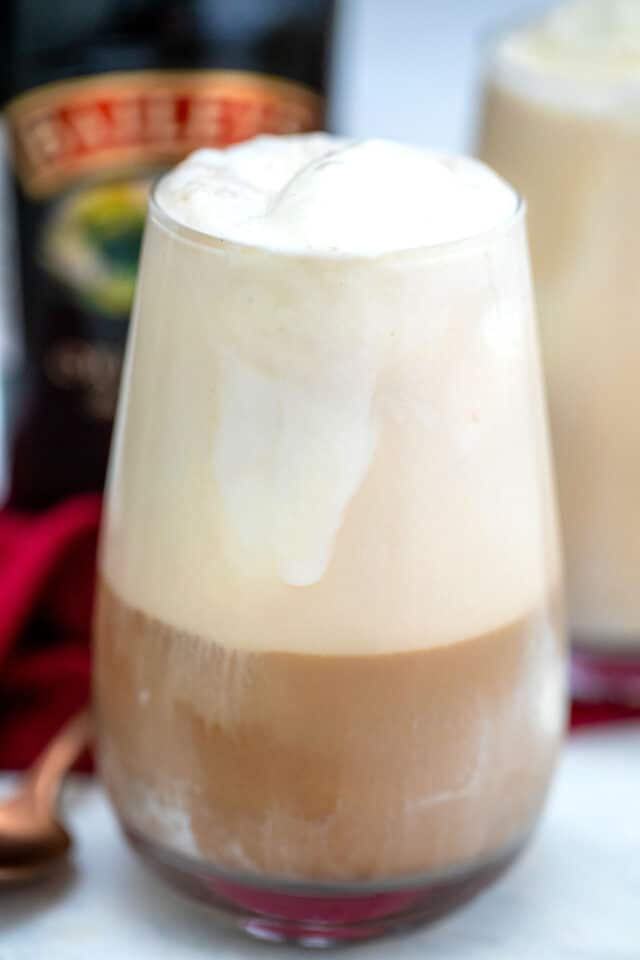 Best Affogato Recipe
I discovered this Classic Italian Affogato dessert when I first traveled to Italy 5 years ago. Prior to that, I honestly did not hear or know what Affogato is!
This is a very popular and delicious dessert. Also, the best thing about this recipe is that it is ready in 5 minutes, and requires only 2 ingredients. In our case, it needs three ingredients since we make it with Baileys! It is super flavorful and tasty!
Obviously, you could skip the Baileys altogether. However, it is a nice flavor match, and when paired with ice cream or gelato, it is simply irresistible! Anyone can make this dessert, so give it a try, and learn how to make the best affogato recipe!
You can also impress your loved ones with this recipe for Valentine's Day, birthday party, or simply after a delicious dinner!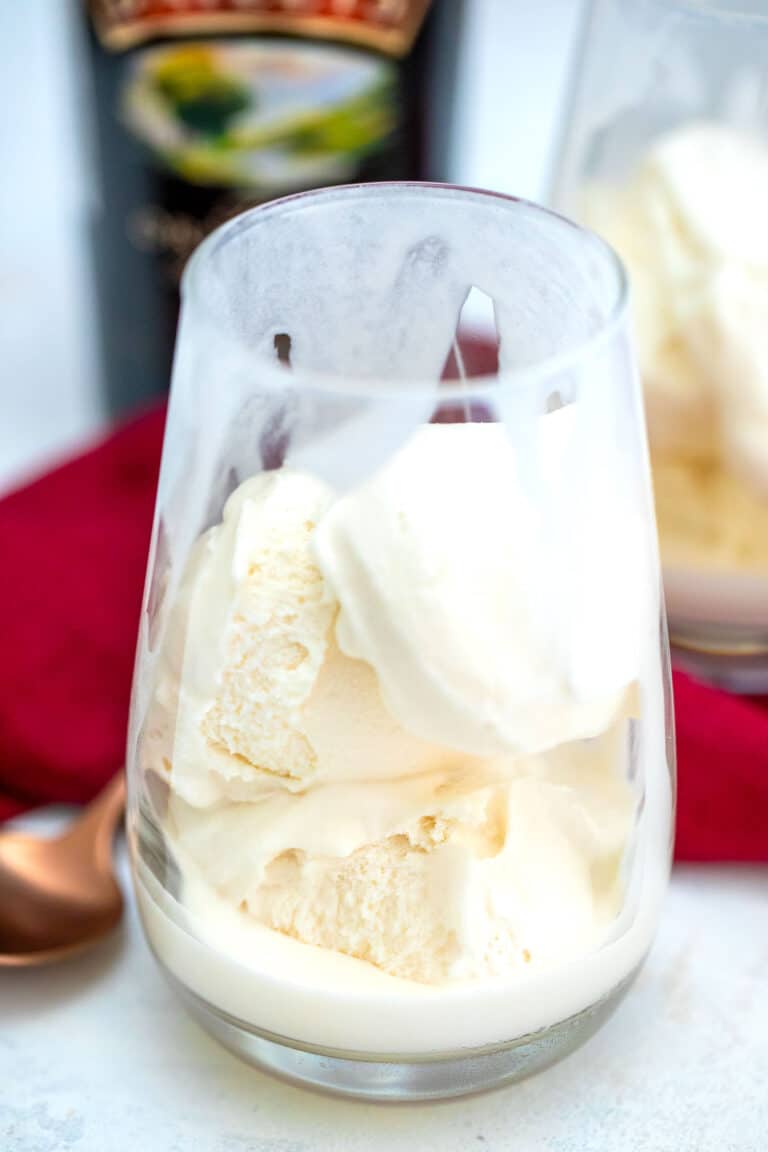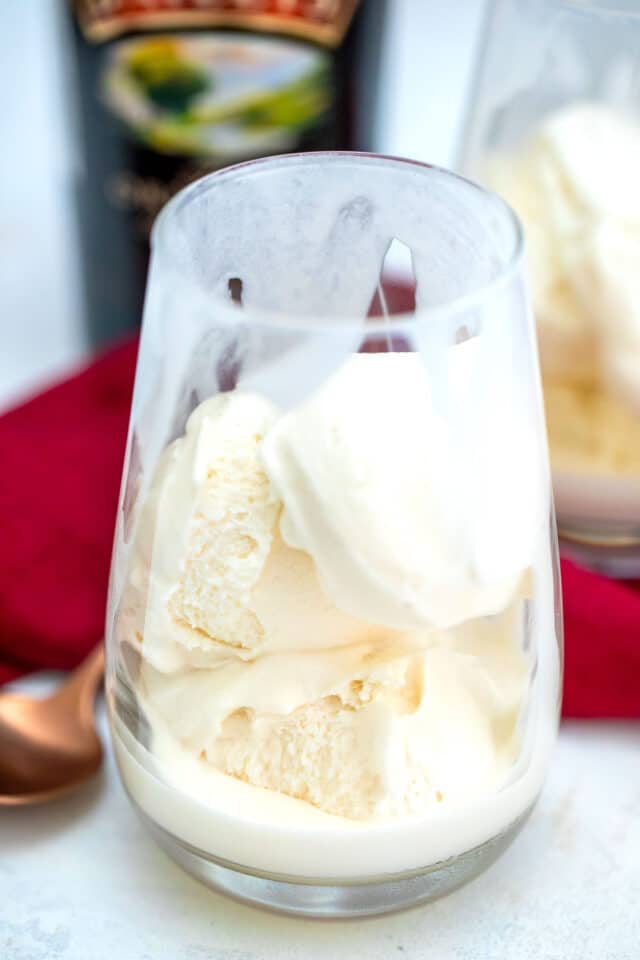 What is an affogato?
It is an Italian dessert usually made with ice cream or gelato and topped with freshly brewed espresso. The hot coffee starts to melt the gelato, which forms a thick and delicious foam on the top.
Also, it became more popular in North America as it can be found in plenty of Italian restaurants. In addition, this beverage was featured in Starbucks when they pulled Affogato-style Frappuccino blended beverages on their menu!
HOW TO MAKE AN AFFOGATO?
All you need is 3 ingredients, and about 3 minutes of your time.
Create two shots of espresso
Then, using a scooper, scoop out a vanilla ice cream, or gelato. Based on your preference.
Pour the espresso over the ice cream and serve immediately.
Garnish is optional, but try a shot of Bailey's.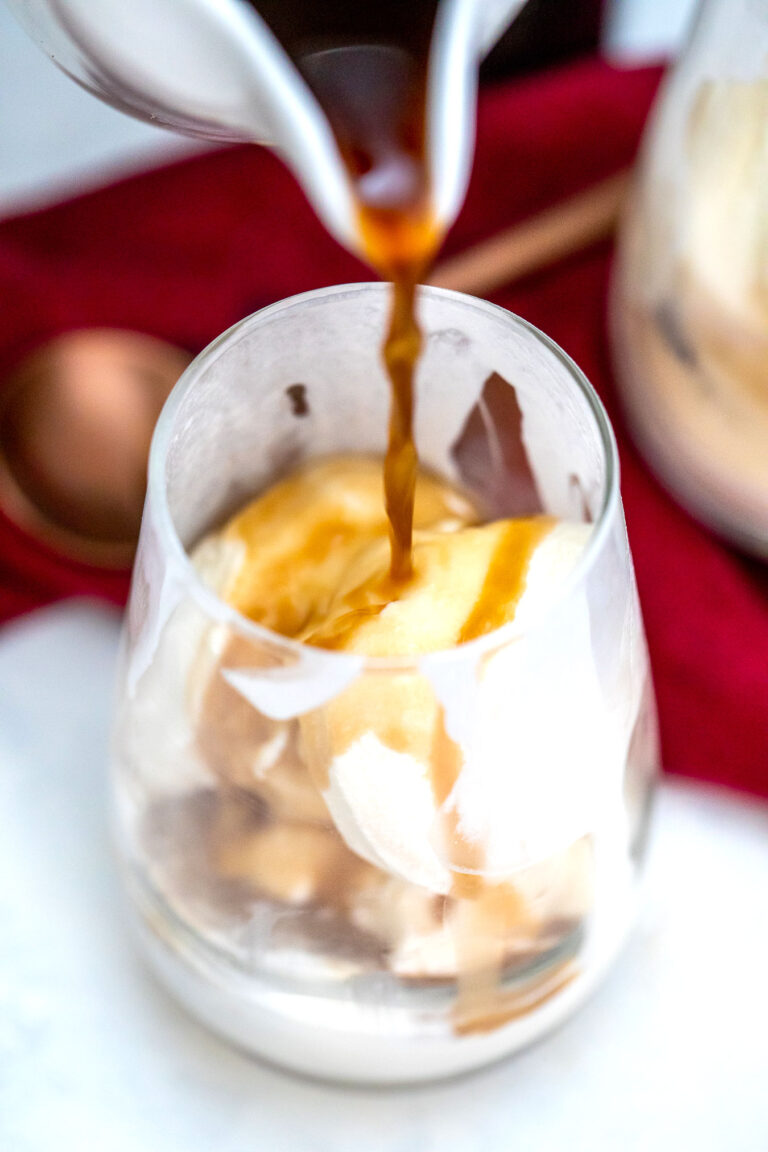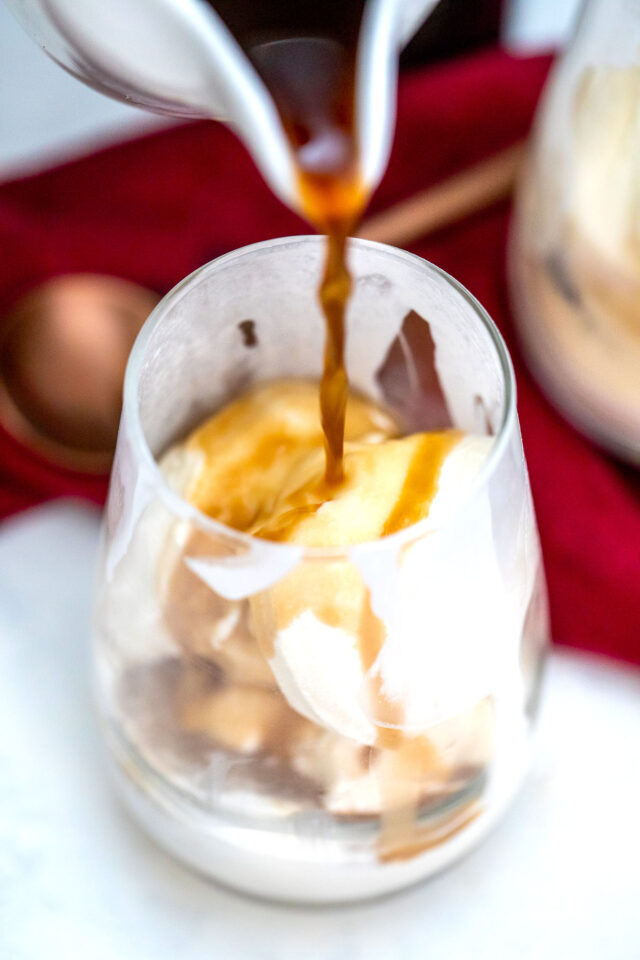 Recipe Variation:
Even though this dessert requires only 2-3 ingredients, it is still very versatile. Feel free to add or substitute the following:
Substitute espresso with a strong brewed hot coffee
Add a little whipped cream on top and garnish with a few flaked almonds or other chopped nuts.
Also, instead of Baileys use some other liqueurs such as amaretto or Kahlua.
Top it with some melted chocolate or caramel.
Sea salt, toasted, and chopped hazelnuts or pistachios also work great for toppings.
The Best Ice Cream for Affogato:
Generally, I love using vanilla bean ice cream because it's easier to find in the grocery store, and it tastes very good. Also, the original and classic affogato calls for vanilla gelato.
Therefore, if you want the authentic Italian experience, definitely go with vanilla gelato. It might be a bit harder to find, but it is worth the search!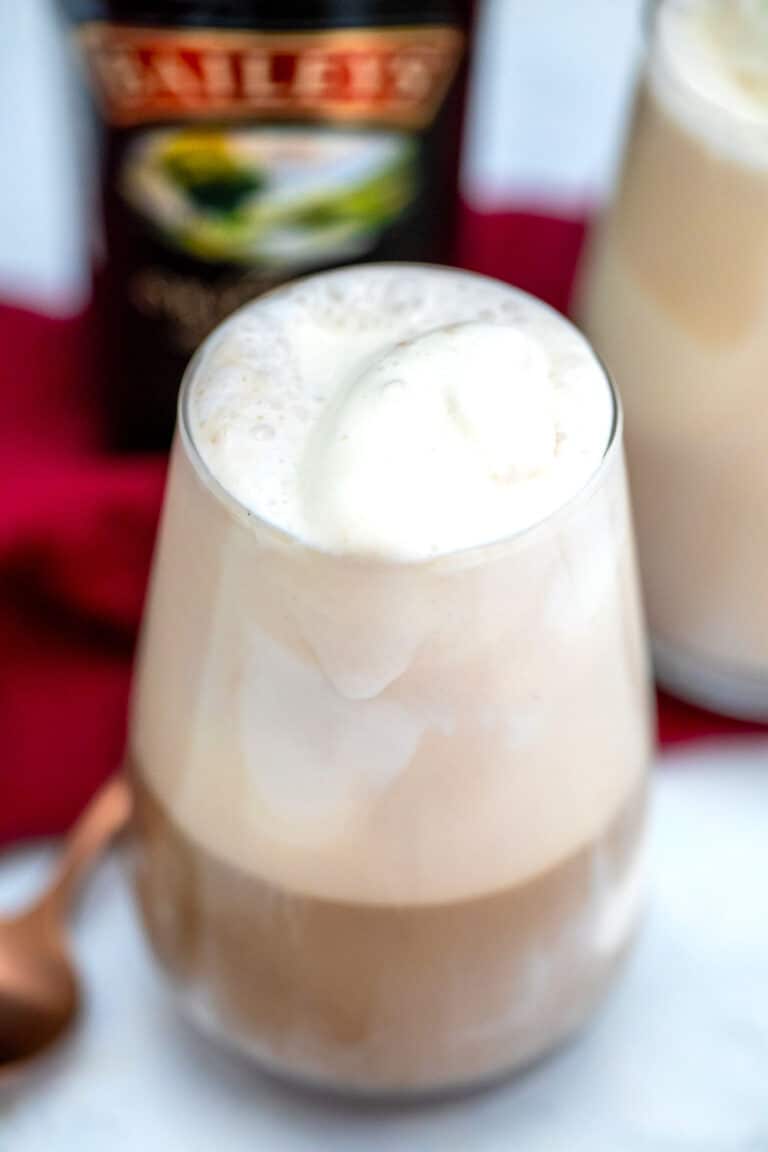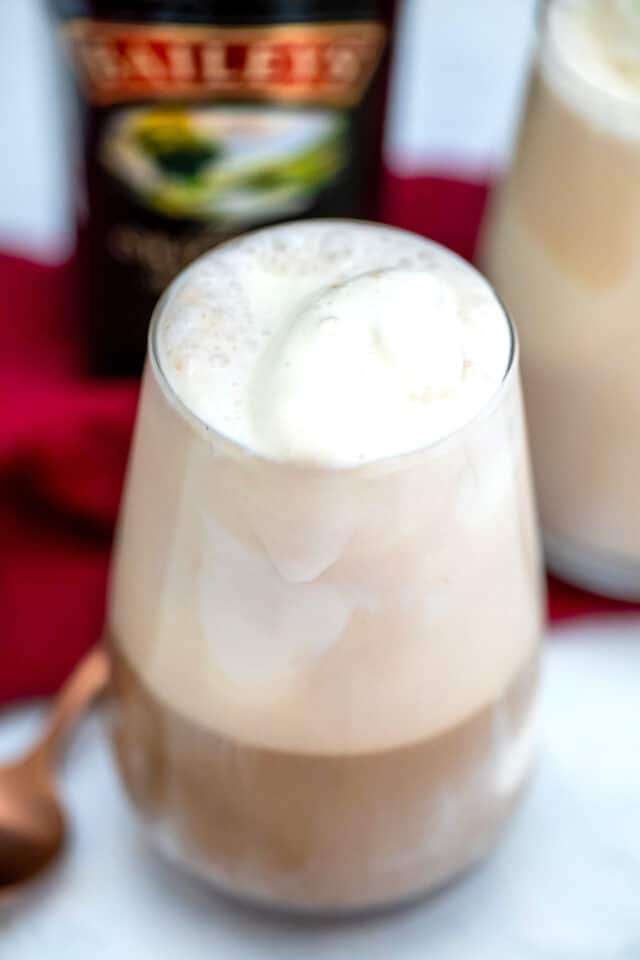 Recipe Tips:
Feel free to serve this in a cappuccino cup, mug, or a glass cup.
Substitute vanilla ice cream can with other flavors. For example, strawberry, caramel, or pistachio ice cream or gelato are perfectly fine as well. Just go with what you love or have on hand.
Decaffeinated espresso or coffee can be used as well.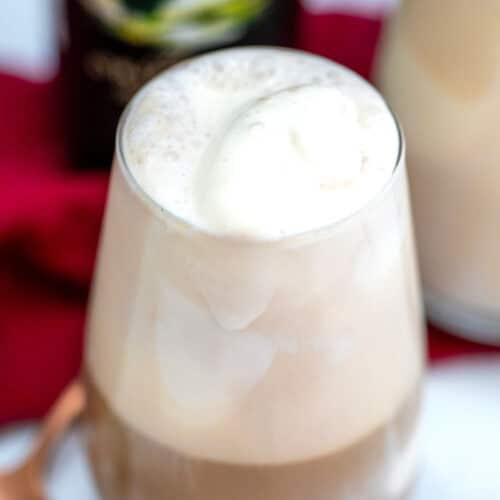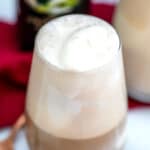 Baileys Affogato Recipe
Affogato is a classic Italian dessert made with creamy vanilla ice cream and topped with a shot of fresh espresso. A super simple recipe that requires only 3 ingredients!
Ingredients
6

scoops

vanilla ice cream

4

shots

espresso

2

ounces

Bailey's

optional
Instructions
Place 3 scoops of ice cream into a bowl and 3 into another.

Pour 2 shots of espresso over each ice cream bowl.

Add Bailey's if using, one ounce per bowl.

Serve immediately.
Nutrition Facts
Baileys Affogato Recipe
Amount Per Serving
Calories 99
Calories from Fat 36
% Daily Value*
Fat 4g6%
Cholesterol 1mg0%
Sodium 3mg0%
Carbohydrates 8g3%
Protein 1g2%
* Percent Daily Values are based on a 2000 calorie diet.