Chicken Waldorf Salad Recipe
Chicken Waldorf Salad is the perfect combination of sweet and savory. Crispy apples, juicy grapes, and crunchy nuts are combined to create the perfect bite!
This classic salad is perfect to serve during the Christmas holidays or potlucks. It is very easy to make, and also very versatile. Serve it as is, or along Thyme Chicken, Grilled Cheese, or Taco Sloppy Joes.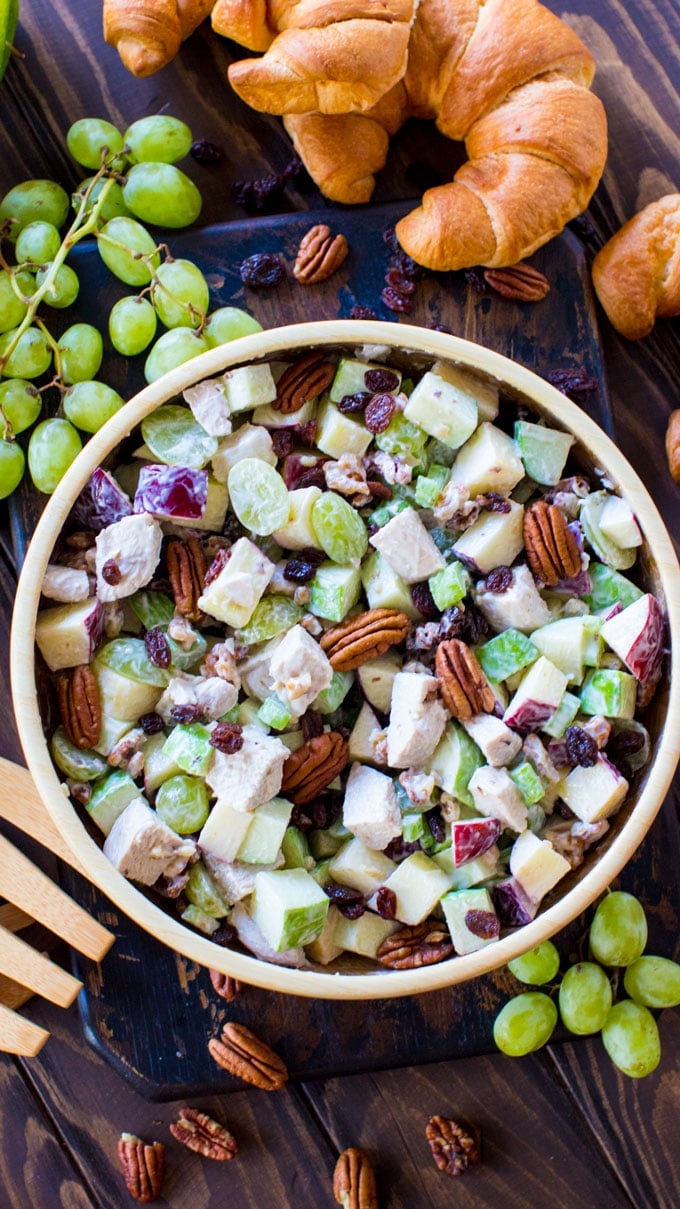 Best Waldorf Salad
Chicken Waldorf Salad is such a timeless salad, that I am always looking forward to making it for holidays. I like using a mix of green and red apples to add some color, also juicy, seedless grapes are added into the mix.
A handful of raisins will add great texture and also a sweet finish, that goes well with the fruit loaded salad. Also, I like to add either pecans or walnuts, and if I make this for Thanksgiving a handful of cranberries are such a good idea.
This classic salad is loaded with lean protein and lots of fruits, covered in a creamy and simple dressing! It's the perfect combination of flavors and textures and great to make ahead for lunch. Easy to make and always a success!
What Is Waldorf Salad?
This is a classic salad made from celery, grapes, apples, walnuts, and dressed in mayonnaise. It is traditionally served on a bed of lettuce. The original Waldorf Salad was created in New York by the head chef of the Waldorf hotel in 1896.
Nowadays, it became a very popular dish and is mainly served for holidays, or during summertime.
Chicken Waldorf Salad Mix-Ins Options:
Crispy apples
Walnuts or pecans
Red or green seedless grapes
Raisins
Cranberries
Grilled chicken breast, boiled chicken breast or rotisserie chicken
How to make Chicken Waldorf Salad?
Please note, you can make it with chicken or skip it, and make it the classic way. Also, to save time, use leftover cooked chicken, or even rotisserie. To make it, simply:
Prep the fruit and veggies, and add the chicken. Gently combine in a bowl.
Then, mix dressing ingredients. Also, feel free to use yogurt instead of mayonnaise.
Chill and enjoy it.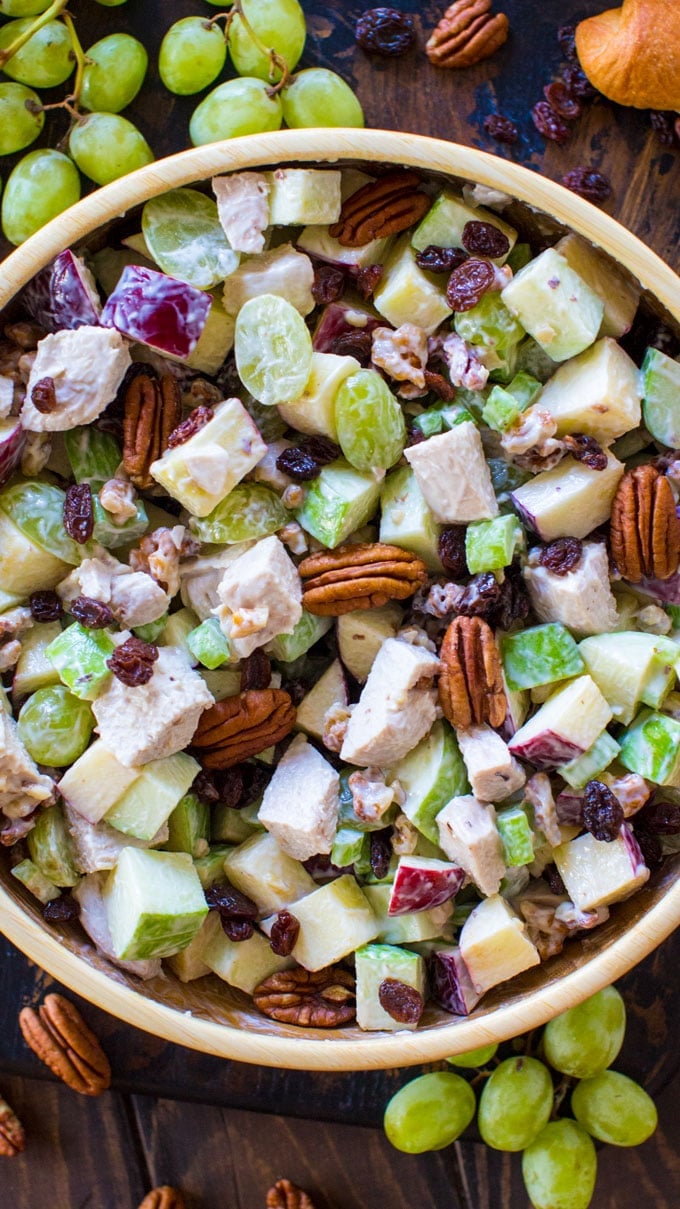 How to store it?
Leftovers of this salad is great, I am always looking to have some on hand. Also, I like to pack it for lunch the next day and make chicken salad sandwiches on buttery croissants.
The combo is so tasty, you absolutely have to try it. For a lighter alternative, you can serve this salad on top of iceberg lettuce, or even fill the lettuce leaves with it for a quick lunch or snack.
More Easy Party Salads: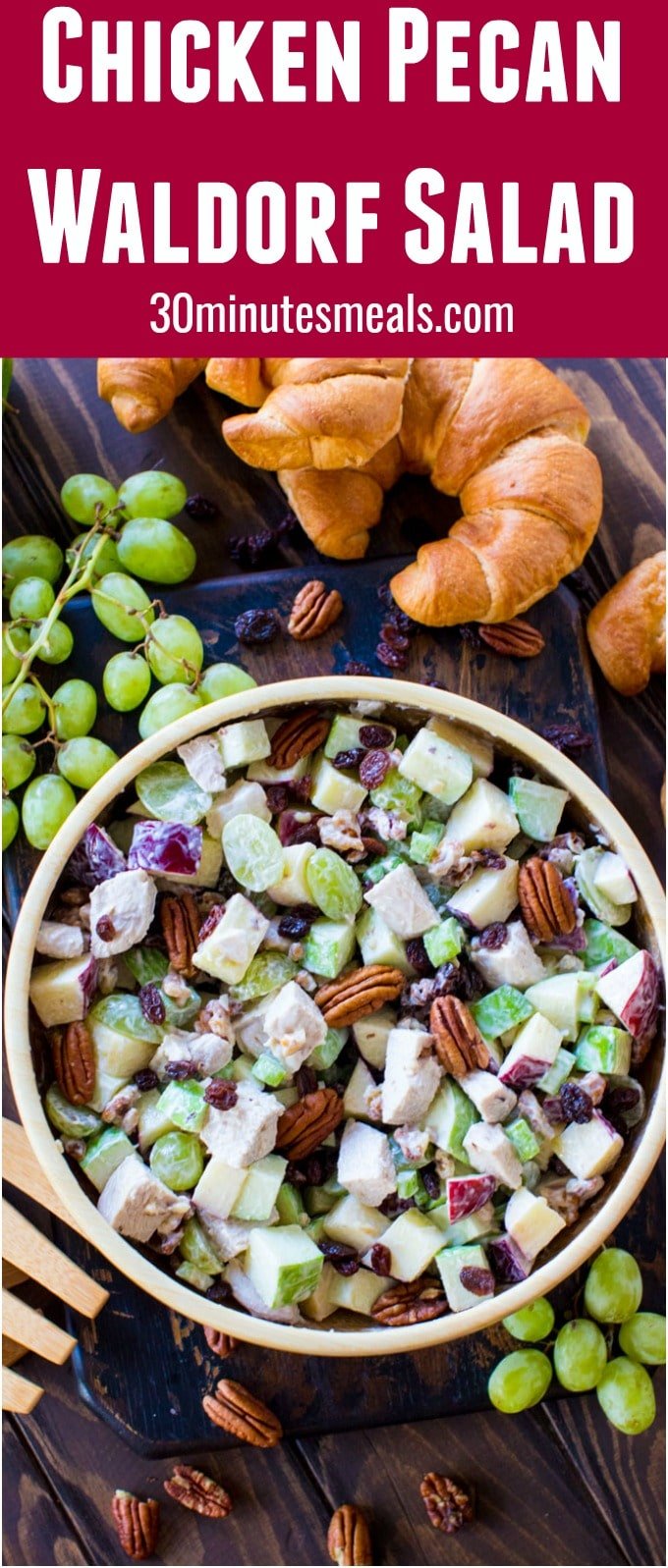 Recipe Tips:
As stated above, feel free to skip the meat if desired. This way, you will have a vegetarian Waldorf Salad.
Also, you can make it with other meats or proteins, such as ham, shrimp, tofu, etc.
You can also substitute the fruits and veggies, and use what you like.
If served during summertime, or bringing it to a picnic or potluck, I would recommend to refrigerate it prior to serving.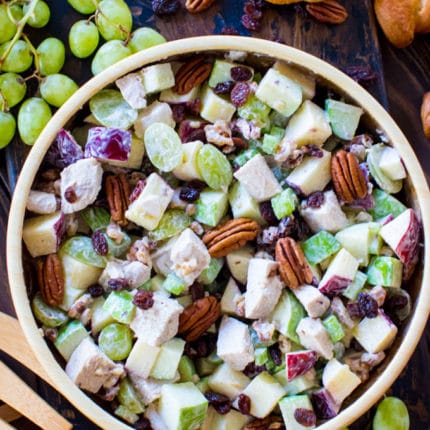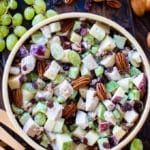 CHICKEN WALDORF SALAD
Chicken Waldorf Salad is the perfect combination of sweet and savory. Crispy apples, juicy grapes and crunchy nuts are combined to create the perfect bite!
Ingredients
2

cups

cooked chicken breast

cut into 1 inch cubes

1

green apple

cored and chopped into cubes

2

red delicious apples

cored and chopped into cubes

1

tablespoon

lemon juice

1

celery stalk

diced

1

cup

walnuts or pecans

roughly chopped

1

cup

green or red seedless grapes

cut in half

1/2

cup

raisins or cranberries
Dressing:
2/3

cups

mayonnaise

1

tablespoon

sugar

squeeze of lemon juice
Garnish:
1/4

cup

whole walnuts or pecans

lettuce leaves
Instructions
In a small bowl, whisk together mayonnaise, sugar and squeeze of lemon. Set aside.

Add chopped apples to a large bowl or large zip-top bag, add the lemon juice and mix/shake to coat, to prevent them from browning.

You can use grilled, boiled or rotisserie chicken.

Add all the ingredients to a large bowl, add the mayonnaise mixture and stir well to combine.

Cover with plastic wrap and chill until ready to serve.

Garnish with a few whole pecans or walnuts right before serving.

Serve as is or over lettuce leaves.

Enjoy!