Air Fryer Pineapple Rings Recipe
Air Fryer Pineapple Rings are sweet and juicy on the inside with a nice brown sugar and cinnamon crunch on the outside. They are perfect for dipping or just eating plain as a snack.
For another way to use up that fruit, add it to this Chicken Salad with cream cheese and rotisserie chicken. Another delicious fruit treat you can try are these Air Fryer Apple Fries coated in graham cracker crumbs and cinnamon.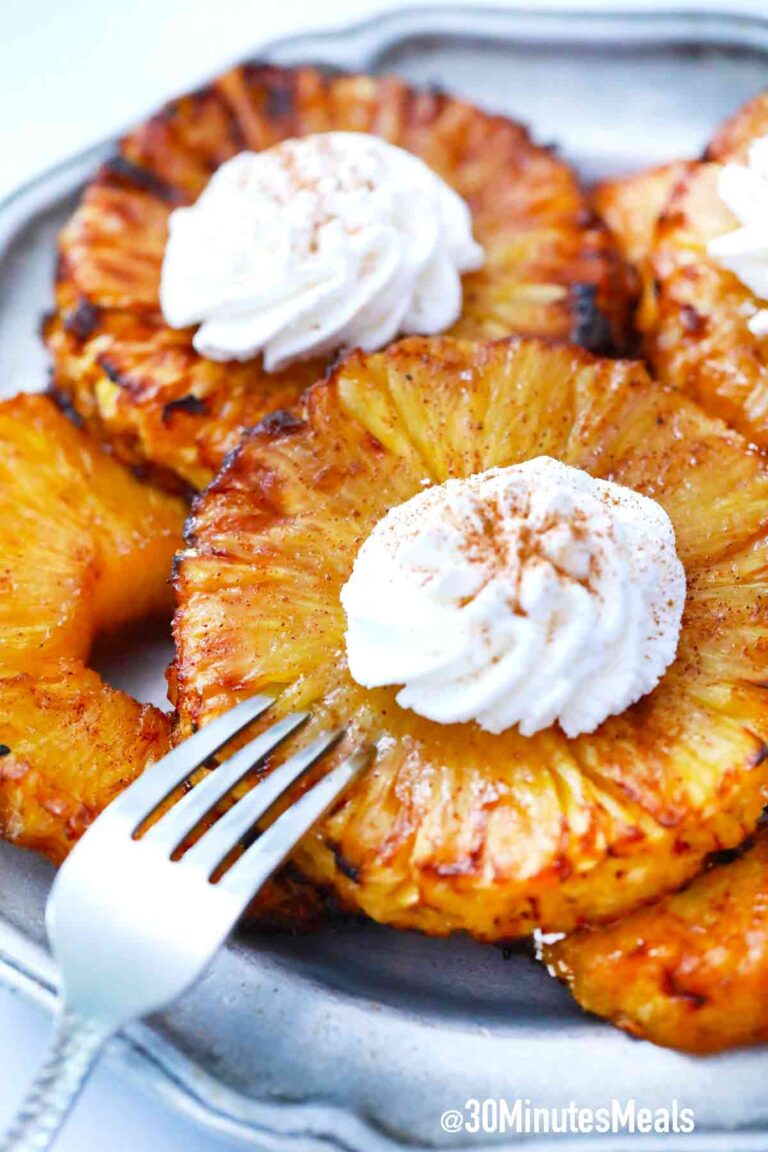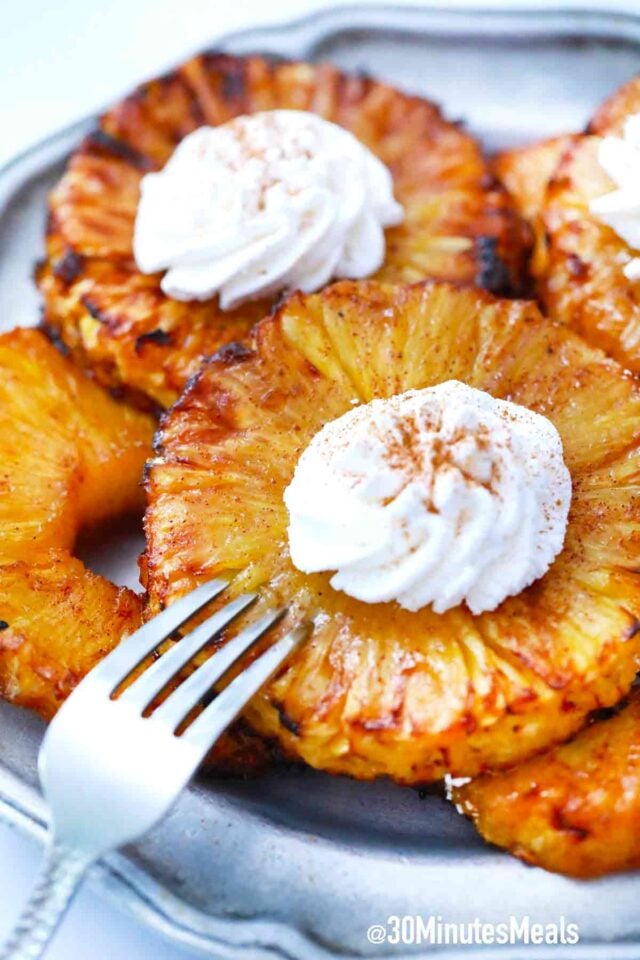 This air fryer pineapple recipe is an excellent source of vitamin C with no fat, so it is a great recipe for those on a diet.
And as long as you have a pineapple, you will not even need to go to the grocery store.
The other ingredients you are sure to have in your kitchen already. And you only need a few things and a few minutes to make them.
Sauteed Squash and Zucchini also go great with this dish.
Want to get an air fryer and not sure which one to choose? Check these small air fryers to make your mind.
Ingredients needed:
These are the main ingredients you need for this easy recipe. You can get the exact measurements and instructions below on our recipe card.
Whole pineapple: Fresh pineapple, peeled and cored.

Brown sugar: Light or dark.
Cinnamon: Fresh ground cinnamon for best results.
Cayenne pepper: Optional.
Coconut oil: Vegetable oil or olive oil will also work.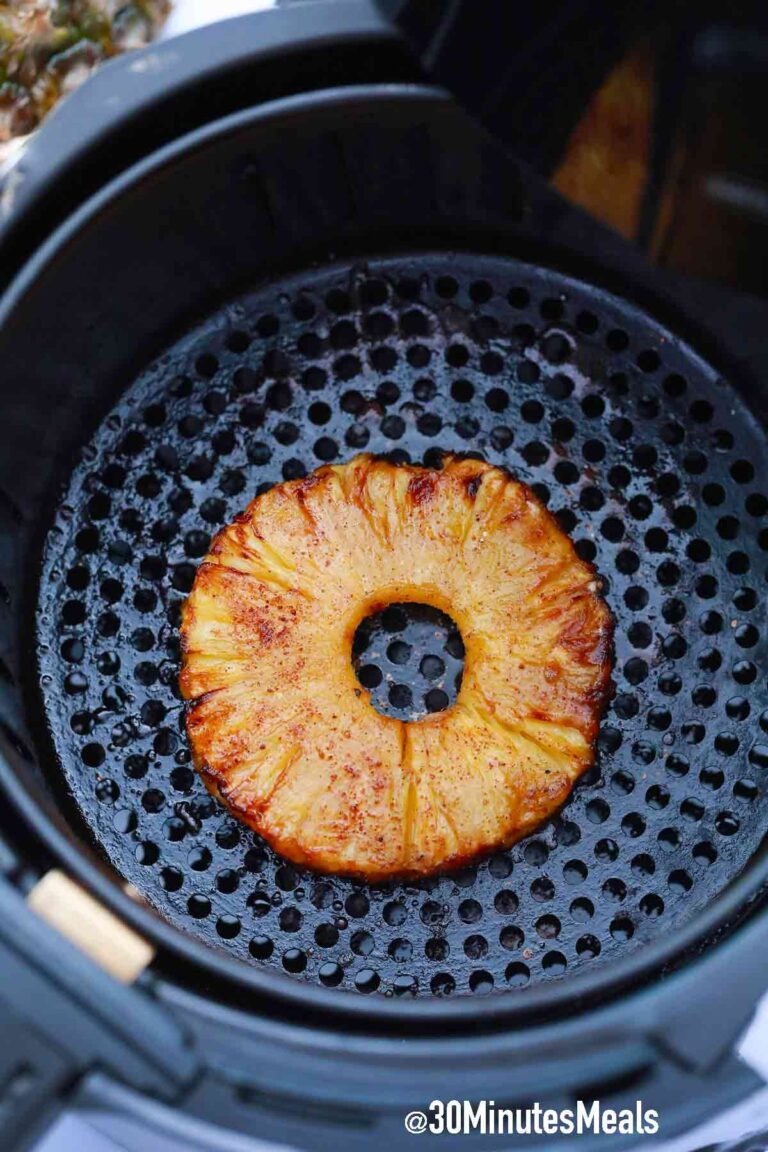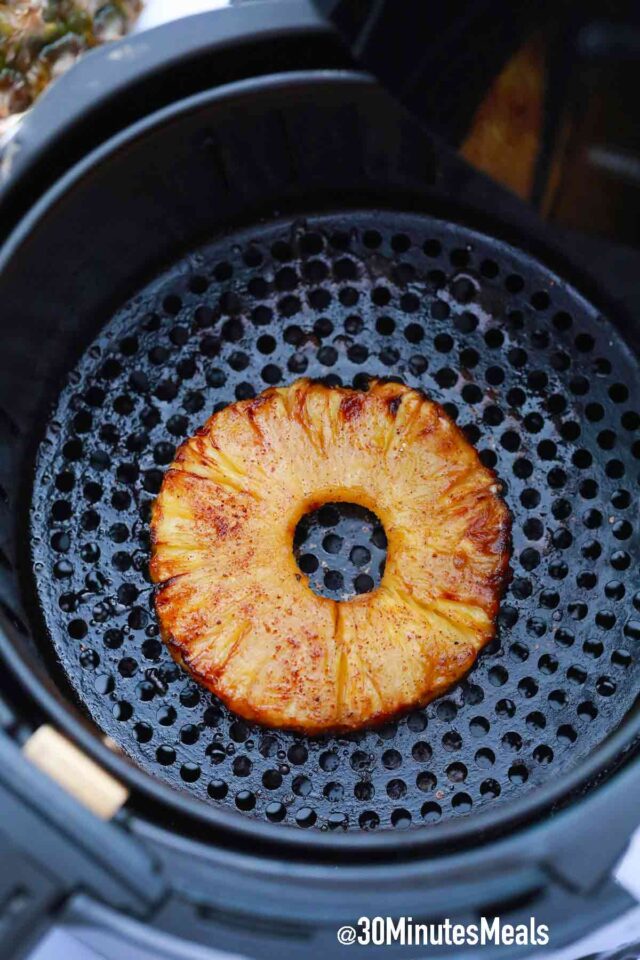 How to make air fryer pineapple rings recipe?
Preheat: First, heat the air fryer to 375 degrees Fahrenheit (190 degrees C).
Slice: Meanwhile, cut pineapple into eight slices and set aside on paper towels to absorb any excess moisture.
Mix: Next, mix the brown sugar, cinnamon, and pepper in a small bowl.

Oil and sugar: Then, brush or spray rings with oil before sprinkling the sugar mixture all over them. Put them on a piece of parchment paper until they are all done.
Arrange: After, place pineapple rings in a single layer in the air fryer basket. Cook for eight minutes on each side.
Cool: Last, remove fried pineapple rings and place on parchment paper to cool a bit.

Serve: Finally, serve this delicious dessert warm with whipped cream.
Recipe variations:
Fritter rings: You could also make these into pineapple fritters by coating them in flour, milk, and egg before frying until they are golden brown.
Stove top: Fry in hot oil on medium heat in a large frying pan for about four minutes on each side if your air fryer is on the fritz. Cooking time may vary.
Butter: Instead of oil, use butter for a great sweet treat. Just use half the butter-cinnamon mix on each side.
Deep fry: Deep fry in hot oil over high heat for extra crispy grilled pineapple.
More spice: Feel free to add your own favorite spices like cloves, ginger, paprika, or basil.
Dip: Cut into long sticks or cubes for dipping instead of rings.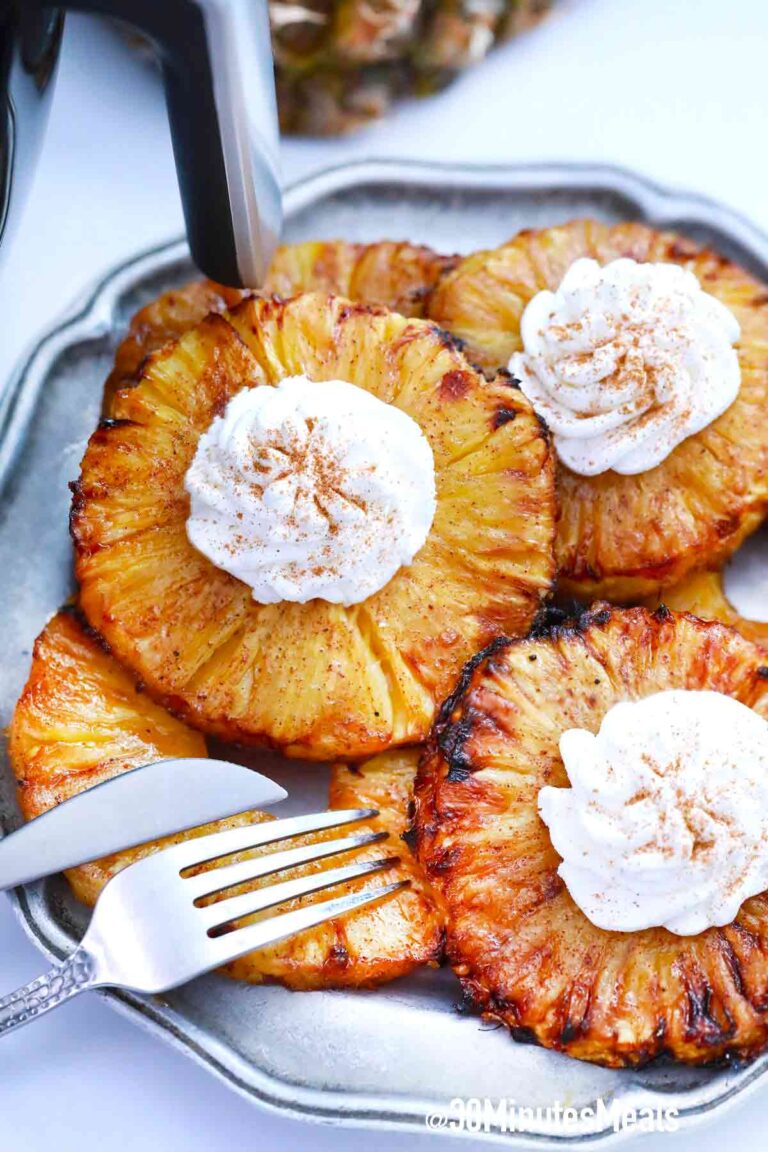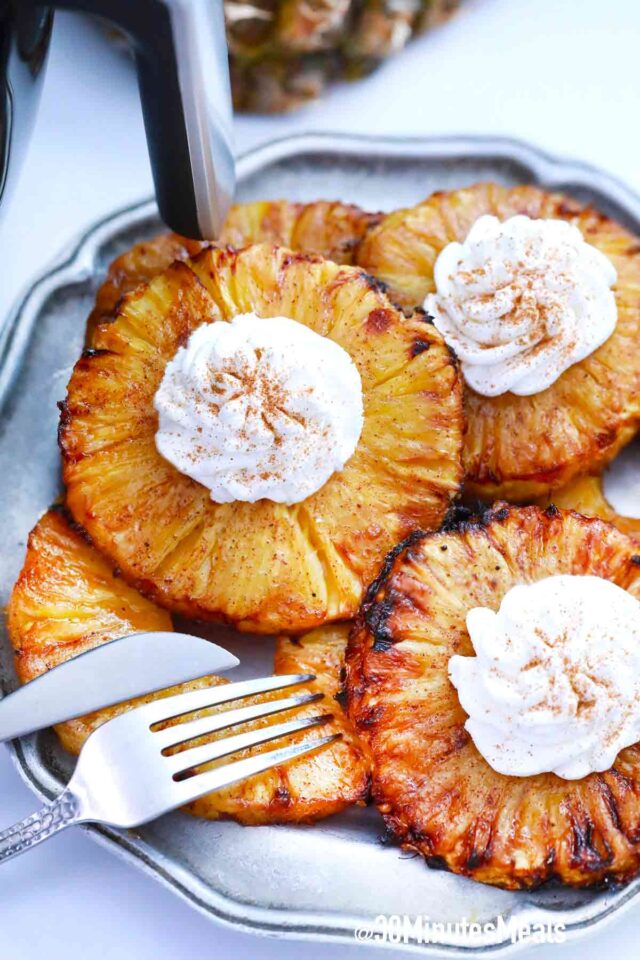 How to serve:
It does not have to be a special occasion to serve this excellent treat. The great thing is that with minimal effort and a few minutes, you can have these warm sweet slices ready for a great snack or easy dessert. You can also try one of these serving suggestions:
Dip pineapple rings in caramel sauce or some kind of fruit sauce.
This fantastic treat also goes great with vanilla ice cream.

To make dehydrated pineapple, just pat the slices with a paper towel and cook for 10 minutes on each side with your fryer set on 150 degrees F.
Another one of the great ways to serve this delicious recipe is with maple syrup on top.

Drizzle with honey for an even sweeter taste.
Frequently asked questions
How do I find the freshest pineapple?
You should first look at the leaves to check that they are bright green and healthy looking. The outside of the fruit should be mostly yellow too.
When you squeeze it, you should feel it give just a little bit. Also, make sure it does not smell sour or bitter.
What is the easiest way to cut?
First, cut off the top and ½ inch from the bottom. Then stand it up and slice off the outer skin on each side, trying not to cut off the flesh.
After checking that all the skin is gone, slice it into ¼-inch pieces with a sharp knife. You do not even have to core it since the core is full of healthy fiber.
What is the nutritional information for fresh pineapple?
This fruit is not only delicious, but it also has zero fat and lots of vitamins, great for your immune system as well as your taste buds.
You will only get about 30 calories per slice with zero cholesterol, seven grams of carbs, 44% of your daily value of vitamin C, and 5% of your daily recommended vitamin B6.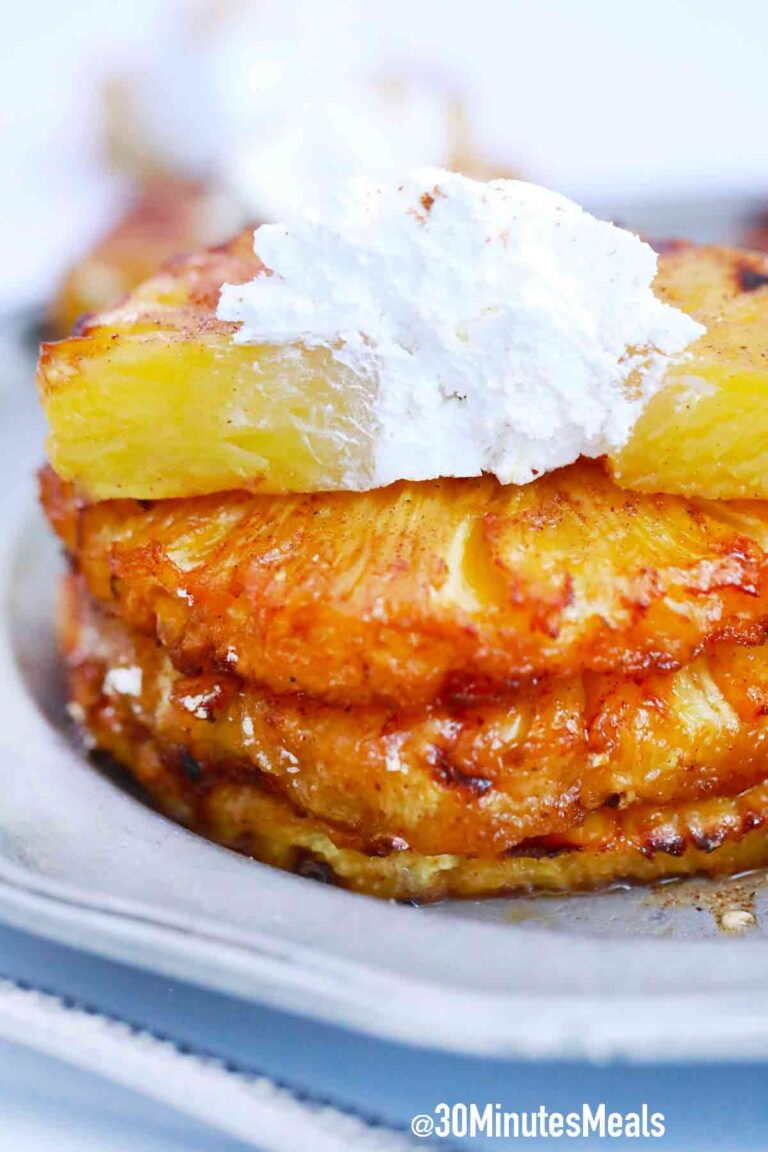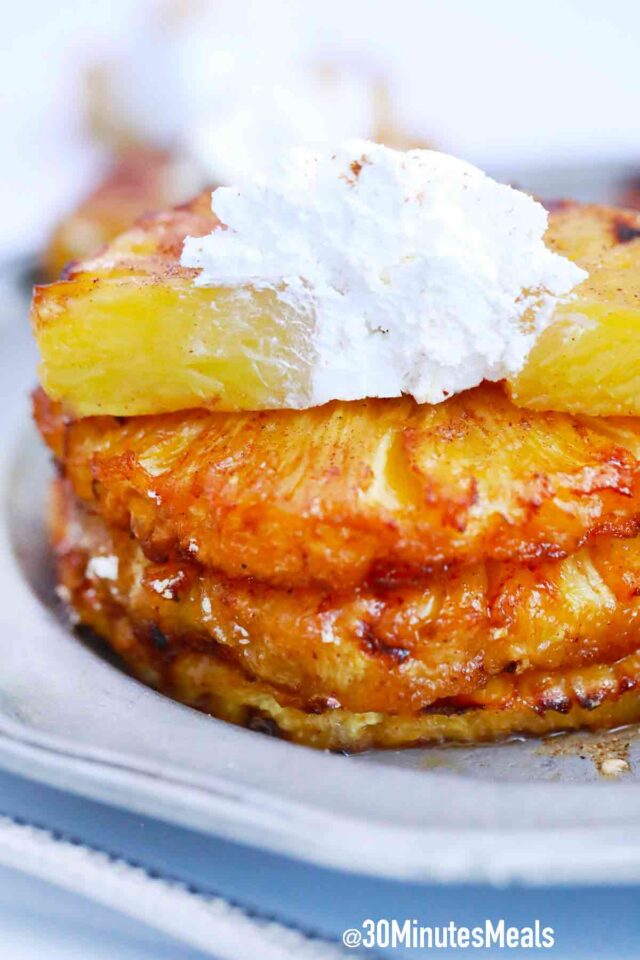 How to store leftovers:
Store: These will stay fresh for about five days in an airtight container in the refrigerator.
Freeze: To freeze, place them in a freezer bag and store them in the back of the freezer for up to 90 days.
Thaw: Thaw in your refrigerator overnight before serving.

Reheat: Reheat in the microwave, skillet, or air fryer. They are also delicious cold.
Recipe tips:
The best way to core the pineapple and remove outer skin is with a pineapple corer.

Even easier and faster, you can use canned pineapple rings. Just be sure to pat dry with paper towels.

Place a liner in the bottom of the air fryer to keep the sugar from sticking. Make sure it is a specially made liner for air fryers.
If your fryer is not working, make Brazilian pineapple on the grill with the same recipe.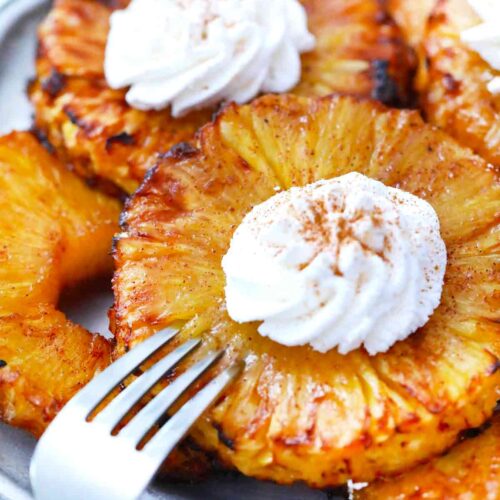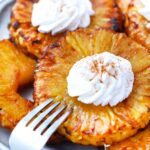 Air Fryer Pineapple Rings
Air Fryer Pineapple Rings are sweet and juicy on the inside with a nice brown sugar and cinnamon crunch on the outside.
Course:
Appetizer, Side Dish
Keyword:
Air Fryer Pineapple Rings
Ingredients
1

whole ripe pineapple

1/4

cup

light brown sugar

1 1/2

teaspoon

cinnamon

1/8

teaspoon

cayenne pepper

optional

2

tablespoons

coconut oil
Instructions
Preheat the air fryer to 375 degrees F.

Slice and peel the pineapple. Core it and slice it into 8 slices. Set aside.

In a small bowl, mix together the sugar, cinnamon, and cayenne pepper if using.

Brush pineapple rings with the oil and sprinkle the sugar mixture on top.

Arrange the rings in one layer in the air fryer basket without touching each other.

Air fry for 8-9 minutes on each side.

If your air fryer is smaller, cook in batches.

Serve warm with whipped cream and a dust of cinnamon.