Air Fryer Apple Fries Recipe
Air Fryer Apple Fries are made from juicy sweet Gala apples coated in graham crackers, cinnamon, and brown sugar then fried to delicious crispiness in less than 15 minutes. You will only need a handful of ingredients and an air fryer to have this tasty treat fast and easy.
Air frying is one of our favorite ways to cook because you can eat fried food without the extra calories from frying them in oil. Some other ways to use your air fryer are with these pork chops or steaks. You can even use it to make these scrumptious French toast sticks.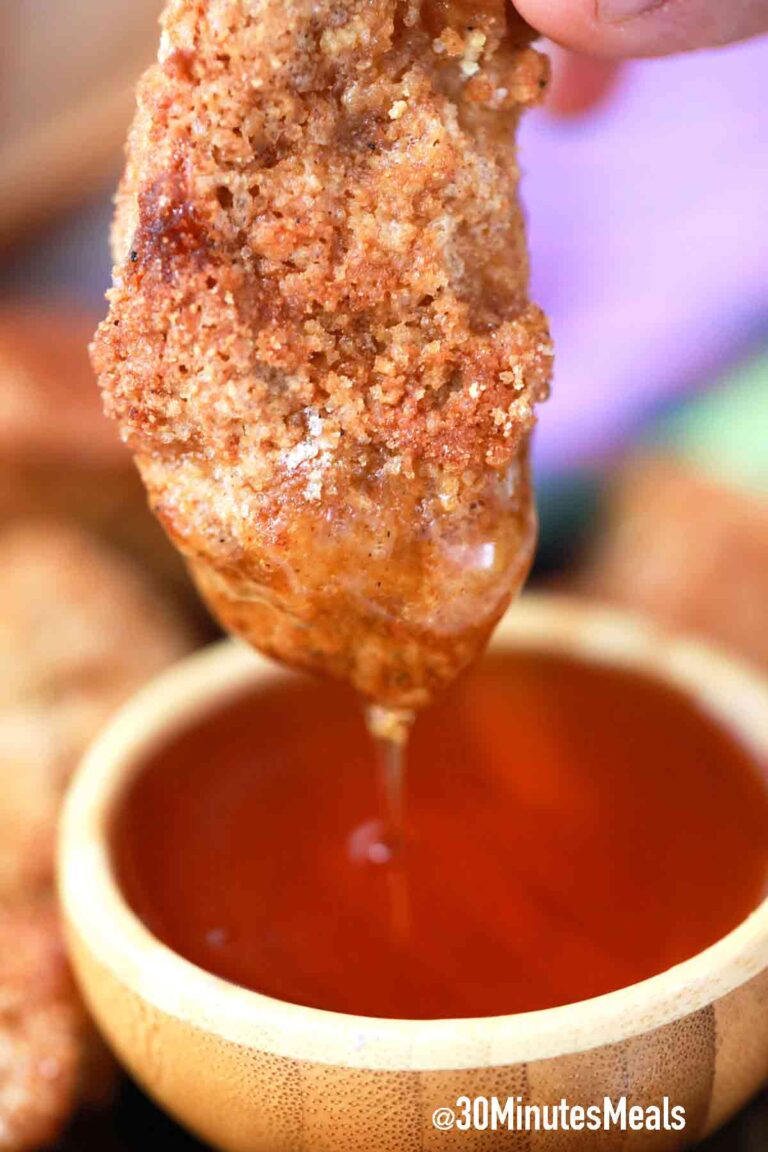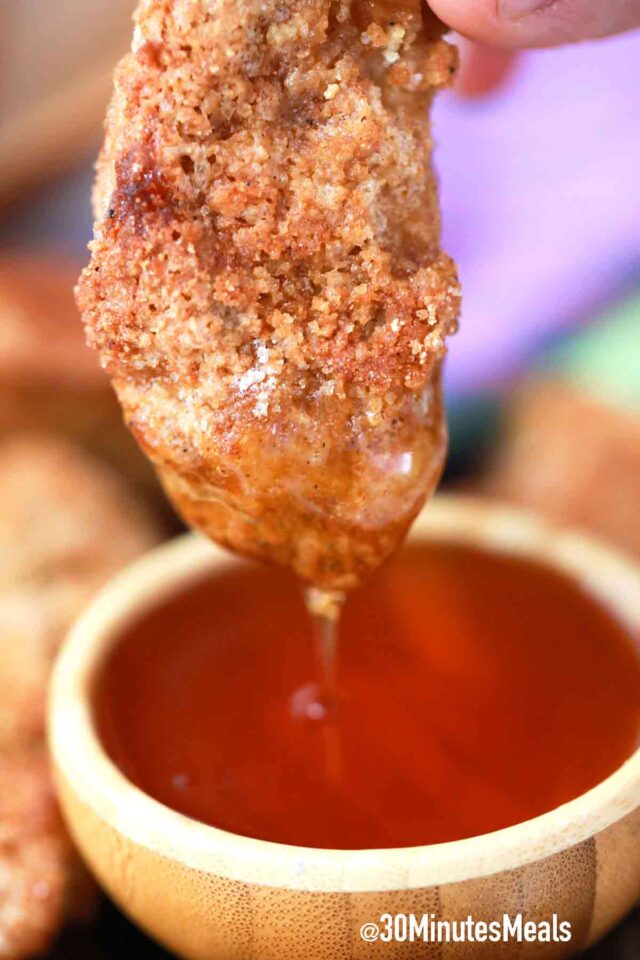 Once you and your family try these air fryer apple fries, you are going to want to make them every day. The flavor of the tangy apple combined with the cinnamon and sugar graham cracker crumbs is irresistible.
Air fryer cooking is much better for you than deep-fried and these make a healthy snack any time of the day. Dip them in the warm melted caramel dipping sauce for an even tastier treat.
Ingredients needed:
You are not going to need much to make this dish, so you don't have to worry about making a long list. Scroll down to get the exact measurements from our recipe card but in the meantime, this is what you need:
Apples: We used Gala apples, but any crisp apple is fine.
Flour: Just a light coat to help the crust adhere to the fruit.
Eggs: Beat three large eggs for extra crispiness.

Graham crackers: Ground into fine crumbs.
Brown sugar: Light or dark are both fine.
Granulated sugar: White sugar.
Cinnamon: Powder or freshly ground.

Nutmeg: Just a pinch.

Caramel sauce: For dipping.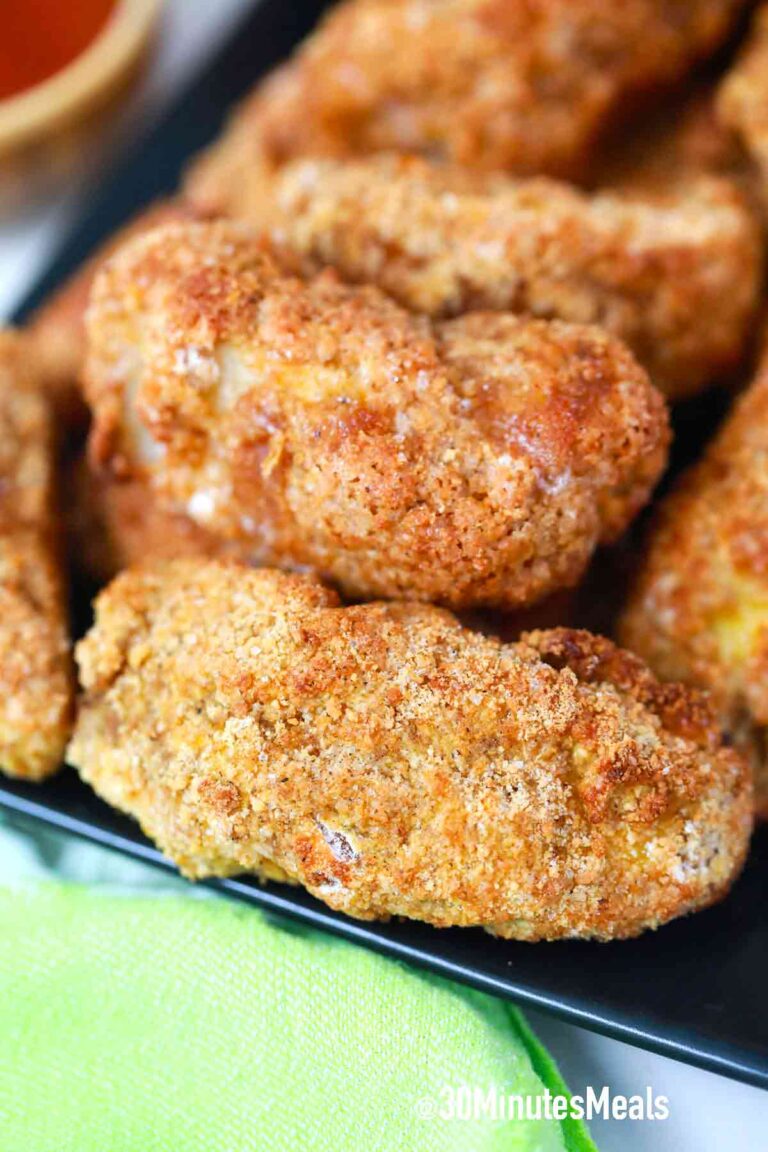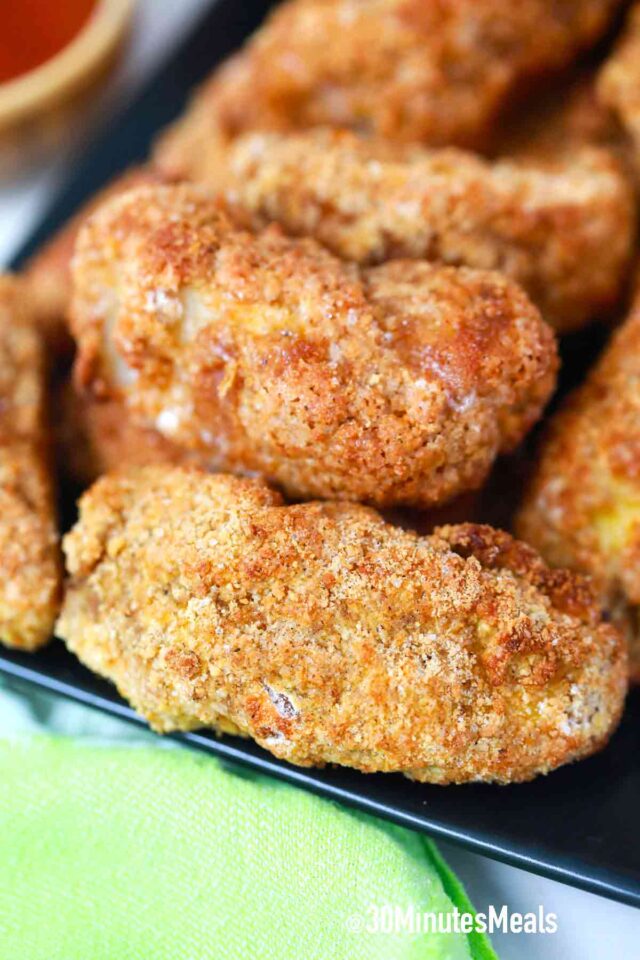 How to make air fryer apple fries from scratch?
Prepare: First, wash and peel the apples.

Core: After, core the apples and cut them into eight wedges.
Make breading: Next, put the flour into a shallow medium-sized bowl and set it aside.

Beat: Then, use another bowl to beat the eggs.

Crust: Following, mix the graham crackers, cinnamon, and nutmeg in a third bowl.

Coat: Next, coat each apple piece in flour, then dunk it into the egg before rolling it in the graham crackers. Repeat with each piece.

Prep the fryer: Spray the bottom of the air fryer with cooking spray and preheat it to 380 degrees F for five minutes.

Add: Afterward, place each apple wedge at least an inch apart in the basket.
Spray: Finally, give the apples a spray of oil before frying them for five minutes at 380 degrees F. Turn them over and fry for another two minutes.
Recipe variations:
Use other fruit: Try other fruits like pears or pineapple slices.

Or veggies: On the other hand, veggies such as carrots or sweet potatoes would be great in this recipe.

Less sugar: For a healthier treat, use Splenda or another artificial sweetener instead of sugar.

Spice it up: Alternatively, add some cayenne pepper for a spicy flavor.
How to serve:
The best way to serve these sweet and crunchy apple fries is warm, with some melted caramel sauce to dip them in. Or try one of these other ideas:
Add a dollop of vanilla ice cream on top.

Similarly, whipped cream would be fantastic as well.

Drizzle some chocolate syrup over the apple fries for a chocolatey twist.

Also, you can try other dips like peanut butter, strawberry jam, or apple butter.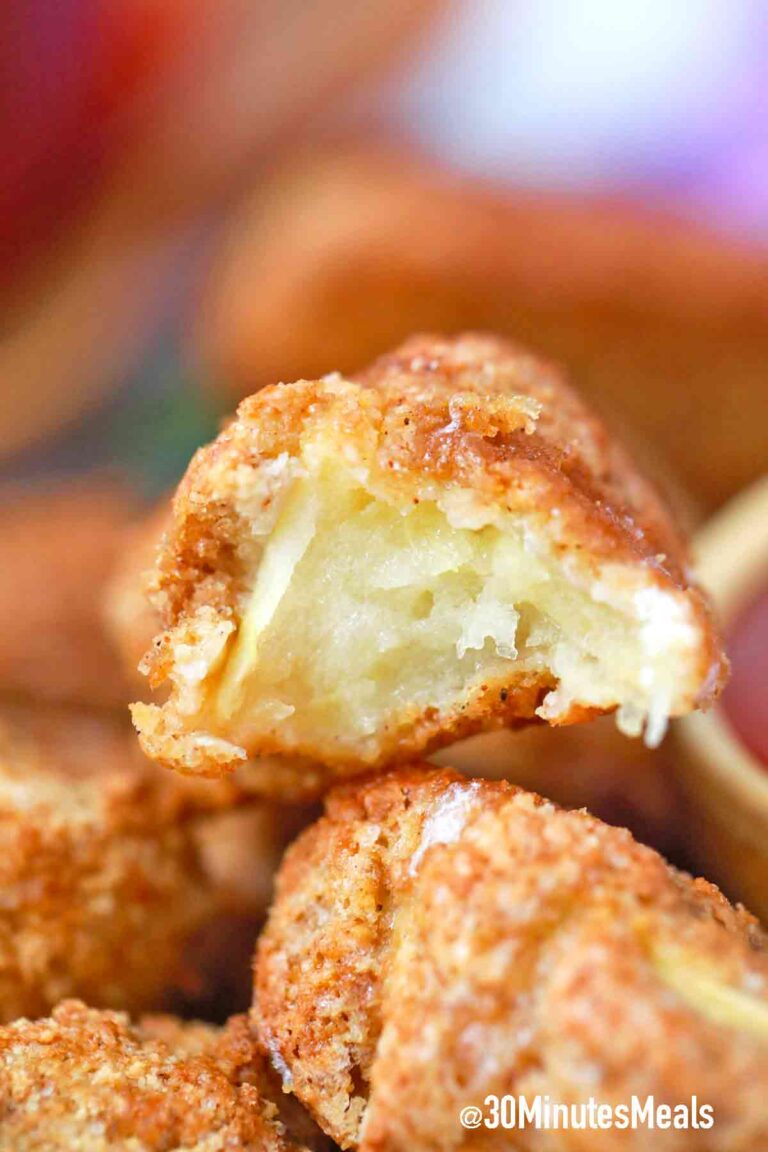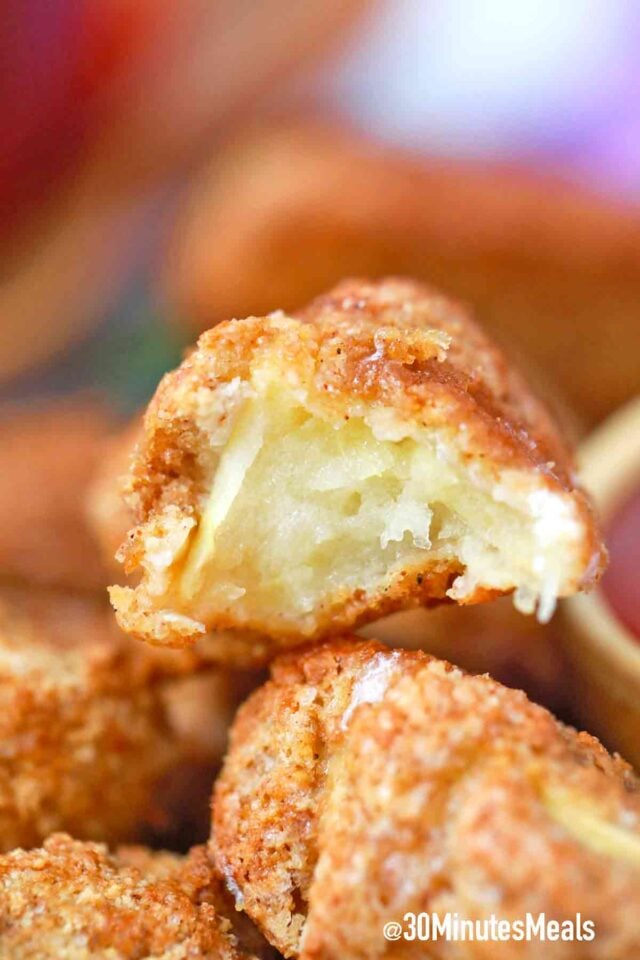 Frequently asked questions
Why are my air fryer fries soggy?
If your French fries or chips are soggy or are just not getting crispy as they should, the most common reason is overcrowding. If you put too many fries in the air fryer, the moisture level will be too high, and the air cannot circulate. Both of these can cause your fries to be soggy.
Another reason for soggy fries is that they are wet or moist. You have to make sure the fries are completely dry when you put them into the fryer. Pat them with a paper towel before cooking. If you are using frozen fries, thaw them first and then thoroughly dry them.
Can I dry fruit in an air fryer?
Dehydrated fruit and veggies are very healthy as well as tasty, but most dehumidifiers are extremely expensive. But you can dry your fruit and veggies in an air fryer too, so why bother getting another appliance to take up counter space?
To dehydrate your food, you just want to dry it but not cook it. That means the lower the temperature, the better. Set your fryer at about 125 degrees F and slice the fruit as thin as possible. Also, make sure the fruit is not too close.
Is air frying better than using an oven?
It is hard to say which is better because they are both useful for their own technique. The air fryer can cook food fast and will not heat up the house like an oven will but there are some disadvantages to using an air fryer.
First, they are harder to clean. Most cannot go into the dishwasher. Also, they cannot cook as much food as a regular oven. They are too small for large families. But too big to fit into a convenient space in a cabinet so they end up on the counter. Taking up space.
How to store leftovers:
Store: Although these crispy treats are best to eat right away, they can be stored in a baggie or container in the fridge for up to three days.

Reheat: Reheat the apple fries in a single layer in the air fryer at 400 degrees F for several minutes or until they are hot.
Recipe tips:
Be sure to preheat the air fryer or the apples may get soggy.

Also, make sure the apple pieces are not too wet when you put them in the fryer. Lay them on a paper towel while you prep the fryer.

You do not have to peel the apples first. Leave the peel on for an even crispier crunchiness.
Crumble any leftovers and top a cake, fruit salad, or smoothie.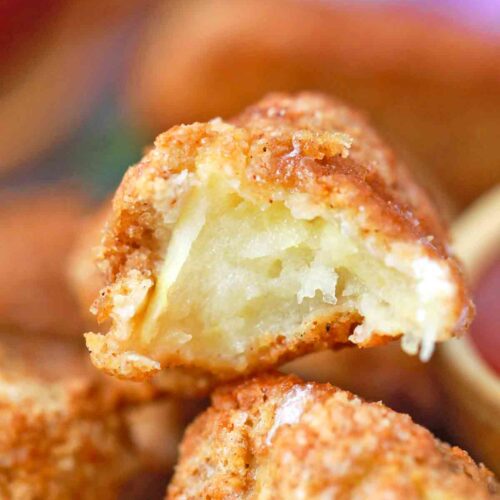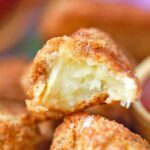 Air Fryer Apple Fries
Air Fryer Apple Fries are made with sweet Gala apples coated in graham crackers, cinnamon, and brown sugar then fried to delicious crispiness.
Keyword:
Air Fryer Apple Fries
Ingredients
6

large apples

Gala or Granny Smith

1/2

cup

all-purpose flour

2

large eggs

beaten

1 1/2

cup

graham cracker crumbs

1/2

cup

brown sugar

2

tablespoons

white sugar

1

teaspoon

cinnamon

1/4

teaspoon

nutmeg
Instructions
Preheat the air fryer to 380 degrees F.

Line a cookie sheet with parchment paper and set it aside.

Prepare the apples by washing them, slice them in half, remove the core, and cut them into thick wedges.

Add the flour to a shallow dish.

Add beaten eggs into another shallow dish.

Also, in another shallow dish add the graham crackers crumbs, white sugar, brown sugar, cinnamon, and nutmeg. Stir to combine.

Toss the apple wedges first in the flour, next, dredge in the egg, and next, roll in the crushed graham crackers mixture.

Coat the bottom of the air fryer basket with cooking spray and arrange the apple wedges in a single layer, not touching each other. You will have to cook these in batches.

Spray the wedges with a bit of cooking spray and air fry for 5 minutes, turn on the other side and cook for 3 more minutes or until golden brown.

Serve with caramel sauce or chocolate sauce.
Nutrition Facts
Air Fryer Apple Fries
Amount Per Serving
Calories 329
Calories from Fat 36
% Daily Value*
Fat 4g6%
Cholesterol 55mg18%
Sodium 166mg7%
Potassium 289mg8%
Carbohydrates 71g24%
Protein 5g10%
Vitamin A 179IU4%
Vitamin C 8mg10%
Calcium 56mg6%
Iron 2mg11%
* Percent Daily Values are based on a 2000 calorie diet.