Banana Fritters are rich, sweet, fluffy, and crunchy with a vanilla glaze and a luscious creamy banana flavor. With our simple method, you can have these tasty treats on the table in minutes. This is really fun to make and can even be great to teach the kids or grandkids.
For a savory fritter, try our Air Fryer Zucchini Fritters made with shredded zucchini, lemon zest, and garlic. These also go great with our Air Fryer Gnocchi made with potato dumplings, garlic, and parmesan cheese.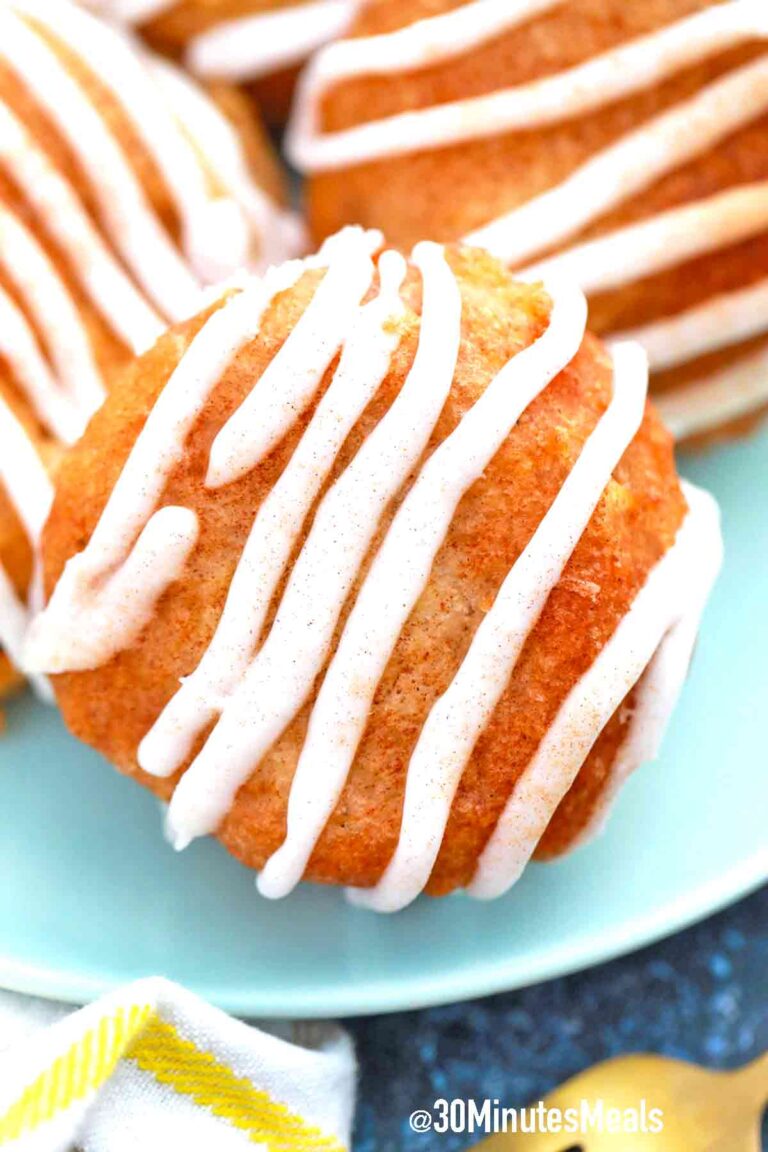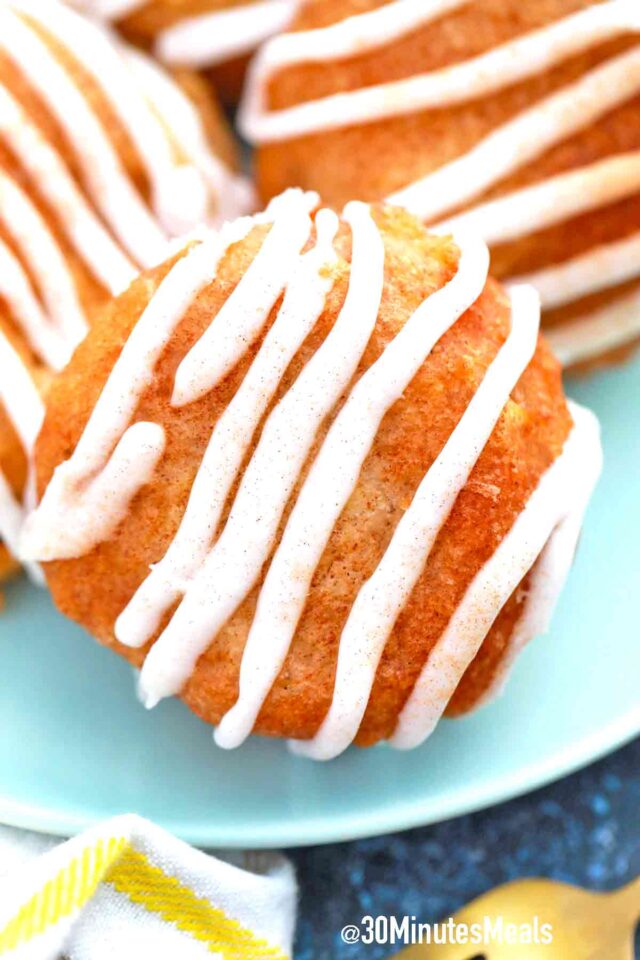 Also known as Pisang Goreng or Indonesian banana fritters, this may be the perfect way to use mashed bananas yet!
If this is your first time, you can make this quick snack just like making funnel cake.
These easy banana fritters are simple and fast. For more banana recipes, you can even use this batter to make banana bread.
Why not make these Baked Chocolate Donuts go with your banana fritters for a perfect breakfast?
Ingredients needed:
Here are the basic ingredients you need to make the best banana fritters you have ever had. Scroll down to our recipe card for exact measurements and instructions.
Bananas: We used sliced overripe bananas.
Large eggs: At room temperature.
Milk: Also at room temperature.
Unsalted butter: Melted.
Vanilla: Pure vanilla extract.
Flour: White all-purpose flour for best results.
Brown sugar: Light or dark work for this recipe.
Baking powder: Not baking soda.
Spices: Ground cinnamon, salt, and nutmeg.
Vegetable oil: Or whatever cooking oil you use for frying.
Glaze:
Powdered sugar: Or confectioners' sugar.
Milk: At room temperature.
Vanilla: Pure vanilla extract.
Cinnamon: Freshly ground for best flavor.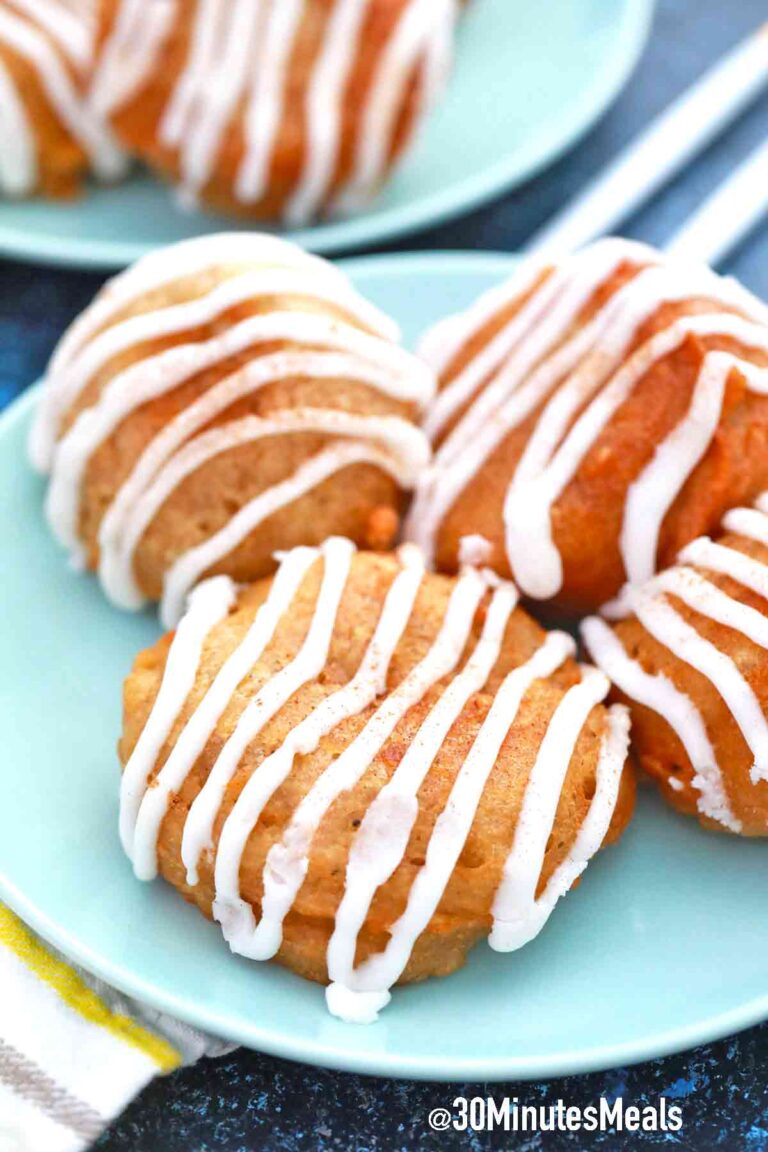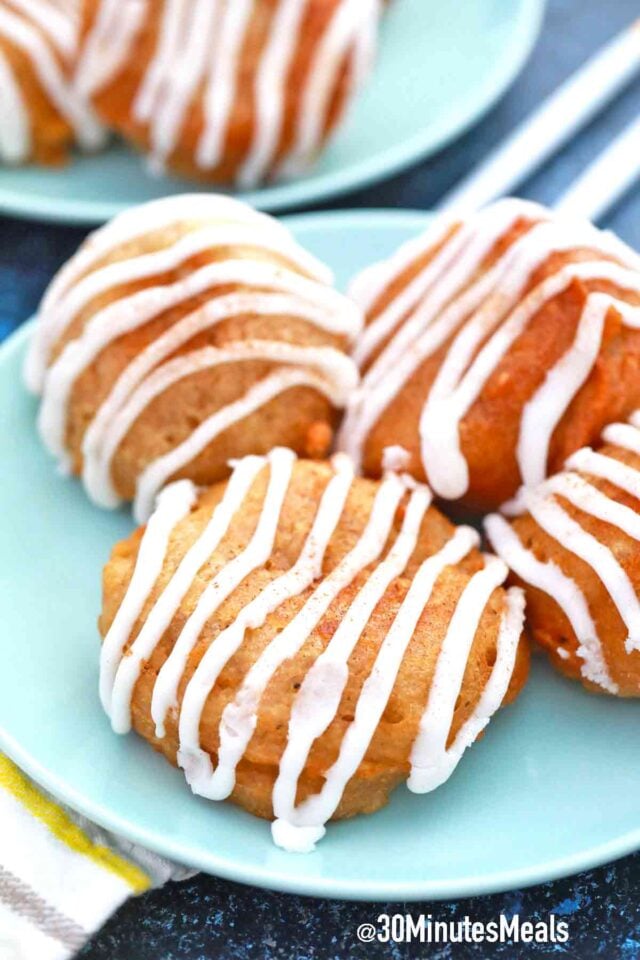 How to make banana fritters recipe?
Whisk: First, whisk the vanilla, butter, milk, and eggs in a medium bowl and set them aside.

Mix: Next, mix the flour, spices, baking powder, brown sugar, and salt in a large mixing bowl.

Combine: After, pour the wet ingredients into the large bowl with the flour mixture and mix just until they are combined.
Mix: Then, add the banana slices and mix to combine.
Heat: Next, put a large frying pan on medium-high heat with two inches of vegetable oil and heat until it reaches 350 degrees F.

Fry: Using a tablespoon or small cookie scoop, place three or four scoops of the banana mixture into the hot oil.

Cook: After, cook for four to five minutes on medium heat flipping with a slotted spoon several times. Keep cooking until it is golden brown.

Remove: Then remove from heat and place on a paper towel-lined cookie sheet to absorb the excess oil. Continue until all the fritter batter is gone.

Glaze: Lastly, mix the glaze ingredients together with a whisk in a separate bowl and dip each fritter in the bowl. Place them on a wire rack over a sheet pan to let the excess runoff.

Serve: Finally, serve these sweet treats with maple syrup or your favorite sauce.
Recipe variations:
Whole fruit: For a cakey batter with sweet tender fruit in the middle, cut a firm banana into four pieces and roll each one in flour before dipping each banana piece in the batter. Then fry until golden brown.

Chocolate: Add a handful of chocolate chips to the batter for chocolate lovers.
Other fruit: Feel free to add sliced or mashed strawberries, peaches, apples, or whatever fruit you like.
No glaze: You could also dust with powdered sugar instead of using glaze.
Other flour: Try making these with cornflour for a different flavor.
No frying: If you do not like deep frying, try making these in the oven. Just put a quarter cup of batter for each fritter on a baking pan lined with parchment paper. Bake at 400 degrees F for five minutes.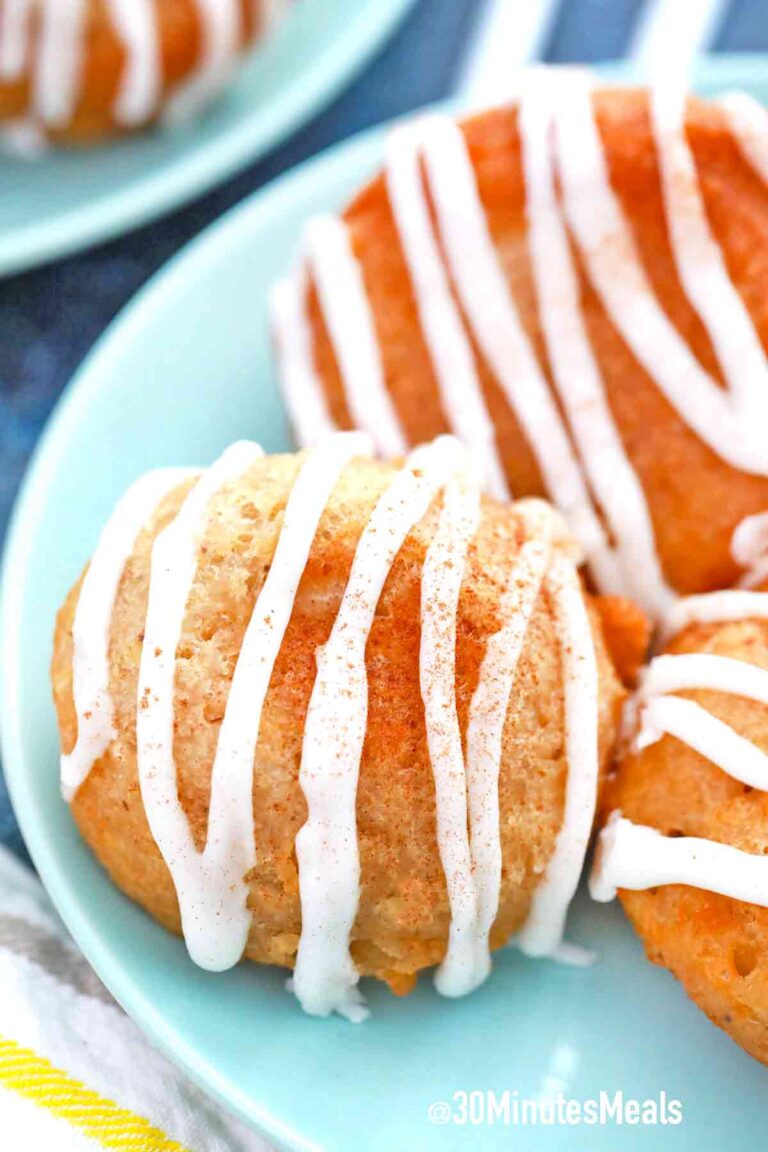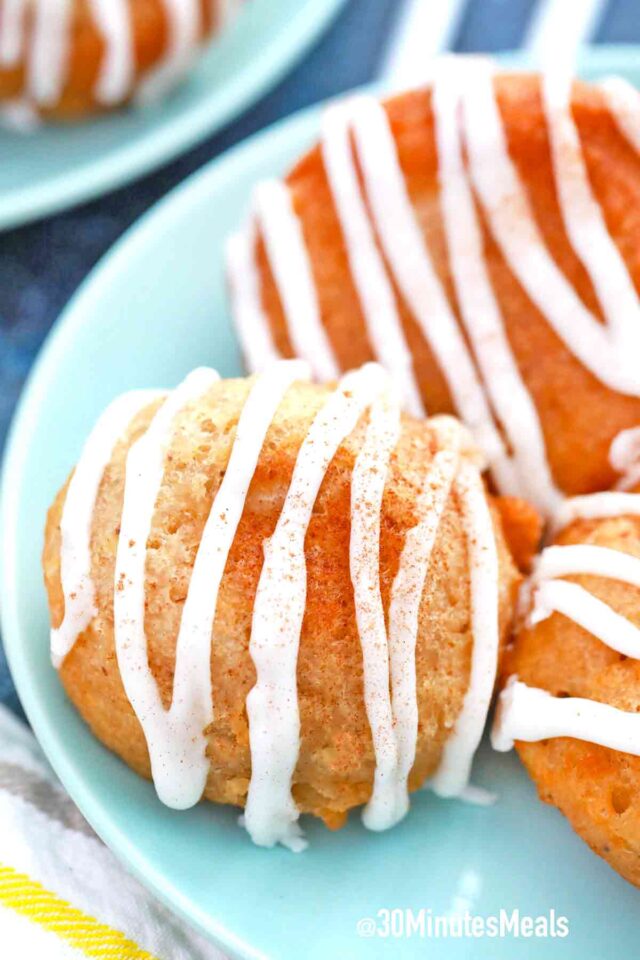 How to serve:
This is a great way to start your day with sweet Jamaican banana fritters from this easy fritter recipe. Serve warm with glaze or maple syrup or try one of these ideas:
Serve with fruit preserves, jam, or any kind of fruit sauce for dipping.
You may enjoy these with a sweet and tangy cherry smoothie.
You could even dip these in caramel sauce or frosting.

This easy recipe goes great with our fried apples for a fruity snack or dessert.
Add a dollop of whipped cream on top for a major sweet tooth.
Why not add a scoop of vanilla ice cream for a real sweet option.
Frequently asked questions
Where do banana fritters come from?
According to some, the banana fritter originated in west Africa. Although it varies depending on who you ask. Many say they came from Djibouti while others say the Caribbean.
But the Pisang Goreng, which is a fried banana treat just like the fritter, was first known to be served by the Portuguese in 1511. Street vendors sell these all over West Africa too.
Why is it called a fritter?
Fritters have been around a long time, even before these delicious banana fritters.
In the traditional Jamaican household, you could expect to find the fritter at every breakfast whether it is a banana, apple, or peach fritter. Fritter means "to fry" in Latin.
What are the nutrition facts of banana fritters?
Depending on the ingredients you use, the nutrition facts can vary. However, if you use the original recipe and drain the oil after frying, the facts are not bad at all.
Each fritter (about two inches long) is a little over 100 calories with six grams of fat, 20 mg of cholesterol, and 11 carbohydrates.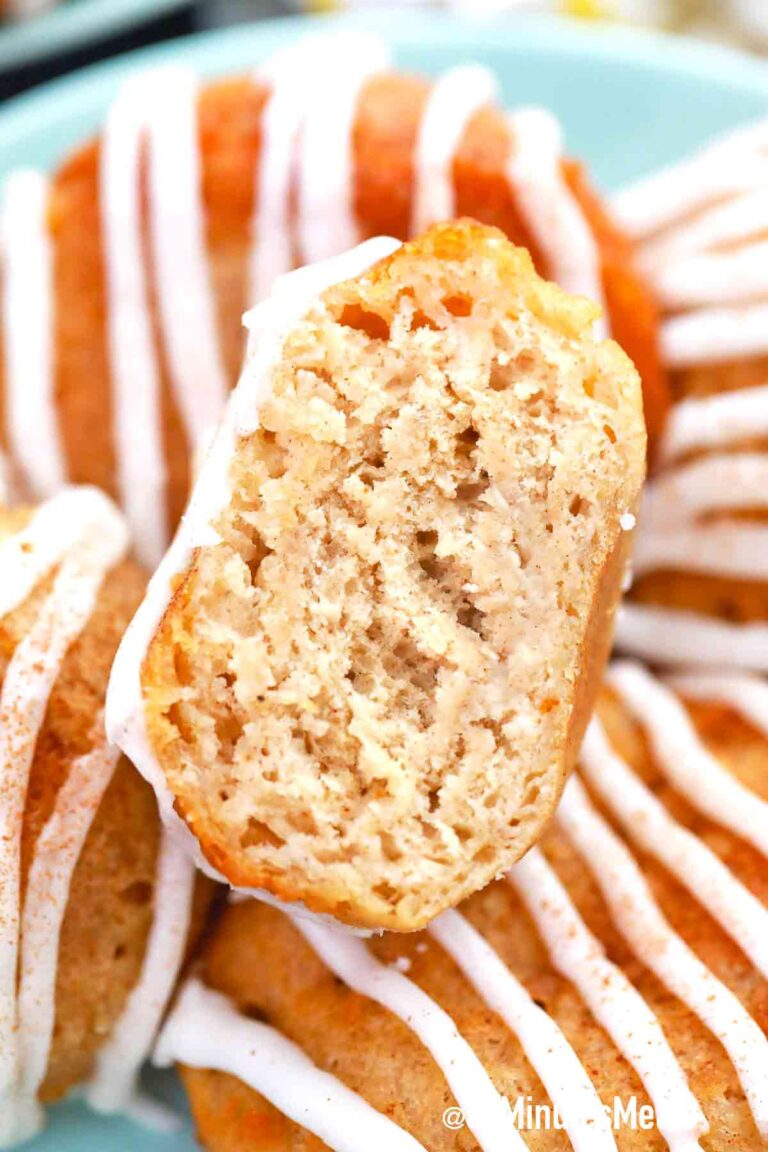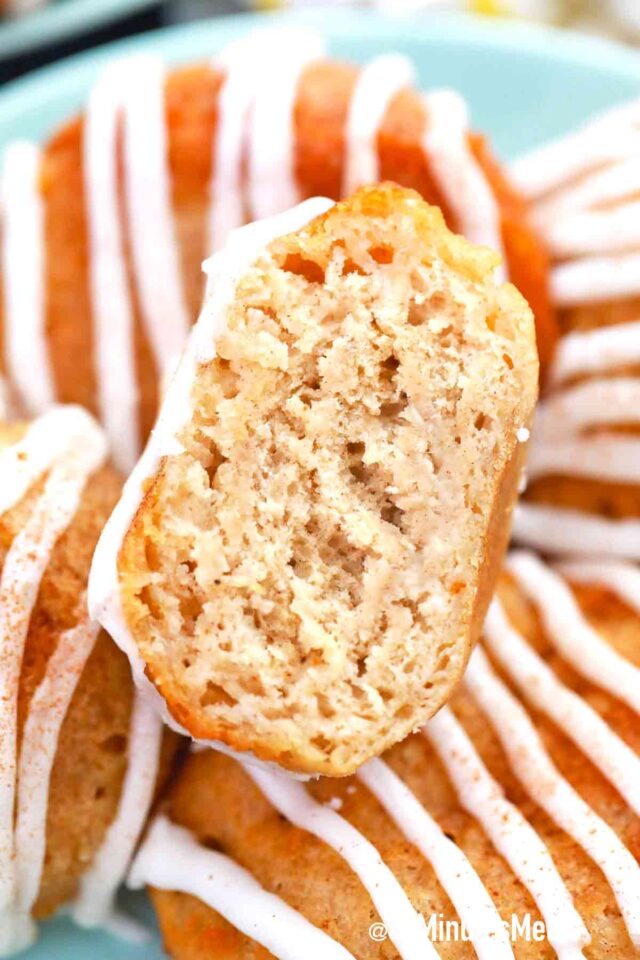 How to store leftovers:
Store: After cooling, you can store these in an airtight container in the fridge for about three or four days.

Freeze: They will also stay fresh in the freezer for about three months.

Thaw: Thaw overnight in the fridge before serving.
Reheat: Reheat in the microwave and add more glaze if needed.
Recipe tips:
Use an oil thermometer to check the temperature.

Also, it is best to use a large skillet with a lid for a great way to cook without getting splashed with oil.

Do not fry too many at one time as the temperature of the oil will drop.
If your bananas are not soft enough, heat the unpeeled whole bananas in the oven at 300 degrees F for 15 minutes.

For fritters with whole fruit in the center, you will need firm bananas.

Make sure you sift your flour for the best results.
You can keep your fritters warm in the oven set at 200 degrees F while you finish cooking.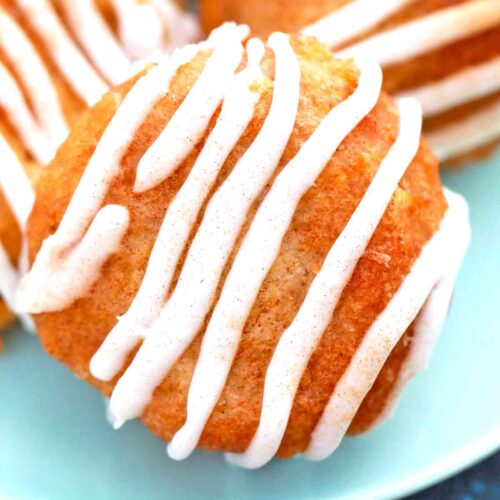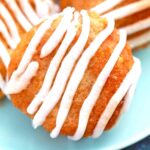 Banana Fritters
Banana Fritters are rich, sweet, fluffy, and crunchy with a vanilla glaze and a luscious creamy banana flavor.
Course:
Breakfast, Dessert
Ingredients
2

eggs

at room temperature

2/3

cup

milk

at room temperature

1

tablespoon

unsalted butter

melted

1

teaspoon

vanilla extract

1 1/2

cups

all-purpose flour

2

tablespoons

brown sugar

1/4

teaspoon

nutmeg

2

teaspoons

baking powder

1/2

teaspoon

ground cinnamon

1/4

teaspoon

salt

3

ripe bananas

finely chopped

Vegetable oil for frying
Glaze:
2

cups

powdered sugar

4

tablespoons

milk

1/2

teaspoon

vanilla extract

Pinch

of ground cinnamon
Instructions
In a medium mixing bowl, whisk together the eggs, milk, melted butter, and vanilla. Set aside.

In a large bowl, combine the flour, brown sugar, baking powder, salt, nutmeg, cinnamon.

Add the wet ingredients into the dry ingredients and mix with a spatula just until combined.

Stir in the chopped bananas until combined.

Place a large pot over medium-high heat and add 2 or 3 inches of vegetable oil, heat until the oil reaches 350 degrees F.

Using a small cookie scoop drop 3-4 scoops of the fritter dough into the hot oil. Cook for 4-5 minutes, flipping often until golden brown.

Remove the fritters and place them onto a paper towel-lined tray to drain excess oil. Repeat with the remaining dough.

Let the fritters fully cool and make the glaze by whisking together the powdered sugar, milk, vanilla, and cinnamon until smooth.

Drizzle the glaze over the, let it set before serving.