Fried Cabbage and Kielbasa
Fried Cabbage and Kielbasa is an easy and flavorful, budget-friendly meal, that is ready in just about 30 minutes. The dish combines caramelized cabbage and juicy, smoked Polska kielbasa for the ultimate quick and easy dinner.
We enjoy easy dinners that also don't break the bank and make delicious leftovers. We highly recommend you try our Ground Beef and Cabbage recipe, Sauteed Cabbage and Egg Fried Rice.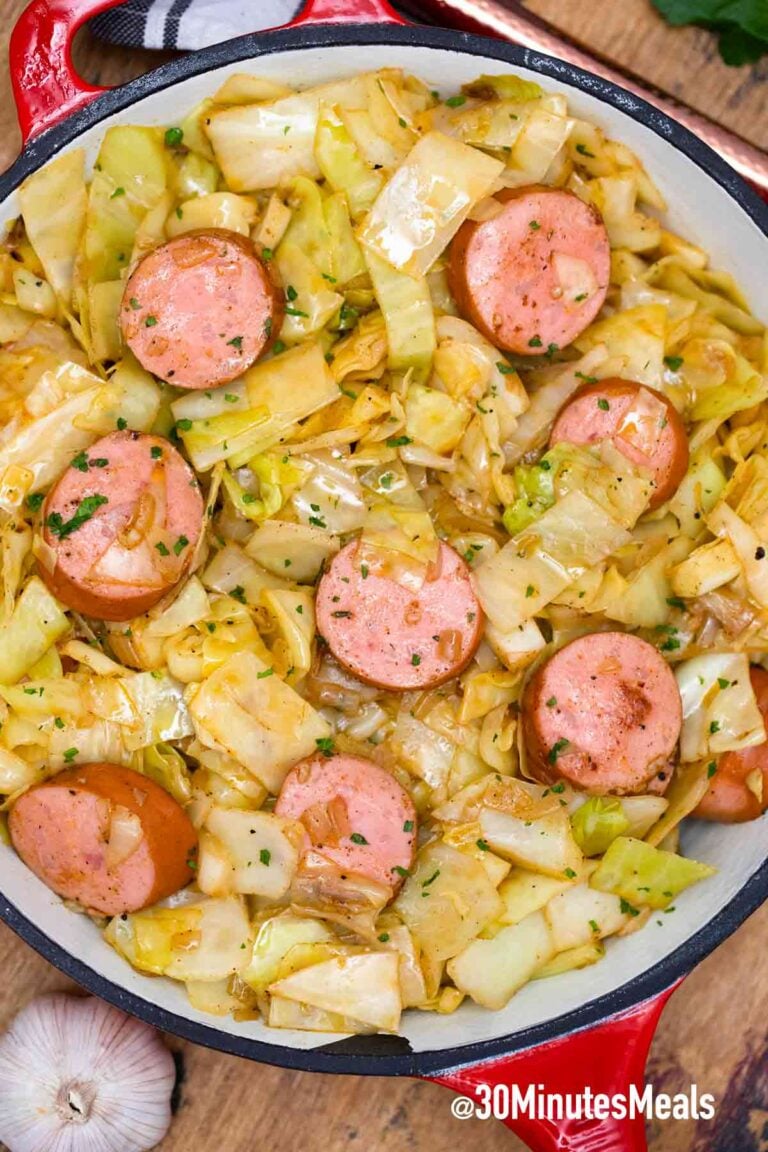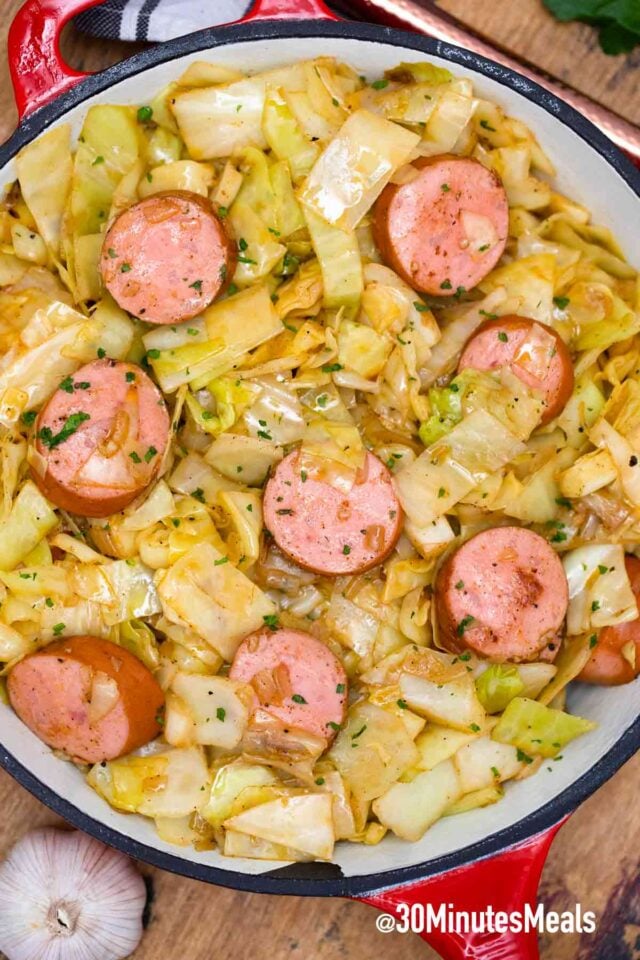 Fried Cabbage and Sausage
Fried Cabbage and Kielbasa is the perfect weeknight meal that you can make on a whim. Usually, it is a crowd pleaser, I also like to make a bigger batch in a large Dutch oven to have some leftovers the next day. This meal reheats really well!
A winner in my book as I get to eat some veggies and protein and I don't have to worry about serving any side dishes with it. The recipe is also Keto friendly and low-carb, as cabbage naturally is very low in carbohydrates and calories.
This recipe is also highly adaptable, you can either add more veggies to it, serve it with some rice on the side to make it even more filling, or make it with tofu for a vegetarian version.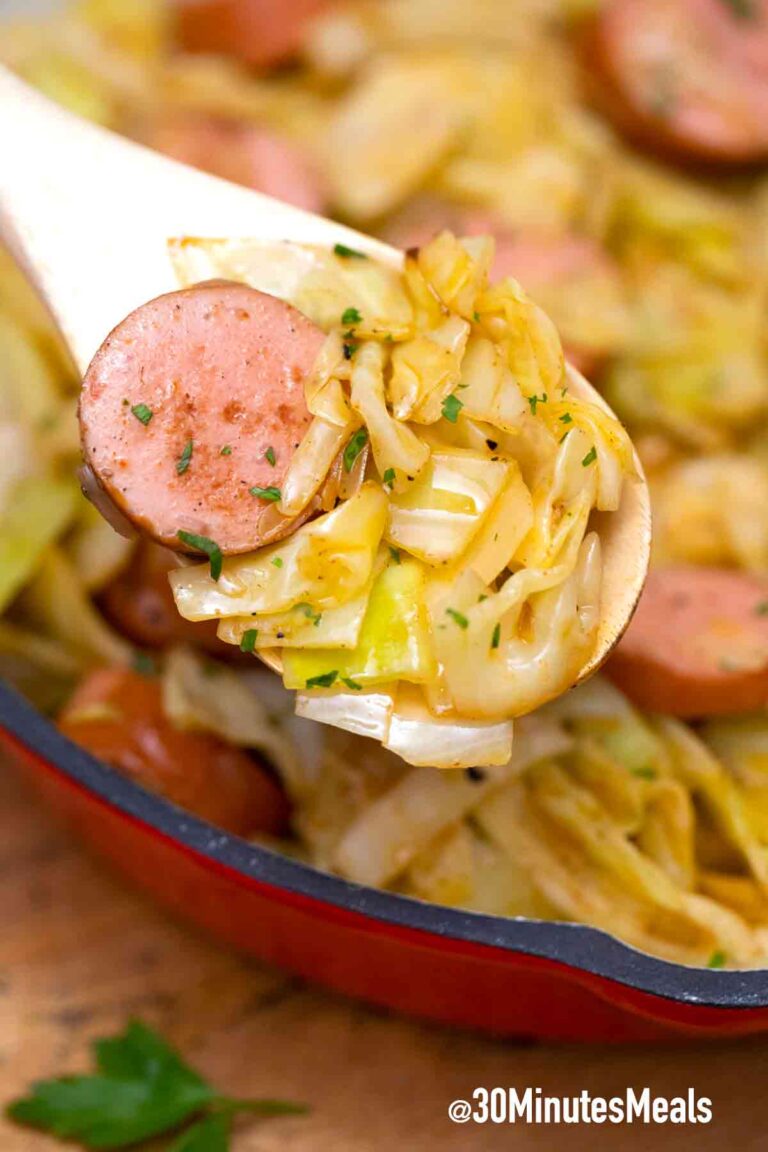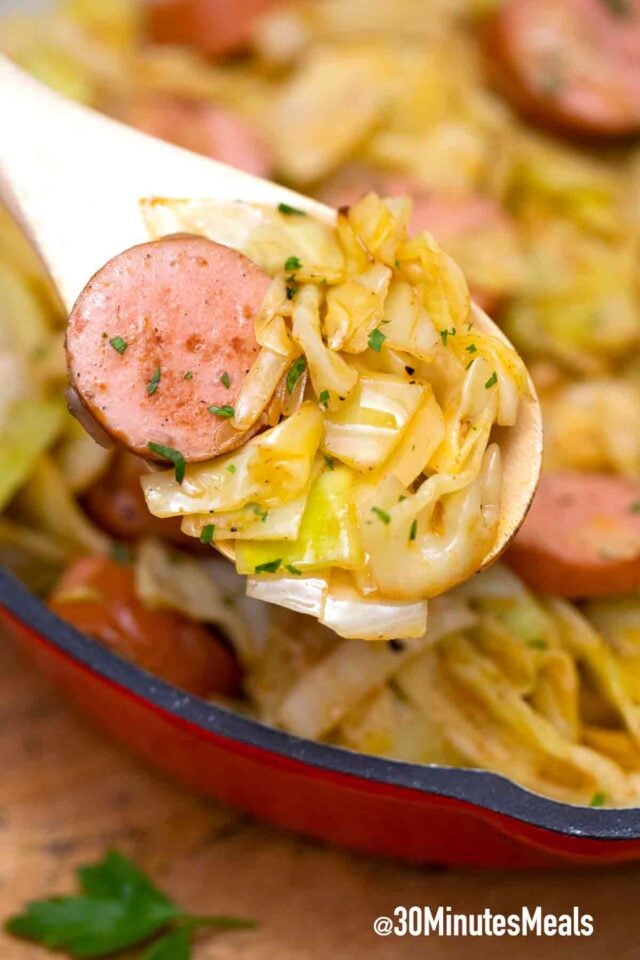 What is Polskla Kielbasa?
It is a type of smoked sausage from Poland, it is U-shaped and it closely resembles the Wiejska sausage in British English.
Is smoked sausage keto?
Usually cured meats such as sausages, deli meat, hot dogs, pepperoni, salami, and bacon are ok on keto as they are very low in carbohydrates and some of them have a higher fat content. I would still recommend checking the label and reading the ingredients first as some brands may add sugar into the mix.
Is Cabbage a low-carb food?
One cup of chopped raw cabbage contains only 5 grams of carbs, 3 of which are fiber so the net carbs come down to only 2g! Also, keep in mind that this vegetable reduces dramatically in weight when cooked, so you can eat more!
It is definitely a keto or low/carb diet complaint and can be used in so many recipes like Keto Fajitas, Soups, or Salads!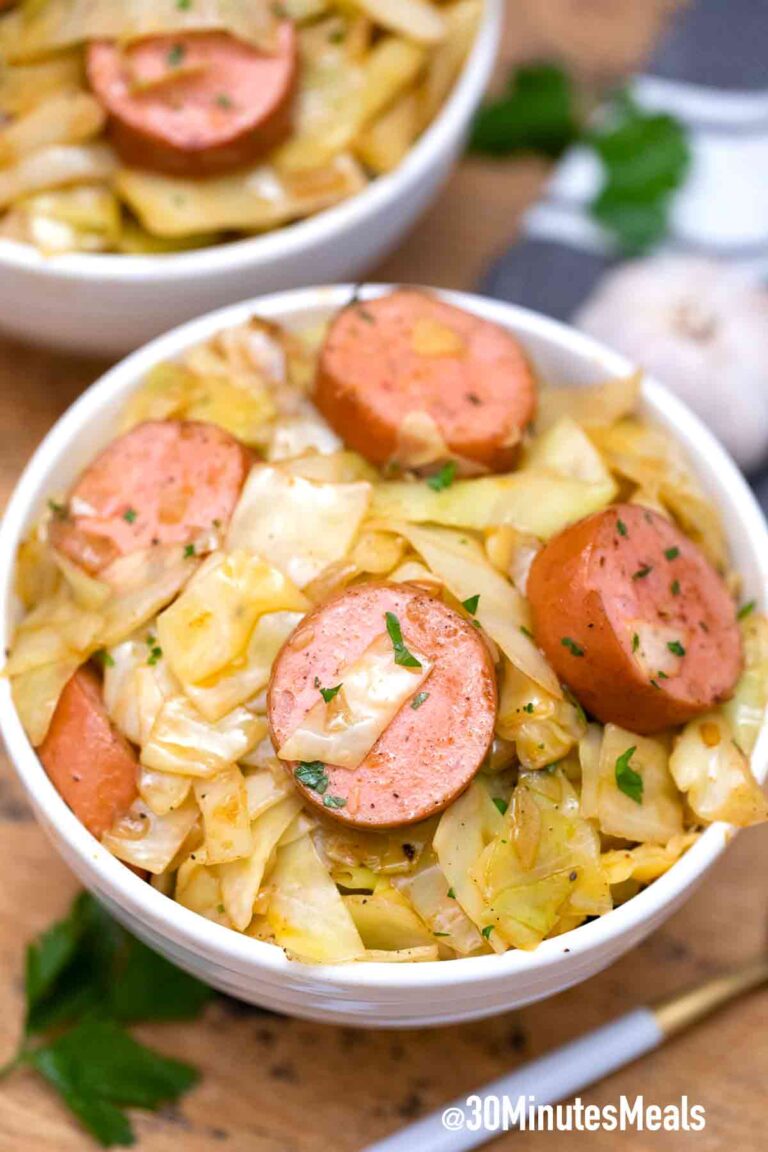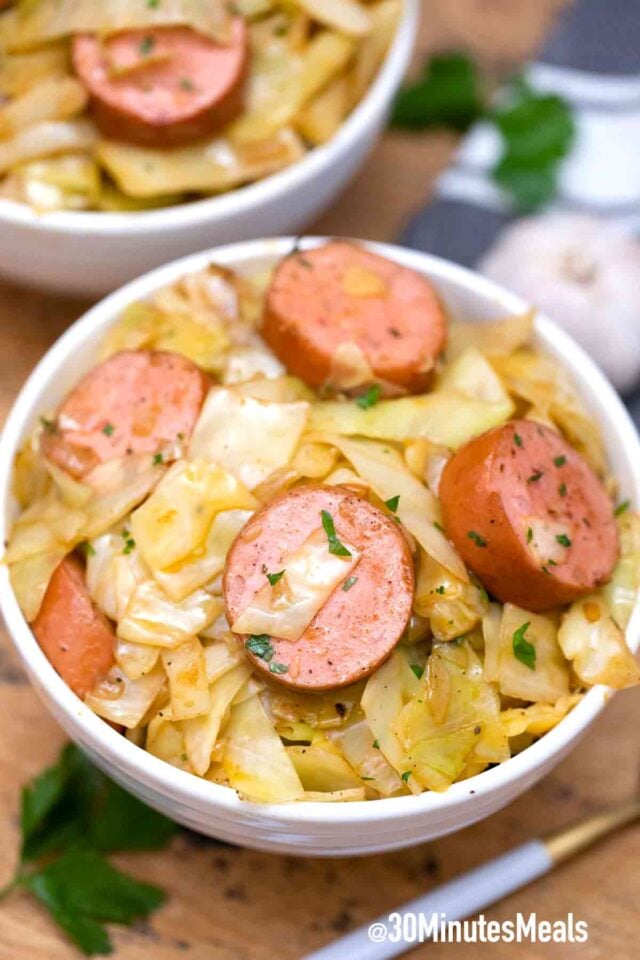 What are the benefits of eating cabbage?
It is packed with nutrients, make keep inflammation low, it is packed with Vitam C and K, and also helps to improve digestion. May help keep your heart healthy and lower blood pressure and cholesterol levels.
How do you make Fried Cabbage and Kielbasa?
Prep the ingredients: You start by preparing the ingredients and once ready to cook heat the olive oil.
Cook the veggies: First, cook the onion and garlic. Next, add the cabbage and seasoning. Followed by the Worcestershire sauce.
Add the meat: After that, the cabbage is tender, add the smoked sausage or Kielbasa. Cook a few minutes and done!
Serve: Serve garnished with fresh parsley.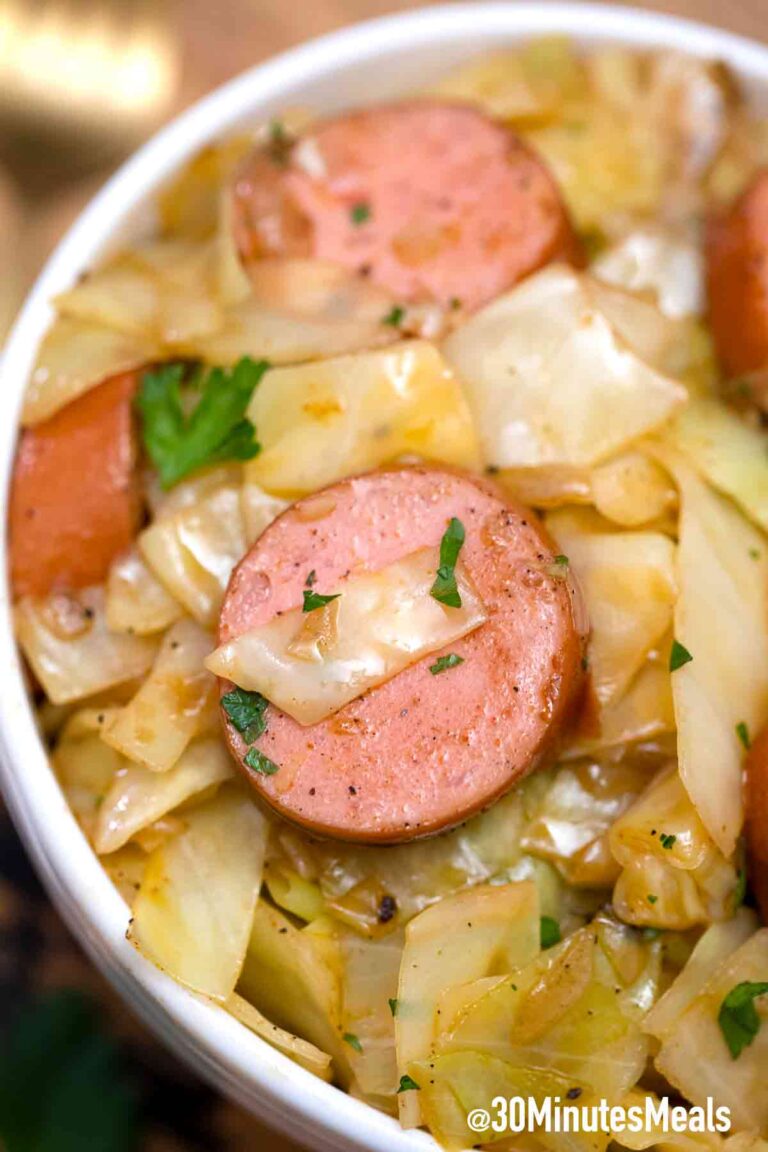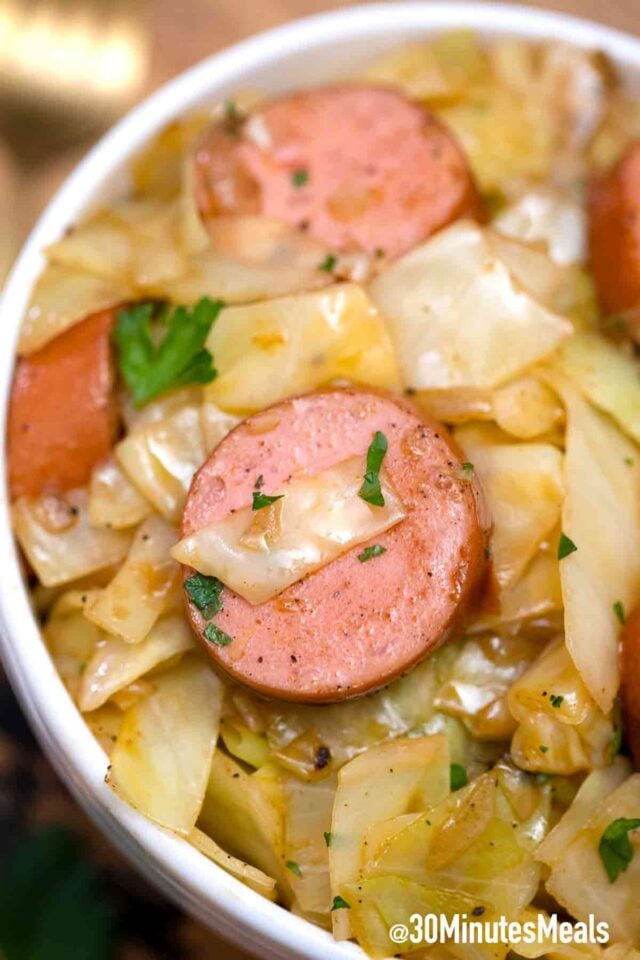 Recipe Variations:
As I have mentioned before this is a very adaptable meal. Here are a few options that you can elevate it, make it more hearty, or pack it with more vitamins!
Add more veggies: if you have time and you have extra veggies on hand, feel free to saute some zucchini, bell peppers, or carrots with the fried cabbage. I also like to add mushrooms, corn kernels, or green beans!
Add other types of meat: you can use Polska Kielbasa or any other type of smoked sausage meat. This fried cabbage is also delicious with leftover rotisserie chicken or grilled chicken! Making this with bacon is extra delicious and indulgent!
Make it vegetarian: Skip the meat and make it with some smoker tofu, tempeh or just top it with a good amount of beans, chickpeas, or even boiled or fried eggs!
Serve it with some grains: to make it even more filling and hearty serve it with some grains on the side. We usually like to have some brown rice bulgur or couscous with it!
What meat goes with fried cabbage?
Since this is such a versatile and not overpowering veggies it can be combined with so many types of meat. It goes well with poultry, pork, lamb, and beef!
More Budget-Friendly Recipes: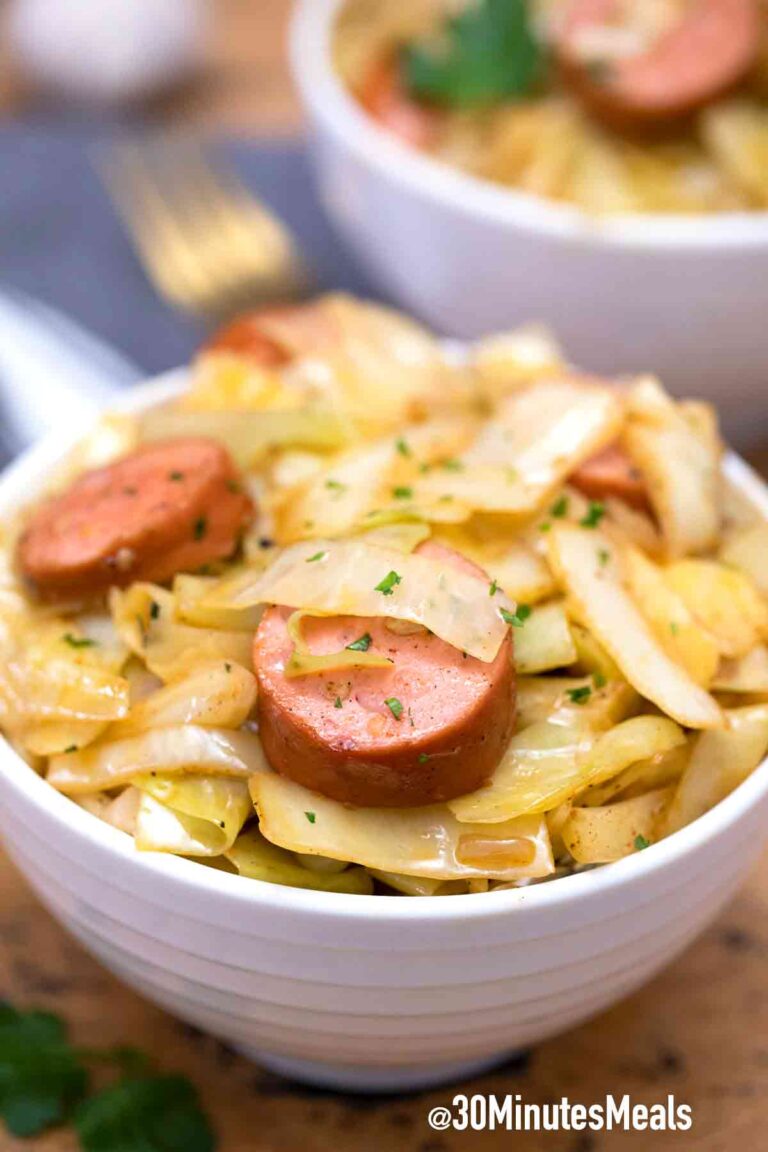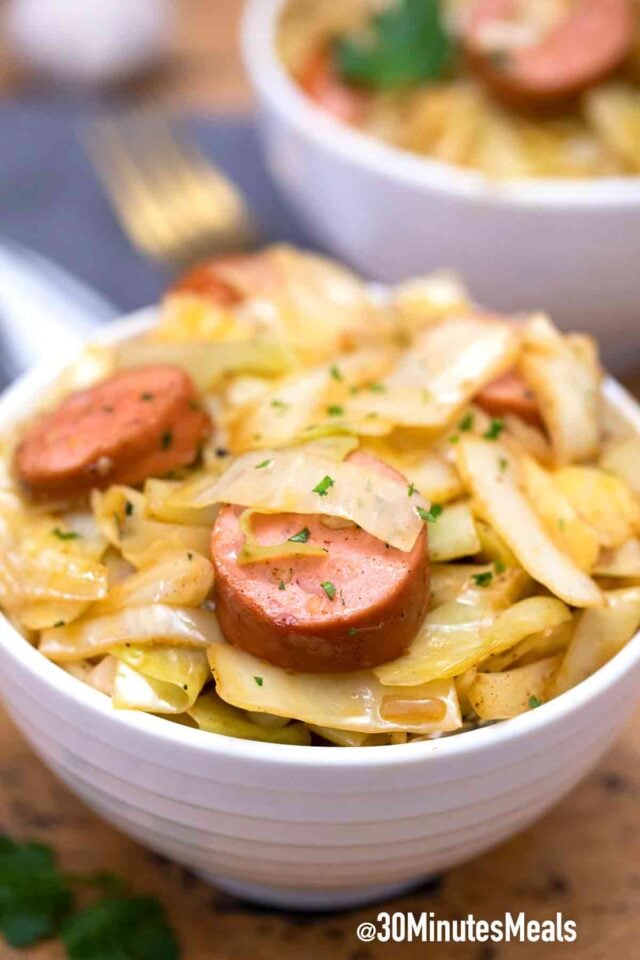 Recipe Tips:
Make sure you choose the freshest cabbage for this recipe. Look for a large, dense, and firm head, with bright, colorful, and crisp leaves. Avoid those that have cracks or bruises. It should also have compact and shiny leaves!
Do NOT buy pre-cut, halved, or pre-shredded cabbage as you will miss a valuable amount of vitamin C.
Store the cabbage in a cool and dry place. You can wrap it in plastic wrap or even place it into a plastic bag and store green or red cabbage for up to 2 weeks in the refrigerator.
If you intend on freezing it, I recommend you first shred it, blanch it in boiling water for 2 minutes. Next, drain it, and after that dry it a bit on some paper towels or a kitchen towel. Finally, add it to air-tight containers and freeze it.
Make this recipe with any meat that you have on hand, but I also highly suggest that you try it with Polska Kielbasa!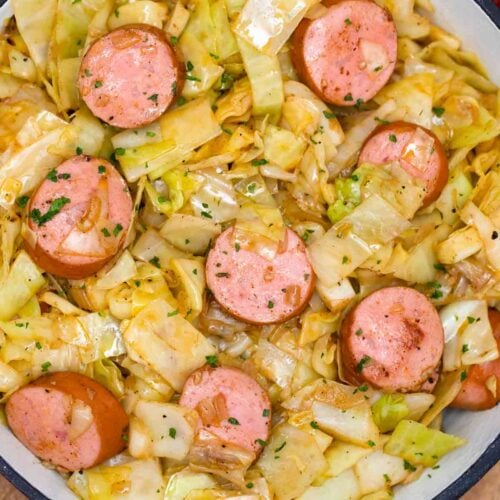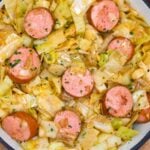 Fried Cabbage and Kielbasa
Fried Cabbage and Kielbasa is an easy and flavorful, budget-friendly meal, that is ready in just about 30 minutes.
Keyword:
Fried Cabbage and Kielbasa
Ingredients
2

tablespoons

olive oil

1

small onion

sliced

4

cloves

garlic

minced

1

head

small cabbage

about 2lbs

1

teaspoon

salt

1/4

teaspoon

ground black pepper

1

teaspoon

smoked paprika

1

teaspoon

Worcestershire sauce

1

lb

Polska kielbasa

or smoked sausage - sliced into thin rounds

1

tablespoon

parsley

chopped
Instructions
Slice the cabbage in half, remove and discard the core and cut into thin strips.

Place a cast iron or other heavy large pan over medium-high heat, and once hot add the olive oil.

Add sliced onion and cook until soft, about 3-4 minutes, stir a few times.

Add garlic, cook stirring another minute.

Add cabbage, salt, pepper, and paprika to the pan and toss. Cook until cabbage reduces by half, for about 10 minutes, stirring occasionally.

Add Worcestershire sauce. Stir and add sliced kielbasa or sausage.

When the cabbage is tender and slightly translucent, and kielbasa has browned a bit, remove from heat.

Garnish with parsley and serve.
Nutrition Facts
Fried Cabbage and Kielbasa
Amount Per Serving
Calories 507
Calories from Fat 360
% Daily Value*
Fat 40g62%
Cholesterol 79mg26%
Sodium 1633mg71%
Potassium 730mg21%
Carbohydrates 19g6%
Protein 20g40%
Vitamin A 553IU11%
Vitamin C 89mg108%
Calcium 116mg12%
Iron 3mg17%
* Percent Daily Values are based on a 2000 calorie diet.