Sauteed Cabbage is the perfect side dish or light main meal. Budget-friendly, healthy, and flavorful, ready in just 30 minutes! Cabbage is so cheap, but that doesn't mean that it should be boring, try this recipe to see it for yourself.
We enjoy our fair share of veggies based dishes, I usually plan my menu around what is on sale, to not go over budget. I like using cabbage in fresh salads but also quick stir-fries. This is such a versatile veggie, easy to dress up, and make it incredible when using the right spices. For more easy and healthy meals try our Chicken and Asparagus, the Ground Beef and Cabbage, and also the Skinny Mongolian Beef and Noodles.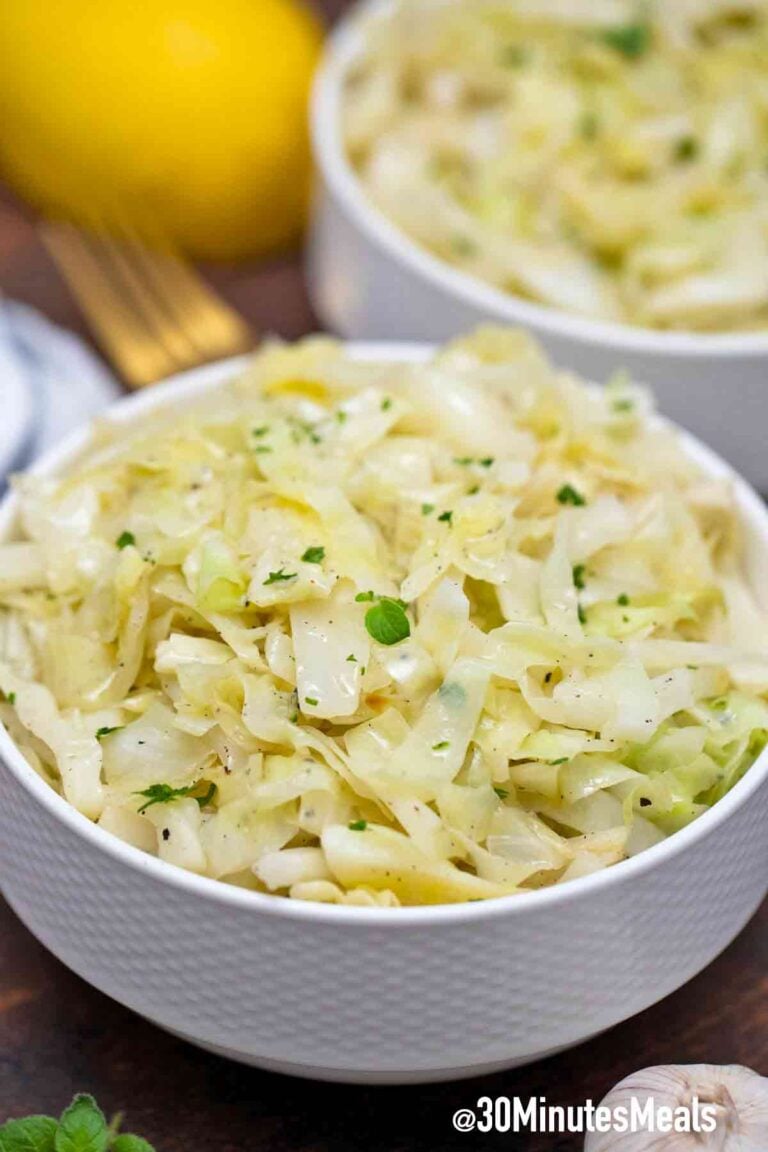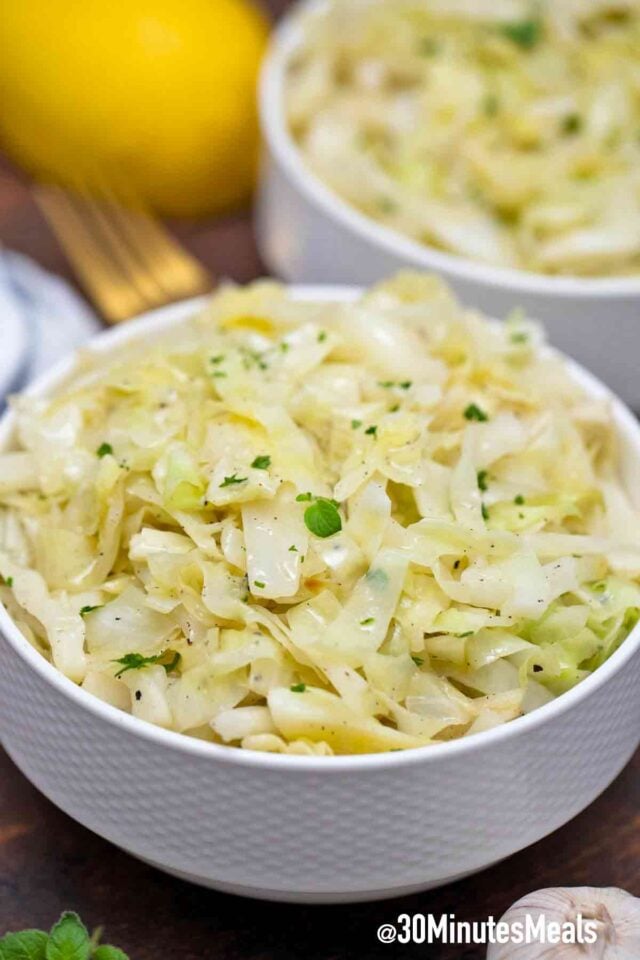 Healthy Sauteed Cabbage – Vegan/Vegetarian
Sauteed Cabbage is not only healthy and delicious it is also low in carbs which makes this the perfect recipe to enjoy if you are following a low-carb diet like Keto. According to the USDA database, a cup of shredded cooked cabbage has only 17 calories, 4 grams of carbs, and 1 gram of fiber! How amazing is that?
This veggie is also rich in Vitamin K magnesium and folate. It is very filling and very easy to cook. It can be added to salads raw, to soups and it is great in stir-fries. As you can see there are many reasons to try it and to add it to your menu rotation!
Is cabbage better for you cooked or raw?
Just like carrots, spinach, mushrooms, asparagus, bell peppers, and many other vegetables supply more antioxidants, such as carotenoids and ferulic acid, to the body, when they are cooked, boiled, or steamed than they do when raw.
This doesn't mean that the raw form is less good for you, but it means that you will get an array of even more nutritional benefits when you cook these veggies.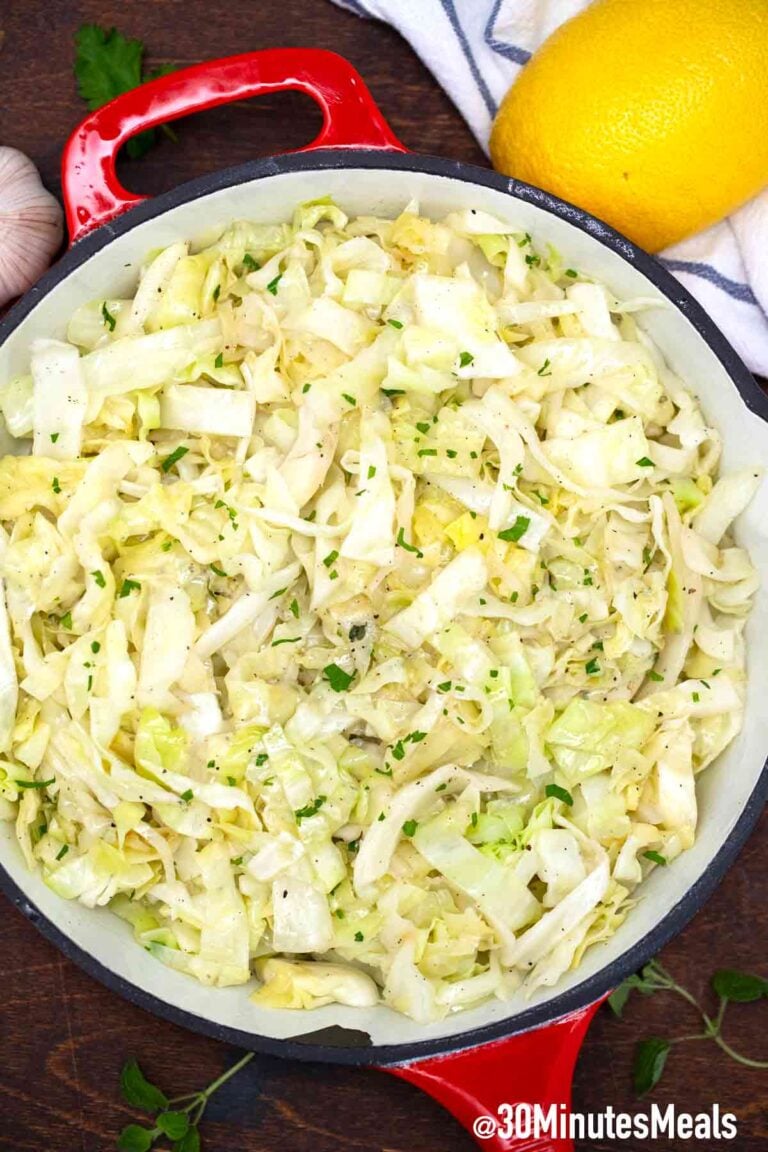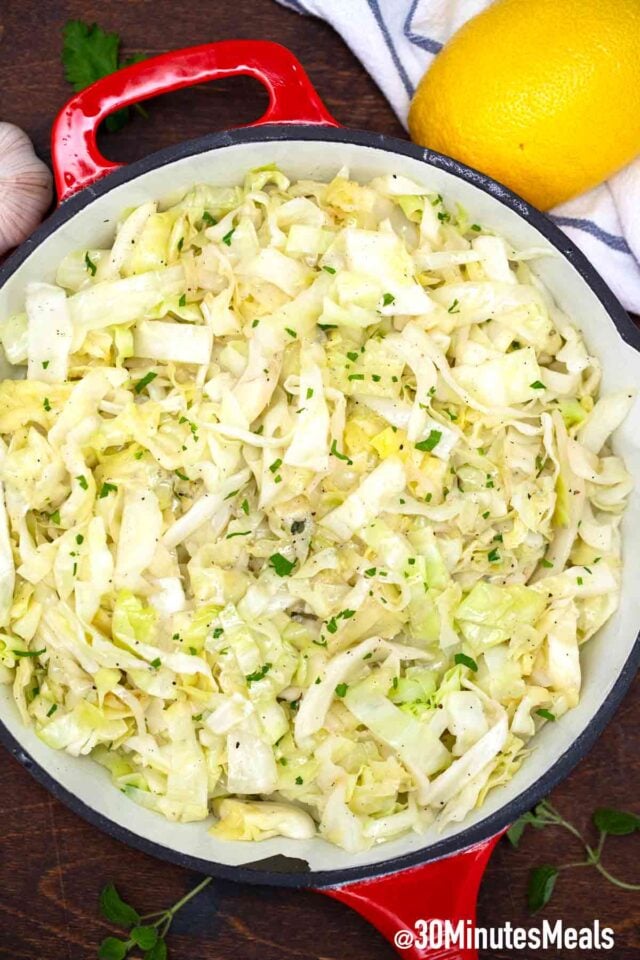 What is the healthiest cabbage to eat?
Did you know that there are many types of cabbages? There is white, green, and red!
Out of all these the red one, is brimming with the most antioxidants, and once cup contains 2 grams of fiber as well as 85% of the daily vitamin C requirement.
If you are wondering if you can use the red type in this recipe, the answer is yes you can. While it's delicious raw in salads and coleslaw it is as great in soups and sauteed.
What do you need to make Sauteed Cabbage?
Cabbage – make sure you choose one that is on the harder/crispier side, this will help maintain its crispiness and crunch while cooked.
Spices – the cabbage itself is pretty bland, so cooking it with a mix of your favorite spices and seasoning will add a great layer of flavor.
Oil or butter – while you can keep it extra healthy and steam it, cooking it in some olive oil or butter will add a nice creaminess to it.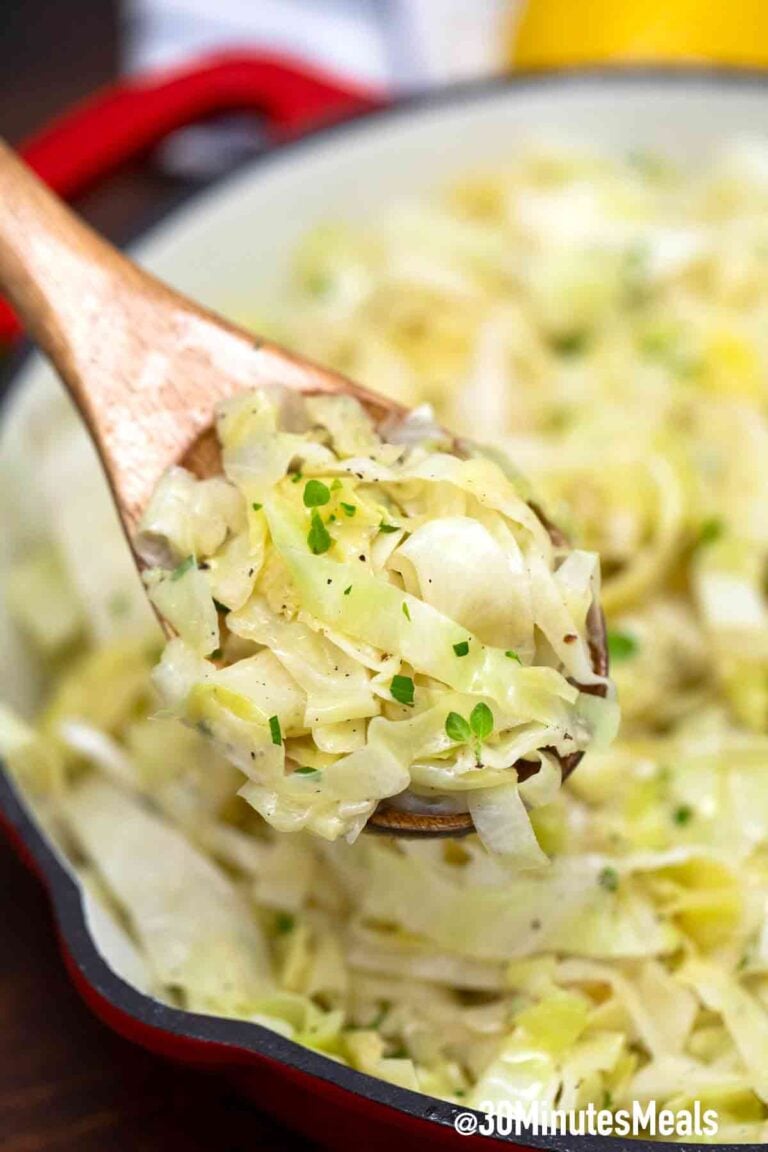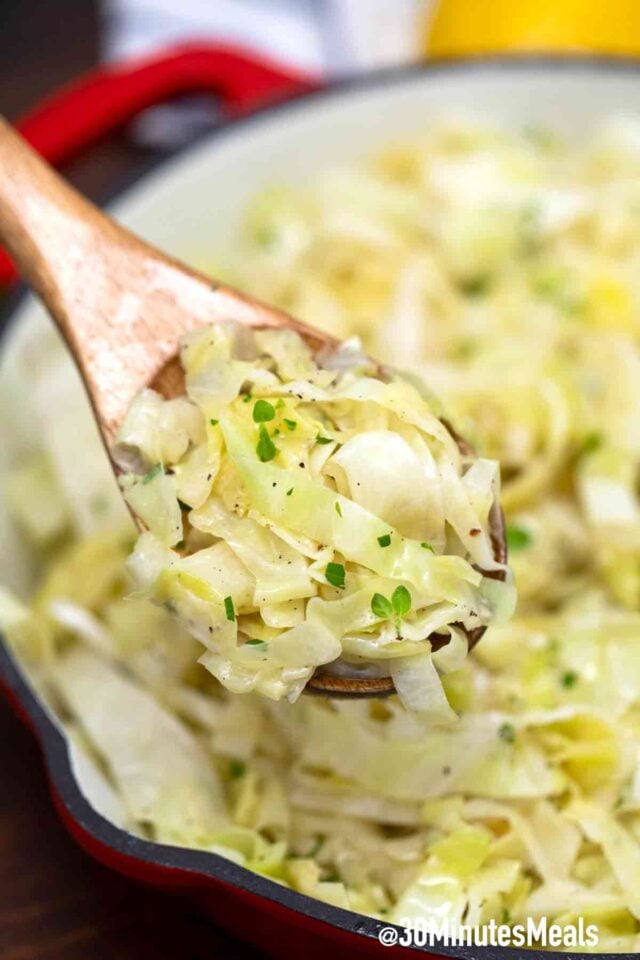 How do you make Sauteed Cabbage?
First, you start by heating some oil in a large pan or Dutch oven.
Next, saute the onion and garlic until soft and tender.
After that, you add the cabbage, with the seasoning, and cook until lightly browned and still crisp.
Serve it garnished with parsley or other fresh herbs.
Recipe Variations:
Add some protein: Make this a full meal by adding some protein. You can add bacon, ground beef, or sausage, the latest is especially delicious. For a vegetarian version top it with some crispy, baked tofu or tempeh. A nice dollop of baked beans and sour cream are also delicious choices.
Add more veggies: Make is a vitamin bomb by adding more veggies, like zucchini, yellow squash, mushrooms, green peas, green beans, or bell peppers.
Make it with an Asian twist: add your favorite Asian sauce to the stir fry, we like mixing things up with some teriyaki sauce or hot and sour sauce. Top it with crushed peanuts and some sesame seeds when serving.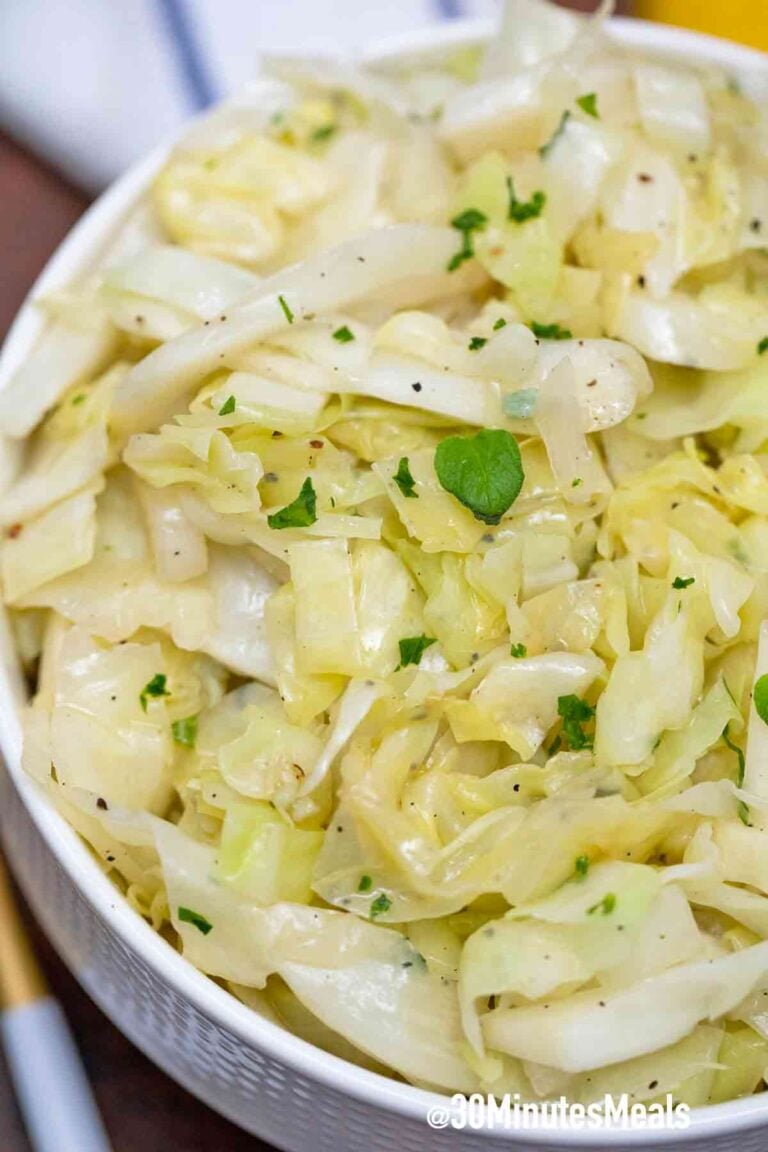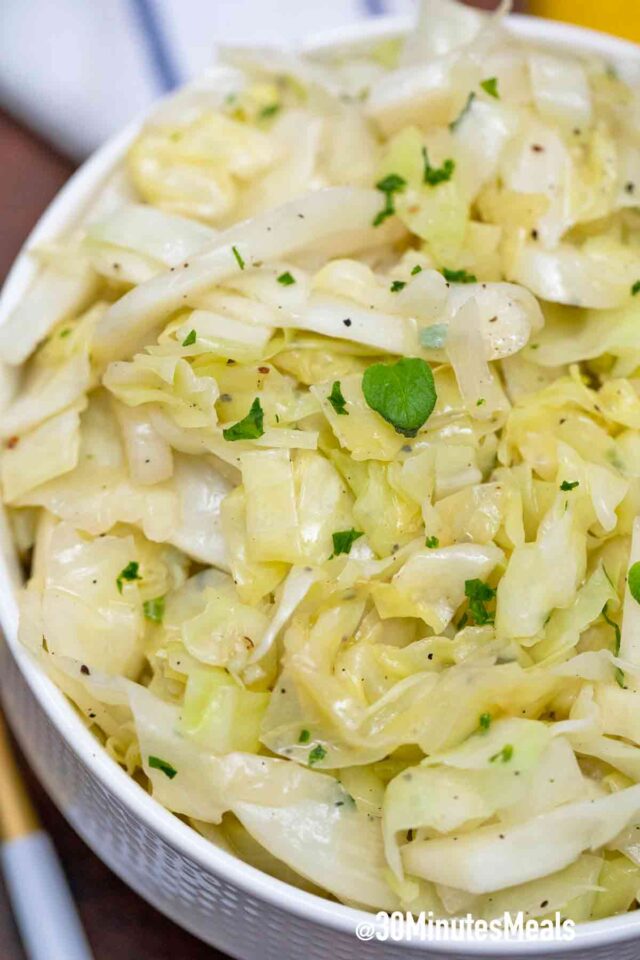 More Recipes: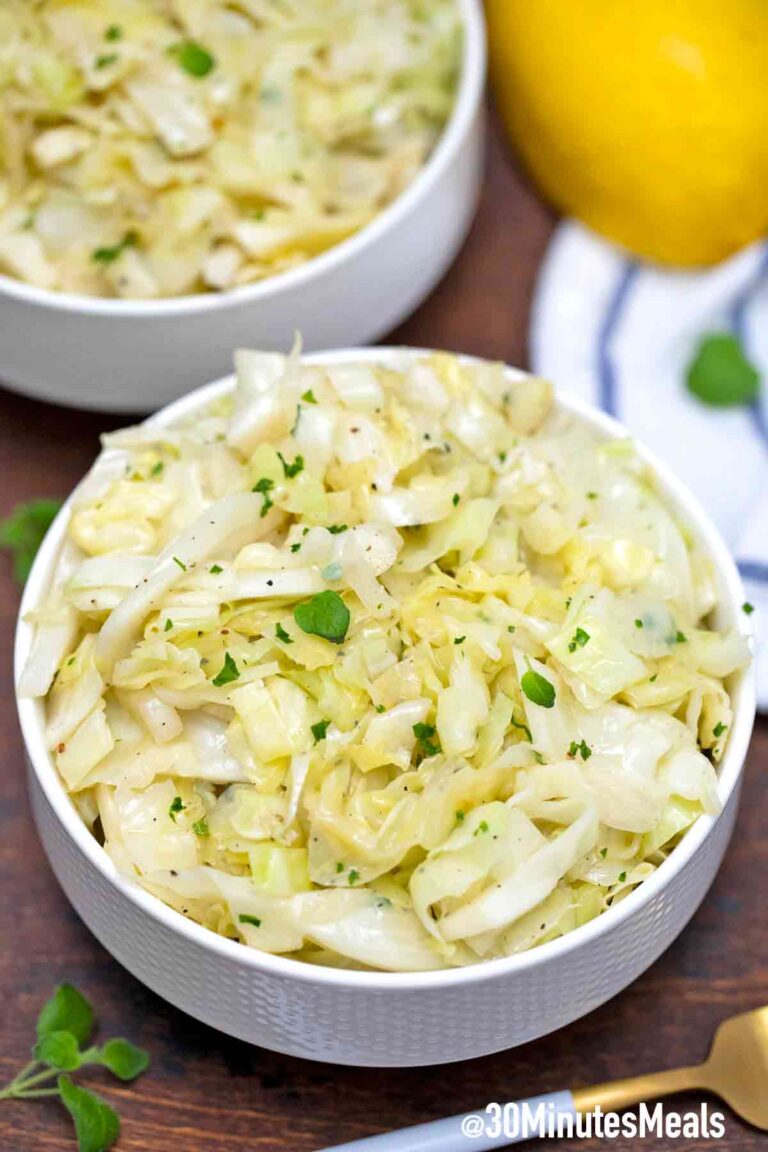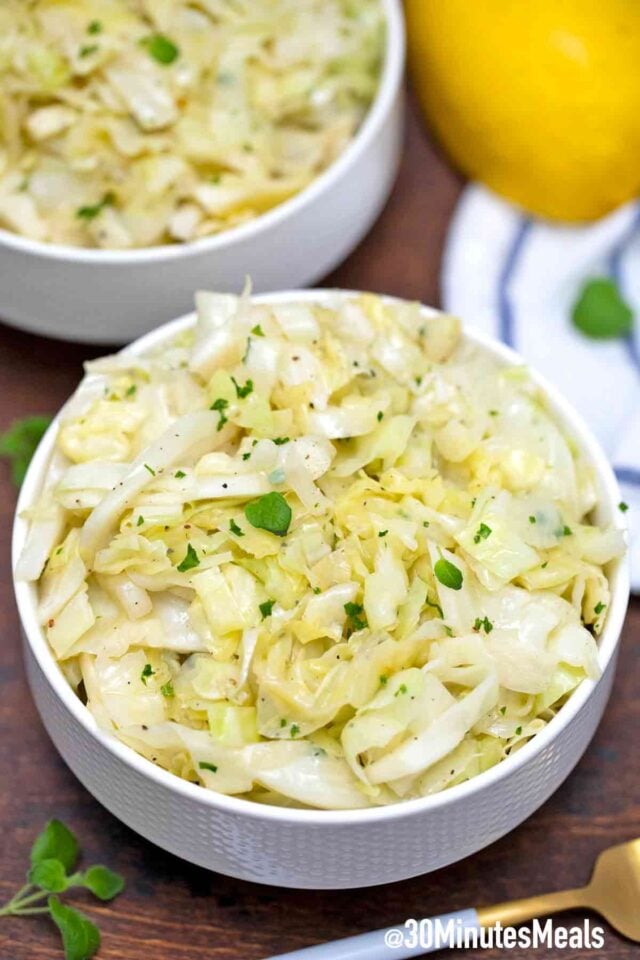 Recipe Tips:
When choosing the cabbage make sure it has a nice color, without dark spots on it. The dark dots appearing on the leaves, mean that the cabbage is starting to go bad.
Also look for "older", not "young" cabbage, as you need the leaves to be crispy. The very thin tender leaves will turn mushy during cooking.
Usually, there is no need to wash the cabbage before cooking but I recommend washing the leaves individually and after that let them dry before chopping and using in your food.
Look for caramelization/brown spots on the cabbage when cooking. Browning, will release extra flavor and make the whole dish yummier.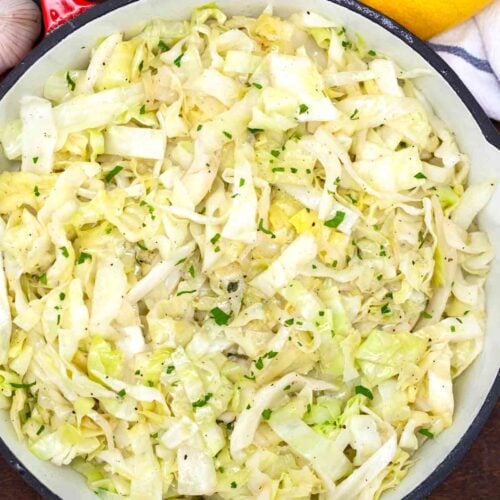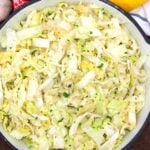 Sauteed Cabbage
Sauteed Cabbage is the perfect side dish or light main meal. Budget-friendly, healthy, and flavorful, ready in just 30 minutes!
Course:
Main Course, Side Dish
Ingredients
1

small head green cabbage

about 2 1/2 pounds

2

tablespoons

extra virgin olive oil

1

small onion

sliced

6

cloves

garlic

minced

1 1/2

teaspoons

kosher salt

1/2

teaspoon

freshly ground black pepper

1

teaspoon

dried Italian herbs

1

tablespoon

chopped fresh oregano

1

lemon wedge

1

tablespoon

chopped fresh parsley
Instructions
Cut the cabbage in half through its core discard the core. Slice each half as thinly as possible into thin ribbons.

Heat a large saute pan or wok over medium-high heat and add the olive oil. Once the oil is hot, add the onion and cook for 1-2 minutes. Add cabbage, minced garlic, salt pepper dried Italian herbs, and oregano.

Saute for 10 to 15 minutes, stirring occasionally, until the cabbage is tender and it begins to brown.

Remove from the heat when done cooking and taste and adjust for salt and pepper if needed.

Squeeze the lemon wedge on top of the cabbage, taste, and if it needed more acidity add more lemon juice.

Sprinkle with fresh parsley and serve.
Nutrition Facts
Sauteed Cabbage
Amount Per Serving
Calories 138
Calories from Fat 63
% Daily Value*
Fat 7g11%
Sodium 915mg40%
Potassium 444mg13%
Carbohydrates 18g6%
Protein 4g8%
Vitamin A 222IU4%
Vitamin C 89mg108%
Calcium 105mg11%
Iron 1mg6%
* Percent Daily Values are based on a 2000 calorie diet.