Sesame Chicken is a quick and easy tempura-style fried chicken, coated in a sweet and savory, sticky sesame sauce. This recipe takes only 30 minutes to make and it's much better than take-out!
We love quick and easy, restaurant-style meals that we can recreate in the comfort of our own home. Among readers favorites is this Sweet and Spicy Chicken, Honey Lemon Chicken and Firecracker Chicken.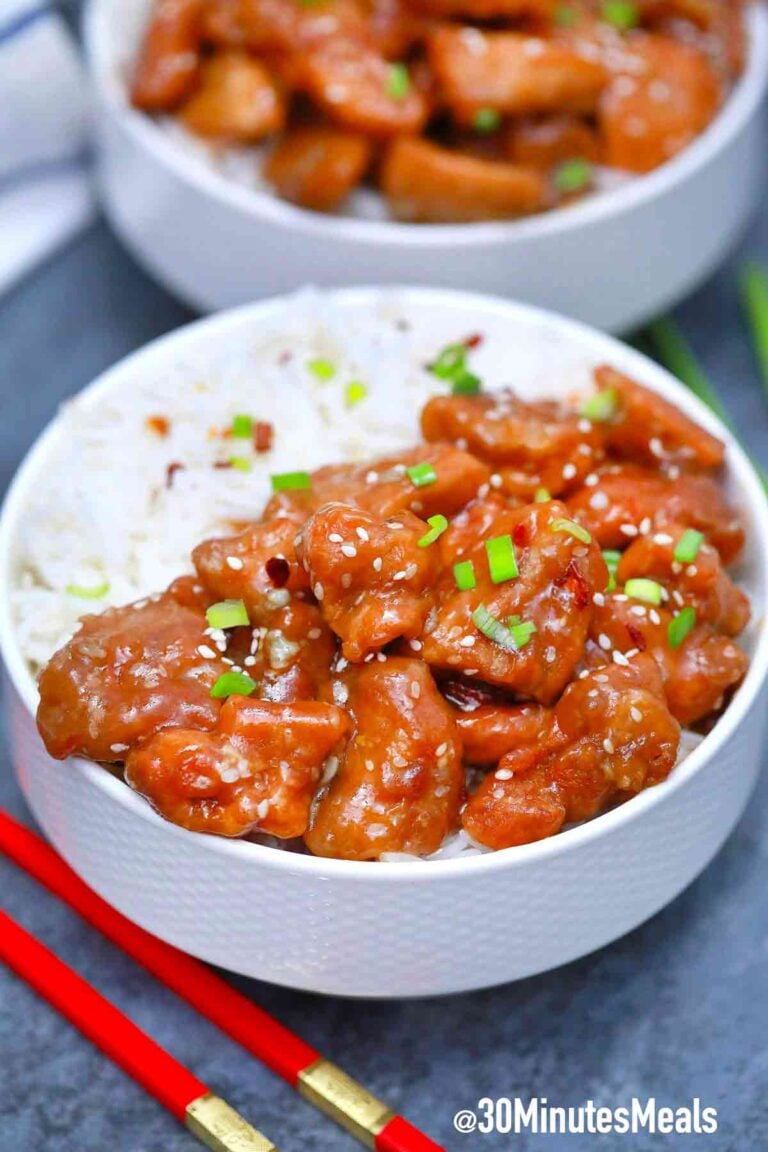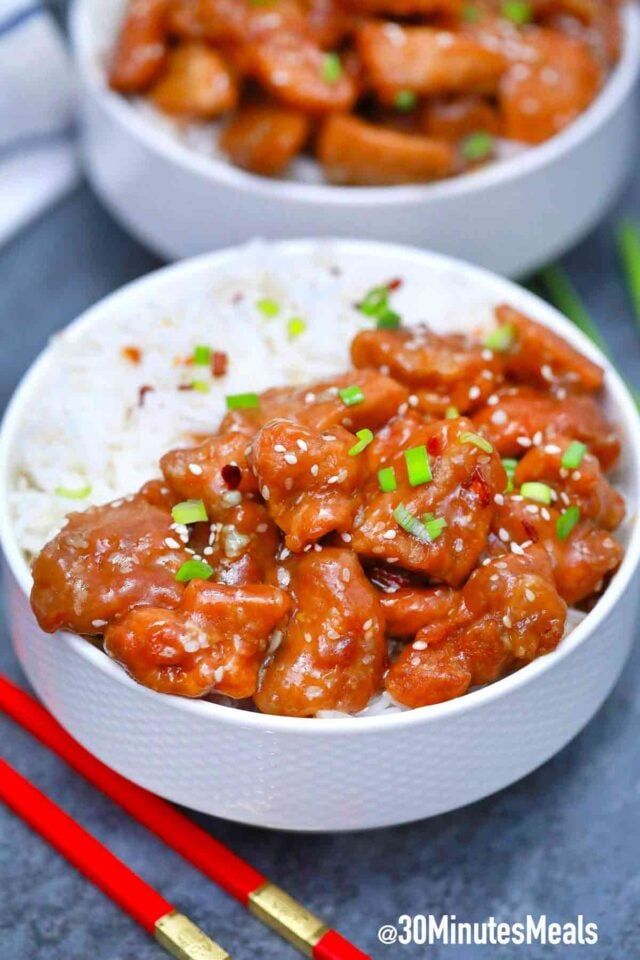 Chinese Sesame Chicken Recipe
Crispy Sesame Chicken is incredibly tasty and easy to make. To make the meat very crispy, we first coat it in a flour and cornstarch mixture and after that deep fry it. This creates the perfect tempura shell on the outside while keeping the chicken juicy and tender on the inside.
The Honey Sesame sauce is very easy to make. I highly recommend you invest in a few Asian ingredients, pantry staples, that will always come in handy when you want to cook some Asian fusion recipes at home.
We always have on hand: soy sauce, sesame oil, sesame seeds, rice vinegar, oyster sauce,, and hoisin sauce. From the spices, I always have a jar of dried ginger, red pepper flakes, garlic powder, and Chinese Five Spice. Fresh ginger root and some wasabi in the fridge is a must!
This way you can create some delicicious, take-out style meals whenever you crave them!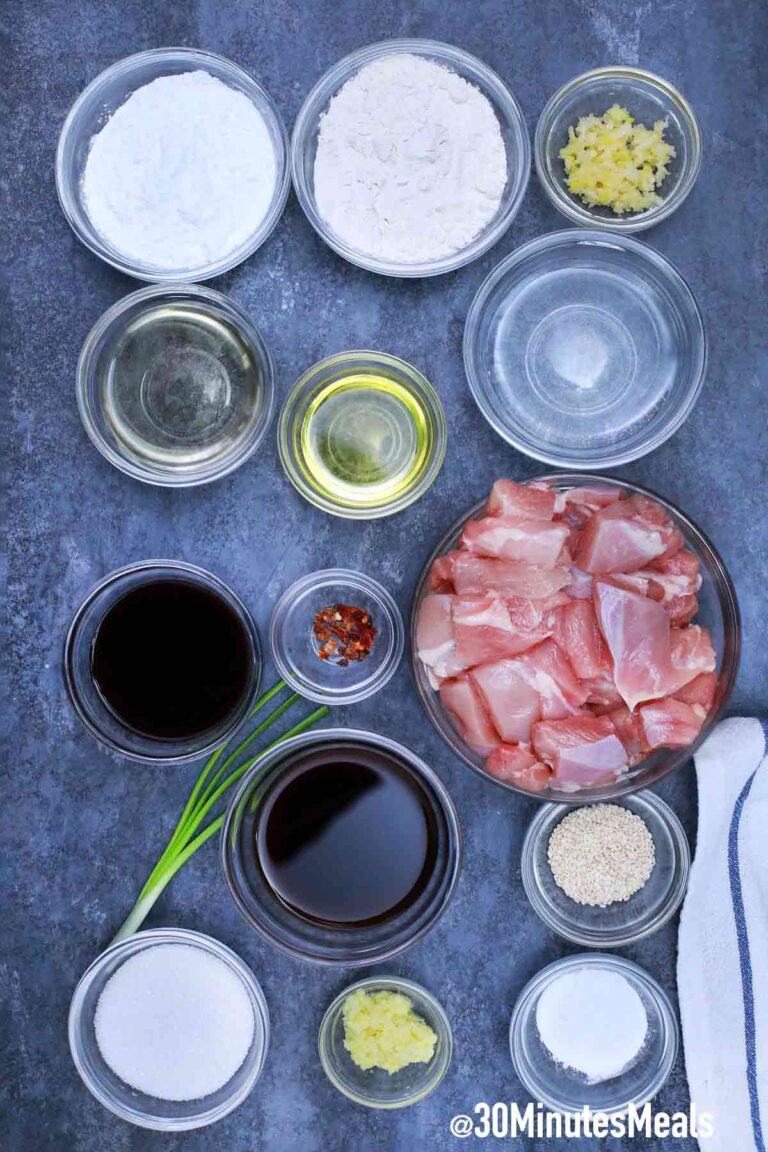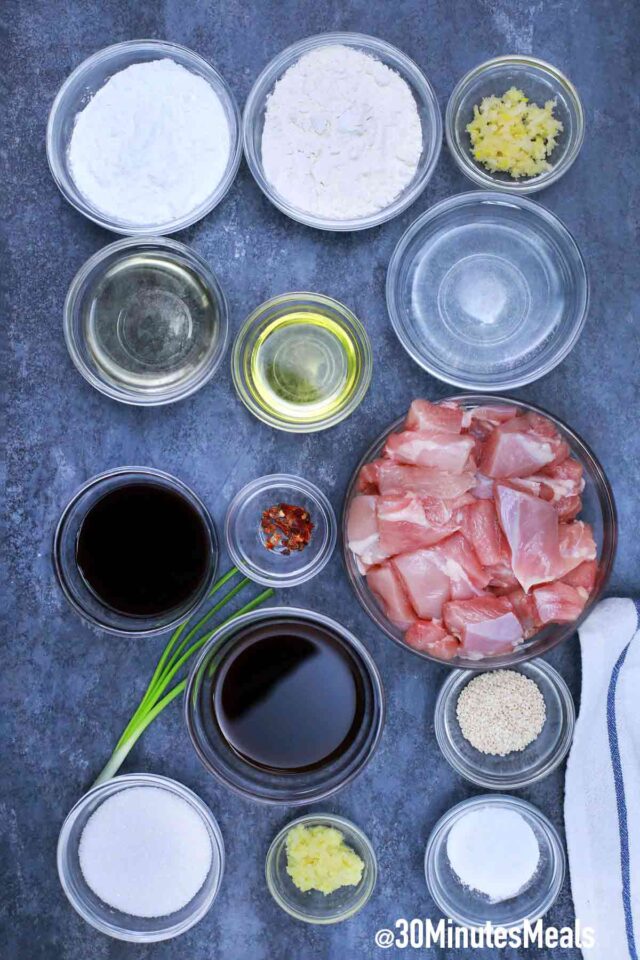 Is Sesame Chicken real Chinese food?
Sesame chicken is a dish commonly found in Chinese restaurants across America. It is very similar to General Tso's chicken, but more on the sweeter side rather than the spicy one. It also has a more pronounced sesame flavor due to the sesame oil and sesame seeds used in the recipe.
How do you make Sesame Sauce?
To make Sesame Sauce you will need:
Soy sauce
Rice Vinegar
Oyster sauce
Sugar
Cornstarch
Water
Sesame oil
Sesame seeds
The preparation is very easy, just mix all the ingredients in a bowl until combined and after that use on stir-fries and cook until thickened. You can also cook it separately and serve it as a dipping sauce.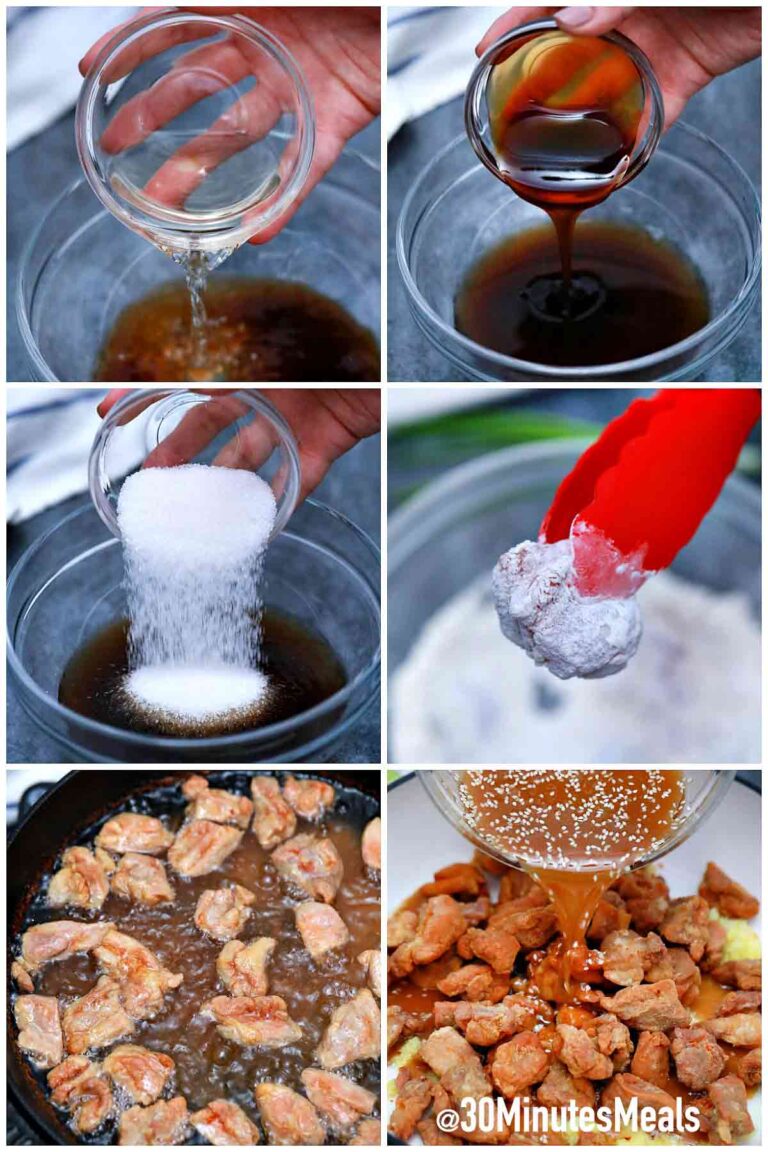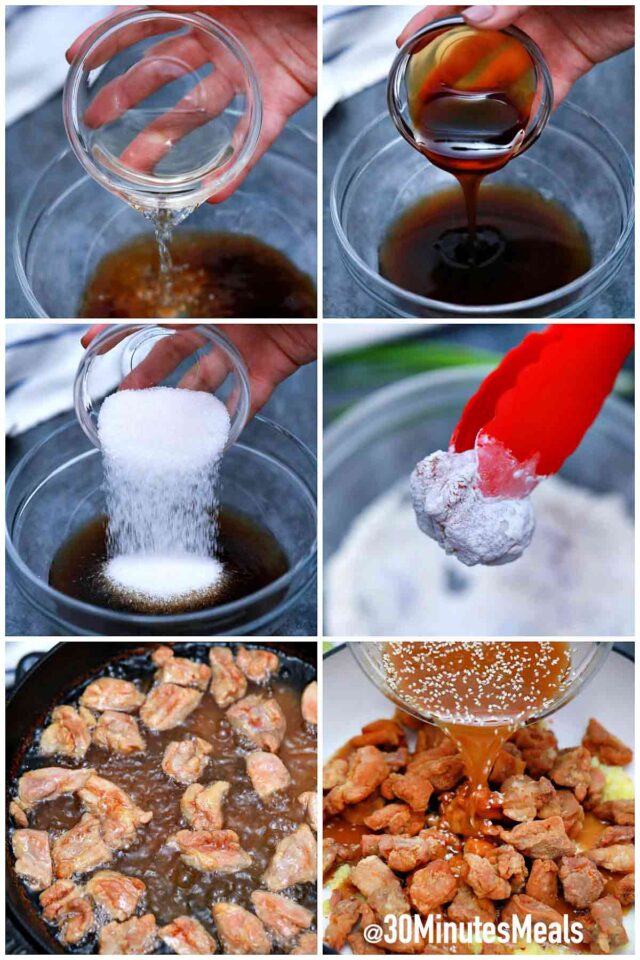 How do you make Chinese Style Sesame Chicken?
Prepare the sauce: First, combine all the sauce ingredients per the recipe below and set aside.
Prepare the chicken: to make the chicken extra crispy you have to toss it into a flour-cornstarch mixture.
Fry the chicken: Once the chicken has been coates in the flour mixture, deep fry it in hot oil until golden and crispy.
Saute the aromatics: Saute the garlic, ginger and red pepper flakes to enhance the flavors.
Combine: Add the fried chicken and the sauce and toss everything to combine and coat the chicken well in sauce. Cook for a few minutes until the sauce has thickened.
Serve: Serve the Crispy Sesame Chicken over rice with steamed veggies on the side and garnish with sesame seeds.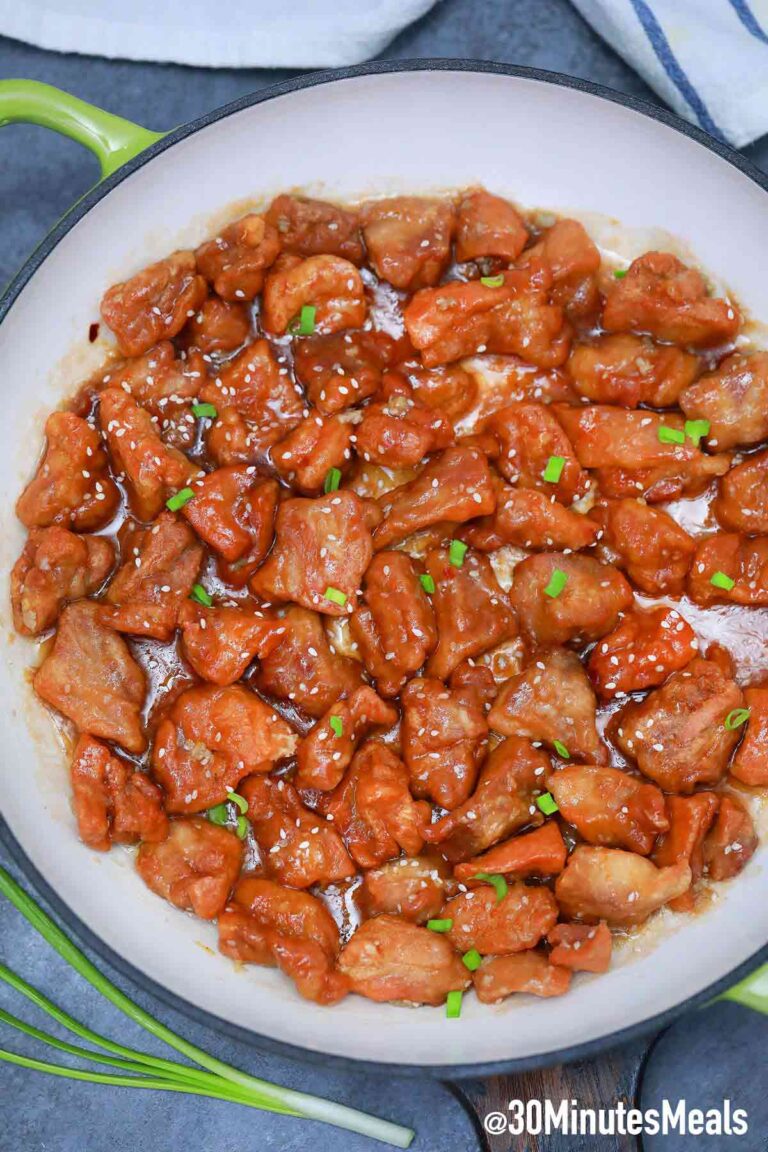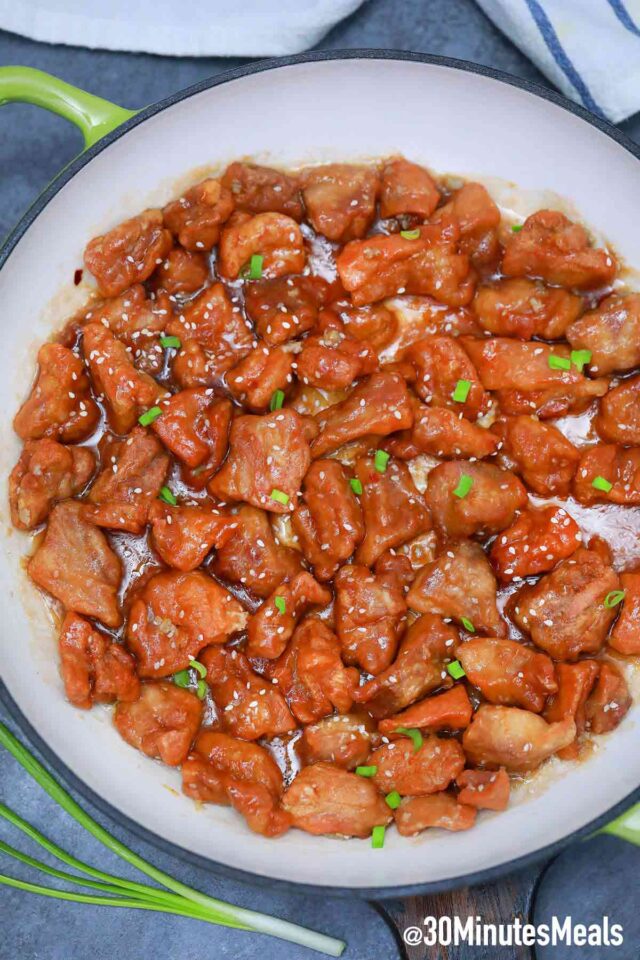 Recipe Variations:
Different chicken cuts: I like to make this recipe with chicken thighs or chicken breast, the first ones are more tender. Choose what you prefer more!
Substitute other meats: Try the same recipe with beef, pork or shrimp.
Make it vegetarian: Try it with crispy tofu or tempeh, you can also use the sauce to make a veggie stir fry.
Add extra veggies: Make it more hearty and healthier by adding extra veggies. I like adding zucchini sugar snap peas, broccoli, baby corn, bamboo shots and mushrooms.
Add noddles: boil some somba noodles and add them into the mix. For this option I usually double the sauce ingredients and add the soba noodles to the pan with the fried chicken. This way everything is coated in a delicious sauce.
Play with the sauce: Make is spicier by adding more red pepper flakes, or make it healthier by using honey instead of the sugar. You can also add more sesame oil for a more pronounced sesame flavor.
Make it healhiter: Skip the coating and deep frying of the chicken. Usee grilled chicken or just saute the chicken in some sesame oil for this recipe.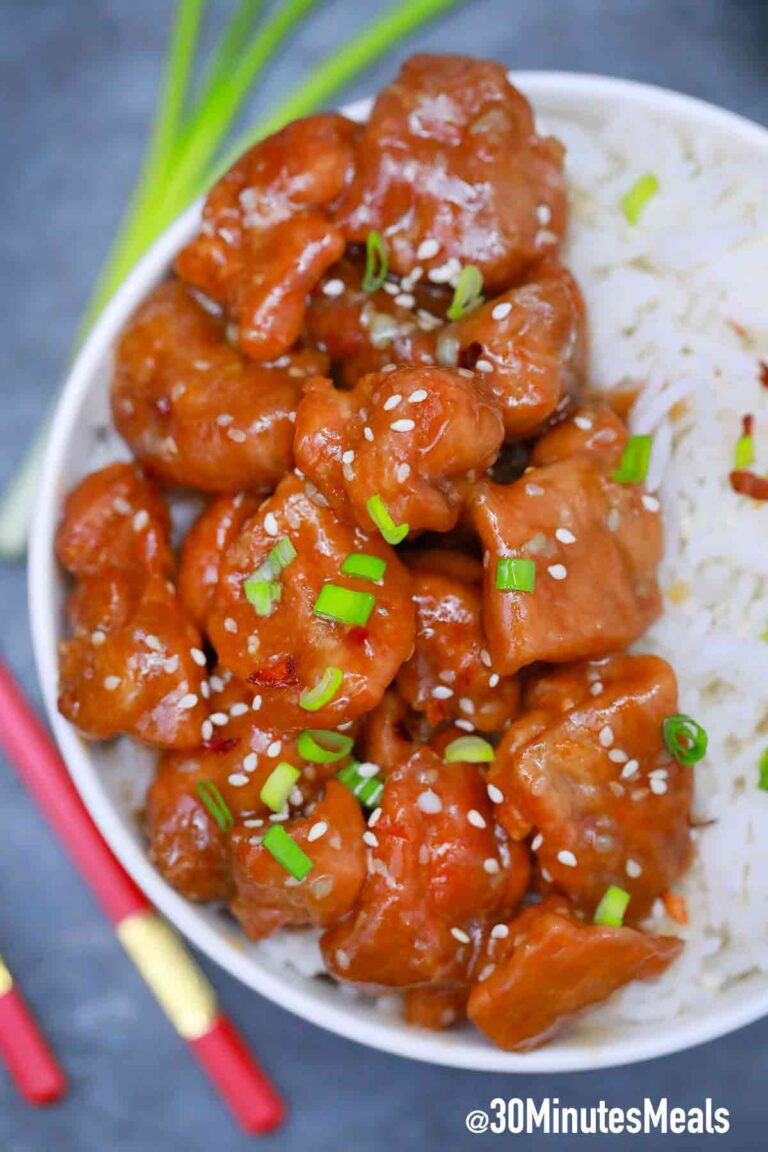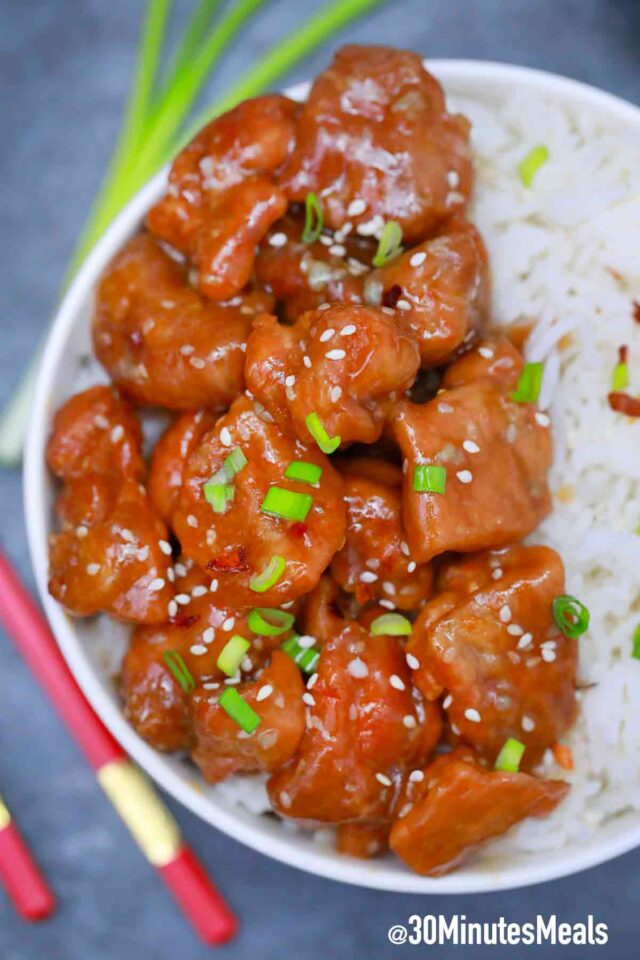 How to Store:
Just store leftover in an airtight container in the fridge for 3-4 days. The dish reaheats really well, just microwave it for a minute or two on high.
Please note, that once you coat the chicken in the sauce, it is best to serve it immediately. While the leftovers are delicious, the meat won't be as crispy.
More Chinese Recipes: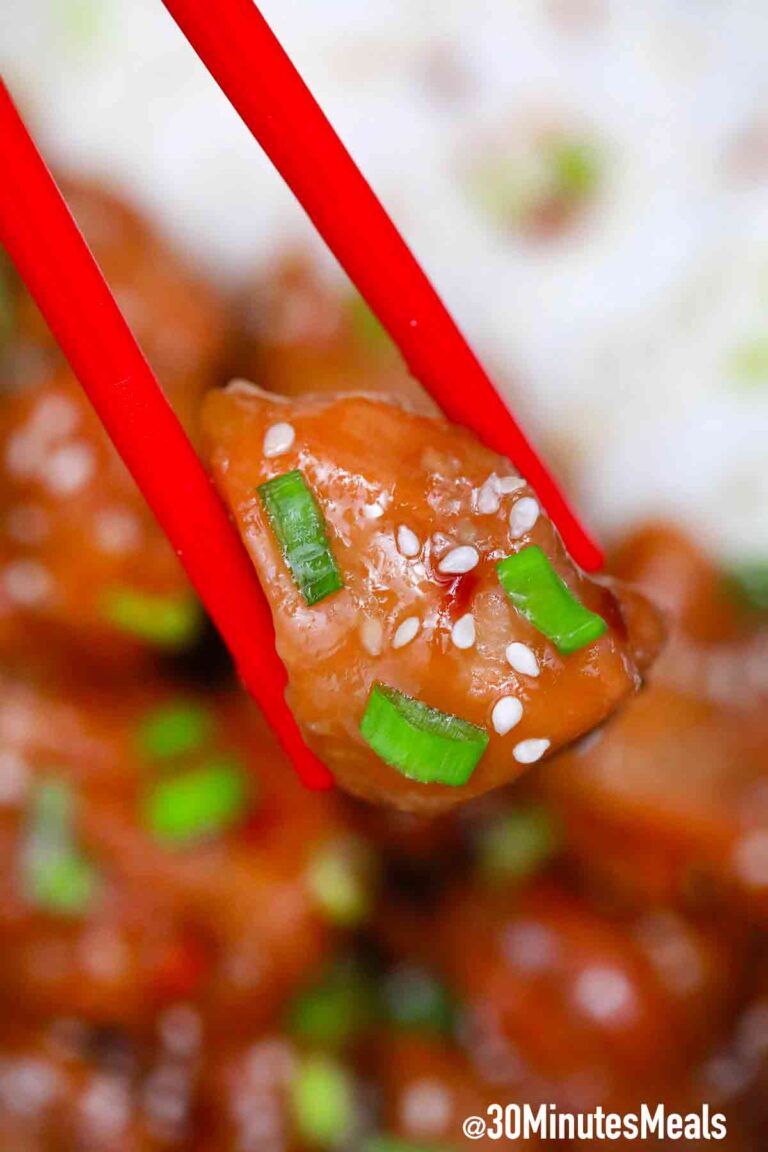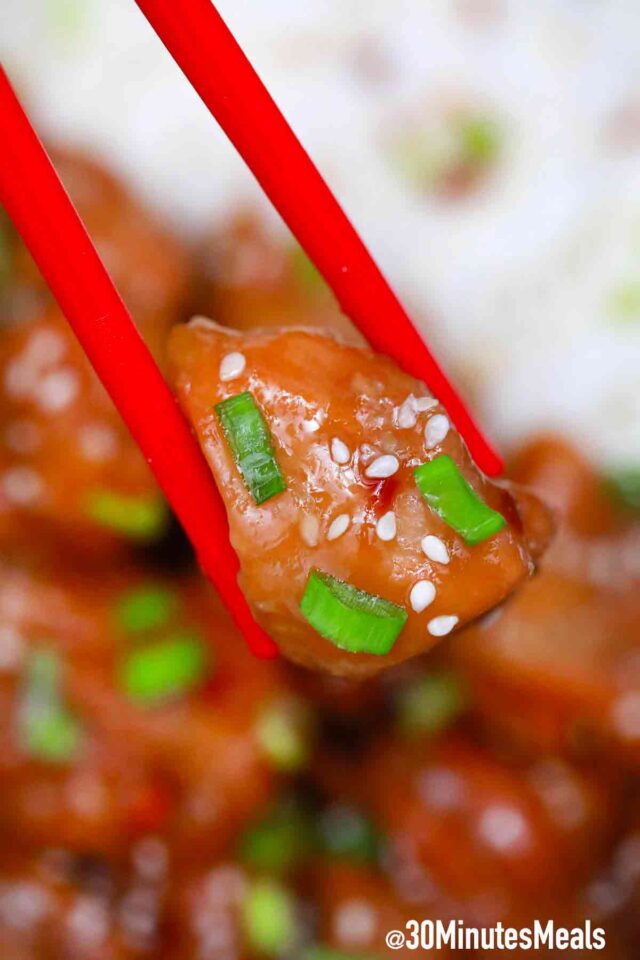 Recipe Tips:
Make sure you oat dry the chicken as this is key to get a very cripsy coating on it.
Try to use chicken thighs meat, it is definitely more tender, especially after being deep fried.
Using fresh garlic and ginger will add fantastic flavor to the whole dish, so try to plan ahead and have some on hand.
If you like the dish eextra saucy so you can have all that saucy goodneess on your rice, just double the sauce ingredients.
Use honey or maple syrup instead on the sugar if you want to make the dish healthier.
You can also use brown sugar instead of white for a deeper, caramel undertone.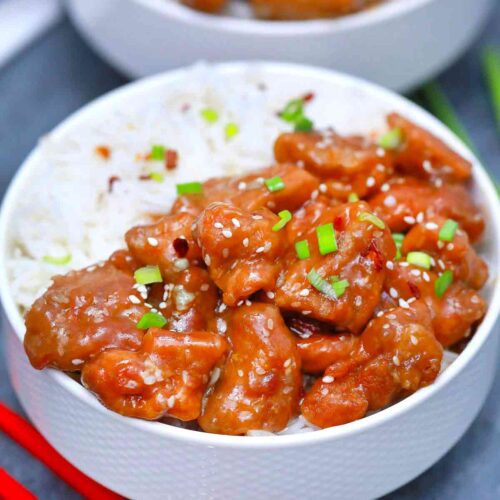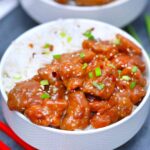 Crispy Sesame Chicken
Sesame Chicken is a quick and easy tempura-style fried chicken, coated in a sweet and savory, sticky sesame sauce.
Cuisine:
American, Chinese
Ingredients
Sesame Sauce:
1/4

cup

soy sauce

1/4

cup

rice vinegar

1/4

cup

oyster sauce

1/4

cup

white sugar

1

tablespoon

cornstarch

1/3

cup

water

1

tablespoon

sesame oil

1/2

tablespoon

sesame seeds
Tempura Batter:
1/2

cup

cornstarch

1/2

cup

flour
Chicken:
1

lb

chicken thighs

boneless and skinless cut into 1-inch chunks

1

tablespoon

sesame oil

1/4

teaspoon

crushed red pepper

1

tablespoon

minced garlic

1

tablespoon

minced ginger

Canola

peanut, or vegetable oil for deep frying - about 2 cups
Instructions
To make the sauce mix all the SAUCE ingredients in a medium bowl. Set aside.

Mix flour and cornstarch in a shallow bowl.

Pat dry the chicken and add the chicken pieces to the flour mixture and toss to coat well.

In a deep skillet or saucepan, heat 3 inches of oil to 350 degrees F, and add the chicken in batches, frying until golden brown. Remove and set aside on a plate or wire rack. I don't recommend using paper towels as usually it softness the coating on the meat.

In a large wok or skillet, over medium-low heat, add 1 tablespoon of sesame oil, and once hot add the garlic, ginger, and red pepper flakes, stir and cook for 30 seconds.

Increase heat to medium.

Add the chicken and the prepared SAUCE and toss to coat quickly for the sauce to thicken, cook 2-3 minutes.

Serve with rice, and garnish with red pepper flakes, a bit of green onion, and sesame seeds.
Nutrition Facts
Crispy Sesame Chicken
Amount Per Serving
Calories 512
Calories from Fat 243
% Daily Value*
Fat 27g42%
Cholesterol 111mg37%
Sodium 1299mg56%
Potassium 280mg8%
Carbohydrates 44g15%
Protein 22g44%
Vitamin A 126IU3%
Vitamin C 1mg1%
Calcium 30mg3%
Iron 2mg11%
* Percent Daily Values are based on a 2000 calorie diet.