Halloween Chocolate Dipped Strawberries [Video]
Halloween Chocolate Dipped Strawberries make for a refreshingly sweet and slightly tangy dessert using our favorite berries. Even kids can help prepare these!
Trick-or-treat season is just a few weeks away! Have you prepared your menu yet? Here are some suggestions: Oreo Cookie Turkeys and you must try the Pumpkin Cream Puffs.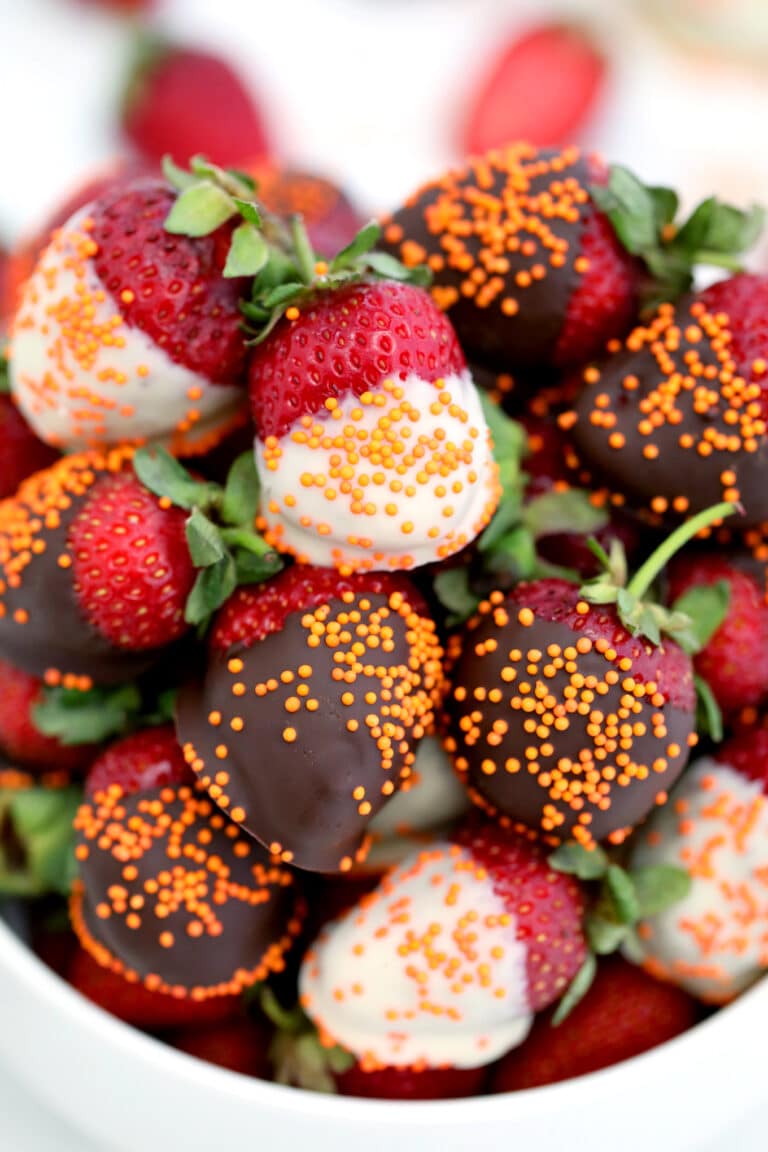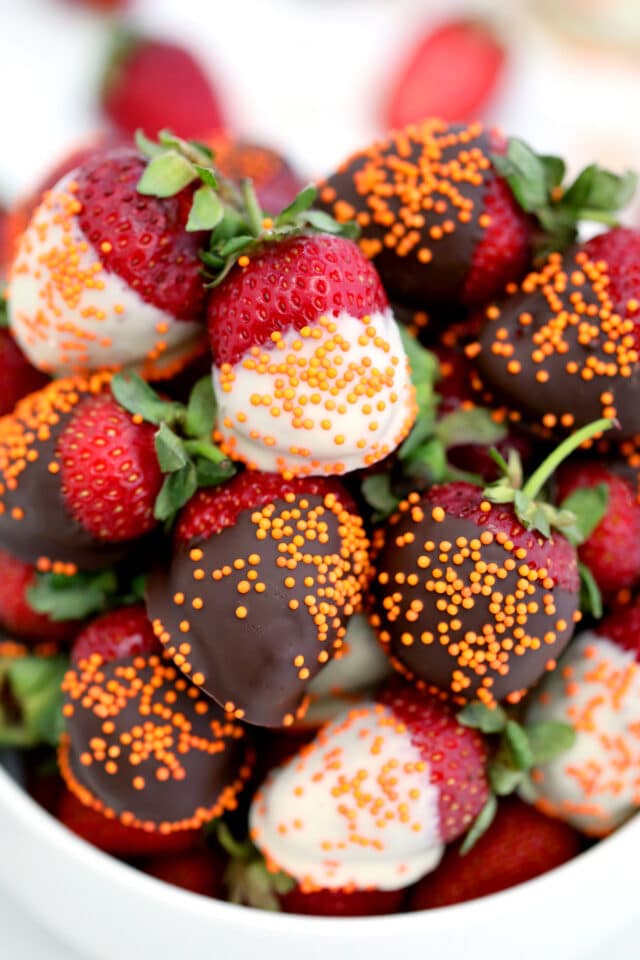 Halloween Chocolate Dipped Strawberries
Halloween Chocolate Dipped Strawberries are a great way to enjoy fresh strawberries and a healthier treat during this candy-filled time of the year. The tanginess of the berry balances well with the sweetness of the chocolate coating.
This recipe is so easy especially since you will only need four ingredients at most! And what is good about DIY desserts like this is that you can exercise your creativity.
In this recipe, I will teach you the basics of how to go about melting and dipping. But you have all the artistic freedom to decorate them.
As I said, even kids can help out with the preparation and that makes the holidays more special for them. And you can use the same recipe, possibly with just another set of decorations, to serve it for any other occasion. Can't wait to get started!
Also, if you are a fan of strawberries, this strawberry crunch cake is the perfect dessert any time of the year!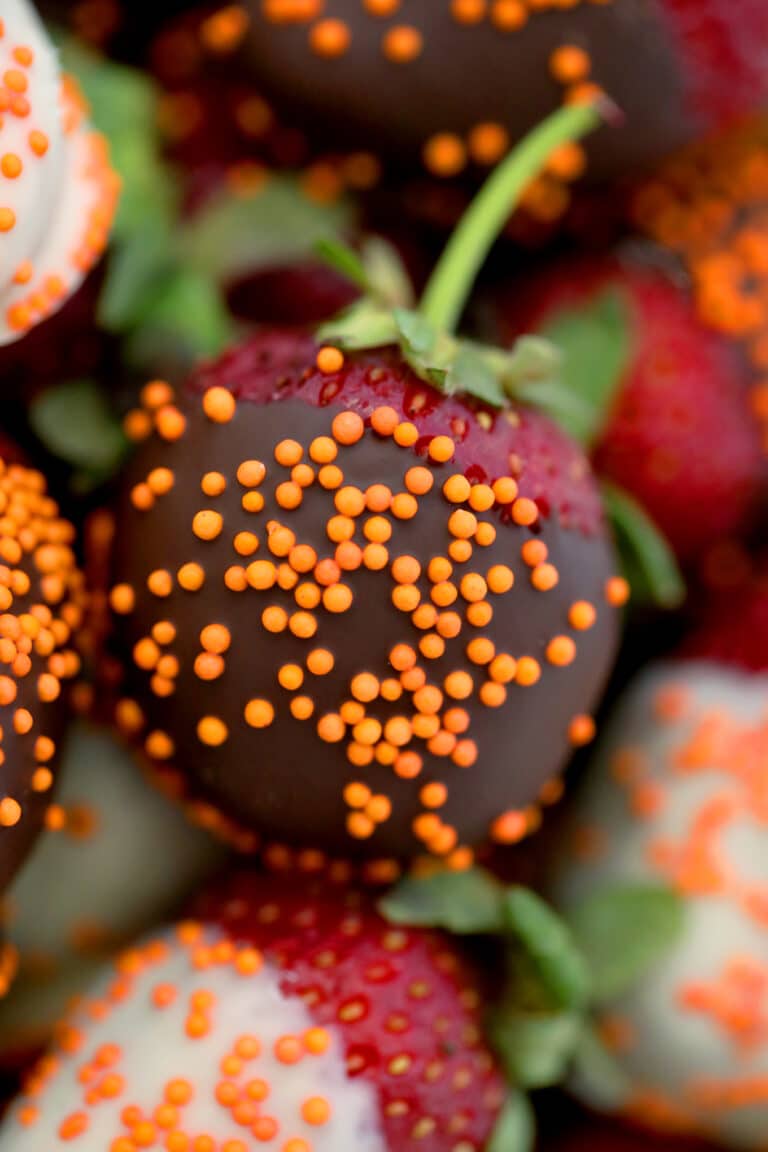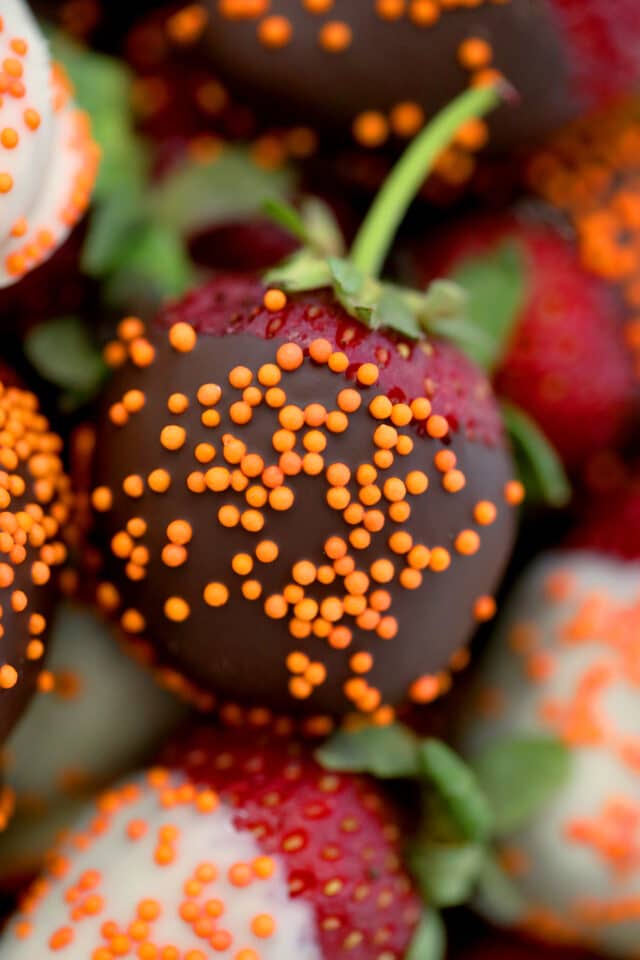 What is the best chocolate for melting?
The easiest would be the chocolate chips or chocolate candy melts. If you are pressed with time and don't have candy melts on hand, then chocolate chips, are your best option.
They do not burn easily since they are meant really for baking. However, they are too sweet, and they could be too viscous.
You can, however, level up your game and temper those that have a high cocoa butter content, around 30%. They are much better to be used as a coating.
How do you make dipping chocolate harden?
Simply refrigerate the dipped fruits for a few minutes, say 5 to 15 minutes. This is to allow the coating to set.
But do not refrigerate it for longer than that or you are risking your finished products to sweat. The dipped fruits are better served right away once the coating has hardened.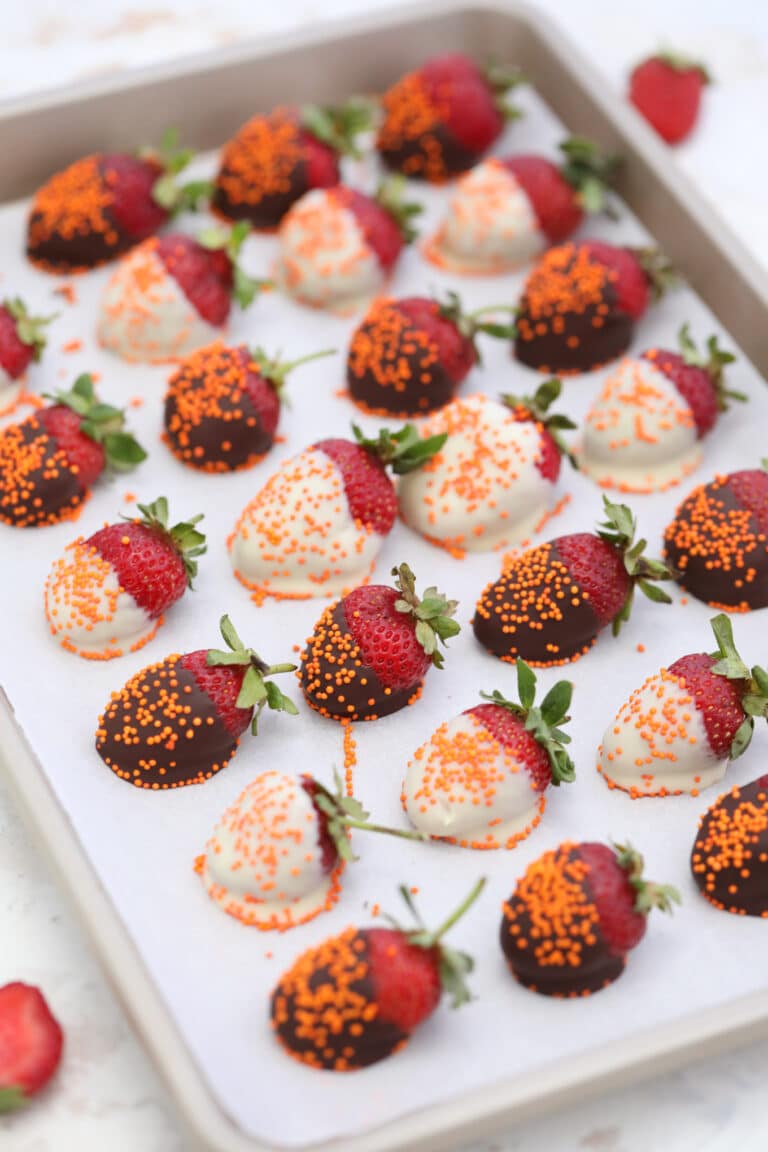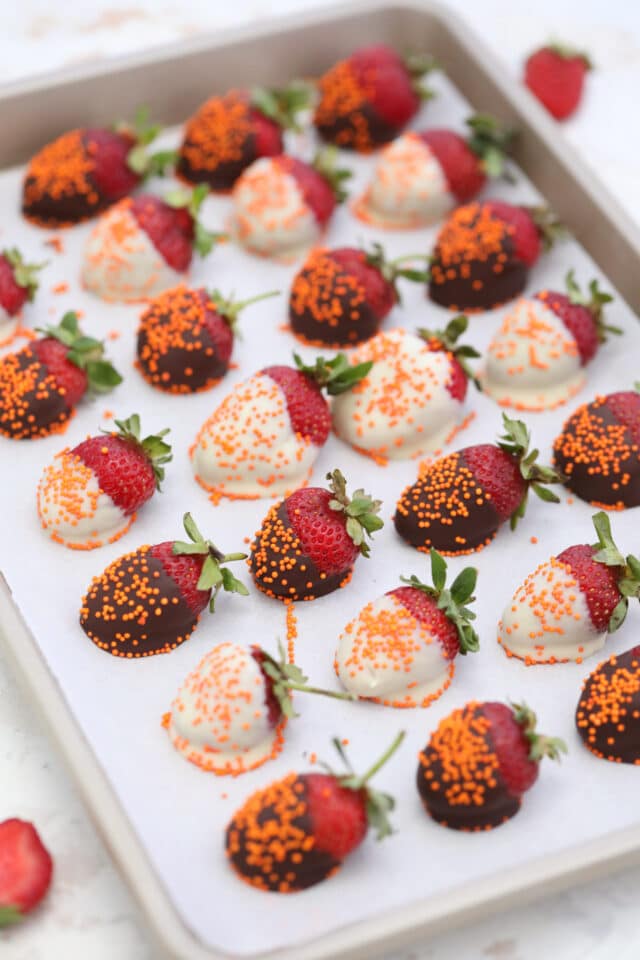 How do you melt dark chocolate?
The first step is to chop the bar into pieces. Then, use double-broiler.
The bottom pan must contain about an inch or two of water and while that water simmers over medium heat, melt the chocolate in the top pan by continuously stirring until liquid. Remove it from heat once done.
You can also improvise by using a medium saucepan in the bottom and a heatproof bowl on top. Just be careful not to splash any water in the melting chocolate or it will seize.
How do you melt white chocolate?
The dark version is a little more forgiving because melting white ones will need lower heat since it is more prone to burning.
An alternative method would be by using the microwave. In a mug of chips, put about a teaspoon of vegetable oil. Check every 30 seconds and stir well.
How do you make Halloween Chocolate Dipped Strawberries?
Dry the fruits: The fruits must be rinsed with water and then, pat dry.
Melt: Follow the steps described above wherein you use the double-broiler or an improvised one. Once done, set it in front of you with the fruits on one side and the baking sheet lined with parchment paper on the other.
Dip: Holding the fruit on the leaves portion, dip each one in the melted dark chocolate while gently twisting it to shake off any excess. Then, set it on the baking sheet. Repeat until all fruits are dipped.
Decorate: Add sprinkles on each piece and decorate with white chocolate.
Serve: Chill the finished product for a few minutes until set then, serve.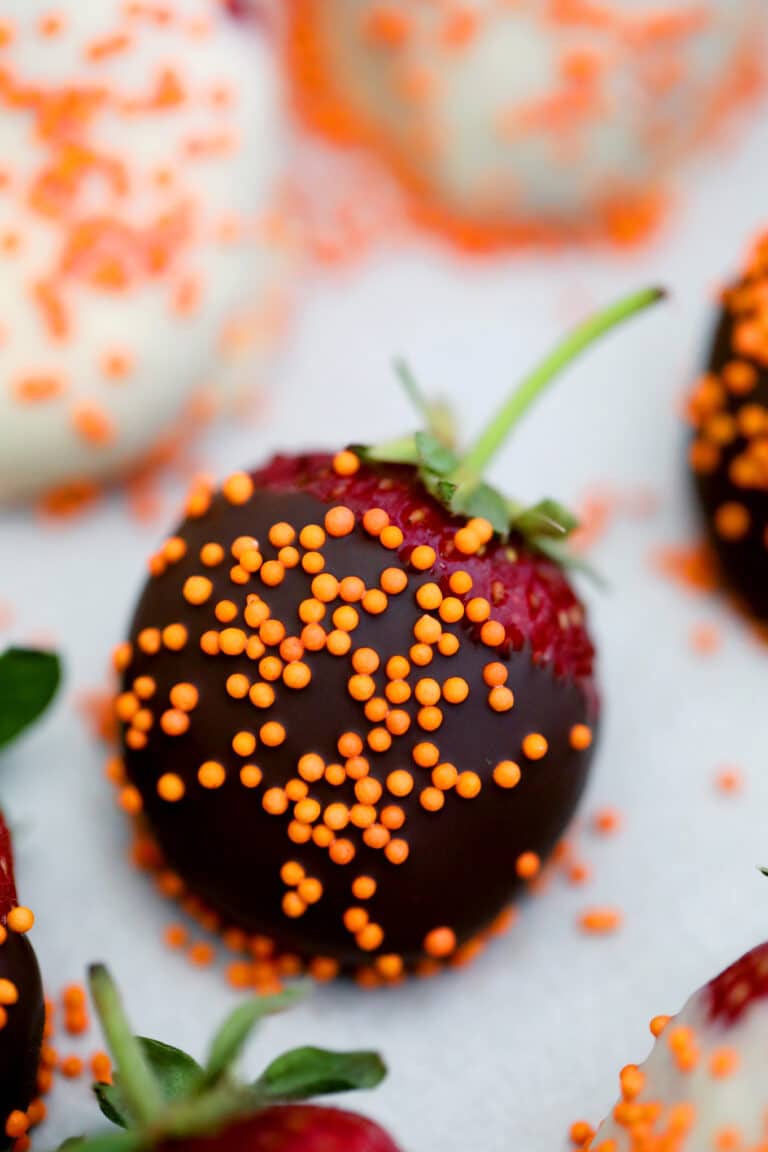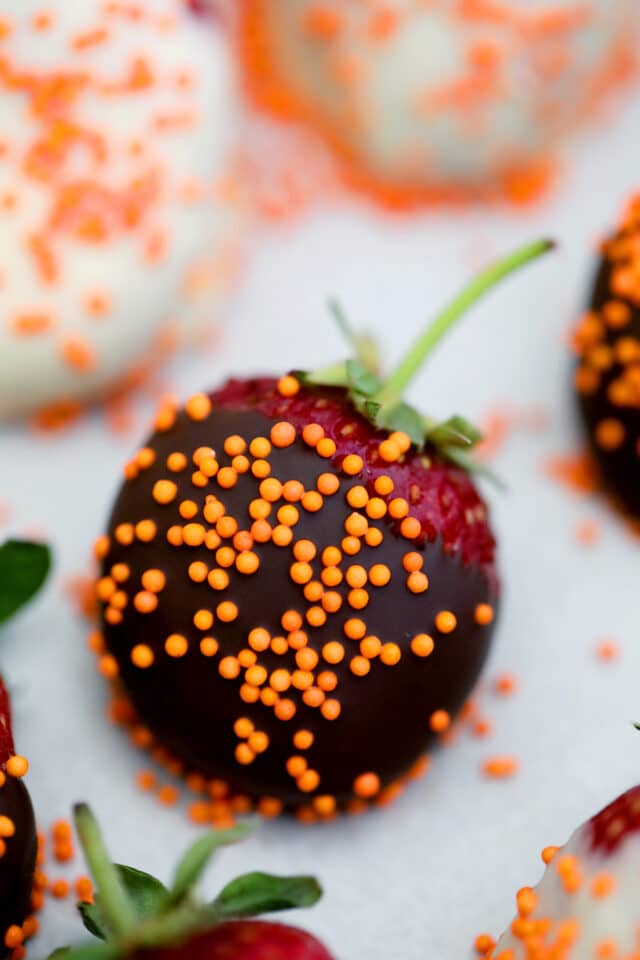 How to Store:
You can refrigerate the finished products but make sure to serve them within the day.
Recipe Tips:
To make a ghost-themed design, dip the fruits in white and decorate with the dark one, outlining the face of the ghost.
You can also use other bars of different colors for a more festive and creative design.
Aside from sprinkles, you can add chopped nuts for more texture.
When chopping the bar, use a dry knife and chopping board. Any moisture that can get into the chocolate could ruin it.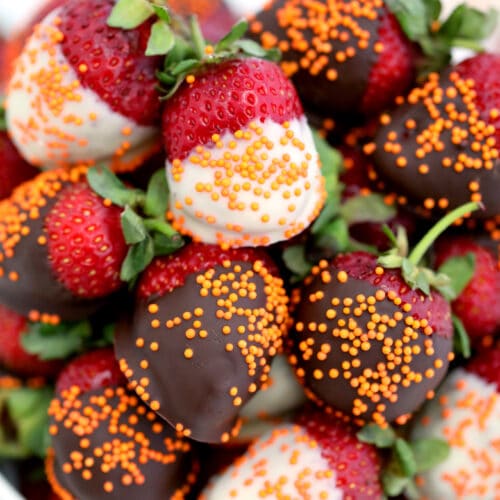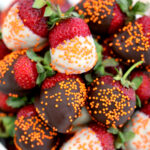 Halloween Chocolate Dipped Strawberries
Halloween Chocolate Dipped Strawberries make for a refreshingly sweet and slightly tangy dessert using our favorite berries. Even kids can help prepare these!
Keyword:
Chocolate Dipped Strawberries
Servings
:
40
strawberries
Ingredients
2

pounds

fresh strawberries

1 1/2

cups

dark chocolate chips

or chopped chocolate

1 1/2

cups

white chocolate chips

or chopped white chocolate

2

tablespoons

orange sprinkles
Instructions
Rinse the strawberries under cool running water and gently pat dry. Make sure they are completely dry before dipping in chocolate.

Line a baking sheet with parchment paper and set aside.

Melt the Chocolate:

Place a double-boiler over medium-high heat and fill with two inches of water, bring to a simmer. Add the chocolate, let it melt, stirring occasionally until no more lumps remain. Remove the bowl with the chocolate from heat.

Dip the strawberries into the melted chocolate. Working with one strawberry at a time, swirling as needed to completely coat it in chocolate. Lift and shake gently to remove any excess chocolate.

Lay the strawberry on the prepared baking sheet and immediately top with sprinkles. Repeat with dipping the remaining strawberries.

Repeat the same process using white chocolate.

Place the baking sheet in the refrigerator for a few minutes for the chocolate to set, then serve.
Recipe Video
Nutrition Facts
Halloween Chocolate Dipped Strawberries
Amount Per Serving
Calories 82
Calories from Fat 36
% Daily Value*
Fat 4g6%
Cholesterol 1mg0%
Sodium 14mg1%
Potassium 97mg3%
Carbohydrates 10g3%
Protein 1g2%
Vitamin A 5IU0%
Vitamin C 13mg16%
Calcium 38mg4%
Iron 1mg6%
* Percent Daily Values are based on a 2000 calorie diet.