Cranberry Apple Salad Recipe [Video]
Cranberry Apple Salad is an easy festive side dish perfect for Christmas and Thanksgiving. With crunchy apples, cranberries, arugula, walnuts, and crispy bacon bits, this hearty salad is a sure hit!
This fresh salad pairs perfectly with Lemon-Thyme Chicken and Honey Lemon Chicken. Make sure to also prepare Peach Pork Chops for everyone to enjoy.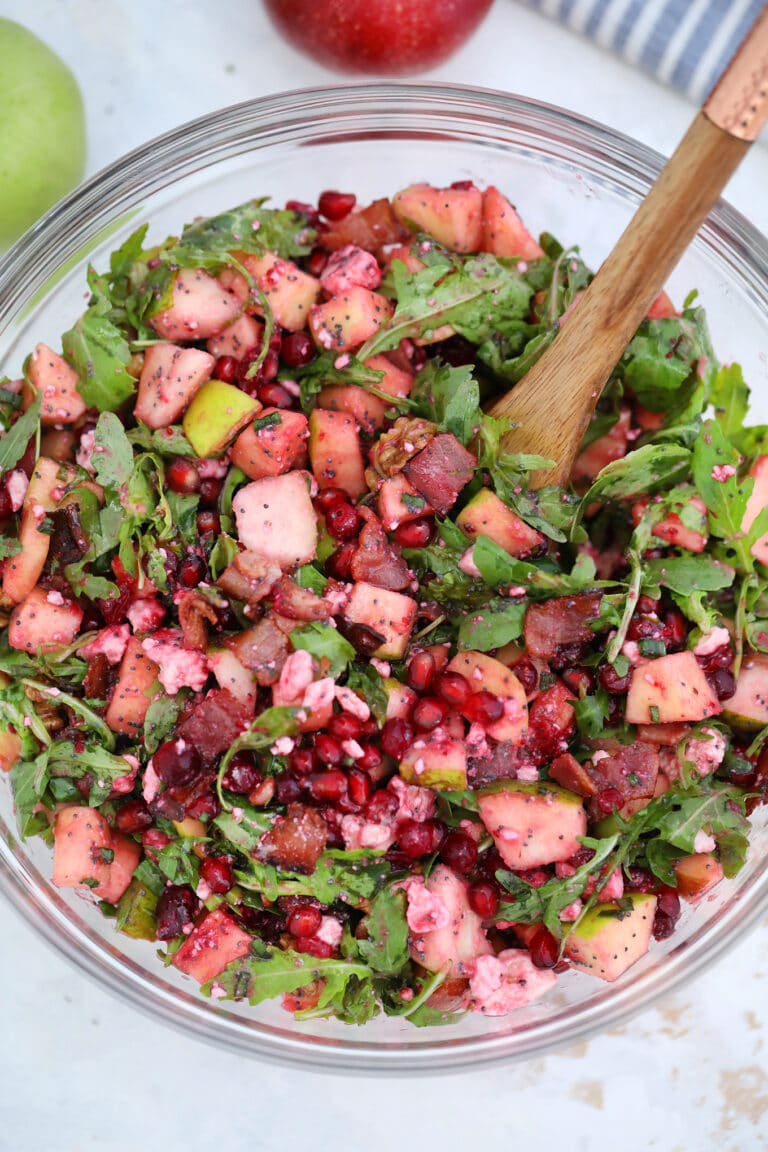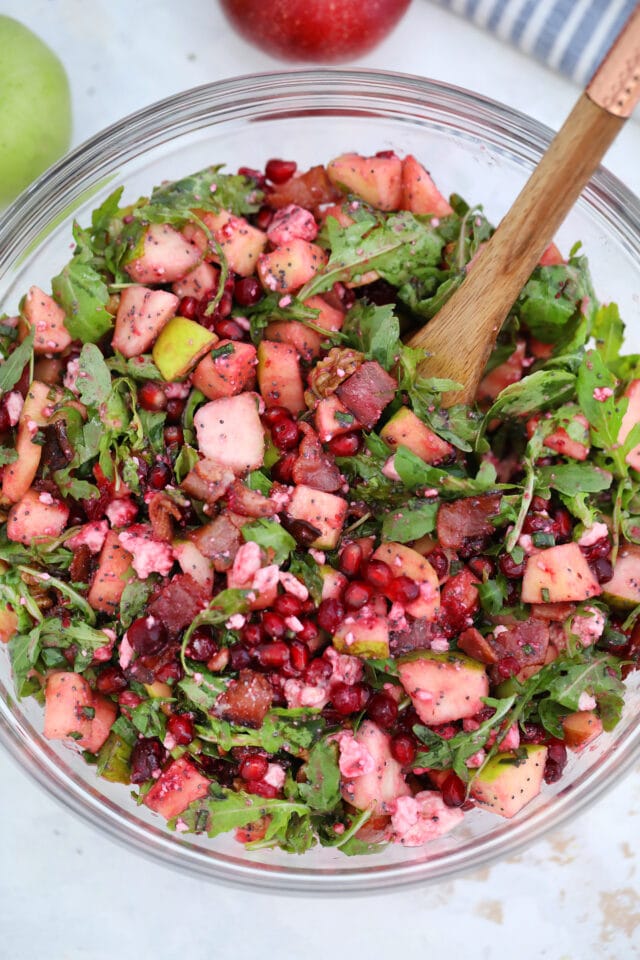 Festive Cranberry Apple Salad
Cranberry Apple Salad is one of my favorite side dishes of all time. Not only does it taste so refreshing, but it is also very light and healthy as well.
Moreover, I love how the salad looks so appetizing, festive, and merry! The beautiful combination of green arugulas and bright red cranberries and apples are always a treat to the eyes, not to mention that their colors exactly represent Christmas.
This salad is definitely fresh and loaded. I love the crispiness of nuts and bacon while the dressing perfectly balances the sweetness of apples and cranberries.
The best part about this is that the salad is so easy to prepare. In fact, it will just take 15-20 minutes of your time. This is the perfect no-fuss recipe for those who have limited time to prepare for the holidays.
Are cranberries healthy?
Cranberries are definitely considered healthy, with a high content of vitamins, nutrients, and antioxidants. These berries are also known to help control or prevent UTI. And, did I mention that a cup of raw cranberries only contains less than 50 calories?
Are frozen cranberries as nutritious?
Yes, frozen cranberries are a good as fresh ones. Usually, cranberries are harvested during autumn which runs between September and November. If you want to consume them at a much later date, simply freeze the fresh cranberries after placing them in appropriate freezer bags.
Can you use frozen cranberries in a salad?
Yes, you can use frozen fresh cranberries in a salad. They are actually interchangeable and you will find very little difference in the texture. Since cranberries are not always available, stocking up on frozen ones is always a good idea.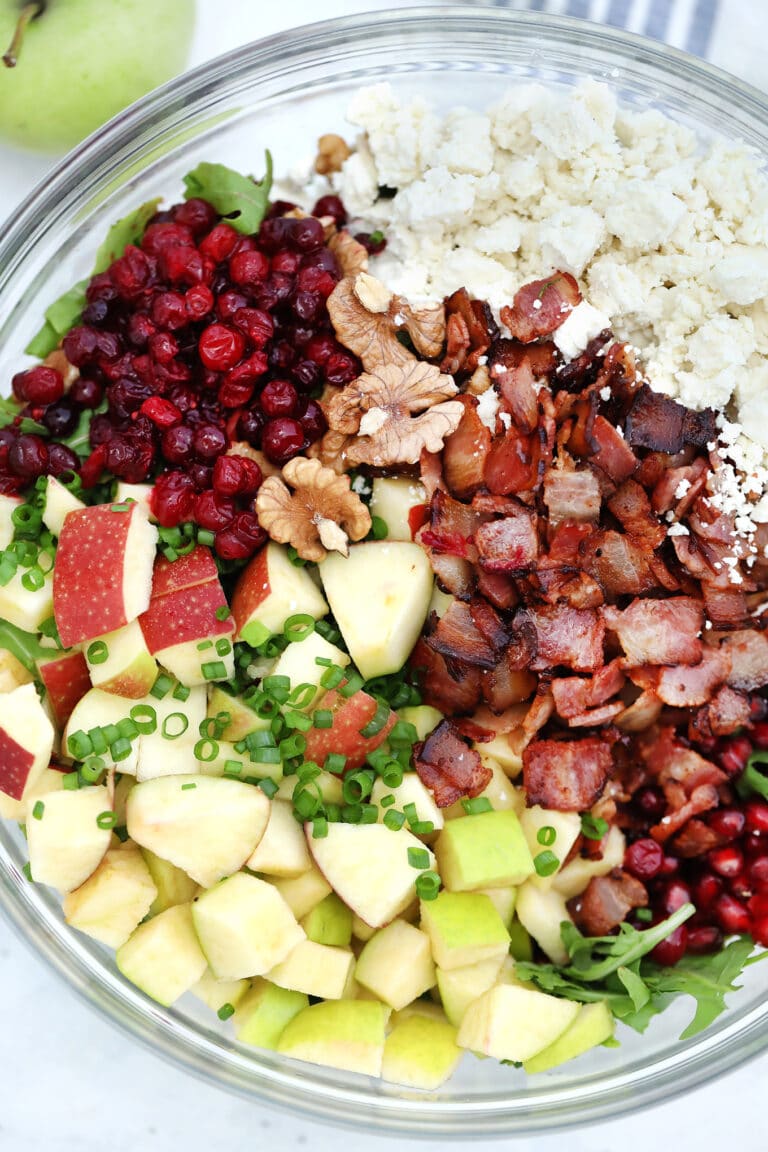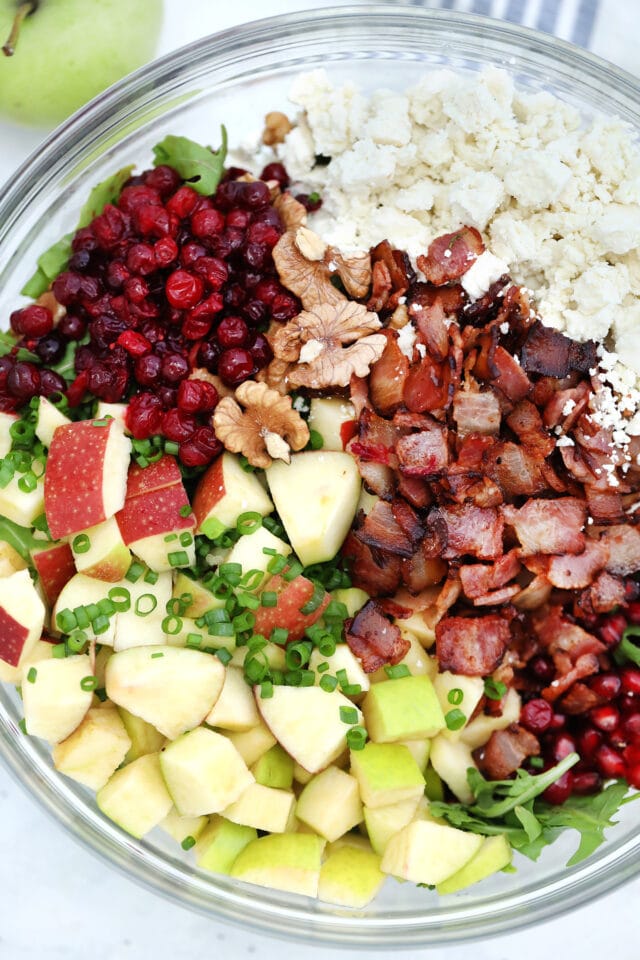 What do you need to make Cranberry Apple Salad?
For the salad, you need the following main ingredients:
fresh or frozen cranberries
chopped apples
chopped pears
arugula
crispy bacon bits
walnuts or pecans
feta cheese
red onions
pomegranate seeds
sugar and water
For the dressing, prepare the following:
olive oil
lemon juice
honey
mustard
salt
poppy seeds
How do you make Cranberry Apple Salad?
For exact ingredient measures, please see the recipe card below. Also, feel free to watch the short video recipe tutorial attached.
First, fresh or thawed frozen cranberries need to be cooked with water and sugar until they pop or split up. Make sure to remove immediately from the saucepan and let cool.
Next, prepare the dressing. Combine all ingredients in a small bowl, mix well, and stir constantly.
Lastly, when all the salad ingredients are placed and combined in a large bowl, put the dressing and toss to coat everything. Top with extra cheese, bacon, and walnuts!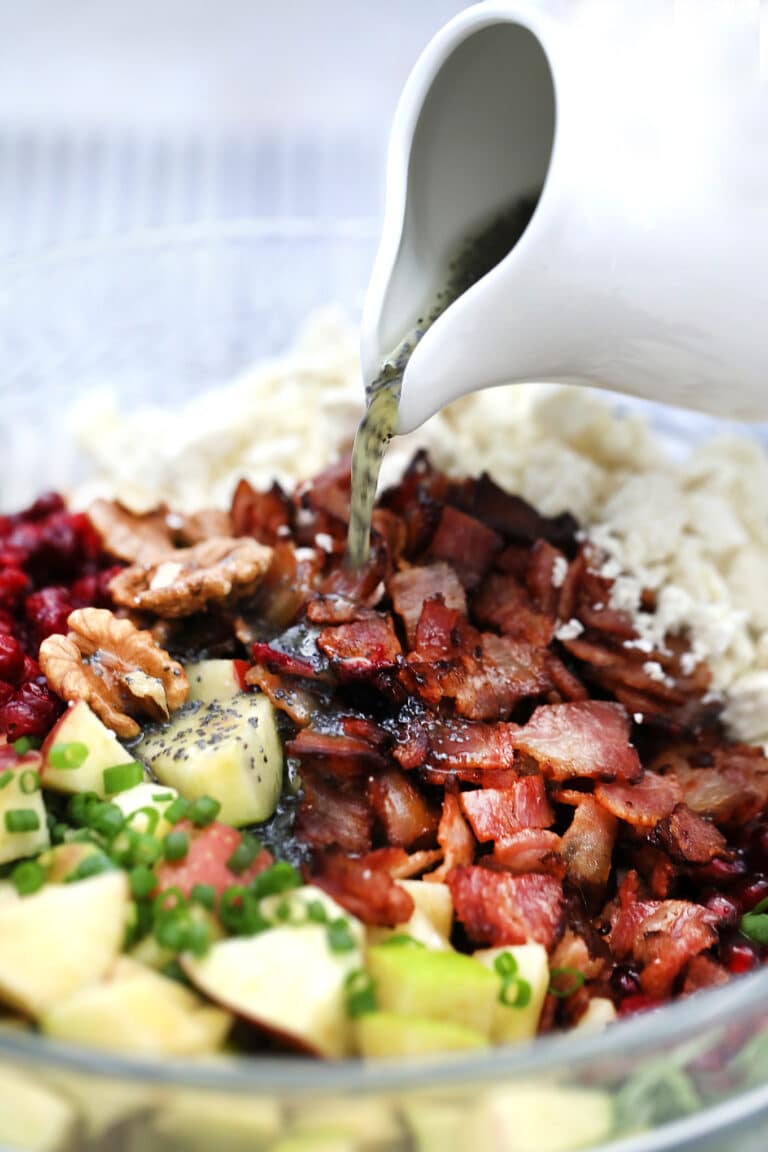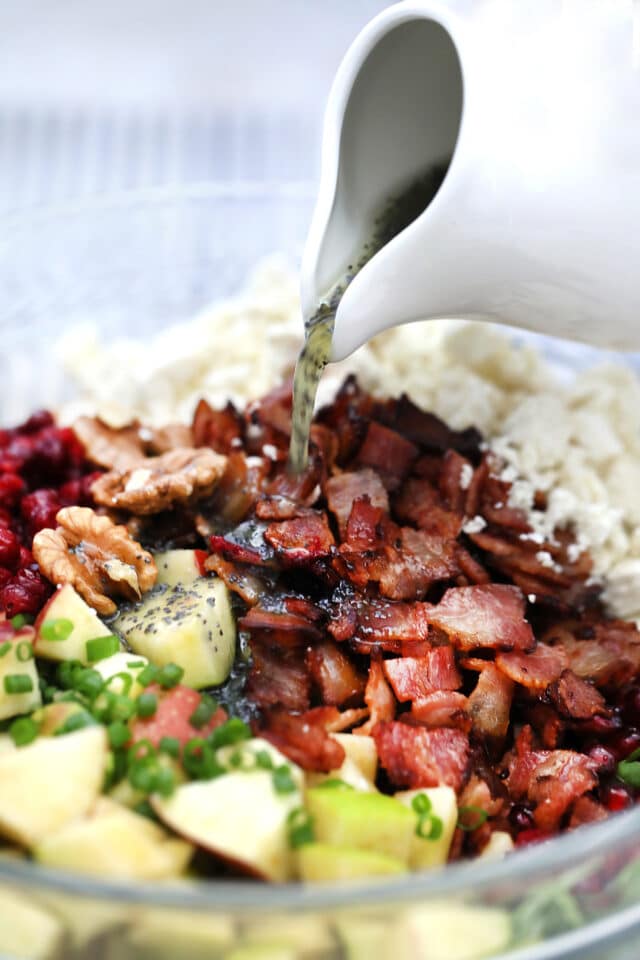 Recipe Variations
For this version, I used arugula because it is very nutritious and I like its somewhat peppery taste. However, feel free to replace it with any greens that you love like spinach leaves or lettuce. Other versions of cranberry apple salad are tangier because the dressing has balsamic vinegar while some are very creamy.
Can you make it in advance?
Remember that this is best eaten fresh, so you can only make the salad one to three days in advance. The dressing, on the other hand, can be prepared up to one week ahead.
How do you store Cranberry Apple Salad?
If you made the salad in advance, simply cover well, store it in the refrigerator, and pull it out one hour before serving time. It is important to put the salad in the fridge immediately to maintain its freshness and crispiness. Make sure to only put the dressing on the salad right before serving it.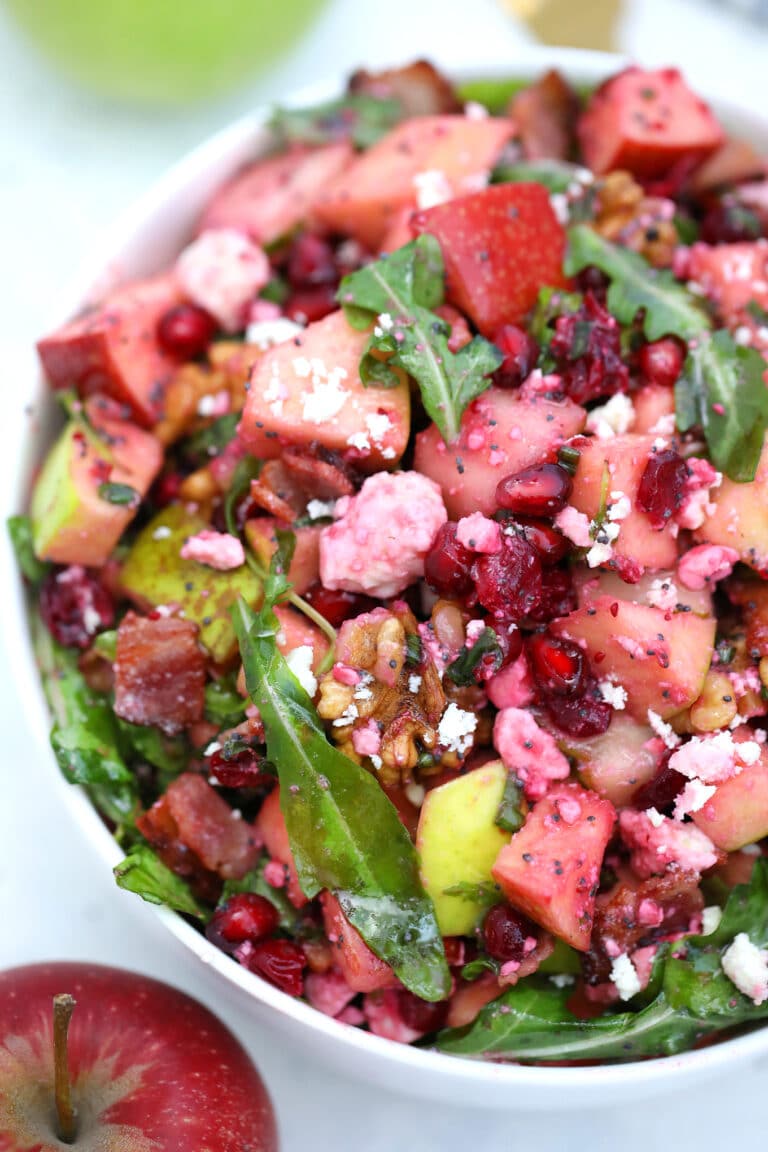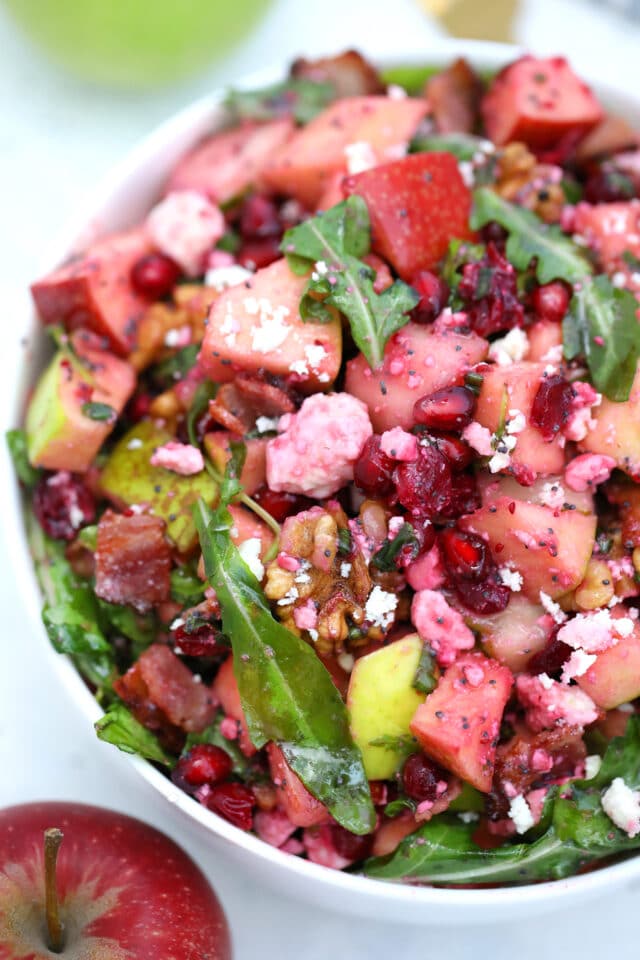 How do you serve Cranberry Apple Salad?
Serve it as a side dish to any of your main meals during Thanksgiving or Christmas. It can also be eaten on its own as a healthy, refreshing snack.
Recipe Tips:
Use a food processor to easily chop the cranberries before cooking.
Make sure that the cranberries are not overcooked because they will turn bitter.
If you don't like the tangy taste of goat cheese or you can't find one, you may substitute it with yogurt or cottage cheese.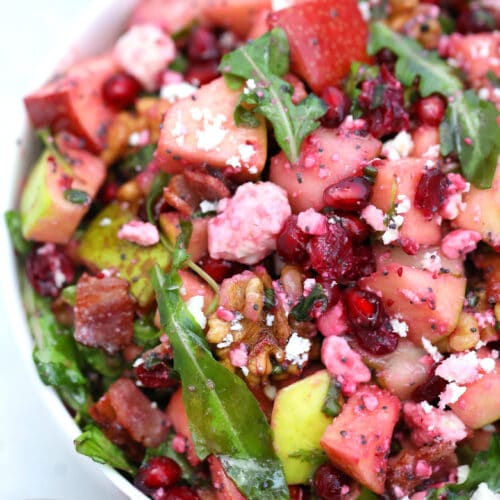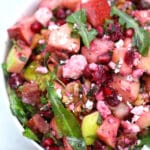 Cranberry Apple Salad
Cranberry Apple Salad is an easy festive side dish perfect for Christmas and Thanksgiving.
Keyword:
Cranberry Apple Salad
Ingredients
Salad:
2

cup

fresh cranberries

or thawed frozen cranberries

1/3

cup

granulated sugar

1/4

cup

water

8

oz.

arugula

1

cup

pomegranate seeds

1

pear

chopped

1

green apple

chopped

1

red apple

chopped

8

oz.

bacon

cooked and chopped

1/2

cup

pecan halves

or walnut halves

1

crumbled feta

or goat cheese

1/4

cup

green onions

sliced
Dressing:
1/2

cup

olive oil

1/4

cup

lemon juice

2

tablespoons

honey

1/2

teaspoon

dijon mustard

1

tablespoon

poppy seeds

1/8

teaspoon

salt
Instructions
Prepare cranberries by combining fresh cranberries, sugar, and water in a small saucepan. Heat on medium-high heat until cranberries begin to pop. Remove from heat and cool.

Prepare the dressing by combining ingredients in a small container and shaking well. Set aside.

Spread salad greens in a large salad bowl.

Top with the rest of the ingredients.

Add dressing and toss to coat.
Recipe Video
Nutrition Facts
Cranberry Apple Salad
Amount Per Serving
Calories 546
Calories from Fat 360
% Daily Value*
Fat 40g62%
Cholesterol 25mg8%
Sodium 320mg14%
Potassium 473mg14%
Carbohydrates 43g14%
Protein 8g16%
Vitamin A 1005IU20%
Vitamin C 22mg27%
Calcium 104mg10%
Iron 2mg11%
* Percent Daily Values are based on a 2000 calorie diet.