Hot Chicken Salad is a wholesome medley of chicken chunks, celery, and onions stir-fried in butter and tossed in mayonnaise plus crunchy almonds.
For more all-in-one light meals, whip up this Chef Salad with Ham, Shrimp Cobb Salad with Avocado, and Crab Salad for a quick dinner or lunch!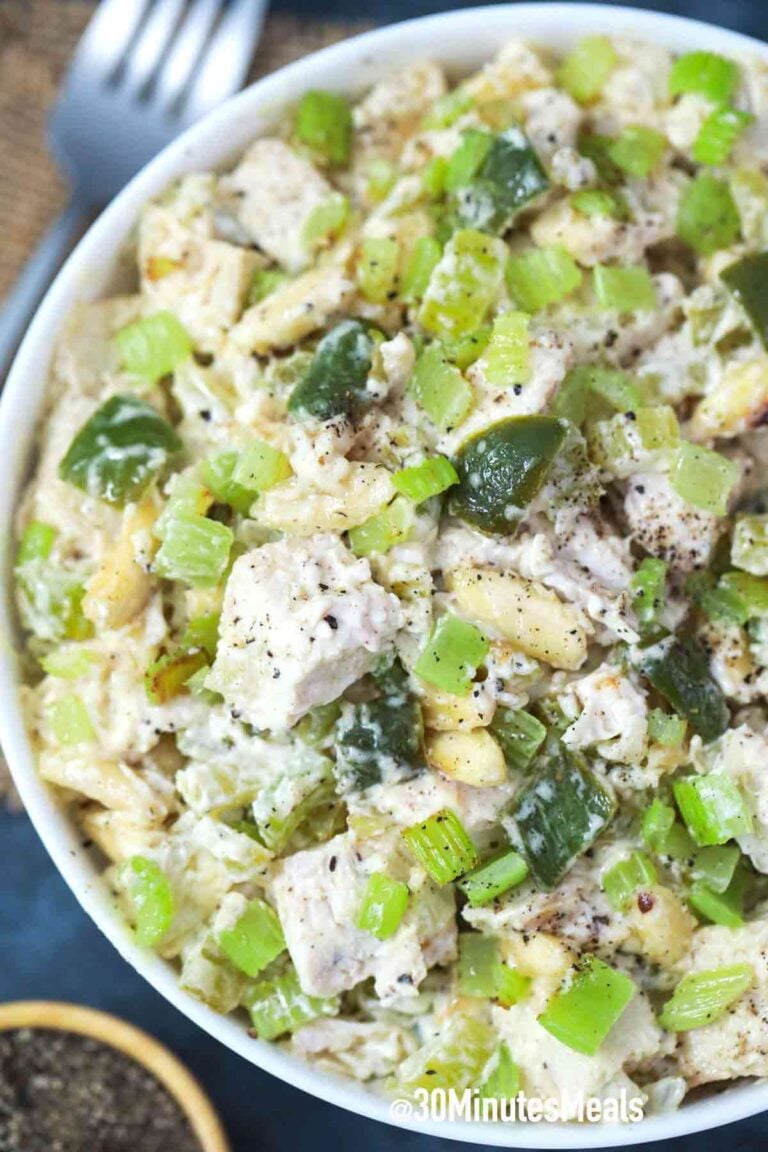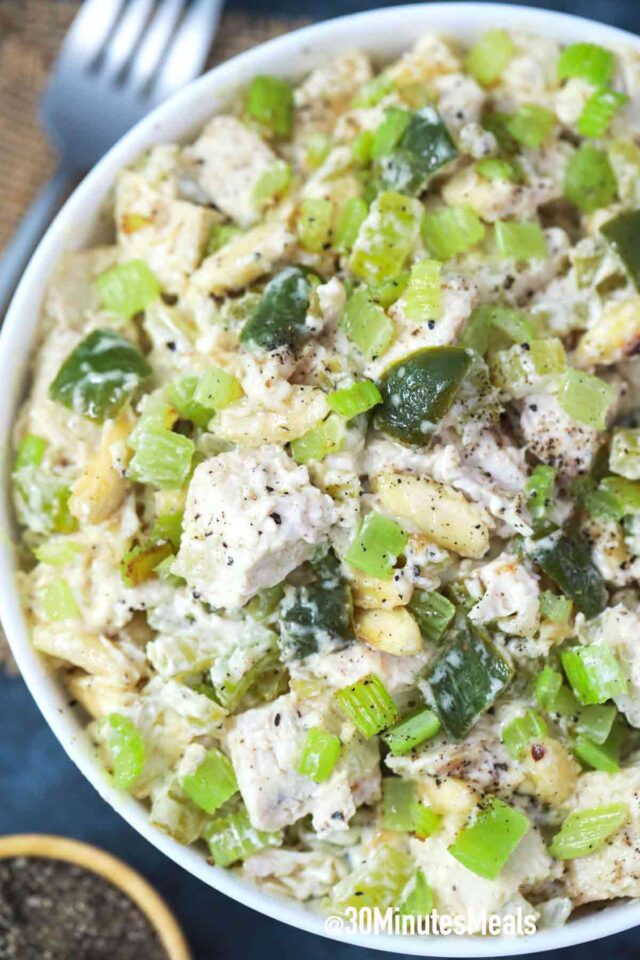 Chicken Salad Recipe
Hot Chicken Salad is seriously easy and tasty! It's the PERFECT way to turn leftover chicken or veggies you have in the fridge into a fresh-tasting and delicious meal.
If you've never had a hot salad before, you're in for a pleasant surprise. The mayo is not overwhelming, and the lemon juice and sauteed vegetables balance out its creaminess. There are so many ways to make it your own, too. Toss in some crunchy bacon, stuff it into a toasted pita, add it to a salad, and more!
What is Hot Chicken Salad?
It's chunks of chicken and fresh vegetables sauteed in butter, then tossed with creamy mayo and almonds. Very similar to the usual creamy salad, but savory and served hot!
What goes into homemade Hot Chicken Salad?
Chicken

: Already cooked and chopped into chunks.

Vegetables

: Minced onions add a nice bite to the dish, while celery and green pepper add color and flavor.

Mayonnaise

: Use your preferred brand of mayo for the base of our dressing.

Butter

: We'll use this for sauteing and bringing some extra richness to the dish.

Seasonings

: We're keeping it simple with kosher salt and fresh-ground pepper, plus a squeeze of lemon.

Almonds

: For nutty crunch!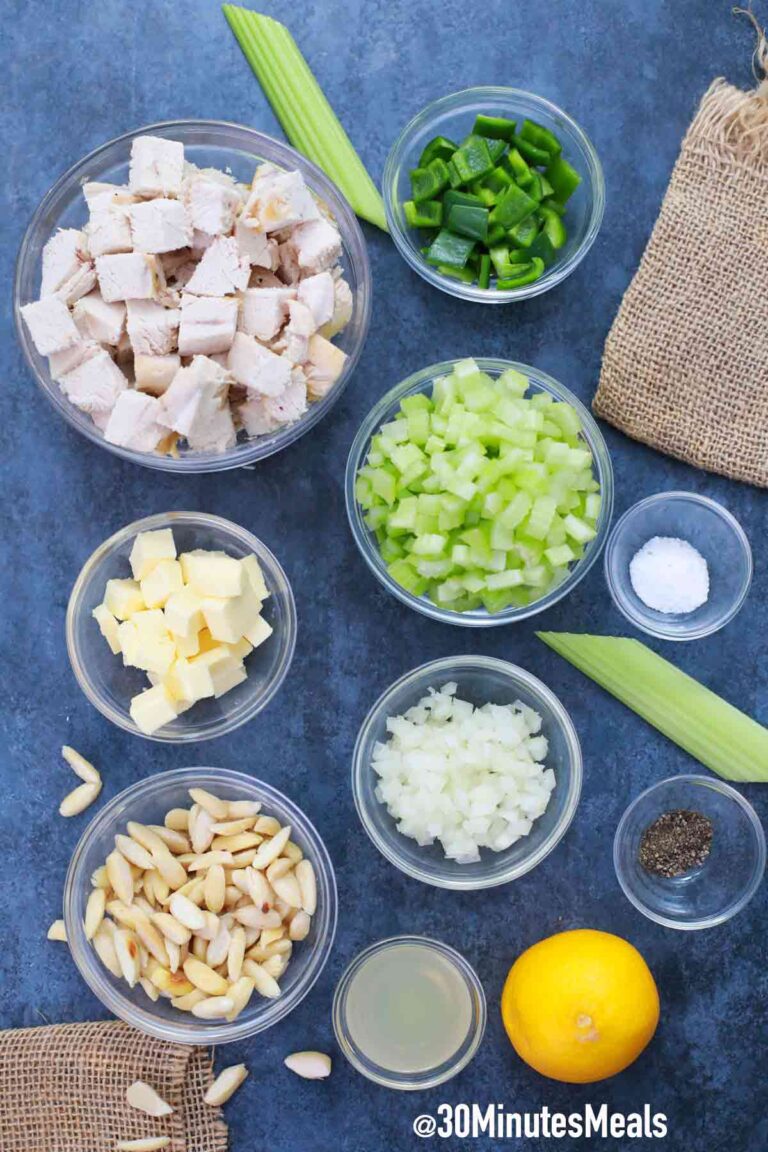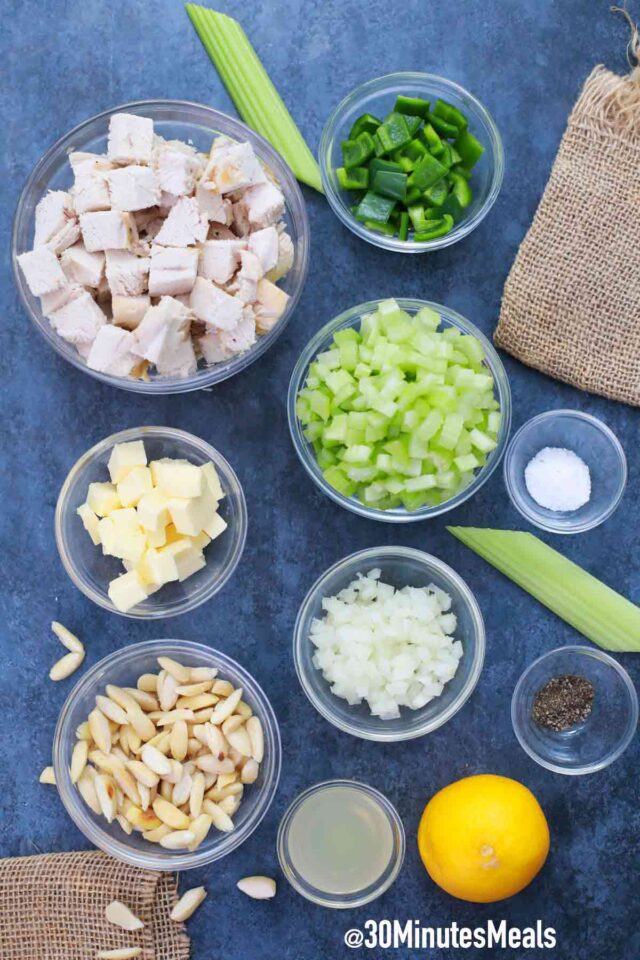 How to make homemade Hot Chicken Salad?
Saute.

In the butter, stir-fry the vegetables until fragrant and crisp-tender. Follow this up with your chicken plus seasonings.

Add mayo.

To the sauteed chicken and veggies, stir in the almonds and mayonnaise.

Serve.

Enjoy hot!
Recipe variations:
Chicken:

Try using a shredded rotisserie roast, leftover fried tenders sliced into chunks, pan-seared thighs, or breasts— it's a tasty way to use up leftovers. You can also use turkey!
Shrimp:

For a lighter, seafood version, use sauteed shrimp.
Other vegetables:

Throw in whatever veggies you have in the fridge! Chop up some carrots and broccoli, snap peas, mushrooms, water chestnuts, peas, and more.
Low-fat:

Use low-fat or fat-free mayo. You can also sub it with thick Greek yogurt if you like.
Vegetarian:

Switch the meat with fried or seared tofu chunks.
Add-ons:

Play with flavors and toppings! We love tossing in some crispy bacon or sliced sausages and ham in there, mixing in some shredded cheddar or even french-fried onions for crunch. You can also use different nuts if you like.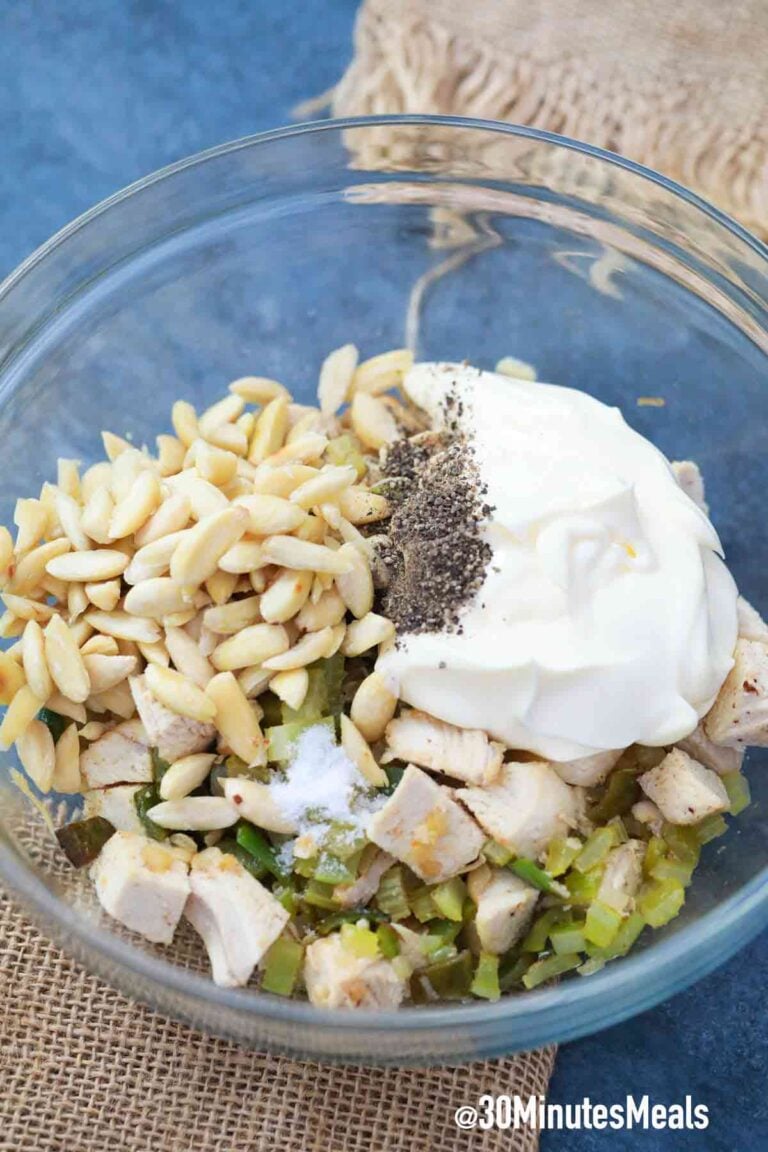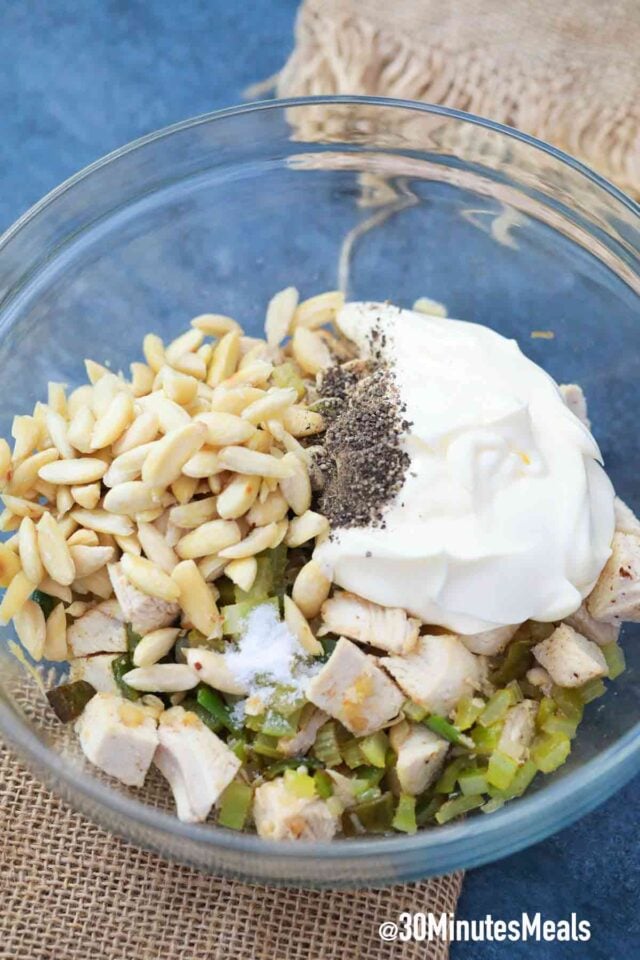 What is the reason for dry chicken salad?
First, the meat itself may be dry. That's why it's essential to store your leftovers properly so they retain their ideal texture. Furthermore, there may not be enough mayo in the dish.
What are ways to fix chicken salad that's gone dry?
To fix it, you can try poaching the chunks in broth to make them juicier. Make sure to use enough dressing as well.
How to fix hot chicken salad with too much mayo?
To cut the richness, you can mix a little sugar and acid (lemon or vinegar). You can also add more ingredients to balance it out. For instance, bulk it up with more meat, veggies, a little relish, or hard-boiled eggs.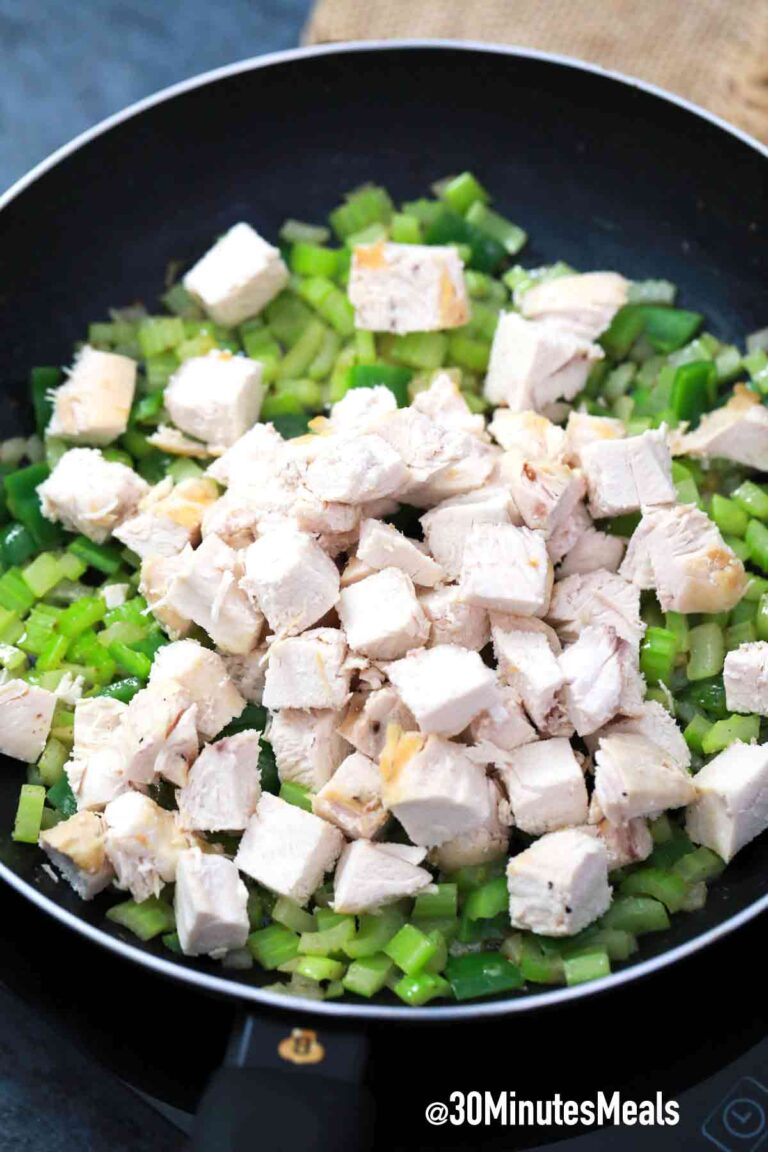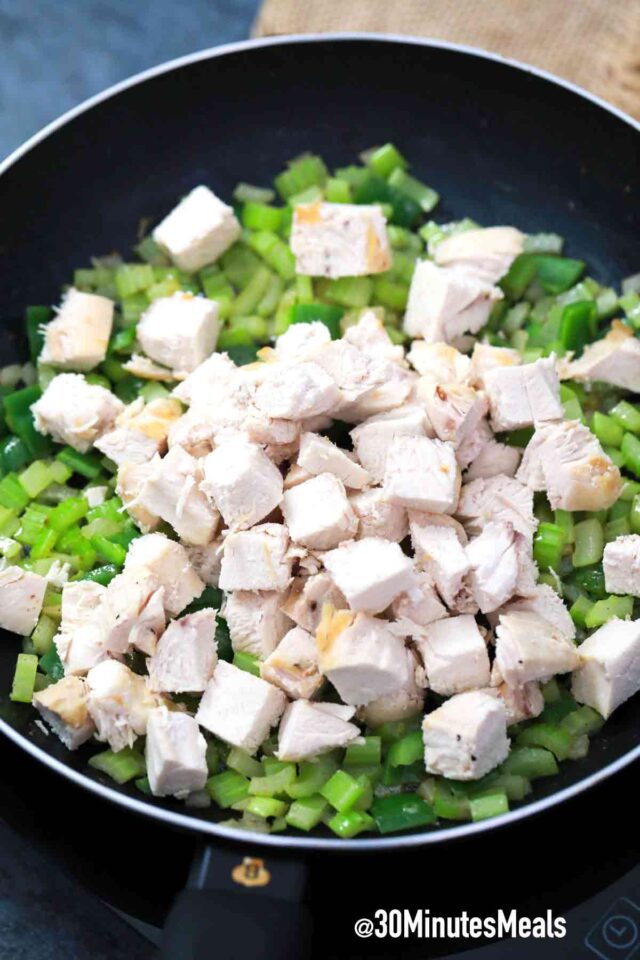 What can you do with chicken salad?
You can eat it as a meal with a fresh roll and soup, or as part of a salad. We also like using it as a filling for sandwiches. If you're following a low-carb diet, you can eat them with lettuce cups.
How to store leftovers:
After the leftovers are cool, transfer to a container with an air-tight seal. Chill in the refrigerator, and try to consume within 3 days.
Can you freeze chicken salad?
Since this is a mayo-based dish, we don't recommend it because the dressing has a tendency to split after defrosting.
If you'd like to freeze it, though, place it in a Ziploc bag and push all the air out. This will prevent moisture from seeping into the bag. Freeze for up to 1 month.
When ready to enjoy, defrost overnight, then give it a good mix before serving.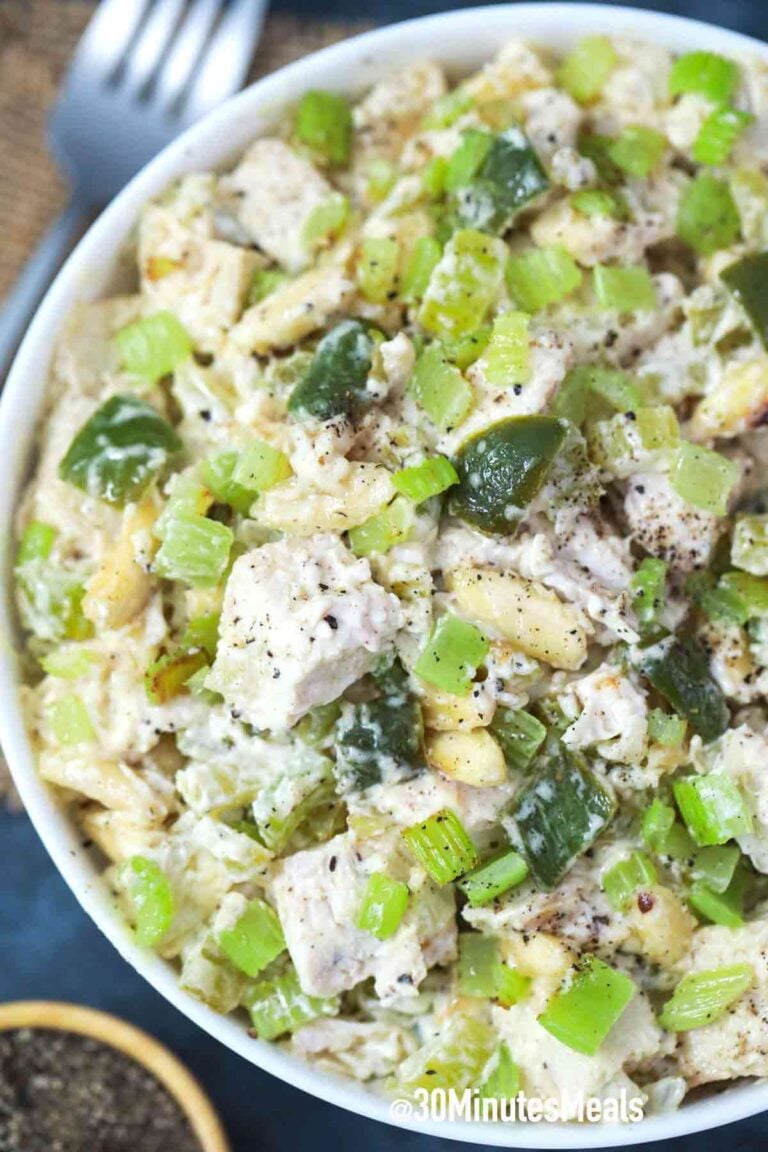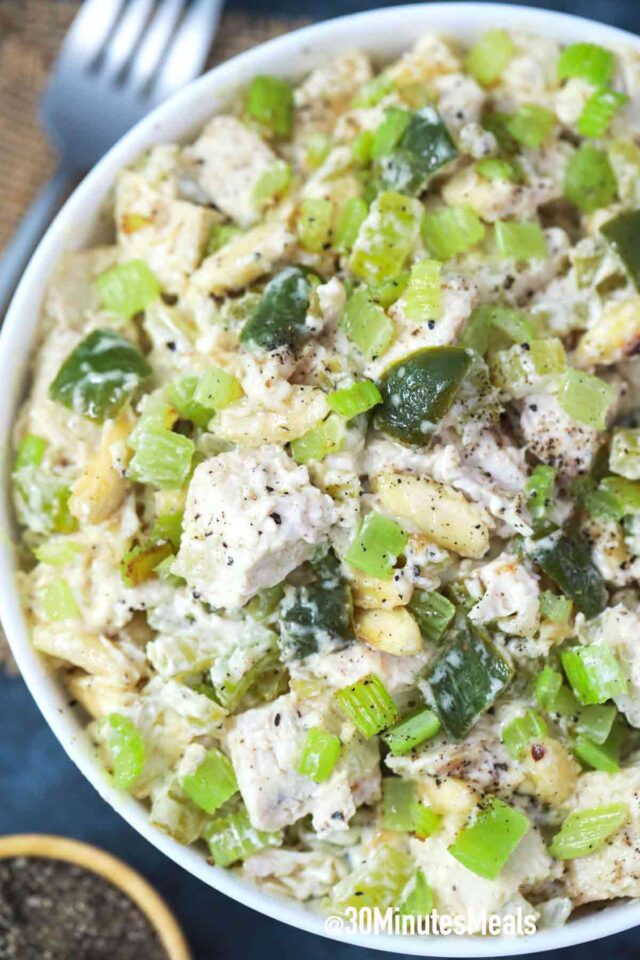 How to serve:
This hot salad is a tasty, light meal on its own. But it's very versatile, too. For instance, you can serve as a salad topping or scoop into lettuce cups.
You can also stuff it into pitas, croissants, and sandwiches. We also love turning it into a cheesy melt topped with avocado or pressed into a quesadilla. Goes well with most soups, too!
Recipe tips:
Don't saute the meat too much, or it can dry out.

Only add your mayo little by little, so you can control how much dressing there is.

The seasonings are up to you! After trying the original recipe, try switching it up with herbs, spices, and other creamy dressings.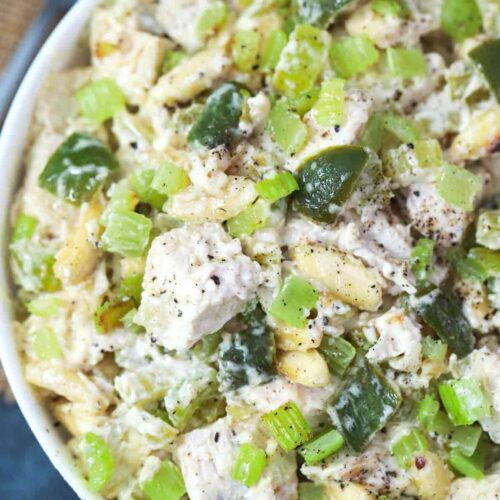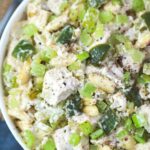 Hot Chicken Salad
Hot Chicken Salad is a wholesome medley of chicken chunks, celery, andonions stir-fried in butter and tossed in mayonnaise plus crunchyalmonds.
Keyword:
Hot Chicken Salad
Ingredients
1/4

cup

onions

minced

1

green bell pepper

chopped

3

cups

celery

chopped

2

tablespoons

unsalted butter

4

cups

chicken

cooked and cut into chunks - rotisserie chicken works

2

tablespoons

lemon juice

Salt and Pepper

to taste

1 1/2

cups

mayonnaise

1

cup

almonds

slivered
Instructions
Place a skillet over medium heat and add butter.

Once melted add onion, green pepper, and celery. Saute for 4-5 minutes.

Next, add the cooked chicken, lemon juice. Reduce heat to low, cover, and cook for 5 minutes.

Remove skillet from heat and stir in mayonnaise, almonds and season with salt and pepper. Serve hot.
Nutrition Facts
Hot Chicken Salad
Amount Per Serving
Calories 484
Calories from Fat 423
% Daily Value*
Fat 47g72%
Cholesterol 46mg15%
Sodium 317mg14%
Potassium 322mg9%
Carbohydrates 7g2%
Protein 10g20%
Vitamin A 378IU8%
Vitamin C 15mg18%
Calcium 72mg7%
Iron 1mg6%
* Percent Daily Values are based on a 2000 calorie diet.