Korean Chicken Bowls – 20 Minute
Korean Chicken Bowls are one of the easiest and tastiest dishes you can make in just under 20 minutes. Made in one pan with easy ingredients.
I love making easy dinner meals for the whole family to enjoy. My other favorite recipes are Ground Beef Stroganoff and Chicken Fried Rice.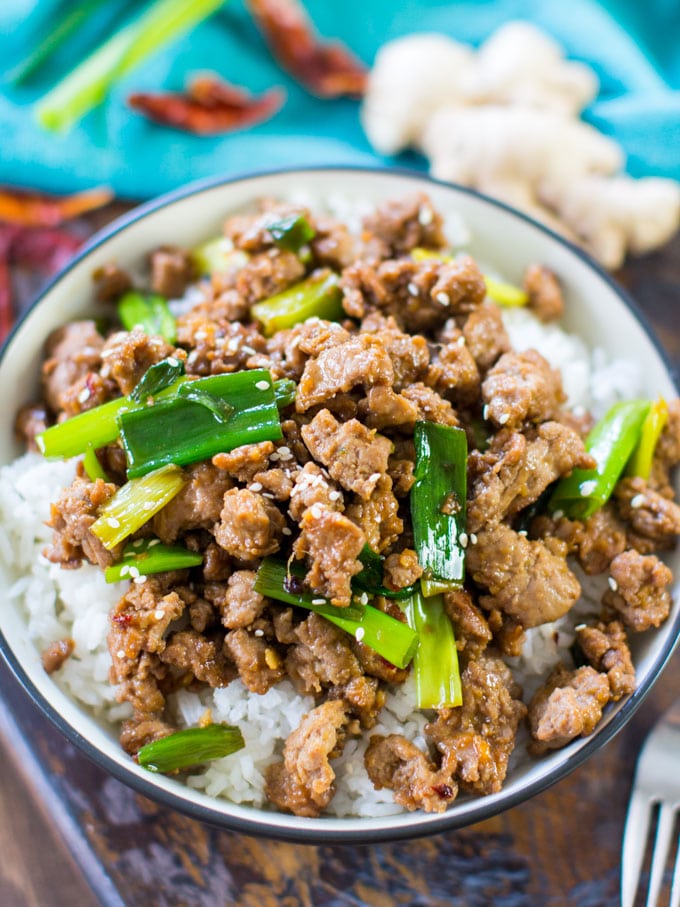 Easy Korean Chicken Bowls
Korean Chicken Bowls are one of the easiest and fastest dinners you can make. Seriously, this meal is ready in 20 minutes! I love these bowls so much, that I make them pretty much every week!
First, they taste like delicious Korean BBQ. Second, they are easily made in one pan with budget-friendly ingredients. This meal is a take on the classic Korean Beef Bowls. But since chicken is usually cheaper, and I have it on hand most of the time, I decided to give it a try and switch it a bit.
These easy to make and delicious bowls are now almost always on the weekly menu in our house! I like to sauté some green onions with the meat too, for a pop of color and some chewiness. Also, the bowls are so festive and colorful, that is pretty much hard to resist.
If you are looking for more one-pan meals, I highly recommend these Cheesy Taco Sloppy Joes or be fancy and go for this French Dip Grilled Cheese! If you are looking for something crispy and spicy, look no further than this Sweet & Spicy Crispy Chicken! Yum!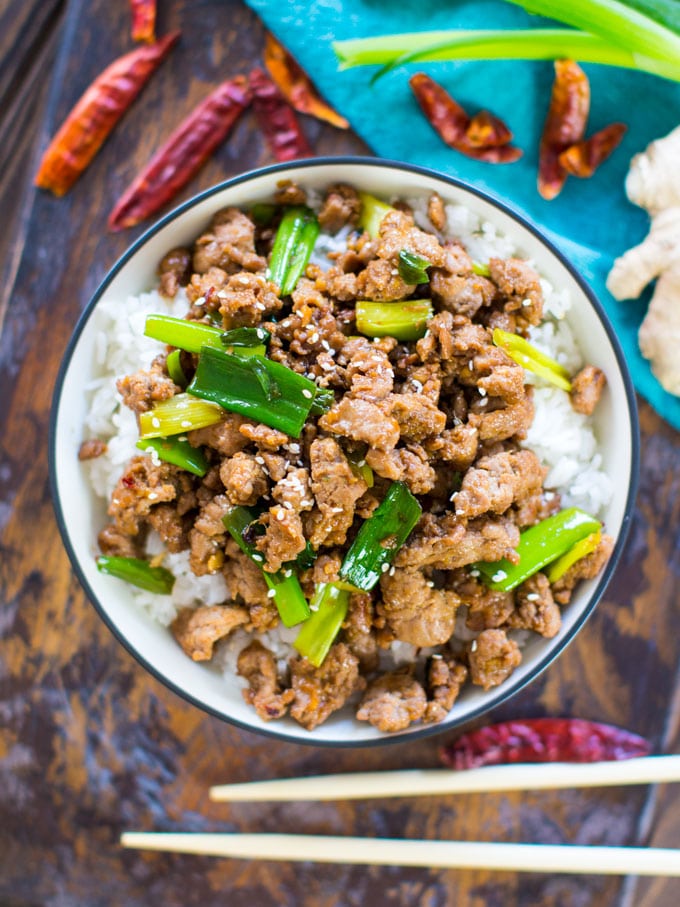 How to make Korean Chicken Bowls?
This dish cannot get any easier. For exact steps and measures, please see the recipe card below. But the general steps are as follows:
Brown the chicken: In a pan, over medium-high heat, add some oil. Then, stir in garlic and ginger for about 30 seconds. Add ground chicken, and brown it for about 5 minutes in the pan.
Add the soy sauce mixture: In a separate bowl, mix in the soy sauce mixture ingredients. Then, pour it over the chicken, and stir. Cut some green onion, and serve over rice!
Ingredient substitutions
This recipe is versatile, and you can adjust it based on your liking. Some suggestions for great substitutions:
Feel free to serve it over white or brown rice. Also, for a healthier version, cauliflower rice works as well.
Use lower-sodium soy sauce.
Similarly, you can use other proteins or meats in this recipe. For example, shrimp, beef, pork, tofu, are great alternatives. So, go with what you have on hand.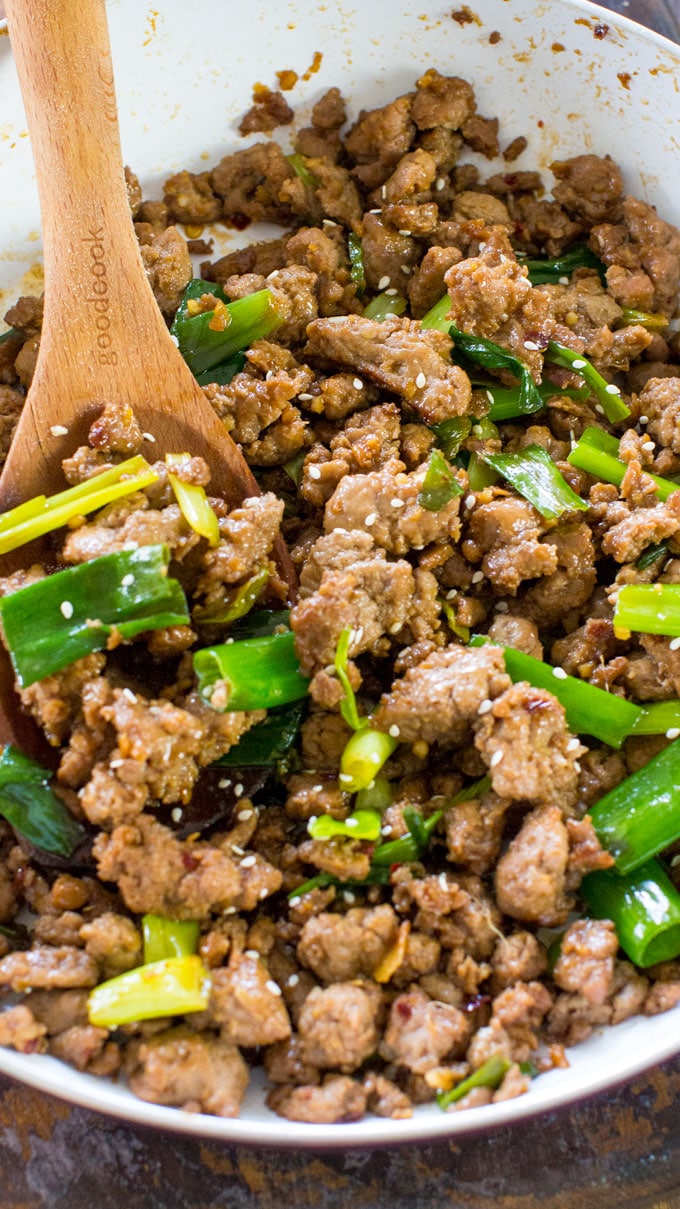 How to store it?
If you want to make it ahead or have some leftover, you can easily store it. Simply, let the dish completely cool. Then, transfer to an airtight container, and refrigerate for up to 4 days. Reheat prior to serving.
To freeze: Let it cool prior to freezing. Next, transfer the meat to a freezer-safe dish, and freeze for up to 3 months.
Tips and Tricks to make the perfect Korean Chicken Bowls:
You should use quality meat, preferably organic. You can use, ground chicken, turkey or beef.
A nonstick skillet or cast iron pan works great for this recipe.
Using fresh garlic and ginger (not powder) is very important, it will give the dish an amazing flavor.
Use more or less garlic and ginger as you prefer.
You can add less or more red pepper flakes and some hot sauce, depends on your own preference on how spicy you want the dish to taste.
To make the dish healthier, add even less brown sugar, taste and adjust.
If you don't like green onions, they can be skipped.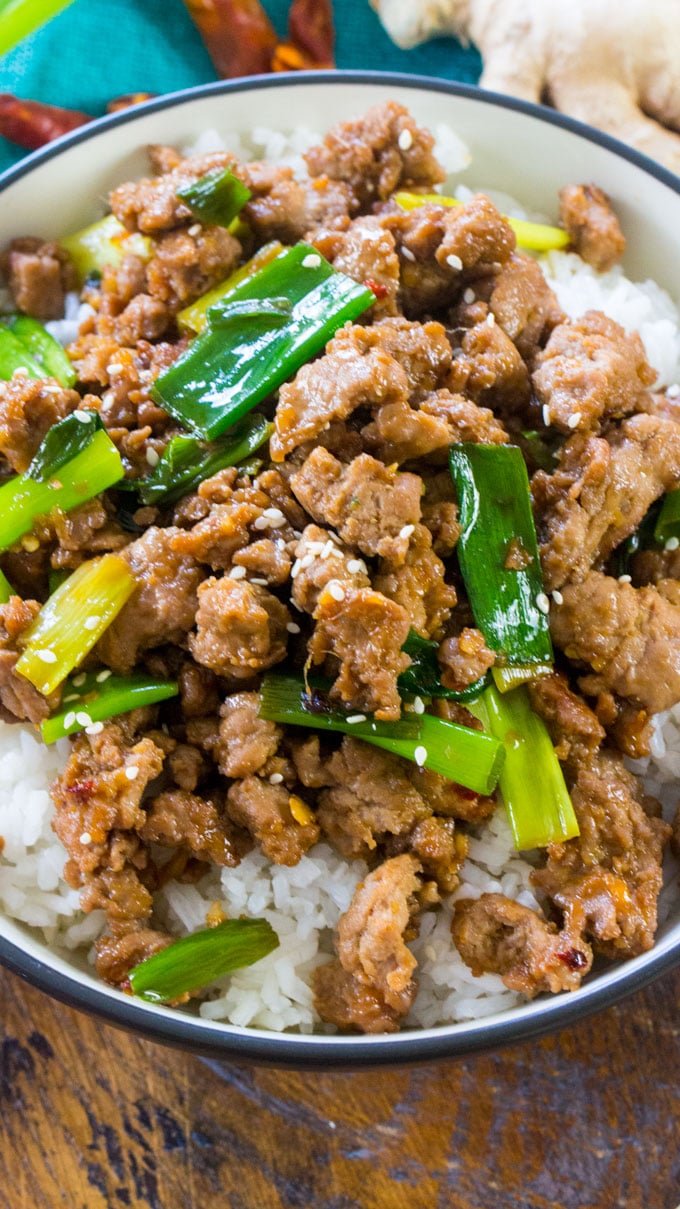 Tools/Ingredients I use to make this Korean Chicken Bowls Recipe:
Large Skillet – I like this one from Cuisinart a lot or you can totally use this Cast Iron Skillet – get one and you will use it forever. I like that it heats evenly and consistently and that it comes pre-seasoned for the first use.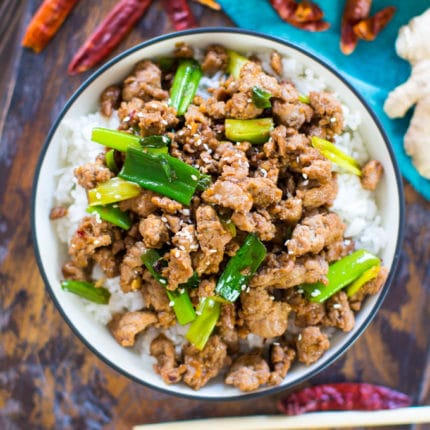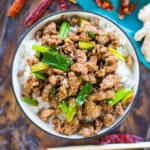 KOREAN CHICKEN BOWLS
Korean Chicken Bowls are one of the easiest and tastiest dishes you can make in just under 20 minutes. Made in one pan with easy ingredients.
Ingredients
1

tablespoon

vegetable oil

1

tablespoon

ginger

minced

7

cloves

garlic

minced

1/4

cup

brown sugar

packed

1/4

cup

reduced sodium soy sauce

2

teaspoons

sesame oil

1/2

teaspoon

crushed red-pepper flakes

or more to taste

1

pound

ground chicken or turkey

5

green onions

1/4

teaspoon

sesame seeds
Instructions
In a small bowl, whisk together: brown sugar, soy sauce, sesame oil and red pepper flakes, set aside. Note: you can also add these directly into the pan, one by one, after you cook the garlic, ginger and brown the chicken.

Heat vegetable oil in a large skillet over medium high heat.

Add garlic and cook, stirring constantly for about 30 seconds to 1 minute, until fragrant. Add fresh minced ginger and cook for another minute, stirring constantly.

Add ground chicken and cook until browned, about 3-5 minutes. Break apart and crumble the meat as it cooks.

Cut the green part of the green onions into 2 inch pieces.

Add the soy sauce mixture and green onions into the meat and stir until well combined, allowing to simmer until heated through, about 2 minutes.

Serve immediately over rice, garnished with sesame seeds.

Enjoy!