French Dip Grilled Cheese Sandwich
French Dip Grilled Cheese Sandwich is perfect for dinner, parties or game nights! Serve with the dipping sauce on the side for the ultimate, amazing flavor!
Nothing is more comforting than a hot, melty sandwich to enjoy for lunch or dinner. You can pair it with Fried Brussels Sprouts, Green Beans with Bacon, and Lemon Garlic Scallops.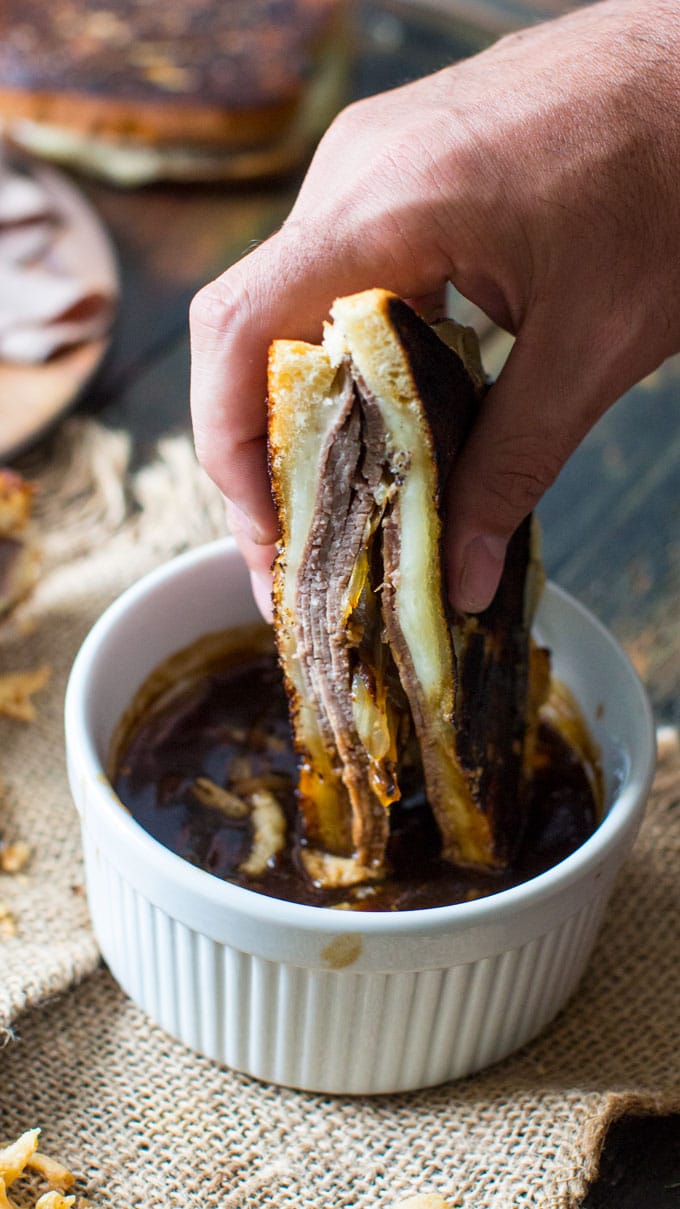 The Best Grill Cheese Recipe
French Dip Grilled Cheese Sandwich makes quiet an often appear in our house. The dish is a favorite of my husband and even kiddo! What's not to love about it? Buttered white bread secures a hefty amount of deli roast beef, brown sugar caramelized onions, and cheese.
As long as you've got bread and a generous amount of cheese, you've got the basis for the best grilled cheese sandwich. To make it even better, the sandwich is served with a sticky delicious onion dip on the side and french fried onions. It is crunchy, cheesy and filling, this ultimate grilled cheese sandwich is a must-try!
You should also try one of my most popular recipe: Cheesy Taco Sloppy Joes! Perfect for game night!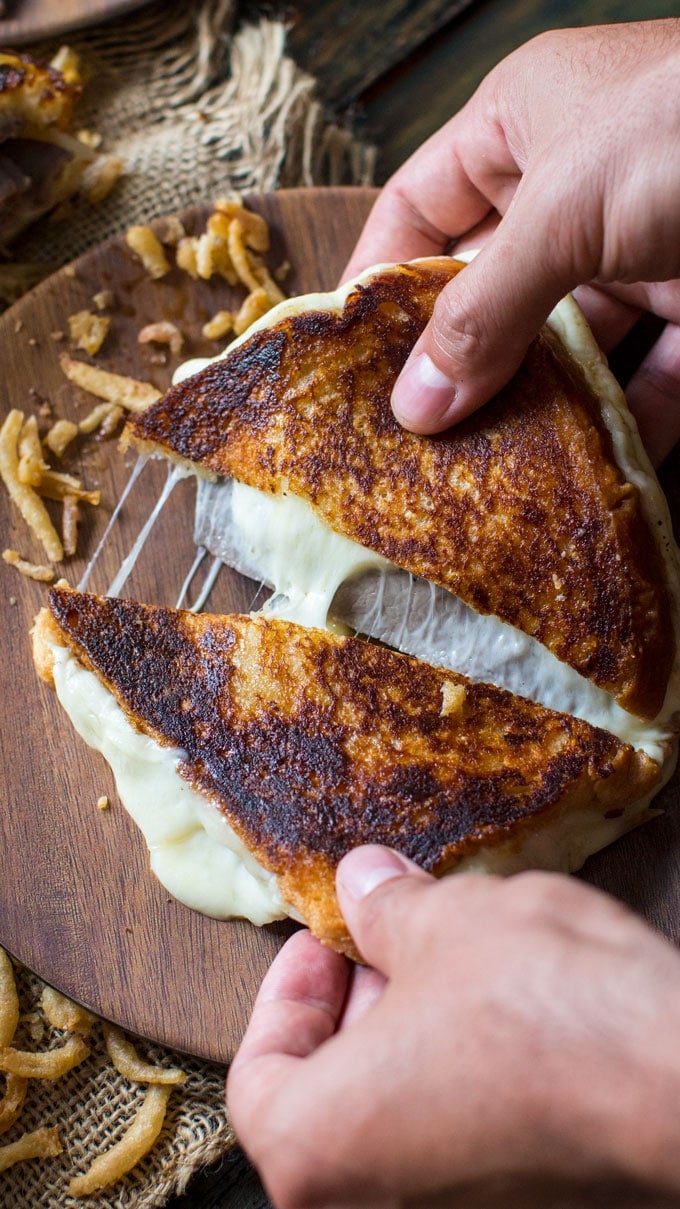 Best Bread for Grilled Cheese:
This is such an easy and budget-friendly dish, that I pretty much use whatever bread I have available. However, for best results, you should look for sturdy enough bread to hold the cheese in.
White bread and sourdough are pretty popular to make this recipe. Also, if you like darker bread, then go with dark rye. It is widely available, and it has a nice and distinctive aroma that perfectly complements the cheese.
What is the Best Cheese for Grilled Cheese?
Like in the case with bread, you can pretty much use any type you have on hand, or love best. For a classic grilled cheese, go with American.
For a more distinctive and rich flavor, I recommend using sharp cheddar, or provolone cheese. Also, Colby, Monterey Jack, Gouda, and Blue cheese are perfectly fine here. So, go with what you like the most.
How to Make French Dip Grilled Cheese Sandwich?
For exact directions and ingredient measures, please see the recipe card below. But the general steps are as follows:
Prepare the sauce: This French onion dipping sauce is unbelievably delicious, and it is what makes this sandwich stand apart. In an iron cast skillet, prepare the sauce. Once done, set it aside.
Toast the bread: I recommend roasting the bread over low heat. This way, the bread will get a nice golden brown color and become super crunchy.
Add the cheese and roast beef: Once the bread is nicely toasted, add the cheese, meat, and caramelized onion. Then, top it with the remaining slices of bread. It really doesn't matter what cheese you use as long as its one you love and don't skimp on it!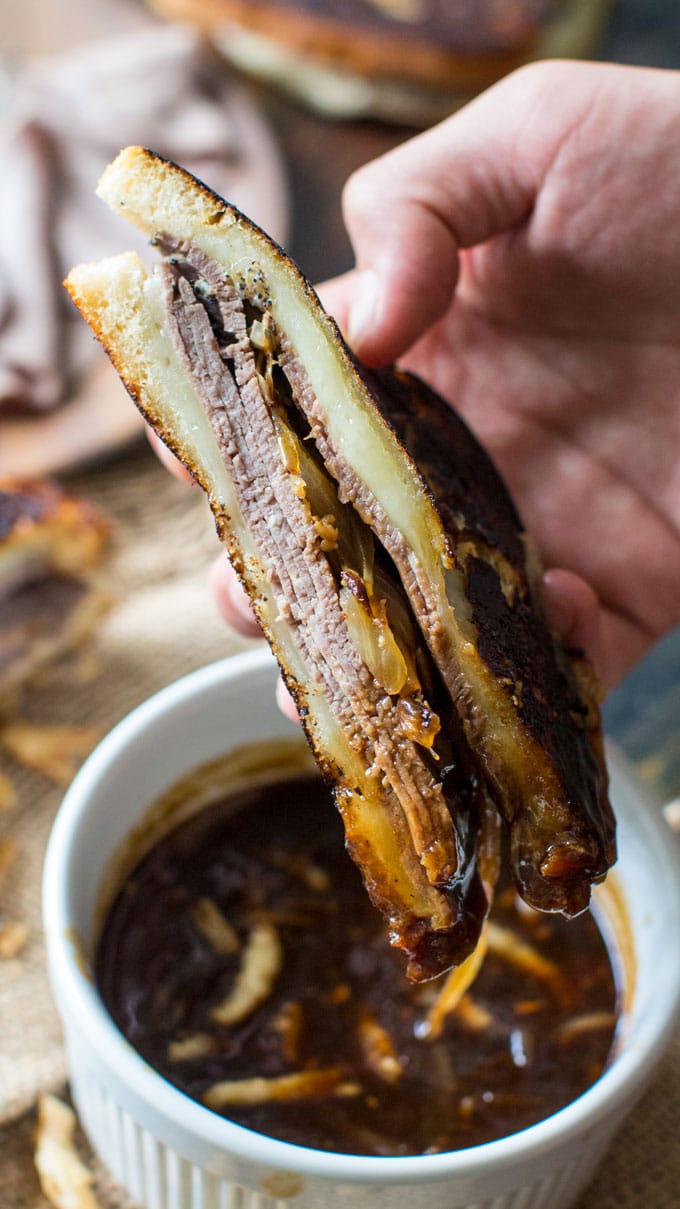 More Cheesy Recipes:
Tips and Tricks to make the perfect French Dip Grilled Sandwich:
I like to use deli roast beef as its quick and easy. You can also use any leftover shredded beef, like from cooking a beef chuck roast.
Also, feel free to use a mixture of various cheeses as well. It works perfectly fine, and it gives the sandwich an even better flavor.
If the pan is too hot, the cheese won't melt before the outside is cooked. In addition, if you see that the cheese is not melting for a while, then cover it with a lid. The steam will help melt the cheese so it cooks evenly!
Don't skip the caramelized onions, they make a huge difference in this sandwich!!
Most groceries stored carry Au Jus Mix, just look in the seasoning aisle.
I used store-bought french fried onions, you can make yours if you want.
The french fried onions are optional, you can serve them on the side or add some to your sandwich for a nice crunch.
Butter the bread and cook the sandwiches in a cast iron or on the griddle.
Serve the sandwiches immediately.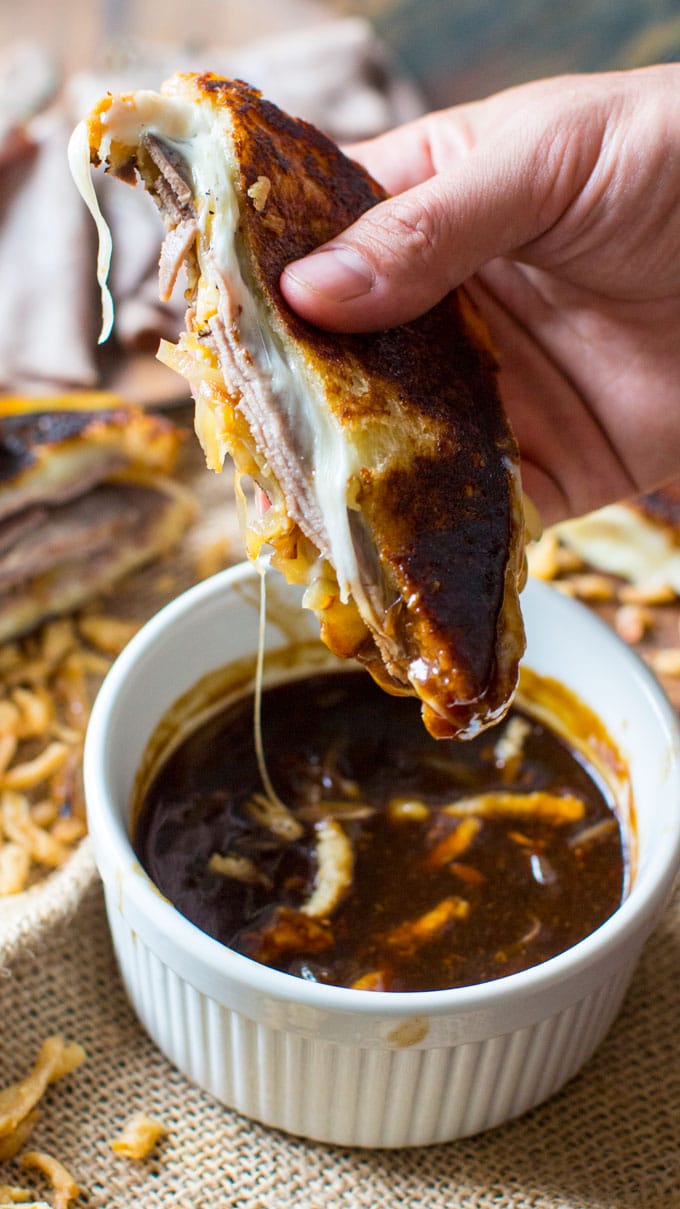 Tools/Ingredients I use to make this recipe:
Cast Iron Skillet – get one and you will use it forever. I like that it heats evenly and consistently and that it comes pre-seasoned for the first use.
Tongs – I like the locking functionality on these, they are the best on the market.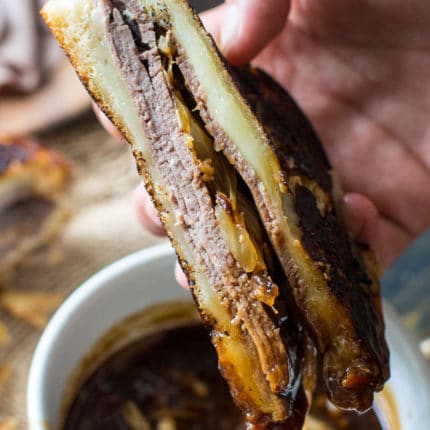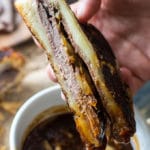 FRENCH DIP GRILLED CHEESE SANDWICH
French Dip Grilled Cheese Sandwich is perfect for dinner, parties or game nights! Serve with the dipping sauce on the side for the ultimate, amazing flavor!
Ingredients
Sauce:
2

tablespoons

unsalted butter

2

medium sweet onions

sliced

4

garlic cloves

minced

1

tablespoon

brown sugar

1

teaspoon

Worcestershire sauce

3/4

cup

beef broth

1

packet Au Jus seasoning mix seasoning
Sandwiches:
3

tablespoons

unsalted butter

melted

8

sliced of white sandwich bread

16

slices

provolone cheese

16

slices

deli roast beef

caramelized onions - leftover from the Sauce

Optional:

French fried onions
Instructions
Place a cast iron skillet over high heat. Once the skillet is hot, add 2 tablespoons of butter.

Once the butter has melted add sliced onions and cook for 3 minutes, stirring occasionally. Add garlic and brown sugar, stir and cook for another 3-4 minutes.

Remove half of the onions to a plate and set aside. You will use them when assembling the sandwich.

Reduce heat to medium, and add Worcestershire sauce and beef broth to the remaining onions in the skillet. Stir and cook for about 1-2 minutes.

Add the Au Jus mix and cook for 3-4 or until the sauce has thickened.

Transfer sauce to a bowl and set aside. Wipe the skillet clean.

Place skillet over medium heat, add some melted butter to the skillet.

Smoother the bread with butter on one side only.

Place bread butter side down on a cutting board.

Add 2 slices of cheese, 4 slices of deli roast beef, caramelized onions and some french fried onions (optional), 2 more slices of cheese. Top with another bread slice, butter side up. Cook in the skillet, slightly pressing on the sandwich. Or cook on the griddle. Flip on the other side after 2-3 minutes of cooking, press slightly and continue cooking until golden brown, about 2 more minutes.

Serve with the dipping sauce and french fried onions.