Lemon Garlic Scallops Recipe
Lemon Garlic Scallops are an impressive dish for guests or the perfect choice for a romantic dinner for two. This pan seared scallops recipe is on the table in just 20 minutes, leaving plenty of time for you to socialize with your dinner guests.
Another idea is to serve the lemon garlic scallops as an appetizer before a main course of seafood. They are delicious alongside Honey Citrus Salmon.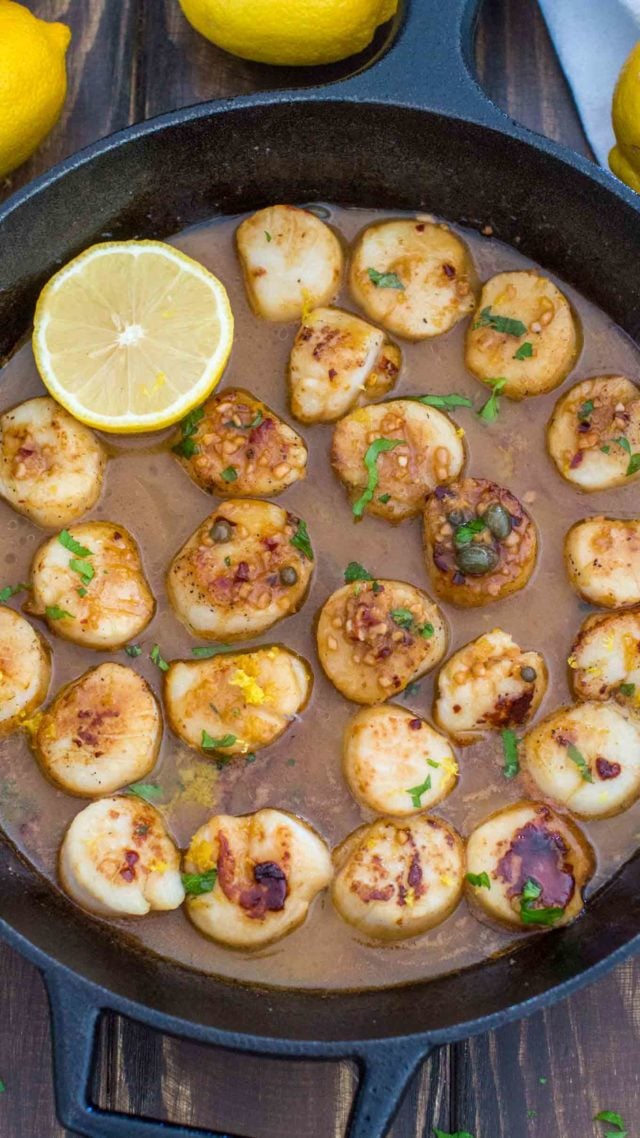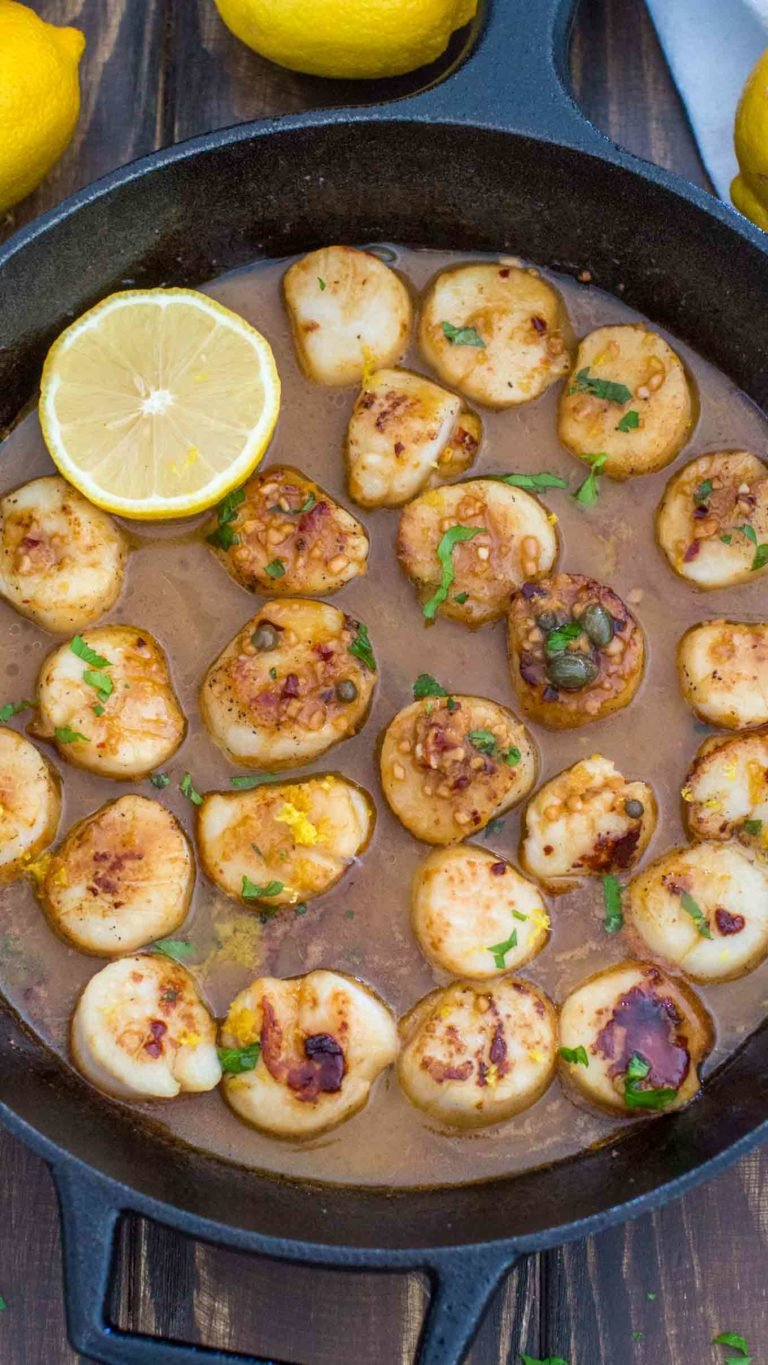 Lemon Garlic Scallops Recipe
What do scallops look like?
Scallops are bivalves, like mussels and clams. However, in water, scallops are free swimming. They clap their shells, producing a jet of water that propels them forward. They die quickly when out of water, so they are usually found frozen and shucked.
What is the best way to cook scallops?
Scallops can be baked, steamed, poached, grilled, or pan seared. My favorite way to cook scallops is to sear them in a hot pan, then serve with a rich butter sauce. The sauce for this pan seared scallops recipe consists of:
butter
garlic
white wine
lemon
capers
red pepper flakes
fresh parsley for garnish
The pan needs to be hot before adding the scallops and the scallops pat dry. Clarified butter or a high smoke point oil is best for pan searing scallops. You'll know the pan is ready when the fat begins to sizzle and smoke.
Follow 30 Minutes Meals on Pinterest for more great recipes!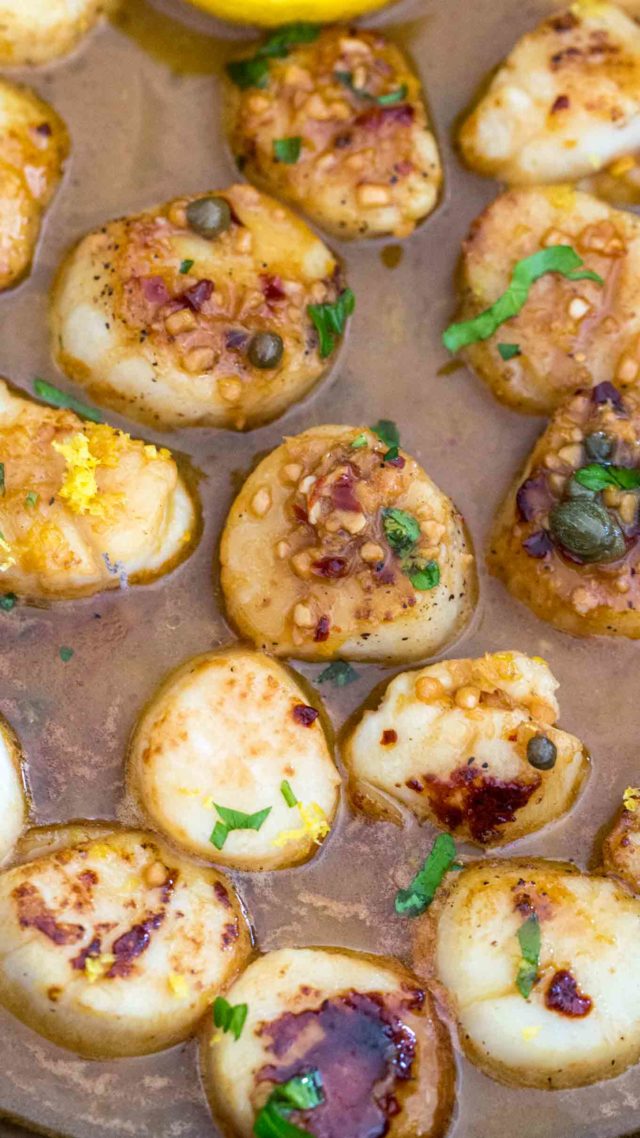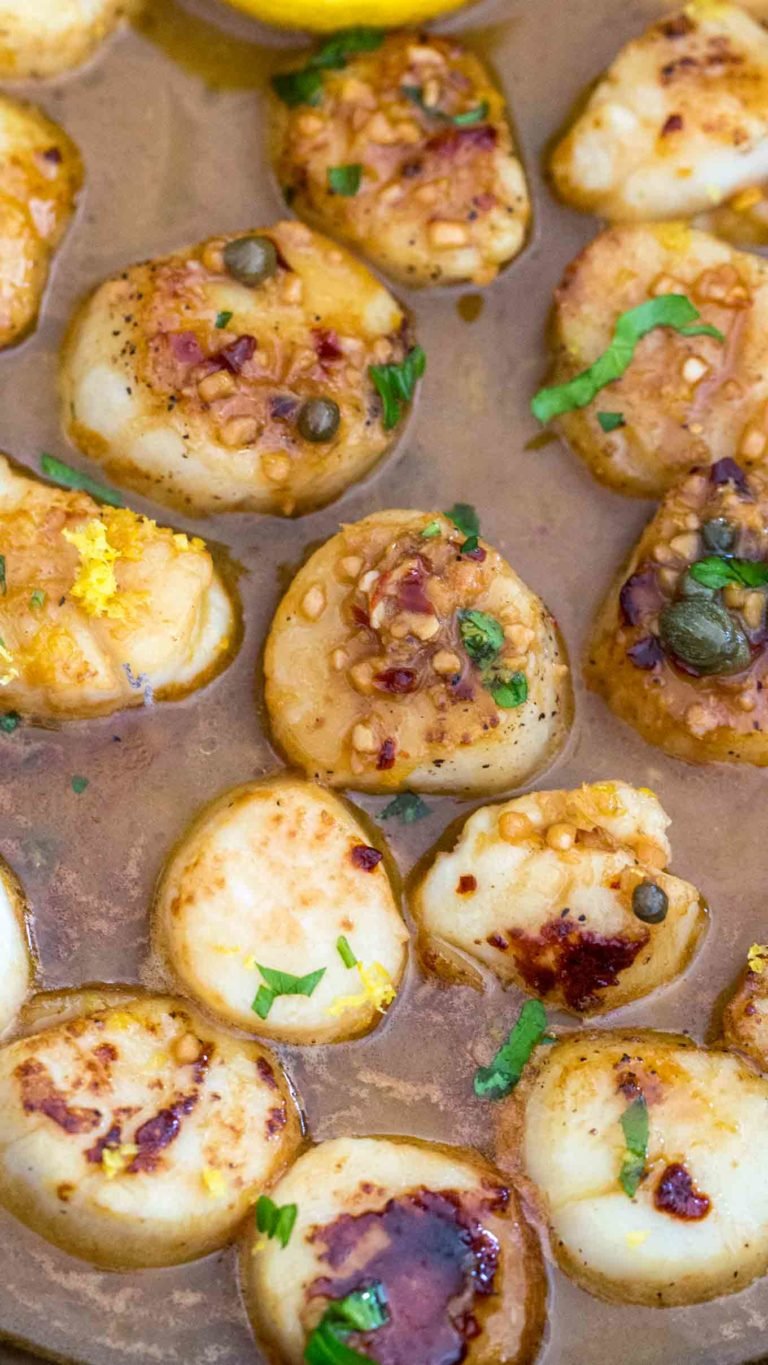 Can scallops be undercooked?
Unlike mollusks such as oysters and clams, when purchased from a reputable fish monger, fresh scallops are pretty safe from transferable parasites. As a result, they are safe to eat raw, so feel free to cook them to your preference.
For this pan seared scallops recipe, the scallops are cooked all the way through.
To tell if they are cooked properly, poke them gently with a fork or your index finger. If the scallop bounces back slightly, it is cooked all the way through.
How do you make the Lemon Garlic Scallops recipe?
Frozen scallops need to be thawed in cold water first and pat dry. Also, it is very important for the scallops to be dry before cooking.
Using a cast iron or non-stick pan, heat to medium-high heat. Next, add the oil and wait for it to start sizzling.
Equally important, to cook evenly, place the scallops in the pan in a single layer, being careful not to crowd them. Next, cook the scallops for two to three minutes per side.
The butter garlic sauce is made in the pan after the scallops have finished cooking. Next, add the scallops back to the pan, cover them in the sauce completely.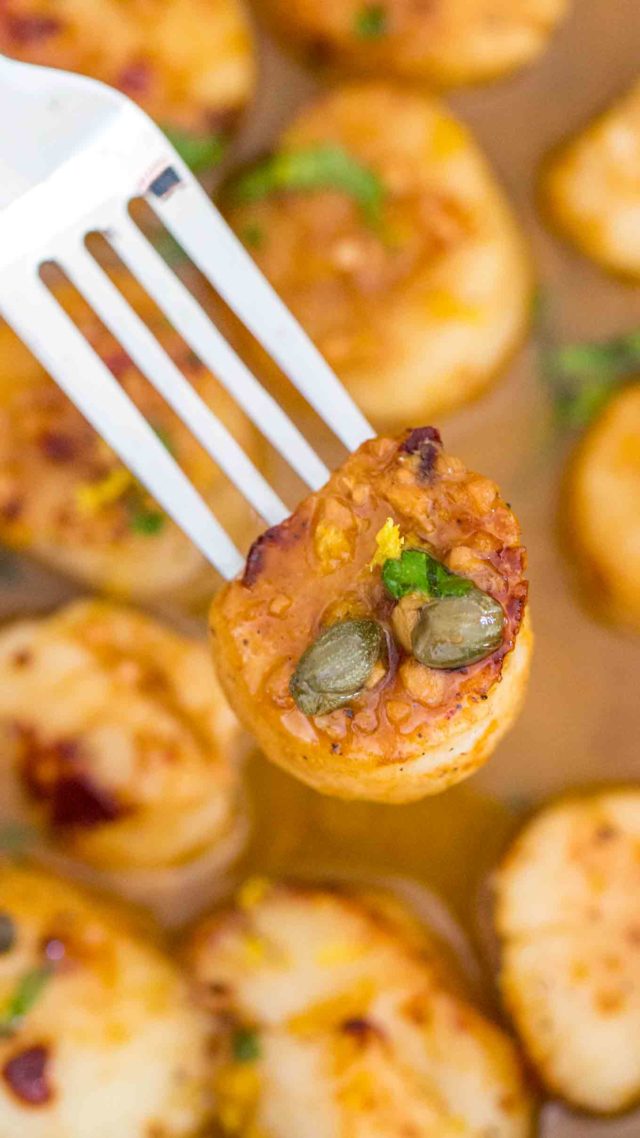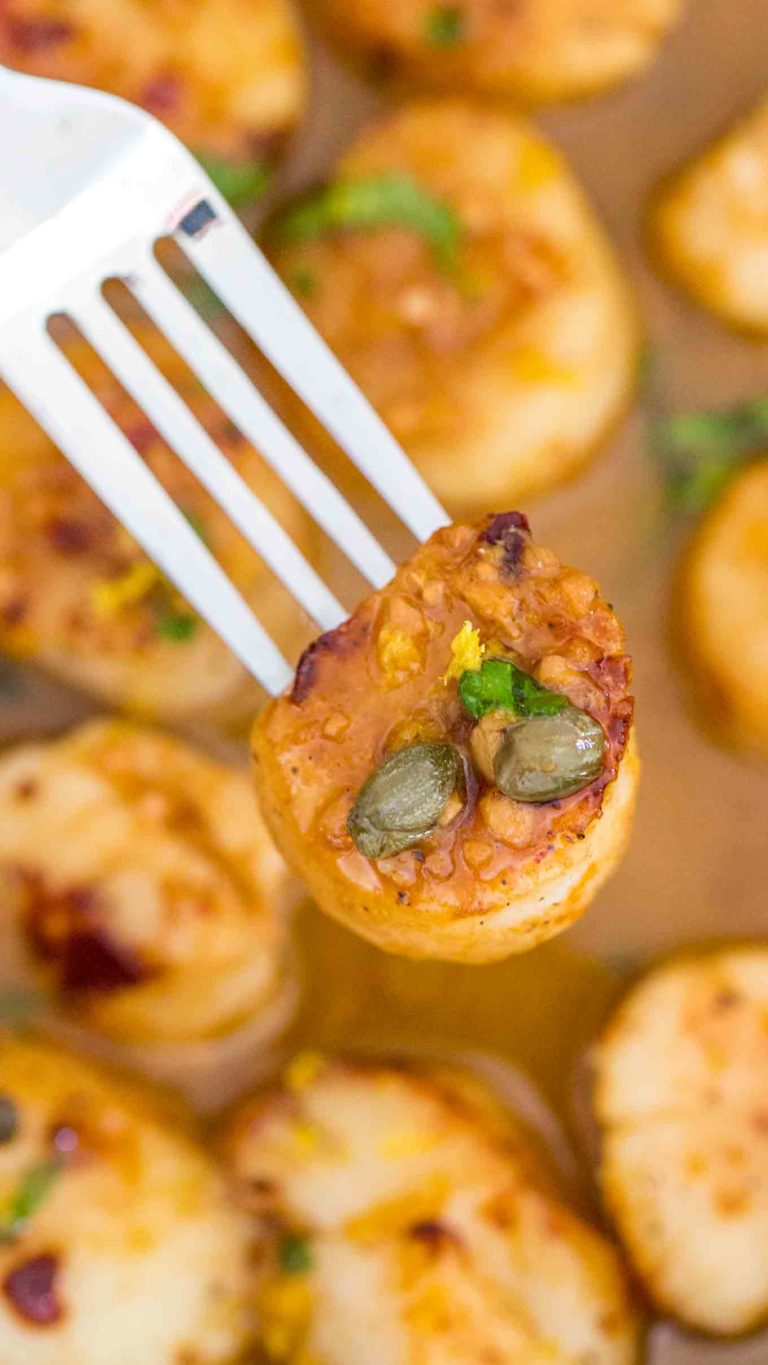 What goes with scallops?
Starchy side dishes such as baked potatoes, rice, or pasta are wonderful choices to serve with the lemon garlic scallops recipe.  For a low carb dinner, serve the scallops with cauliflower rice. Vegetable side dishes like Green Beans with Bacon are also a great choice.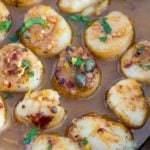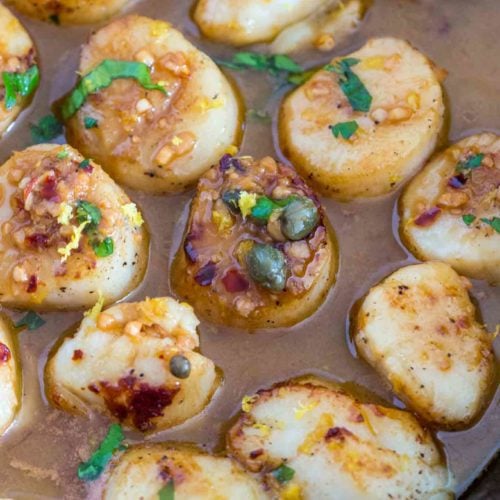 Lemon Garlic Scallops
Lemon Garlic Scallops are an impressive dinner for guests or a romantic meal for two. This pan seared scallops recipe is on the table in just 20 minutes!
Keyword:
Lemon Garlic Scallops, pan seared scallops
Ingredients
2

tablespoons

olive oil

1 1/2

pounds

scallops

thawed, cleaned and pat dry

4

tablespoons

unsalted butter

divided

6

cloves

garlic

minced

1/4

cup

dry white wine

or low sodium chicken broth

zest of 1 small lemon

1

teaspoon

capers

2

tablespoons

lemon juice

1/4

teaspoon

red pepper flakes

optional

Salt and fresh ground black pepper to taste

2

tablespoons

chopped parsley

for garnish
Instructions
If using frozen scallops, thaw them first in cold water and pat dry with paper towels before cooking. Pat dry well, it is important for the scallops to be dry.

Place a large cast iron pan or non-stick skillet over medium-high heat. Once hot add the oil and wait until the oil starts sizzling.

Add the scallops in a single layer, make sure you do NOT over crowd them, work in batches if needed. Imediatelly season with salt and pepper lightly.

Fry for 2-3 minutes on one side, check if the scallops are lightly browned underneath, then flip and fry again for 2-3 minutes or until lightly browned and cooked through. Remove scallops from pan and transfer to a plate, cover with foil to keep warm.

Add 2 tablespoons of butter to the same pan and stir using a wooden spoon until melted.

Add the minced garlic and red pepper flakes, cook until fragrant, for just about 1 minute. Stir continiously or otherwise it will burn.

Pour in white wine or chicken broth, add lemon zest and capers, stir and bring to a light simmer. Simmer for 3-4 minutes and then stir in the remaining 2 tablespoons of butter and lemon juice, until butter is fully melted.

Remove pan from heat and add back in the scallops, scoop the sauce on top of them. Garnish with chopped parsley and serve.
Nutrition Facts
Lemon Garlic Scallops
Amount Per Serving
Calories 300
Calories from Fat 171
% Daily Value*
Total Fat 19g 29%
Cholesterol 70mg 23%
Sodium 685mg 29%
Potassium 377mg 11%
Total Carbohydrates 7g 2%
Protein 20g 40%
* Percent Daily Values are based on a 2000 calorie diet.