Sweet and Sour Shrimp Recipe
This Sweet and Sour Shrimp is a healthier take on the popular Chinese recipe. It is cooked in a fantastic sweet and sour sauce with juicy pineapple and crunchy bell peppers. A quick and easy one-pot meal that is ready in less than 20 minutes!
I love making quick and delicious Chinese inspired dinner. You might also love our Beef and Broccoli Stir Fry, Chicken Fried Rice, and Skinny Mongolian Beef Noodles.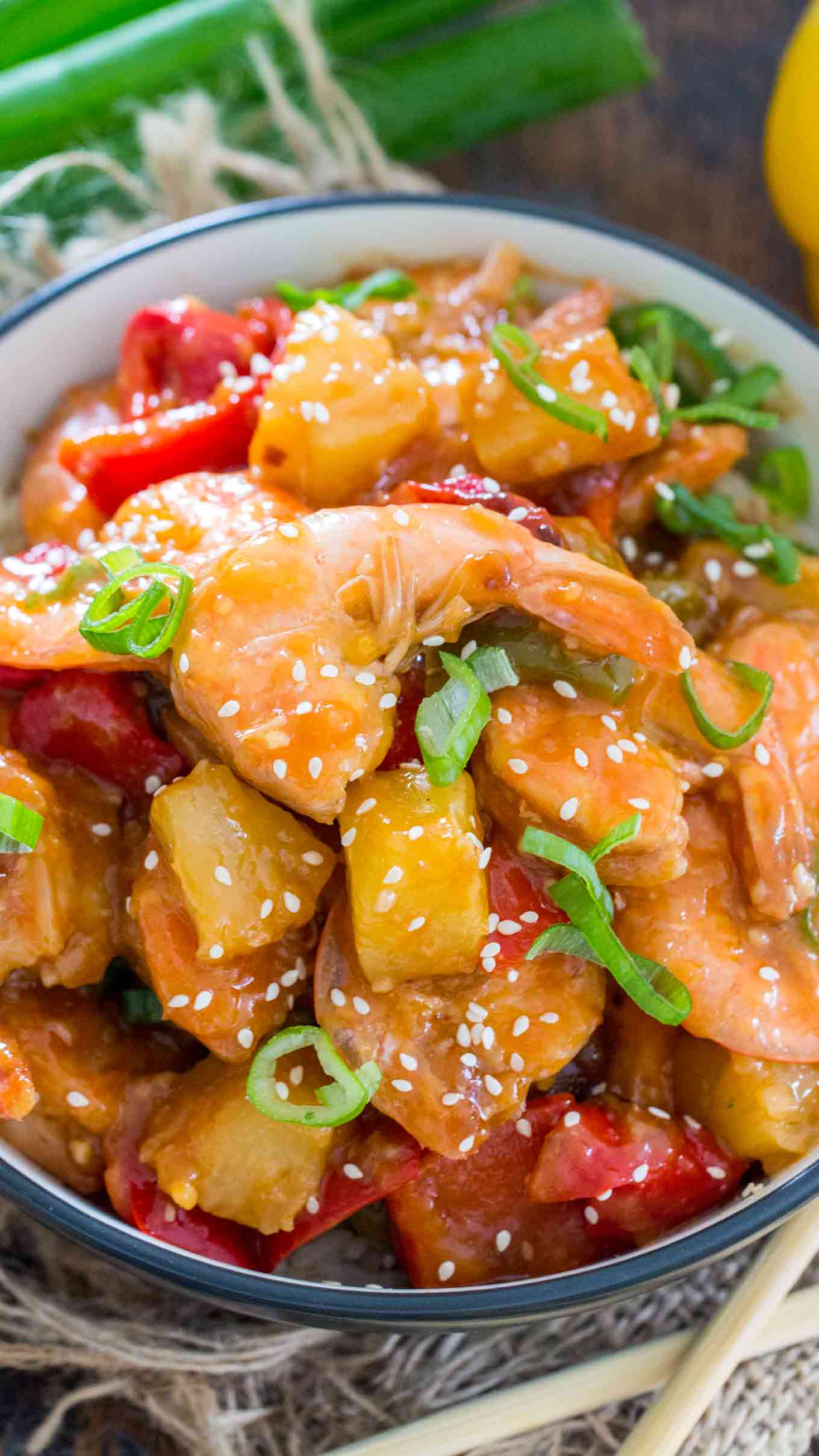 Easy Shrimp and Sour Shrimp
Sweet and Sour Shrimp is an easy one-pan meal that can be made in 20 minutes or less. The shrimp is not deep fried and the sauce does not pack a ton of sugar, which makes this protein-packed meal healthier, yet still indulgent.
The shrimp is cooked in the most amazing sweet and sour sauce, with chunky bell peppers and juicy pineapple. You can also make this dish with chicken or tofu. If you are looking for a pork version, check my Sweet and Sour Pork recipe.
There's nothing better than enjoying a restaurant-quality meal in the comfort of your own home! Give it a try and you won't need to order take-outs any longer. Enjoy it over white or brown rice.
How to make Chinese sweet and sour sauce?
For Chinese sweet and sour sauce, you will need the following ingredients:
1/4 cup white sugar
1/4 cup apple cider vinegar
1 tablespoon mirin
3 tablespoons soy sauce
1 tablespoon minced garlic
1 tablespoon minced ginger
1/4 teaspoon red pepper flakes
1/4 cup ketchup
3/4 cup pineapple juice

2 tablespoons cornstarch (use less for a thinner sauce, and more for a very thick sauce)
To make the sauce, add all the ingredients to a medium saucepan and whisk until fully combined. Place over medium-high heat and cook for 2-3 minutes, until the sauce thickens.
If you want to add more cornstarch to thicken the sauce, DO NOT drop it into the sauce directly, as it will create lumps. Mix 1 tablespoon of cornstarch with 1 or 2 tablespoons of water until fully dissolved and add the mixture to the sauce.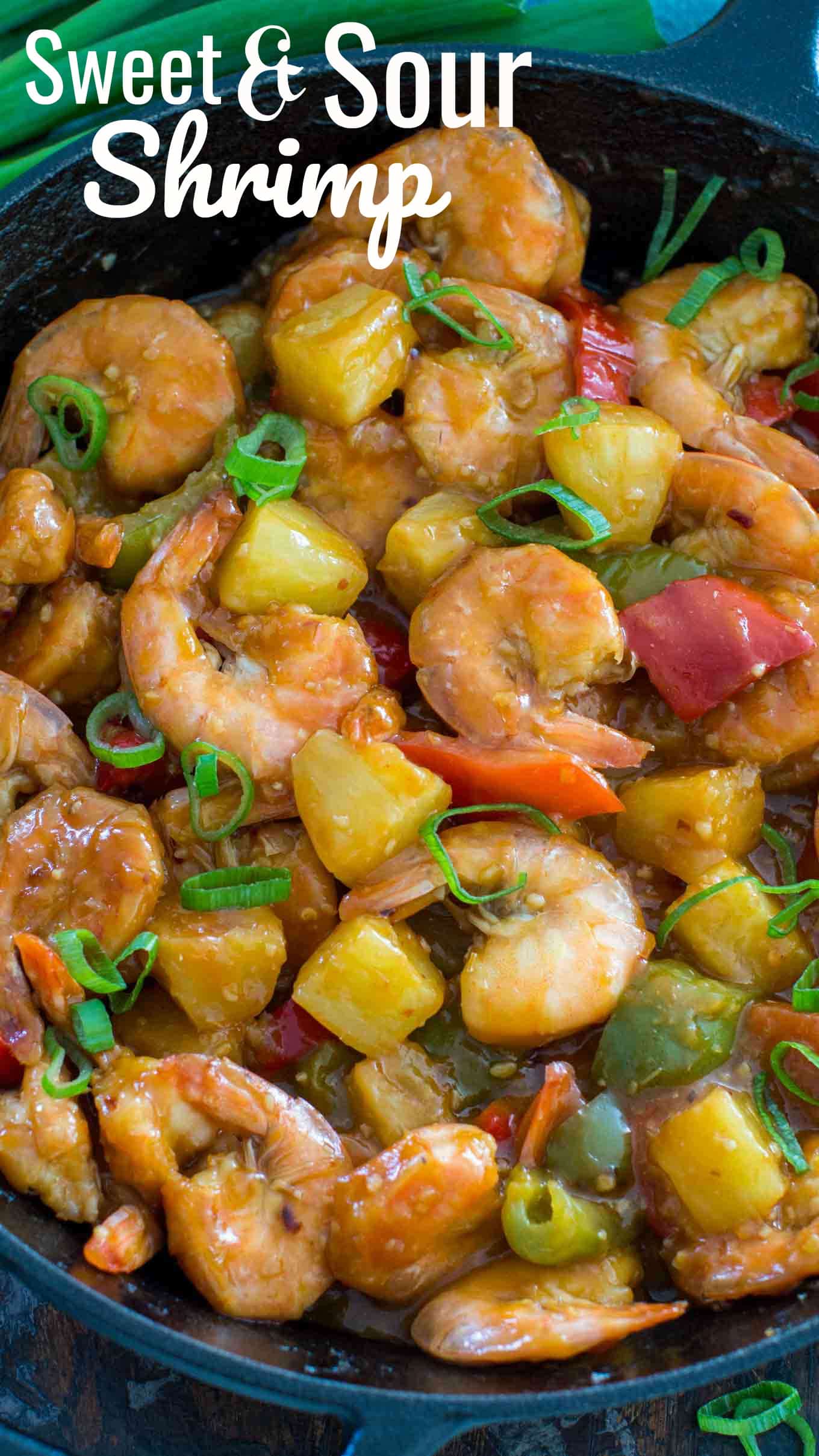 How to buy the best shrimp?
No matter if you are buying fresh or frozen shrimp, follow these tips to ensure that you will get the best for your money:
Always try to buy local over imported. If you are buying fresh shrimp by the pound at the supermarket, ask for the country of origin. If you are buying frozen shrimp, check the label. Avoid shrimp that has been imported from China. Most of the shrimp is farm-raised, and it's almost impossible to ensure quality control for the outside of US brands.
Choose wild over farm-raised. Because the farm-raised shrimp is usually treated with banned chemicals, antibiotics, pesticides, or other contaminants.
If you can get fresh shrimp, that is even better, but frozen is almost as good, as shrimp freezes very well.
Now, based on your own preference you can buy shrimp with the head-on or head-off. The benefits of buying head-on shrimp is that the heads add extra flavor to stews, shrimp boils and grilled shrimp. Also, the juices that get locked in the head while cooking, are incredibly tasty.
Also, based on your preference you can buy peeled or unpeeled shrimp. I prefer unpeeled as you get to experience all the extra sauce that gets between the skin and the shrimp, but it's messier to eat this way.
Deveined shrimp or not – preferably yes. If the shrimp is small, it's ok to not devein it. Large shrimp has to be deveined, while you won't fall ill if you don't, it will affect the shrimp's clean taste. In our day's stores make it easier for us and sell deveined shrimp.
Can you freeze Sweet and Sour Shrimp?
Properly stored, leftover sweet and sour shrimp will last for 3 to 4 days in the refrigerator.
To further extend the shelf life of leftover sweet and sour shrimp, freeze in covered airtight containers or heavy-duty freezer bags. Properly stored, it will maintain the best quality for about 3 to 4 months but will remain safe beyond that time.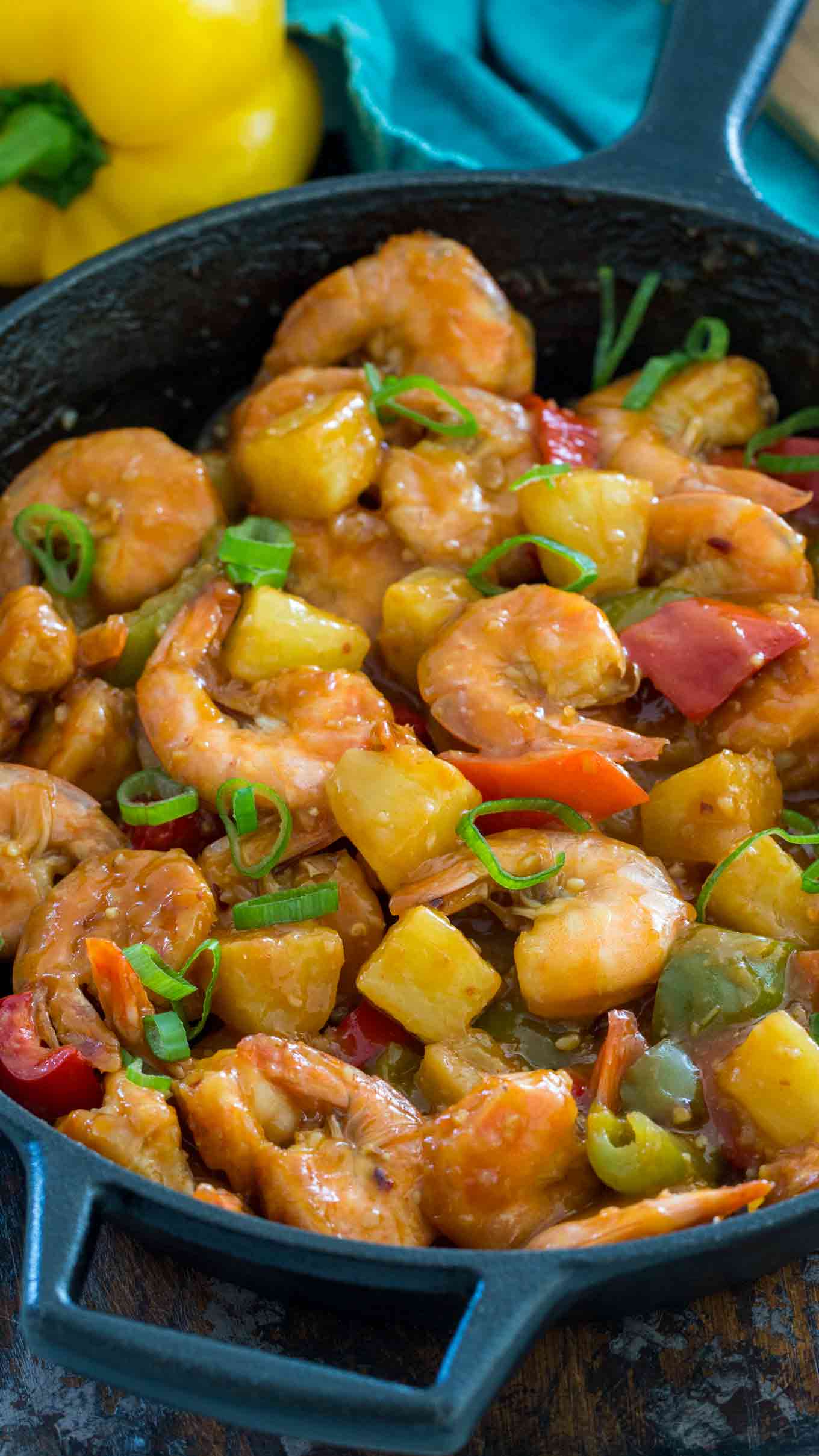 Sweet & Sour Shrimp Recipe Tips:
Use whichever shrimp size you like, or have available. In this recipe, I used extra-large ones. Also, feel free to go with the peeled and deveined version as it is easier to serve. I like mine not peeled as we enjoy the flavor it holds together. However, you can prepare them both ways.
For a spicier kick, add extra chili or red pepper flakes.
Also, I recommend letting the pan get hot prior to cooking the ingredients. It will lock in the flavors better. And because this is a stir-fry dish, you want to cook it over higher heat and have it ready in no time.
You can add other vegetables if you like. Anything works here. Some great additions would be bell peppers, carrots, broccoli, bok choy, etc.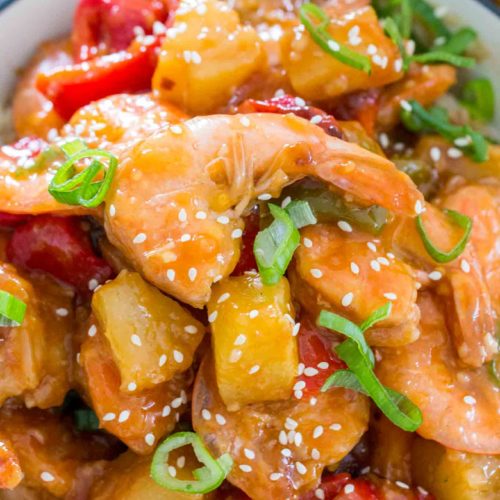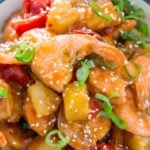 Healthier Sweet and Sour Shrimp
Healthier Sweet and Sour Shrimp that is not deep fried, but cooked in a fantastic sweet and sour sauce with juicy pineapple and crunchy bell peppers.
Keyword:
Sweet and Sour Shrimp
Ingredients
1

lb

shrimp

peeled and deveined if preferred

1

red bell pepper

cleaned and cut into 1 inch chunks

1 1/2

cups

canned pineapple chunks

drained

2

tablespoon

sesame oil or vegetable oil
Sweet and Sour Sauce:
1/4

cup

sugar

or more

1/4

cup

apple cider vinegar

1

tablespoon

mirin

3

tablespoons

soy sauce

low sodium

1

tablespoon

minced garlic

1

tablespoon

fresh ginger

minced

1/4

teaspoon

red pepper flakes

1/4

cup

ketchup

3/4

cup

pineapple juice

2

tablespoons

cornstarch
Garnish:
Fresh green onions

Sesame seeds
Instructions
Sweet and Sour Sauce:
Add all the ingredients to a medium bowl, whisk until fully combined. Set aside.
Cook:
Place a large skillet or wok over medium-high heat and add oil.

Once the oil is hot add shrimp, and cook for about 1 minute on each side.

Add bell pepper and pineapple chunks to the wok and cook for 5 minutes, until the bell pepper starts to get tender, but is still crunchy. Stir often.

Give the sauce a stir and add it to the skillet. Stir to combine and cook for 1-2 minutes until the sauce thickens.

Remove from heat and serve over rice.

Garnish with green onion and sesame seeds if desired.
Nutrition Facts
Healthier Sweet and Sour Shrimp
Amount Per Serving
Calories 342
Calories from Fat 72
% Daily Value*
Fat 8g12%
Cholesterol 285mg95%
Sodium 1812mg79%
Potassium 362mg10%
Carbohydrates 39g13%
Protein 25g50%
Vitamin A 1115IU22%
Vitamin C 53.2mg64%
Calcium 185mg19%
Iron 3.2mg18%
* Percent Daily Values are based on a 2000 calorie diet.