No Bake Granola Bars Recipe
No Bake Granola Bars are just what you needed for a quick breakfast or for when you want to get that extra boost of energy in the middle of the day!
I like easy recipes like this especially when it is summer! You get to make this treat without the heat from the oven! And kids will like them in their lunch boxes alongside Taco Tortilla Roll Ups, Chocolate Turtle Apples, and Cucumber Sandwiches!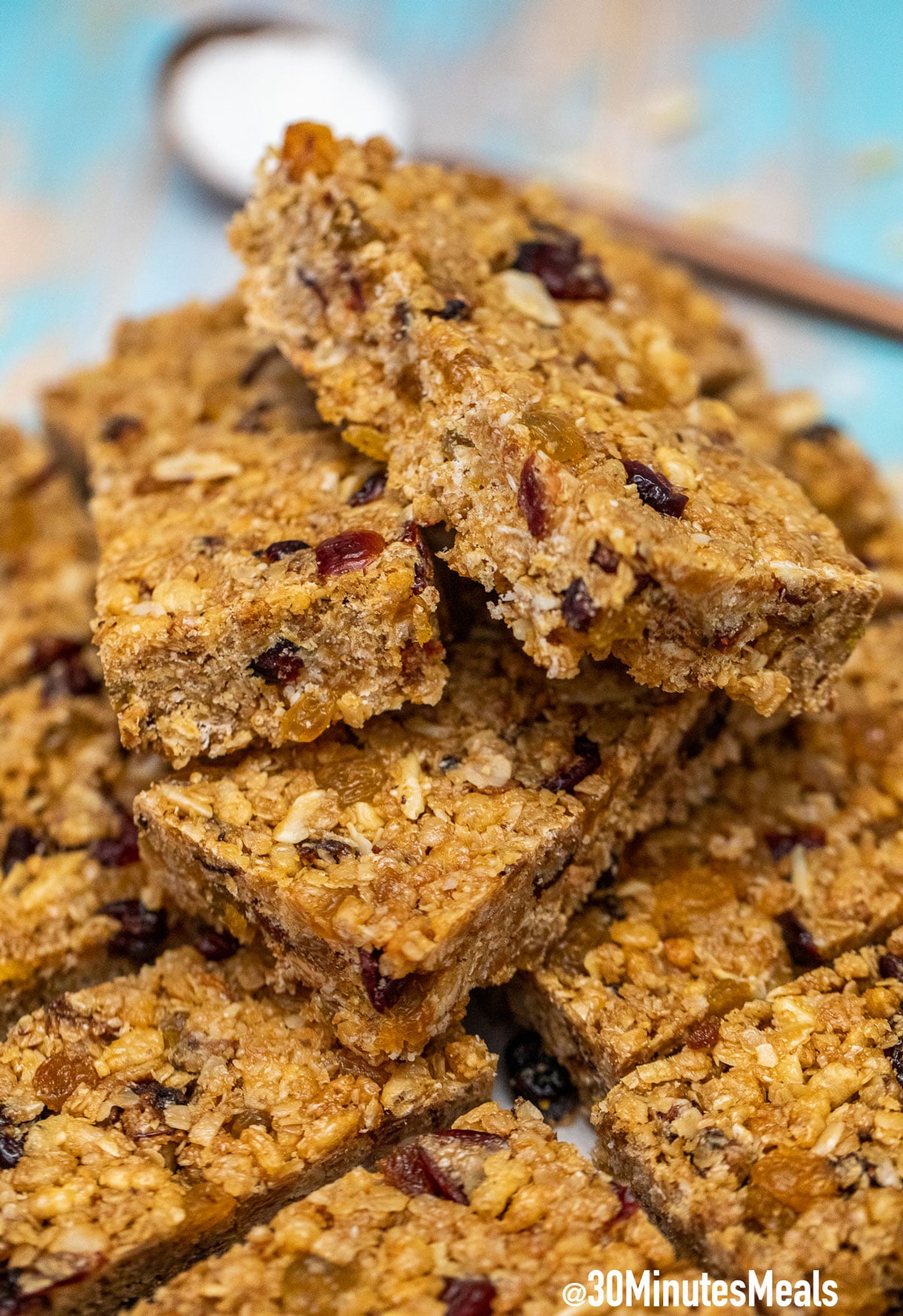 30 Minutes Granola Bars
No Bake Granola Bars are so easy to make they are done in no time! The recipe is simple and since this requires no baking, this truly deserves a spot in our regular menu rotation!
If you are looking for something that is chewy and full of texture, then, this is it. You can have it as a snack, and it will keep you feeling fuller for longer. Enough to make you energized for the next meal!
If you have kids, you can ask them to help you out in making this. Everything is easy and even younger ones can join in on the fun. For sure, they will enjoy their snacks more afterward!
And this is a highly customizable recipe. You can add whatever that you like!
Are No Bake Granola Bars healthy?
Yes! Granola bars are a healthier snack option versus candies and other preservative-laden snacks. Remember though those store-bought ones can have unnecessarily high sugar content.
But when you make it yourself from scratch like in this recipe, you get to control the ingredients to include healthy ones. In this recipe, you will get the following health benefits from the ingredients:
raisins

: rich in fiber, iron, calcium, and antioxidants

dried cranberries

: have zero fat, rich in fiber and antioxidants and help prevent urinary tract infections

almonds

: have high levels of vitamin E and magnesium and help lower bad cholesterol level

oats

: have carbs, protein, fiber, antioxidants, manganese, and other vitamins and nutrients

Rice Krispies: low-caloric food with zero fat and cholesterol

peanut butter

: rich in protein, good fats, and carbohydrates

honey

: high in sugar and calories but also high in antioxidants making it a better choice than just refined sugar
While these energy-giving and nutritious ingredients contribute to a great snack, remember to eat anything in moderation.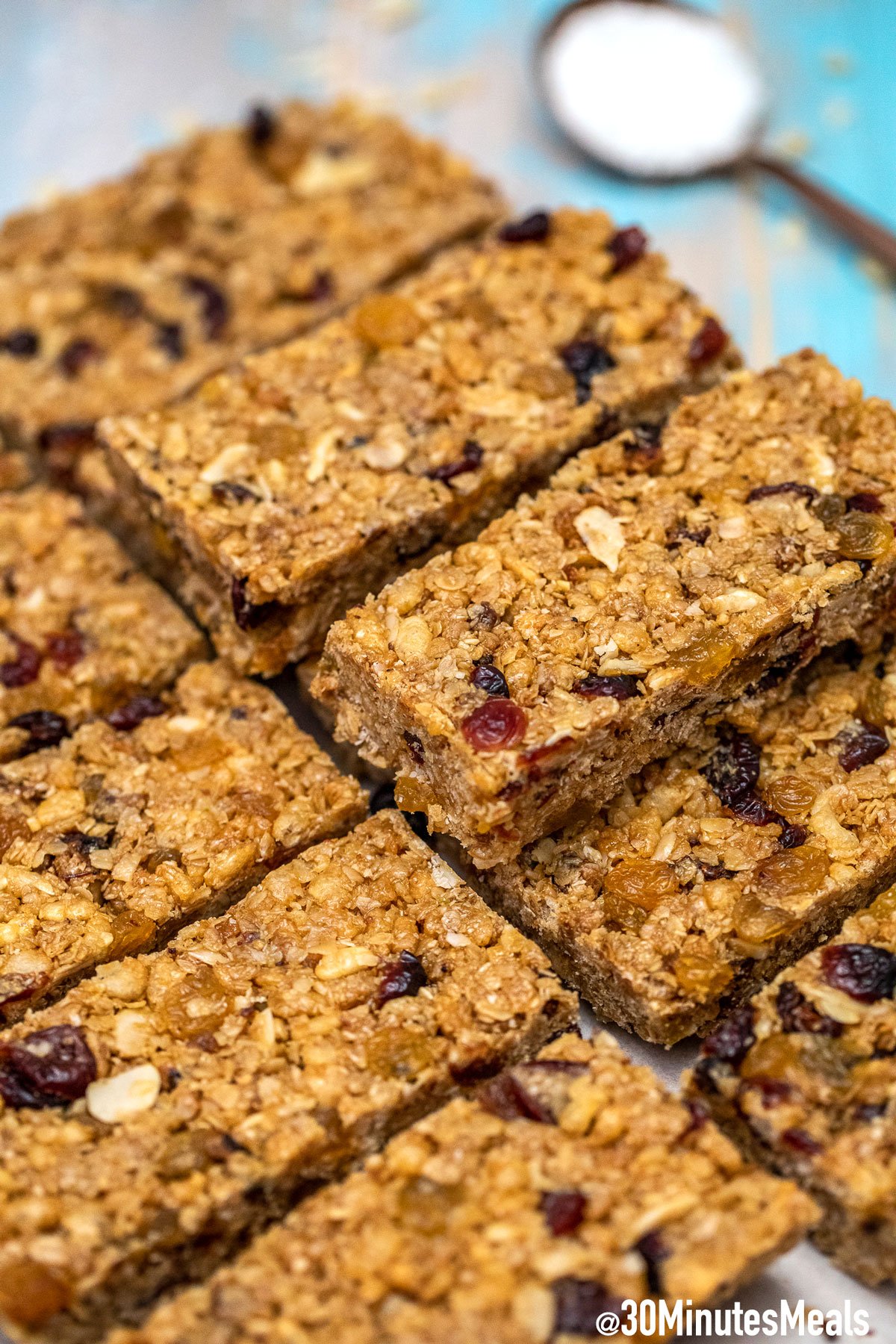 How to make No Bake Granola Bars?
Prepare the sticky mixture

: Boil together butter, peanut butter, honey, and brown sugar.

Combine

: Once the mixture starts to simmer, add in the rest of the ingredients until caramelized.

Transfer

: Pour the mixture in the lined pan.

Set

: Let it cool and when already set, you can start cutting it into bars.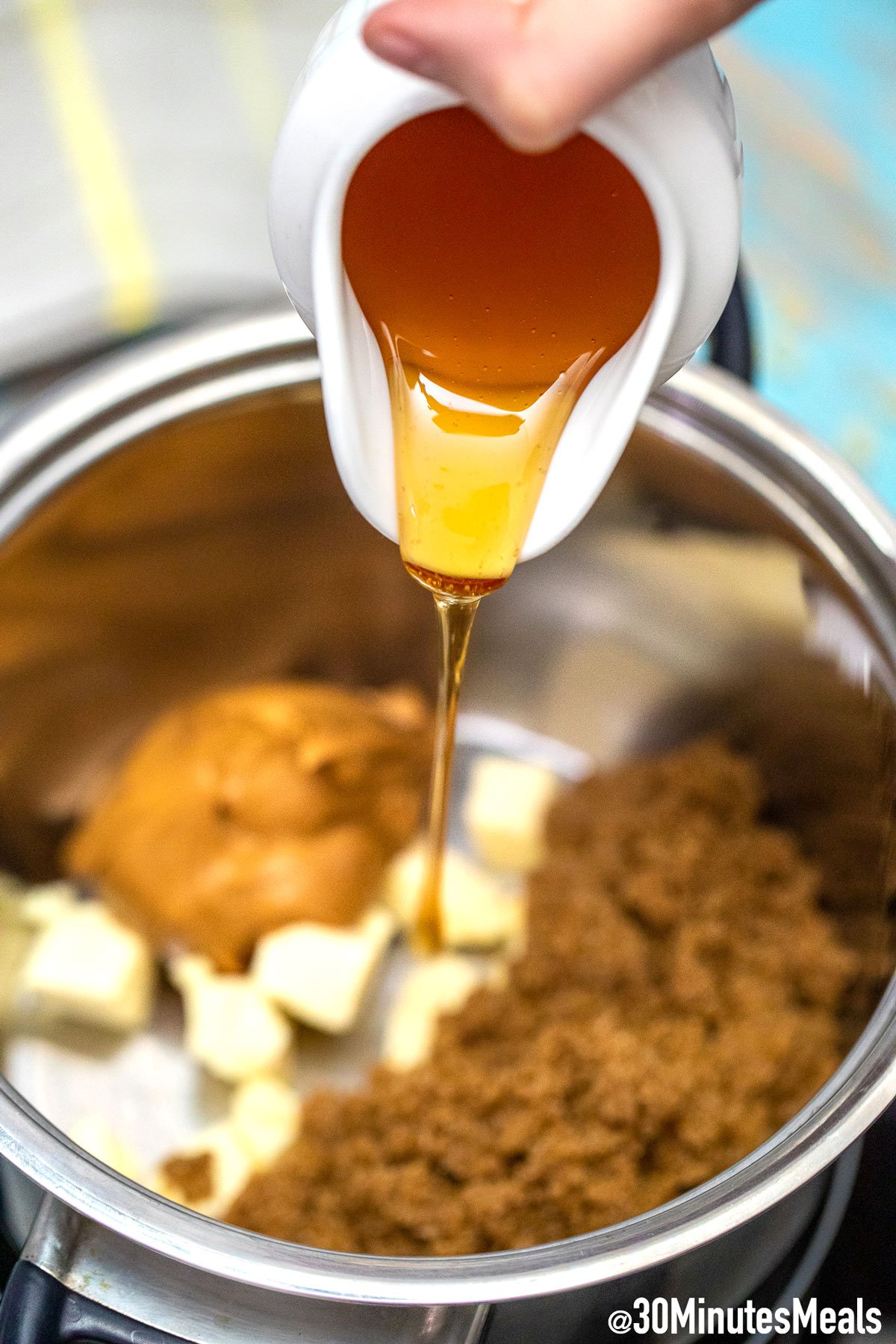 How do you get granola bars to stick together?
To get them to stick together, you need a liquid and sticky mixture to hold everything together. For this recipe, I use a mixture of honey, brown sugar, butter, and peanut butter and simmer it to make it all gooey and sticky.
Recipe Variation/Substitution:
You can customize this in so many ways! Feel free to add or substitute the following:
any nut butter for peanut butter like almond and seed butter

more dried fruits like dates, prunes, banana chips, and apricots

nuts like cashew, peanut, or pecans

seeds like chia, flaxseeds, pumpkin, and sunflower

cocoa powder and chocolate chips for the chocolaty flavor

protein powder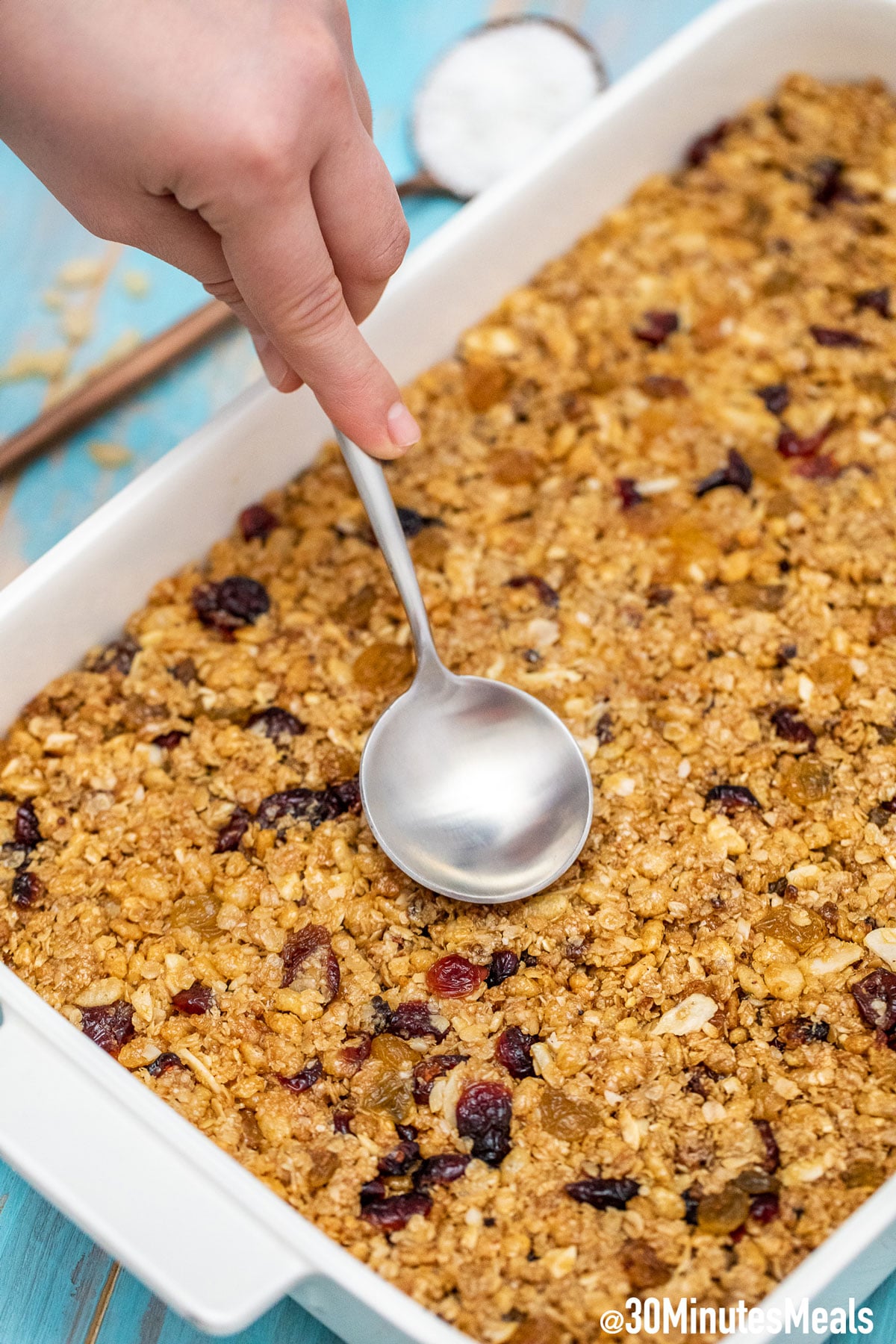 Do Granola bars expire?
They are stable because of the sugar content that acts as a natural preservative. Commercial ones can even last for 6 to 8 months.
However, you will want to eat them before they turn too mushy, though, to enjoy the chewiness and crisp. Good thing, I don't have a problem with storing them because they are gone in minutes! And these are so easy to make that I can just make them again from scratch each time cravings kick in.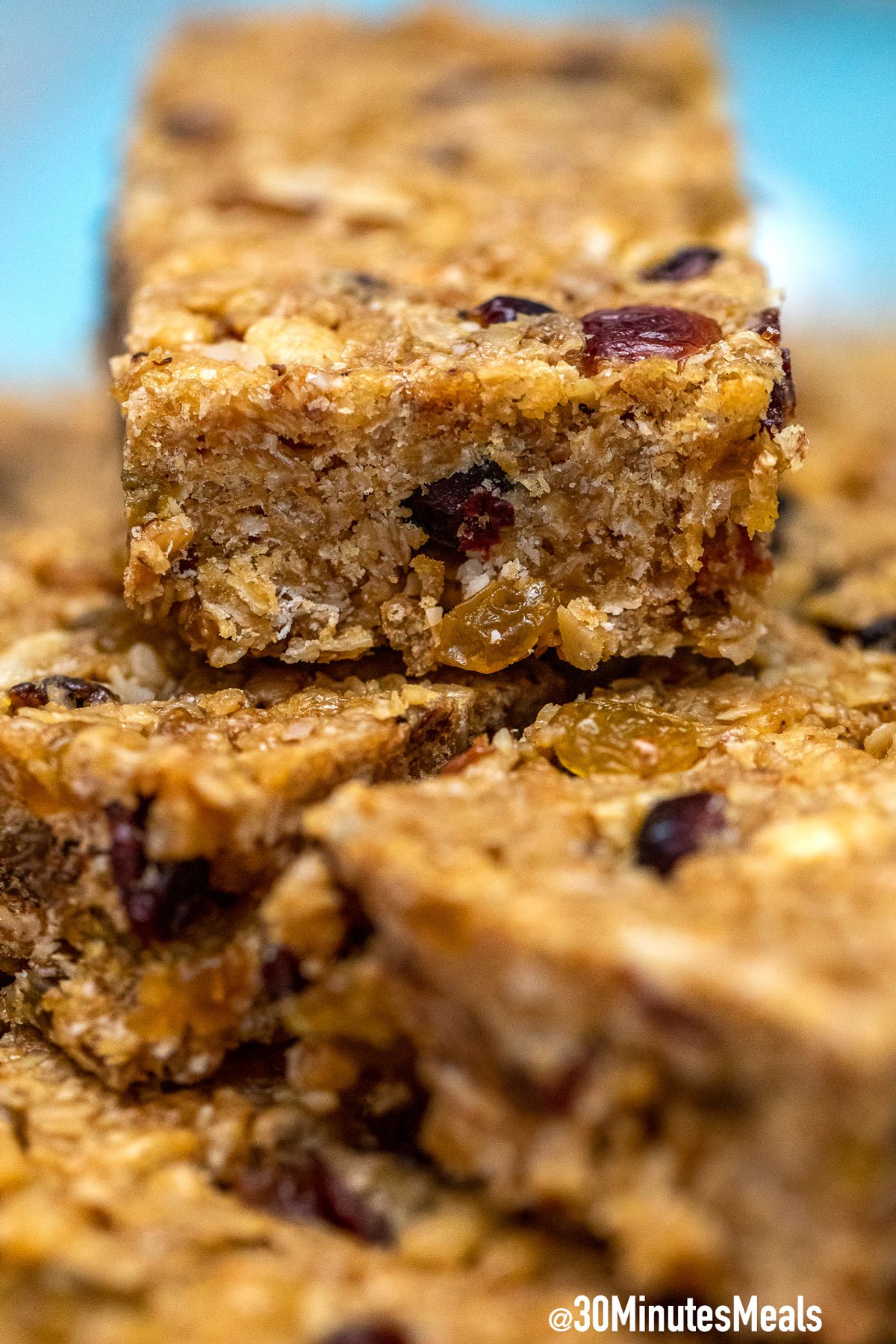 How to store them?
You can eat them within 5 days, stored in an airtight container in the fridge. Or, freeze them for up to 3 months.
More tasty snacks: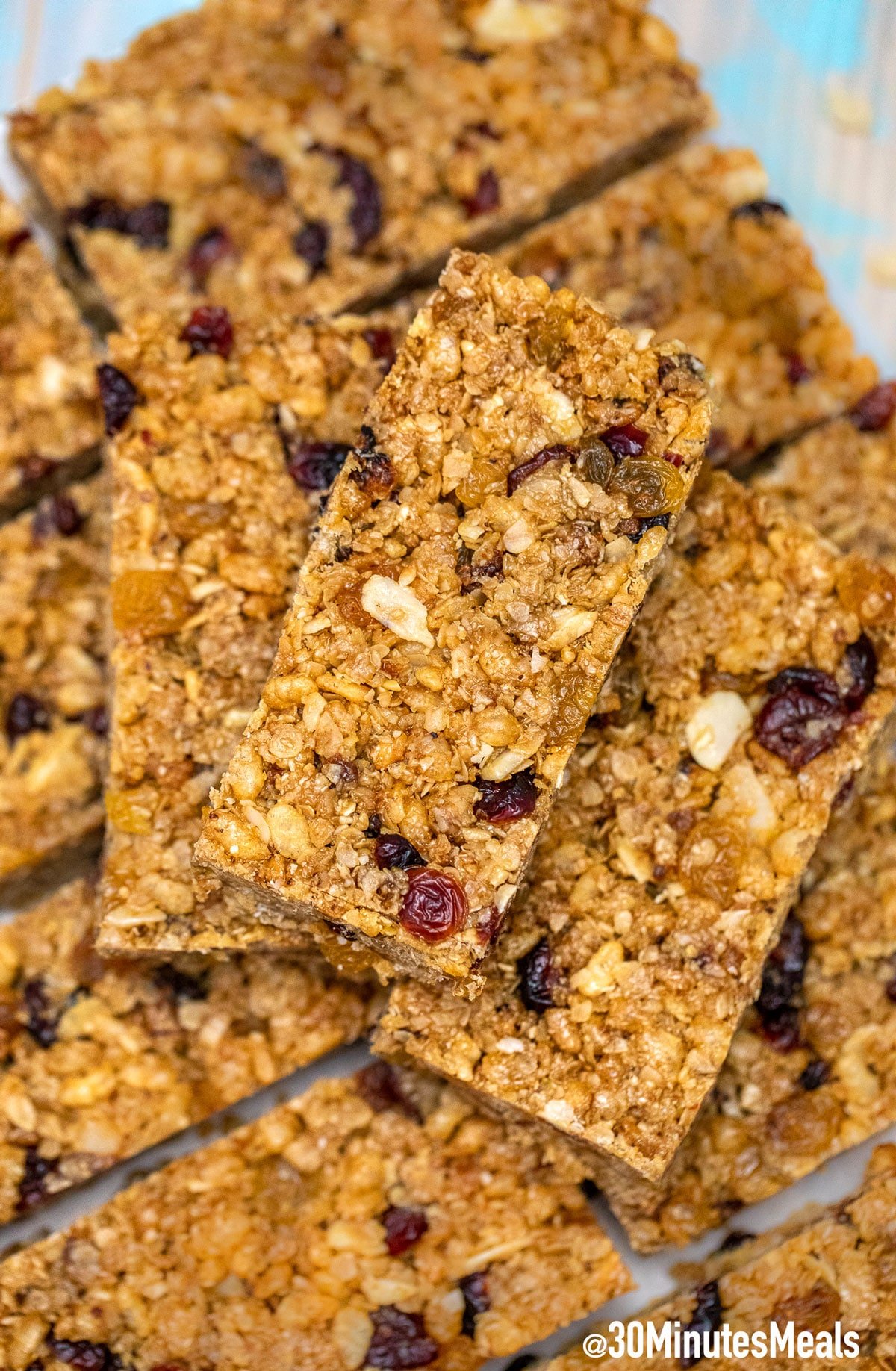 Recipe Tips
Feel free to use certified gluten-free oats and Rice Krispies.

You can add spices like cayenne and cinnamon for more flavor.

Use maple syrup and agave nectar as vegan substitutes for the honey.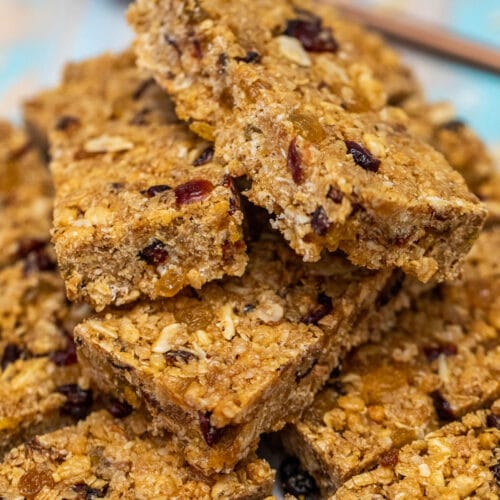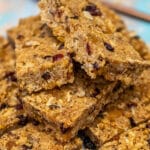 No Bake Granola Bars Recipe
No Bake Granola Bars
are just what you needed for a quick breakfast or for when you want
to get that extra boost of energy in the middle of the day!
Keyword:
No Bake Granola Bars
Ingredients
1/2

cup

butter

½

cup

peanut butter

creamy

1/2

cup

honey

or maple syrup

1

cup

brown sugar

1

teaspoon

vanilla extract

¼

teaspoon

salt

2 1/2

cups

oats

3

cups

Rice Krispies

1

cup

coconut flakes

1

cup

almonds

1

cup

raisins

1

cup

dried cranberries
Instructions
Combine butter, peanut butter, honey, and brown sugar in a large saucepan over medium heat. Bring to a boil.

Once it begins to bubble, stir in the rest of the remaining ingredients. Continue to cook over medium heat for 10 minutes or until browned.

Press mixture into a 9x13 pan lined with parchment paper.

Cool completely and cut into bars.