Chicken Bacon Ranch Pasta Recipe [Video]
Chicken Bacon Ranch Pasta is a rich and creamy one-pan dish ready in about 30 minutes. The perfect dinner meal to enjoy during busy weeknights.
I love one-pot dinner ideas because they are easy to prepare and can feed a large family. You might also like my Garlic Parmesan Pasta, Beef Stroganoff, and Peach Pork Chops.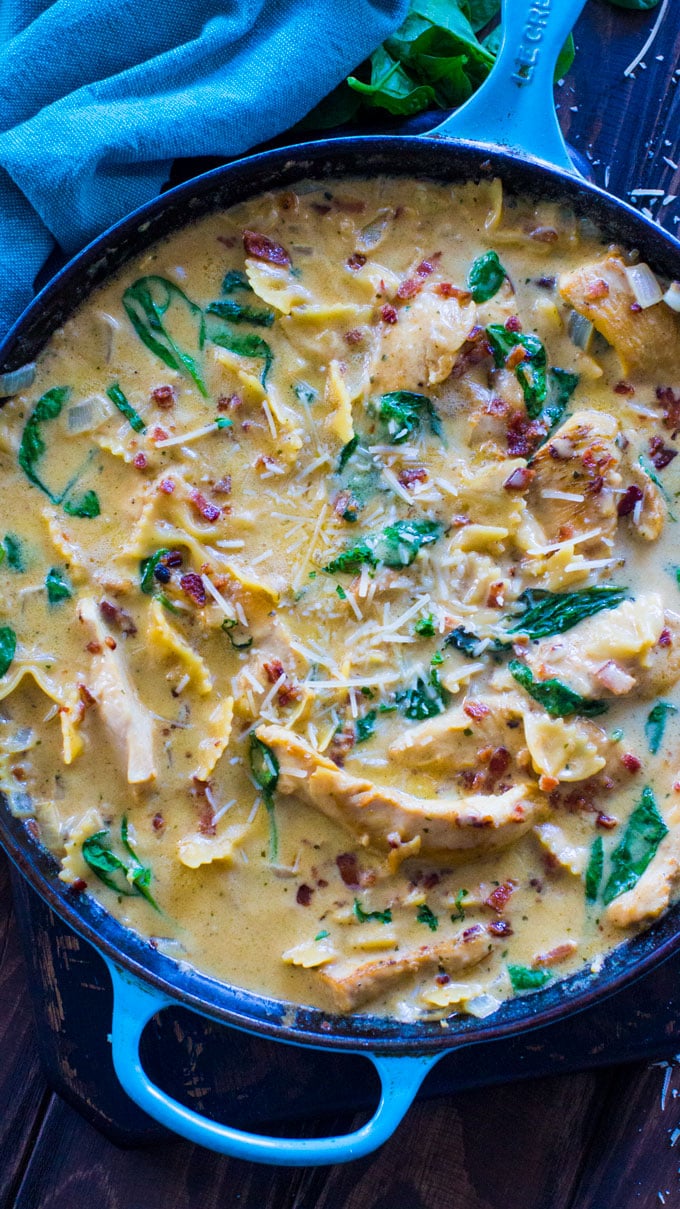 Bacon Chicken Ranch Pasta (One Pot)
This Chicken Bacon Ranch Pasta recipe is loaded with juicy chicken, lots of cheddar cheese and a hefty amount of bacon crumbs. Cooked in a delicious creamy sauce, all in one pan for easy weeknight dinners.
Once you try this dish it will easily get onto your weekly meal plan. It is one of our family's favorite pasta meals! Also, it is so creamy and flavorful, that kids are guaranteed to like it as well.
The pasta is complimented with the juicy chicken and fresh spinach, all soaked in the most delicious bacon ranch sauce. This combo never gets old, and the ranch mix adds such a fantastic flavor, that it instantly becomes a favorite dinner.
How to make Chicken Bacon Ranch Pasta?
Brown the chicken: If you are going to make it with fresh chicken, then brown it for about 5 minutes. Also, feel free to use leftover poultry or rotisserie chicken. This way you can save even more time. Once cooked, set aside.
Make the sauce: Next, add the broth, butter, cream and ranch dressing mix, to the pan, and whisk together until well blended for about 1-2 minutes.
Add the pasta. Add the pasta and bring to a boil. Cover and cook over medium heat for about 12 minutes. Stir occasionally.
Garnish: Lastly, add back the chicken and bacon, and the remaining cheese. Serve warm.
Recipe Variations and substitutions:
Oven-Baked Chicken Bacon Ranch Pasta: You can also bake it and make a casserole out of it. Simply, preheat the oven to 350 degrees F. Meanwhile, boil the pasta. In a separate skillet, prepare the sauce. Simply,

melt butter over medium heat with cream cheese and ranch dressing mix, and whisk until smooth. Then, c

ombine cooked pasta and chicken in a large bowl in a casserole bowl, and pour the ranch sauce on top. Bake for about 20 minutes.
Use other noodles: Feel free to substitute or use whichever pasta type you like. For example, I like going with bowtie, elbow, penne, etc.
Add veggies: Similarly, you can add other vegetables to the mix. Because we love spinach, we incorporated it into this dish. However, you can add pretty much any other veggie here. Bell pepper, carrots, peas, etc.
Use other meats/proteins: This homemade bacon ranch pasta recipe works with other meats as well. Substitute the poultry with turkey, shrimp, beef or pork. Also, to save time, use leftover or rotisserie chicken.
Looking for more Pasta Recipes? Check these out: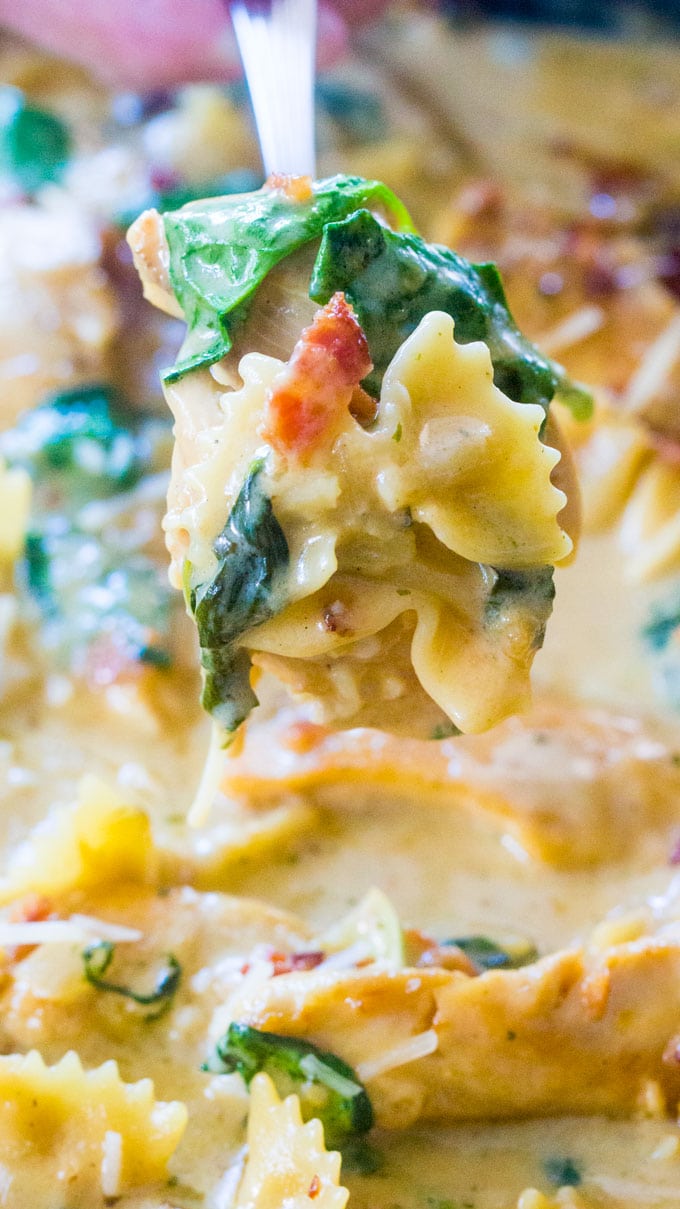 How to store it?
If you have leftover or want to make it in advance, simply refrigerate the dish. Use an airtight container and store in the fridge for up to three days.
You could freeze the creamy ranch pasta, however, I would not recommend it. Because the meal contains dairy products, the texture will change after you freeze it. Therefore, I would skip this step.
Recommendation on how to make the best Chicken Bacon Ranch Pasta :
Let's start with the fact that this is NOT a low-calorie meal, please indulge into its creamy glory! For a healthier option, pair it with Cranberry Apple Salad.
Also, don't overcook the pasta, preferably it should be served al dente.
Make sure you stir pasta often, so it doesn't stick to the bottom of the pan and burn.
You can use already cooked chicken or rotisserie chicken to reduce effort and time.
In addition, the spinach is optional. You can add more or less based on your own preference.
Use store-bought shredded cheese to reduce the prep time.
To save time, use store-bought cooked bacon for convenience.
Also, you could use alfredo sauce instead. It will result in a creamy and reach texture as well.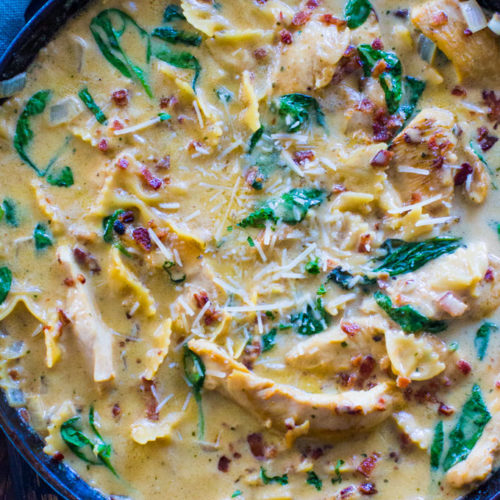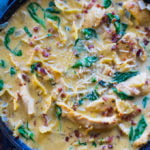 CHICKEN BACON RANCH PASTA
Chicken Bacon Ranch Pasta made in one pan in just 30 minutes, is the perfect easy, creamy and comforting weeknight meal for busy families.
Ingredients
2

tablespoon

olive oil

2

chicken breasts skinless and sliced

2

tablespoons

butter

1

medium onion diced

2

tablespoons

garlic minced

3

cups

mini bow tie pasta

2

tbsp

all-purpose flour

1

packet of ranch seasoning mix

1

cup

cream

2

cups

chicken broth

1 1/2

cup

cheddar cheese shredded

1/2

cup

bacon crumbs

2

cups

fresh spinach

Salt and pepper

Garnish: Bacon crumbs
Instructions
Add olive oil to a large, cast iron skillet over medium-high heat. Cook the chicken until golden, about 5-6 minutes.

NOTE: you can use already grilled chicken or rotisserie chicken and skip this step.

Remove cooked chicken from pan and set aside.

Lower heat to medium, add butter, add onion and garlic. Cook for a few minutes, about 4-5 stirring occasionally.

If you want the sauce thicker, add now 2 tablespoon of flour and stir well.

Add the pasta, broth, cream and ranch mix. Season with salt and pepper.

Stir, bring to a boil and let it cook for about 12 minutes. Stir often to avoid having pasta stick to the bottom of the pan. If needed add more broth, 1/4 cup at a time.

Once pasta has cooked, reduce heat to the lowest setting and stir in cheddar cheese and bacon. Add back the chicken and add the spinach. Stir to combine and cook for another 5 minutes.

Remove from heat, top with extra bacon crumbs and serve.

Enjoy!