Yogurt Oatmeal Pancakes Recipe
Oatmeal Pancakes will make your breakfast truly worth it! These will make you full until lunch and give you the energy you need, all in 30 minutes or less!
I admit that I get lazy in the morning sometimes. Hence, I need quick recipes like this! It is easy just like my recipes for Crunchy Coleslaw Pasta Salad, Cucumber Sandwiches, and Pumpkin Cream Puffs!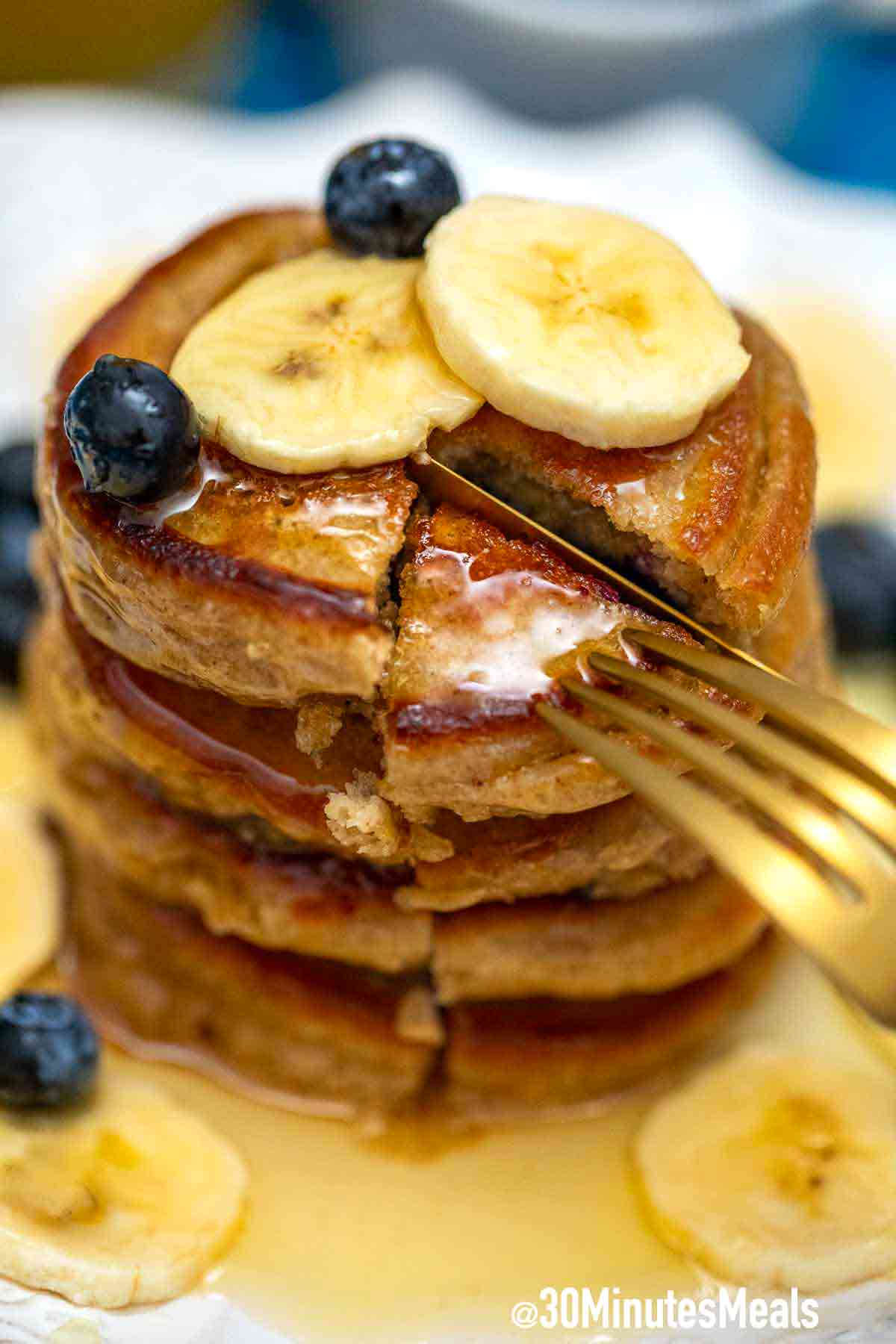 Blueberry Oatmeal Pancakes
Oatmeal Pancakes are a breeze to make. They are hearty but super easy to do. I just cannot stress that enough!
And with this cooking in the kitchen, you will gravitate towards it because it smells so good. The aroma is as fresh and sweet as it tastes.
These are also versatile as you can serve them with a bunch of add-ons. And that makes them a fun thing to have in the morning.
And this recipe will teach you the foundation of making your own pancakes from scratch. It is much cheaper than buying the boxed ones.
In the long run, you will be able to save because these ingredients are just basic ones that may already be present in your pantry. And you get to make them anytime you want to!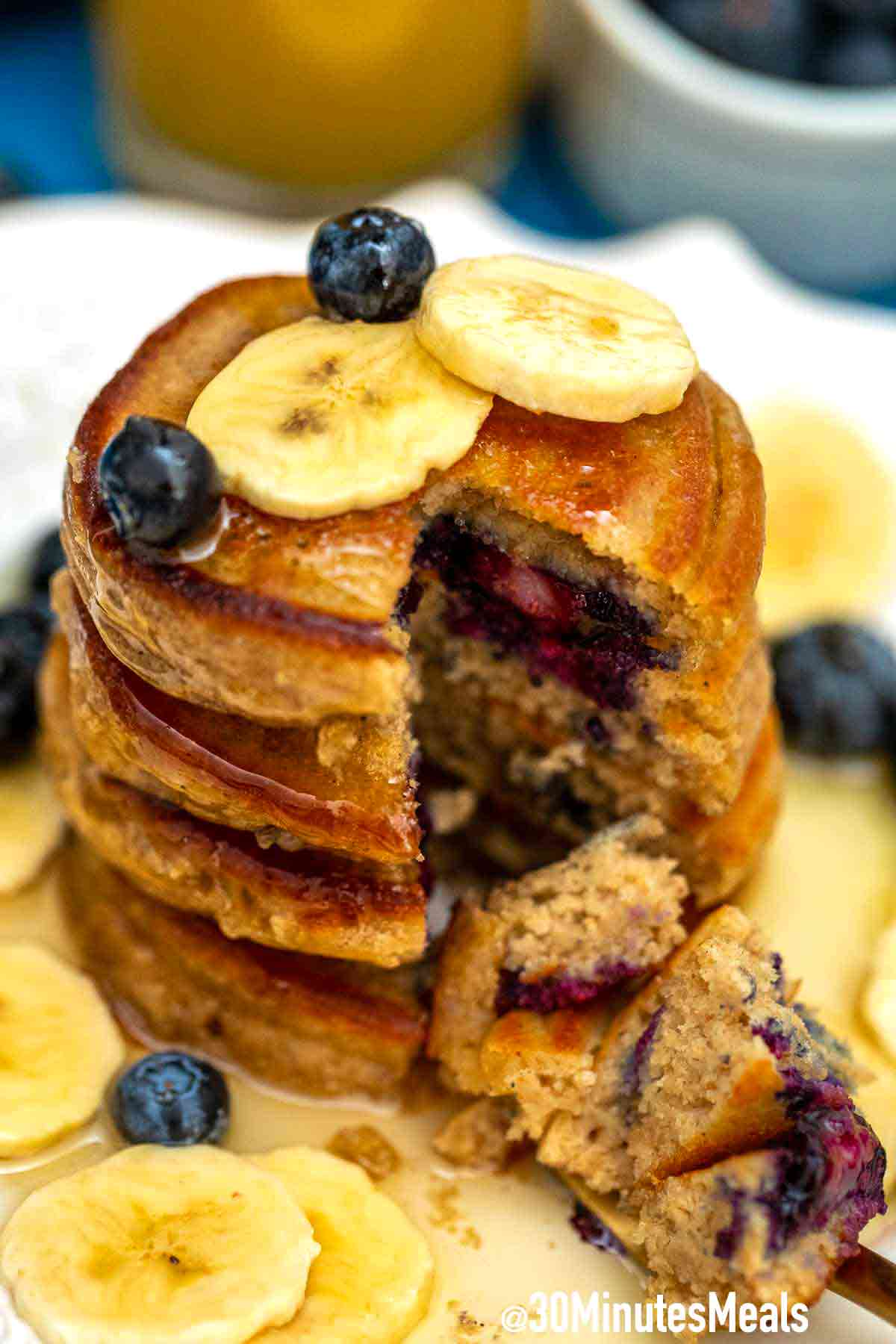 Are Oatmeal Pancakes healthy?
Yes! Oats are healthy because they have fiber, carbs, and protein. And they are gluten-free! You can also get the following health benefits from the main ingredient of this dish:
helps lower the blood pressure with its antioxidants

helps lower cholesterol levels and blood sugar due to the soluble fiber

improves digestion

helps in weight loss because it can make you feel fuller for longer
Note though that aside from this healthy ingredient, we are using butter and a sweetener in this recipe. So, it still pays to keep everything in moderation so that you can have your calorie intake under control.
What is the best kind of oats to use to make Oatmeal Pancakes?
It would depend on the texture that you want for your pancakes. If you want it smooth, go with oat flour. Otherwise, you can go with rolled oats.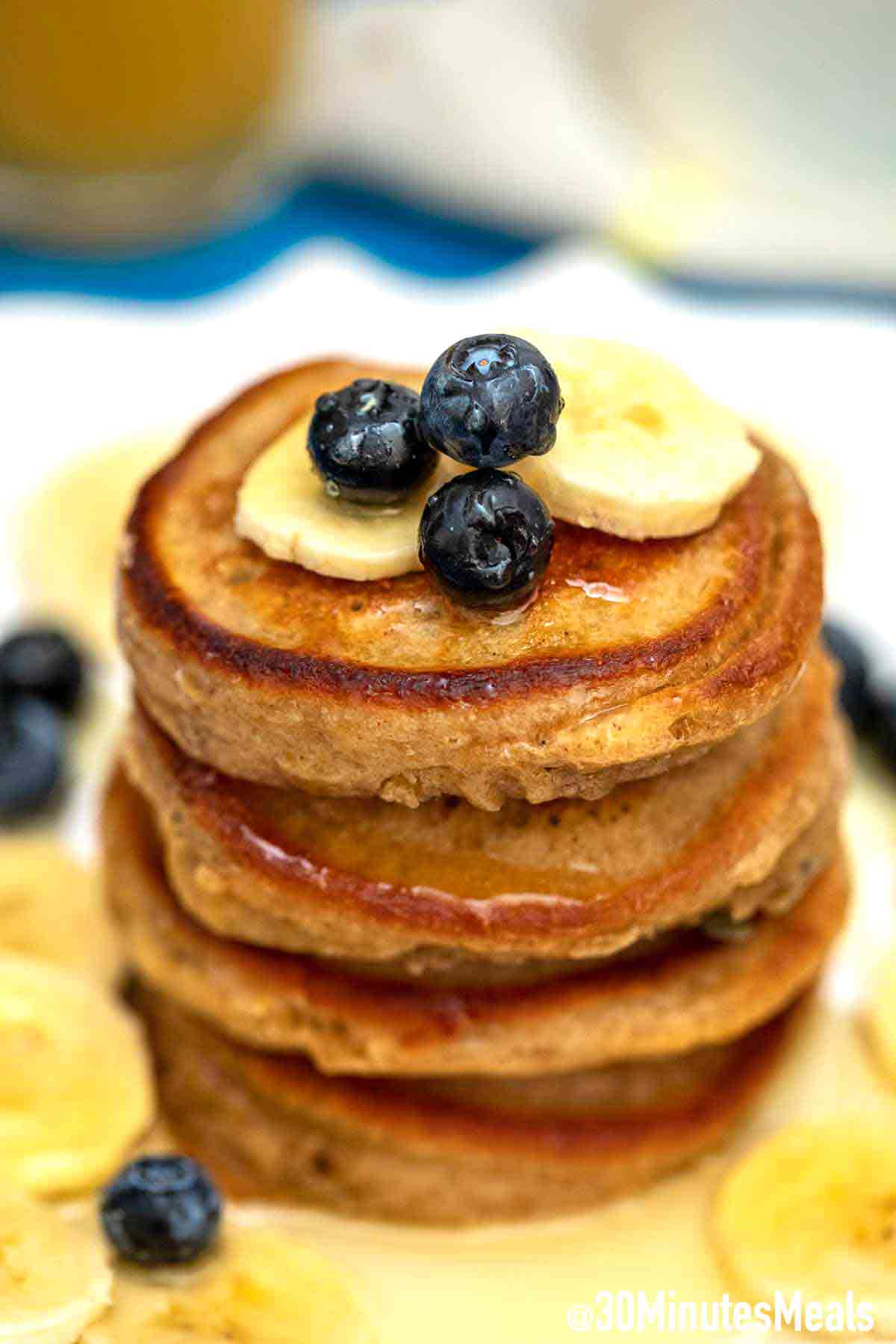 How to make fluffy Oatmeal Pancakes?
Prepare the batter

: In one bowl, combine all the wet ingredients and the lemon zest. In another, combine all the dry ingredients. Then, add in the dry mixture to the wet mixture. Mix until smooth.

Adjust the consistency

: If the batter is too thick, add a tablespoon of milk at a time.

Cook in the griddle

: Preheat the griddle to 350 degrees Fahrenheit or heat a non-stick skillet on the stove. Put the butter to melt. Add portions of the batter and add fruits to each one. When bubbling starts, flip and cook the other side.

Serve

: Serve warm with your desired sauce and toppings.
The key to making them fluffy is keeping them thick as you cook them in the pan and not leaving out the baking powder and baking soda.
The baking soda produces carbon dioxide bubbles quickly upon contact with acid. In addition, the baking powder itself performs the same when it interacts with moisture and during cooking.
These ingredients add volume to the batter without using any yeast.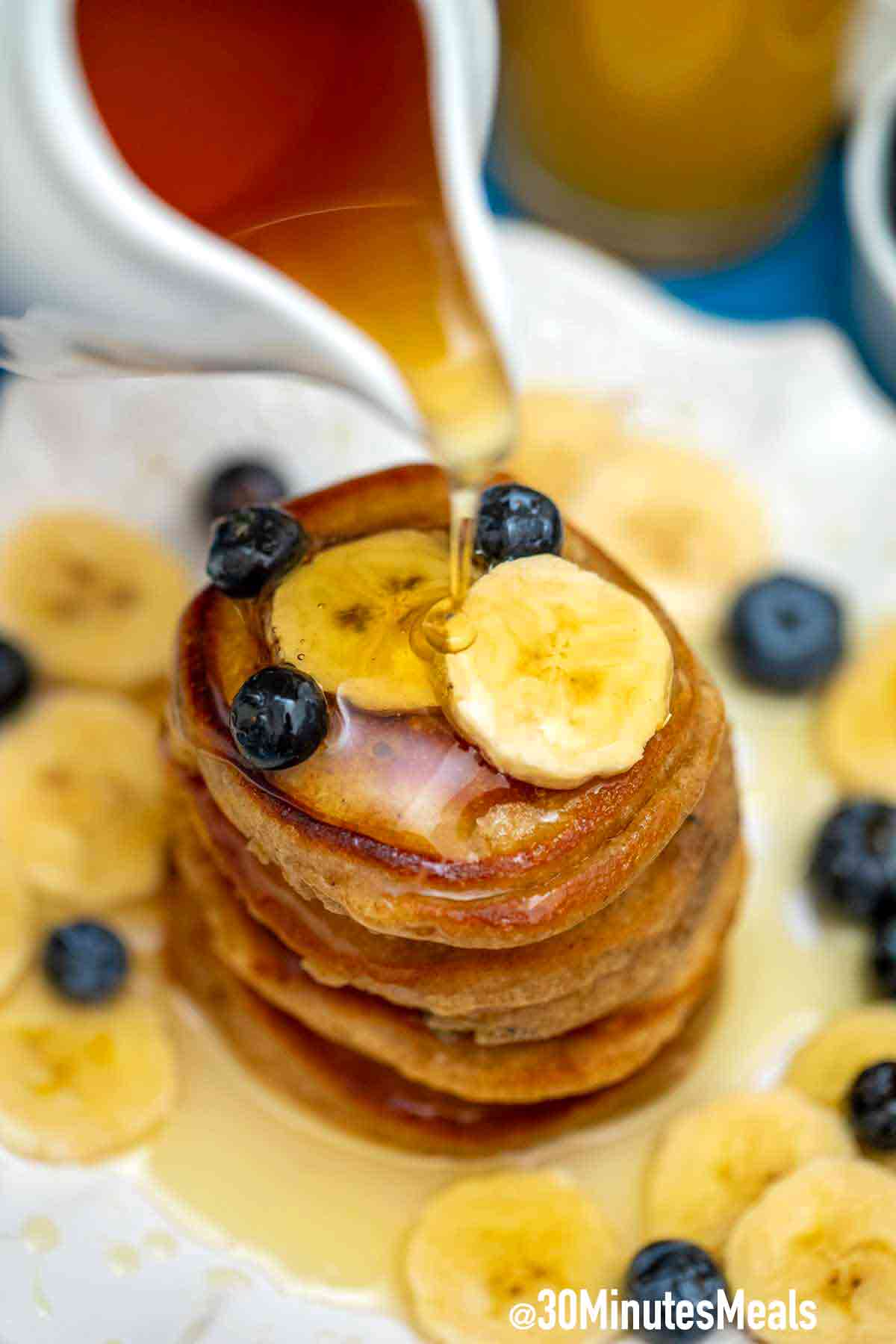 What to serve with Oatmeal Pancakes?
It is a versatile dish and you can serve it with any of the following:
fresh fruits like blueberries, banana, and strawberries

sauces like caramel, chocolate, or strawberry

maple syrup or honey

butter

savory toppings like bacon, ham, or sausage
More delicious breakfast recipes: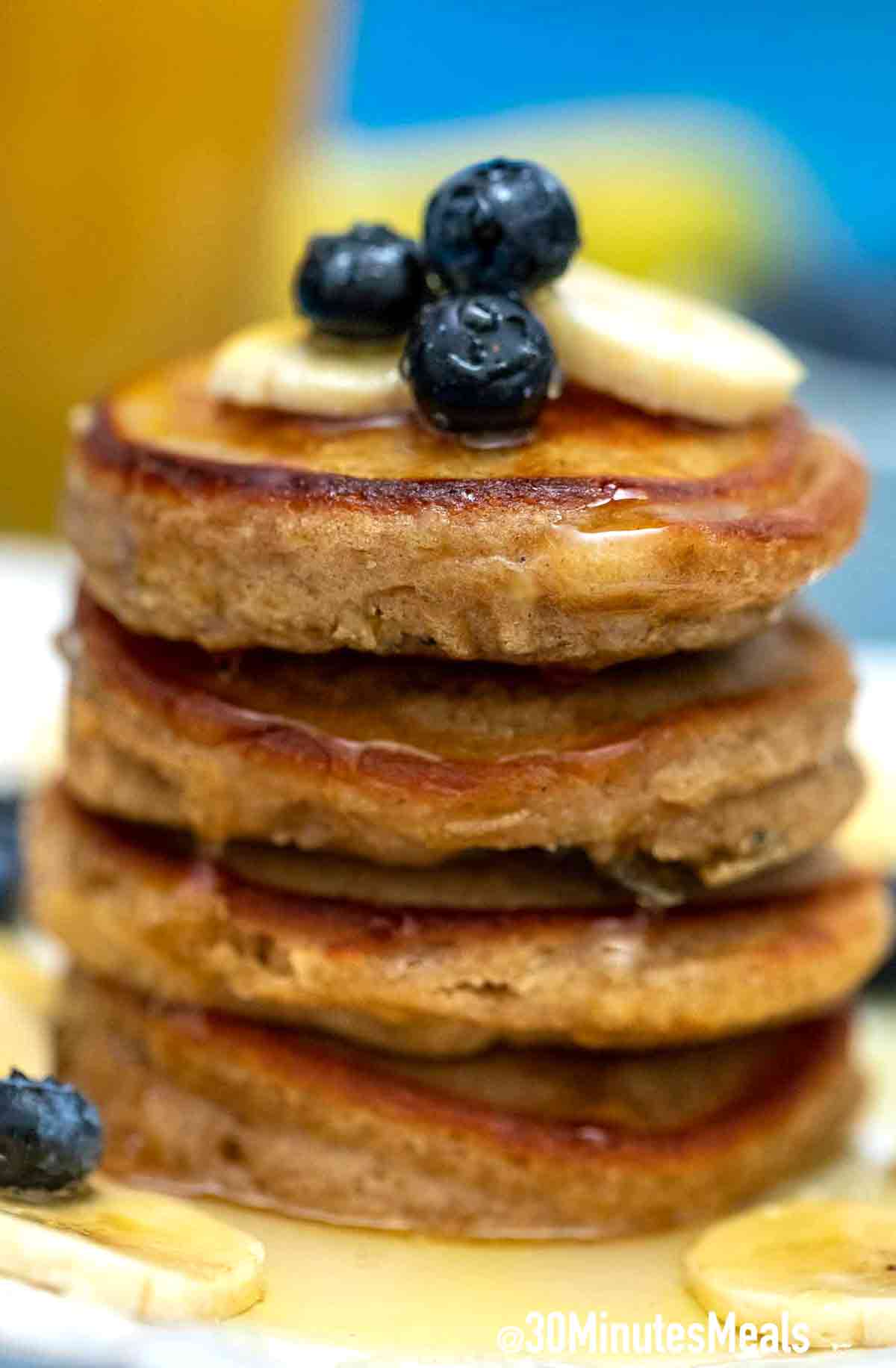 How to store pancakes?
If you have leftovers, keep them refrigerated in airtight containers for up to 2 days. Or, stack them and put parchment paper in between each piece and freeze for up to 2 months. Reheat in the microwave.
Recipe Tips
You can always add in any desired fruit like banana or seeds like chia. These not only add texture and flavors, but also nutritional value.

Make sure to pour the batter on the griddle as thickly as possible so it becomes soft and fluffy when it cooks instead of thin and crusty.

You can prepare the batter in a blender so that it is easier to mix and remove lumps. And you can use the spout to pour directly into the griddle.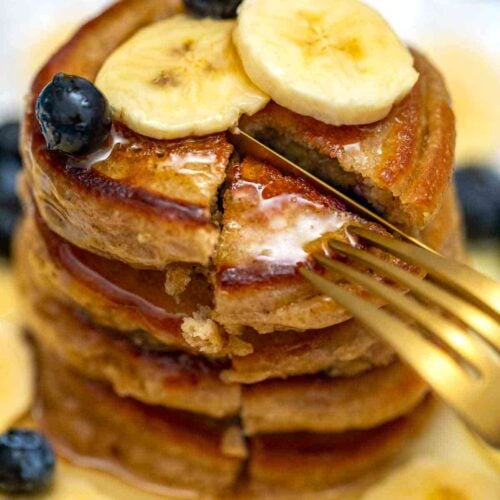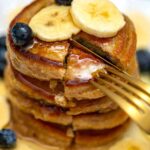 Yogurt Oatmeal Pancakes Recipe
Oatmeal Pancakes
will make your breakfast truly worth it! These will make you full
until lunch and give you the energy you need, all in 30 minutes or
less!
Keyword:
Oatmeal Pancakes
Ingredients
1 1/4

cup

oat flour

1

teaspoon

baking powder

1

teaspoon

baking soda

1/4

teaspoon

sea salt

1

teaspoon

lemon zest

1

teaspoon

lemon juice

1/4

cup

white granulated sugar

1

cup

Greek yogurt

1

teaspoon

vanilla extract

2

eggs

lightly beaten

2

tablespoons

milk

if needed

1/2

cup

blueberries

2

tablespoons

butter

for greasing the pan
Instructions
In a large bowl mix together the yogurt, eggs, lemon juice, lemon zest, and vanilla until smooth.

In another bowl mix sugar, oat flour, baking powder, baking soda, salt.

Add the egg mixture to the flour mixture and stir until fully combined.

If the batter is too thick, add a bit of milk.

Preheat an electric griddle to 350 degrees F or a non-stick skillet over medium-high heat.

Add the butter and melt it, spread all over the cooking surface.

Pour ¼ cup portions of the pancake batter, add 5-6 blueberries on top.

Cook until bubbles start forming and the sides are set about 2-4 minutes, flip and cook for 2-4 minutes on the other side.

Serve with favorite toppings.
Nutrition Facts
Yogurt Oatmeal Pancakes Recipe
Amount Per Serving
Calories 132
Calories from Fat 45
% Daily Value*
Fat 5g8%
Cholesterol 40mg13%
Sodium 212mg9%
Potassium 146mg4%
Carbohydrates 17g6%
Protein 6g12%
Vitamin A 117IU2%
Vitamin C 1mg1%
Calcium 56mg6%
Iron 1mg6%
* Percent Daily Values are based on a 2000 calorie diet.