Air Fryer Pasta Chips Recipe
Air Fryer Pasta Chips make a crunchy and crispy snack that is loaded with parmesan cheese and spices. You will love the crispiness of the "fried" noodles doused with parmesan and garlic using any type of pasta. And you can do all this in less than 30 minutes!
You could also try this Air Fryer Sweet Potato Chips recipe with the tangy bite of sweet potatoes and brown sugar. If you would rather have something really sweet, these Air Fryer Apple Fries are scrumptious as well as healthy. For more new recipes to try, check out our blog post.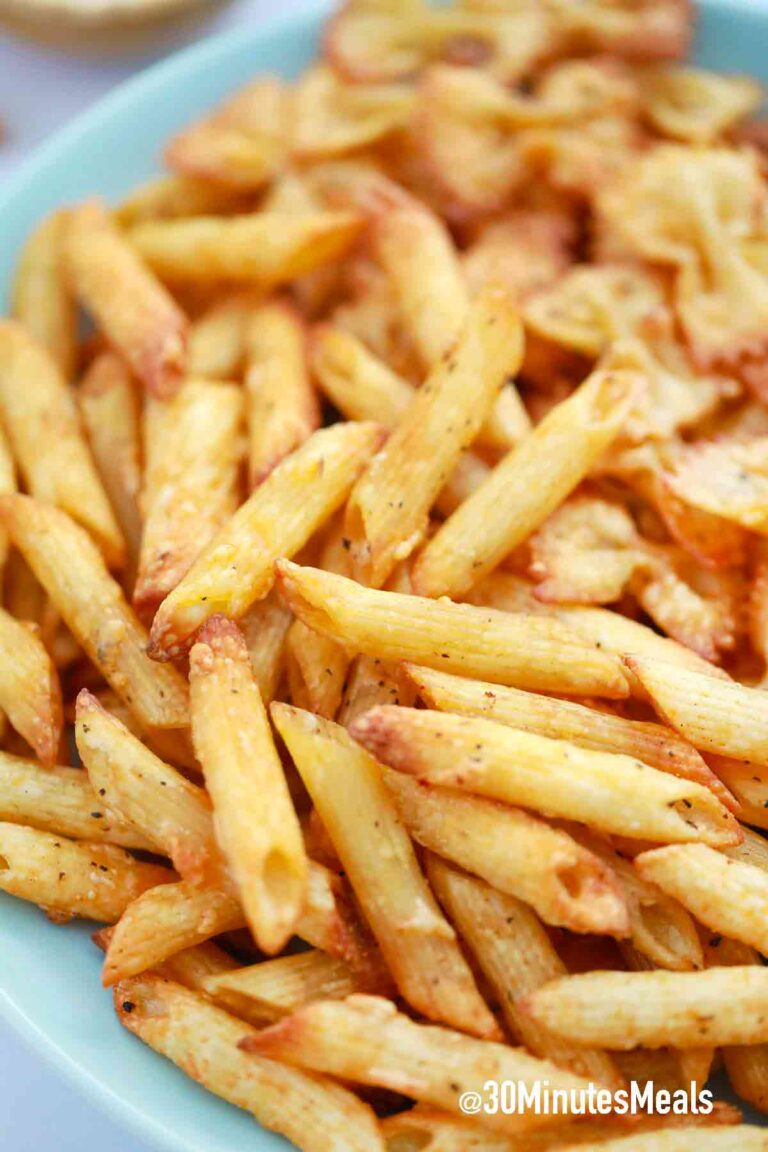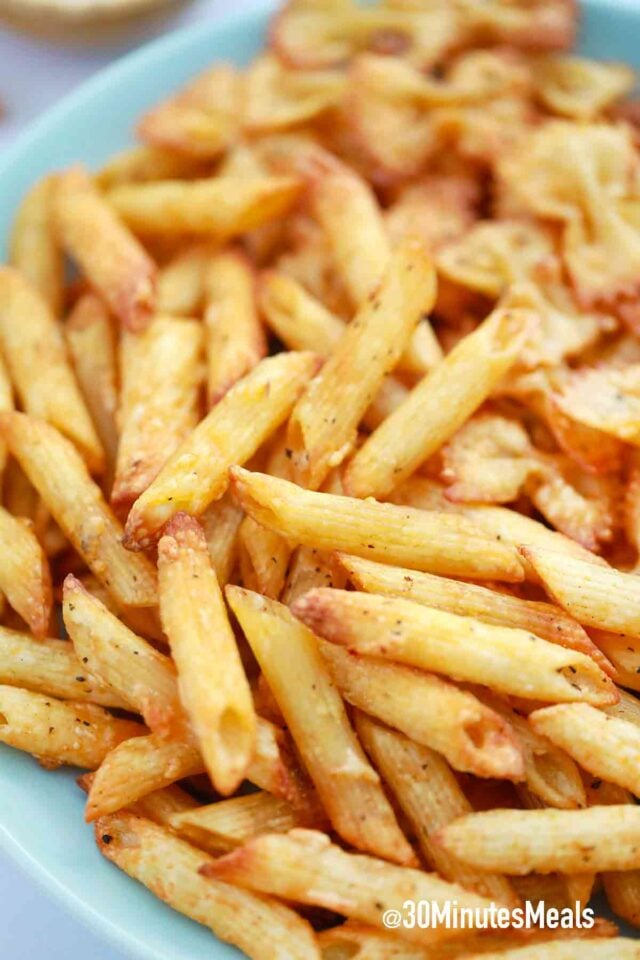 This trend started as a viral TikTok recipe and was seen around the world within a few hours, making it a very popular fun snack idea. Whether you are looking for something new as a side dish or a nice change of pace for an afterschool snack, this is worth trying.
In fact, these chips are a great snack for anyone, and this is a fun recipe to try with the kids. A tasty snack that is healthier than regular potato chips or French fries.
Ingredients needed:
Check out our recipe card below for the directions, but these are the basic ingredients you will need:
Farfalle pasta: You can use any noodle you choose but we suggest one that is easy to dip.

Parmesan cheese: Fresh or canned will both work for this recipe.
Olive oil: Any oil with a high smoke point is fine.

Herbs and spices: Our choices include basil, onion powder, garlic powder, salt, and smoked paprika.

But choose any dried herbs and spices that you like.
How to make air fryer pasta chips from scratch?
Boil: Begin by boiling the noodles in a large pot of water with salt. Use the directions on the package for al dente.

Preheat: Meanwhile, preheat the fryer to 380 degrees F.
Drain: After, drain and pat the noodles dry with a paper towel.

Season: Next, toss everything together in a large mixing bowl until it is thoroughly combined.

Cook: Then, coat the bottom of the basket with cooking spray and fry for 7 to 10 minutes.
Tip: Cook them in small batches so there is proper airflow and shake them every two or three minutes so they will be golden brown. Use a smaller first batch as a test so you do not waste too many noodles. After your first time, you should know the right amount of time to cook.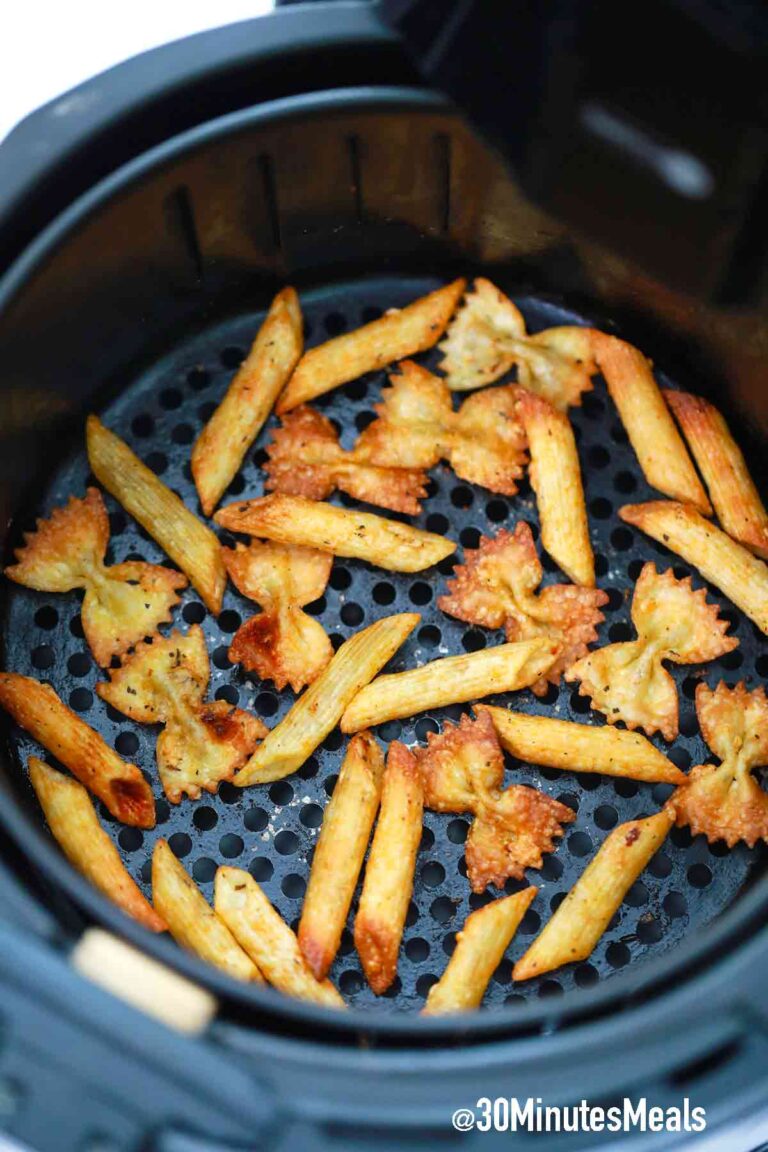 Recipe variations:
Other shapes: Mix it up a bit using other types of pasta mixed together like farfalle mixed with penne pasta.
Italian or ranch: Add ranch or Italian seasoning blend for a new flavor.

Sweet treat: For another way to enjoy this snack, make it sweet with cinnamon sugar instead of parmesan and garlic.

Yeast: Make these pasta crisps even healthier by sprinkling some nutritional yeast into the seasoning.
Oven baked: If your fryer is on the fritz, use your oven instead. Just cook at 375 degrees F for 10 to 15 minutes after boiling.

Deep fry: Conversely, you could also make these in the deep fryer, but they will not be as healthy.
How to serve:
We chose to serve our air fryer pasta chips with a small dish of marinara sauce for dipping, but you can try one of these other great ideas:
Try other dipping sauces like sriracha honey, spicy mustard, or rice wine vinegar.

For those who like spicy chips, you will love these with red pepper flakes added in.

If you chose to make sweet chips, dunk them in something like strawberry sauce or preserves.
Even wing sauce like buffalo or ranch makes excellent dips for these bow tie pasta chips.
Serve these as a side dish for a quick lunch of sandwiches, hot dogs, or burgers.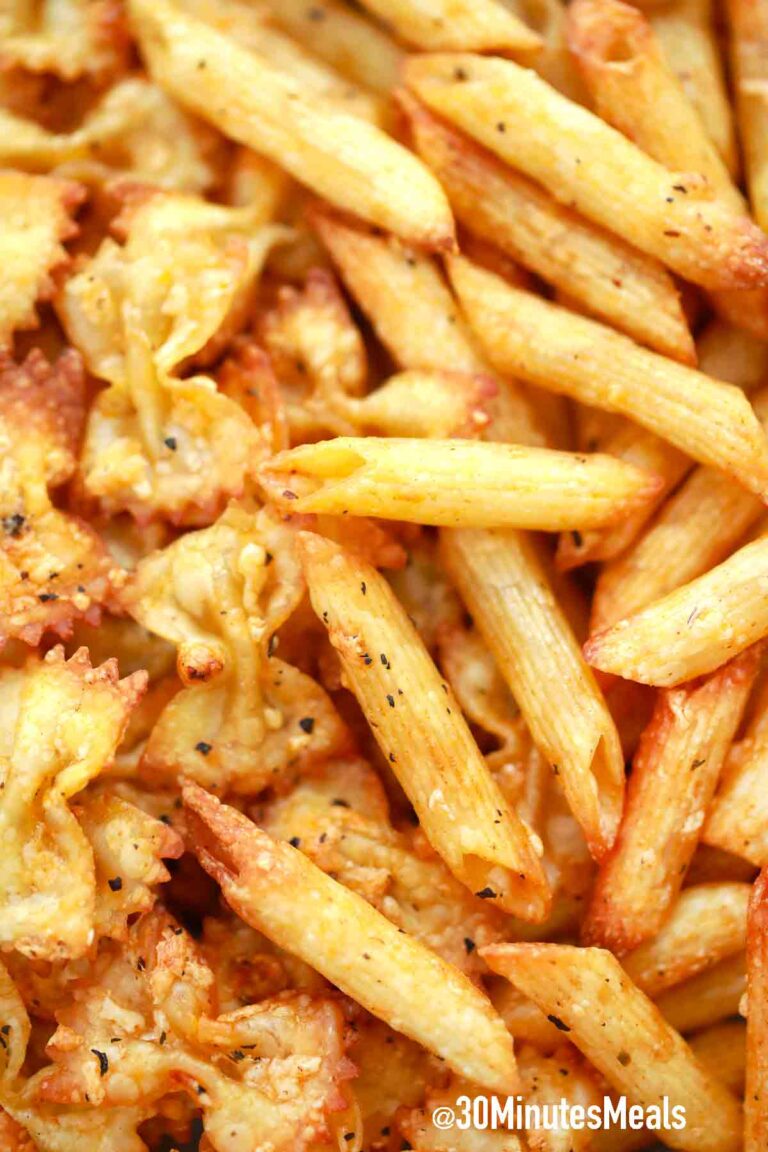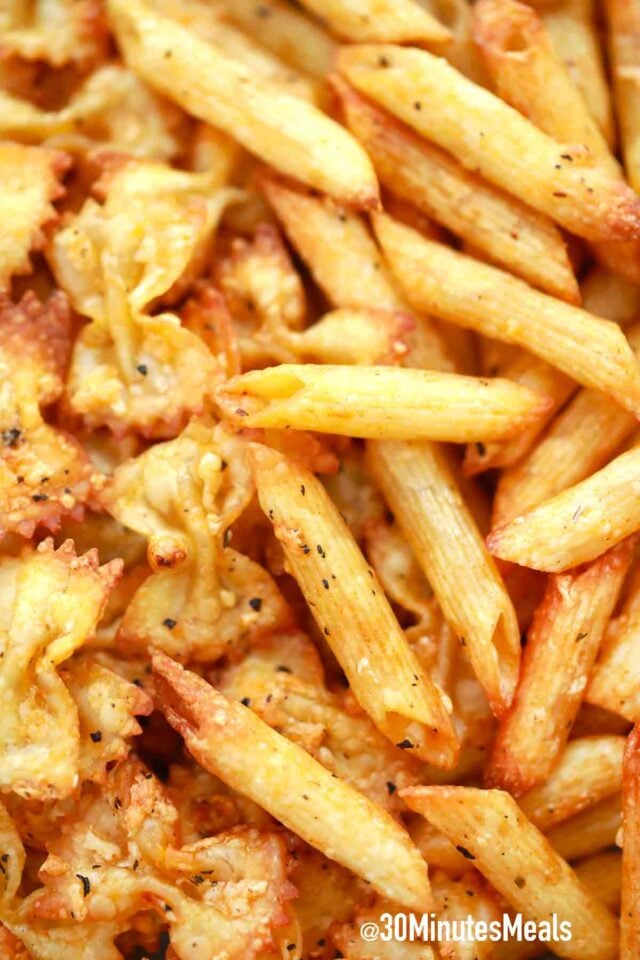 Frequently asked questions
Are pasta chips healthier than potato chips?
This has been debated for years but to be honest, the reason that these pasta chips are healthier than regular potato chips is how they are made. Using the air fryer to cook them instead of deep-frying makes a big difference.
Pasta chips do have a substantial number of calories, carbs, and fats, but potato chips are worse. For example, pasta has more than 7% less saturated fat than potato chips and provides a number of your daily values of folate, niacin, riboflavin, and thiamine as well as protein and iron.
Do I have to boil the pasta first?
Yes, you do need to boil your noodles before air frying. Raw pasta is not good for your digestive system. Cook it to al dente and then drain pasta thoroughly. Al dente pasta should be soft but with a bite. To make sure it is dry, dump them onto a paper towel and pat them to get rid of the excess water. Otherwise, your chips may end up chewy or soggy.
What is the healthiest type of pasta to eat?
Those made with lentils or chickpeas are the healthiest but are not easy to find at your local grocery store. You are more likely to find whole wheat, which is also great with lots of fiber and protein. Or try veggie noodles for fewer calories and more vitamins. In fact, just about any of them are healthier than regular pasta.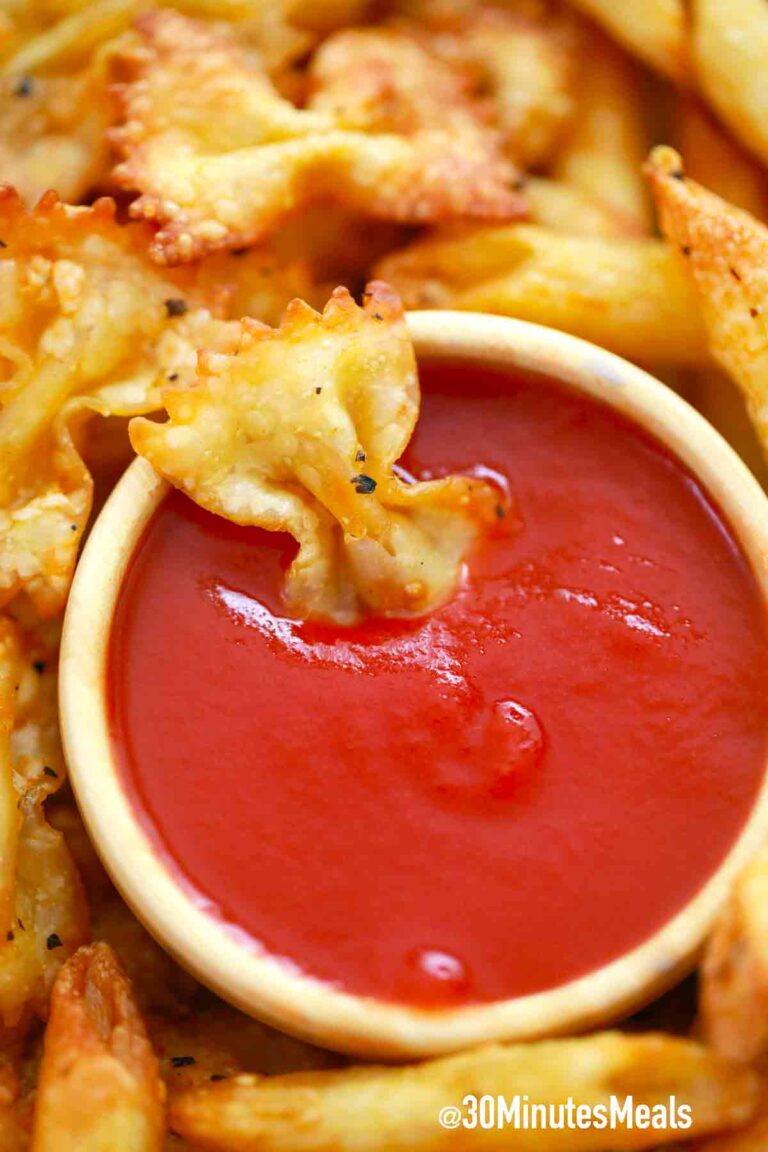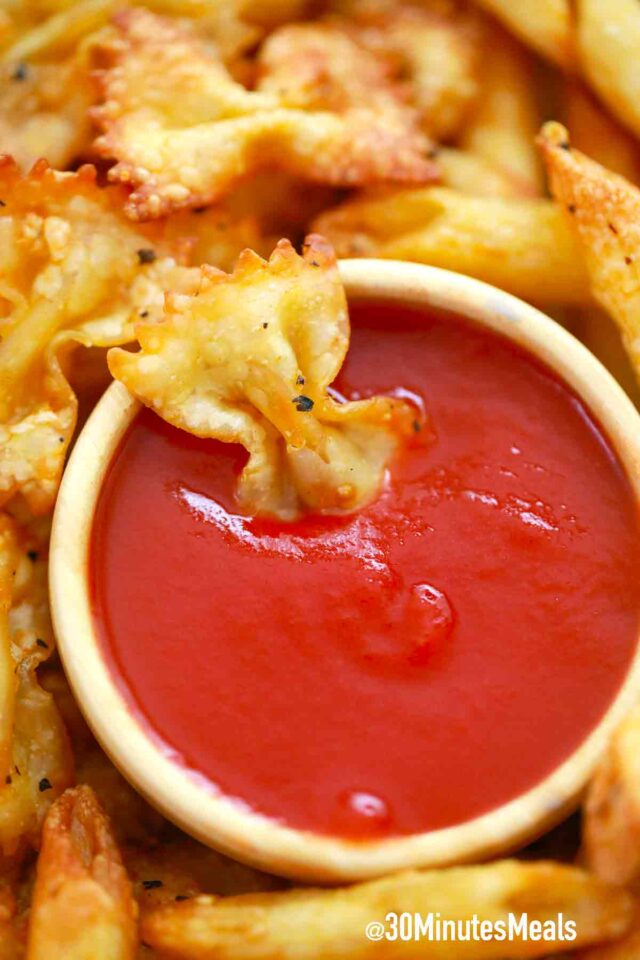 How to store leftovers:
Store: You can store your leftover pasta chips on the counter in some kind of airtight container for several days or in the fridge for up to five days.

Freeze: Freezing is not recommended for these chips.
Reheat: This quick snack can be eaten at room temperature, or you can reheat it for two minutes in the air fryer.
Recipe tips:
Salt the water to ensure the noodles get a good burst of flavor.
Only cook until it is tender but still has a bite to it (al dente) or it will end up soft and chewy instead of crisp and crunchy.
The shape of the pasta really makes a difference. Make sure it is one that you can pick up with your fingers to dip easily.
Place the noodles in a single layer in the air fryer basket for best results.

Gluten-free pasta is also a good choice for a healthy snack.

While you continue to cook in batches, keep the cooked pasta on a baking sheet in the oven at a low temperature to stay warm and crunchy.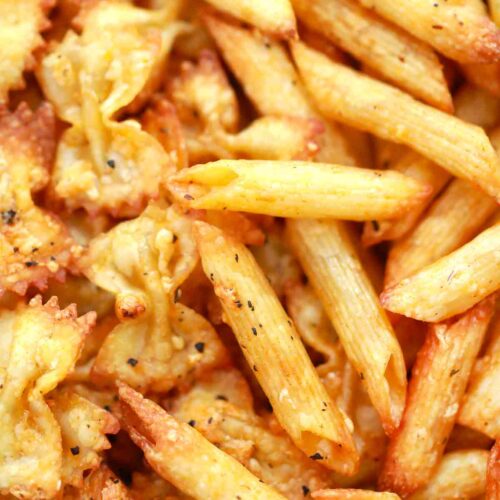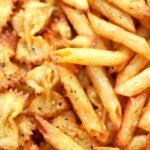 Air Fryer Pasta Chips
Air Fryer Pasta Chips make a crunchy and crispy snack that is loaded with parmesan cheese and spices.
Course:
Appetizer, Side Dish, Snack
Keyword:
Air Fryer Pasta Chips
Ingredients
8

oz

dried pasta

we like to see bowtie

1 1/2

tablespoon

olive oil

1

teaspoon

garlic powder

1

teaspoon

dried basil

1/3

cup

grated Parmesan cheese

1/2

teaspoon

kosher salt

or to taste

1/2

teaspoon

dried basil
Instructions
Boil the pasta according to package directions, a little over al dente.

Drain it well using a colander and after that add it to a large bowl.

Toss with the rest of the ingredients.

Arrange it in a single layer in the air fryer basket. Cook it in batches if needed.

Air Fry at 380 degrees F for 7-10 minutes, shaking it every 2-3 minutes. Air fry until golden and crispy.

Serve with marinara sauce.
Nutrition Facts
Air Fryer Pasta Chips
Amount Per Serving
Calories 86
Calories from Fat 72
% Daily Value*
Fat 8g12%
Cholesterol 7mg2%
Sodium 419mg18%
Potassium 29mg1%
Carbohydrates 1g0%
Protein 3g6%
Vitamin A 75IU2%
Vitamin C 1mg1%
Calcium 102mg10%
Iron 1mg6%
* Percent Daily Values are based on a 2000 calorie diet.