Air Fryer Gnocchi are scrumptiously crispy on the outside with a tender and fluffy inside, seasoned with a delicious blend of garlic and parmesan cheese. It is so fast and easy, you can have it on your dinner table in less than 15 minutes, ready to be gobbled up by your hungry family.
These crunchy little delights would go great with our scrumptious Homemade Caesar Salad. Another similar snack you can make is our delicious Air Fryer Zucchini Fritters recipe. For a different potato snack made in a similar manner, these Air Fryer Hasselback Potatoes are crusty with a delicate fluffy inside.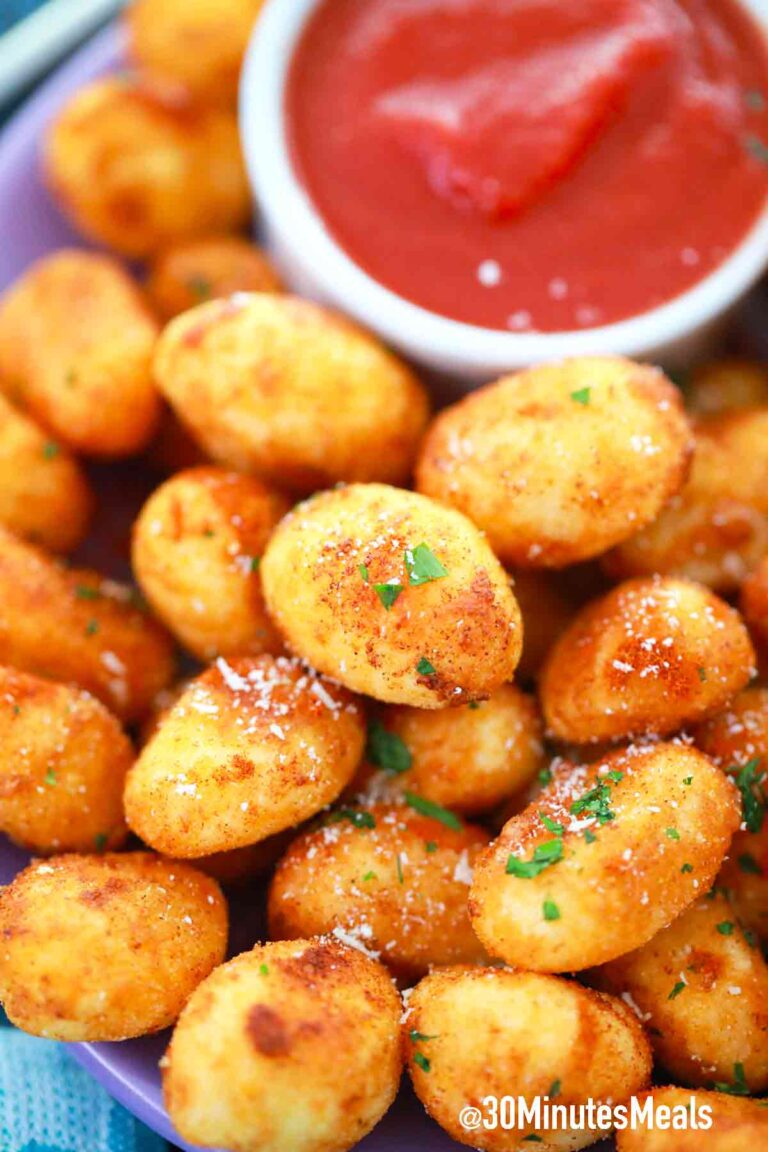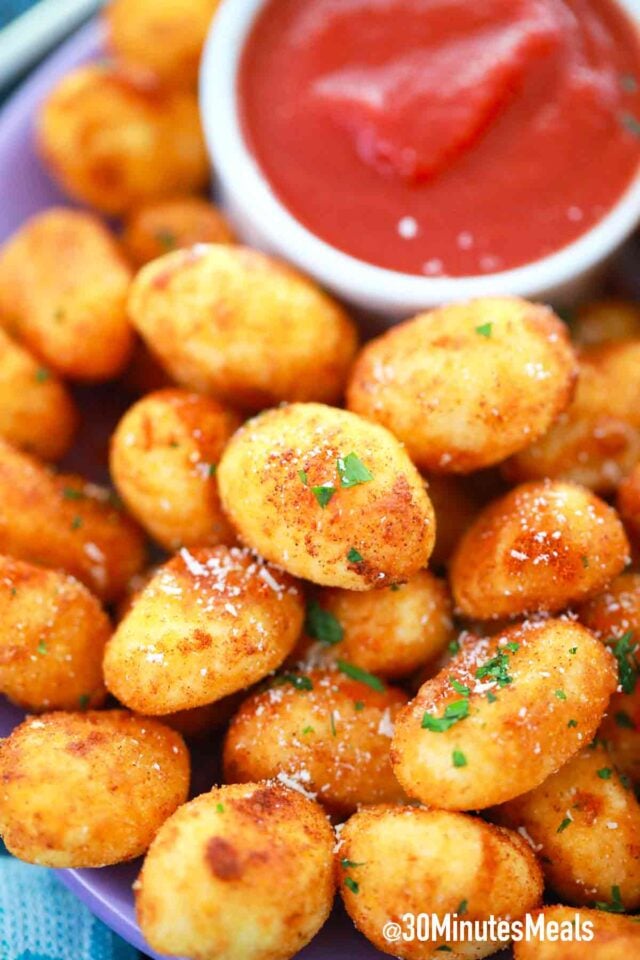 There are many air fryer recipes out there but there are some that just blow your mind. You and your family will love these little bundles of crispy and light potato pouches dipped into barbecue sauce or whatever you like. Air frying is the new way to cook just about anything in a fraction of the time.
And this recipe provides 8% of your daily values of vitamin A and C as well as calcium and iron so it is healthy too. You could also try this as a cauliflower gnocchi recipe. You would cook it the same way to get crispy cauliflower gnocchi with even more fiber and protein.
Ingredients needed:
We have the exact measurements and instructions below on our recipe card, but these are the main ingredients you will need:
Gnocchi: We used one pound of shelf-stable gnocchi.
Olive oil: You could also use grapeseed or avocado oil.
Salt: Kosher salt is what we used but you can also use sea salt.
Garlic powder: Do not use garlic salt unless you omit the kosher salt.

Parmesan cheese: Freshly grated is best.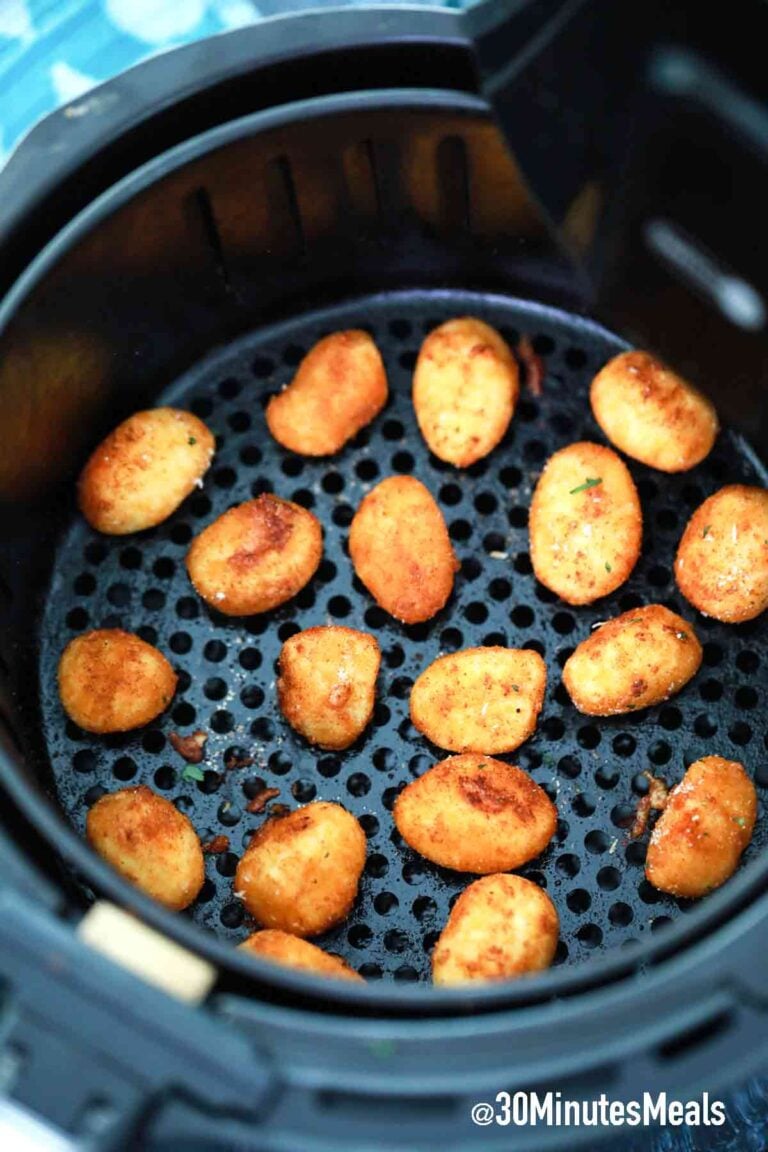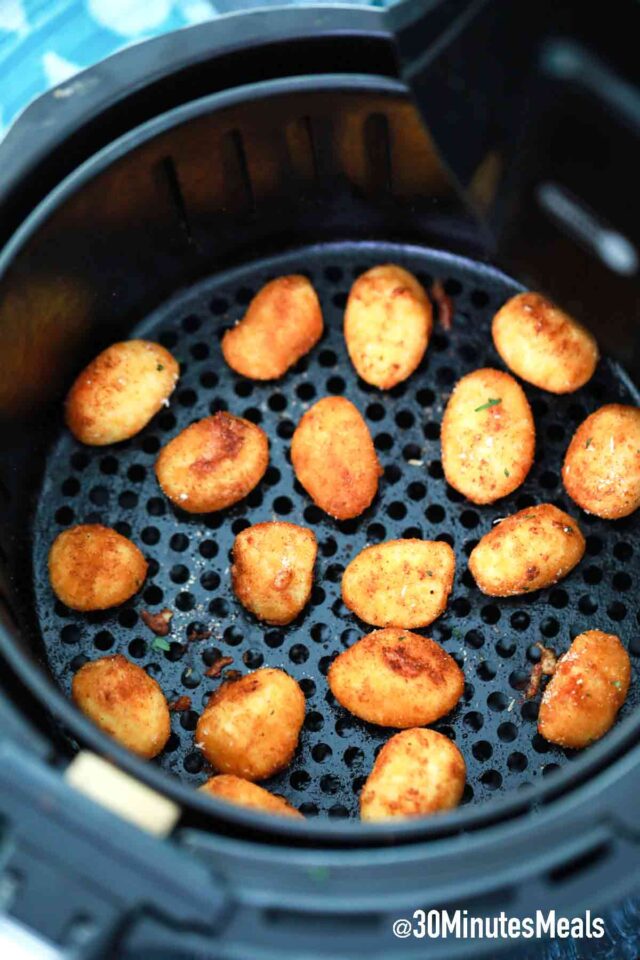 How do you make air fryer gnocchi recipe?
Preheat: To start, preheat your fryer to 400 degrees F.

Toss: Meanwhile, toss all of the ingredients together in a mixing bowl.

Cook: Next, transfer gnocchi into the basket of the air fryer in a single layer and cook for 13 to 15 minutes. Be sure to give it a good shake a few times as it is cooking until they are all golden brown.
Serve: Sprinkle with extra parmesan, fresh basil, and marinara sauce.
Recipe variations:
Use flour: For crispier gnocchi, add a bit of cassava flour mixed with a bit of cornstarch.

Make it cheesy: Another option is to sprinkle with another kind of grated cheese like cheddar or mozzarella.

Heat it up: Add some heat with red pepper flakes or cayenne pepper for some spiciness.

Sweeten it up: Try sweet gnocchi by sprinkling some cinnamon and sugar on them instead of parmesan and garlic.
How to serve:
An easy way to serve this dish is in a large bowl with marinara sauce on the side. Or you can try one of these fantastic ideas:
Serve with a side of tomato sauce or another favorite dipping sauce.
Add cheese sauce for cheesy gnocchi.
This is a great side dish to any meal like oven baked chicken thighs or baked garlic lemon chicken breasts.

Mix in some chunks of ham or chicken to make it a fast and easy meal.
Enjoy these crispy nuggets with a glass of ice-cold lemonade.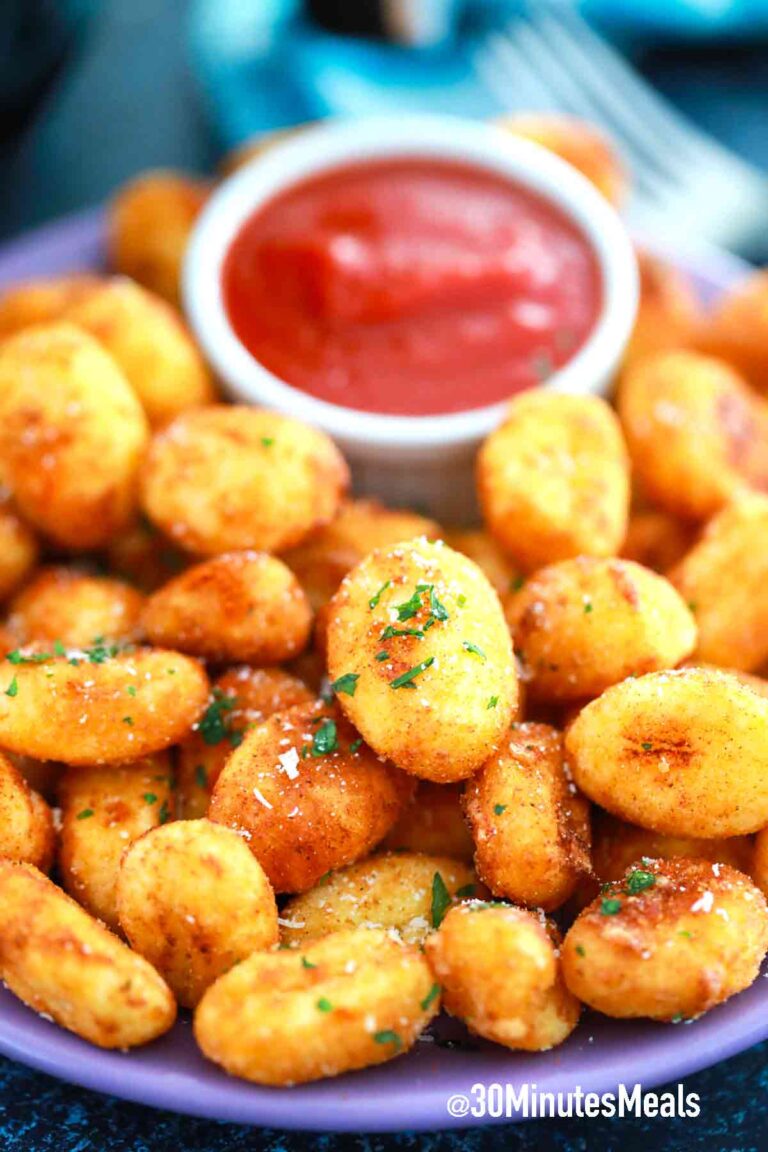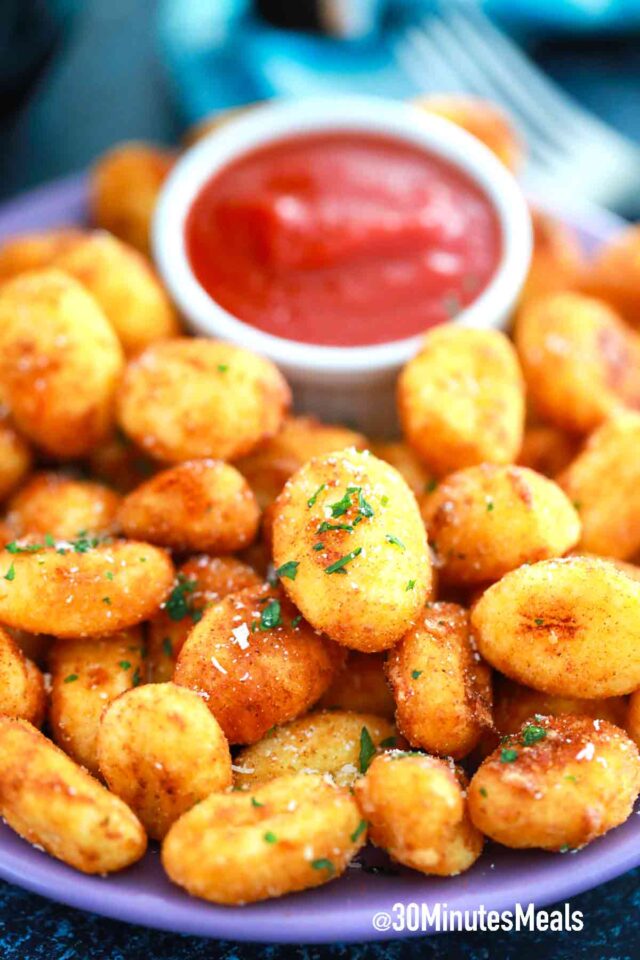 Frequently asked questions
Do I have to boil gnocchi before frying?
There is no need to boil your gnocchi before you air fry it. You can cook them right out of the package whether they are frozen, refrigerated, or regular gnocchi at room temperature. Just toss them in the air fryer basket with a bit of olive oil and you'll have crispy gnocchi in minutes.
However, you could boil them first. Boil a large pot of water and cook them until they float. After, drain them in a colander to get rid of all the excess water and pat them dry before frying. Since they are already cooked, you will only need to fry them for a couple of minutes to get them crispy.
Are gnocchi better boiled or fried?
Boiling your gnocchi as directed above will give you soft and fluffy dumplings that you can season with garlic powder or whatever else you like. But my favorite way is air frying because they get so crunchy, and the flavors are baked into each little puff.
Why does gnocchi explode when fried?
If you deep fry gnocchi, you may see them explode. Actually, they call it the popcorn effect and it happens when the moisture inside the gnocchi turns to steam and makes them pop. This does not happen all the time and is typically when you put shelf-stable gnocchi that is vacuum sealed into very hot oil. But it is easier and safer to use the fryer.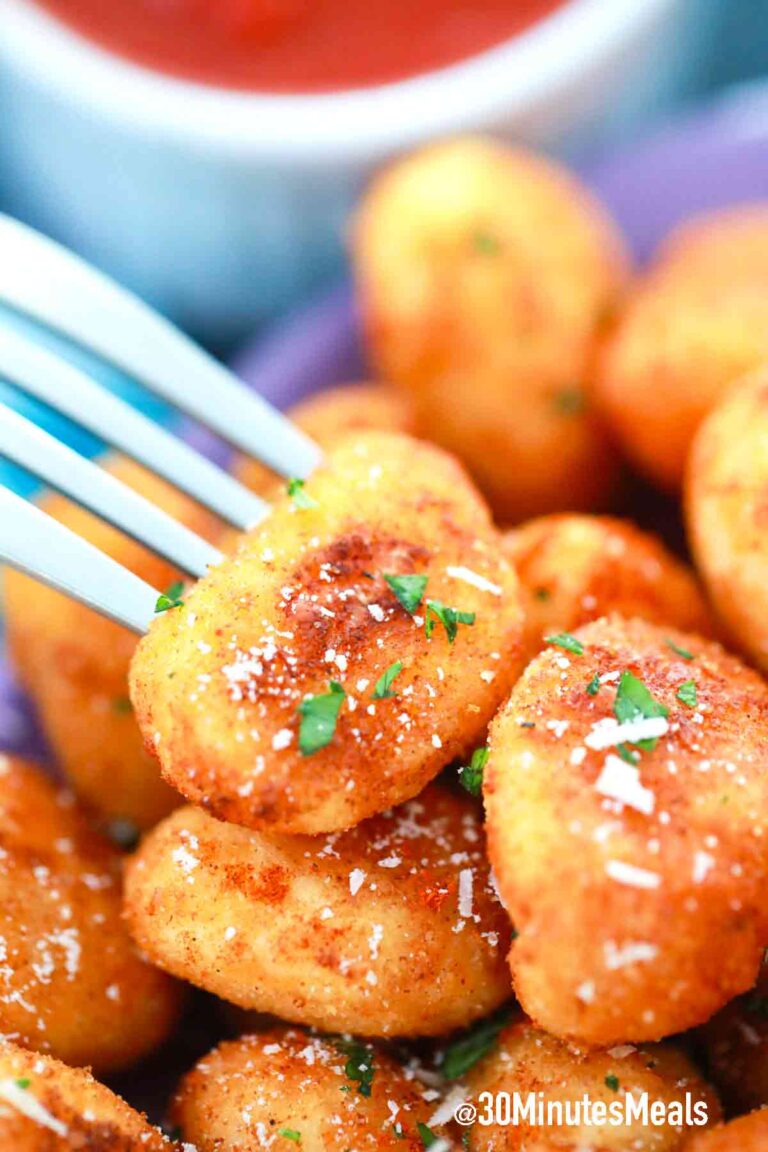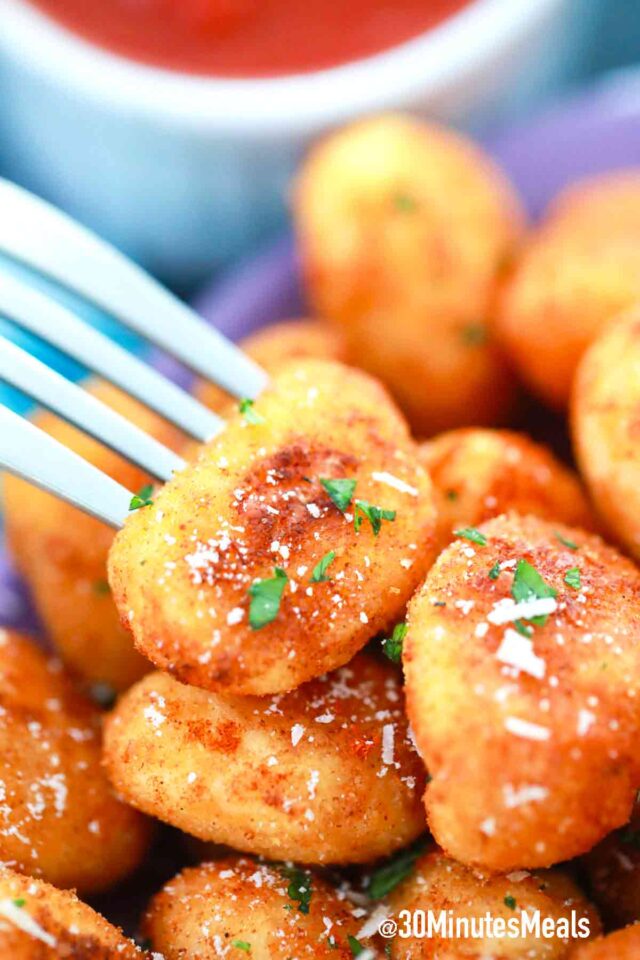 How to store leftovers:
Store: If you have any leftovers, put them in an airtight container and they will stay good in the refrigerator for approximately three days.
Freeze: After a few days, put whatever is left in the freezer where it will be safe for about three months.
Thaw: Thaw overnight in the fridge if you are going to heat them up in the microwave or oven. But you do not have to thaw if you are air frying them.
Reheat: Spray the basket of your air fryer with cooking spray before air frying.
Recipe tips:
If your fryer does not have a preheat setting, just set it to your cooking temperature for five minutes and turn it on.

You can buy Trader Joe's cauliflower gnocchi but cook them in the fryer with this recipe instead of following the directions on the package.

You could also broil these in the oven for five minutes on each side. They may not get as crispy as the air fryer, but it will be close.
Add some marinara sauce and cook these in your instant pot for saucy gnocchi.

Every air fryer is different so cooking time varies. Check your potato puffs after eight minutes to see how brown they are before you continue.
It is also good to season after cooking like you would do French fries.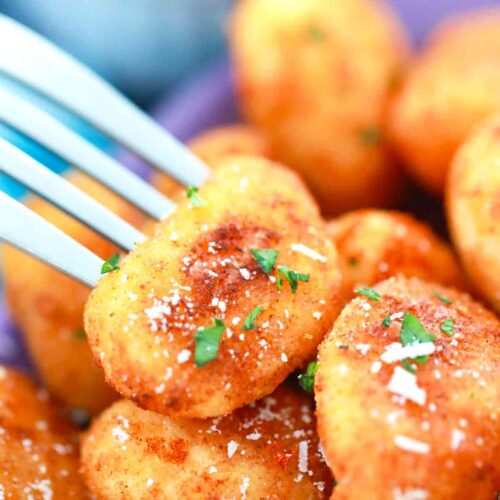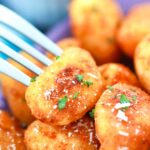 Air Fryer Gnocchi
Air Fryer Gnocchi are scrumptiously crispy on the outside with a tender and fluffy inside, seasoned with garlic and parmesan cheese.
Course:
Appetizer, Side Dish, Snack
Cuisine:
American, Italian
Keyword:
Air Fryer Gnocchi
Ingredients
1

lb

gnocchi

2

tablespoons

olive oil

1/2

teaspoon

salt

2

teaspoons

garlic powder

2

tablespoon

finely grated parmesan cheese
Instructions
Heat air fryer to 400 degrees F.

In a large bowl mix well all the ingredients.

Transfer gnocchi to the air fryer basket.

Cook for 14-15 minutes, shaking a few times during the cooking process.

When golden and crispy the gnocchi are done.

Serve with marinara sauce on the side.
Nutrition Facts
Air Fryer Gnocchi
Amount Per Serving
Calories 251
Calories from Fat 72
% Daily Value*
Fat 8g12%
Sodium 676mg29%
Potassium 18mg1%
Carbohydrates 41g14%
Protein 5g10%
Vitamin C 1mg1%
Calcium 24mg2%
Iron 4mg22%
* Percent Daily Values are based on a 2000 calorie diet.