Air Fryer Sweet Potato Chips
Air Fryer Sweet Potato Chips are crispy and have a mildly sweet flavor with brown sugar to enhance the sweetness and chili powder for a bit of spiciness. You will only need a couple of potatoes and some oil to go with the seasonings for this yummy and healthy snack.
For another great air fryer recipe that you can cook in under 30 minutes, try these crispy sweet Apple Fries. Also, why not make a juicy Air Fryer Steak to go with your chips and apple fries? And this crispy Air Fryer Broccoli would make a perfect side dish.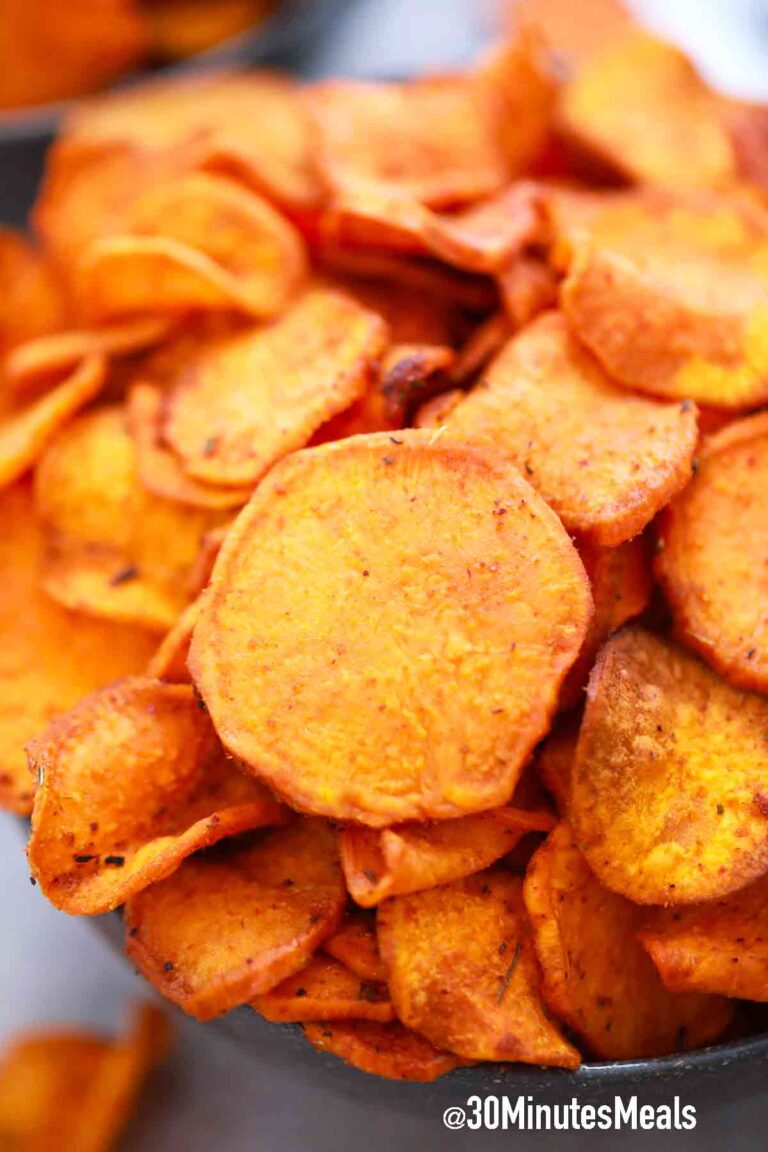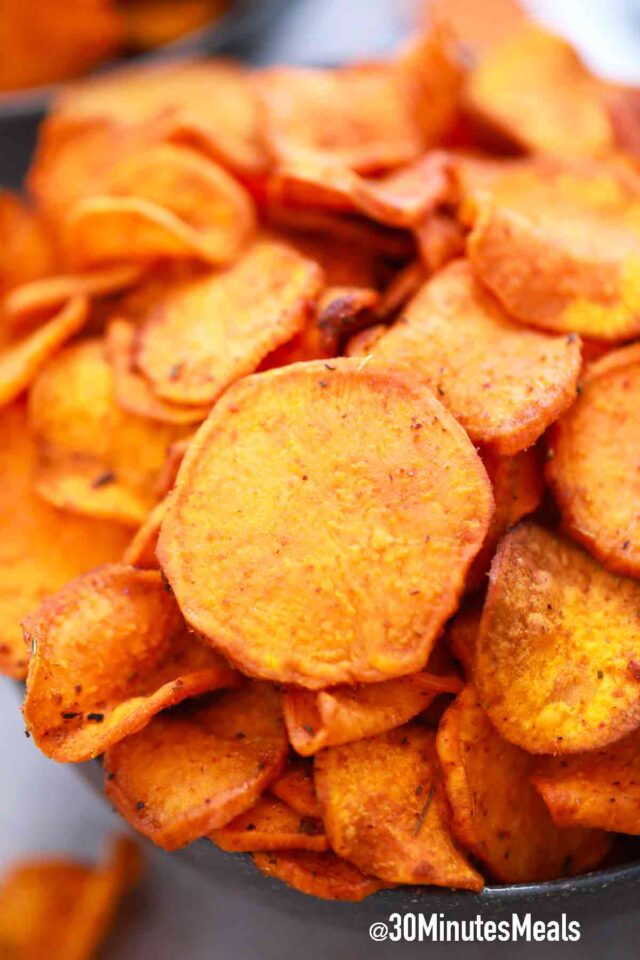 Once you taste these air fryer potato chips, you are never going to want regular ones again. Not only are they delicious, but they are also good for you, providing over 100% of your recommended daily values of Vitamin A as well as many other vitamins.
Ingredients needed:
You will only need a few simple ingredients to make these crunchy crisps, but you can find the exact measurements and directions on our recipe card below.
Sweet potatoes: Freshly rinsed and dried.
Olive oil: You could also use avocado oil or whatever you prefer.
Brown sugar: Light or dark are both fine.
Chili powder: Store-bought or homemade.
Cumin: Freshly ground is best.
Kosher salt: Sea salt or regular table salt is okay too.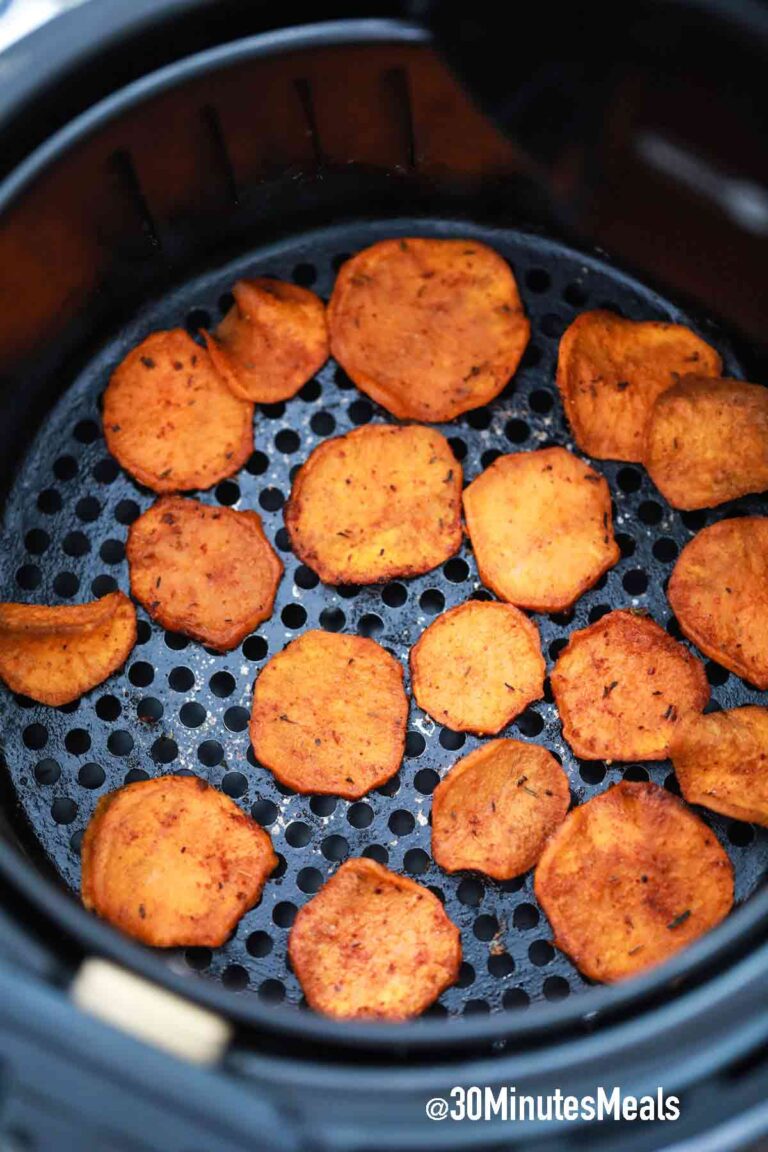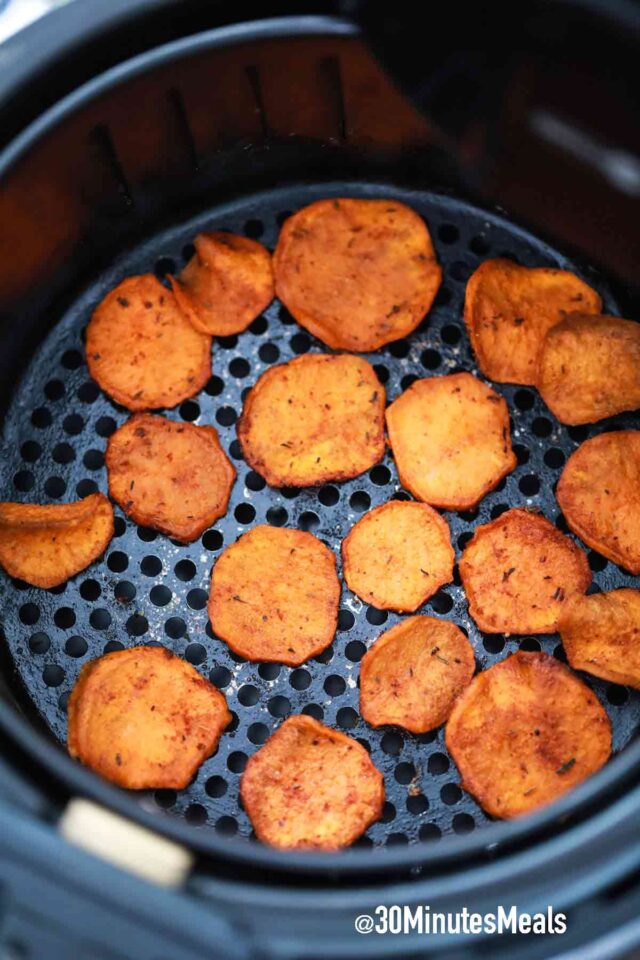 How do you make sweet potato chips recipe?
Preheat: Before starting, preheat your fryer to 356 degrees F.

Slice: Then, cut potatoes as thin as possible with a mandolin or a sharp knife.
Toss: After, use a large bowl to toss the sweet potato slices with the oil until they are all coated.
Mix: Next, combine the cumin, chili powder, and sugar in a small bowl.

Drain: Meanwhile, get rid of any excess oil by putting the slices in a strainer or colander.
Sprinkle: Next, toss the slices in the sugar mix so each one is coated.

Cook: After spraying the basket with cooking spray, place the potato slices in a single layer and cook them for six to nine minutes. The cook time depends on how thick your chips are. The thinner they are the less time they will take.
Shake: Halfway through, make sure to shake the basket to keep them from sticking.

Check: Keep checking them every few minutes after shaking and remove any that have turned brown.
Cool: Finally, as the chips get finished, place them on a cooling rack.
Recipe variations:
Add spices: Feel free to add other flavors like garlic powder, Italian seasoning, or ranch.

French fries: Alternatively, cut them into strips to make air fryer sweet potato fries.

Regular potatoes: Also, you could make regular chips with russet potatoes instead.

Heat them up: Add some red pepper flakes or cayenne for a spicy kick.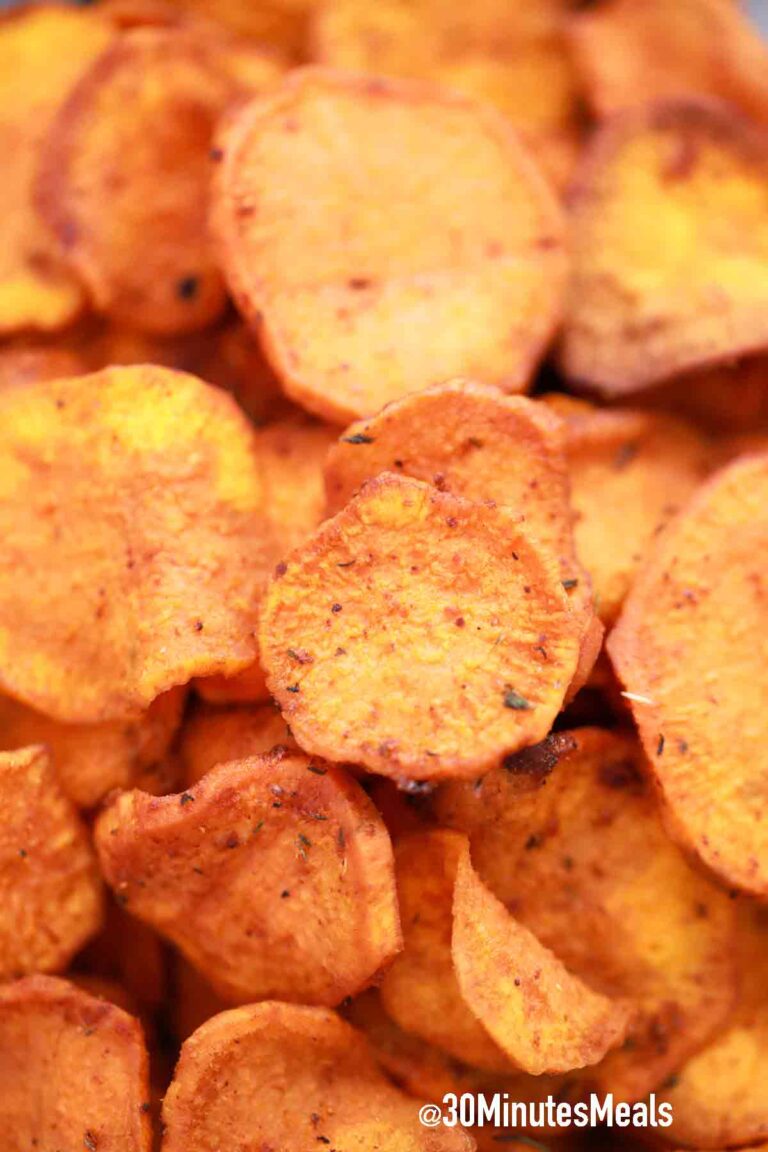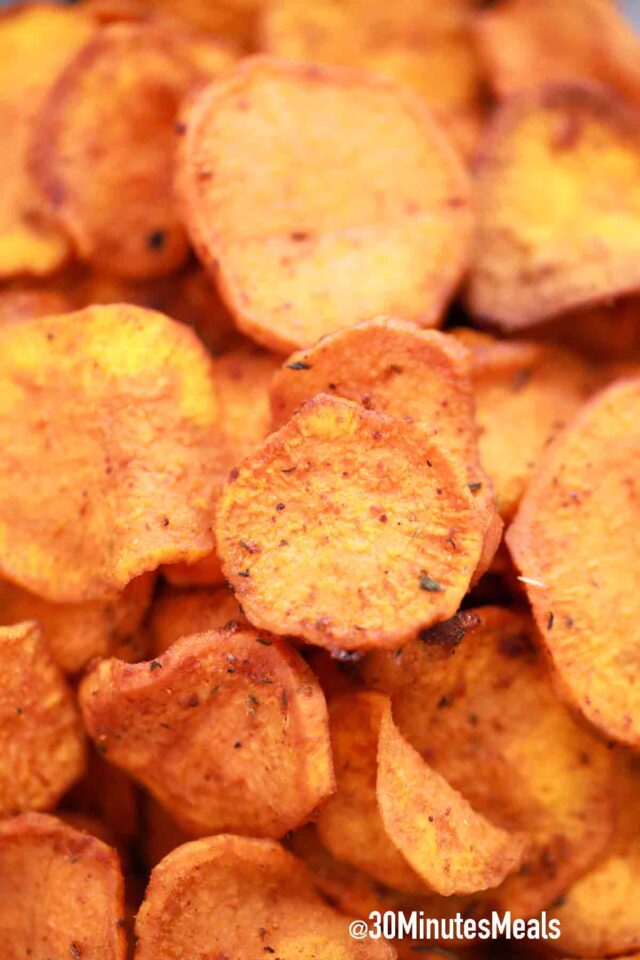 How to serve:
This crunchy snack is delicious right out of the fryer. They are addictive though, so you cannot eat just one. You could also try one of these awesome serving ideas:
Frequently asked questions
Why are my sweet potato chips not crispy?
No matter what kind of chips you are making in the fryer, they will not be crispy if they are moist. If you are using fresh potatoes, make sure you dry them completely after rinsing them in cold water. Then, pat them with a clean paper towel to absorb excess water. And do not overcrowd the basket.
Another thing to remember is to make sure the chips are not too thick. For crispy chips, use a mandolin slicer to make thin slices before putting them in a single layer in the fryer. Preheating it first can also help make sure your chips are crispy.
Are sweet potato chips healthier than regular?
No matter which ones you choose, just using the air fryer instead of deep-frying already makes your chips a lot healthier. But sweet potatoes are a slight bit healthier than regular. They have fewer calories and a bit more fiber, vitamin B, Vitamin C, and calcium. But they have 100% more Vitamin A!
Do I have to soak the sweet potatoes first?
No, you do not have to soak them because they do not have as much starch as regular potatoes do. Excess starch can cause the chips not to be as crispy. But sweet potatoes also have natural sugar that helps them crisp.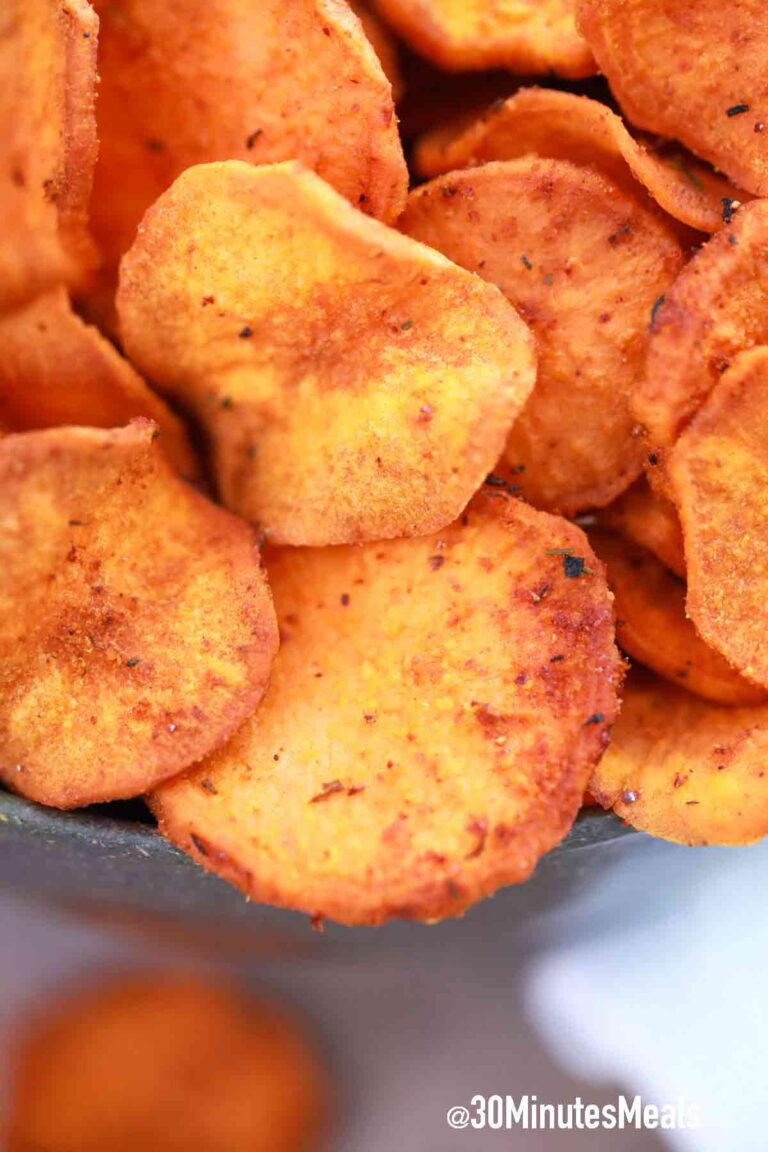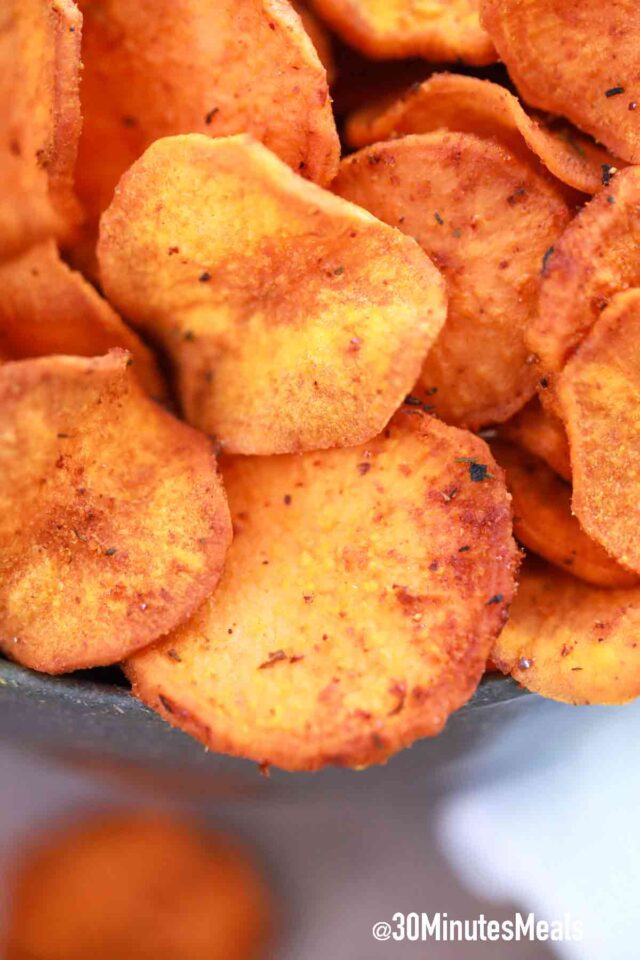 How to store leftovers:
Store: If you have any leftover sweet potato slices, put them in an airtight container or Ziploc bag. They will stay good for up to five days in the fridge or two days on the counter.
Freeze: But if you are making a large amount to stock up on, just cook them for five minutes in water and do not fry yet. Rinse with cold water and then place them on a cookie sheet and stick them in the freezer for one hour to flash freeze. After that, store the frozen chips in a freezer bag for up to three months.
Thaw: Thaw overnight in the refrigerator before reheating.
Reheat: Finish the cooking process by air frying them for the recommended time.
Recipe tips:
Make sure you keep a close eye on them the first time you make them, so they do not burn. Remove any that have gotten too brown.

The cooking time will vary depending on the thickness of the chips and the brand of your air fryer.
For extra crispiness, put the potatoes in the broiler for several minutes before serving.
Make it a movie night with the kids with this crunchy snack and a fun cartoon.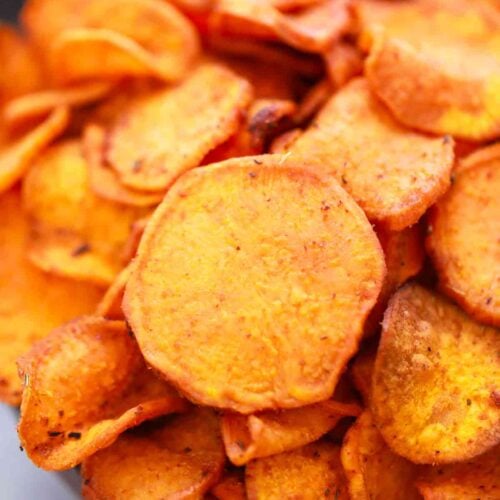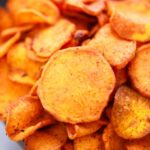 Air Fryer Sweet Potato Chips
Air Fryer Sweet Potato Chips are crispy, mildly sweet flavor with brown sugar to enhance the sweetness and chili powder for spiciness.
Course:
Appetizer, Side Dish, Soup
Keyword:
Air Fryer Sweet Potato Chips
Ingredients
2

medium sweet potatoes

1

tablespoon

extra virgin olive oil

2

tablespoons

light brown sugar

or dark

1 1/2

teaspoons

chili powder

1

teaspoon

ground cumin

1/2

teaspoon

salt
Instructions
Clean and peel the potatoes. Wash them and pat dry.

Thinly slice the sweet potatoes using a mandoline.

Add to a bowl and toss with the rest of the ingredients.

Arrange sweet potato slices in a single layer in the air fryer.

Air Fry at 360°F for 6 to 9 minutes, depending on how thin or thick your slices are.

Shake the basket halfway through. When done remove chips to a cooling rack and let them cool.

Repeat with the remaining slices.
Nutrition Facts
Air Fryer Sweet Potato Chips
Amount Per Serving
Calories 155
Calories from Fat 36
% Daily Value*
Fat 4g6%
Sodium 368mg16%
Potassium 412mg12%
Carbohydrates 29g10%
Protein 2g4%
Vitamin A 16260IU325%
Vitamin C 3mg4%
Calcium 46mg5%
Iron 1mg6%
* Percent Daily Values are based on a 2000 calorie diet.